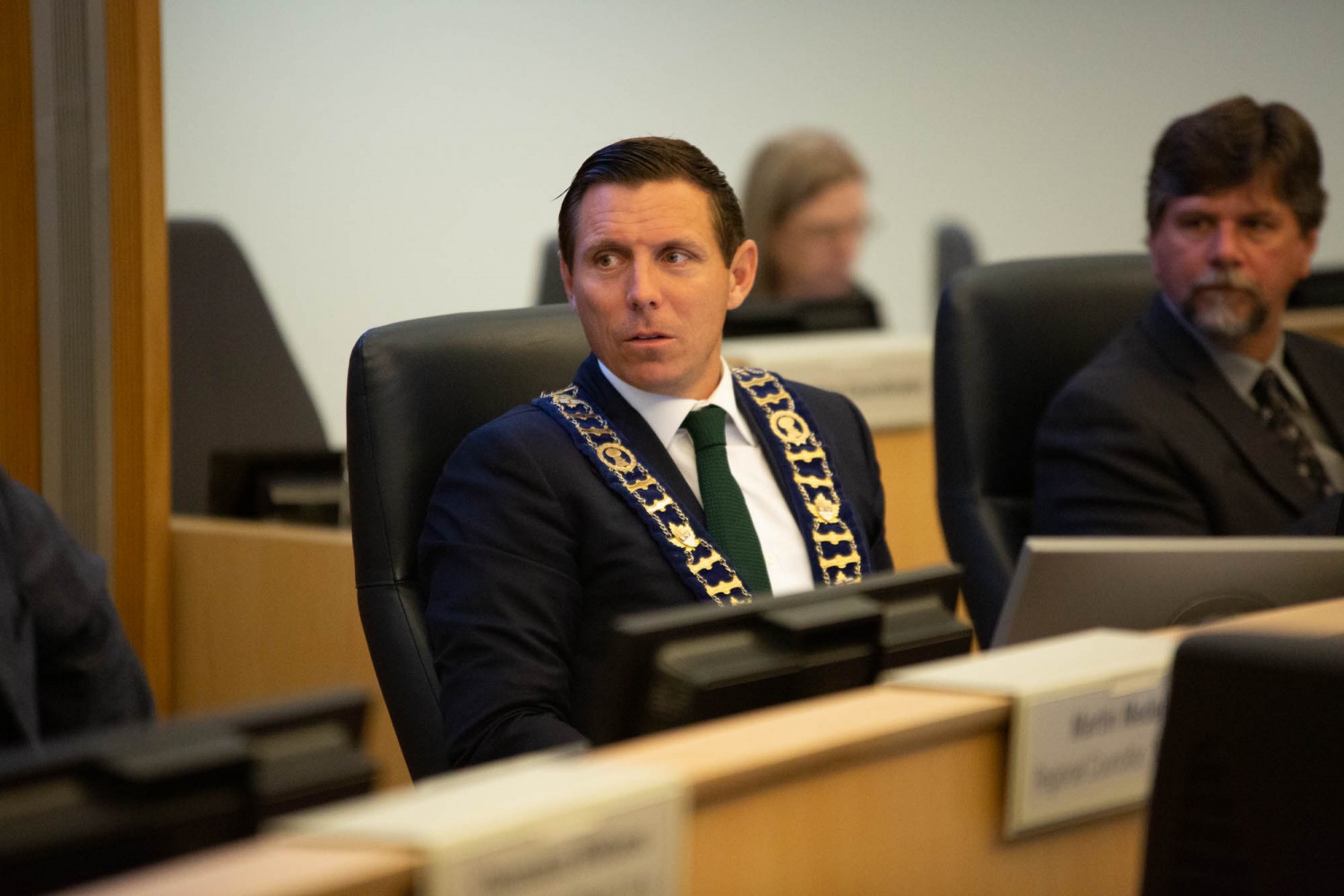 Photos from The Pointer files/City of Brampton
Will the 2021 budget put an end to Brown's tax freezes?
When Brampton's budget deliberations for 2020 took place this past February, City councillors did little to oppose a second consecutive tax freeze pushed by Mayor Patrick Brown, which was ultimately approved without much debate.
As discussions for the 2021 budget begin, the mood is much different.
Regional Councillors Martin Medeiros and Rowena Santos both questioned how a third consecutive tax freeze would impact the City's finances in the coming years and how future growth in the city can be supported without badly needed revenue.
On Tuesday, during the first budget deliberation of the season, Santos asked how much longer the city could get away with freezing property taxes. Mark Medeiros, acting treasurer, said it was difficult to specify an exact timeframe, given the ongoing pandemic and subsequent revenue loss. But regardless of the pandemic, he said the City is running out of runway to make up for another tax freeze.
Every year, the cost to run the city increases and inflation, along with other growth-related pressures, play a role in the need for increased revenues to operate the country's ninth largest city. Freezing taxes, which might be politically popular for someone like Brown, who in 2018 campaigned on a promise to stop tax increases, puts handcuffs on a municipality. Brampton has been forced to cancel or postpone a number of projects because it simply hasn't raised the money for them under his leadership. The only other options for revenue are reserve funds or debt, and the hope for funding from higher levels of government. It's not a sustainable financial model for any city.
"I don't know if we would have a surplus and how much of a surplus," Medeiros said. "[If we did] I don't think the surplus would be significant."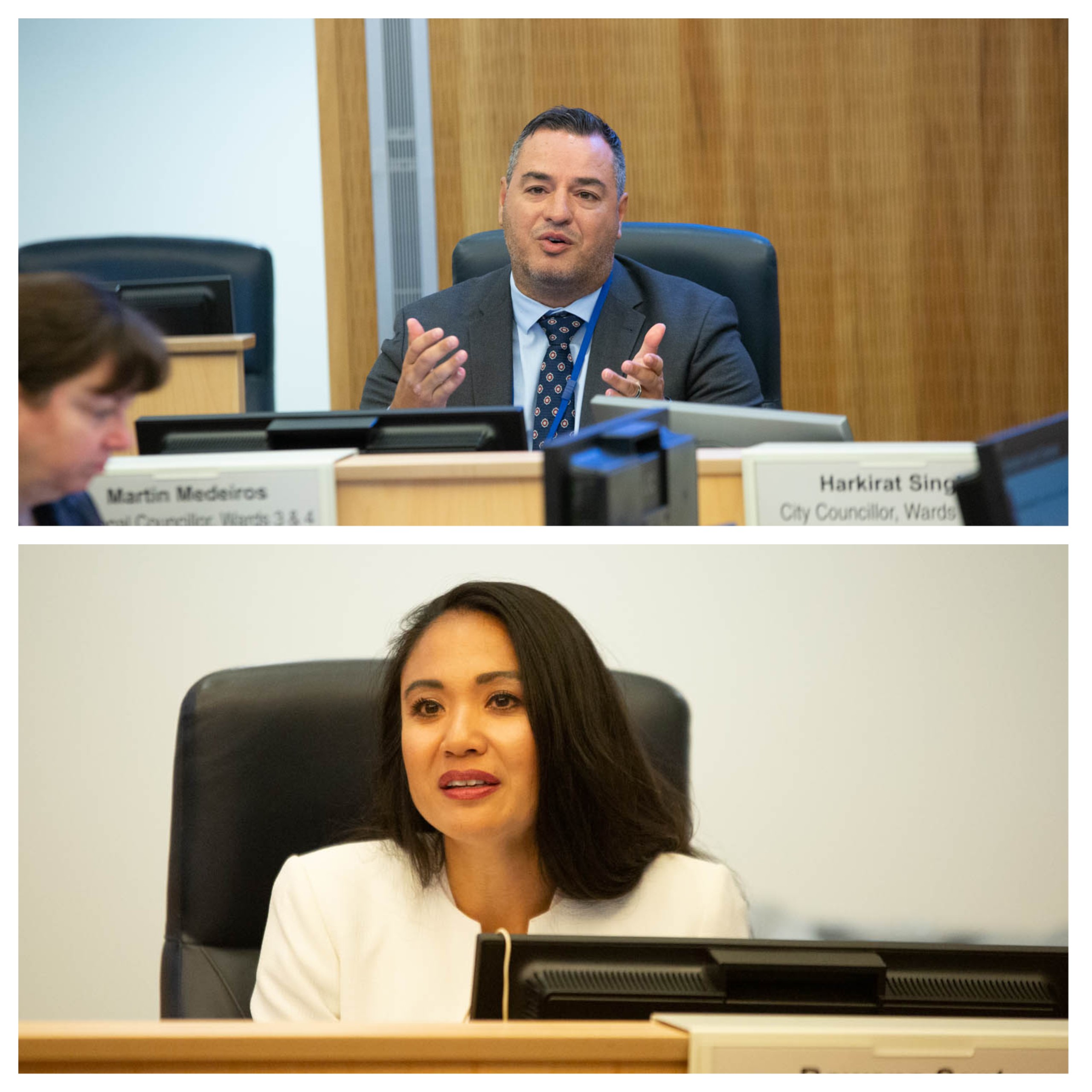 Councillors Martin Medeiros (top) and Rowena Santos
Property taxes would have to cover 67 percent (or $511 million) of the nearly $776 million proposed operating budget, which, if approved, would be an increase of 2.9 percent (about $22 million) from last year.
"The thought of a zero percent is not sustainable year, after year, after year," Santos said. The acknowledgement marks one of the first times a councillor has spoken out against the negative impacts that consecutive tax freezes have on Brampton's future.
The 2019 and 2020 budget didn't see an increase on the City's portion of the property tax bill, after Brown's election promise. The move last year was made possible after council decided to reduce its contributions to reserves by $5 million to make up part of the revenue shortfall, as expenses continue to increase.
Brown has failed to outline a fiscal plan since becoming mayor but has repeatedly said Ontario and Canadian taxpayers should bail out Brampton through funding from Queen's Park and Ottawa. Instead, the provincial government has drastically cut funding earmarked for the city, such as the $90 million that it was supposed to provide for a now-cancelled downtown university campus.
It's unclear what funding source the City could turn to if council pushes through another tax freeze. The General Rate Stabilization (GRS) Reserve, often known as a "rainy day fund" would likely not be an option.
The City is facing a $20.5 million deficit, due to pandemic-related costs. The City is hoping to make up for this through a second round of funding from the Safe Restart Agreement, money directed from the federal and provincial governments to municipalities to help with extra costs and lost revenue as a result of the ongoing public health emergency.
In August, the City received $35 million from this funding envelope; $11 million was allocated for general municipal funds and $24 million went toward transit, which was hit particularly hard by the pandemic. July 1 estimates show the City lost an estimated $38 million in revenue at the time from transit alone, due to a drastic reduction in ridership.
If this funding isn't received, the City plans on paying the deficit with the GRS Reserve. When a new year starts, the goal is to have 10 percent of the City's operating budget available in this reserve account in case of an emergency. For 2021, $77.6 million will be needed but the reserve only has $69.5 million. If it has to use this reserve to pay for the balance of the deficit, the starting balance would fall further from the target to $49 million, and if pandemic-related revenue losses continue for much of 2021, without more federal and provincial assistance, the fund could be practically depleted. While the City has applied for additional funding, there is no indication of how much it could receive.
Despite the impact of the public health emergency, any future deficits that may result from the pandemic are not acknowledged. David Barrick, the City's chief administrative officer, and Medeiros both noted the pandemic is not part of the 2021 budget, given its "temporary" nature.
"We did not budget for the emergency. We did not budget municipally as we didn't for 2020…instead we'll be focusing on our tax impacts," Barrick told the budget committee Tuesday. His comments are perplexing, considering no one knew the pandemic would hit when the 2020 budget document was drafted, but now, with the reality that impacts will likely be felt throughout the coming year, the inexperienced bureaucrat, who has no previous experience leading any City department, much less an entire municipal organization, appears to be showing his lack of understanding.
Cities across Ontario, including Mississauga, have prepared 2021 budgets with the foresight that revenues will continue to be impacted due to a pandemic that is currently hitting Brampton harder than almost any other municipality in the country.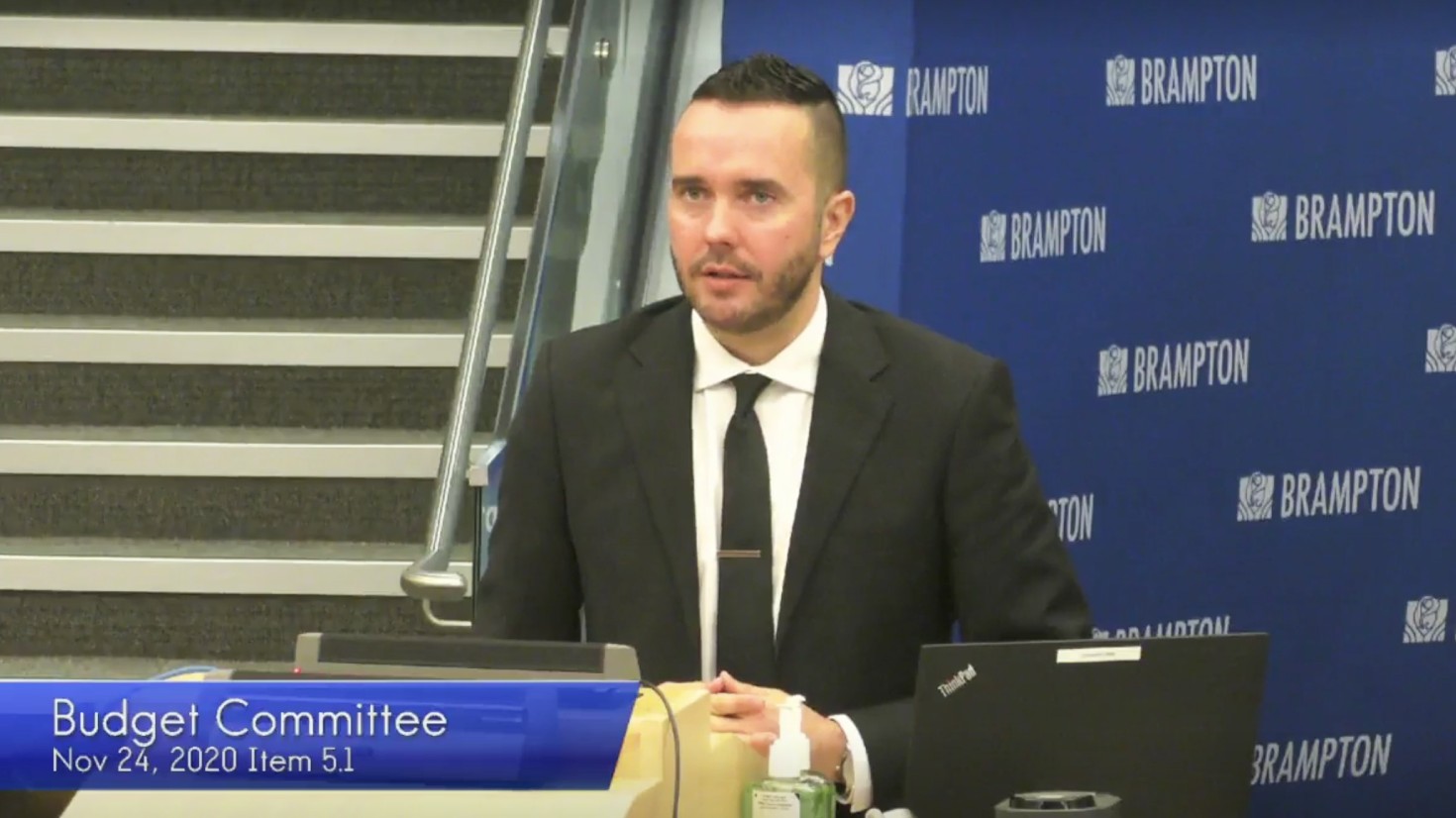 Brampton CAO David Barrick
Barrick was hired from Niagara Region, under Brown's direction, after being fired from its conservation authority. He was later implicated in a scandal that was revealed by Ontario's Ombudsman, who conducted an investigation that found Barrick and two other employees from Niagara, since hired by the City of Brampton, engaged in misconduct around the hiring of Niagara's former CAO in what the Ombudsman called an "Inside Job". Brown claimed he didn't know about it, despite numerous media articles that detailed Barrick's disturbing behaviour.
Now, the former Port Colborne councillor, who has no educational background in municipal governance and zero experience managing a city department, is the head of the ninth largest city in Canada, responsible for the budget currently being presented to elected officials on behalf of taxpayers.
His claim that the pandemic is temporary and does not have to be factored into the 2021 budget, flies in the face of what the municipality is dealing with.
The City of Brampton has seen its case numbers rise steeply since August and it has been one of Canada's worst hotspots since September. The most recent weekly COVID-19 incidence rate sat at 298, compared to 191 for Peel Region, and 117.5 for Mississauga. There is no sign of these cases slowing down and it's not clear why COVID-19 and its impact on revenue isn't considered in the budget.
The Pointer reached out to the City for clarification, but was told a response was not available. Similar documents, such as Ontario's recent 2020 budget and Mississauga's 2021 budget, speak on the spread of the novel coronavirus, and its impacts on municipal finances, with measures to address ongoing revenue losses, unlike Brampton.
At this time, funding the operating budget is the main concern, while the capital budget is said to be stable. "We're pretty strong in terms of our capital contributions," Medeiros said, with $119 million being contributed to the capital budget, through the infrastructure levy, transit levy, and stormwater charge.
City of Brampton's proposed 2021 operating budget.
While the $460 million contribution to the capital budget is larger than previous years, it's far less than the $593 million the 2020 budget proposed for 2021. The Pointer reached out to the City's finance department for an explanation but no response was provided.
One major aspect missing from the budget document, and deliberations so far, is the infrastructure funding gap. The 2019 State of Local Infrastructure (SOLI) report stated the gap was at $337 million, an increase from the $246 million outlined in the 2019 draft budget.
The budget does state the city forecasts spending $1.4 billion to address infrastructure funding over the next decade, but the SOLI report states this figure should be at least $2.56 billion. The City was not able to provide a response to The Pointer explaining why the infrastructure gap wasn't included in the budget as it has in previous years.
The City is relying heavily on grants and subsidies to cover costs in the 2021 budget.
On the other side of the table were councillors hoping for another tax freeze, given the hardship faced by many throughout the pandemic. City Councillor Harkirat Singh said if there was going to be a tax freeze, "this was the year to do it." He cited calls received from his constituents in Wards 9 and 10, telling him about how COVID-19 impacted them.
"I personally do struggle with tax freezes, especially when it's about future investments. But having said that, we've never experienced anything like this. COVID-19 came out of nowhere and people really, especially in Brampton, were affected."
Brown, a huge fan of tax cuts and freezes, who has never formulated any fiscal strategy to support them, agreed with Singh, saying it's the "wrong year to kick some costs on people when they're already facing difficulty."
Whenever a tax freeze is implemented, it raises numerous questions about funding for badly needed infrastructure in the city. Its 2017 financial master plan states the city would need tax increases between 3 and 5 percent over the coming years. None of the three budgets presented or approved under his watch have included a tax increase that represents this need.
Brown has failed to explain how he plans to pay for the following projects: BramptonU; his tunnel preference for a downtown LRT; the City's share of the Riverwalk project; the City's share of the Phase 2 expansion of Peel Memorial; the City's share of a third hospital; Downtown Reimagined; the total $240-$280 million for a major transit facility; the City's share of $300 million needed for electrified buses.
City Councillors Doug Whillans, Charmaine Williams and Regional Councillors Gurpreet Dhillon and Paul Vicente did not speak to the presentation made by Barrick and Medeiros. Budget deliberations will continue Thursday.
---
Email: [email protected]
Twitter:@nida_zafar
Tel: 416 890-7643
---
COVID-19 is impacting all Canadians. At a time when vital public information is needed by everyone, The Pointer has taken down our paywall on all stories relating to the pandemic and those of public interest to ensure every resident of Brampton and Mississauga has access to the facts. For those who are able, we encourage you to consider a subscription. This will help us report on important public interest issues the community needs to know about now more than ever. You can register for a 30-day free trial HERE. Thereafter, The Pointer will charge $10 a month and you can cancel any time right on the website. Thank you.
Submit a correction about this story