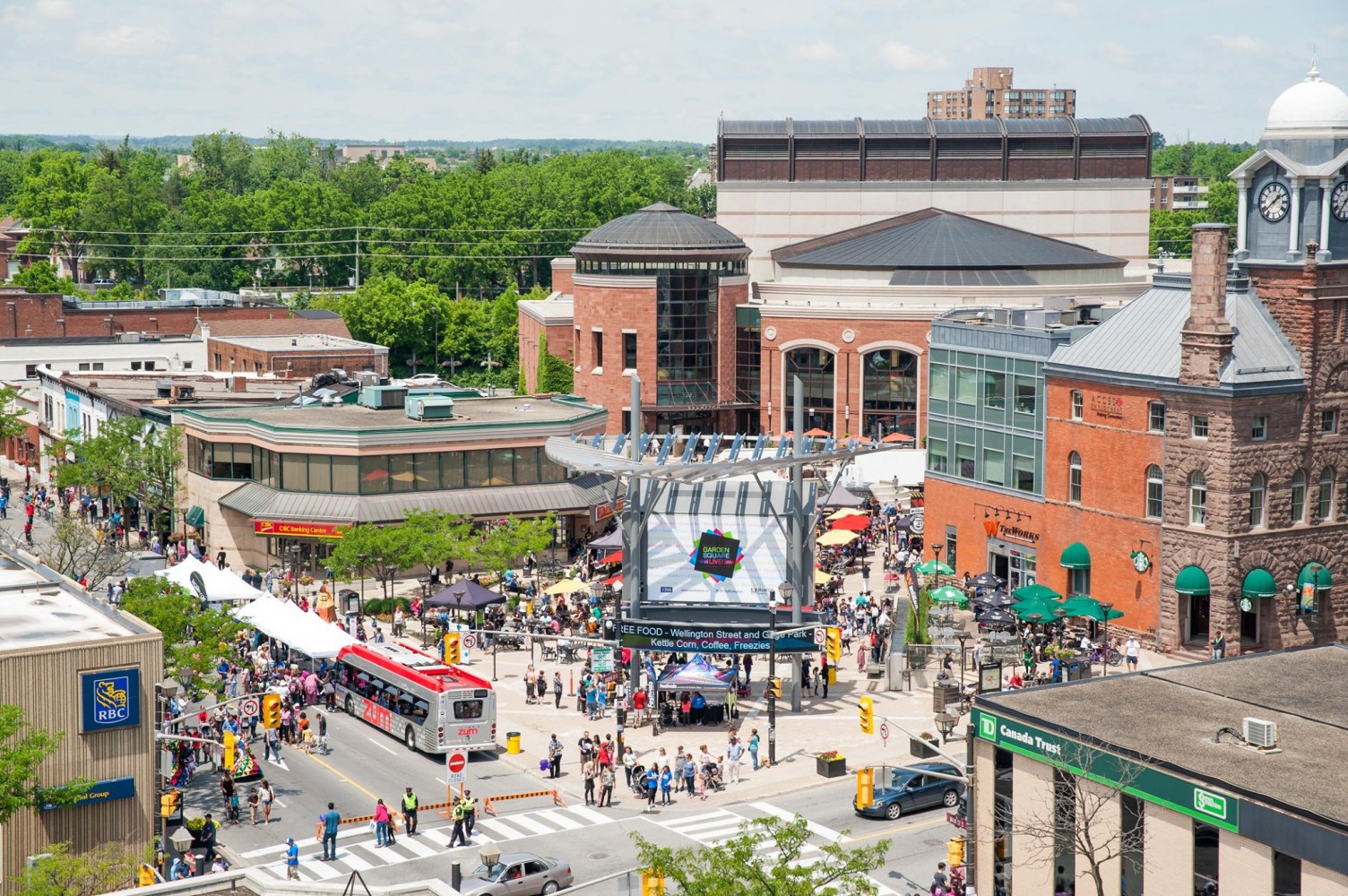 Photos from The Pointer files/City of Brampton
Brampton's proposed 2021 budget aims to incubate innovation downtown but forgets to invest in the area
The City of Brampton is facing financial pressure from all sides. Two consecutive tax freezes have kept revenues mostly stagnant and left new investments over-reliant on reserve funds, meaning critical projects delayed over the last two years are now coming due. The COVID-19 pandemic has also hit the already hard-pressed city coffers for tens of millions in extra expenditures and lost revenue.
The proposed budget, released earlier this month, is asking for a 0.9 percent increase on the City's portion of the property tax bill. If approved, combined with the projected 1.4 percent from the Region of Peel's portion, Bramptonians can expect a 2.3 percent hike on their bills, or about $122 dollars more than 2020 for a home assessed at $538,000 (which the City considers the average home price).
This doesn't mean council will approve the first tax increase of its term. Past budgets have also included such suggested increases, but council turned them down at the urging of Mayor Patrick Brown. The past two budgets proposed a 0.3 percent increase on the city's portion of the bill in 2019 and 0.5 percent in 2020. Neither of these were approved, and residents haven't seen a tax increase from the city since Brown took office.
The mayor's reluctance to pass a tax increase has come at the expense of major projects desperately needed in the city, which were either postponed or cancelled to give Brown what he wanted.
"The City's Long Term Financial Master Plan and Corporate Asset Management Plan reflect fiscal flexibility, transparency and accountability. This framework and the current Term of Council Priorities provide the structure for responsible and effective long-term decision making," states Mark Medeiros, the City's acting treasurer in the budget document.
It's a confusing statement, as the two consecutive tax increases, and the minimal hike proposed for 2021, are very different from what the City's financial master plan lays out for the future of Brampton.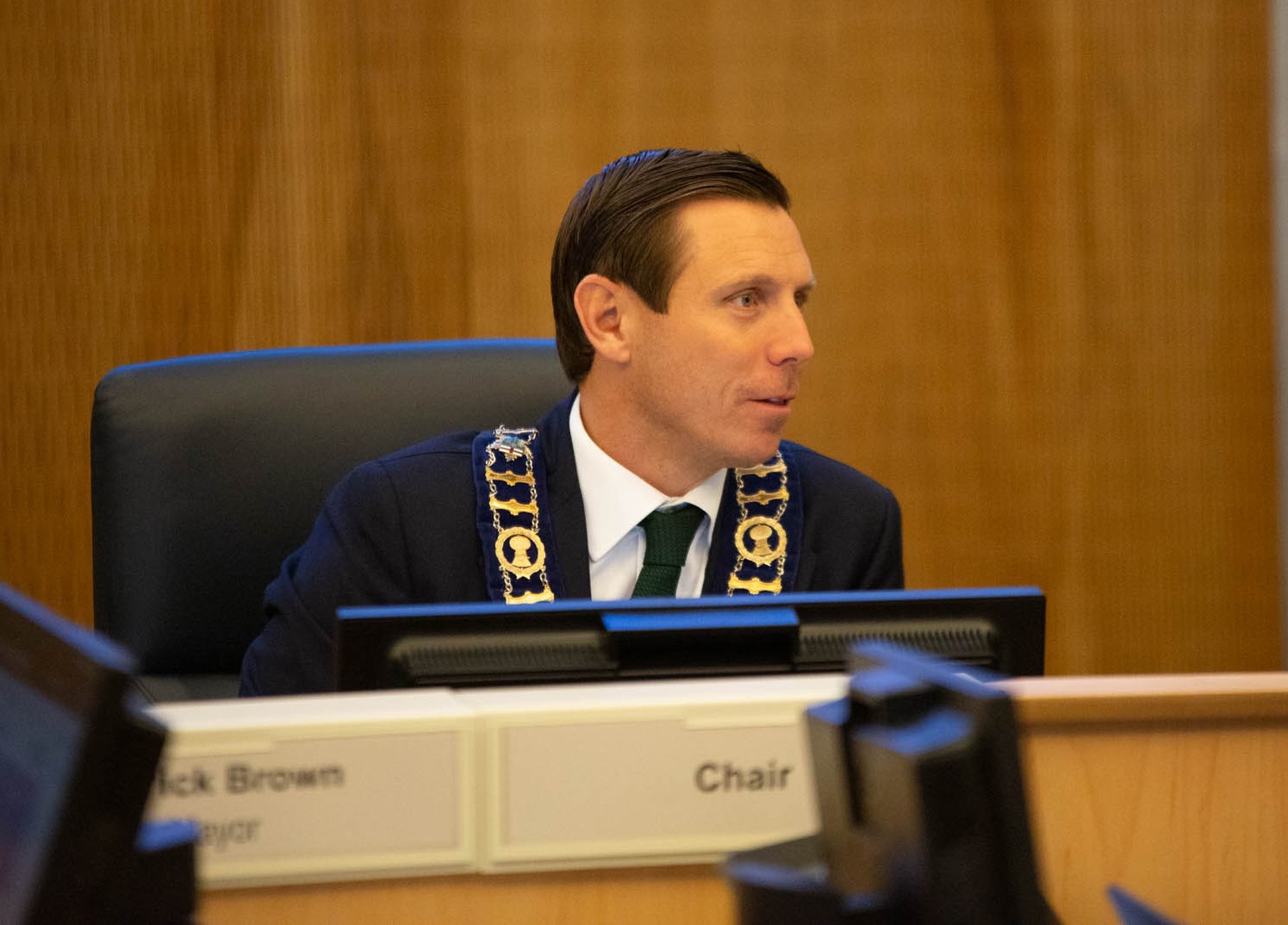 Mayor Patrick Brown
According to the City's financial master plan, approved in 2017, it will be able to manage its basic needs over the coming years with "modest" tax increases in the general range of 3 to 5 percent. The City has not seen such increases over the last two years. More concerning, this conservative fiscal approach does not include funding for major projects in the future.
Brampton, in the face of exploding growth and all the needs that come with it, is also dealing with aging infrastructure in older parts of the city. But Brown has chosen to kick responsibilities down the road, in favour of popular tax freezes often used by Conservative politicians to curry favour with many older voters.
In previous budgets, he has defended his tax freezes, claiming the City is contributing heavily to its reserve funds, and has implemented an infrastructure levy that will help put money away for any major repairs.
The City, under the proposed budget, will make another sizable contribution to its reserve funds. Last year, Mayor Brown heralded the $111 million put into City rainy day funds as the "largest contribution in city history". For 2021, the City is projecting $123 million for reserve accounts.
These numbers are bolstered by the Region of Peel's stormwater charge, which brings in $22 million annually. The City may be investing more in reserves, but it is also drawing more, pulling approximately $42 million from these accounts to fund the operating budget, an increase of over $6 million from last year.
The past has shown that these contributions, $111 million in 2020 and $123 million proposed this year, could easily be used up in a single year. In fact, 2019, with no pandemic to deal with, saw the City's reserve accounts drained of more than $100 million.
It begs a question: under Patrick Brown, why is the City not budgeting in a transparent way? Instead of a document that is meant to clearly designate every taxpayer dollar so the money can be justified, tracked and tied to what it was meant for, Brown has used an entirely different approach. He cuts or postpones projects, takes the money and puts it into reserves, and then when it's spent later from those accounts it becomes much more difficult for the public to know exactly how their money is spent. Of course, bureaucrats will tell you all the money is carefully accounted for, but those familiar with Brampton, know this often has not been the case.
During the last term of council it was learned that about $1.25 million was secretly used under former mayor Susan Fennell and her city manager, Deborah Dubenofsky's supervision, for a bonus scheme council and the public were never told about. The money was quietly paid to senior staffers, with little ability to track the transactions. Linda Jeffrey, the mayor when the internal audit team under her leadership uncovered the scandal, called the secretive use of hard-to-trace funds that was not recorded in a budget document or properly approved, "...at best serious negligence, and at worst corruption." The alarming behaviour was investigated by police but no criminality was found.
Under Fennell, Brampton councillors and residents were furious when it was revealed that $766 million in approved funding for projects could not be accounted for due to the removal of checks and balances in the budget and council reporting process under her and Dubenofsky.
Budgeting under Brown, who seems to use reserve balances as a sort of blank cheque instead of properly accounting for how specifically council intends to use public money through a well designed and approved budget document, can be a recipe for trouble. Even if the City says reserve accounts are carefully monitored and scrutinized, past examples have shown that the best way to guarantee transparency is through a thoroughly vetted approved budget document that all members of the public can refer to on the City's website at any time.
With the impact of the ongoing COVID-19 pandemic – estimated to be as high as $55 million – it's unclear how council will deal with this and future financial pressures created by the ongoing public health crisis.
The proposed operating budget, which handles daily costs, such as salaries, contracts, and office expenses is $775.7 million, a 2.9 percent ($22.1 million) increase from the year prior. Over half of this budget — 57 percent or $442.7 million — is for labour expenditures alone.
The increased operating budget will support the addition of 44 positions in the City. Several departments, including court administration, aren't getting any new positions despite a growing need. For example, with the City's photo radar cameras now in place, fines are automatically issued to speeding drivers. More tickets issued means more people potentially disputing them and a large increase in demand for a staff complement that has not been increased in several years, despite recent concern from some councillors.
The 44 new staff positions are a drastic reduction from what was initially proposed two year ago. In the 2019 budget, 107 new staff were projected for 2021, including 24 for fire and emergency services and 78 in Brampton Transit. The 2021 budget proposal only allocates 1 position for fire and emergency services and 16 for transit. This will mark the second straight year the City has not hired the number of staff initially proposed for essential services. In 2020, the need for 81 transit drivers in the new year was only met with a budget for 30.
Last year, the City explained to The Pointer that the reduction in the number of new staff for critical services like transit was a result of a reduced demand. Transit has seen rapid growth over the last 10 years, but that surge has slowed slightly in recent years. However, when attempting to trim a budget to accommodate tax freezes, new expenditures, like those for new staff, even for essential services, are difficult to accommodate without increasing revenues.
The City's capital budget has also seen a reduction from what was initially proposed in previous years. The $460.3 million funding envelope will go toward construction and the repair of infrastructure, such as roads and bridges, in the city.
While this is an increase of $238.4 million over last year's capital investment, it is actually a reduction from what was projected in the 2020 budget. As a result of postponed projects over the last two years, including a badly needed transit storage and maintenance facility projected to cost around $240 million to $280 million for a two-phase construction (that was taken out of last year's budget to accommodate Brown's demand of a tax freeze), capital spending for this year had ballooned to $592.8 million. The current proposal is a 22 percent ($132.5 million) decrease from what staff projected last year.
The handling of the transit maintenance and storage facility is an example of council interference in the City's operations. After being pushed from the 2020 budget with Brown claiming the move was to pursue an electrified transit facility and funding for it from Ottawa, the $175 million for the first phase of the project is now slated to be funded in 2021 but only if it can secure funding from the federal government. The proposed budget states 73 percent of the project ($128.1 million) will come from subsidies and grants. A recent investigation by The Pointer found, as of October 30, there were no agreements, or talks for an agreement, between the government of Canada and the City of Brampton. It remains unclear why the City has included this significant project in its capital budget when it does not have the money to pay for it, and while funding from other sources remains uncertain. It's not unprecedented to budget this way, in the hopes of securing assistant from Ottawa or even Queen's Park in the future, but what makes the Brampton approach particularly unusual is the lack of any capital planning to create an electrified bus fleet. The City could be looking at as much as $300 million to transform its current complement of diesel buses into a new electrified fleet. It's unusual for Brown to make claims of playing his budget shell game for a future electric transit facility, while not beginning to budget for the actual buses that would justify such an investment.
A number of other important projects are also not mentioned in the current proposal. The Downtown Reimagined Plan, originally approved in 2018, was set to rework the streetscape of Brampton's crumbling downtown core. Business owners were told better parking for customers and improved infrastructure in the area along with a major beautification project were coming, but these promises have not been fulfilled, leaving many business owners frustrated.
In December of 2018, the project was put on hold at Brown's request, as the price of as much as approximately $70 million, according to one of the received bids, did not fit Brown's plans for a tax freeze. The City backed out of an agreement with the Region of Peel to make the much needed changes happen, citing bids for the project that were over its budget and claims under Brown that sub-surface engineering work somehow had not been done, despite the issuing of an RFP for the project. Since then, the Region has said it will be moving forward with its own share of the infrastructure improvements, but the City's portion has been put on the backburner and there is no mention of it in the 2021 budget.
What is mentioned, several times, is the "Integrated Downtown Plan." Cited as addressing Brampton's 2040 Vision master plan to transform the city centre, $200,000 is allocated for it, but it's not clear if this project addresses the infrastructure needs of downtown business owners.
Another $100,000 is also allocated for studies around the Queen Street Precinct Plan, which aims to change the area to a 20-minute walkable neighborhood.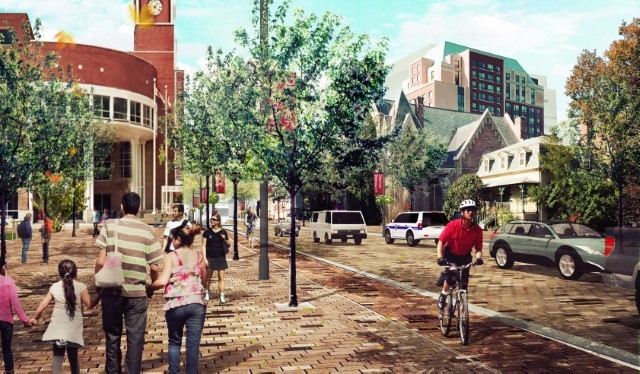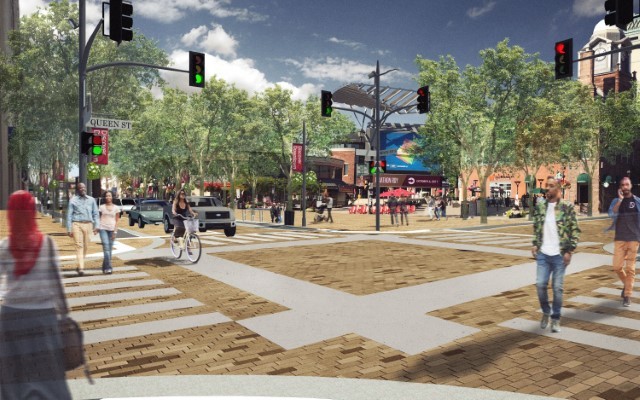 The Downtown Reimagined Plan, which envisioned a renewed streetscape for downtown Brampton, does not receive a mention in the proposed 2021 budget.
A majority of the funding allocated toward the downtown core is to attract more businesses to the city, specifically through investing $5.8 million in the Innovation District. Such funding is in addition to the many elements that already exist for the proposed district, such as the Rogers Cybersecure Catalyst and the Brampton Entrepreneur Centre.
It's unclear why these efforts to create various innovation infrastructure in the city centre are not supported with badly needed investment for downtown projects that would help the overall plan. While Downtown Reimagined remains unfunded, there is hardly any money budgeted for the area's ambitious Riverwalk project. Ottawa just pledged more than $38 million for it through a disaster mitigation grant that will be used to address downtown flood risks caused by Etobicoke Creek, but it's unclear how the City plans to cover some $50 million for the project that will be needed to secure the federal contribution.
Part of the innovation funding includes $2.4 million for expanding Algoma University's presence in the downtown core, but there is no mention of funding in the proposed 2021 budget for the city's own post-secondary venture, BramptonU, only continued advocacy efforts to the Province to support the project.
There is also no mention of Brampton's ongoing healthcare crisis despite the city declaring a health emergency in January. A third hospital is badly needed, and if the expected expansion of Peel Memorial includes a transformation into a full-service hospital with in-patient capacity, the moves would likely require significant capital investment by the municipality.
The responsibility to fund healthcare doesn't fall to municipalities, but they are responsible to partially pay for large capital infrastructure. When the City had to pay for its share of the first phase of Peel Memorial, it set up a levy, money allocated for one specific project; $60 million was collected and $20 million is still available to be used.
Plans for the second part of the expansion are currently being worked on. William Osler Health System, which runs Peel Memorial, submitted an application to the Province in March. It's not clear what the final cost will be, and what portion would be funded by the City, but the current budget does not include any funding for the desperately needed expansion of healthcare in Brampton.
Deliberations for the proposed budget will start on November 24 and are set to conclude December 4.
---
Email: [email protected]
Twitter: @nida_zafar
Tel: 416 890-7643
---
Email: [email protected]
Twitter: @JoeljWittnebel
---
COVID-19 is impacting all Canadians. At a time when vital public information is needed by everyone, The Pointer has taken down our paywall on all stories relating to the pandemic and those of public interest to ensure every resident of Brampton and Mississauga has access to the facts. For those who are able, we encourage you to consider a subscription. This will help us report on important public interest issues the community needs to know about now more than ever. You can register for a 30-day free trial HERE. Thereafter, The Pointer will charge $10 a month and you can cancel any time right on the website. Thank you.
Submit a correction about this story