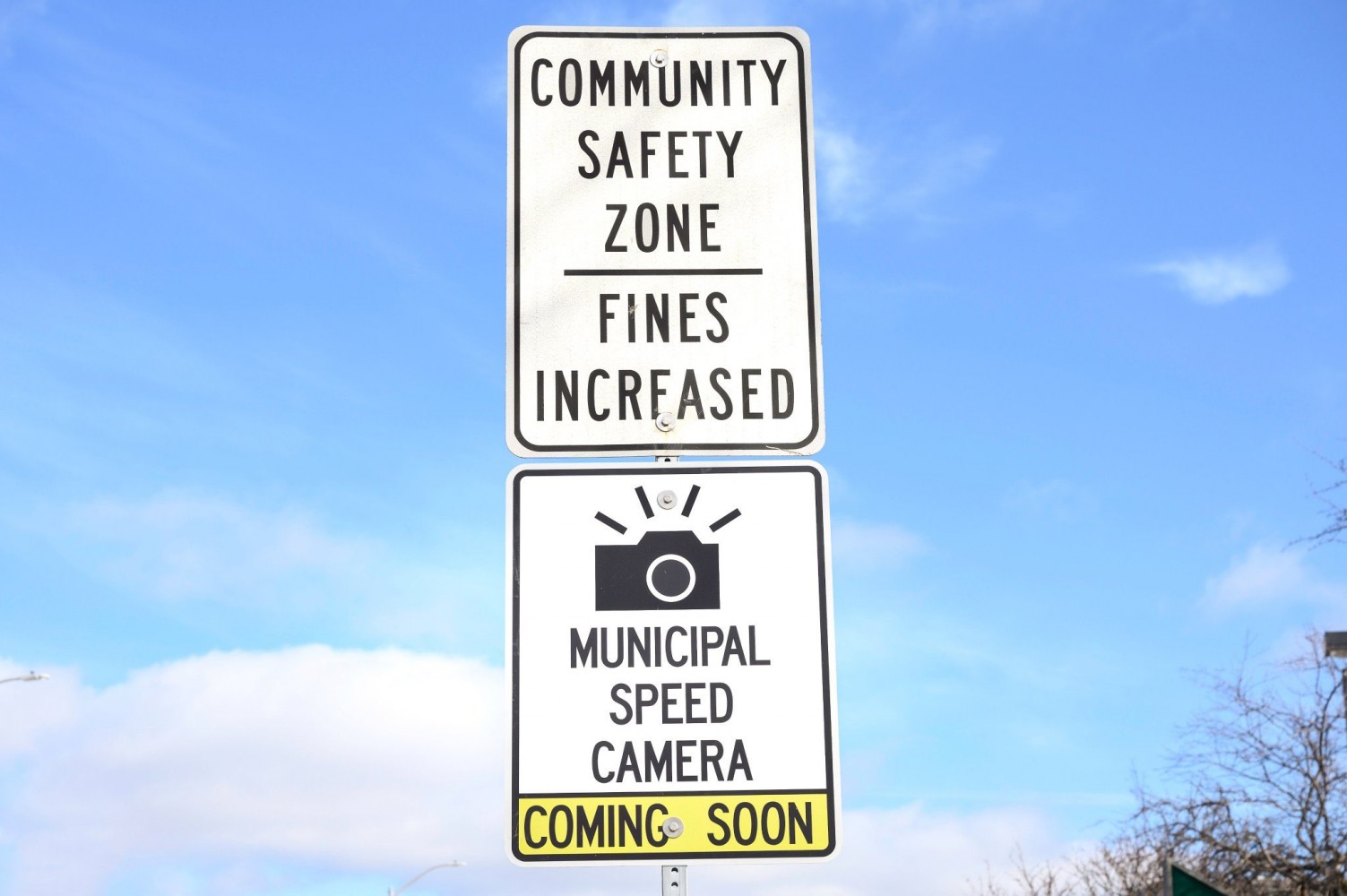 Photos from the City of Brampton/Facebook/Peel Regional Police
Overwhelmed court system means Brampton Council can't take advantage of its own photo radar plan 
Speeding and dangerous driving have become far too common throughout Peel Region and Brampton in particular.
A spate of stunt driving offenses has angered citizens across the area, none more so than the horrific accident that caused the deaths of Karolina Ciasullo, 37, and her three young daughters last month when their SUV was slammed into at the corner of Torbram Road and Countryside Drive in Brampton. Brady Robertson, a 20-year-old Caledon resident is facing dangerous driving charges as a result of the crash.
He faces another dangerous driving charge for an incident two days before he killed the Ciasullos.
Robertson was convicted last year following charges for driving while suspended, using improper plates and failing to provide proof of insurance. He did not show up in court for his January appearance.
It appears he was using the roads during the pandemic as his personal speedway, as video of the June 16 incident, two days before the fatal crash, showed him ploughing over a sidewalk, before speeding away as bystanders attempted to stop him.
Image of Brady Robertson from Facebook
In an attempt to push back against drivers who don't want to slow down, Brampton council is pushing ahead with the implementation of an automated speed enforcement (ASE), or photo radar, program. The cameras, which can automatically tag and ticket speeding vehicles, are seen by many on council as a key part of the solution to improving safety on local roads.
"I see people just fly by and I'm hoping that if they start getting the fines that they will get the message," Regional Councillor Pat Fortini said at last week's council meeting.
A staff report that went before councillors Wednesday detailed how the City plans to move immediately to have five photo radar cameras in place by September, with a further annual rollout that will eventually see Brampton operate 200 of the speed trap devices.
The first five cameras, to be located at priority locations in the city, will come with a price tag of $240,000. At full implementation, the city is looking at nearly $5 million in annual costs, including about $2.2 million for equipment and rental fees, and $2.5 million in court administration and processing fees. This does not include the possibility of additional staff requirements to handle the workload in traffic and court services. To operate all 200 cameras on a 24/7 schedule, it would run the City approximately $10.9 million annually.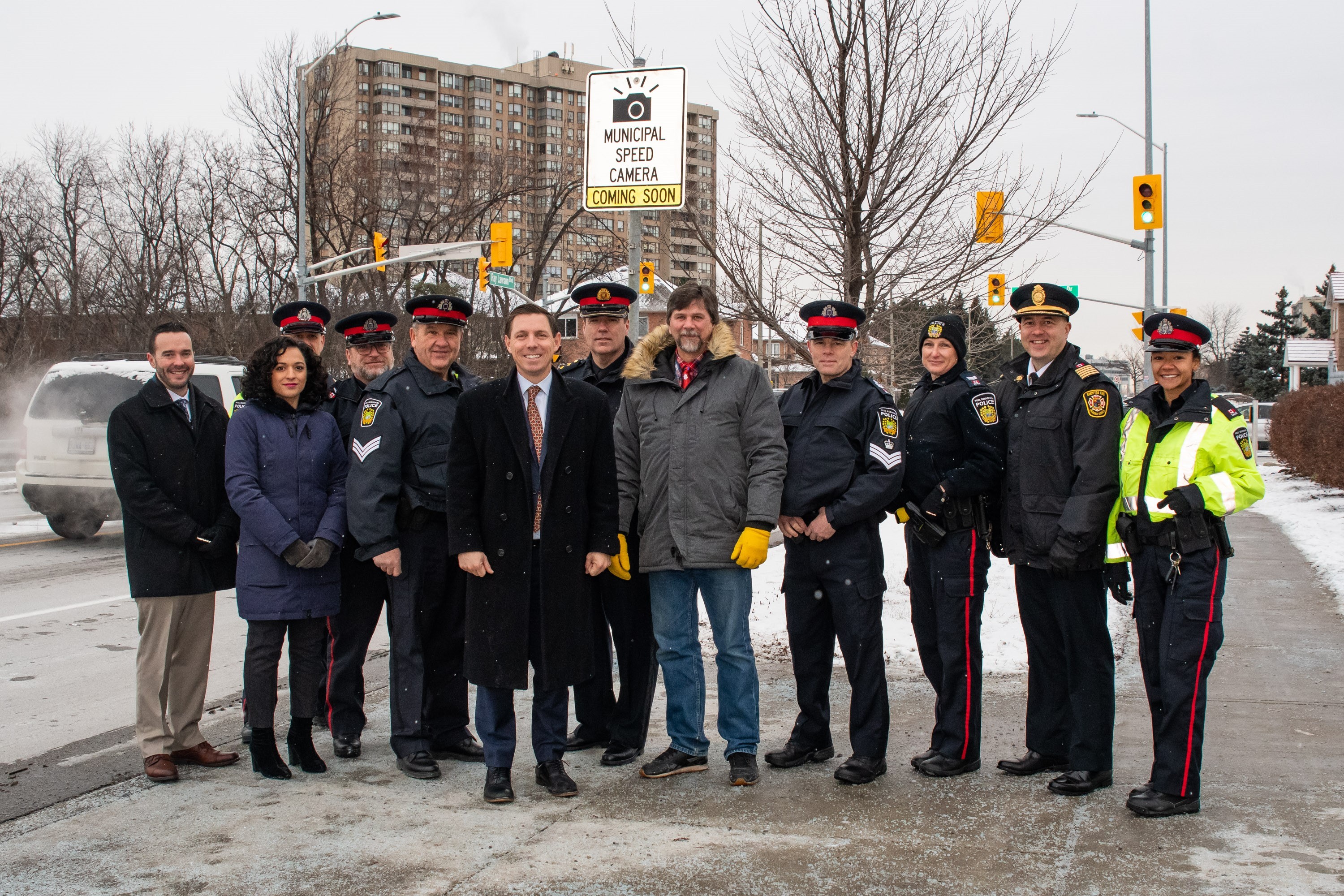 Councillors and Mayor Patrick Brown have made a highly publicized push to install photo radar cameras across Brampton, but have done little to address the havoc it could create in the city's court system.
While the true costs of the full rollout remain unclear, what is clear is the burden the addition of ASE charges will have on Brampton's already overcrowded and under-resourced court system.
Currently, the city's provincial offences court has an operating capacity of 65,000 charges per year. Operating at full capacity — 200 cameras scanning 24/7 — it's estimated these devices could generate 438,000 charges every year. Based on the city's current court capacity, it would take nearly 7 years to process this volume of charges (and that's excluding all the other municipal and provincial offences handled at the courthouse).
So, despite the urgent need for the traffic-calming technology, as more and more people speed through city streets, the lack of funding for local court services means the cameras can't be fully utilized. Some abusers will be caught, but the vast majority of the potential to use the new technology will not be realized because of resource constraints in a city already facing a dire financial reality and with a mayor who prefers to keep taxes low.
It means the City will need to be strategic about when and where it is turning on the photo radar cameras to have maximum effectiveness.
Currently, staff are operating under the assumption the provincial offences court will be able to handle 18,000 ASE charges each year.
According to the staff report, the city's court services department has been able to modify existing scheduling to free up more courtroom time each week, and has created a new administrative monetary penalty (AMP) system for non-parking related infractions, meaning these minor offences can be handled outside the courtroom.
These modifications would allow the court to continue to handle the existing volume of municipal and police offences, staff say.
Yet, difficulties will arise as the city looks to add more cameras.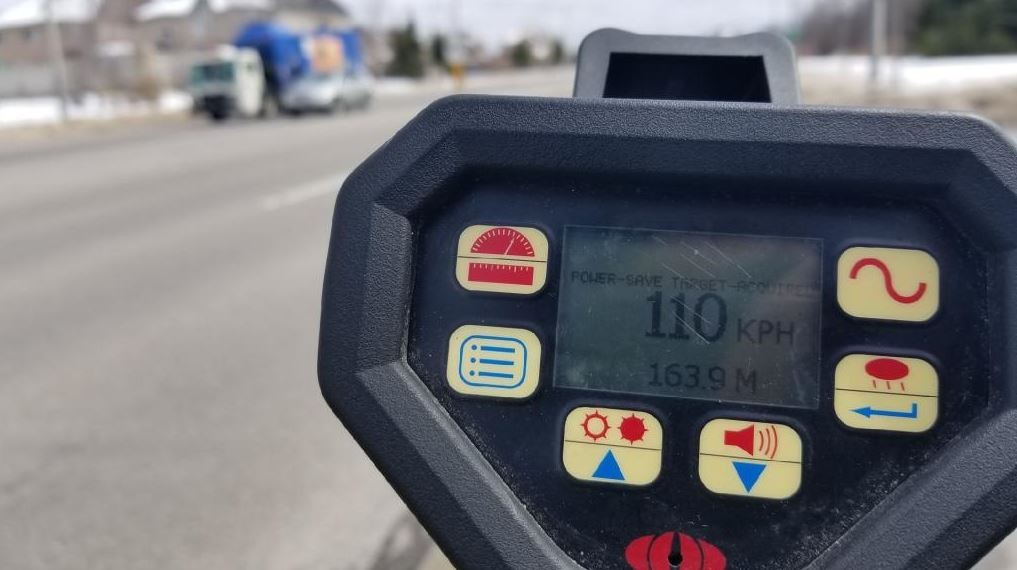 A spike in stunt driving charges during the pandemic has left many in Peel Region wondering what can be done to stop dangerous driving.
"Staff would need to determine the most appropriate times of the day to operate locations, keeping in mind the hours of operations will decrease as the number of locations increase," the staff report reads.
Another question involves the Joint Processing Centre in Toronto, which many municipalities are relying on for processing power as they look to implement fledgling ASE programs. Unfortunately, it remains unknown whether the JPC has the ability to accommodate the influx of infractions.
"The JPC may not have the capacity to process (an) increasing number (of) charges as additional municipalities implement ASE, unless the hours of operation (for ASE cameras) are scaled back significantly to limit the amount of charges," the staff report states.
It's a one-two punch to Brampton's ASE hopes. Not only does its existing court capacity have little wiggle room to accommodate much more than five cameras that could only operate sporadically, but the tickets may not even be able to be processed properly.
The potential pitfalls were essentially ignored by councillors during last week's meeting, despite the current and past staff reports which have explained the dire situation inside the Brampton courthouse.
Currently, the City of Brampton has an agreement with the province, put in place in 1999, tasking the city with operating the Provincial Offences Court (5 Ray Lawson Boulevard). Under that agreement the city oversees the entire operation of the court, including administration and prosecution of non-criminal offences, including charges under the Highway Traffic Act and municipal bylaw infractions.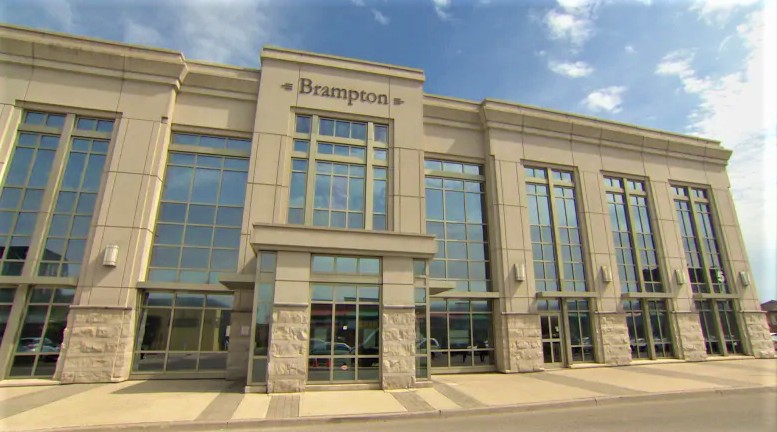 Brampton's provincial offences court
A report that went before councillors in November detailed how the Central West Region of Ontario's court system — which includes Brampton — has 52 JPs allocated, but only 40 are available to sit and hear cases. The shortage has led to an increasing number of courtroom closures since 2017. In that year there were 125 closures, a number that rose to 177 as of November 2019. Due to a number of impending JP retirements, city staff estimated there could be as many as 355 closures this year — a 169 percent increase. That was before COVID-19 shuttered courtrooms for months.
In case Brampton councillors needed any more proof that the approval of ASE could cause further strain to its court system, several studies of other Canadian ASE programs have illustrated the additional workload.
A study completed in 2010 of BC's photo radar program found the cameras caused an "incremental workload" increase at local courts, requiring more prosecutors, court support staff, police time and court/registry clerks at an additional cost of $1.9 million annually.
While it's possible for this extra staff to be paid for by the revenue these tickets will generate (Brampton staff are projecting that eventually the city's ASE program will be revenue neutral) the court must also take into account the lost time and money from disputed tickets. The BC study found these disputes could cost the system as much as $1 million every year based on fewer than 10 percent of tickets being argued in court.
The potential increase in people challenging their photo radar fines could hit Brampton particularly hard.
Numbers from City staff show that the "prepay rate" for tickets in Brampton — the number of people who pay their Highway Traffic Act violations with no questions asked — sits at only 10 percent, meaning the vast majority require a court date to plead their case.
Councillors were nothing but excited to get the program off the ground.
"I'm extremely proud of this, we're really pushing the envelope here," said Councillor Michael Palleschi
"I think this is very clear, we don't want any further delays, this will allow those 200 speed enforcement (cameras) to be installed," said Mayor Patrick Brown. He was more concerned that the City of Toronto was getting credit for being the first municipality to implement ASE, than the problems with the court system, or the potential costs. His mention of the 200 cameras also failed to recognize that it will take a long time before they can all be put to use, because of the lack of capacity in the local courthouse.
The motion carried with all councillors saying that they didn't want any more delays, and that they wanted them implemented "right away". It's unclear if any of them even read the accompanying staff report.
While council failed to address the problem during its public meeting, the approved staff recommendation included a letter to the Ministry of the Attorney General requesting further judicial resources for the Brampton courthouse. Staff have taken this route before, writing a similar letter late last year. The City did not respond to questions from The Pointer seeking what response the City received after its last attempt to get more resources for the court.
A separate letter will be written to the Ministry of Transportation seeking permission to use the municipal AMP system to process ASE violations. This will allow the revenue from these tickets to be held by the municipality. It's a significant ask with many municipalities facing bleak financial futures following the COVID-19 pandemic.
The locations for future cameras are chosen based on existing community safety zones as well as other priority areas for council. A recommendation from Wednesday's report said that Council is to create 25 more community safety zones, which will incorporate 30 more schools into these areas.
While school zones are limited in their designation to 150 metres around a school, community safety zones can include much larger areas, and even encompass schools. For ASE, this means cameras can be placed more strategically. For example, on Balmoral Drive between Dixie and Torbram Road, the 3.3 km stretch holds five schools. Instead of creating five school zones, the entire area can be designated as a community safety zone.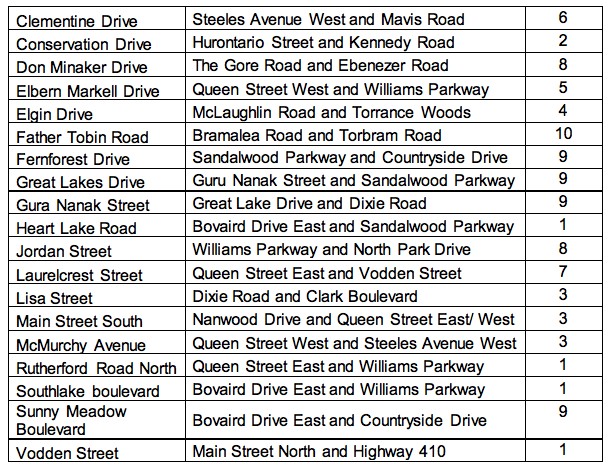 Even though school zones will be the first areas cameras will appear, Council also discussed other major roadways that are a cause of concern. Highway 50 was a large talking point as many agreed it and other large, straight roads are also where people are speeding. Cameras will eventually be placed outside Community Safety Zones to ensure that areas of the city where major accidents have been occurring become safer, but it's unclear when this will happen.
There are many potential problem areas in the city. In 2020, Brampton city staff collected speed data from 77 local and collector roadways throughout the city with speed limits of 40 or 50 km/h. Four of the 77 were identified as having speeds in "excess of what would be expected."
An example of this is at Williams Parkway and Queen Street East, a roadway that sees an average of 7,100 vehicles a day. This area has a speed limit of 40 km/h, but the average driving speed is 57 km/h.
Many major roads in the area throughout the pandemic have become a playground for those seeking an adrenaline rush.
In March at the beginning of lockdown orders across the province, police laid out 44 charges for stunt driving up 63 percent from 2019's 27 offenses. In April, the number of charges decreased to 26 compared to 35 in 2019, but year over year for the two-month period, stunt driving charges have increased 13 percent.
Police on Twitter shared a photo of a speed gun clocking a car going 126 km/h on a 60 km/h road, which was matched by a driver who reached 156 km/h.
In May, OPP caught an 18-year-old going 308km/h in his father's Mercedes down the QEW near Burlington. He was given a seven-day license suspension and the vehicle was impounded. He was also charged with stunt driving and will face a criminal charge for dangerous driving. That charge can range from a fine of up to $10,000 to prison time, according to the OPP.
---
Email: [email protected]
Twitter: taasha__15
---
COVID-19 is impacting all Canadians. At a time when vital public information is needed by everyone, The Pointer has taken down our paywall on all stories relating to the pandemic and those of public interest to ensure every resident of Brampton and Mississauga has access to the facts. For those who are able, we encourage you to consider a subscription. This will help us report on important public interest issues the community needs to know about now more than ever. You can register for a 30-day free trial HERE. Thereafter, The Pointer will charge $10 a month and you can cancel any time right on the website. Thank you.
Submit a correction about this story