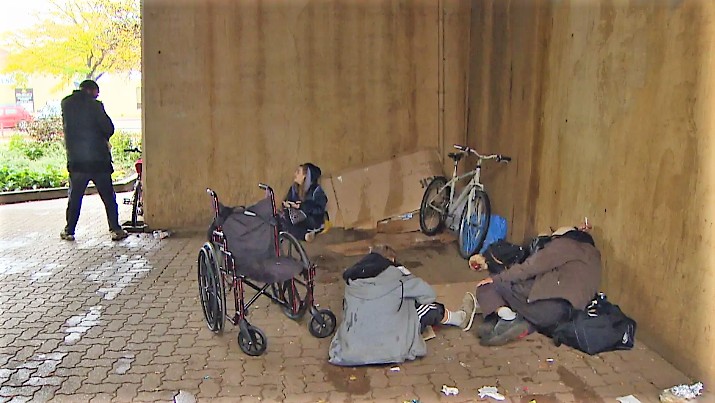 Photos from The Pointer files/Region of Peel/Google Maps/Michael Aitkens/CBC
Brampton's downtown is being overwhelmed by homelessness and drug use; Region promises help
The disturbing reality created by an underfunded mental health, addictions sector and homelessness crisis are on full display in downtown Brampton. Residents and business owners are now at a breaking point, feeling helpless to address a host of social ills that are playing out on city streets.
Drug dealing and open acts of prostitution in local alleyways, homeless individuals, many with mental health struggles, the use of downtown parking lots to defecate and confrontations, sometimes violent, with people who are asked to vacate, have all become routine features of Brampton's struggling city centre.
"We seem to have a greater problem than we've had in the past, but the pandemic has seemed to increase the problems," said Geoff Ross, the reverend at St. Andrews Presbyterian Church located on the corner of Church Street and Union Street. Ross says he has repeatedly stopped people addicted to drugs from using on his property, and confronted the sickening face of human trafficking by stepping in when pimps and johns attempt to use church property to conduct their illegal business.
"The brazenness is very clear and evident for us," he said. "It's just so much more out in the open because there's much less camouflage of other things going on (as a result of the pandemic)."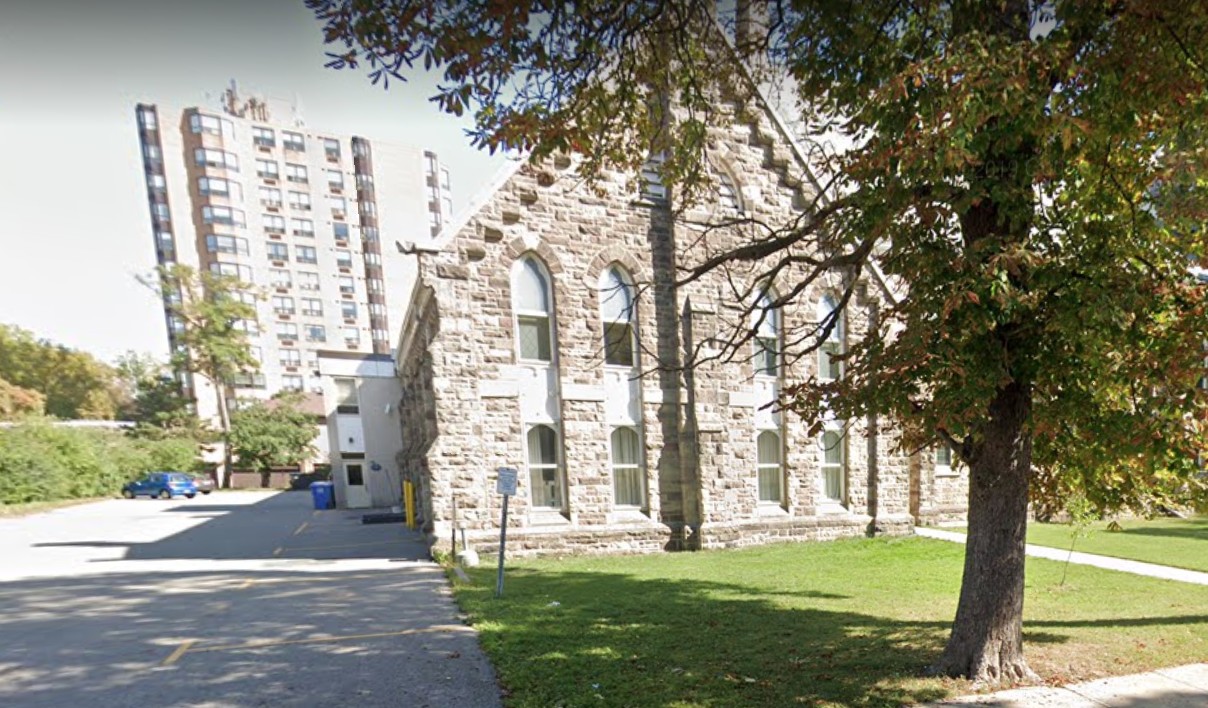 The parking lot behind St. Andrews Presbyterian Church is commonly being used for illicit behaviour, the reverend states.
Ross was one of several residents, business owners and community stakeholders who appeared before regional council on Thursday calling for help. The group was looking to councillors to step in, with ideas ranging from hiring private security to pouring more funding into social services in the region. If nothing is done to help address the problems spilling out onto the streets every day, they say the disturbing displays of a broken system will destroy downtown's potential by "burying it in social problems".
While Thursday was the first time the group appeared publicly before councillors, it was noted these concerns have been brought to the attention of downtown Brampton councillors for months.
Regional staff came to the meeting with a stop-gap solution.
The Region is looking into the potential of renting out vacant commercial space in downtown Brampton and Mississauga to serve as a combination of drop-in centres for the homeless as well as an access point for other regional services. Locations for these centres have yet to be chosen, but the Region hopes to have them operational by the end of the year.
The Region has also purchased a building in Mississauga it intends to convert into shelter space, potentially doubling the region's existing capacity, which cannot meet the demand. Staff noted that because the acquisition had only been discussed with councillors during closed session no further details or any timeline for the project could be shared at this time. It's unclear why this discussion was dealt with in closed session and not out in the open so the public could participate in an issue with such direct impact on communities.
The additional social services being proposed represent one of the first concrete steps forward for a regional system that has been stretched to a breaking point for years. It's something regional councillors have been well aware of, and without the persistent efforts of local businesses and downtown residents, it's unclear whether these additional "drop-in" spaces would have been pursued.
Councillors around the regional table have largely failed to address the growing list of social problems facing Peel.
The Region's response to the housing crisis in Peel over the last several years has been abysmal with next to no investment in capital projects for new affordable housing units or shelter spaces being made in the last two budgets. In August, the Region celebrated a $276 million investment into affordable housing units funded by the federal government. The money is part of a proposed $1 billion investment into affordable housing in Peel over the next 10 years. To date, about $700 million of the plan has been funded, with the Region planning to invest $335 million into the cause and a further $61 million coming from other federally and provincially funded housing programs.
The investment will result in 2,240 new affordable housing units by 2028, the Region states. This is a far cry from what the region initially planned under it's Home for All strategy, a plan that is effectively abandoned, and would have seen the region, in partnership with the private sector, construct 7,500 affordable units annually between 2018 and 2028. After two years, and hardly any of the target met, the plan is no longer mentioned by Regional staff, despite approval by the previous council and the trumpeting of its intended benefits.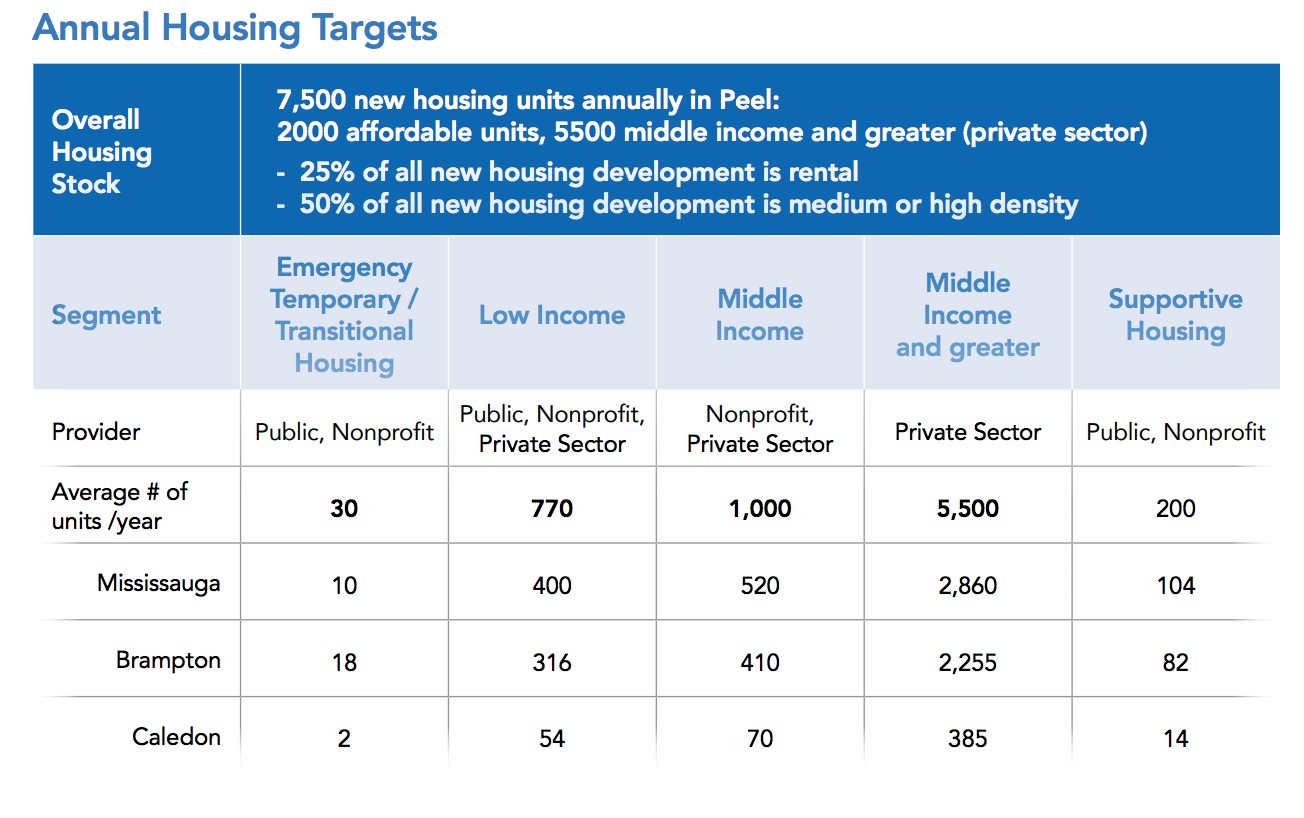 Affordable housing targets under the abandoned Home for All plan
The additional services and shelter spaces now being proposed are desperately needed in Peel. The region's shelter system has been chronically backlogged, operating in overflow capacity since 2016. According to Janice Sheehy, the Region's commissioner of human services, Peel's "compassionate approach" means nobody is turned away when they arrive at the shelter seeking a bed. With shelter visits surpassing 15,000 in 2018, this approach led to the region spending more than $2 million on motel and hotel rooms to house those in need of a roof over their head, a 240 percent increase over what was initially budgeted.
It's still not enough, and regional councillors have been well aware of it. Yet, none have picked up the torch to advocate for increased spending at budget time.
With the province now in a second wave of COVID-19, Monday seeing 700 new cases, the highest daily tally yet, these social problems that have been laid bare should be addressed immediately, or the region will be facing a costly tsunami of need among service providers that would be next to impossible to address come budget season.
The complexity of the problem is why it persists. As Councillor Martin Medeiros says, "there's no silver bullet" to fixing the problem.
In order to help, it requires a social service sector that can cast a wide net to encompass everyone.
But councillors have neglected their responsibility to adequately fund the needs of social services in their communities. It simply is not a priority area for them, as evidenced by their continued failure to budget for the basic needs of the sector.
And while their neglect is glaring, local and regional governments need support from other levels, according to staff and elected officials. Sheehy told councillors, the mental health and addictions services "don't exist today at the level required in Peel," suggesting the province and federal government need to do more. But Regional Council, despite the notion that there is no silver bullet, has failed to fund the sector itself, while Peel's police force saw its budget go from $290 million in 2010 to $490 million in 2020. Other services have also enjoyed far greater investment than affordable housing and social services in general.
In response to the residents' cries for help, including one who described a pair of break-ins at her parents home in downtown Brampton only days apart, several Regional councillors paraded out a routine trope, pointing blame at the province for creating the problem.
"I don't think it's police, I don't think it's regional, I think it's provincial," said Councillor Carolyn Parrish, stating municipal funding has never recovered from the cuts and downloading that began under former PC Premier Mike Harris. It was the federal Liberal government in 1996 under former prime minister Jean Chrétien that downloaded social housing onto the provinces (Harris promptly downloaded the cost to municipalities). Parrish has told The Pointer that she regrets supporting the move while she was a Liberal MP in the Chrétien government.
"Outlying regions that are growing quickly…our funding from the province is not keeping up."
When it comes to mental health and addictions funding, Mississauga and Brampton are two of the lowest funded in the province, receiving a fraction of other areas like Toronto receive per capita. However, continuously pointing to this fact ignores the reality that local councillors also carry much of the blame for ignoring this problem. No councillors took responsibility for the failure to invest adequately in affordable housing through the budgeting process that they have direct control over.
The 2020 budget, passed in January just as the novel coronavirus was beginning its global spread, did not propose any major capital investment in new housing projects. The budget requests to help with homelessness were $0.6 million to increase anti-human trafficking work, $1.0 million to maintain current service levels and $0.5 for state of good repair.
This irresponsible investment came despite the fact that, by their own reporting, staff and councillors at the Region are well aware of the issue. The Centralized Wait List for affordable housing in Peel, among the longest in Ontario, has been growing for quite some time. Last year, it jumped to 14,997 residents in June compared to 13,597 at the same time the year before.
Further, a Point in Time Count completed across Peel Region in 2018 found nearly 1,000 people without a home in a single night in Peel. A quarter of them pointed to the lack of affordable housing options in the region as one of the factors preventing them from finding housing.

Parrish and her Mississauga colleague, Councillor George Carlson have effectively given up on regional government and have for years pursued their own approach to the affordable housing crisis, working directly with developers to get units built for families in need.
Investment in housing is but one piece of the complex web of issues that are currently playing out in downtown Brampton.
The city's downtown councillors Rowena Santos and Paul Vicente pleaded to their fellow councillors for support in the downtown.
"We need council support to empower staff to give a face to the Region of Peel's range of services," said Councillor Vicente. "We are asking for increased presence of Peel and Peel services in downtown Brampton."
This appears to contradict what some of the local business owners were looking for with several of them pointing to a "disproportionate burden" being placed on the downtown and the number of social services located there.
"I understand that these services have to be located somewhere but I think there is just too much focused in our area. We have a beautiful, historic downtown core but this is counterproductive to the hard work and effort put forth by our BIA and local business owners," stated Jason Wiesner, a downtown business owner, in a letter to councillors. "I think it is unfair to locate these services in a community and then just expect the surrounding property owners to bear the cost of dealing with the aforementioned issues without assistance."
This highlights a significant issue for service providers to get the help to those in need. The services need to be located in areas accessible to those who need them, and downtown Brampton has continuously been identified as such an area. There are already discussions to bring further harm reduction services to downtown Brampton in the form of a safe consumption site for drug use. A needs assessment completed by the Region of Peel late last year identified the downtown and Cooksville in Mississauga as potential suitable locations for the proposed future site.
A study completed as part of the assessment found that the most common area for paramedic calls where naloxone was administered to deal with an overdose were in downtown Brampton and Cooksville and nearly half of survey respondents, which included active drug users, identified downtown Brampton as their preferred location for a safe consumption site.
Finding a balance between the needs of Peel's vulnerable residents and the interests of downtown residents and the business community will require significant effort by the Region of Peel in addressing the root causes of the issues the area is currently experiencing.
It remains to be seen if the coming budget season will reveal an actual interest in finally dealing with the deeply disturbing problems plaguing downtown Brampton.
---
Email: [email protected]
Twitter: @JoeljWittnebel
---
COVID-19 is impacting all Canadians. At a time when vital public information is needed by everyone, The Pointer has taken down our paywall on all stories relating to the pandemic and those of public interest to ensure every resident of Brampton and Mississauga has access to the facts. For those who are able, we encourage you to consider a subscription. This will help us report on important public interest issues the community needs to know about now more than ever. You can register for a 30-day free trial HERE. Thereafter, The Pointer will charge $10 a month and you can cancel any time right on the website. Thank you.
Submit a correction about this story