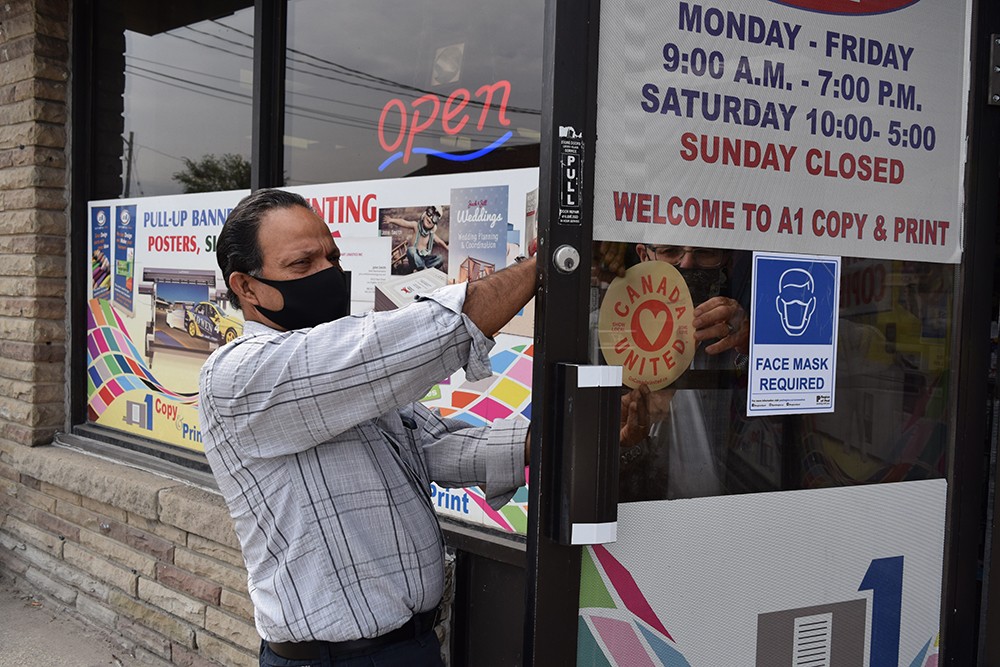 Photos from The Pointer files/Mississauga Board of Trade/Region of Peel/Google Maps
Could Brampton's high rates of COVID-19 sink struggling businesses in Mississauga? 
Canada's sixth and ninth largest cities are bound in an unholy union. As Brampton and Mississauga have grown, their shared bond has felt the strain.
For years, the two cities have faced off. Mississauga, the larger of the two, has been desperate to leave the Region of Peel, while Brampton has proved keen to maintain the status quo.
Until late last year, Mississauga Mayor Bonnie Crombie and her council thought they would finally be offered the annulment they so craved. Every hint and sign from Ontario Premier Doug Ford suggested the Progressive Conservative leader would make Mississauga an independent city — for the sake of efficiency, if nothing else. But, at the last minute, Ford confounded them and kept Peel Region intact.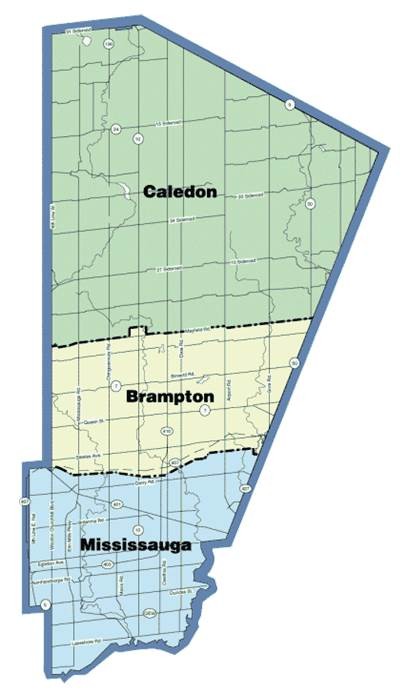 Being bound to Brampton inside the Region of Peel could have consequences for Mississauga should the region revert back to Stage 2 as a result of increasing COVID-19 case numbers in Brampton.
The reaffirming of regional vows did not bring unity.
Now, ballooning COVID-19 cases in Brampton has Mississauga feeling aggrieved. Brampton has put Peel Region at the top of Ontario's problems list, threatening the new found freedom Stage 3 brought at the end of July.
Despite being separated by a few metres of asphalt, the two cities' pandemic pictures are worlds apart. Since September 5, the highest number of new daily infections in Brampton was 59; in Mississauga it was 27. In total, between September 5 and September 14, Brampton reported 324 new cases, while Mississauga had 131.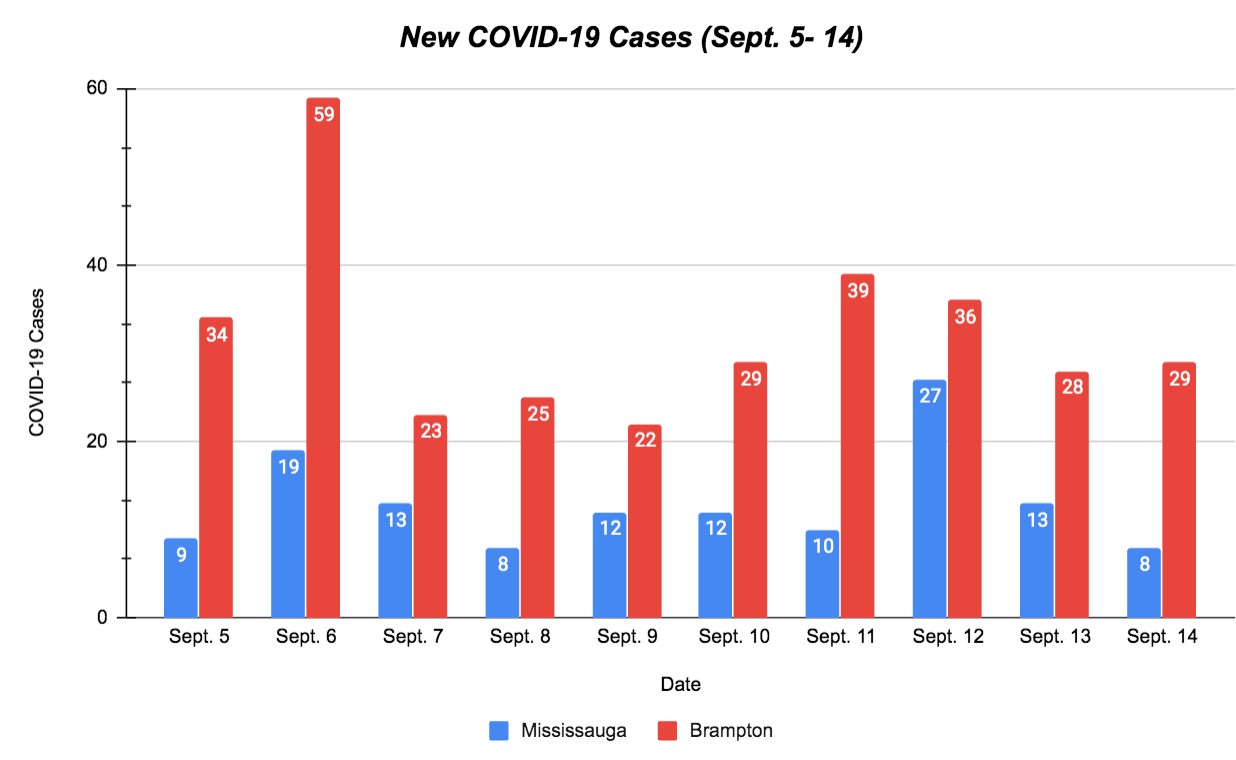 The crises in Brampton, Ottawa and Toronto have reached a point where Ford can't help calling them out every time he's in front of a microphone. Brampton Mayor Patrick Brown was lambasted in front of the entire province at the beginning of the month after missing three calls from Queen's Park about his city's management of the COVID-19 pandemic.
Although Ford has singled Brampton out at the podium, Mississauga remains tied to the troubled city by Peel Public Health. Provincial restrictions in one city could be enforced in both.
"I don't know if I can survive another shutdown," Lena Gallagher, owner and founder of Free Run Incorporated, a speciality Mississauga gym, told The Pointer. Emergency orders from the province in March meant she wasn't able to open her doors until early August, losing 80 percent of her members during the lockdown. Even since Stage 3, Gallagher's cleaning costs have increased, class sizes for her events are down and the market for personal training has evaporated.
Free Run Inc opened again in August after months of shutdown, a second wave of restrictions could put it out of business.
A government order forcing Gallagher to bolt her doors again because of Brampton's shambolic COVID-19 numbers would likely prove fatal. She said she is frustrated at the way Brampton could be dragging Peel down with it.
"It's perception, the feeling I'm getting, it's perception," she said. "They're just lumping us under that bracket irrespective of what I do and don't do… [there is] one road that separates one city from the other and there's nothing stopping people coming over."
Mississauga business owners like Gallagher will find out soon if Brampton is going to sink their tentative recovery.
Ford told reporters in Guelph Tuesday to "stay tuned" as the province rolls out new rules and restrictions for "regions that are affected" by high numbers of COVID-19. For restaurant owners or gym managers listening anxiously in Peel, there was no reassurance from the Premier about what this could mean for Mississauga.
"We have been a long time proponent that Mississauga should be treated as a separate municipality from Brampton," David Wojcik, President and CEO of the Mississauga Board of Trade, told The Pointer. He said he was pleased, during previous announcements, Ford picked out Brampton specifically instead of the entire region. "I applaud the Premier for recognizing Peel Region as a whole is not the hotbed for cases — Brampton is a hot bed for cases."
Wojcik, wired into the heart of Mississauga's businesses community, believes a second shutdown would spell the end for many independent ventures. To have those measures imposed on business, residents and politicians who have kept cases under control would be a cruel blow.
"We have a number of businesses that were forced to close under emergency orders by the province that are hanging on by a thread. A return to Stage 2 … would be devastating — that will be the death knell in their coffin," he said. "If the plan is to move back to Stage 2, Mississauga needs to be treated separately, there's no question about it. I'm fearful for our own Mississauga businesses."
The city's political class has been less unequivocal.
"That's a very difficult question," Mississauga Ward 5 Councillor Carolyn Parrish conceded. "We don't have a border between Mississauga and Brampton, so travelling to our restaurants will replace frequenting those in Brampton [if indoor dining were banned in Brampton and not Mississauga]."
"I don't want to see Mississauga take a step backward, but I don't see what else we can do to make Peel's statistics improve," she added.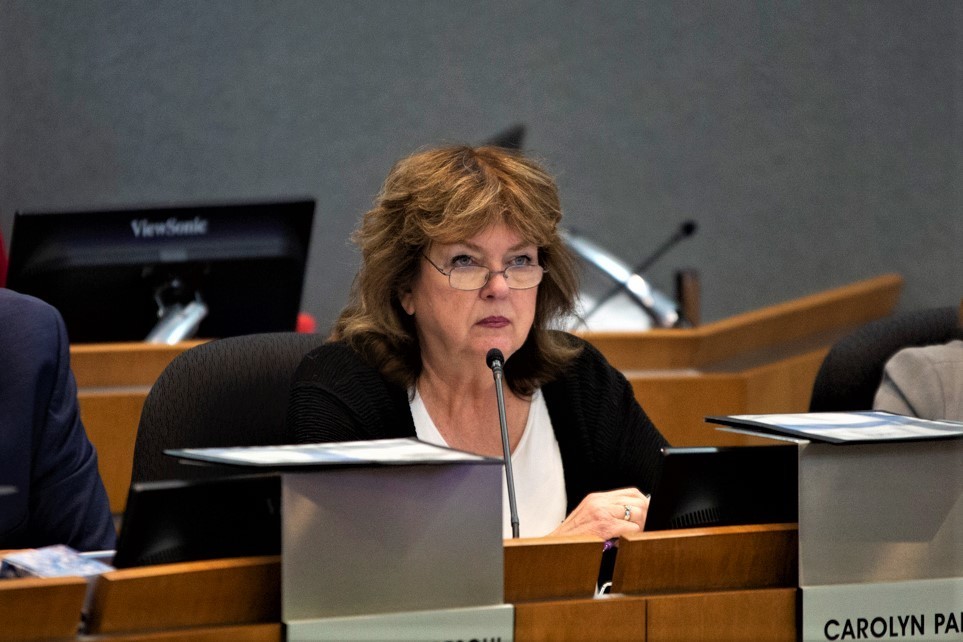 Mississauga Councillor Carolyn Parrish
Ward 9 Councillor Pat Saito said she supported a reduction in the size of gatherings, but did not expect a move back to Stage 2. Instead, it is likely there will be "some minor adjustments," she said.
The balance is dizzying.
For one, renewed closures could damage the city's still struggling businesses irreversibly. However, a shutdown in Brampton and not Mississauga may precipitate a stream of transmission to the south of Steeles Avenue, as Bramptonians look to replace the recreational facilities and eateries suddenly shut in their city.
Responding to a question from The Pointer last week, Mayor Bonnie Crombie drew on the precedent set by Windsor-Essex, saying it was possible to split a region if necessary. In a follow-up Tuesday, she would not be drawn on whether or not Mississauga should be dealt with separately from Brampton.
"I remain hopeful that this [measures to reduce the spread] would not mean Peel moving back to Stage 2 instead, targeted actions to curb the root concern — large social gatherings. Personal responsibility and saying 'no' to large parties and crowd scenes is more important now than ever," she said in an email.
Crombie again conjured Mississauga's superior viral picture and the progress her city had made in its fight against COVID-19, but did not explicitly call for a separation.
Any return to Stage 2, would reduce gatherings, close indoors restaurants and shutter gyms. Patios would be the only dining space and outdoor fitness classes could return, all as colder weather begins to creep in.
"It's a tough decision because businesses, people, everybody suffers if we go back to Stage 2 and we know the results of that," Ward 6 Councillor Ron Starr said. "I don't think it should be strictly a political decision saying the numbers are there so we should split off. I think it's a team effort, we do this as a team and we rely on the people who know what the numbers are," he added, referring to Peel Public Health.
Even if Mississauga is allowed to keep doors open and its customers inside, the perception of neighbouring Brampton among the public is still chipping away at local businesses.
"As those cases go up, my members are watching those numbers too," Gallagher added. "Some of them are pulling back as their own decision … [because we are] not too far off from Brampton."
---
Email: [email protected]
Twitter: @isaaccallan
Tel: 647 561-4879
---
Because of reduced incomes as a result of COVID-19 and the importance of the PDSB story to the communities of Brampton and Mississauga, the editorial team at The Pointer made the decision to make this article free to view. Traditionally, The Pointer operates on a paywall model of journalism and we do not carry advertisements, meaning our journalism is supported entirely from subscriptions. You can register for a 30-day free trial HERE. Thereafter, if you are able to continue subscribing, The Pointer will charge $10 a month and you can cancel any time right on the website. Thank you.
Submit a correction about this story