Photos from Government of Ontario/Google Earth/Flickr/Metrolinx
Is tunnelling an LRT a barrier to creating complete communities & a drain on other badly needed transit investment?
After months confined to a briefing room at Queen's Park, communicating with journalists by conference call, Doug Ford has recently set out to journey across Ontario. Viewed by many as a campaign tour, the Premier has travelled around the province making announcements, drawing attention to old projects and offering updates on his government's response to COVID-19.
On August 19, he was in Mississauga talking about the Eglinton West LRT extension. Ford announced the release of a request for proposals (RFP) to advance tunnelling work on the project, signaling even in the face of a pandemic, the plan will continue undeterred by a microscopic foe.
The Eglinton West LRT Extension will connect Renforth Station, on the eastern limits of the Mississauga Transitway, to Mount Dennis, the eastern most stop on Toronto's soon-to-be-completed Eglinton Crosstown West Extension. It will largely be built in Toronto.
Upon completion, it will give residents in Mississauga access to a new rapid transit line and another direct connection to the TTC subway system. Future travellers will be able to board a bus at Winston Churchill Boulevard, travel along the Transitway, transfer to the Eglinton LRT route and connect to the Subway at either the Eglinton West or Eglinton station, or continue as far as Kennedy Subway station at the far end of TTC Line 2.
As The Pointer has previously reported, the extension could be a key missing piece in Mississauga's transit network. It offers a chance for the beleaguered and underused Transitway BRT infrastructure to finally fulfill its cost and potential.
Despite its obvious benefits, question marks hang over the project, too. In particular, the province's move to build underground — confirmed by the release of RFPs — raises questions about the decision.
Now, Brampton, and its mayor, specifically, are pushing for a tunnel option for part of a proposed extension of the Hurontario LRT, up the city's Main Street and into the historic downtown.
In both cases, going underground means an entirely different cost proposal. For Brampton, the tunnel option preferred by Patrick Brown could be as much as $1.3 billion more than a surface alignment.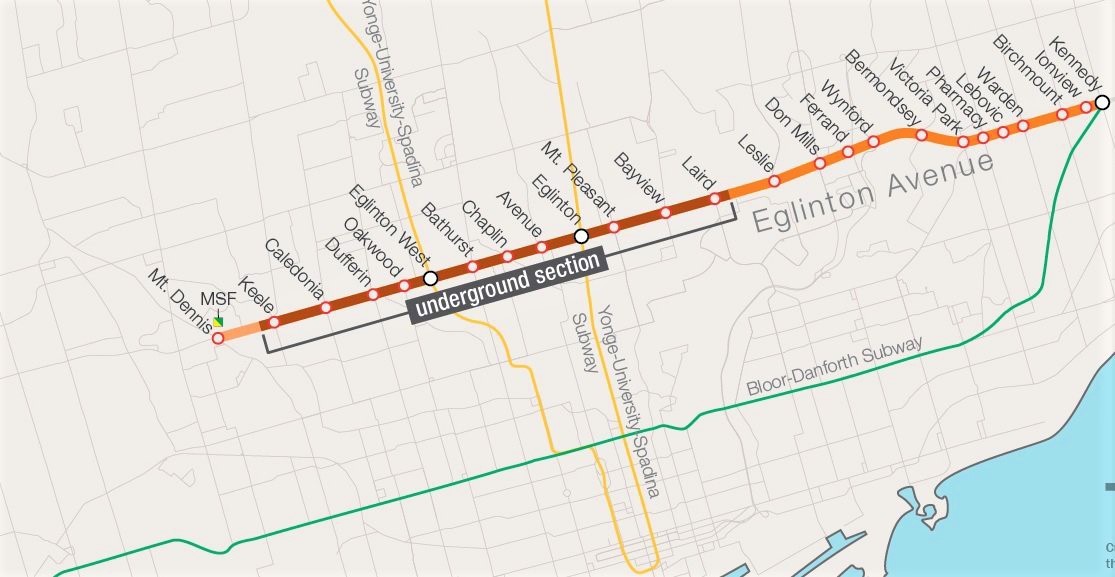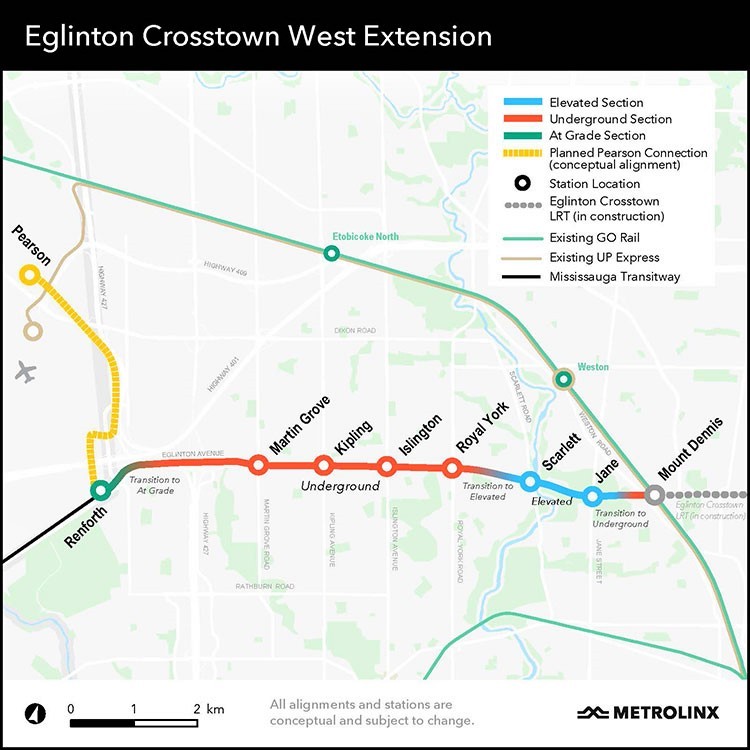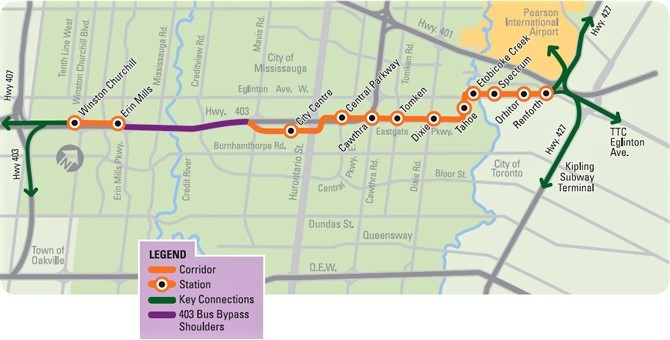 From top to bottom, a series of maps connect the entire length of the Eglinton Crosstown to the Mississauga Transitway.
The Eglinton West LRT extension serves as a guide, possibly for good rapid transit planning, but perhaps as an example of misused transit investment that is badly needed for other projects, and for the inability to truly connect communities, if the wrong approach is followed.
Both Brampton and Mississauga are desperately trying to shed their suburban pasts, and transit is a key component to a more urban future. But bad decisions could stand in the way.
In the business case for the Eglinton West extension, published by Metrolinx in February 2020, four options were outlined. The first was to run the route at street level, with nine stops along a particular section leading up to the 427-401 interchange, linking communities along the way with closer rapid transit hubs that each attract considerable surrounding investment, in both residential and commercial enterprise that clusters around a station.
The second and third options involved combinations of tunnelling and different numbers of stops, while the fourth option suggested six stops, largely underground.
In recent years, the City of Toronto has expressed a preference to run the route at surface level. When the provincial government confirmed funding, it chose to build the route underground with six stops.
The decision was a costly one.
According to a provincial media release, the Eglinton Crosstown West Extension will cost $4.7 billion and is scheduled to be delivered before 2031. Figures in the Metrolinx business case show a route built at street level would cost $3.5 billion (including operating costs), a significant saving. It would have also delivered three more stops along the tunnelled part of the corridor.
"Decisions on alignments take into account a number of factors, including costs, integration with other transit, community impacts, deliverability and operations, and topography, which are unique to each project," Matt Llewellyn, a spokesperson for Metrolinx, told The Pointer. "The alignment option we are moving forward from the Initial Business Case provides an optimal trade-off between the ease of local access and the speed of travelling, and outperforms all other options examined in the business case in terms of offering the best network connectivity and travel experience for people living and travelling along the corridor."
But, does this consider the whole picture?
Transit in the GTA is at a crossroads, stuck between the future and the past. In previous years, planners built transportation on the assumption they needed to get suburban commuters out of their cars. They used subways and GO Transit to get people from far flung suburbia into the downtown as quickly as possible — the destination was key and not the journey, or what was created along the way.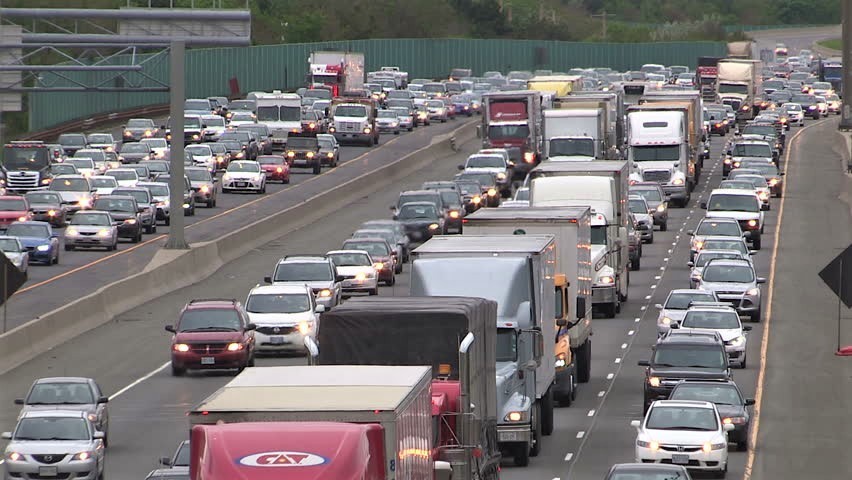 Recent discussions around 15-minute communities and sustainable development have turned the orthodoxy on its head. Instead of getting commuters from Peel neighbourhoods like Erin Mills to Union Station, smart growth looks at limiting the distance people have to travel to work, eat and play by mixing residential spaces with work and recreation. Transit through the community is even more important than transit from it.
One view sees transit as a means to an end, the other includes it as a community building tool. An LRT can do more than funnell suburbanites to their office blocks, it can help communities grow.
"It speaks to the way that [the] Toronto [region] has thought about transit, especially rapid transit, which has been first of all as a long-distance community mode and second of all as doing everything possible not to impede the automobile," Matti Siemiatycki, an urban planning professor with a focus on transportation at the University of Toronto, told The Pointer. "The model here for the big projects has been to put them underground [and] focus on moving people long distances instead of [developing] community."
The aim of transit design naturally plays a role in how cities develop.
A subway or GO train with few stops will lead to clusters of new housing in communities around stations, with barren stretches in between. Ariel images of Toronto's Line 1 illustrate this, with groups of towers at stations and single-detached houses between. A streetcar or rapid bus route, on the other hand, is more likely to yield development the length of the route, with stops usually a few steps away.
Renderings from Google Earth show clusters of growth around Davisville and Eglinton subway stations on Toronto's Line 1 with gaps in between.
In Mississauga, a major influx of development along Hurontario Street, where an LRT will begin running in 2024, is evidence of the boost a surface route can bring. A benefit study for the project, done by consultancy group Steer Davies Gleave (now known as Steer) which was commissioned by Metrolinx and both the cities of Mississauga and Brampton, found it would bring a "development potential/land value uplift" of between $200 and $420 million. That study was for an alignment that included the since cancelled loop around Mississauga's downtown, but is not far removed from the line currently under construction.
Major developments at Eglinton, in Port Credit and around Square One are evidence of the rush of private sector investment that floods into rapid transit corridors and show the potential attraction of surface alignments.
The stretch of Eglinton Avenue West in Toronto where the LRT will run features wide boulevard profiles and vast tracts of land on either side of the street. Condos are already springing up in these previously undeveloped spaces between Eglinton and the surrounding neighbourhoods, for example between Islington and Kipling. It was an open stretch, with a sprawling plaza and parking lot and huge swaths of grassy corridors like those used for hydro lines.
It seemed stuck in some exurban netherworld, not sure if it wanted to hang onto Etobicoke's suburban past or become part of Toronto's completely connected future. The LRT, before its construction has even reached the area, is now leading to the latter destiny.
But even more complete communities could be created with more rapid transit stops along the rapidly intensifying corridor.
In their business case for the route, Metrolinx staff admit no alignment of the Eglinton West Extension will turn a profit or even cover its costs. "Option 1 [above ground] is preferred as compared to other options from the financial perspective as the capital costs associated with surface LRT alignment are significantly lower," they wrote.
The above ground option also yields the highest number of boardings. At more than one billion dollars less than the underground design selected, Option 1 boasts 42,000 weekday boardings compared to 37,000 below ground. It would also bring a 3.5 percent decrease in auto mode share (compared to 3.2 in the selected option) and a 2.4 percent increase in transit mode share (compared to 2.1 percent).
The key metric where the above ground design stalls is on the percentage of jobs within a 45 minute transit trip. The slower nature of above ground means a surface level LRT would yield 4 percent more jobs within the range compared to 18 percent underground.
The factor is important as it reflects how interconnected the Toronto region is. Its role as the decisive reason offers an insight into how Ontario still sees the growth of cities.
"It's not as if we live in a world of unlimited resources and putting it underground is a bad idea, it's that there is a direct opportunity cost in terms of how much transit you can build and how many people you can serve if you go for the cheaper option of putting it on the surface," Siemiatycki said. "Also, what kind of community development can you do around these projects if you have more stations, which is the case with a [surface] LRT project."
The cost difference of more than one billion dollars is comparable to the original budget of the Hamilton LRT under the previous Liberal government. It is money that could make improvements to Mississauga's GO service or its bid for bus rapid transit corridors along Dundas Street and Lakeshore Road.
But things aren't that simple. Personal preference and political priorities leak into the process. Ontario Premier Doug Ford's preference for subways, like his brother Rob before him, is well documented.
"We have a model of planning that is deeply politicized," Siemiatycki added. "Politics should absolutely play a role in infrastructure planning, these are huge decisions and require democratic oversight."
"But what's happened in our case is we've allowed politics to become part, not just of the decision making, but also the evidence making and its because of that you get these discrepancies … depending on who's in charge."
---
Email: [email protected]
Twitter: @isaaccallan
Tel: 647 561-4879
---
COVID-19 is impacting all Canadians. At a time when vital public information is needed by everyone, The Pointer has taken down our paywall on all stories relating to the pandemic and those of public interest to ensure every resident of Brampton and Mississauga has access to the facts. For those who are able, we encourage you to consider a subscription. This will help us report on important public interest issues the community needs to know about now more than ever. You can register for a 30-day free trial HERE. Thereafter, The Pointer will charge $10 a month and you can cancel any time right on the website. Thank you.
Submit a correction about this story