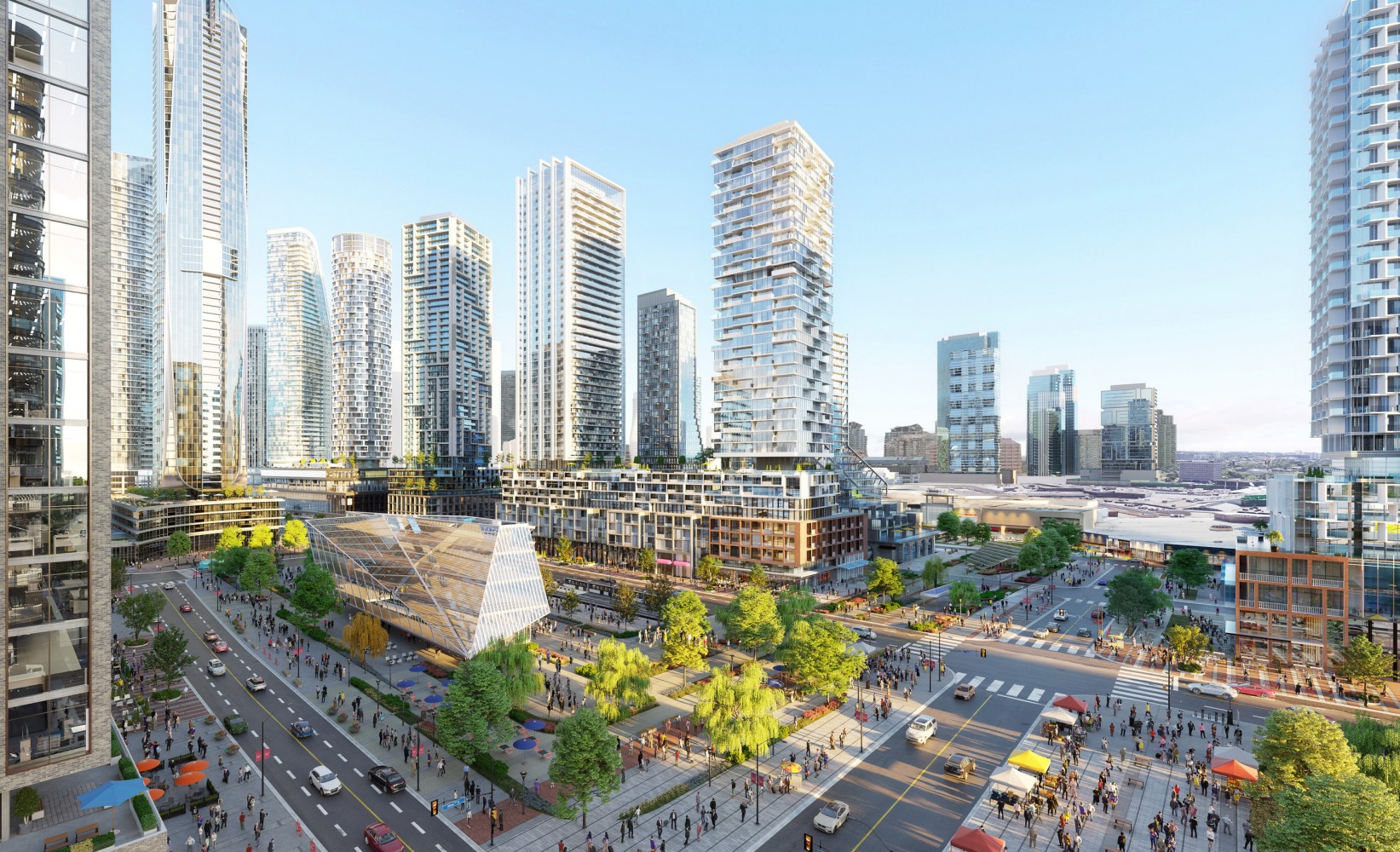 Photos from The Pointer files/Oxford Properties Group Inc./Square One District
A massive development will change downtown Mississauga forever, bringing offices and residential units to its urban core
For decades, downtown Mississauga has been defined by Square One Shopping Centre and its parking lots. But this area is set to undergo a revolutionary redevelopment. Oxford Properties, owner of the mall and its surrounding land, has announced a major project that will bring office space, pedestrian-friendly streets and residential units to the city's downtown.
An announcement by the developer said the new 130-acre, 35,000-person mixed-use community would be "the largest" downtown development in Canadian history.
"What is today swaths of parking lots will be transformed into a vibrant community that will eventually comprise more than 18,000 residential units, a transit mobility hub connected to the Hurontario LRT, community buildings, parks, green spaces and forward-thinking office space," a release by Oxford Properties read. It added the city centre mall would remain the heart of the multiphase and multi-decade development, flanked by Highway 403, Confederation Parkway and Burnhamthorpe.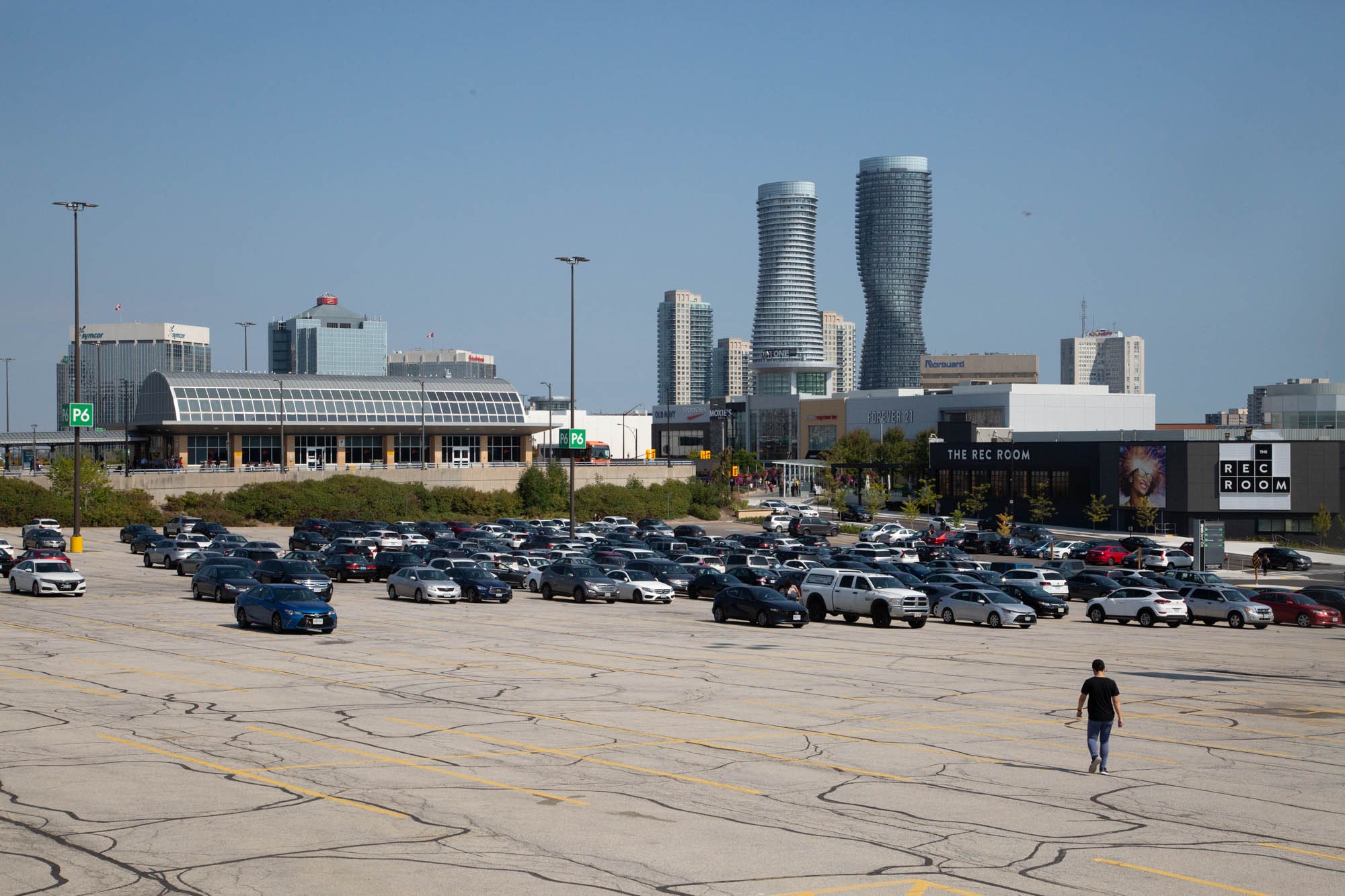 Square One Shopping Centre and its surrounding parking lot
Despite the length of the project, Oxford Properties has wasted no time in lodging planning applications at city hall. These applications correspond to residential buildings on Living Arts Drive to be built by the Daniels Corporation, alongside two towers on City Centre Drive featuring 1,908 square metres of retail and commercial space. By the summer of 2020, shovels should hit the ground for the Daniels Corporation towers.
The city confirmed these developments already fit with its Official Plan, meaning council only needs to remove the "Holding (h)" symbol from the development. This process can be done by councillors without public consultations and meetings, meaning the first step of the massive development could take off with limited opposition.
In April, Oxford Properties will begin marketing its planned office space to companies. The move is key to Mississauga's downtown planning, with offices conspicuously absent from previous developments in the area. Published in 2010, the City's Downtown 21 Master Plan identified office space as critical for the development of its core.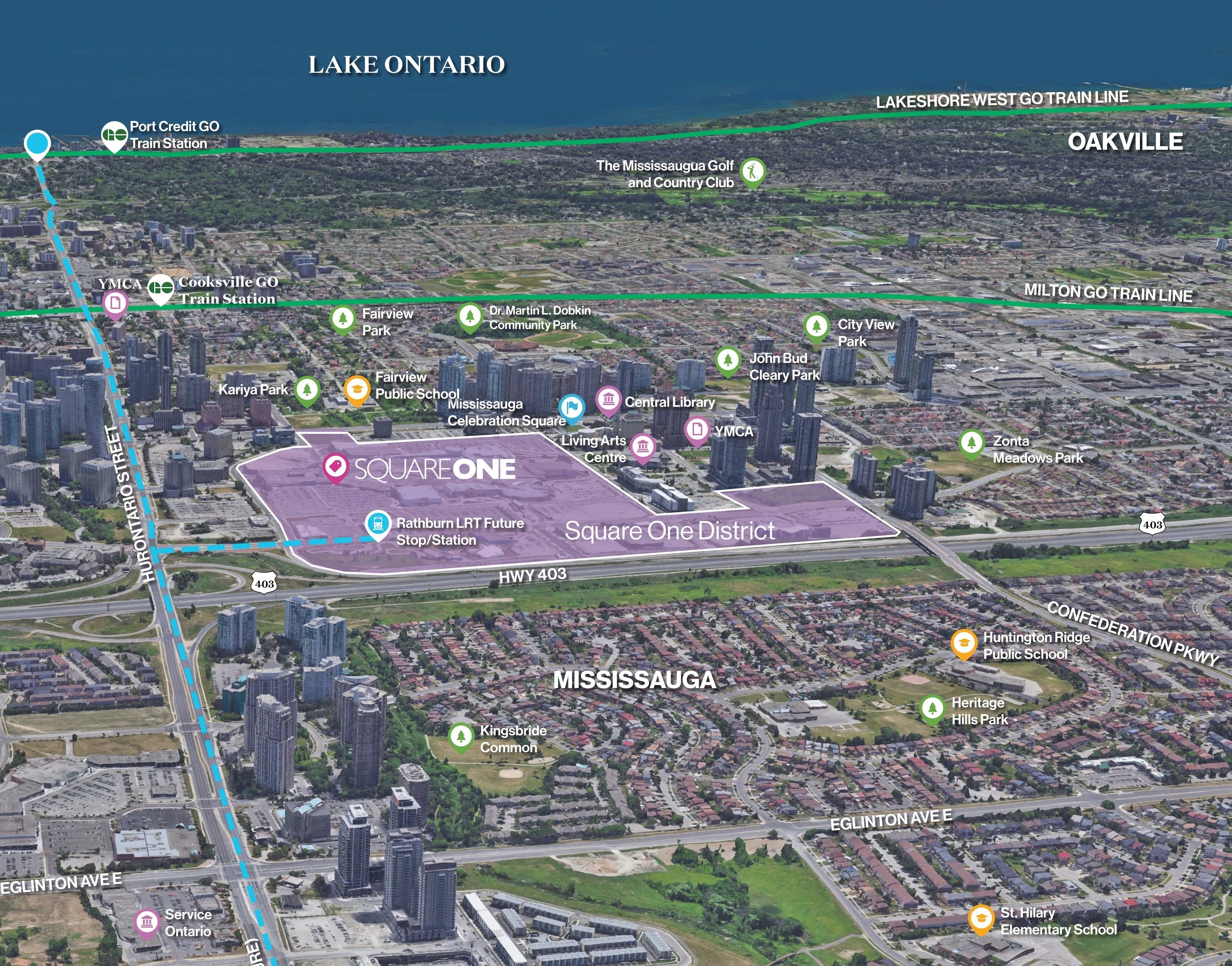 A map showing where the major development from Oxford Properties will be built
"A fundamental mission of Downtown 21 is to attract office employment back to downtown," stated the plan. "A vibrant and expanding employment base is a critical component of a thriving and sustainable downtown. While some office growth has occurred in the past, it has been stalled [...] This urban environment cannot wait another decade to occur – office will go elsewhere – it has to be built now."
As expansion has continued to stall over the past ten years, the announcement of office space within Oxford Properties' plans is particularly welcome at city hall. While Mississauga has successfully attracted jobs over the past decade, they have been concentrated in various office parks away from the city centre, with the airport offices and Meadowvale business parks among an abundance of examples.
Key to attracting companies to locate within the new offices at Square One will be the upcoming Hurontario LRT. The higher order rapid transit project, funded by the province and running from Port Credit to Steeles Avenue, has already catalyzed development across its 18 kilometre route. It will offer a particular advantage to Oxford Properties and the planned Square One District through a unique flyover. This engineering project will see streetcars leave Hurontario on a dedicated bridge, stop at a city centre terminal located beside Oxford Properties' lands and then return to their main route via over Highway 403, almost acting as a dedicated shuttle for the new development between three separate GO stations.
A flyover map detailing where the Hurontario LRT will be located in proximity to Square One Shopping Centre
The project, constructed using public funds, will bring significant benefits to the Square One District and is arguably the key to its creation. In their 2016 benefits case analysis of the project, Steer Davies Gleave suggested that "the potential uplift in [land/property] assessment value" as a result of the LRT would be between $200 and $420 million across the route. Since Oxford Properties is directly converting parking spaces for drivers into housing, its perceived reliance on the transit project is arguably even higher and the benefit it receives greater still.
"With the Hurontario LRT being built and a transit mobility-hub a key part of our plans, it gives us the opportunity to create a transit-connected and walkable downtown for Mississauga," a spokesperson for Oxford Properties told The Pointer. "The entire development will be anchored by Square One Shopping Centre, which is one of the best performing malls in North America and already a transit hub."
In a 2013 discussion paper regarding land value capture, Metrolinx (which is in charge of the LRT's construction and operation) considered the value of land around transit stations. The paper cited the construction of the Jubilee Line on the London Underground as an example of the impact transit has on property values. Land value capture allows governments to charge the private sector when its assets rise significantly in value due to public sector investment, so, for example, when a subway or LRT system funded by taxpayers drives up the prices for a proposed condo development along the corridor, fees can be collected from the builder to offset the moneys taxpayers contribute to create higher profits for the developer.
"The new Jubilee Line in London has been shown to have generated around £13 billion in total increased land and property value around the 10 stations between Stratford and Waterloo against a capital cost of £3.5 billion," the paper reads. "A report for Transport for London measured nearly £3 billion uplift around just two of the stations. It is estimated that about 10 percent of this total value was captured for the project, mainly from the Canary Wharf redevelopment."
A spokesperson for the City of Mississauga said they were "looking into development charges and other fees to meet our funding requirements," but did not provide specifics on plans for land value capture.
When asked about increased pressure on local schools and amenities, the spokesperson said the city would continue to review applications as they were submitted in stages. "Additional parkland is proposed along with improvements to transit and protection of lands for office/employment uses," the spokesperson added. "Through each phase of development the city will review services and use development charges and funding to supply additional services as deemed necessary."
In its assessment of land value capture, Metrolinx suggests there needs to be a "perceived shortfall in public funding" to galvanize developers to act and contribute. In Mississauga, there are two clear areas that fall into this justification for using land value capture to charge the private sector for property value increases driven by public sector investment. First, the cancellation of the $200 million downtown loop is something the city is desperate to see re-added and is unable to afford on its own, after the Doug Ford PC government said rising project costs was the reason it scrapped the loop last year. Equally, the significant cost of LRT-stop design, boulevard construction, landscaping, other street enhancements and work to bring impressive renderings to life continues to be an area the city is struggling to fund, with developers well-placed to help pick up the tab.
However, if Oxford Properties does remain tight pursed on the LRT, there is precedent in the city for more creative ways to pay for a share of the project. In particular, councillors Carolyn Parrish and George Carlson have been at the forefront of an innovative campaign at the city to negotiate affordable housing units within new developments. These negotiations have included some bylaw changes at the city, but have largely focused on a quid pro quo mentality, with development fees reduced or waived under the right circumstances.
As it stands, the Oxford Properties development will not include a single affordable or subsidized unit, something it could change with pressure from the city. Unfazed by the current situation, Mayor Bonnie Crombie pointed out that plans are at an early and conceptual phase with room for changes. She also praised the inclusion of rental units in the project that will increase supply, with vacancy rates in the city currently sitting around 0.9 percent.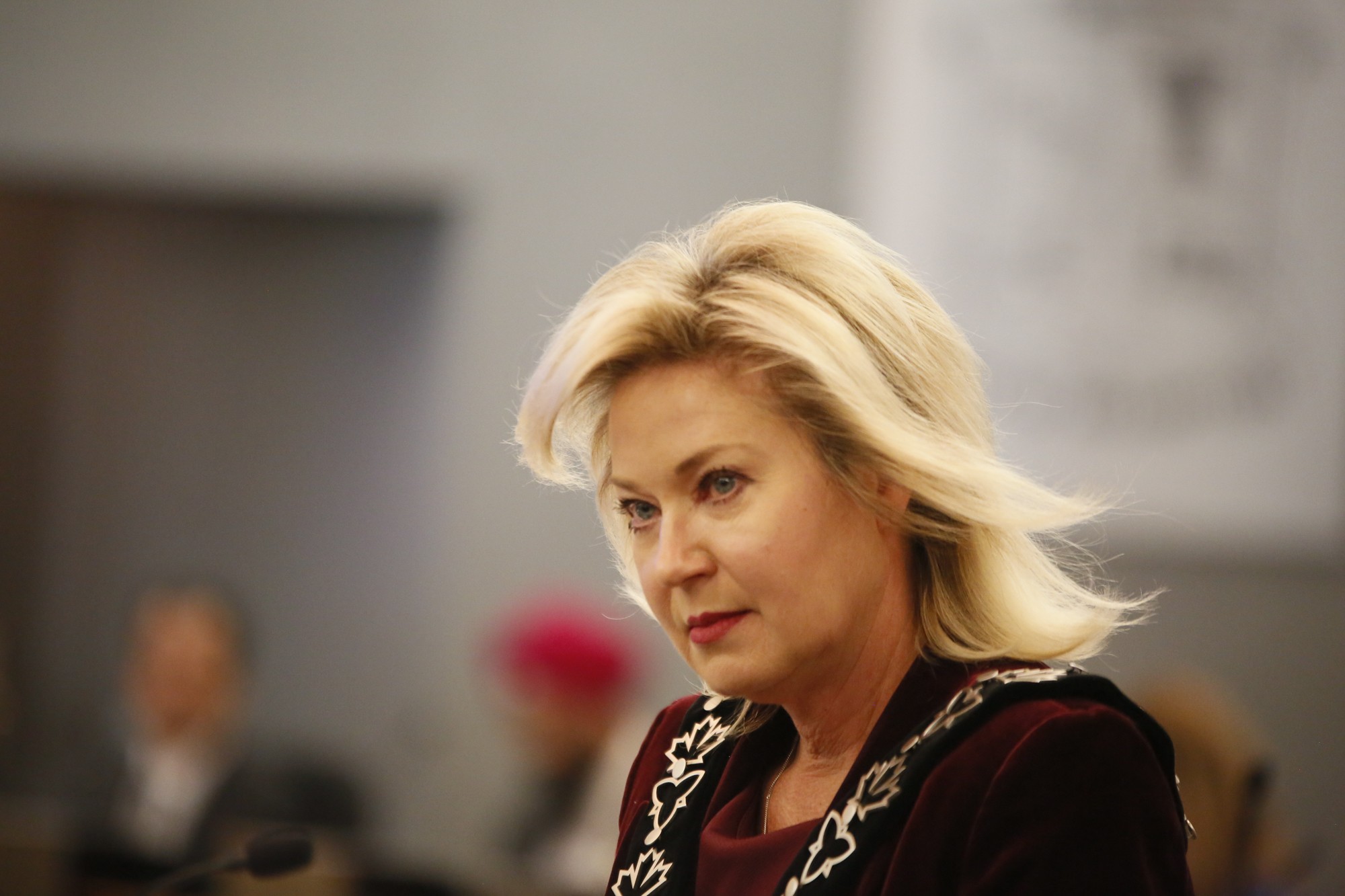 Mississauga Mayor Bonnie Crombie
"It is my hope that by increasing supply on the market, we can help stabilize rising rental rates across the region," Crombie told The Pointer by email. "We also need developers to work with us to build more housing that is affordable for people with lower household incomes to ensure that our City remains a place where everyone can afford to live... I will continue to advocate for inclusionary zoning and the provision of 10 percent affordable units (under $108K household income) when meeting with developers and reviewing applications put forward to the Planning and Development Committee. This week's announcement is just [the] start of planning for the Square One District and I look forward to continuing these discussions as their development progresses."
A spokesperson for Oxford Properties did not jump at the opportunity when asked if the company is open to rethinking its current stance on affordable units. Instead, the spokesperson reiterated the benefits increased rental supply will bring to Mississauga. "We have historical low vacancy rates for purpose-built rental apartments, and our plans will deliver substantial new supply to this market," a spokesperson said. "Limited supply has played a crucial role in the sharp increases of both buying and renting a home. We will work with the city across the life-cycle of this multi-decade project to understand their requirements regarding affordability."
Councillor Parrish told The Pointer previous council decisions left the city short on incentives to offer in return for constructing affordable units downtown, leaving it reliant on goodwill from the building sector.
"The difficulty with the Oxford development is the council of 2001 passed a bylaw that removed all height restrictions in the city core," Parrish explained. "Most developers build outside the core [and] seek additional height [giving council a bargaining chip], as the technology now allows less expensive construction techniques over the standard heights of 20 years ago."
Parrish added she would be appealing to the Daniels Corporation's "reputation" for voluntary affordable units on its two towers, alongside the creation of an affordable housing fund designed to incentivize developers in the city centre, where the sky's the limit. "We are also looking at other incentives, as we face the massive construction ahead," she added.
Whether or not Oxford relents on affordable units or increases its contributions to the LRT system that makes its development possible, people across Mississauga will take a keen interest in the development.
Square One has been the suburban city's centre since the 1970s, defining it as a sprawling, car-happy space for generations. The transition to dense housing and office space can do the same for the city as a whole.
With so much land in the city centre owned by Oxford Properties, changes impact more than just those who buy or rent a property in the new development. Thirty-five thousand new residents downtown will require new community centres, schools and public amenities, while access to green space, public art and walkability will impact everyone living in the city.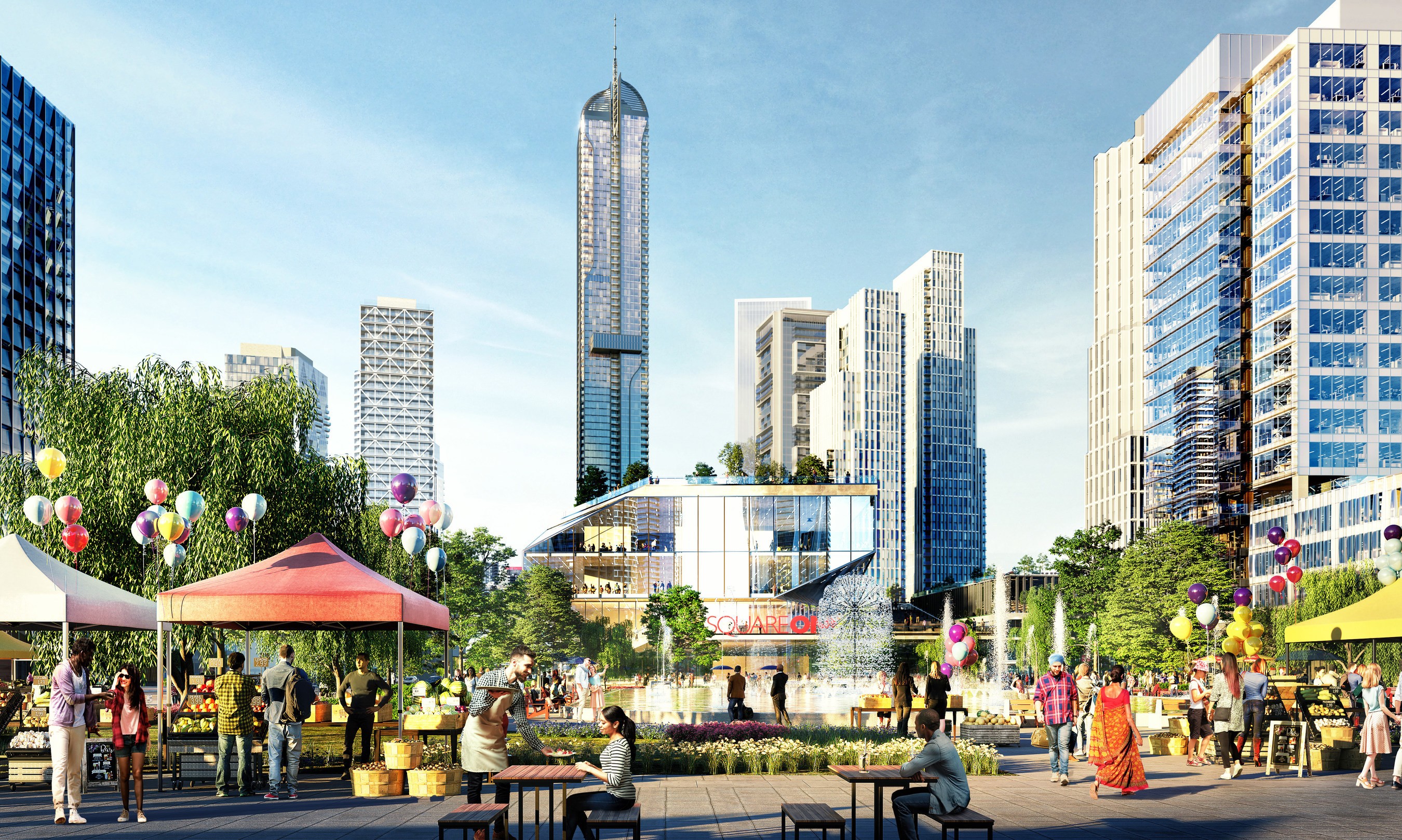 A rendering depicting Mississauga residents enjoying the city's future downtown vibe
Oxford Properties told The Pointer it will be holding town halls for feedback from the general public as the project develops. Since a private developer is all-but in charge of the redevelopment of the city's entire downtown, these meetings will be critical for residents from Streetsville to Port Credit.
"It's people, not buildings, that truly make a community," Oxford Properties told The Pointer. "We will work closely with the residents of Mississauga to understand the types of amenities, services, public spaces and parks they want to experience at Square One District. Because this is a multi-phase, multi-decade project, it allows us to adjust and adapt to the needs and aspirations of the community that will grow at Square One District."
---
Email: [email protected]
Twitter: @isaaccallan
Tel: 647-561-4879
Submit a correction about this story