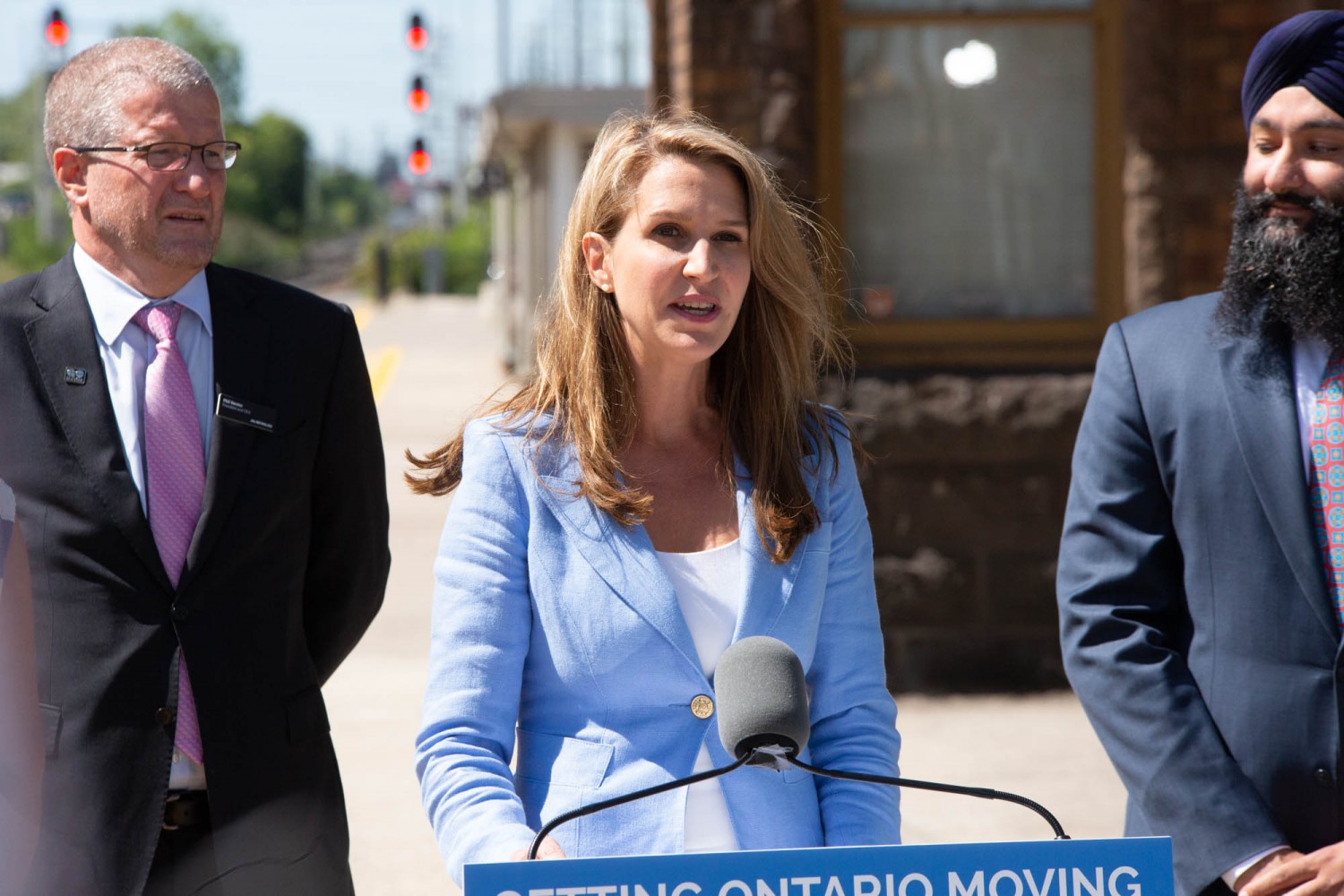 Photos by Mansoor Tanweer
Transportation Minister reannounces more train service on the Kitchener line
Two weeks after her initial announcement of expanded GO service on the Kitchener line, Minister of Transportation Caroline Mulroney was at Brampton GO with another announcement — but one that offered nothing new.
In what is being billed as the first step towards building all-day, two-way GO (ADTWGO), Mulroney announced Thursday, as she did two weeks ago in Toronto, 50 new trips on the Kitchener line and 15 extended trips each week. This will give Bramptonians additional options when traveling to Toronto for things like sports events, evening dinners and theatre shows. "As Minister Surma announced two weeks ago, beginning Aug. 31, we are introducing nearly 150 new and extended weekly train trips across the GO network," Mulroney told the media present.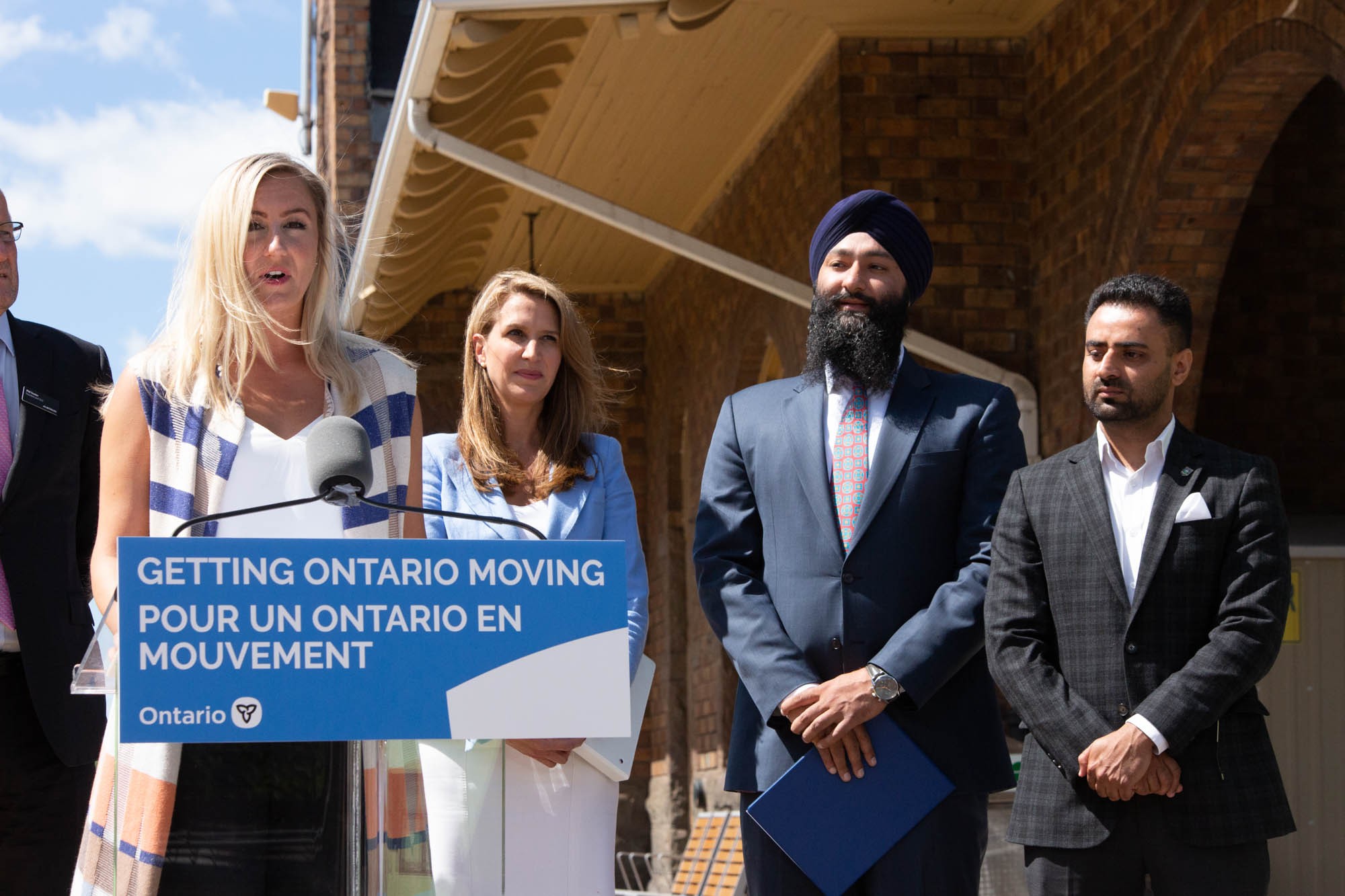 From left: Kinga Surma, Caroline Mulroney, along with Brampton PC MPPs Prabmeet Sarkaria and Amarjot Sandhu.
"Whether you are going to school, work, a sporting event, or spending time with your family, these services increases … will give you more choices and leave you with more for what matters most," Mulroney said, repeating her statement from Aug. 15.
Metrolinx CEO Phil Verster called the increase a "game-changer" for "social travel purposes, where people can now travel to the city and go to a Jays game, go to an event, go to an opera, and come back that evening."
Verster highlighted the challenge of getting ADTWGO and pointed to deals that needed to be struck with other rail carriers because of shared rail lines. "There are parts of the Kitchener line that we don't own. Over the last year, we've worked very closely with CN … Those negotiations have led us to a space where we understand and agree on how our capacity should be shared on the Kitchener line."
CN Rail's network map shows that the company owns most of the track along the Kitchener line. It shares space with the Canadian Pacific Railway coming out of Union Station. That portion of the line merges onto an east-west corridor owned by CN. Metrolinx has been acquiring more and more rail to run its passenger trains, according to its website, over the past several years. Currently, the provincial agency owns 69 percent of the rail network within the GO corridor.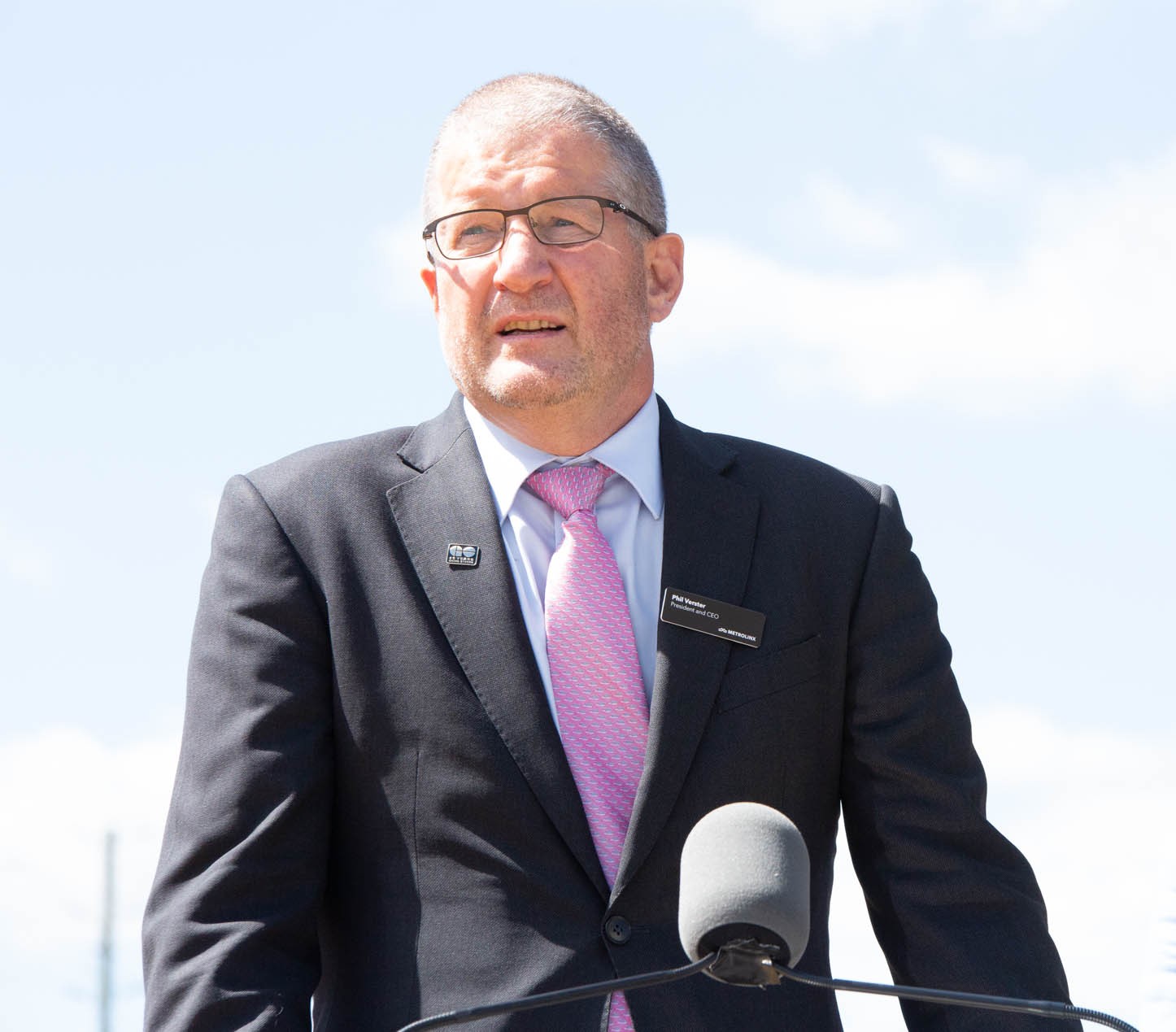 Metrolinx CEO Phil Verster
"Quite a lot of service planning had to happen," Verster told The Pointer, explaining why the expanded service only came through a year into the current government's mandate. "Quite a lot of optimization of our rolling stock had to happen … We have to cross over somewhere (with the CN trains). If we don't cross over … we literally have to wait — the GO train has to wait — for that (freight) train to come past."
However, it was the Ford government that cancelled a freight bypass project in December that the previous government had said was essential to achieving the goal of ADTWGO. The province and CN had already signed an agreement in principle and begun work on a technical assessment of the bypass, which would have been built along a congested section of line between Georgetown and Bramalea. At the time it took the bypass out of consideration, the government claimed an "enhanced partnership" between CN and Metrolinx on coordinating schedules meant the bypass was no longer needed. However, there is still no word on when ADTWGO will happen.
Brampton PC MPPs Prabmeet Sarkaria and Amarjot Sandhu were present at the announcement. Sarkaria, asked a similar question about why it took so long, resorted to blaming the previous Liberal government. "To act within a year is actually fairly quickly. When you get into government, there are many stakeholders you have to work with. What we've been able to do in one year, the previous government wasn't able to do in 15 years."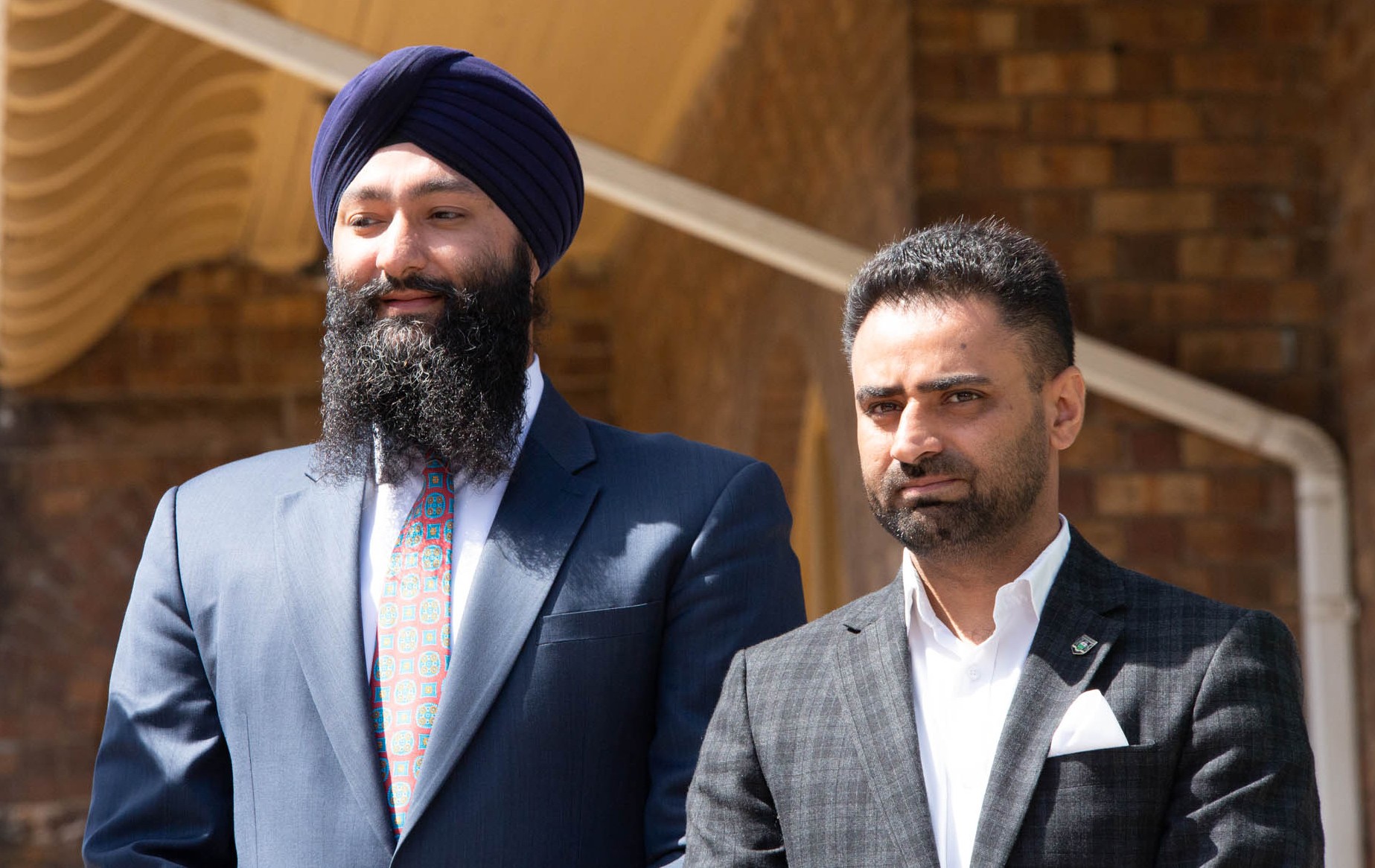 Brampton PC MPPs Prabmeet Sarkaria and Amarjot Sandhu
Sandhu provided no specifics on whom he met with for feedback on the ADTWGO file. There's a concern Brampton leaders are often not at the table when major infrastructure projects are discussed. He merely told The Pointer that he had been meeting with people, without going into specifics about who and when.
Email: [email protected]
Twitter: @mansoortanweer
Submit a correction about this story