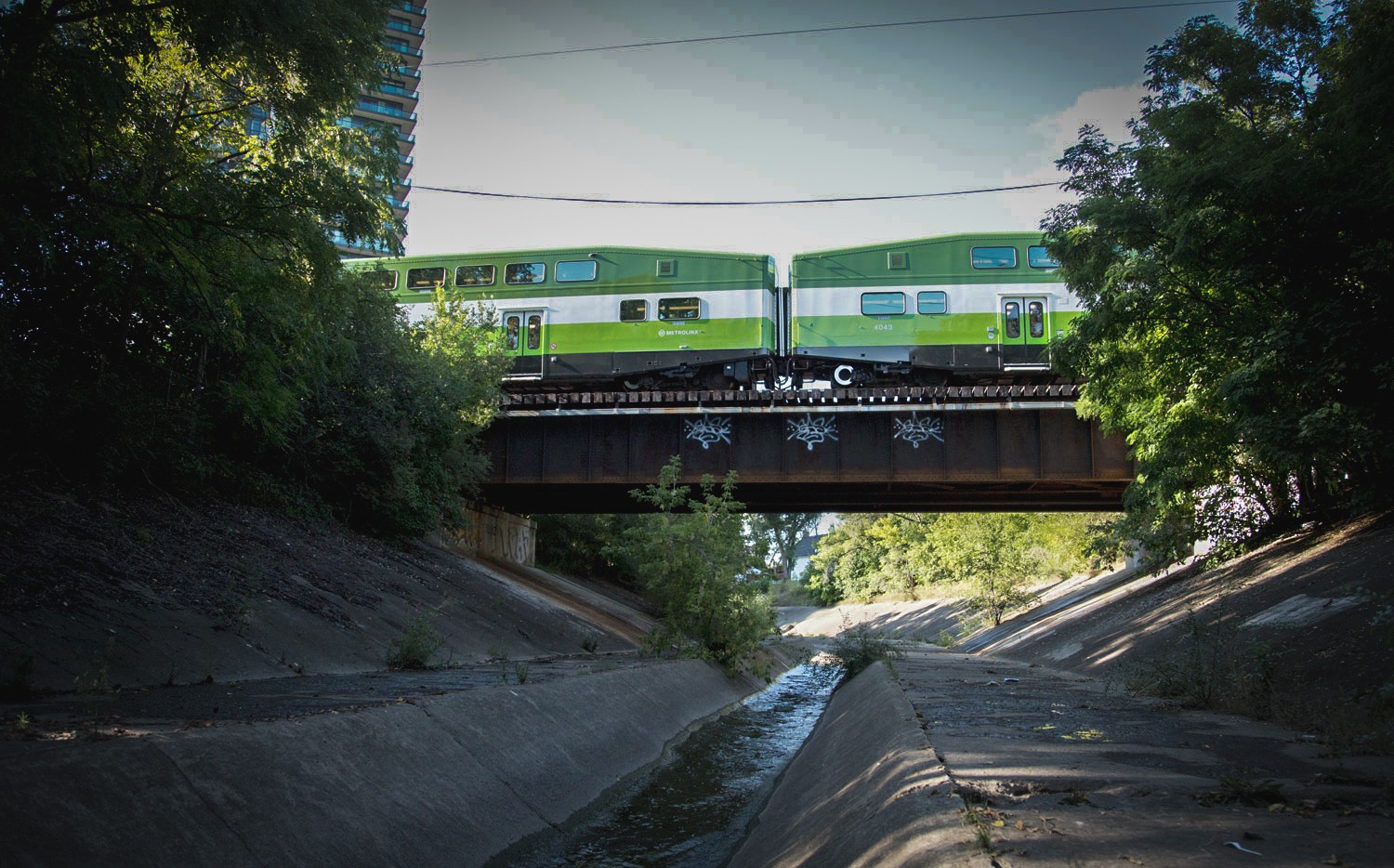 Photos by Mansoor Tanweer/Graphics from Metrolinx
Scrapping of freight bypass raises questions about future of all-day, two-way train service for Brampton
The construction of a freight bypass once viewed as critical to delivering all-day, two-way GO train service for Brampton has been scrapped by the provincial government.
Transportation Minister Jeff Yurek was in Kitchener on Monday to announce a 25 percent increase in service along portions of the Kitchener line. Starting in the first week of January, Brampton commuters will see an additional morning and afternoon trip between local stations and Union Station in Toronto.
Yurek said the boost in service was the result of the new government "finding better, smarter ways to work with our partners, such as CN, which will in turn deliver more transit rides faster and at a lower cost to the people.
"We are doing this without building a costly freight bypass that would take years to complete," he added.
On Tuesday, Graham McGregor, a spokesperson for Brampton MPP Amarjot Sandhu, confirmed that the freight bypass is no longer under consideration. Sandhu's Brampton West riding contains the Mount Pleasant GO station and is directly adjacent to the Brampton GO station.
"Metrolinx has a stronger working relationship with CN, which allows for increased GO train service along sections of the rail corridor they own. The freight bypass was one option under consideration to separate freight and passenger rail to bring more service to the Kitchener line," he said. "Through ongoing work with CN, we have been able to come to agreements that allow passenger and freight to operate in parallel and allow us to significantly accelerate service improvements to these areas. While avoiding the need for a costly freight bypass on the Kitchener corridor, allowing us to steadily increase service on the Kitchener line until full two-way, all-day service is delivered."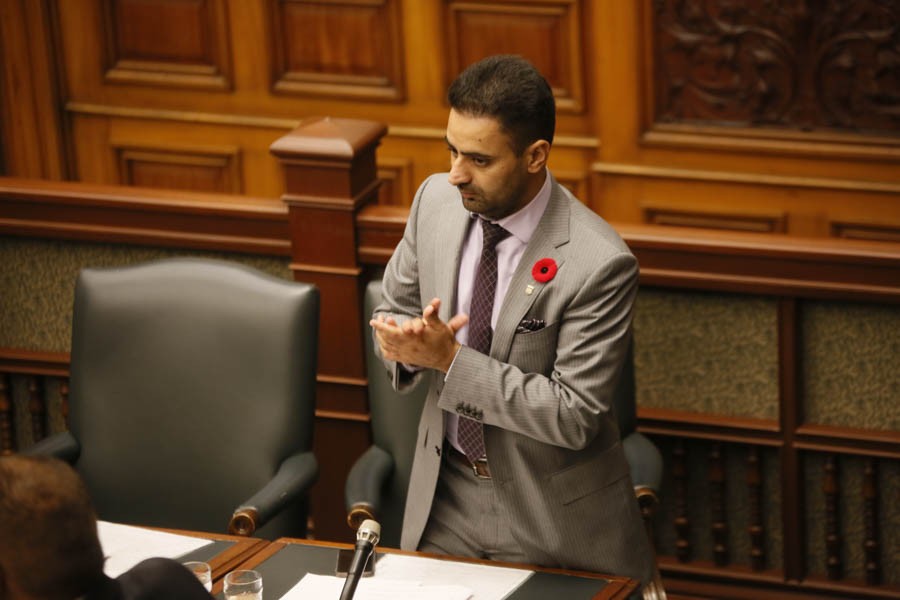 Brampton West MPP Amarjot Sandhu
Despite the rosy picture painted by the province, the cancellation will be of concern to Brampton commuters looking for relief. As roads become increasingly congested because of a surge in population growth in the city, more people are looking for alternative ways to get to work. As a result, Brampton's peak period trains are often crammed to capacity.
The decision by the Doug Ford government to scrap the bypass departs from a plan the province had been pursuing for several years under the Liberals to ensure unimpeded commuter service all day, and on weekends, in the future.
In 2016, under former premier Kathleen Wynne, the province signed an agreement in principle with CN to move forward with the freight bypass. The agreement appeared to solve long-standing track ownership issues that had stalled expansion of service for years. The crux of the problem is a congested CN-owned stretch of track from Georgetown to just east of Bramalea. GO owns the tracks on each side of this stretch, but usage agreements need to be settled for the Brampton portion.
The 2016 agreement between the province and CN launched a process of planning and technical analysis to build a new freight corridor that would move cargo traffic off a portion of the Kitchener line. At the time, the provincial government announced it would be seeking federal help to construct the needed bypass.
In April 2017, Ottawa delivered, pouring $752 million into the Kitchener line. It was noted by Kitchener MP Raj Saini that part of these funds would be used to separate the tracks and build the bypass.
The PCs are adamant the decision does not end the possibility of all-day, two-way train service. Ford campaigned this past spring on delivering better service for the Kitchener line as soon as possible.
Bob Nichols, a spokesperson for the Ministry of Transportation, says the additional service on the Kitchener line is "an important step" toward achieving the promised all-day, two-way service, and that the bigger goal can be achieved without the bypass.
"The enhanced partnership between Metrolinx and CN enables better coordination of operations and schedules to ensure there are no conflicts between passenger and freight trains around key areas of the network," he said. "We are working with CN to work better with what we have, and we're pleased we have achieved that. We have started infrastructure upgrades on the corridor and will continue to deliver the projects required to enable expanded Kitchener service … We will have more to say as we continue to make progress on our plans to provide more service along the Kitchener line."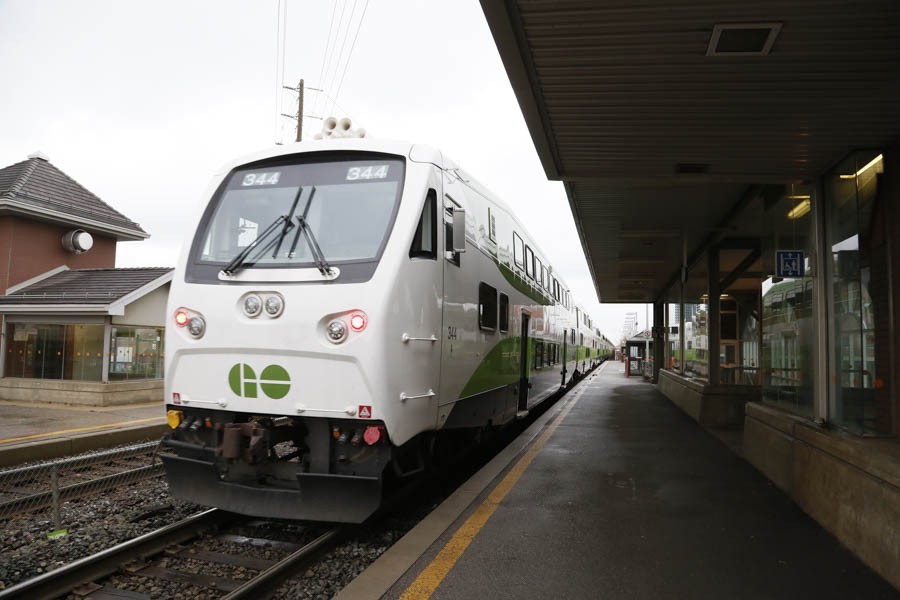 No details were provided about these new agreements, or how they would allow increased service along a line plagued with competing needs in the past. Nor is it clear how much these agreements will cost provincial taxpayers.
The "costly freight bypass," as Yurek described, would have come at a price of about $2.25 billion, which would build 30 kilometres of track, additional rails between Georgetown and Kitchener, and electrification infrastructure for west of the Bramalea GO station. For the sake of comparison, the one-stop Scarborough subway extension is projected to cost $3.65 billion for six kilometres.
Brampton residents have been baited with promises of increased train service before, only to hear crickets from the province and see zero action years later.
Kevin Richardson, a Brampton resident and user of the Kitchener GO line, says he has been following the discussions on expanding service for years. While he's hopeful that further service increases may be coming, he's concerned that the trains will never reach the frequency that could have been achieved by building the bypass.
"GO commuters are very familiar with CN freight trains and know that it's hard to run passenger and freight trains on the same track, even with more track," he said. "I'm concerned the news of not pursuing a bypass means we won't get electrification and the enhanced speed and service it brings west of Bramalea Station."
The Kitchener line currently provides four trains during peak morning and afternoon periods between Kitchener and Toronto, with two additional trains running only between Bramalea and Union Station during peak periods.
Metrolinx's planned expansion along the Kitchener line would see trains travelling every 30 minutes between Georgetown and Union and every 10 minutes between Bramalea and Union. However, according to the full business case prepared by Metrolinx for the project, these optimum service levels would not be reached until sometime between 2025 and 2030.
According to numbers from Metrolinx, the Kitchener line is the fourth busiest of its corridors, behind the Lakeshore West and East lines and the Milton line. Ridership on the line grew by about 6.3 percent between September 2017 and September 2018.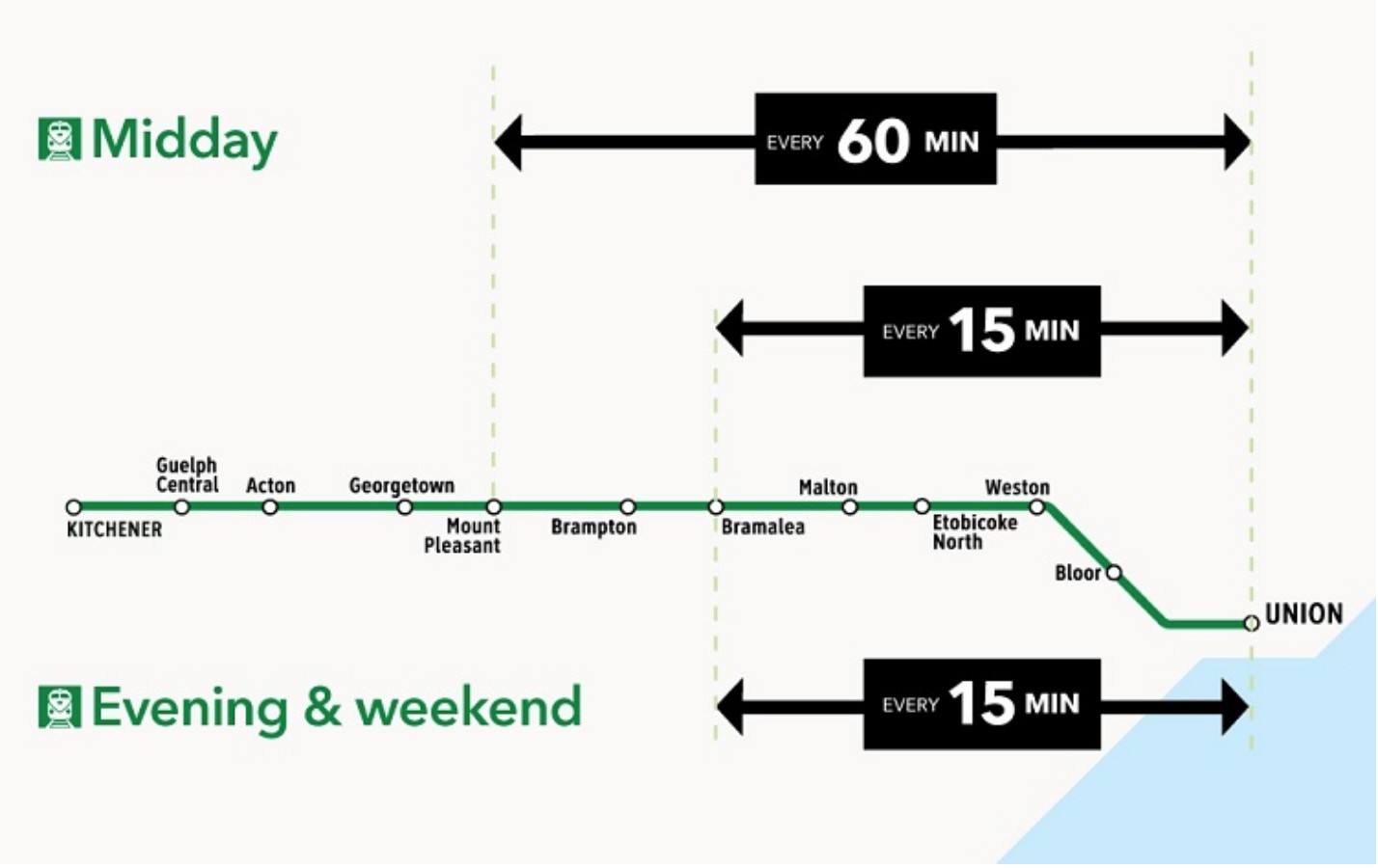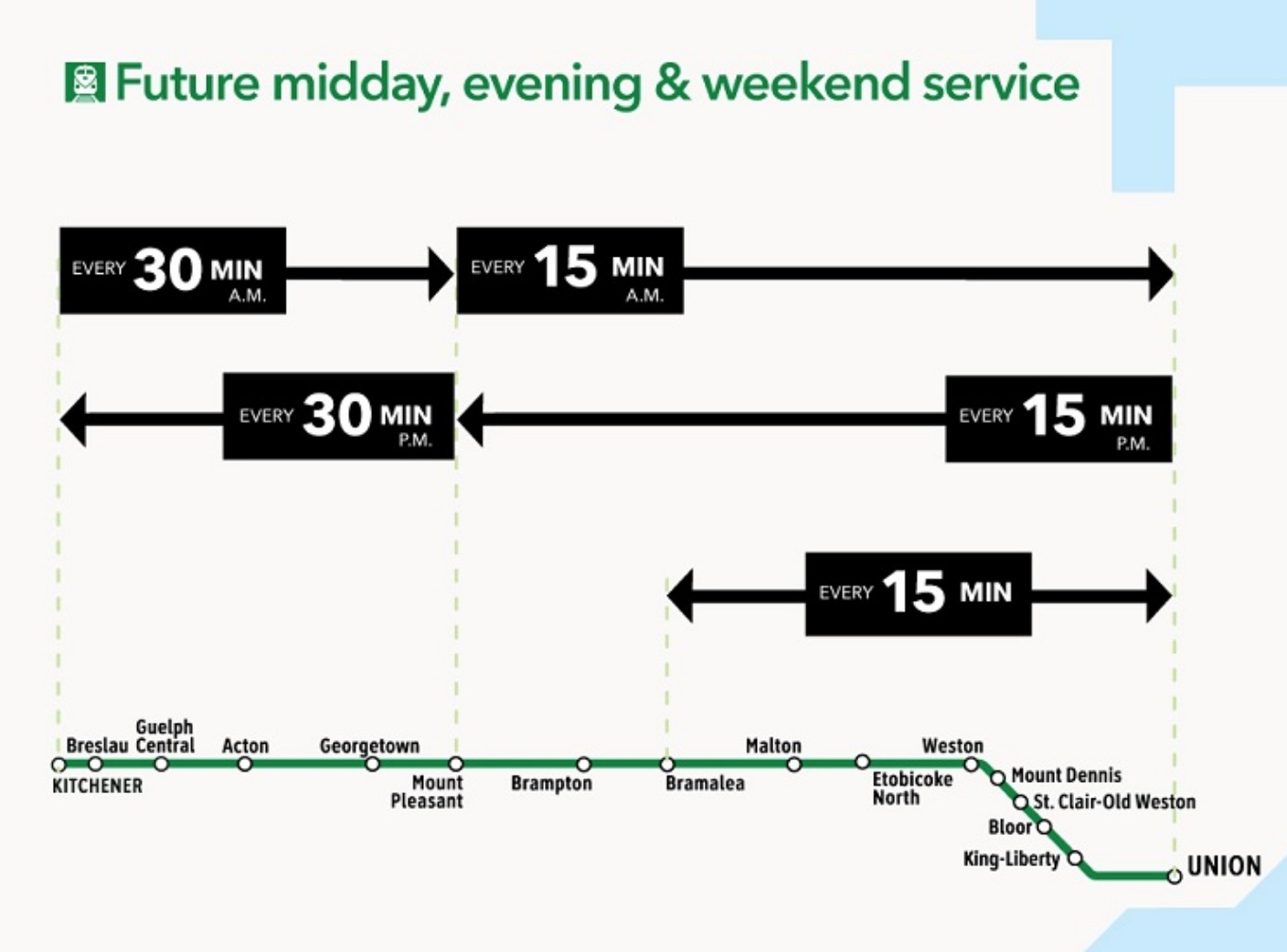 The drastic change in direction for future GO service in Brampton comes as city council makes a u-turn of its own. Last week, council approved scrapping the environmental assessments for possible alternative LRT routes along Kennedy and McLaughlin roads and put the Main Street route, rejected in 2015, back at the top of its transit priorities.
That move contradicts a detailed transit vision outlined in the Brampton 2040 Vision document commissioned by the last council. The plan didn't include LRT along Main Street, but many residents have already voiced their optimism about the route originally approved by the province, which committed full funding for it, but then pulled the money when council in 2015 voted down the route and the promised dollars that would have come with it.
The local transit plans have some residents remaining hopeful for the future of transit in the city.
"Expanding GO train service is complex but Brampton's own Official Plan charts a pathway forward on LRT and BRT and how to connect people to where they need to go," Richardson says. "So while I'm disappointed the bypass study won't happen, Brampton still has a fantastic opportunity for surface rapid transit that integrates well."
Submit a correction about this story