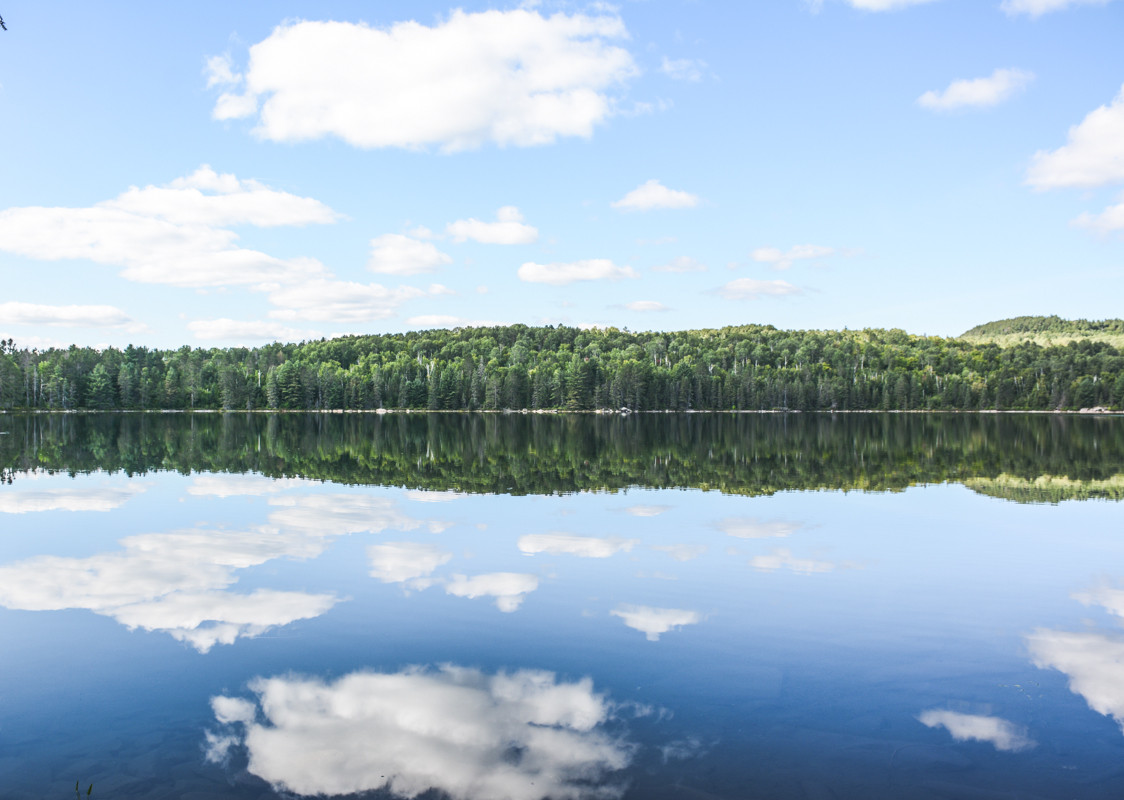 Joel Wittnebel/The Pointer
Canada's emissions reduction plan is failing: Federal Liberals receive blistering audit reports 
For a Prime Minister whose approval rating is drifting downward like a falling leaf, last week's audit reports released by the country's Environment Commissioner might have hastened Justin Trudeau's earthbound political fortunes.
Canada's leader has already lost ground with key constituent groups, as the Israel-Hamas conflict becomes more entrenched, the housing crisis worsens and more and more voters question federal policies doing little to protect their shrinking bank accounts.
Now, the one issue that has provided Trudeau a clear advantage at the polls, might add to his troubles.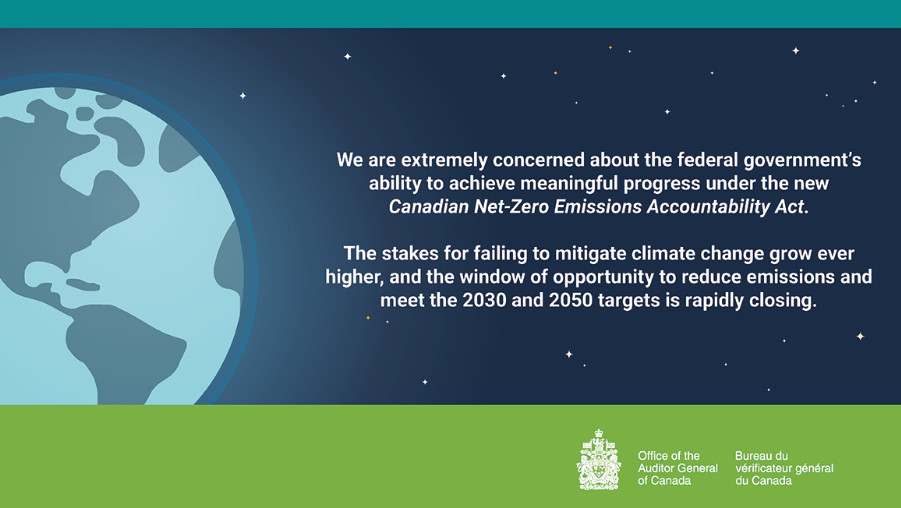 The audit reports last week are highly critical of the federal Liberal government's lack of action to meet its own emissions reductions target.
Three blistering audit reports, of the five released last week by Jerry DeMarco who helms the agency responsible for ensuring the federal government protects Canadians from the existential threat of human-induced climate change, focus on the Liberal plan to reduce emissions by 2030.
Here are some of the bleak, deeply worrying conclusions his department, which is part of the Office of the Auditor General of Canada and reports directly to Parliament, came to based on extensive audit work over a two-year period concluding this past August:
The federal government, at its current pace, will not reduce carbon emissions by 40 percent below 2005 levels by 2030, the target it has established.
Policies to reduce the country's oil and gas-industry emissions (which accounts for the largest percentage of overall greenhouse gas emissions by economic sector) that were supposed to be presented early in the year are still delayed, despite the government's claim of reducing the industry's emissions by 42 percent compared to 2019 levels by the end of this decade, a target that is getting further out of reach.
The government's plan does not include a target or expected emission reductions for 76 (95 percent) of its 80 specific measures to meet its 2030 target.
Nearly half of the 80 emissions reductions measures in the government's 2030 plan have no deadline, despite the need to reach the overall goal in a little more than seven years.
In December 2022, the government revised the emission reductions it expected from the 2030 plan from achieving 36.4 percent below the 2005 level to 34 percent, missing the 2030 target by an even wider margin.
Only 45 percent of the measures in the plan had an implementation deadline.
The plan did not include a target or expected emission reductions for 95 percent of its measures.
The percentage of zero-emission vehicles in four large government organizations, including the military, stood between one and three percent in 2022, making it very difficult to reach established 2030 targets.
As of March 2022, of 17,260 vehicles in the federal government's entire administrative fleet, only 586 were zero-emission vehicles, just three percent.
There are insufficient numbers of charging stations for publicly-owned electric vehicles in large portions of the country and the government lacks a strategy to provide the infrastructure in these areas; which will impact the goal of zero-emissions vehicles making up 100 percent of light-automobile sales by 2035 (ZEVs accounted for just over 10 percent of all vehicles sales in Canada in the fourth quarter of 2022, the first time double digits were reached).
Of 27 federal organizations required to create sustainable strategies for federal vehicles, the four largest, with the most potential to reduce emissions, lacked a strategic approach to reach the government's targets.
Weaknesses in Environment and Climate Change Canada's economic modelling included overly optimistic assumptions, limited analysis of uncertainties, and lack of peer review.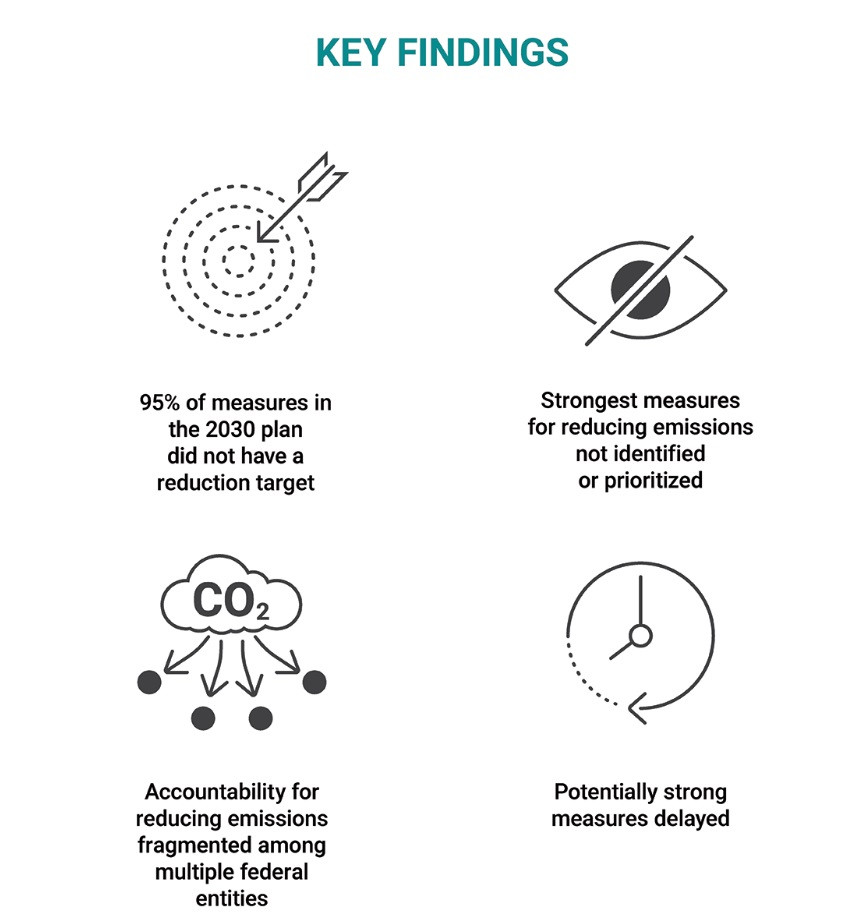 (Office of the Auditor General of Canada)
The audits released last week by the Environment Commissioner, under the Office of the Auditor General of Canada, drew wide response from stakeholders.
The audits "highlight the need to quickly move to cap emissions from the oil and gas sector, align private finance with net-zero, finalize clean electricity rules, and phase out gasoline powered car and truck sales by 2035," Environmental Defence wrote in a press release.
Canada has failed to meet every climate target it has set; since 1990, the federal government has developed and implemented more than 10 climate change mitigation plans, falling short on each one.

Nearly half of Canada's population was covered in a thick haze of smoke during the peak forest fire season this summer.
(Joel Wittnebel/The Pointer)
The audit reports released last week by Canada's Environment and Sustainability Development Commissioner emphasize that, once again, Canada is not on track to meet its commitments to fight climate change.
Environment and Climate Change Canada estimated that the measures in the Liberal's 2030 Emissions Reduction Plan were not on par to reach the target of a 40 percent reduction of emissions below 2005 levels by 2030. It projected the actions set out in the plan would reduce Canada's carbon dioxide equivalent emissions to 470 megatonnes in 2030; however, in order to meet the 40 percent target, emissions would need to be decreased to no more than 443 megatonnes. In 2022, the estimates were updated to project an even greater shortfall, predicting Canada would only succeed in reducing its emissions to 491 megatonnes by 2030. This gap, as DeMarco made clear, means Canada is unlikely to uphold its commitment under the Paris Agreement to keep global warming to 1.5 degrees from pre-industrial levels.
"Tackling climate change can't be achieved by the flick of a switch. It takes hard work and everyone doing their part," Federal Minister of Environment and Climate Change Steven Guilbeault tweeted earlier this week, after the release of the troubling audits. "Our Government is helping to bend the curve on emissions, rolling out policies that are creating a stronger, more secure Canada."
The audits found that while the Liberal government's plan contains 80 measures directed at reducing emissions, the lack of transparency and absence of deadlines and milestones make the tracking of progress very difficult.
"Without expected emission reductions transparently available in the plan, it is not possible to know which of the mitigation measures to reduce emissions were key," DeMarco wrote in his findings. "Without milestones and deadlines, it is not possible to know whether all measures had been implemented on time. It is important that this information be publicly available in an accessible format so that Canadians and parliamentarians can hold the government to account for its commitments."
He wrote that while the plan comes with the promise of 2030 and 2050 emissions reductions targets that would "grow a competitive, sustainable and inclusive economy", no definition is given for the term "inclusive economy" and the government has failed to identify which groups would be disproportionately impacted by the plan, what measures would be taken to mitigate those effects and how to track that progress.
Another weakness DeMarco highlighted is the "overly optimistic" assumptions used in the modelling framework. For example, projections do not factor costs of climate change on the environment, the economy and the health of Canadians. As heat waves and wildfire smoke punished the nation this summer, the demand for electricity rose. As the climate continues to warm, modelling needs to account for increasing energy demands that will make emissions reduction more challenging.
There is also an assumption within the models that certain technologies, like carbon capture and storage, necessary for significant reductions, would be readily available. There are also assumptions that there will be no delays in the design and implementation of mitigation measures.
The oil and gas industry continues to be the highest emitter of all economic sectors across Canada.
(Ella Ivanescu/Unsplash)
While the federal government has recognized there may be a need for natural gas in Canada, even after 2035, the emissions reductions plan was written under the assumption that no new natural gas plants would be built without carbon capture and storage facilities past 2023. This was intended to be outlined in the nation's Clean Energy Regulations (CER). However, the CER has only been published in draft form and, as has been noted by organizations like Ontario's Clean Air Alliance, contains loopholes that will allow provinces to continue to burn natural gas well past 2035. Most notably, the regulations state that new gas plants built before 2025 will be allowed to surpass the 30 tonne per gigawatt-hour limit on their generators for 20 years. The federal environment ministry said delays in the regulations were because consultations took longer than expected.
Canada's Oil and Gas Emissions Cap, first proposed in 2021 and intended to include a 2025 requirement, is also delayed with no detailed information about an implementation date, and the Clean Fuel Regulations, first proposed in 2016 with final regulations to be published in 2019, was delayed three years and were published in 2022 with partial regulations coming into effect in the summer of 2023.
For a government that has repeatedly asserted that "pollution should not be free" and has implemented a tax on carbon production, its recent move to exempt home heating oil from a carbon levy has some experts criticizing the move, just as the audits reveal the extent of the government's failure to meet its emissions reduction targets.
But stakeholders have made clear what the biggest problem is.
"The report is clear that government action must target the most polluting industries," Environmental Defence stated. "The oil and gas industry is the largest and fastest growing source of Canada's greenhouse gas pollution. Although the federal government has promised to bring in new regulations to reduce oil and gas emissions, it has been two years since the promise of an emissions cap – but we have yet to see even draft regulations. In addition, the emissions cap is facing major pushback from Canada's oil and gas industry, which heightens the risks of a weakened policy when it does come out. To have a chance of meeting its 2030 emissions reduction target, the federal government must stand up to the oil and gas industry and put forth a strong and robust emissions cap before COP28."
Trudeau has been accused of hypocrisy, promising to force oil and gas companies to comply with mitigation measures, while delaying on actions and simultaneously propping up pipeline projects and greenlighting the largest petroleum extraction in the country's history—the Bay du Nord offshore plan by two giant European oil companies, which could see a billion barrels pumped from the ocean surface off the coast of Newfoundland. Guilbeault, after approving the controversial project, claimed it would not cause "significant adverse environmental effects", which sparked heavy backlash for the obviously misleading remark. While he calls for the end of carbon-fueled vehicles by 2035, he supported a project, which the investors have now put on hold for at least three years, that will flood oil into markets for decades. Meanwhile, alternative energy is ready to dominate, as the International Energy Agency has shown, but countries like Canada that refuse to gradually decrease oil production prevent renewable, sustainable technologies from attracting investment to move us into a clean future.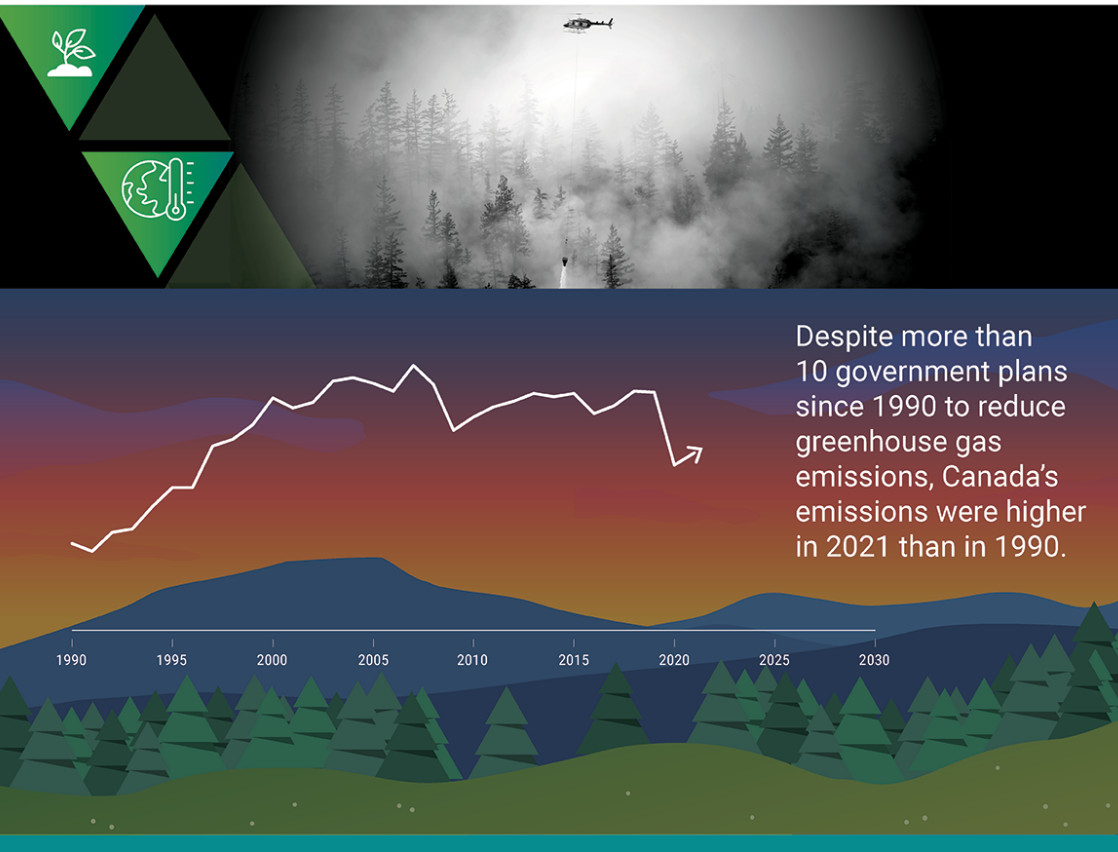 (Office of the Auditor General of Canada)
The current carbon tax, which the Trudeau government implemented in 2019, is priced at $65 per tonne of emissions, and is set to rise $15 per tonne every year until 2030. While the three-year heating oil exemption applies to all of Canada, it will have the greatest impact on Atlantic provinces where a large portion of residents are still dependent on it, but the decision will add to our reputation as one of the worst polluters in the world.
Canada ranks tenth on the list of the world's top GHG emitters, but is actually the highest emitter on a per capita basis, sending almost 20 tonnes of carbon emissions per capita into the atmosphere in 2019.
"Despite the progress made, Canada's emission level in 2021 was still well above that in 1990, which is when Canada first committed to addressing climate change," DeMarco wrote in the audit. "Since then, the stakes have grown ever higher and the pace of action to combat the climate crisis needs to increase."
On November 2, the United Nations Environment Programme published its annual Adaptation Gap Report which details required planning, financing and implementation of adaptation actions.
"Action to protect people and nature is more pressing than ever. Storms, fires, floods, drought and extreme temperatures are becoming more frequent and more ferocious, and they're on course to get far worse. Lives and livelihoods are being lost and destroyed, with the vulnerable suffering the most," UN Secretary General Antonio Guterres wrote in a statement following the release of the report. "Yet as needs rise, action is stalling."
A study by the UN found that the 55 most climate vulnerable economies have, over the last two decades, experienced $500 billion in losses and damages. The report stresses that while mitigation is important, at least half of global climate finance must be allocated for adaptation measures because even if the global collaborative manages to stay between the 1.5 degree and 2-degree threshold as agreed upon in 2015, there will be residual climate effects for decades.
Canada, as last week's audits show, is the worst country in the G7 in terms of emissions reductions. It's a record that Justin Trudeau has to defend, as he tries to hang on to power, and convince environmental voters that he's still their man. To do so, his actions will have to catch up to his words.
---
Email: [email protected]
Twitter: @rachelnaida_
---
At a time when vital public information is needed by everyone, The Pointer has taken down our paywall on all stories to ensure every resident of Brampton, Mississauga and Niagara has access to the facts. For those who are able, we encourage you to consider a subscription. This will help us report on important public interest issues the community needs to know about now more than ever. You can register for a 30-day free trial HERE. Thereafter, The Pointer will charge $10 a month and you can cancel any time right on the website. Thank you
Submit a correction about this story