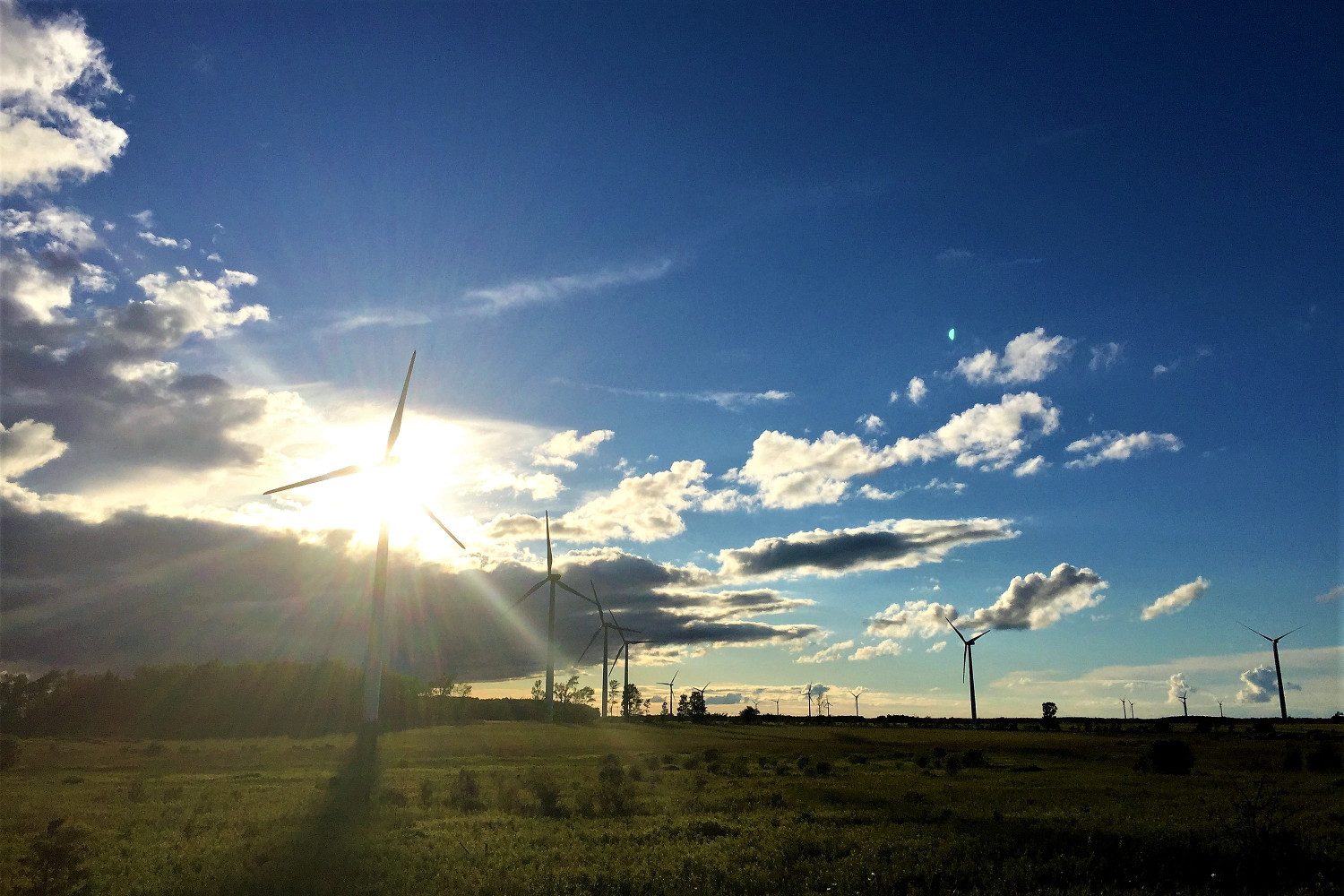 Feature image Alexis Wright/The Pointer
The Bay du Nord oil project has been paused; its cancellation would help Canada meet commitments
As wildfire smoke offers Canadians a reminder of what clean air means to all of us, many remain hopeful that the delay of a massive deep water drilling project off the east coast could solidify Canada's transition to a carbon neutral future.
The wildfires underscore the destructive, inescapable impact of climate change.
The Intergovernmental Panel on Climate Change (IPCC) has been warning about the increased potential of wildfire spread for years and just last year, the international body of scientists published a report that concluded wildfires will not only increase, but they will flare up in places not used to them. The report found areas that only experience a significant fire every 400 years, can begin to expect them every 50 years. Projections show the amount of land burned by wildfires every year could increase 35 percent, should the world fail to slow global warming and keep the temperature increase to 2 degrees above pre-industrial levels.
Burning fossil fuels has to end. Transitioning to a low carbon/no carbon economy is not an option, it's the only way to ensure a healthy future for us, and our planet.
A new peer reviewed study, published in the journal Environmental Research Letters earlier this month, draws a direct link between fossil fuel use and North American wildfires. It concluded that 37 percent of the total burned forest area in western Canada and the United States — approximately 80,000 square kilometres, slightly larger than New Brunswick — between 1986 and 2021 could be traced back directly to 88 fossil fuel and cement companies.
The raging wildfires that are a direct symbol of the calamity that humans have caused to the natural world have come at a time when Canadians are reasserting their demands to the federal government that emissions need to be cut, and in order to do this, we need a complete rehauling of our energy system that includes a ban on fossil field production and consumption.
"There has never been a better time to leave fossil fuels behind, to stop making climate change worse and finally decide to move toward the solutions," Stephen Thomas, clean energy manager at the David Suzuki Foundation, told The Pointer.
Rallies have become a way that Canadians, and citizens globally, are striving to hold their governments accountable to stricter environmental legislation.
(Ming Wu/David Suzuki Foundation)
Yet, while the feds have set strict emissions reductions targets — a 40 percent decrease in emissions below 2005 levels by 2030 and net zero emissions by 2050, as well as a zero emissions electricity grid by 2035 — the government continues to flip flop on climate action, leaving citizens concerned about their leadership and its ability to transition Canada to a low carbon economy.
Canadian Minister of Environment and Climate Change Steven Guilbeault has provoked backlash from provincial leaders for publicly highlighting their inaction on climate change, asking for clean electricity standards in Saskatchewan and calling for Greenbelt protection in Ontario. Meanwhile, Guilbeault approved the first deep water offshore drilling project off the coast of Newfoundland, one of the largest extractions in Canada's history which could see almost one-billion barrels of oil produced from the subsurface site. It is a decision that has left many questioning Guilbeault's integrity and Prime Minister Justin Trudeau's commitment to a green future.
The Bay du Nord project, as it is known, consists of several oil discoveries in the Flemish Pass Basin in the Atlantic Ocean, approximately 500 kilometres northeast off the shore of St. John's. The first discovery, made by Equinor, a state-owned energy company headquartered in Norway, was made in 2013. Subsequent discoveries were made in 2014, 2016 and 2020 (BP is the other major partner in the project).
In April 2022, Minister Guilbeault gave the project the go ahead claiming it "is not likely to cause significant adverse environmental effects." The comment has drawn widespread criticism over its clearly misleading suggestion, as Guilbeault apparently referred to the impact of the operation itself, not the burning of the billion barrels of oil, which will cause devastating environmental damage.
"We believe there's a huge groundswell of opinion and Canadians are recognizing that these kinds of projects just can't keep going," James Gunvaldsen Klaassen, a lawyer with Ecojustice who is fighting the government on the Bay du Nord approval in court, told The Pointer. "Our planet can't sustain it. And more and more people are seeing that and realizing that's not the world that they want their kids to have to deal with. They want a sustainable economy and a sustainable world."
Bay du Nord consists of several oil drilling sites about 500 kilometres off the eastern shore of Newfoundland in the Flemish Passage.
(Equinor)
Ecojustice, a prominent environmental organization, is representing Équiterre, a non-profit environmental organization; the Sierra Club Canada Foundation; and Mi'gmawe'l Tplu'taqnn Incorporated (MTI), a non profit organization created by the Mi'gmag in the maritime provinces, in a lawsuit against the federal government for its decision to approve the Bay du Nord offshore drilling project.
The basis of the lawsuit is twofold: the groups are challenging the matter that an approval was given without consideration of the devastating downstream environmental impacts of the extraction; and the project was approved without fulfilling the constitutional duty to consult local Indigenous groups.
"Although the project did tout its downstream benefits, and that the effect is going to bring them so called prosperity, they did not highlight the downstream serious harm to the environment," Gunvaldsen Klaassen said. "Our position is that the government was required to consider that before deciding whether to approve [the project]."
"There's a constitutional duty on the part of Canada to consult with Indigenous communities that are going to be affected by any action that the government may approve," he continued. "And in this case, they did not consult on something of central importance."
The case against the federal government was heard in court on March 1 and is currently awaiting the judge's decision. Gunvaldsen Klaassen said the government's lawyers argued Ottawa conducted proper consultation on all aspects that warranted it, but the lawyers at Ecojustice disagree.
"Something of central importance, like the impacts of marine shipping, is at least something the government should have considered and should have consulted the New Brunswick Mi'gmag," he asserted.
There was a sigh of relief May 31 when Equinor announced it was putting the massive offshore drilling project on hold for up to three years citing economic concerns. Immediately, speculation rose as to whether the delay could turn into a slow but full cancellation of the project.
Evidence suggests the demand for oil in Canada will decline steadily after about a decade, creating pressure for companies to stall or cancel new projects, and abandon existing ones. A 2021 report from the International Energy Agency projected that under the existing policies at the time, Canada's oil would grow by approximately 700,000 barrels a day by 2030 before starting a downward trend. However, the report also concluded that if Canada implemented some or all the policies promised by the Liberals to move away from fossil fuel dependency, oil production would fall by about 100,000 barrels per day by 2030 then possibly continue a sharper decline thereafter.
The international agency also reported renewables are projected to provide more than 90 percent of global electricity expansion by 2027.
"Renewables were already expanding quickly, but the global energy crisis has kicked them into an extraordinary new phase of even faster growth as countries seek to capitalize on their energy security benefits. The world is set to add as much renewable power in the next 5 years as it did in the previous 20 years," IEA Executive Director Fatih Birol, said. "Renewables' continued acceleration is critical to help keep the door open to limiting global warming to 1.5 °C."
International reports show that oil and gas costs are rising while solar and wind technologies become cheaper, driving the transition to a cleaner electricity grid. (Alexis Wright/The Pointer)
With increasing demand for clean energy sources and developing technologies, alternative energy sources like wind and solar are becoming cheaper while the cost of oil and coal has climbed over the past few years. According to an analysis published by Bloomberg Intelligence, there is currently $9.5 trillion in investments in renewables planned over the next 20 years. The lower costs of these energy sources will drive demand, making the investment in new oil and gas projects very unreliable.
While the annual Banking on Climate Chaos report showed Canadian banks continue to ignore the crisis, with RBC taking over the infamous title as the world's worst bank in terms of its fossil fuel investments ($42 billion US in 2022) and Scotiabank and TD not far behind at $29.5 billion and $29 billion, the reality is that many global banks are finally reducing their investments.
Even though 2022 was the most profitable year ever for oil producers, investors are wary of pumping billions of dollars into projects, when demand could start to decline in less than a decade.
Last year, Canada's Office of the Superintendent of Financial Institutions (OSFI) took an unprecedented step in warning the country's banks of the problems associated with continuing to ignore the risks of oil sector investments, as governments, advocates and, most significantly, markets demand a shift away from carbon-based energy.
The federal regulator said Canadian banks are "in the early stages of incorporating climate-related factors into their risk decision-making and capital management," and warned that "climate-related risks, including physical and transition risks, could have significant impacts on the safety and soundness of financial institutions, and the broader Canadian financial system", risks that need to be incorporated in future oil sector investment decisions.
But Gunvaldsen Klaassen cautions Canadians to remember that the pause for the Bay du Nord project came from Equinor itself, and that the federal government's support for the project has never wavered.
"The approval still stands," he told The Pointer. "It hadn't been withdrawn or retracted. And so the legal issues remain live and our challenge is completely viable."
If the Bay du Nord project does continue after the three year delay, the environmental impacts will be catastrophic, setting Canada far behind in its planned transition to a zero carbon grid. It is estimated that in its lifespan, Bay du Nord could produce one-billion barrels of oil, in turn generating an estimated 400-million tonnes of carbon. In 2021, Canada generated 670 million tonnes of carbon. In its lifespan, Bay du Nord could produce 60 percent of the emissions the nation produces in one year. This is the equivalent of the emissions from between seven and ten-million cars per year.
The oil from the project will be used in different jurisdictions around the world, wherever Equinor distributes it, but the pollution from extraction in subsurface oil fields we control will impact Canadians directly.
The impacts of climate change that we are seeing today, like the forest fires ravaging Canada, are an accumulation of past decisions that contributed to high emissions levels. The emissions we release today are not going to impact the temperature tomorrow, but they will have an impact in years and decades to come, as carbon dioxide and other pollutants can live in the atmosphere for many, many decades.
"People living in Canada are dealing with the effects of the climate crisis today. They've been dealing with this for years now," Thomas said. "And every day that we delay acting on climate change is a day where we make that problem worse."
Environmental groups are asking the federal government for stricter regulations and an outline of how the nation will reach a zero carbon electricity grid by 2035, a goal set by the government itself.
On June 5, the David Suzuki Foundation, along with multiple other organizations, handed Minister Guilbeault over 40,000 signatures collected over several weeks from residents across Canada, calling on the federal government to end fossil fuel investments for electricity and support renewable energy generation instead.
"The feeling at this rally was one of hope. One hundred percent renewable power for everyone in Canada by the year 2035 is something that people find real hope in," Thomas said. "This is a transformational climate policy and energy policy, that Canada can actually get right."
He believes the Canadian government is working toward the 2035 goal, but he wants to ensure success.
"We know that the federal government is working on this and what we are calling on them to do is to release the draft regulations for this clean electricity regulation," he said. "This is the policy that's actually going to get us to that 2035 target. And that's the action that we want to see from them as soon as they can."
The David Suzuki Foundation and its allies are calling on the federal government for more transparency on the ways it plans to achieve its emissions reductions targets.
(Ming Wu/David Suzuki Foundation)
According to the Climate Action Tracker, which assesses countries' policies in coordination with the Paris Agreement, Canada is rated as "highly insufficient", concluding that our federal policies are not in line with the 1.5 degree warming target and that if all nations fell in line with Canadian policies, we would be looking at upward of three to four-degrees of warming.
"Of course we want to see the federal government do more on climate change. Canada is behind when it comes to decidedly moving away from fossil fuels, and committing to the benefits of renewable electricity," Thomas said. "But this is the case where we're just asking the federal government to follow through on something they've already committed to do. So we need to see the details in this policy … so that we can move forward and begin the work of building out renewable electricity in Canada."
Obtaining the draft regulations from the federal government is just the first step in the process of a campaign the David Suzuki Foundation is mounting with 12 other organizations to fight for low-carbon electricity. They want to push back on the oil and gas industry which continues to seek investments in projects that will move the country further from its goals, which we are already well behind on—Canada has failed to meet even one of its international emissions reductions commitments.
"It's heartening to see that people are expressing the urgent need that we should all be doing things very differently," Gunvaldsen Klaassen said. "And I think we can."
---
Email: [email protected]
Twitter: @rachelnadia_
---
At a time when vital public information is needed by everyone, The Pointer has taken down our paywall on all stories relating to the pandemic and those of public interest to ensure every resident of Brampton and Mississauga has access to the facts. For those who are able, we encourage you to consider a subscription. This will help us report on important public interest issues the community needs to know about now more than ever. You can register for a 30-day free trial HERE. Thereafter, The Pointer will charge $10 a month and you can cancel any time right on the website. Thank you
Submit a correction about this story