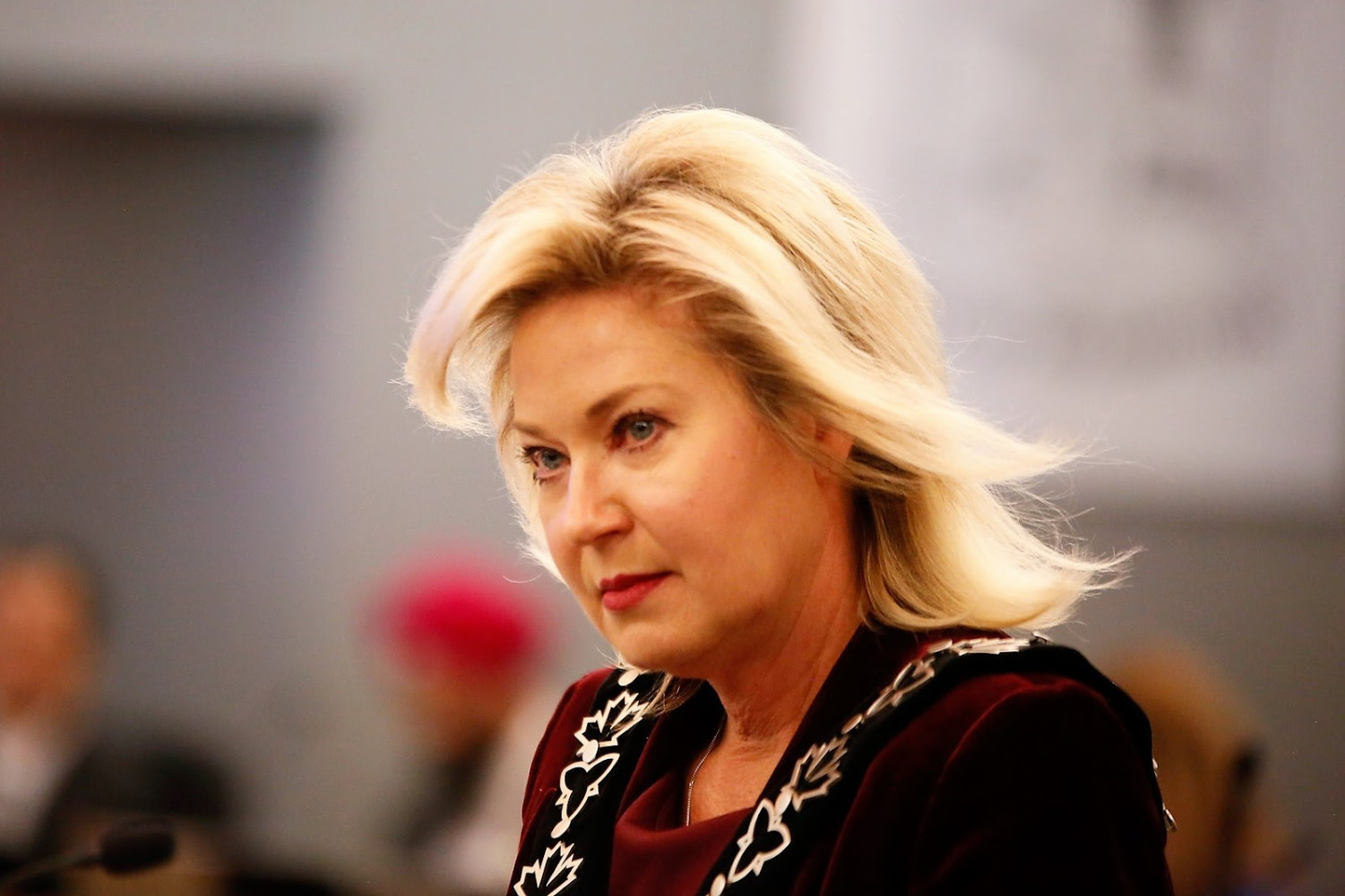 (Alexis Wright/The Pointer) 
Crombie uses strong mayor powers to override council decision that rejected four-plexes in Mississauga
Mississauga is moving to allow four-plexes in neighbourhoods city-wide to help address the housing crisis after Mayor Bonnie Crombie used her strong mayor powers to override council's decision last week that voted them down.
On Friday, Crombie issued a Mayoral Directive, through her provincially granted strong mayor powers, to move forward with the necessary steps to allow residents to build four residential units on low-rise residential lots. The powers allow municipal leaders to bypass council colleagues on major planning decisions in line with the PC housing plan to build 1.5 million new units by 2031. They give municipal leaders across the province more power to make decisions with the caveat of supporting the PC government's wide-ranging housing legislation. It's a move that some elected officials and advocacy groups have labelled "undemocratic."
However, affordable housing advocates have said the powers could be used for good in certain situations. Critics have pointed to elected officials such as Mississauga Councillor Dipika Damerla, as examples of short-sighted leaders who take their cues from NIMBY voters in the hope of getting reelected, instead of representing residents desperately in need of affordable housing. The strong mayor power is a tool that can be used to circumvent this type of council behaviour which does not put the broader, long-term needs of the city first.
Crombie's bold move came the same day as the federal government announced it was committing $114 million in funding — funds Mississauga jeopardized by rejecting Councillor Alvin Tedjo's motion last week calling for quadplexes — to kick-start the construction of 3,150 new homes in Brampton over the next three years, with plans to construct 24,000 new homes over the next 10 years. Brampton's Housing Accelerator application outlines a series of initiatives that include incentives for purpose-built affordable housing units and scaling up construction of units in key transit corridors, among others. The City revised its application after receiving recommendations from federal Housing Minister Sean Fraser in September, which included increasing the number of as-of-right developments from three to four, something Mississauga council has failed to do.
Friday's directive provided notice that Crombie intends to issue a motion using her strong mayor powers to enact official plan and zoning bylaw amendments that will permit four-unit housing in Mississauga upon returning to her role as mayor at the end of November for the City's budget process (she is on leave to run for the Ontario Liberal leadership and if victorious her return would only be temporary).
"Given the scale and urgency of the housing crisis, it is critical that leadership at all levels of government work together," Crombie stated in the release Friday. "Issuing this directive will ensure that Mississauga continues to be eligible for $120 million in important federal funding for housing and community infrastructure while allowing for much-needed housing to be built in our neighbourhoods for the next generation."
"This is about increasing the supply of housing and providing greater opportunity for those who want to live in our city, including families and older adults who want to age in place," she added. "It is one of many ways we are working to build the 'missing middle' in our city and communicate to residents that Mississauga is tackling the housing crisis."
The directive comes after Councillor Tedjo introduced his motion to make the construction of four-plexes seamless on lots that could support converting one residential space to four — a move some councillors have said would be a progressive step forward in addressing the housing crisis. The motion sought to allow four-plexes "as of right", meaning property owners can build these housing developments on their land if the space allows without requiring specific approvals from the municipality.
During the October 11 meeting, Tedjo said he hoped the motion, which would make building "missing middle" housing much easier, would allow the city to gently increase housing density in existing neighbourhoods by adding additional low-rise options that would not place a significant strain on City services. He added the motion was a "positive opportunity" for City Council to open up conversations on how to advance housing and "ensure that council retains its principles in deciding what we want our city to look like." The purpose of the motion, he explained, was to promote Mississauga as a city that is on board with its housing pledge to the province.
An example of a four-plex housing development.
(Realtor.ca)
The motion, which would allow residents to split their properties for the creation of four-dwelling housing units across the city, in an effort to ease the ongoing affordability crisis plaguing many residents, was defeated by Mississauga City Council on October 11 in a 5-5 vote (a tie is a loss). Councillors Tedjo, Carolyn Parrish, Martin Reid, Joe Horneck and Chris Fonseca voted in favour of the motion, while Councillors Brad Butt, Stephen Dasko, Dipika Damerla, John Kovac and Matt Mahoney opposed. Councillor Sue McFadden was absent.
Councillors who voted against the motion cited concerns over the lack of consultation, arguing the motion was being rushed through in order to comply with the pressures of the federal government's Housing Accelerator Fund — an incentive that provides financial support to municipalities to speed up housing construction and densify neighbourhoods. The fund has granted tens of millions of dollars to cities such as Calgary, London, and Halifax that have met certain requirements, including adding density and affordability. Mississauga's potential share of the federal fund is estimated to be $120 million and is contingent on meeting requirements outlined by Housing Minister Fraser.
In a subsequent motion last Wednesday, council voted unanimously to request staff report back on the feasibility of fourplexes in Mississauga in consultation with a housing panel. The City's poor track record on creating badly needed housing options, with councillors like Damerla caving to NIMBYism, has led to a backlash, with residents, politicians and advocacy groups turning to social media to express their disappointment with council members who have rejected responsible growth management, instead pandering to mostly older residents who have higher voting rates and do not want to see their neighbourhood change.
Following council's decision to deny Tedjo's motion, Fraser took to X, stating City Council's decision to reject the motion "to create the homes the City needs is very concerning."
Housing reports over the last half decade have highlighted how affordable housing is desperately needed in Mississauga: The City's 2017 affordable housing strategy, Making Room for the Middle, revealed that 1 in 3 households are spending more than 30 percent of their income on housing, and more than a quarter of middle-income households (those who earn between $58,000 and $108,000) and 70 percent of all low-income households are facing affordability challenges, and that was four years ago, before hyper-inflation and high interest rates kicked in. It recognized the "cost of housing is increasing; rental vacancy rates are incredibly low; the supply of vacant land is dwindling and rising in price; and the cost of infrastructure to support development is increasing," noting that, "Collectively, this poses a significant challenge."
More affordable housing for newcomers, young families and others is desperately needed. A recent report to the Region noted that 111,925 residents (8 percent) of Peel's population live in poverty and there is a growing realization that the next generation will not be able to afford traditional single-detached homes.
Crombie's Mayoral Directive recognizes that "the price of residential properties and the cost of rent in the City of Mississauga has increased significantly in recent years" and has reached a point where "many current and future residents are struggling to make ends meet and can no longer afford to live here." It reaffirms Mississauga's commitment "to addressing the housing crisis by helping facilitate the building of more affordable housing," and notes that housing is a complex issue and council is "supportive of exploring policies to introduce gentle density and build more housing in Mississauga."
In response to the Mayoral Directive, staff will be required to prepare the necessary official plan and zoning bylaw amendments to permit "as-of-right" development for up to four residential units, which includes any provisions deemed appropriate by staff, and bring those amendments through the City's municipal planning process. A public meeting will also be held by the City's planning and development committee before the end of the year.
The City's press release highlighted that while on leave, Crombie is permitted as Head of Council to issue Mayoral Directives under Section 284.11.1 of the Municipal Act, which states "that if a head of council of a designated municipality is of the opinion that a by-law could potentially advance a prescribed provincial priority, the head of council may propose the by-law and require the council to consider and vote on the proposed by-law."
Crombie took to her Liberal campaign page to voice her support for housing.
(Bonnie Crombie/X)
Within an hour of the announcement, Crombie took to her Liberal campaign page on X, formerly Twitter, stating "housing is a fundamental human need… but our system is broken and we are facing a dire housing crisis across Ontario." In the same breath, she called out Premier Doug Ford and his PC government stating "housing is about homes for people — not pay cheques for political insiders."
"Every level of government must work together to address housing availability and affordability right now — and we need to pull every lever we can," she continued. "So, as Mayor of Mississauga, I will not stand by and watch my community miss the opportunity to make the right decision on committing to gentle density."
"I've spent 12 years serving my city and I am committed to ensuring Mississauga is in the strongest possible position to grow."
The City was already mandated by the province to include triplexes through the More Homes Built Faster Act introduced by the PC government last fall, which also included the housing target to build 120,000 homes in Mississauga by 2031. The heavy-handed legislation expidites roughly the same number of new homes the City was planning to deliver over thirty years, now condensed into eight. To demonstrate its commitment to taking action on housing and adhere to the province's ambitious housing targets, council approved Growing Mississauga: An Action Plan for New Housing, in March. The latest action plan aims to get more housing built and make it more affordable, lays out goals and actions designed "to increase the supply of housing, streamline development and building approvals while improving affordability."
Crombie's motion emphasized the benefit of receiving the federal housing money which would create an opportunity for the City to adjust its policies, procedures and processes in an effort to increase the supply of affordable housing. It also warns that Mississauga cannot afford to lose out on its portion of the Housing Accelerator Fund, which is estimated to be $120 million and is contingent on meeting the requirements outlined by the federal government.
Mississauga's City manager and CAO Shari Lichterman previously confirmed that the federal government has indicated there are limited funds in the program and that the City has been told "there's only a fairly short period of time that they can hold them because we're told that about 90 percent of the applications are going to be refused due to lack of funding," adding "it's possible that we would miss a window."
Crombie's motion warns that Mississauga cannot afford to lose out on its portion of the federal Housing Accelerator Fund, which is estimated to be $120 million.
(Alexis Wright/The Pointer files)
The federal government has previously indicated that permitting four-plexes city-wide was a condition of receiving funding under the housing accelerator fund. Minister Fraser noted in an October 2 letter that while he was generally pleased with the City's application, it would be stronger if it permitted four-unit housing throughout the city and made efforts to increase density near transit lines, mixed-use developments and post- secondary institutions where they could be within walking distance. Taking these additional steps would "put me in a position to approve your application," he added, also stating, "I need to ensure the city is doing everything in its power to address Canada's housing crisis."
In a letter to Mississauga City Council on Thursday, a day before the Mississauga Mayor's announcement, Fraser acknowledged, "Canada is in a housing crisis, and cities have an important role to play in addressing this crisis by legalizing housing and removing the outdated approaches to zoning that are not keeping pace with the growth in our communities." Fraser said while he was pleased to see the motion from Councillor Tedjo, he was "disappointed" to learn the motion was defeated. He added he was "concerned the motion that was passed instead does not address the housing crisis with the urgency or scale that this moment requires." Despite the City submitting a revised application considering the Minister's recommendations in the October 2 letter, given the defeat of Councillor Tedjo's motion and the arguments made by some less progressive council members during the October 11 council meeting, Fraser said he is "not confident that Mississauga intends to seize this opportunity to fully leverage federal dollars on offer from the Housing Accelerator Fund."
"At this time, in the absence of a definitive path forward on ending exclusionary zoning, I am not in a position to approve Mississauga's application."
The letter cautioned that "without a firm commitment from Council to proceed expeditiously to implement four units as-of-right, the Minister will not be in a position to approve the City's application to the Housing Accelerator Fund," — a statement Fraser confirmed on Friday during the announcement in Brampton.
Asked how Crombie's decision on the same day, to use her strong mayor powers, would affect the federal government's decision to give funding under the accelerator program to Mississauga, Fraser responded Friday morning saying the government wants to ensure it's rewarding the "most ambitious" municipalities in Canada who are willing to exceed what they would have done anyways to build housing. While Mississauga's application had some "strong pieces in its initial application," he said the federal government wants the City "to go further," he told reporters Friday morning when making the announcement in Brampton.
Referencing the four-plex motion that failed last week, Fraser said "we're disappointed they were unwilling to take that next step because Mississauga's housing crisis very quickly becomes Canada's housing crisis, given the volume of people that want to move to this part of the country… because so many people are jammed and unable to find a place they can afford." He said the federal government will be demanding that the fastest growing cities — like Mississauga — and the municipalities that are closest to major urban centres exceed what is required.
"We have not shut the door completely on Mississauga. We have told them on the basis of the information that we were aware of as recently as yesterday that we were not in a position to approve their application," he explained.
"To the extent that Mississauga meets the ambition that other successful applicants have demonstrated, Mississauga should expect to be included as a successful recipient of the housing accelerator fund but I believe I owe it to myself and residents not just in Mississauga but in Canada to ensure that I review the details to see that they are in fact as ambitious as the other successful recipients," he added.
"The door's not closed but we're not yet in a position to say yes."
However, by the end of Friday Fraser appeared to have softened his stance, signalling that Mississauga will get funding due to Crombie's bold move earlier the same day, posting on X:
"Great to see that Mississauga will be moving forward on four units as-of-right, along with our other recommendations. I will be very excited to share news with the City next time I'm in town! This is how we #LegalizeHousing."
---
Email: [email protected]
Twitter: @mcpaigepeacock
---
At a time when vital public information is needed by everyone, The Pointer has taken down our paywall on all stories to ensure every resident of Brampton and Mississauga has access to the facts. For those who are able, we encourage you to consider a subscription. This will help us report on important public interest issues the community needs to know about now more than ever. You can register for a 30-day free trial HERE. Thereafter, The Pointer will charge $10 a month and you can cancel any time right on the website. Thank you
Submit a correction about this story