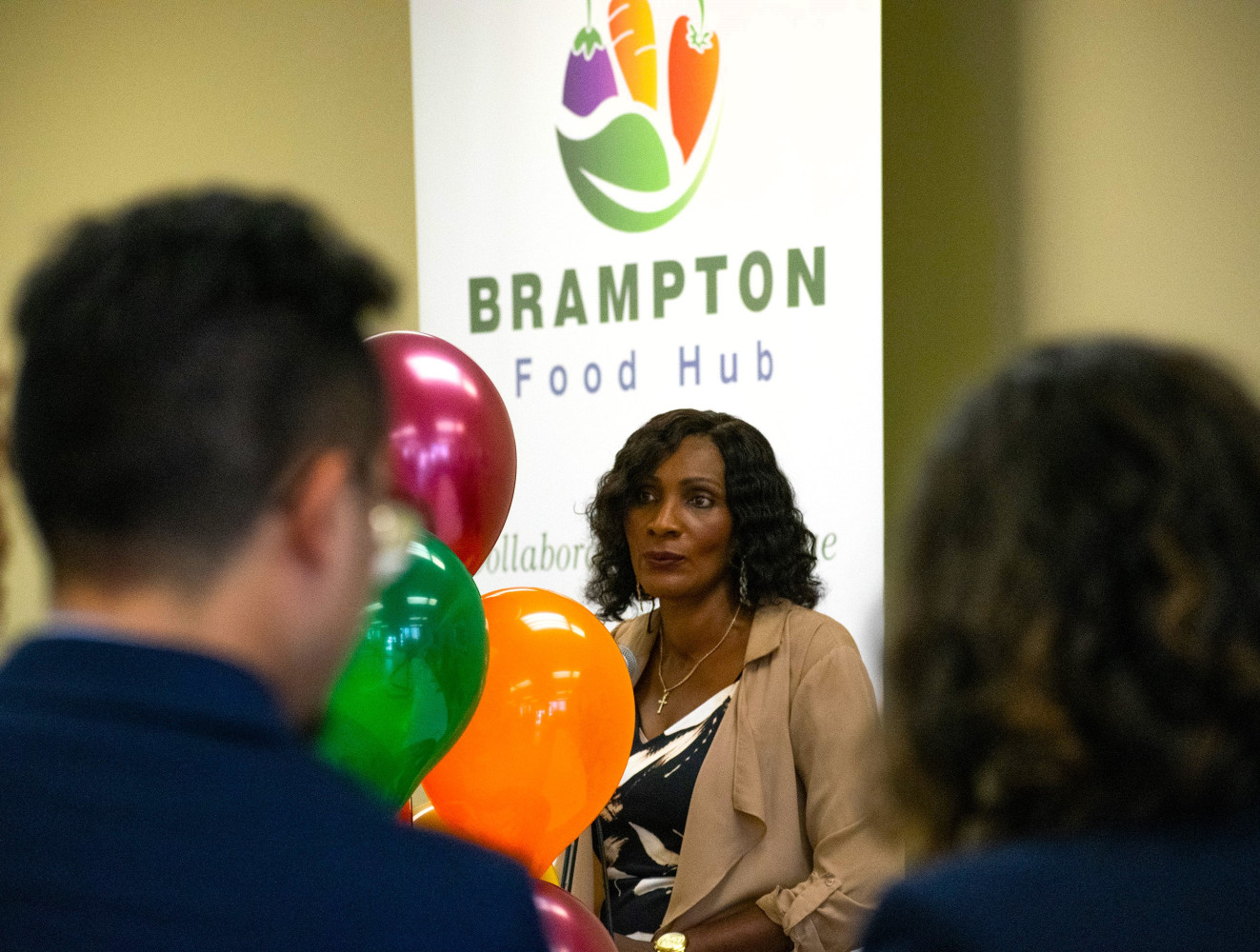 (Alexis Wright/The Pointer)
Communities celebrate grand opening of Brampton Food Hub in the face of worsening insecurity
On Thursday, September 21, community members came together to celebrate the grand opening of the Brampton Food Hub, the result of a collaboration between local Brampton and Peel food banks, social service organizations and faith-based groups to deliver a centralized emergency food service.
Funded through the Region of Peel's Community Investment Program, the focus of the Brampton Food Hub is not only to provide nutritious meals to local community members in need of emergency food services, but to also ensure those meals are culturally appropriate for the diverse region.
Located at 241 Clarence Street Unit 5, the collaboration is between six organizations, including Knights Table, the head organization, and Punjabi Community Health Services, Free for All Foundation, Basket Brigade Canada, All Peoples Church and Bethel Outreach Community Services.
Annie Bynoe, Brampton Food Hub Lead and Executive Director of Knights Table, welcomed attendees of the event, many of whom were members of other local non-profit and faith-based organizations themselves. She talked about the growing reliance on food banks in the city, and said that while the reality of worsening food insecurity is not something to celebrate, being able to open a centralized food hub, after years of dedicated work by non-profit and faith-based organizations, is. She also shared how the onset of the COVID-19 pandemic, as well as its continued impacts on families and residents in Brampton, has affected the need for food banks and support.
"Our neighbors are in pain, and food is a most basic human right, and yet many of our neighbors don't have access to it," said Bynoe. "That changes. The equation now changes, with the Brampton Food Hub."
Annie Bynoe (pictured in the feature photo at the top of the article) is the Brampton Food Hub Lead and Executive Director of Knights Table, and spoke to the audience at the launch.
(Alexis Wright/The Pointer)
Peel has been facing a food security crisis for decades. As residents within the GTA and across Canada face ever increasing costs of living, reliance on food banks and related supports has also continued to rise. Feed Ontario's 2022 Hunger Report highlights how the COVID-19 pandemic hit communities immediately when workplaces closed and people were out of work. "In a number of communities, food banks served more than double the people they had prior to the pandemic, with some reporting that demand had risen even as high as 400 percent," the report reads. It also highlights how despite the expectation that circumstances around food security would eventually improve, food bank use in Ontario has actually never returned to its pre-pandemic levels. "It has only continued to rise," the report says.
Executive Director of the Free for All Foundation, David Green, spoke at the event about how the organization went from serving 58 people per week to over 300 per week, including people from various age groups as well as entire families. He echoed Bynoe's experience of the Free for All Foundation needing to meet the dire circumstances the initial pandemic put senior community members in. Themes of community collaboration came up throughout the event, with Green sharing how it was support from Bynoe and Knights Table that allowed his organization to work through those new challenges brought on by pandemic lockdowns in 2020. "We're here today to celebrate," he told the attendees.
The Feed Ontario 2022 Hunger report highlights how the rising cost of living has not only impacted people who are in need of access to food bank support, but it has also impacted the food banks themselves. "In a recent survey of 140 food banks, 2 out of 3 shared that there has been a noticeable decrease in food donations, and 1 out 5 shared that the food bank has not been able to purchase the same volume of food as before due to higher food prices," it says.
David Green, Executive Director of the Free for All Foundation.
(Alexis Wright/The Pointer)
As previously reported by The Pointer, the city of Brampton has lacked centralized data on food insecurity which has posed challenges to understanding the severity of the issue. Unlike Mississauga which has the Mississauga Food Bank, the City of Brampton has struggled to gather data without a centralized system. The Pointer has reached out to the Brampton Food Hub about whether this new program will help to fill the gap in that data collection, and is awaiting its response.
Regardless of where there is a gap in tracking the exact numbers, community organizations know the nature of the trends impacting the people they serve. As Bynoe discussed, she has seen a rise not only in first timers accessing the food bank, but shared that she has seen a growing influx of employed people who are facing food insecurity. As the Feed Ontario 2022 Hunger Report states, "current labour laws and low-quality employment opportunities are creating significant barriers to income security and the ability for Ontarians to afford their necessities each month." It highlights "the proportion of people with employment accessing food banks increasing an additional 16 percent between 2020 and 2022."
Brampton Councillors Rowena Santos, Martin Medeiros and Rod Power, as well as Mayor Patrick Brown, were also at the event. During his speech, Brown reassured attendees that the City of Brampton will continue to support the Regionally funded program even after dissolution. "We're gonna be looking at this closely, making sure that programs like this continue to be supported," he said.
Mayor Patrick Brown told attendees that the City of Brampton will continue to financially support the Brampton Food Hub following the dissolution of regional government in 2025.
(Alexis Wright/The Pointer)
"Your success in helping the most vulnerable in our community will be a reflection of the progress of our city," Brown said. He thanked Sean Baird —Commissioner of Human Services at Region of Peel who also spoke at the event—and the Region of Peel for putting together the infrastructure to support the program.
The Pointer spoke with Baird, who echoed Mayor Brown's comments regarding continued funding support for the Brampton Food Hub after the Region of Peel's dissolution. "[Brampton Council has] collectively agreed to extend community granting well out into the future, so that's already been discussed and they've already given their commitment to continue these investments post-dissolution," he said.
"It's incredibly important to see community agencies come together like this," he told The Pointer, saying food security is a growing crisis within the Region of Peel. "At the Region of Peel we're just really glad to be able to support that." He also said the Region was glad to see the support from Brampton Council.
(Alexis Wright/The Pointer)
While there was much to celebrate at the grand opening of the Brampton Food Hub, food banks and related social services are usually meant to serve an immediate, short-term need. As the Feed Ontario 2022 Hunger Report highlights, it is the responsibility of governments to work to address the systemic issues that are causing people to fall into food insecurity in the first place, and to provide long-term, sustainable solutions to these structural issues.
For example, the report calls on the provincial government to improve social assistance and invest in social housing, as well as to improve workers rights by "reducing barriers to unionizations, protecting victims of wage theft, reinstituting equal pay for equal work and paid sick days, and increasing minimum wage to a living wage." It argues that the COVID-19 pandemic and recent inflation has played a role in the increased need for food banks, but that the increased reliance on food banks have resulted from people having to "subsidize government policy changes, budget cuts, and inadequate social support programs."
"Building a healthier province requires immediate investments, through good public policy changes, that improve income security for all Ontarians," it says.
---
Email: [email protected]
Twitter: @_hafsaahmed
---
At a time when vital public information is needed by everyone, The Pointer has taken down our paywall on all stories to ensure every resident of Brampton and Mississauga has access to the facts. For those who are able, we encourage you to consider a subscription. This will help us report on important public interest issues the community needs to know about now more than ever. You can register for a 30-day free trial HERE. Thereafter, The Pointer will charge $10 a month and you can cancel any time right on the website. Thank you
Submit a correction about this story