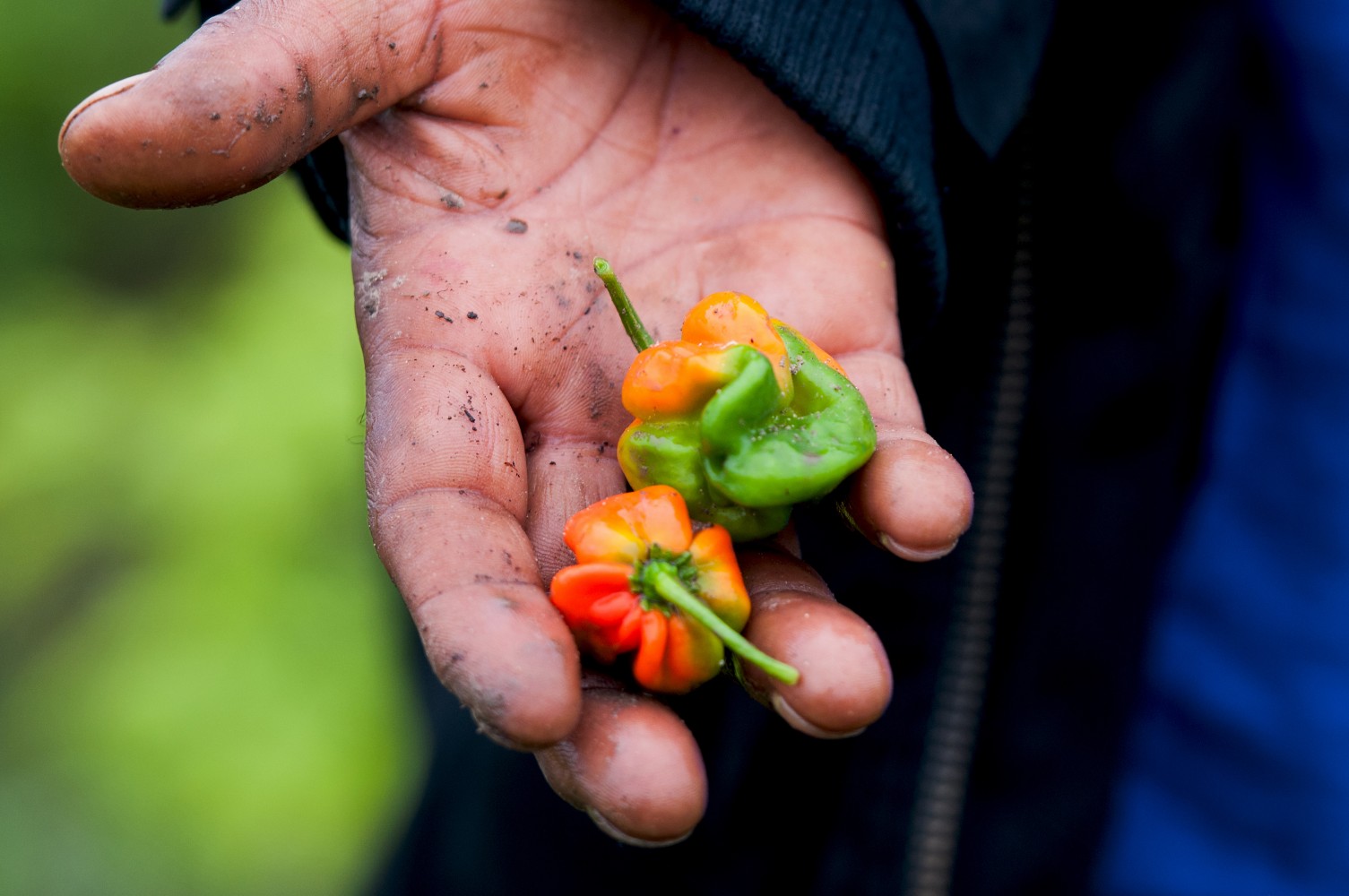 Photos and graphics from The Pointer files/Region of People/United Way/Jeff Chalmers/Rick Drennan
Brampton in the dark on scale of food insecurity as region moves towards data collection solution
Last year, food bank use in Mississauga increased 16 percent, four times the GTA average. In neighbouring Brampton, we don't know whether it went up or down because no one was counting.
In 2019, the Mississauga Food Bank, which collects basic data on those using its service, was included in the Who's Hungry report for the first time. The food bank's statistics will be published in the annual report on food poverty in the GTA, providing definitive data on the struggle of those living in the city.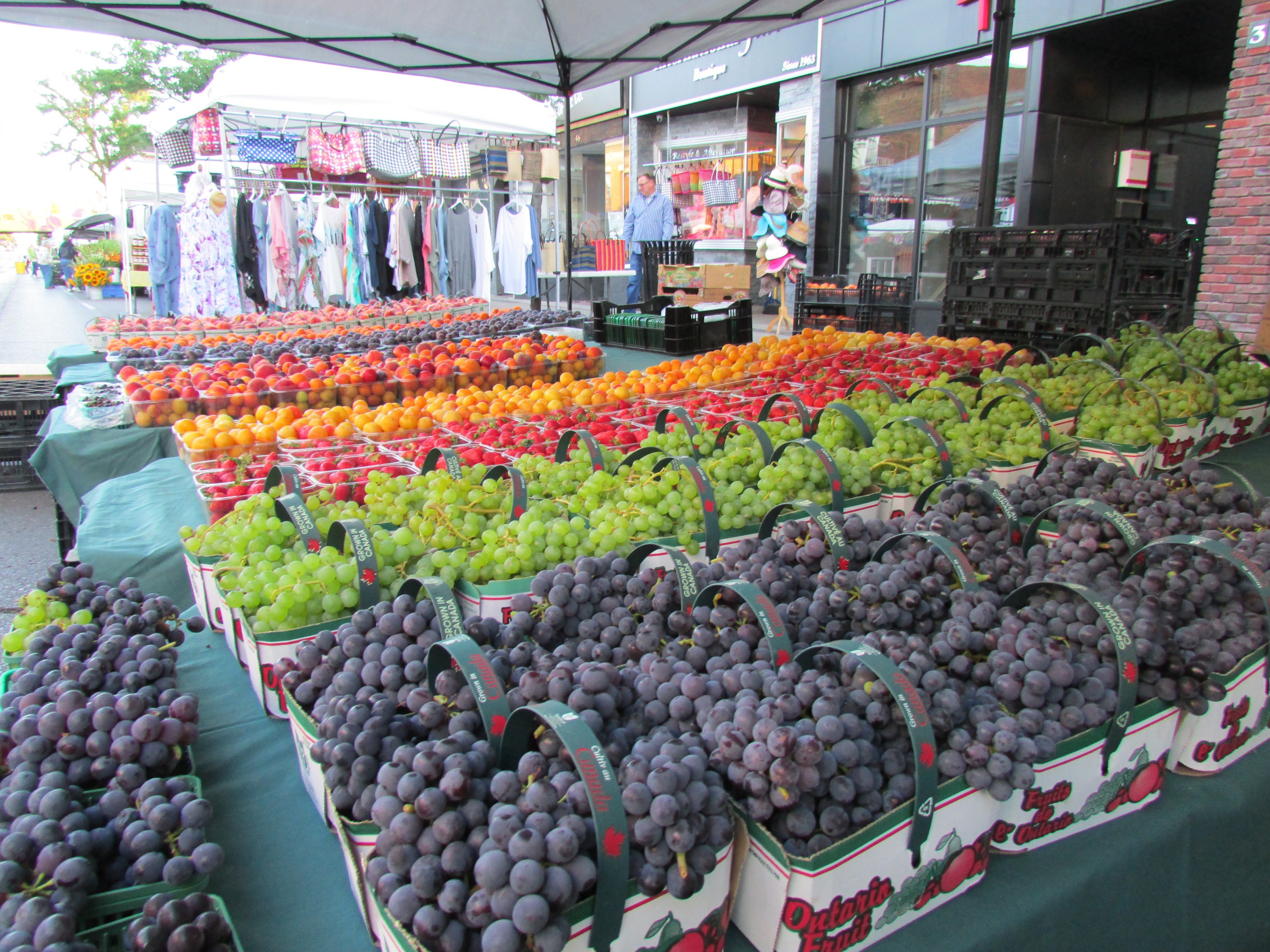 The Brampton Farmer's Market
The codified data collection system used in Mississauga, though, is not shared with its northern neighbours. In Brampton, data is not centrally located, making food insecurity difficult to track and even harder to solve.
"There isn't reliable data that is centralized for all of the food programs in Brampton," Meghan Nicholls, executive director of the Mississauga Food Bank, told regional councillors on Thursday. She explained that just one food poverty organization in the city complies with provincial data norms for food banks. "Here in Brampton, Knights Table provides that data, but none of the other agencies do. And so there's only information available for the 3,200ish clients who use Knights Table… so it wouldn't be fair to include it in the whole city."
A report seen by councillors in Brampton in November came to a similar conclusion. Compiled by staff after a delegation suggested better data be collected on food poverty in May 2018, the report illustrates a city with less coordinated and organized food relief services.
The report says that "comparison with Mississauga is difficult" because food agencies in Brampton differ greatly. In Mississauga, a top-down structure of organization from large enterprises has led to a strong culture of data-driven research and decision-making about food banks. In Brampton, many services are independent, faith-based projects in local communities, which are funded by members.
"Brampton's cultural diversity has naturally created innovative solutions for this complex food system," the report reads. "With a large Sikh population in Brampton, there are five Gurdwaras while Mississauga only has one. At all Gurdwaras, food is available every day, at any time for anyone coming in. When people come and get a meal at a Gurdwara, no questions are asked and no data is collected. These are not registered within the Peel Emergency Food System, yet serve a large segment of the Brampton population dealing with food insecurity."
While these different systems do important work, they are less systematic in their approach to food insecurity. This leads to less targeted work and an absence of hard data.
"Here in Brampton there are 16 census tract neighbourhoods… where there are over 1,000 people living below the poverty line and an additional 39 census tract areas with more than 500 people living in poverty," Nicholls explained. "However, the food banks [...] who are consistently open and have a website you can find the information for are located in three of those highest census tract areas."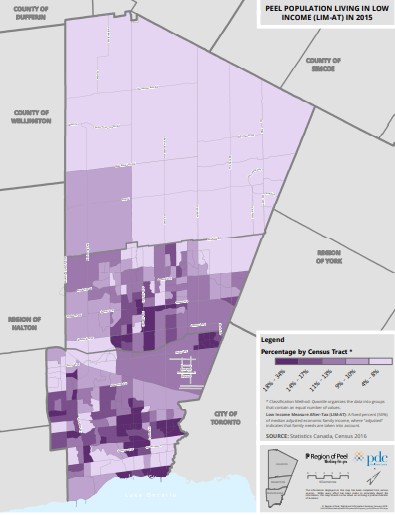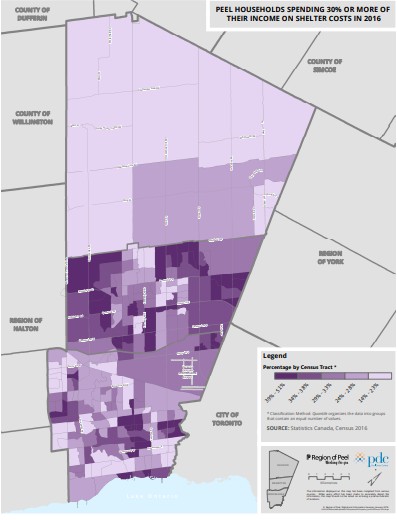 Despite the glassy condominium towers springing up around Mississauga and the luxurious acre-wide properties you can find in Brampton, the Region of Peel has severe issues with poverty. According to a 2018 report by the region, 18 percent of children in Peel live in poverty, while 16 percent of racialized communities are below the poverty line. The majority (52 percent) of neighbourhoods are now considered low income, while 19.7 percent of youth are unemployed.
With house prices and rental rates continuing to rise in both Brampton and Mississauga, the cost of housing is one of the region's key issues. According to rentals.ca, the average cost of a one bedroom apartment in Brampton increased 3 percent month-over-month in December 2019, while rental rates are projected to increase by 8 percent over the next year in Mississauga. Meanwhile, 45 percent of renters in Peel spend more than 30 percent of their income on shelter costs, another indicator of poverty. This was highlighted by November's Who's Hungry report, which explained that those who use food banks spend 74 percent of their income on housing and utilities. Shockingly, this leaves the average food bank user with just $7.83 per person per day to pay for other necessities including transit, food and additional healthcare costs.
"I think with rising housing costs, it's moving from the biggest problem to getting close to it being an emergency stage," Nicholls previously told The Pointer. "There is just not enough housing that is affordable. The problem, ultimately, with poverty is that people just don't have enough money. So if people's incomes were higher, it would help with housing, but the gap is just so big because housing is just so expensive currently."
A program that may be able to provide more consistent coverage than food banks is the provincially supported school breakfast program. In Brampton alone, 70 schools have opted into the plan which offers free breakfast and snacks to students to ensure they do not start off the day hungry. However, even here the solution seems a little uncoordinated and appears not necessarily targeted at all the highest need areas.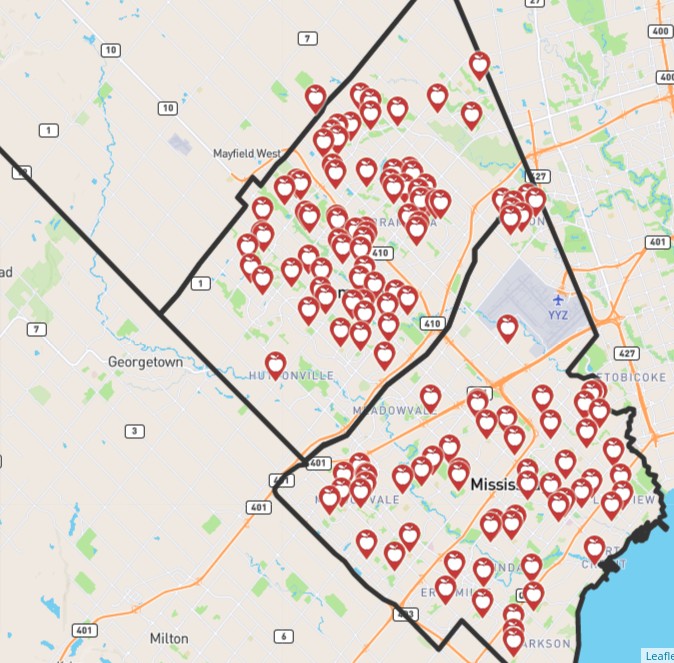 A map of Peel schools that have opted into Ontario's Student Nutrition Program
The schools participating are clustered around the city's downtown area and Chinguacousy Park, with all major quadrants of the city unserved. For example, a poverty map released by the United Way detailing average 2015 individual incomes in the region shows the southeast area of Brampton to be "low income," yet just three schools east of Goreway Drive have opted into the program with none of the three south of Queen Street and Ebenezer Road having done so. A regional map based on 2016 census data shows that 14 to 17 percent of the northwest corner of Brampton is low income. Yet, in the west of the city, only Huttonville Public School provides free meals past Mississauga Road.
The program is part-funded by the Ontario government with parents, local businesses and other providers chipping in. The Ministry of Children, Community and Social Services told The Pointer that in 2019-20, the government invested $27.8 million in the Student Nutrition Program across the province, $1,039,561 of which landed in the Region of Peel.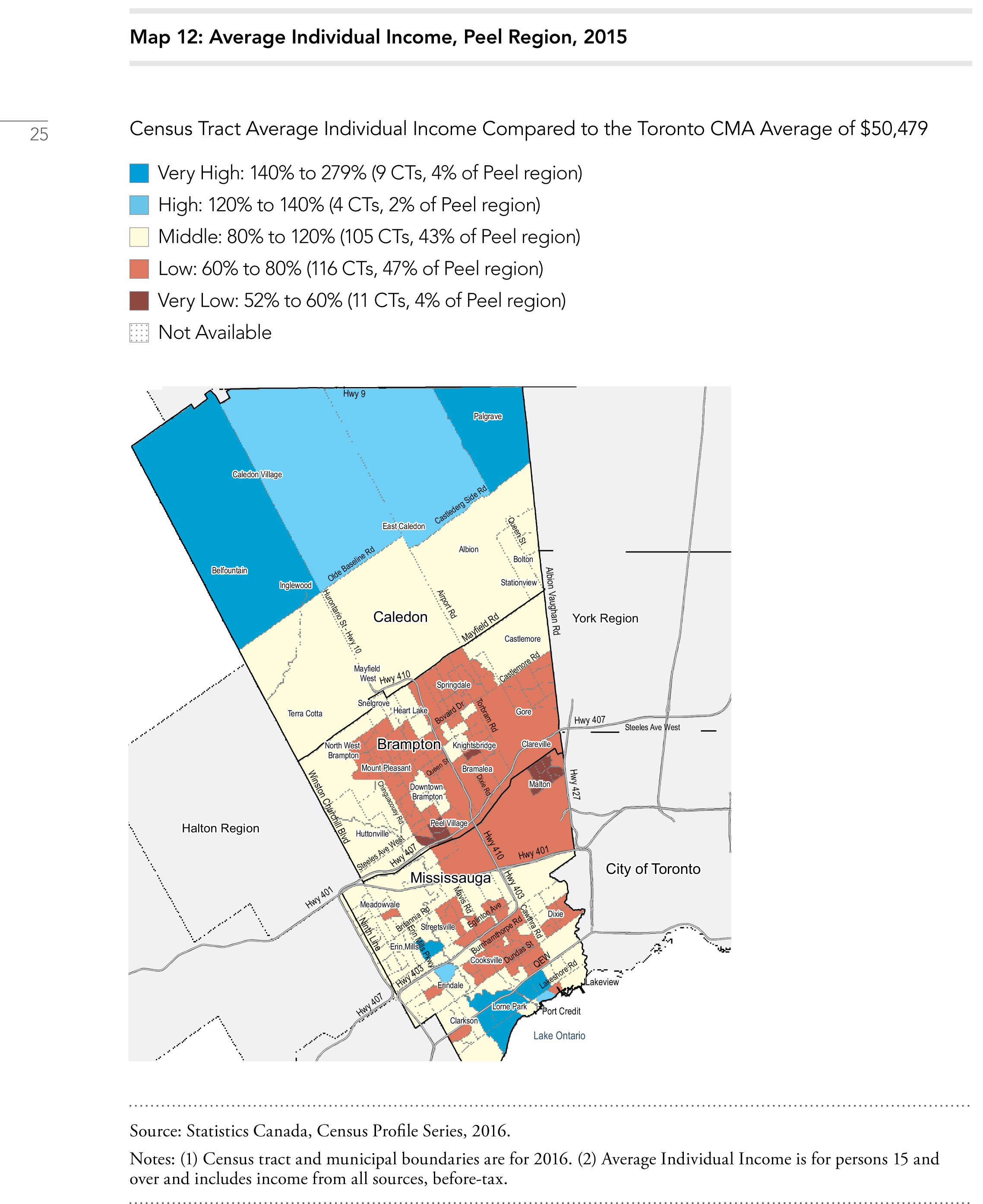 The region itself currently contributes $1.7 million to seven food banks, staff said on Thursday. However, they did not elaborate on how funding is calculated nor the criteria for selecting the few who receive funding.
The region's 2018-2028 strategy to tackle poverty explains how far backwards the region has moved on this issue over the past 40 years. "According to the 2017 Opportunity Equation report, in 1980, low-income neighbourhoods made up only 2% of all neighbourhoods in Peel," the report reads. "As of 2015 over half (52%) of neighbourhoods are low-income. In other words, the gap between the rich and poor has grown. This increase was primarily at the expense of middle income neighbourhoods, which dropped from 86% in 1980 to 43% in 2015."
The report goes on to point the finger at precarious employment, rising population and the high cost of housing as the cause of the gap between rich and poor.
As these problems continue to rise unchecked, so will the use of food banks. With the Region of Peel's housing program years behind schedule and its emergency shelters operating in overflow since 2016, immediate solutions to systemic problems seem unlikely.
As a result, whether Brampton records it or not, food bank use will rise. The service is designed to be an emergency safety net, one which more and more people in Peel find themselves relying on.
On Thursday, Brampton councillor Rowena Santos referred the issue of food poverty to staff. Focusing on improved data collection, Santos accepted the Mississauga Food Bank's recommendation to create a central data collection hub for food poverty and food services use within the region.
However, Santos and her regional colleagues will have to wait until the third quarter of 2020 to hear what steps should be taken next.
"I don't want to leave you with the impression that we'll be back in the fall of 2020 with a new system in place," commissioner for human services Janice Sheehy said. "I think what we'll be back with is a plan and the potential for funding that plan to get out there and collect better data."
In systems as bureaucratic as the Region of Peel, things move slowly. As staff work away on a report for the fall, volunteer organizations in Brampton will continue to pick up the slack, while councillors wait for a plan.
---
Email: [email protected]
Twitter: @isaaccallan
Tel: 647-561-4879
Submit a correction about this story