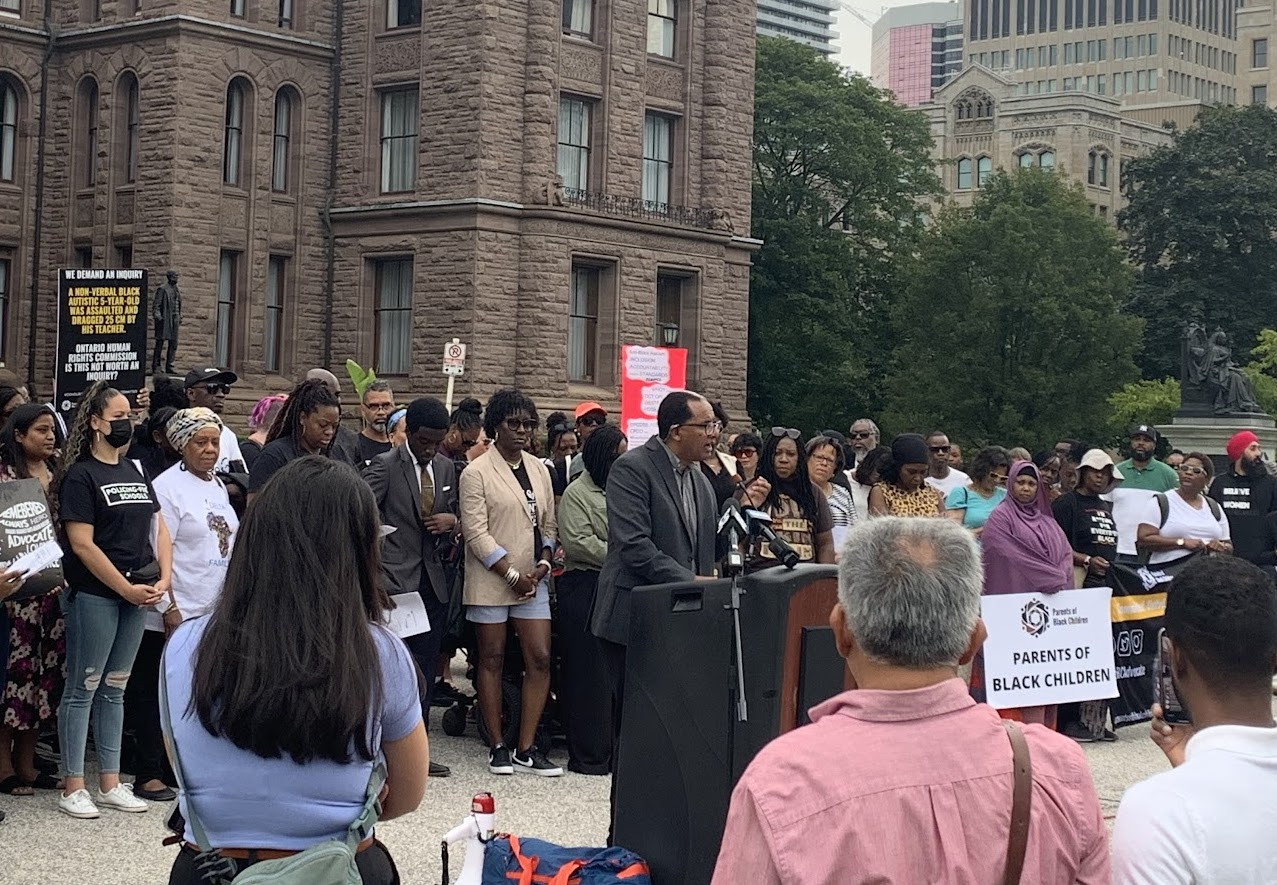 (Hafsa Ahmed/The Pointer)
Advocates call on province to uphold anti-racism commitments as pushback against equity work spreads
The loss of a Toronto principal who took his own life after participating in an anti-racism workshop hosted by a TDSB equity/inclusion consultant, underscores the challenges diversity experts are increasingly facing.
Across North America, and in many other parts of the world where post-multicultural dynamics continue to unsettle the status quo, the work of professionals trying to make institutions more equitable for everyone is struggling to find its way.
The suicide of Robert Bilkszto has created a divide. Stakeholders advocating for inclusivity in education want to eliminate harm done to students and families for generations. The backlash they have faced since his death, according to many at the heart of the diversity movement in Toronto, is an example of conservative attitudes that perpetuate historic injustices done to marginalized groups.
At the same time, critics of equity and inclusion work say efforts to eradicate systemic barriers often lack the very sensitivity diversity champions are asking for themselves. Some of these critics believe equity work is actually making things worse by pitting groups against each other.
So how do we move forward?
Going backward is not an option for those groups who have experienced the devastating effects of institutionalized discrimination.
Finding spaces for cooperation in work that by its nature has to confront an uncomfortable past, is the challenge equity experts face.
On August 2, a coalition of Black community organizations, including Parents of Black Children, an advocacy group focused on eliminating anti-Black racism within Canada's education system, held a press conference outside Queen's Park to address recent pushback against anti-racism work in schools.
The pushback stems from the death by suicide of retired Toronto school principal Richard Bilkszto, who filed a civil lawsuit, which has not yet been proven in court, against the Toronto District School Board (TDSB) in April, alleging he experienced workplace harassment and bullying during "Equity sessions" the TDSB held through the KOJO Insititute in 2021.
On July 20, Bilkszto's lawyer, Lisa Bildy, shared a public statement on X, formerly Twitter, that Bilkszto had experienced "severe mental distress" following the anti-racism workshop sessions held in the spring of 2021 and that he had "succumbed to this distress" on July 13, 2023.
The training sessions Bilkszto attended were organized by the TDSB and delivered by the KOJO Institute, an organization that develops and facilitates equity training for clients, including institutions like Loblaw Companies Limited and TD Canada Trust.
As representatives at the press conference shared, advocates are now fighting for DEI and anti-racism work to continue in school boards. Anti-racist and anti-Black racism work has taken place for decades and has faced many challenges and cultural shifts, including the Covid pandemic and global protests in response to the murder of George Flloyd.
Following the former principal's death, some news coverage has included criticism of the KOJO Institute and DEI work in school boards. The public has also engaged with the matter. Among them are people with right-wing views, who were accused by advocates at the August 2 press conference of exploiting Bilkszto's death for their own interests.
"It is clear to us that his death is being used as a rallying point for right-wing opponents to dismantle the necessary and imperative anti-racism work," Idris Orughu, a community activist, said at the press conference. "It is vital to recognize that an attack on anti-racism work in our province is not just an attack on our effort to combat anti-Black racism, it is an attack on all racialized and intersecting communities."
The KOJO Institute also addressed the pushback from right-wing commentators in a statement shared on July 27, addressing the controversy surrounding Bilkszto's death and the "Equity session" workshops the organization facilitated with him and approximately 200 other attendees. "While the coverage by right-wing media of this controversy is disappointing and led to our organization and team members receiving threats and vitriol online, we will not be deterred from our work in building a better society for everyone," Kike Ojo-Thompson, founder and CEO of the KOJO Insitute, wrote in the statment.
In Ontario, instances of racism within schools are not isolated, but rather point to systemic problems which perpetuate ongoing harm against racialized students and educators.
In 2020, The Pointer reported on an incident of a Peel District School Board (PDSB) principal making a "racist and xenophobic" remark, according to a statement by the board, not long after a provincial review into racism and discrimination inside the board. Another disturbing event was reported by The Pointer in 2020 regarding a racist comment a principal made in 2019 toward a Jamaican student's family.
These incidents are some of the many that occur in Ontario and throughout Canada, which is in part what prompts Black community advocates to do their anti-racism work within education. As the co-founder of Parents of Black Children, Charline Grant, said at the press conference, "we are here as a community… [and] there's more of us who are not here today, and if it means that we have to be here every single day… we're gonna be here, because our children need us," she said. "Their lives depend on us, they depend on us fighting."
The pushback from this incident in Ontario is taking place amongst a larger resistance to DEI initiatives in the West. Across the border, a Black journalism professor recently reached a settlement with Texas A&M University after her job offer to rework its journalism program was watered down when university stakeholders learned of her previous DEI work.
Kathleen McElroy, who also received an apology from the university along with the settlement, was hired by Texas A&M in June, but later received pushback from the university when her previous diversity and inclusion work in newsrooms came to light following reporting in right-leaning media outlets.
Another recent instance of DEI resistance in the U.S. involves the resignation of Jamica Love, Virginia Military Institute's first chief diversity officer. She was hired in 2021 after former governor Ralph Northam ordered an independent investigation into racism at the school, as reported by the Washington Post.
The Post reported that some alumni of the university frequently condemned diversity, equity and inclusion, and that she faced "relentless" online vitriol.
Meanwhile in Florida, Governor Ron DeSantis in May signed into law a bill that blocks colleges and universities from using federal or state funding for diversity, equity and inclusion programs.
In a Harvard Business Review article, authors Eric Shuman, Eric Knowles and Amit Goldenberg draw from their psychological research findings to detail different types of resistance to DEI initiatives, and explain where these challenges come from and how they can be addressed.
The authors highlight the difficulties in approaching this work, due in part to it often triggering emotional responses, even from people who are willing to participate. They expand on three types of resistance, including "defending," "denying" and "distancing," which stem from perceived "psychological threats".
Psychological threats, the authors explain, can involve "status threats" where individuals from majority or privileged groups feel that their organizational status or resources are being threatened by DEI initiatives.
"They assume that if members of minority groups make any gains — in opportunities, hires, the potential for promotion — members of the majority group will necessarily incur losses," write the authors.
Another psychological threat that the authors identify is "merit threat," where majority group individuals feel that by acknowledging the existence of bias, discrimination and inequality, their own successes will be diminished.
"Merit threat is especially common among majority group members who are strongly committed to value systems that prize hard work and individual merit," write the authors. "It's also common when a DEI initiative has strong implications for decisions that are usually seen as recognitions of merit, such as promotion."
The authors also elaborate on a "moral threat," which they say occurs when majority group individuals believe that by recognizing their own privilege, their moral image will be linked to unjust or inequity systems, and as a result will be tarnished.
"This is most common when majority group members are generally committed to the moral ideal of equality," the authors say. "Because people are fundamentally motivated to see themselves as good and moral, those committed to the ideal of equality may experience threat when a DEI initiative highlights how their group has violated this moral principle."
Majority groups experiencing one or more of these threats can often create resistance to DEI initiatives and the lessons being taught.
This resistance can come in different forms, the authors state. One of these is "defending," which occurs when majority group members experience a status threat. They can respond by attempting to legitimize the status quo by defending or justifying it.
"To address status threat, it's important to draw attention to the 'win-win' aspects of DEI initiatives, particularly how increased diversity can drive long-term growth in the business and increase opportunities for everyone," the authors write. Another option is making use of inclusive multiculturalism policies, which can make members of majority groups "feel that their group's values and interests are not being neglected."
"Denying" is another form of resistance to DEI initiatives that the authors identify, which involves the majority group downplaying inequality or bias, or denying their existence at all.
To address denying, the authors suggest reducing the perceptions of DEI as a zero-sum game, as well as using self-affirmation. "Self-affirmation has been shown to bolster positive self-esteem, allowing people to accept information they might otherwise find threatening, the authors write.
"In the DEI context, self-affirmation can make it easier for deniers to accept evidence of ongoing discrimination. When we encounter someone who denies, our initial impulse might be to present them with overwhelming evidence of inequality, but engaging in affirmation first can help open people up to this information."
The final type of resistance the authors address is "distancing," which sees majority group individuals acknowledging the existence of discrimination and inequality, but distancing themselves from it personally. The authors write that they may do so by "arguing that they themselves are unbiased and have never benefited from discrimination."
"People who [engage] in distancing… often prefer to think in individual terms and work to disconnect themselves from groups, thus insulating themselves from accusations that they have benefitted from bias or privilege," they state.
Following the attention Bilkszto's death received, Ontario's Education Minister Stephen Lecce announced his staff will review the allegations that Bilkszto made against the TDSB. Separately, the TDSB also announced that it has hired a team to investigate the allegations against them in Bilkszto's lawsuit.
Education Minister Stephen Lecce has announced a review of the allegations made by the late TDSB principal Robert Bilkszto.
(Government of Ontario)
Speakers at the press conference responded to Lecce's move to review Bilkszto's allegations against the TDSB. "There were a lot of folks that were concerned about the statement," Orughu said. "We believe that Minister Lecce recognizes that it is important to implement all of [these] DEI programs that are ongoing, and that the people who have hijacked this are doing it for their own selfish reasons."
"We're hopeful that his review will exonerate the KOJO institute and we'll go back to business as usual," he said.
In her statement, Kike Ojo-Thompson shared that the KOJO Institute welcomes Minister Lecce's review and "will cooperate fully with Ministry officials. "We believe the Ministry of Education is best positioned to investigate this matter to get to the bottom of what transpired at the Toronto District School Board after our workshop concluded over two years ago," she wrote in the statement.
Canada continues to demonstrate concerning levels of racism within its education system. In 2021, the Angus Reid Institute conducted an online survey of Canadians aged 12-17, detailing middle and high school-aged children's experiences with racism and diversity in Canadian schools.
The report found that while racial diversity varied among different provinces, a majority of youth reported witnessing or experiencing racism at their schools. It found that 58 percent of youth said they have seen "kids insulted, bullied, or excluded based on their race or ethnicity." The study found that another 14 percent reported they "experienced it themselves."
The report also asked youth how their experiences with witnessing or facing racism were handled by staff at their schools. It revealed that school staff often "discourage the behaviour and talk to the bullies about it," but also that three out of ten victims of bullying or abuse said school staff were "unaware of it or just ignored it."
Regarding the youth who personally experienced racism in their schools, the report revealed that "nearly all of the children… say the behaviour bothers them" and that 28 percent say the experience "stays with them."
At the press conference, speaker Deborah Buchanan-Walford, president of the Ontario National Alliance of Black School Educators, said that she has heard from her members and colleagues of an "absolute fear of returning to work to continue these efforts under what has taken place right now."
Community members gathered for a press conference on August 2 to demand action toward upholding anti-racism work in schools.
(Hafsa Ahmed/The Pointer)
"It is important that it is noted that anti-Black racism has mentally harmed educators, students and youth for decades, for centuries, in education," said Buchanan-Walford.
The second phase of an ongoing initiative by the Ontario Human Rights Commission (OHRC) to address anti-Black racism in education involves a report that highlights the experiences of Black students in the provincial education system. "Anti-Black racism remains deeply entrenched within Canadian institutions," the What We Heard Report says.
It reveals how efforts to "address and combat" anti-Black racism in education have spanned over decades and points to the racial inequity and discrimination in the Ontario education system that has been "further exposed because of the COVID-19 pandemic and the George Floyd uprising."
The report gathered data from roundtable discussions with Black students as well as education professionals, administrators, academics, researchers, the Human Rights Legal Support Centre and representatives from the Ministry of Education. It brings forward insights into persistent struggles facing Black students in the provincial education system, including a "lack of education and awareness about Black history and cultural celebrations," and "teachers' fear of uncomfortable conversations."
The report also brings insight into students' experiences with feeling tokenized and "burdened with the responsibility of advocating for themselves and their communities while lacking support from teachers and staff." It shares how Black students continue to face "racial aggressions and stereotypes from teachers and peers."
During one roundtable discussion highlighted in the report, a student shared that with certain teachers, "there are prejudices that prevent them from seeing Black students with the same respect they give others." Another student shared that white students' use of racial slurs is rarely punished.
The OHRC report also revealed students expressed a need for "comprehensive sensitivity training and anti-Black racism training for educators," to address the many issues they face in Ontario's school system.
During the press conference, youth community activist Kaden Johnson read from a list of demands that the Parents of Black Children organization has put forward.
They included the request to "publicly affirm the province's commitment to anti-racist work in Ontario; denounce any attempts to undermine or halt these efforts; and work to hold school boards accountable for enacting the government's own legislation within the Education Act and the Better Schools and Outcomes Act that expects competency from principals and educators in equity and Human Rights"
The list also called for the provincial government to pass Bill 16, the Racial Equity in the Education System Act, and "publicly denounce the scapegoating of the Kojo Institute."
"We've already started to see the rejection of anti-racism work," Grant said during the press conference. "We see it everyday when we show up… this is not just about the alt-right movement and what the right is doing. This is about the racists that are in our buildings and educating our children every single day."
Grant pointed to the systemic failure to meaningfully address racism among educators. "We see the racists being recycled," she said. "We have them removed, and we see [they] are recycled." She spoke about the "fear and agony" she sees among children she has worked with, who face anti-Black racism at their schools.
Keerie Daniel, CEO of Parents of Black Children, closed the conference by sharing that the community has "taken note" of Premier Doug Ford and Minister Lecce's statements reaffirming their commitment to anti-Black racism work in Ontario, but that "that affirmation is just words."
"What we are all looking for, what we demand, what we are all standing here for today, is action," she said. Daniel highlighted that the return of school in September is just around the corner, and said "there is no school board in this province, no school, where our children, educators, anyone, should be going into that school where anti-racism training, where equity work has been stopped or halted with this incident being used as an excuse."
She also said that her organization and many others are "still waiting for a meeting" with the province. "We pay taxes, we are public citizens as well, we have a right to meet with our elected officials, so we are waiting for that response."
The Pointer requested comment from Minister Lecce and Premier Ford, about whether they plan to respond to calls made at the press conference to hold a meeting with advocates, and has not yet received comment.
---
Email: [email protected]
---
At a time when vital public information is needed by everyone, The Pointer has taken down our paywall on all stories to ensure every resident of Brampton and Mississauga has access to the facts. For those who are able, we encourage you to consider a subscription. This will help us report on important public interest issues the community needs to know about now more than ever. You can register for a 30-day free trial HERE. Thereafter, The Pointer will charge $10 a month and you can cancel any time right on the website. Thank you
Submit a correction about this story