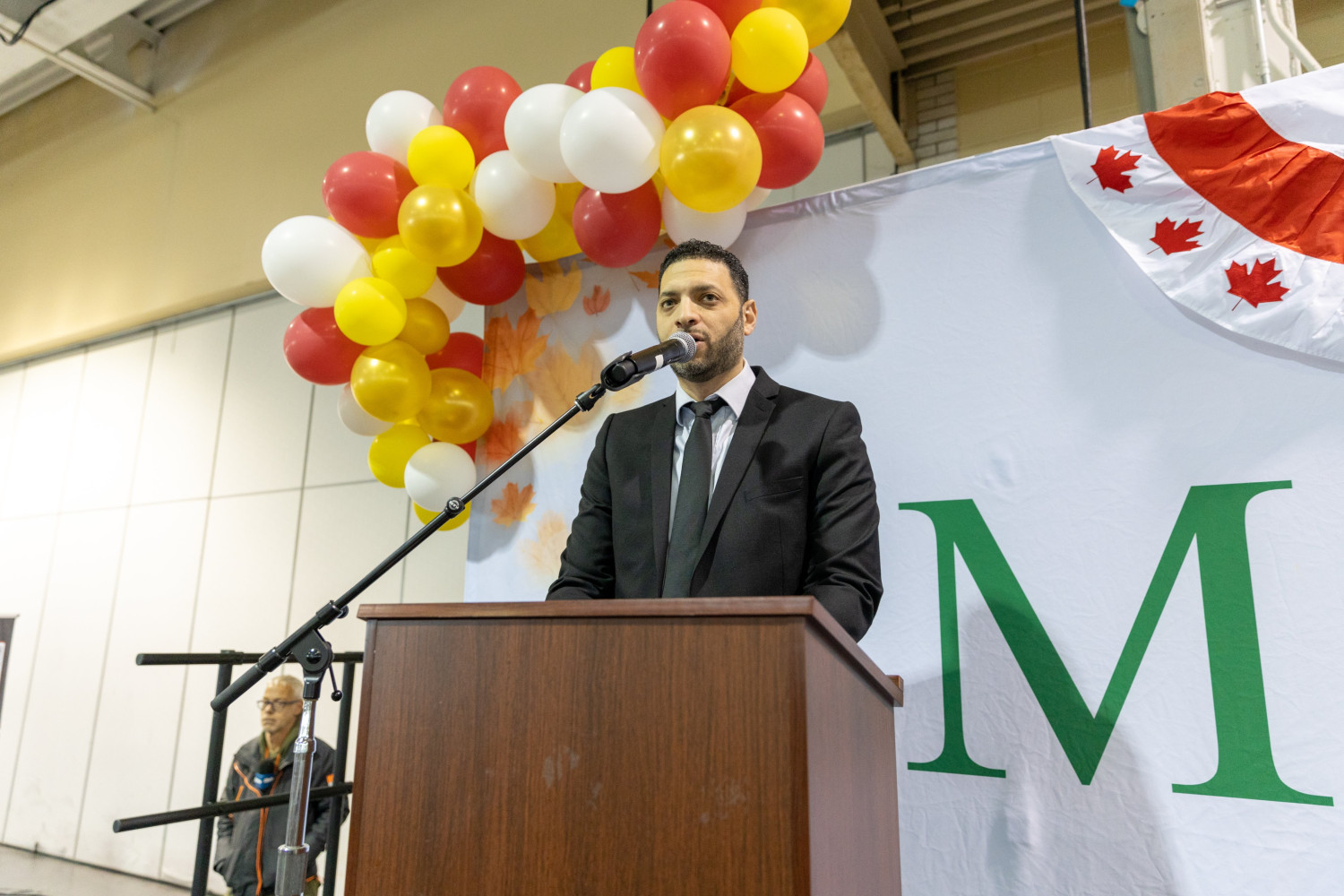 Ahmad Attia/X
Ahmad Attia's reappointment to Peel police board helps reflect the community; questions linger over Ron Chatha's removal 
Heading into a busy fall session that will see the Peel Police Services Board conduct critical consultations on eliminating systemic racism within the force, the board once again has a full complement of members after the Government of Ontario announced the reappointment of Ahmad Attia last week.
The decision comes nearly four months after the PC government's unexpected move to remove former chair of the board Ron Chatha—a move they have yet to explain, despite repeated requests from The Pointer.
Attia previously served as a member of the Peel police board between 2019 and 2023, appointed by the Region of Peel. The board that governs critical aspects of the Peel Regional Police, including decisions about its sizeable budget, and assigning "objectives and priorities" to the police organization responsible for enforcing law in Canada's 7th and 9th largest cities, consists of three members of regional council—Mayor Bonnie Crombie, Mayor Patrick Brown, and Nando Iannicca—three civilian members appointed by the government of Ontario and one citizen appointed by regional council.
"It is a privilege to work alongside my dedicated colleagues, community partners, and the police service to ensure a safer and more inclusive Peel region," Attia said in a statement. "Together we will continue our shared vision of viewing police governance through a human rights lens, continue to advance policing to be more innovative, and foster positive change in community policing."
His reappointment creates one of the most diverse police boards in Peel police's history and eases tensions that flared up following the end of his last term.
For years, members of Peel's Black communities have been calling for representation at the decision-making table as the board has repeatedly failed to adequately consider their perspectives and concerns. For a demographic that experiences disproportionate harm and targeting at the hands of police in Mississauga and Brampton, advocates argued a Black voice around the table would be the first step toward finding real solutions to the harmful—at times deadly—reality for Black residents.
In April, the debate about Attia's replacement, something typically done behind closed doors at regional council, spilled out into the public and on social media as news leaked that the choice had been narrowed down to Attia and Len Carby; a dedicated advocate in Peel's Black community.
It turned ugly as politicians attempted to pit Peel's Muslim and Black communities against one another (Attia is Muslim). Brampton Mayor Patrick Brown, in a message sent to his Mayor's Black Advisory Group, described the choice as "whether we should fire the first muslim rep to appoint a Black candidate" which sources said was an effort to mislead the group's understanding of the situation to influence support for Attia.
His term on the police services board ended in November of 2022. He was not fired. The choice to reappoint Attia at the time would have been unprecedented for regional council. For the last two decades, those who sat as a board member appointed by the Region have only served a single term.
In a unanimous vote in April, regional council appointed Carby to the role, making him the first Black man to hold the position.
With Attia and Carby both holding seats on the board, police leaders can now learn from two critical visible minority perspectives on the issues impacting the broader community in two cities where more than 70 percent of residents are, collectively, visible minorities.
For Peel's Black residents, disproportionate use of force continues to plague them more than any other demographic.

(The Pointer files)
In 2020, PRP officers used force—which along with using physical force, includes drawing or pointing any type of weapon—in 1,092 incidents. In cases where officers were able to determine the person's race, 35 percent of those individuals were Black, despite Black residents accounting for only nine percent of the population. There was a slight decrease to 32 percent in 2021.
Peel's Black and South Asian-Canadian communities also face a disproportionate amount of hate in the region with the two demographics continuing to experience the largest share of reported hate crimes.
(Peel Regional Police)
Attia also brings experience and knowledge of Peel police's ongoing work with the Ontario Human Rights Commission, which is in the process of identifying ways to eliminate systemic racism within Peel police—something it has struggled with for years. An audit conducted by the Canadian Centre for Diversity and Inclusion found widespread instances of discrimination and systemic racism within a force and a senior leadership unwilling to accept there was a problem. Most of the senior leaders in place at the time of the audit are no longer with Peel police.
Starting in September the police board will be hosting community consultations on a number of recommendations made by the OHRC to improve the force. These recommendations were released in a draft report made public last month, marking the first significant outcome from the PRP and OHRC partnership which has been criticized for its glacial pace in the past.
A big question mark continues to hang over the Peel police services board with the PC government's repeated refusal to explain why Chatha, a former provincial appointee and chair of the board, was suddenly removed from the board earlier this year.
Chatha is a former federal Conservative Brampton riding association president, and trumpeted his close relationship with Doug Ford prior to first being appointed by the PCs to the police board.
Chatha, a Brampton real estate agent who had no experience in the criminal justice field at the time of his appointment to the board in 2019, labelled the sudden change a "transition away from my role on the board", saying he would "shift my focus to better support my family and grow my business."
A recent request to the PC government for an explanation about Chatha's removal was ignored, despite Premier Doug Ford's earlier commitment to publicly explain the reason for the unusual decision.
---
Email: [email protected]
---
At a time when vital public information is needed by everyone, The Pointer has taken down our paywall on all stories to ensure every resident of Brampton and Mississauga has access to the facts. For those who are able, we encourage you to consider a subscription. This will help us report on important public interest issues the community needs to know about now more than ever. You can register for a 30-day free trial HERE. Thereafter, The Pointer will charge $10 a month and you can cancel any time right on the website. Thank you
Submit a correction about this story