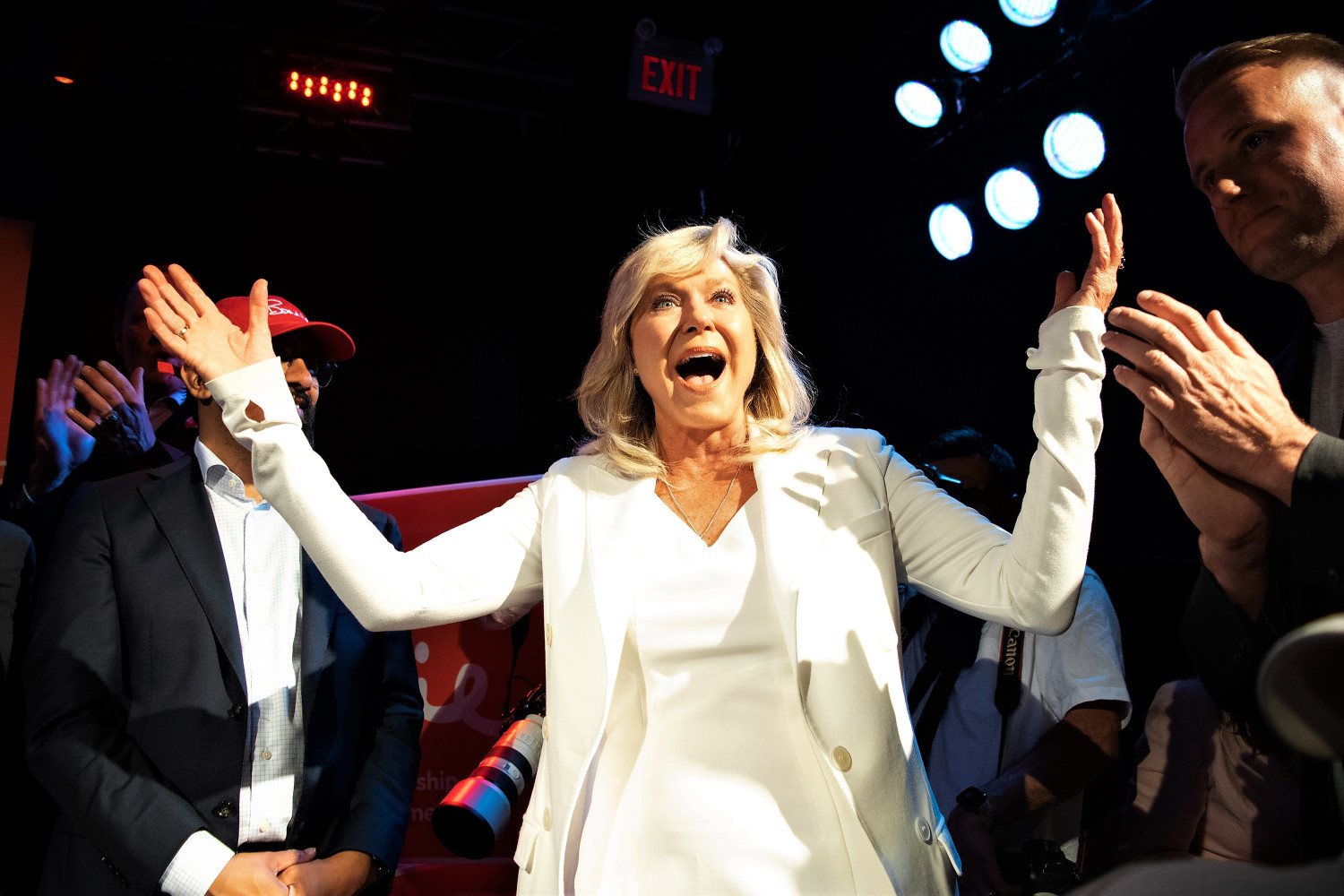 Feature image Alexis Wright/The Pointer
Calls for Bonnie Crombie to step down as mayor while she runs for the Ontario Liberal leadership 
With the city's leader vying for a political promotion, where does it leave Mississauga?
As the city navigates its independence from Peel Region, and some of the largest development projects in its history, which will reshape entire precincts, some Mississauga councillors are calling for a byelection now that Mayor Bonnie Crombie has officially entered the race for the Ontario Liberal leadership.
Last month, right after Premier Doug Ford and his PC government committed to legislation that will make Mississauga an independent single-tier municipality by early 2025, Crombie made her move to mount a challenge to his leadership of the province.
After striking an exploratory committee to help her with the decision, Crombie made her candidacy official Tuesday when she filed her nomination papers. Yesterday at the Metal Works building chants of "Crombie" and "premier" echoed throughout the cavernous space as a crowded house of supporters cheered on the mayor who stood on stage before them, offering her vision for a future Ontario with her at the helm.
The words 'Bonnie for leader' were seen on signs throughout the sea of red during Crombie's launch event Wednesday.
(Alexis Wright/The Pointer)
She said she will not be stepping down as mayor, for now, and that she would focus on her Liberal leadership plans during weekends and evenings.
"I'm going to fulfill my obligations and duties to the best of my ability as long as I can and when it comes to the point where I cannot, I will take a leave, a formal leave, where I will discuss that with my council members," Crombie told reporters Wednesday.
"I will continue to fulfill my obligations until I can't."
Crombie's political ambitions have left council members and City staff questioning who will lead Mississauga at the most important point in its history.
Councillor Carolyn Parrish, a veteran of municipal and federal politics (she was a Liberal Mississauga MP from the early '90s to mid-2000s) said the city needs a "full time", "committed" mayor to lead it through the transformation into an independent municipality once Peel Region is dissolved. With more than three years left in the council term and the city entering a critical phase in its evolution, Parrish said there should be a "fully democratic" byelection to give residents control over the decision on who will guide Mississauga into the future.
"It is only natural that Mayor Crombie is going to have to put on a full-court-partisan-press to demonstrate leadership for the position to which she aspires. It will by its nature be a source of friction with the current Provincial Government. I hope it has no bearing on the separation from the Region, but [I am] not optimistic that it won't," she told The Pointer.
"The mayor cannot wear two hats much longer. Ideally, she should be taking a leave immediately but no one can force a decision on her as she has been elected by Mississauga residents. We are not in control of her fate. I would want the freedom to run a tough campaign for the leadership and not worry about hurting our city in its relationship with the Province."
A number of questions about the mayor's seat at the head of council are now swirling. A possible byelection cannot be planned until Crombie makes a decision about stepping aside. Should she lose her Liberal leadership bid at the end of November (the result will be announced the first week of December) she might want to run in a byelection for her current job, unless one is called prior to the leadership vote.
She has already faced widespread criticism from Liberal supporters who first questioned her remarks last month when she said former premier Kathleen Wynne had pulled the Party too far to the left, including on healthcare and education. Crombie initially described her position on the political spectrum as "right of centre" but has, after considerable backlash, since tempered her messaging, describing herself as a centrist.
She was criticized again yesterday, after initially saying she supports Greenbelt land swaps, a policy the PCs have used to justify carving out parts of the protected greenspace for developers, while handing over parcels of land in other areas to add to the Greenbelt. Environmental experts have blasted the approach, pointing out that once sensitive ecosystems are destroyed, adding completely disconnected far flung properties to the protected Greenbelt, is little more than lip service to make way for the destruction of vital natural spaces.
Crombie had to spend time today explaining what she supported—redesignating Greenbelt lands for development only if municipalities agreed to it because surrounding infrastructure is already in place, and only if public consultations show clear approval. It didn't stop Ford from further framing Crombie as a right-of-centre politician who agrees with his Party's policies.
The back-and-forth puts Mississauga in a delicate situation, as residents look to Queen's Park for support on numerous major files, while the current mayor takes on the Party in power, and her future remains uncertain.
With Crombie sitting on the fence, determined to hold onto her mayoral role, for now, while she runs for the provincial Liberal leadership, which will take her across the province, any decision on replacing her is on hold.
"I can tell you that [she is] fully committed to serving the people of Mississauga and that she expects that the relationship will continue in a professional and productive manner," a campaign source told The Pointer. "The issues that affect Mississauga affect the province as well and both the City and the province are committed to having a respectful dialogue on the issues of mutual concern."
Ford has made his opinion on Crombie's leadership aspiration clear, calling it "a real slap in the face to residents" of Mississauga as she would be "running around the province" rather than leading her city and her constituents.
The City wants funding from Queen's Park for major projects like the Hurontario LRT downtown loop, which was removed from the plan by Ford, who had recently hinted that it might go forward. The multi-billion-dollar redevelopment of Mississauga Hospital is also underway, while some of the largest development projects in North America are taking shape along the city's lakeshore, and in need of major provincial investment for transit, schools and services.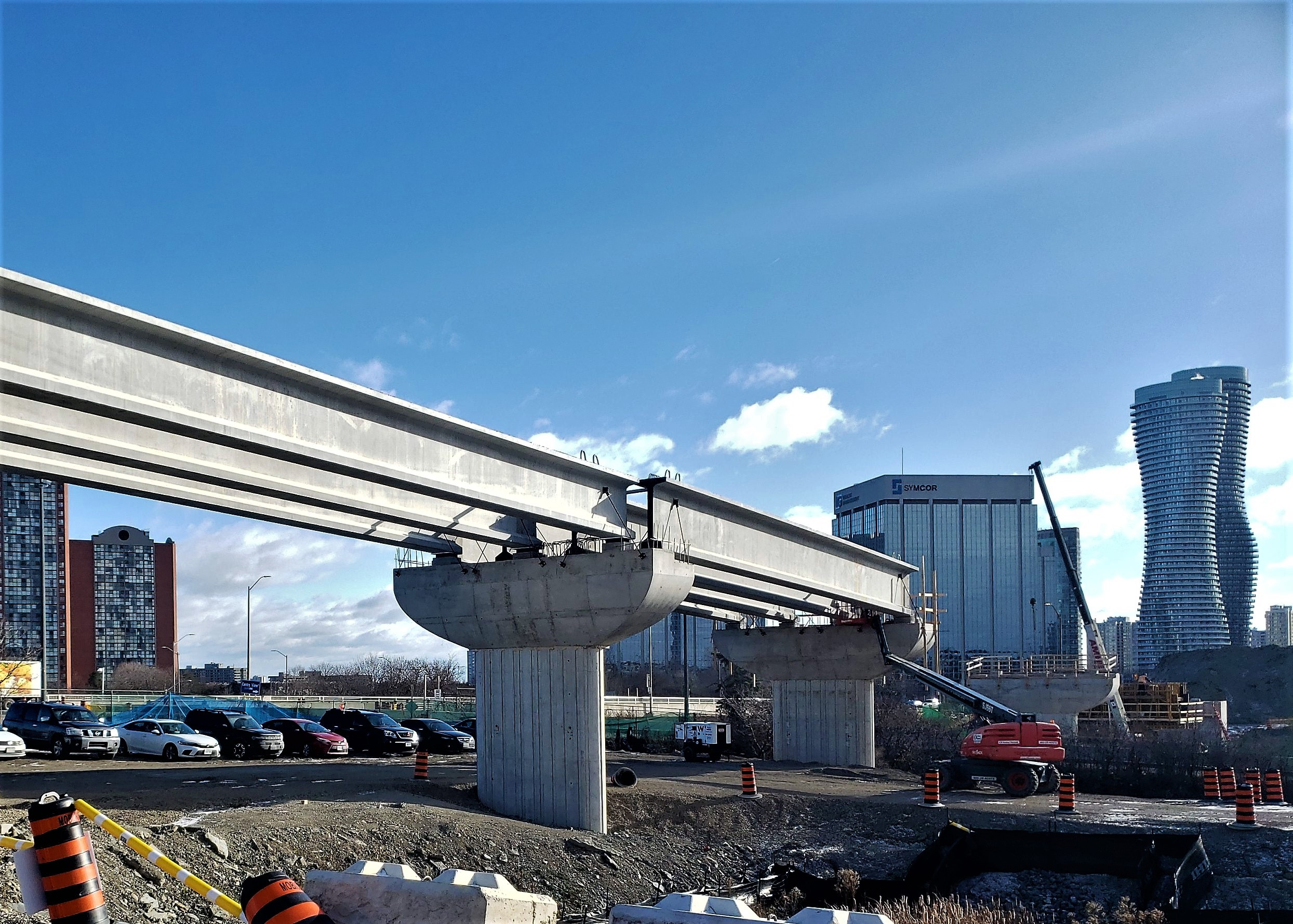 Projects like the downtown loop for the Hurontario LRT are among those still waiting on provincial funding.
(Metrolinx)
As Mississauga's relationship with the provincial government hangs in the balance, the source inside Crombie's campaign said it will be up to councillors to decide how they want to proceed.
"I think we're too big a city. It's too important a role and having an appointed mayor for the remainder of that term, I don't think it's reasonable," Councillor Alvin Tedjo told The Pointer. "So my vote on council would be to replace the mayor through byelection."
"I would want to make sure that this conversation is as transparent as possible. It's democracy, it's important. If we do an appointment, obviously, that necessitates some in camera work (a meeting not open to the public) but I think the decision should be discussed as publicly as possible, but I don't know that it will be."
From there, the byelection would need to be scheduled in a reasonable timeframe, Councillor Tedjo explained, to give staff ample opportunity to execute a city-wide byelection.
If Crombie chooses to hold her mayoral seat until the Liberal leadership decision in December, Mississauga would be looking at a byelection around early June in 2024 — similar to what residents are now dealing with in Toronto.
Determining what council will do, either an appointment or a byelection, is the first hurdle. If Mississauga is given strong mayor powers like Toronto and Ottawa, which Tedjo wants, the legislation requires a mayor be replaced through a byelection.
"I think there's a lot of what ifs. She still has to win. I don't want to say it's premature… but there's a lot of different scenarios that can play out depending on what happens."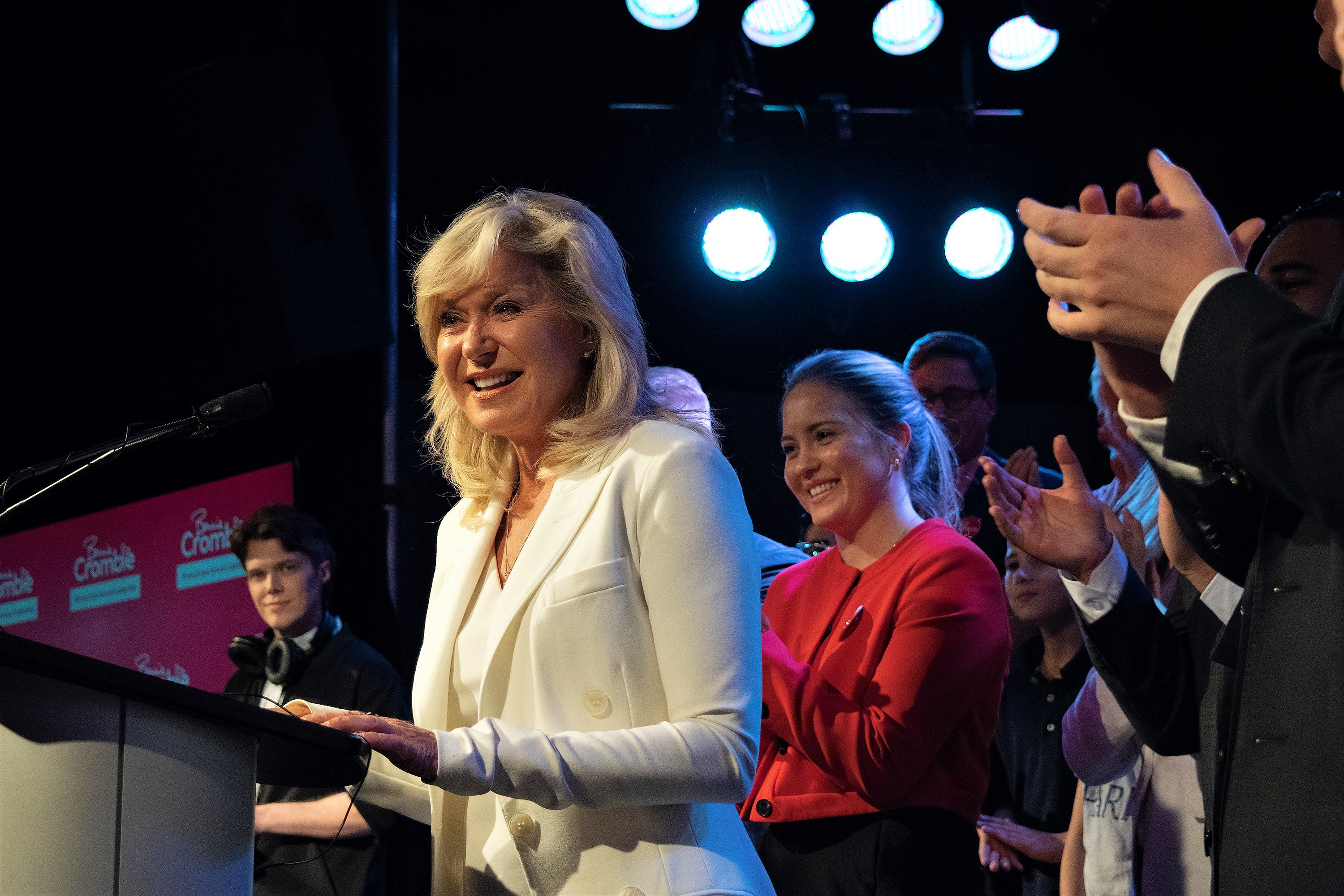 Crombie made her bid for the Liberal leadership official this week, leaving Mississauga's future leadership up in the air.
(Alexis Wright/The Pointer)
Before any decisions are made at City Hall, Councillor Stephen Dasko says it will be "prudent… to consult the community" and with council on how they would like to see a replacement scenario unfold, adding that a decision like this is "very, very significant."
In terms of the timing of Crombie's leadership bid, given Mississauga's divorce from Peel Region and the future-defining projects underway, including the Hurontario LRT, Dasko said he is concerned.
"We're at a very pivotal point in Mississauga and the Region's history right now, and my biggest belief is that the City of Mississauga and the Region of Peel, in terms of the services that are offered, the employees that are there as well, that this is a big undertaking to work collaboratively with the province, so do I have some concerns? I do."
Echoing the comments of his colleagues, Councillor Joe Horneck also agreed the decision to select a new mayor should be done through a byelection, highlighting that with more than three years left in the term, it's the only viable option.
"Residents need to weigh the vision and values of the possible candidates who want to lead the city. An appointment would be inappropriate with the length of the mandate remaining," he said. "I would imagine if Mayor Crombie were to resign we would be mandated to have a public discussion on how to deal with the vacancy."
Councillors Brad Butt and Chris Fonseca declined to comment. Requests to the remaining councillors went unanswered.
A spokesperson for the City of Mississauga confirmed should Mayor Crombie choose to take a temporary leave of absence, that would initiate the Acting Mayor system where councillors will step in for two-month terms. The City's current rotation would see Dasko as acting mayor for June/July before Tedjo steps in for August/September and then councillors Fonseca and John Kovac would fill in for the remainder of the year, if Crombie decides she simply can't do both jobs at the same time.
---
Email: [email protected]
Twitter: @mcpaigepeacock
---
At a time when vital public information is needed by everyone, The Pointer has taken down our paywall on all stories relating to the pandemic and those of public interest to ensure every resident of Brampton and Mississauga has access to the facts. For those who are able, we encourage you to consider a subscription. This will help us report on important public interest issues the community needs to know about now more than ever. You can register for a 30-day free trial HERE. Thereafter, The Pointer will charge $10 a month and you can cancel any time right on the website. Thank you
Submit a correction about this story