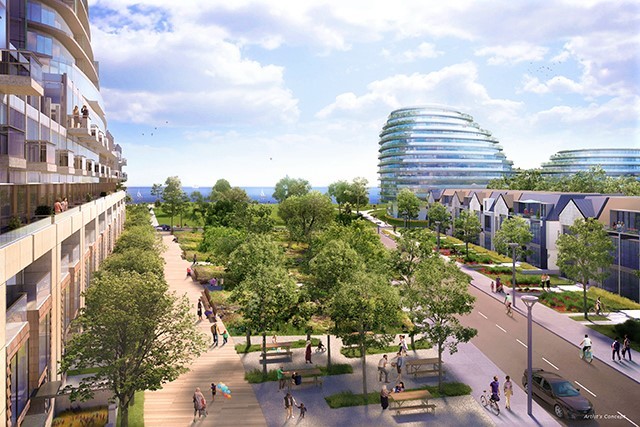 Photos Heritage Mississauga/Photos and renderings Brightwater/City of Mississauga/Rick Drennan
Part 2: Brightwater – Clearing the way for a cleaner life
Christian scripture can be taken literally or figuratively, depending upon the fervency of the follower. A misguided view of mankind's place on earth, came from a directive set out in the book of Genesis (1: 26-28): "Be fruitful and multiply, and fill the earth and subdue it; and have dominion over the fish of the sea and over the birds and the air and over every living thing that moves upon the earth."
These words gave primacy to material wants over the stewardship of our environment.
What we now know as Mississauga was once a mystical stretch of God's creation, where the land and sea and sky met at an unspoiled natural wonderland. Headwaters from the north brought crystal clear glacial water to the verdant spaces that surrounded what we now call the Credit River and Etobicoke Creek. They were fed by hundreds of tributaries flowing through lush, unspoiled nature before the water found the great lake at the bottom of a giant basin.
But to a first wave of European settlers, forests and pristine waterways were the devil's preserve. This is where the "savage redskins" lurked. They were mere babes in the woods, so naïve they had no conception of private property. This meant they lived "lightly upon the land" and viewed it as a cathedral to be passed on to their children and their children's children. Nature's bequest doesn't give ownership, but only lends. Or so they thought.
This banged up against Christian orthodoxy which was fortified by a new capitalistic credo. This was delivered via a wicked 1-2-3-punch: conquer and divide; settle and exploit; go forth and multiply.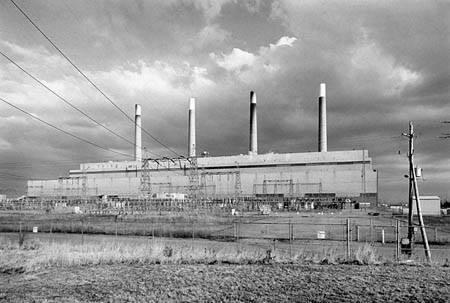 The old coal-fired Lakeview Power Plant was a blight on Mississauga's shoreline for decades.
The 17th century Puritans believed "Injuns" were mere placeholders of the land, to keep it pristine until it could be claimed in full by its rightful owners, those who could (or would) overpower it. Once given dominion, they imposed their will – which was done with impunity.
Speed forward to the early 19th century, and shift focus farther north to a vast tract of land running parallel to the Lake Ontario shoreline in what is now south Mississauga. A new breed settled near the meeting place of the Credit River and Lake Ontario. They were roused by an unquenchable thirst for land, and the Mississauga tribe stood between them and ownership of it. Treaties were written, signed, and ignored, and proved as perishable as the First Nations themselves. Their immune systems were defenceless to fend off the settlers' diseases. A reserve and residential school system was designed to knock the "Injun" out of them. By mid-century, a few survivors were exiled to the New Credit Reserve in Brantford, where their descendants reside today in what is now called the Mississaugas of the Credit First Nation.
This gave the winners full dominion over all lands and waterways. What began as an Age of Exploration, gained speed and menace in the Age of Exploitation, and reached new depths of ecological depravity by the post-World War 2 Industrial Age.
A monstrous mutation, the coal-fired Lakeview Generating Station power plant was erected in the late 1950s, eating up big chunks of bucolic land on the waterfront south of Lakeshore Road, between Dixie Road and Cawthra. It pumped a toxic brew of coal dust into the air as the famed Four Sisters smokestacks sent out their constant fog of pollution.
The stacks looked like giant cigarettes, which in essence, they were, producing deadly carcinogens, and creating a long-term public health worry. The by-product of this was called "acid rain" which denuded forests, ruined soil, and killed lakes and rivers. The power plant's fly ash was another excreta that had to be buried in shallow graves which defiled lands and changed water tables. Meanwhile, another evil concoction of effluents was flushed into Lake Ontario, which over time, turned it into a giant toilet bowl.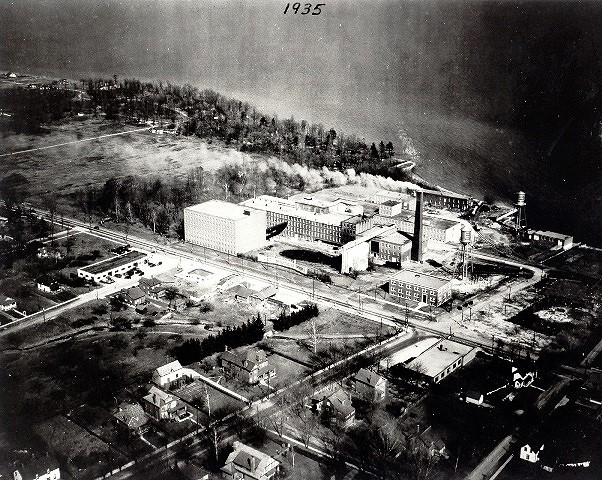 The St. Lawrence Starch Company dominated the Port Credit shoreline for decades; this photo was taken in 1935.
The water destroyed a once thriving sports and commercial fishery industry. The Lakeview beaches, once a popular vacation spot for summertime visitors from Toronto, was unimaginably toxic. Giant fencing was erected, and NO TRESPASSING signs were everywhere, cutting off the residents' lake and view. They should have included a skull-and-crossbones logo. Mankind had gained ascendency; Mother Nature was in tears.
In Port Credit, at Hurontario and Lakeshore, the St. Lawrence Starch Company produced a rank stink, the end result of its production process. Residents had to hold their noses when they ventured outside.
Further west (Lakeshore and Mississauga Road), the Imperial Oil lands were near spent, drenched in toxins – despoiled by 100 years of dirty industry. What began as a brick yard, was followed by back-to-back-to-back-to-back refineries. Residents remember an eternal flame burning at night, and more spillage draining into the lake. Yes, there was more obstructive fencing, separating everyone from the contaminated water.
This dirty necklace of industries ended at the city's western border, in far-off Clarkson. The twin giants, the St. Lawrence Cement company, and another lubricant plant (now Petro-Canada) operated 24/7. They left their own unique scars. Both plants changed name and ownership over time, but not their intent. They remain the lakefront's last holdovers from our industrial age.
These urban eyesores stood as stark beacons, enumerating this city's passage into limbo land.
By 2021, the industrial age has virtually ended, perhaps exhausted by extremis capitalism. But the abuse is still in plain sight. Yet, a sense of hope and renewal now lightens our load. The green movement preaches a new gospel: cleanliness is next to godliness. Mother Nature is given license to re-impose her will and has found new partners. A kinder and gentler form of capitalism has emerged, driven by a different profit motive. This orthodoxy is more attuned to the tenor of our times.
Once again, real estate valuations rule the day, driven by the time-worn mantra: "location, location, location." These once doomed lands are being cleansed like a baby at a christening, welcoming a new arrival. Historians can now write the city's next chapter and conjure up a much happier ending.
Welcome to Brightwater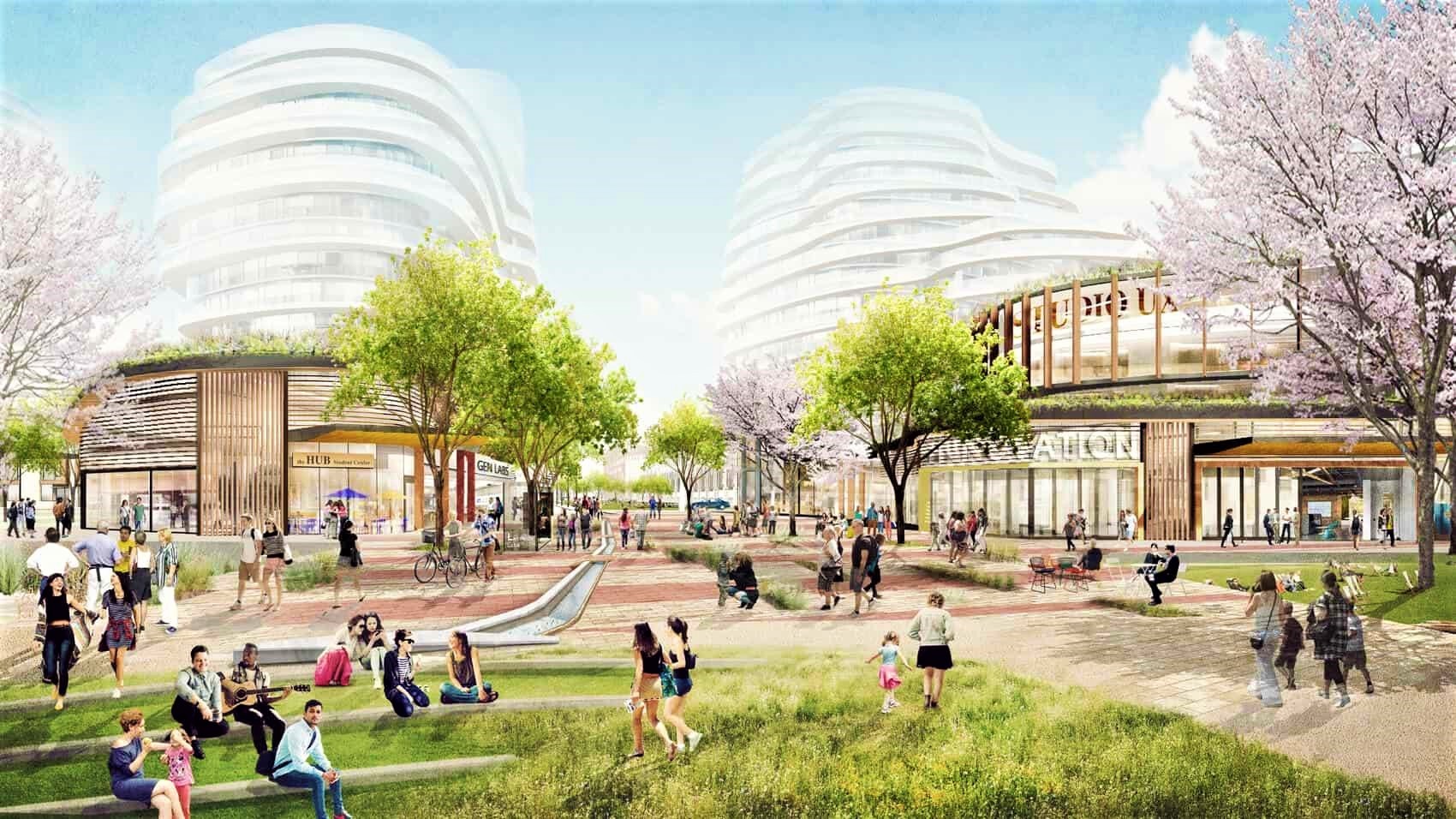 It's mid-winter, and a wicked wave of cold and snow is barreling off a roiling grey Lake Ontario, high-chopped with white-tipped waves crashing against the weary shoreline. The wind-snow passes over the 72-acre site at the corner of Mississauga Road and Lakeshore, which looks like a moonscape. The land has been flattened and pounded into submission after decades of industrial degradation.
Welcome to Brightwater, a majestic new mixed-use development that is literally wiping clean the worst parts of our destructive past. From eye-level, and for the first time in a century, there's an unencumbered view of the lake.
The remediation portion of the project, the first and most crucial one, is near done, at a staggering cost of at least $40 million, according to one industry insider. A dream team of developers, the West Village Partners (Kilmer Group, Dream Unlimited, Diamond Corp. and FRAM + Slokker) purchased the property from Imperial Oil, which bought it from Texaco in 1989.
This is the creative team of builders, and Brightwater is the catchy name affixed to the project, which captures the true essence of the property. When built, this 72-acre master plan will include 2,995 units, in the form of townhouses, condominium apartment units in both mid-and high-rise buildings, a purpose-built rental building, and an affordable-housing one.
The Brightwater Towns (first phase) has designed floor plan options for purchasers to select from and customize their unit based on their own household needs and composition. This includes options for 3- and 4-bedroom unit layouts, den sizes, and elevators, to name a few. It will strive to be an inclusive community, attracting anyone looking for modern waterfront village living. The greatest amenity, of course, is the lakefront, which promises beautiful four-season sunrises and sunsets, and a wide range of walking and biking trails, plus water-sports options, dining and recreation across the stretch of Port Credit. The trail will be the necklace that connects walkers and bike riders to the adjacent village, with its cutesy portfolio of restaurants, bars, and unique shops.
The new development will be open to those of all ages, though seniors are expected to make up a significant portion of buyers. It's part of a healthier, more independent and dynamic lifestyle that boomers expect, and an antidote to the decades of neglect around aging gracefully.
The pandemic has taught us one lesson above all else: Those entering retirement do not want to live in conditions that physically and emotionally lead to their hastened decline.
Areas like Brightwater represent the new form of living in the suburbs. And the reclamation of the land is meant for residents who will enjoy the benefits for generations to come.
This is a startling re-do of this 100-year-old industrial site, now eco-friendly, and award-winning from conception to design and build. For those old enough to remember, it was closed off, dirty, and sitting fallow because of its polluted past. This stripped-down version is a bit disorienting, as is the future model for development. The same holds true of the old Ontario Power Generation property to the east in Lakeview, also being transformed into Lakeview Village, another residential/commercial reclamation project – a 275-acre in-fill development.
Both will join the old starch lands, long ago converted to high-end residential in a village-like setting. From fiery and filthy industry, to stately and composed residential, Mississauga's 22-kilometer shoreline is being transformed according to master plans put forth by both the City of Mississauga, and the Credit Valley Conservation Authority.
---
From this, the old Texaco refinery where Brightwater will rise...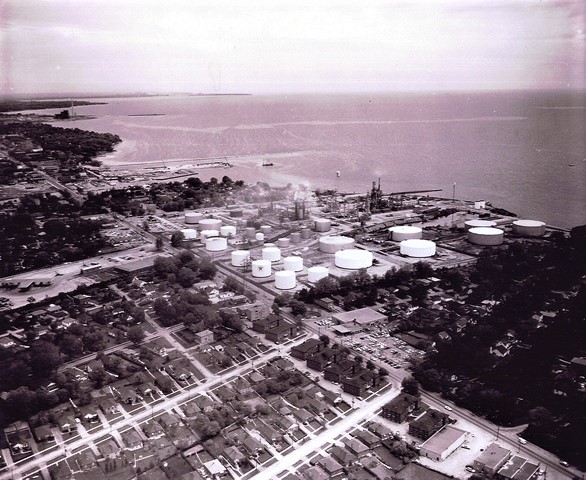 To this, the remediation of the land...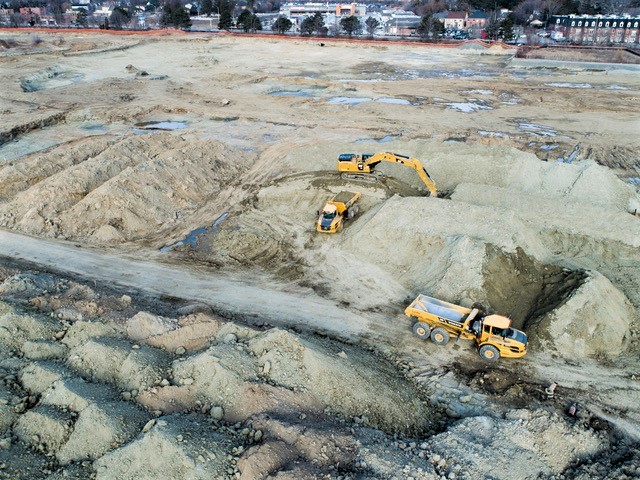 To this, the finished Brightwater project...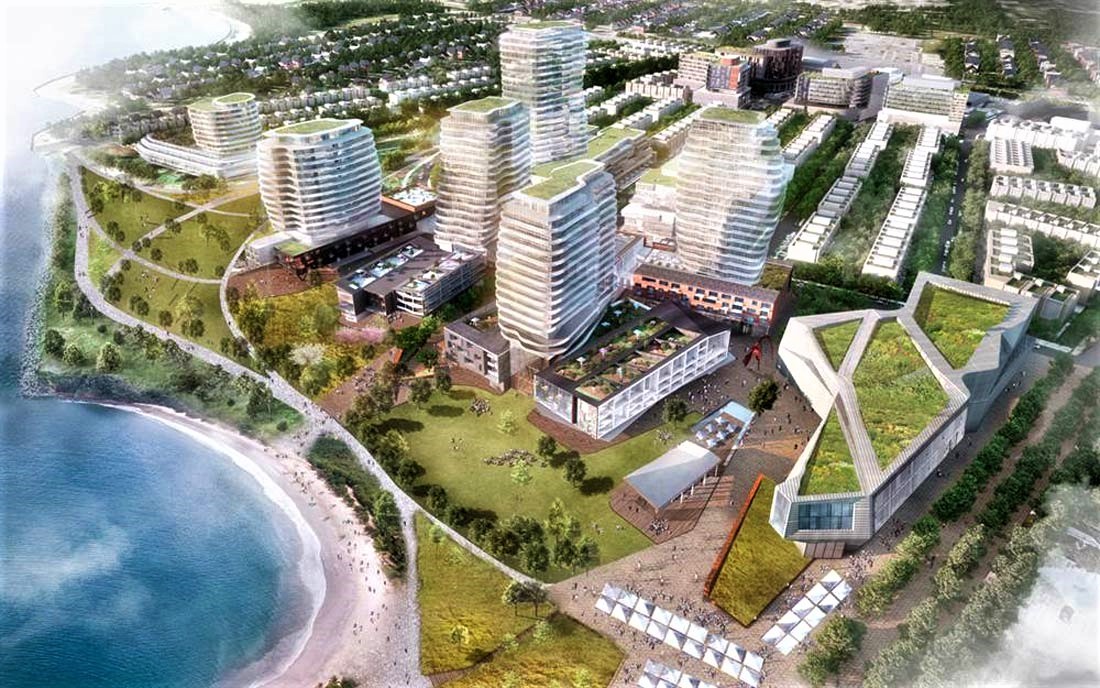 ---
Brightwater was the focus of an Urban Land Institute (ULI) panel discussion this month called, Mississauga: Waterfront Rising, which discussed the evolution of developments along the City's waterfront. It included Christina Giannone, vice-president, planning and development with the Port Credit West Village Partners, Mississauga mayor Bonnie Crombie, and city staffers. Giannone called Brightwater a "once in a lifetime legacy project for everyone."
The current site is buzzing with grading and earthworks, infrastructure construction, while roads and services will commence later this year. The excavation of the first phase is targeted to commence in the next quarter of this year, and the current phase includes the northeast block, at the SW corner of Lakeshore Road West and Mississauga Road South. It includes over 100,000-square-feet of commercial (designed by Turner Fleischer Architects) including retail and office space, and two mixed-use condominiums for a total of 311 units (designed by Diamond Schmitt Architects).
The next launch will include coastal-inspired townhomes, with architectural elements that pay homage to the waterfront and materiality connecting it with lakeside living, designed by Superkul.
What's exciting about Brightwater is the culmination of a 30-year vision to transform Port Credit's waterfront and bring diversity in housing types to the community. The target market will get a variety of housing types, custom features and special offerings. It includes townhouses, mid-rise and high-rise condominium units, a rental apartment building and an affordable housing apartment building.
Units will range from smaller studios to 4-bedroom townhouses. It was recognized last year with a prestigious 'Best New Community (Planned/Under Development) award by BILD (Building Industry and Land Development Association). Brightwater will include 2,995 new residences, as well as 150 affordable housing units.
An enhanced public realm is the crowning jewel of the community, with 18-acres of green space, including a nine-plus-acre waterfront park. This will be complemented by a vibrant mix of amenities, including over 300,000 square feet of commercial space, as well as a future elementary school and proposed community centre. It will enhance and add to the city's 20-kilometres of waterfront trail, which is part of a greater 1,600-kilometre-network that links 140 communities and First Nations on the Canadian shores of three Great Lakes.
This colourized – green-to-brown-to-green – history of Mississauga's lakefront, comes into sharp focus at Brightwater, said Ken Tanenbaum, vice-president of Kilmer Group. He said it captures the true essence of the 21st century's move past its dirty, industrial past. "We love Port Credit," he said. "It's a jewel in south Mississauga on the lake, with parks and a real sense of its own self. It's in the middle of a mature area that has its own beautiful character."
Stephen Dasko is the Ward-1-councillor who represents the area at City Hall. He told The Pointer he feels "an immense sense of responsibility to the residents of this area" to help get the development right for future generations. He also feels duty-bound to follow in the footsteps of his predecessor Jim Tovey whose fingerprints are all over the re-do of both the old hydro and refinery lands.
The creation of new residential pods in urban settings, should drive job creation, says Dasko. He saw how these environmental re-dos work firsthand when visiting Sweden, especially the city of Malmo, now winning back its brownfield sites.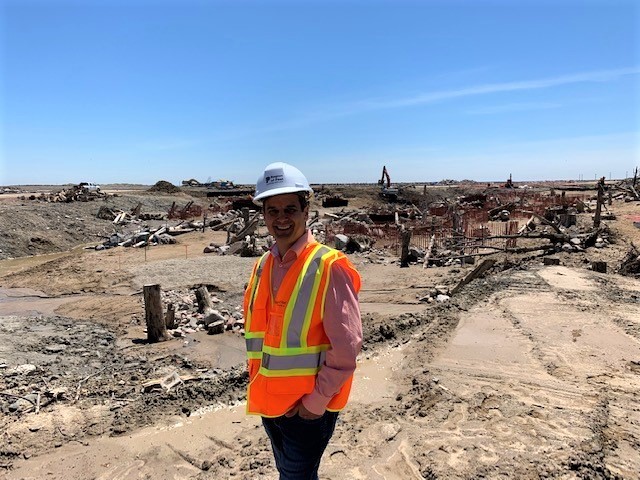 Councillor Stephen Dasko, at the Brightwater remediation site, wants to help give the Mississauga lakefront back to the people.
"I want people coming to visit Mississauga someday to see what we have done here, too," he says. "We [the city] have no interest in just creating another housing development."
Some critics argue that it was the private sector that caused this urban blight, and those responsible never paid for all those years of abuse, or the clean-up. Both OPG and Imperial Oil sold their lands and turned a tidy profit. They did so because they operated without much real governmental scrutiny. Mississauga was always "open for business" and ripe for abuse.
Today's developers gladly pay the price of remediation because no one is building lakefront vistas, especially in built-up areas, and eco-friendly villages can marry ecological renewal with sky-high profits. The Lakeview Village densities, for example, continue to climb, and so do profit margins, now measured in the hundreds of millions, maybe more.
The counter argument is when capitalism operates at its best, it complements society. It's artful, and visionary, and subject to the vagaries of the market.
More good news: many of the well-known giant infill projects in the United States, such as the Boston reclamation, have been fueled by government subsidies. But this is not the case in Lakeview, or Brightwater.
The esprit de corps between private and public-sector players teaming up to erect Lakeview Village and the West Village in Port Credit, is, in part, driven by the need to re-right historical wrongs.
The breadth of the remediation at Brightwater is stunning, and technically complex:
1,400,000 tons of soil were excavated, analyzed and sorted;
565,000 tons of impacted soil was disposed securely in one of two licensed landfills operated by Walker Environmental in the Niagara Region. The soils are beneficially reused at the landfills as daily cover material (which caps municipal wastes at the landfill);
9,484 tCO2 e tons of carbon offsets were obtained for net zero trucking.
The brownfield nature required the project to not only meet the stringent environmental requirements set out by the Province, but also to work with the City and Region on revising their standard approach to public land conveyances as they would become a major landowner of the site/infrastructure (roads, parks).
The significant upfront financial burden of remediation, in the tens of millions of dollars, was entirely borne by the developer at no cost to the taxpayer. No subsidies, tax incentives, or increased density were provided by any public body to compensate for this significant upfront development cost.
Although remediation site work is complete, it continues to work through the final review of the remediation by the Ministry of Environment, Conservation and Parks, a rigorous process of regulatory oversight and review to ensure the site meets the stringent standards set forth by the province for brownfield redevelopment.
West Village Partners unveiled its plans in early 2017 at a press conference featuring current Mayor Bonnie Crombie, the previous one, Hazel McCallion and Ward 1-councillor Jim Tovey, who passed away shortly after, plus the consortium.
History of Exploitation
The dirty history of the lands at the foot of Mississauga Road tumbles back a century to the Port Credit Brick Company, and then back-to-back-to-back-to-back refineries: Lloyd Refineries (mid-20th century) Good Rich Refinery (the 30s, and weirdly described by one Toronto daily paper as "the most beautiful refinery in the world") Regent Refinery ('40s- '50s) and Texaco ('50s- '80s).
The refinery flame turned sinister in October 1978, when a thousand residents had to be evacuated in the nearby neighbourhood. An employee named Thomas Coxhead started a fire in two massive storage tanks containing home heating oil. The tanks, located north of Lakeshore Road, were connected to several pipes and valves. Coxhead opened the valves and ignited the flowing oil, and it took hours before firefighters from Texaco, Mississauga, and Toronto Airport extinguished it, at an estimated cost of $2.7 million. Coxhead was convicted and sentenced to 10 years in prison. This ended refining operations.
In 1989, Imperial Oil purchased the assets, and provided continuous stewardship. The lands lay fallow until the West Village Partners took ownership, and plans sped-up to scrub clean its past while grooming it for future usage. So began years of public engagement.
Christina Giannone, project manager development with FRAM Building Group, and now charged with marketing the development, carries a famous last name because her father, Frank, is not only is part of the consortium, but as president of FRAM, partnered with Slokker in 1999 to transform mid-town Port Credit, creating multi-housing units at the bottom of Hurontario. These tony townhomes, high-end condos, retirement home and village square, eventually won Giannone a lifetime achievement from the Ontario Home Builders Association in 2019. His vision for the town (where his family lived) has now shifted slightly west, but remains focused on customers, and building by the lake.
Brightwater is years from completion, but its first offering of residential units on the north side of the site, is already 100 percent sold out – a testament to the draw of village-living in a lakefront setting.
The City and development team worked in full collaboration throughout the planning process, says Christina Giannone. The master plan was approved two years after the proposal was submitted to the City. Council unanimously endorsed staff's recommendation report for the proposal and any lingering issues were settled at the LPAT (Local Planning Appeal Tribunal) the replacement for the old OMB (Ontario Municipal Board). The project achieved official planning and zoning approval status by order of the tribunal.
Some, but not all existing water and sewer services are adequate to accommodate the development, and the Region of Peel is undertaking an extension and expansion of the sanitary line with upgrades meeting needs beyond those of the developers' site. There will also be upgrades to the storm water line along Mississauga Road. But the existing water system has sufficient capacity.
This is the very definition of an infill site, which means other greenfield sites in the city will not have to be bulldozed under to accommodate a new residential build. This gives reclaimed land even more value. Other proposed sustainability features might include rainwater harvesting, green roofs, bio-retention via tree pits, vegetated swales, geothermal heating and photovoltaic (solar panel) energy generation.
The refinery was closed and dismantled three years ago, and Imperial Oil never actually operated it. Yet, it worked hard to reposition it. Monisha Nandi, who spent five years at Imperial Oil, and now is environmental director of Kilmer Brownfield Management Limited, told the Daily Commercial News, the oil company didn't know how to make the changes needed, so Kilmer had to show them how it was going to remediate the property and what it was going to do with the property.
A number of municipal approvals including rezoning the land from industrial were obtained, which meant a tightly organized undertaking of visual inspections, soil testing, plus the use of the drones and other technology.
Dasko told The Pointer he wants to carry on the principles Tovey lived by: community involvement, a better deal for residents, and a city plan based on land-use planning that would save waterways for the next generation, and all those who come later. It's estimated that 70 percent of all development in Mississauga is now taking place in his ward.
The supine politics of the past, when City Hall was nothing but a rubberstamp for developers, is also part of Mississauga's so-so history. Its iconic mayor Hazel McCallion was charged with having a chummy relationship with builders, and was a product of her upbringing, which came during the industrial age.
Dasko is a member of CVC, as is Ward 2-Councillor Karen Ras, its chair. CVC issued an important report two years ago called, Living by the Lake: 2019-2039, which was an action plan to restore the Mississauga shoreline. It was based on the Lake Ontario Integrated Shoreline Strategy (LOISS) and provides guidance on the steps needed to protect and enhance the shoreline ecosystem for future generations. It studied all the major factors effecting the shoreline through a multidisciplinary lens: hydrogeology, hydrology, fluvial geomorphology, coastal processes, water quality, aquatic natural heritage, terrestrial natural heritage, plus outreach and communications to the shoreline communities.
Brightwater worked with a steering committee of municipal and agent partners from 2011 to 2016 with the long-term vison of maximizing shoreline access for people, while maintaining and restoring healthy aquatic and terrestrial habitat features and functions.
Building a 'Complete' Community
In June 2007, Our Future Mississauga tried to identify the city's hidden jewels, and the chances to be creative via reclamation and renewal, especially along the lake. A truly "complete" city has to connect physically, visually and emotionally, and can do this through land-uses that can be restorative and create the granular feel of village life. These tightknit, pod-like developments must be tied to transit, and a spoke in the wheel of a larger urban mosaic.
Most eco-warriors agree that the earth is running out of time to fix what ails it, especially in terms of climate change. The Intergovernmental Panel on Climate Charge (IPCC) reported that the planet has just a few years to turn around the global emissions trajectory before unleashing irreversible, catastrophic climate breakdown. A pause in the destructiveness of industrial growth, has been one of the few positives in the wake of the pandemic. We've seen a renewal of air, land, and water quality. And the Green Party of Canada has issued a warning to all: "The world has no Plan B."
Developers focused on turning brownfields a greener hue, driven by infill projects, have found a cozy partner in the City of Mississauga.
Today, bountiful lands, so pink with health, and formed afresh along the Lake Ontario shoreline when the Wisconsin Ice Age retreated through southern Ontario 18,000 years ago, has suffered numerous ecological disasters over the years – perhaps putting profits and job creation ahead of stewardship of the land, air and water.
Slowly, the Province embraced the "smart growth" development mantra, and a massive Greenbelt along the GTA's northern border has been legislated to protect the environment for future generations.
But there are disturbing signs that eco-awareness is not shared by all, especially those supporters of the Doug Ford PC government at Queen's Park. It is intent on redrawing the rules for agencies protecting Ontario watersheds, and has already undermined the powers of our conservation agencies, allowing developers to skip checks and balances.
Critics say the PC's Bill 229, ostensibly meant to help recover from the pandemic, will change the rules and cut funding for conservation authorities like the CVC or TRCA (partners in the remediation of the old OPG lands) which is in the middle of creating the $56-million Jim Tovey Lakeview Conservation Area, on the east end of the old OPG lands.
In Ontario, 36 conservation authorities manage hazards like flood control and water quality, and issue permits for construction in areas near crucial waterways. These overseers are now under assault, and to rub salt, Ford's 50-percent funding cut for natural disasters, was quickly followed by plans to build the 413 Highway above the north border of Brampton which runs dangerously close to our sensitive Greenbelt. This is an ongoing story (covered extensively by The Pointer) which, if approved, will most assuredly drive-up CO2 levels, and encourage more sprawl and gridlock.
FRAM+Slokker was ahead of its time in 1999 when it purchased the old Starch lands and spent $5 million on remediation, which changed the face of Port Credit. At a plenary session of the first Urban Land Institute conference held in Toronto in 2007, Frank and Ralph Giannone led a discussion called: Infill Place Making: Creating Mixed-Use Environments on Underutilized Land.
Smart growth principles weren't in vogue back then, but the partners thought they were practicing a new form of "good urbanism". The drive to re-use "underutilized land" is found all over North America, from Clipper Mill in Baltimore (a former industrial foundry) to The Glen-Town Center near Chicago (former naval base). Both received public-sector subsidies. That simply isn't the case in Ontario, especially Mississauga.
David Harper, president of Kilmer Brownfield, said in the past that investment capital and expertise dedicated to the re-development of former industrial and commercial properties in Canada should be a planning priority for communities that want to take advantage of existing municipal infrastructure and transit networks. This is the beauty of Brightwater. It will be supported by local transit, is located close to the Port Credit Go station, and the future Light Rail Transit line to run up and down Hurontario, and is right next to the retail-rich village of Port Credit that's within easy walking or biking distance.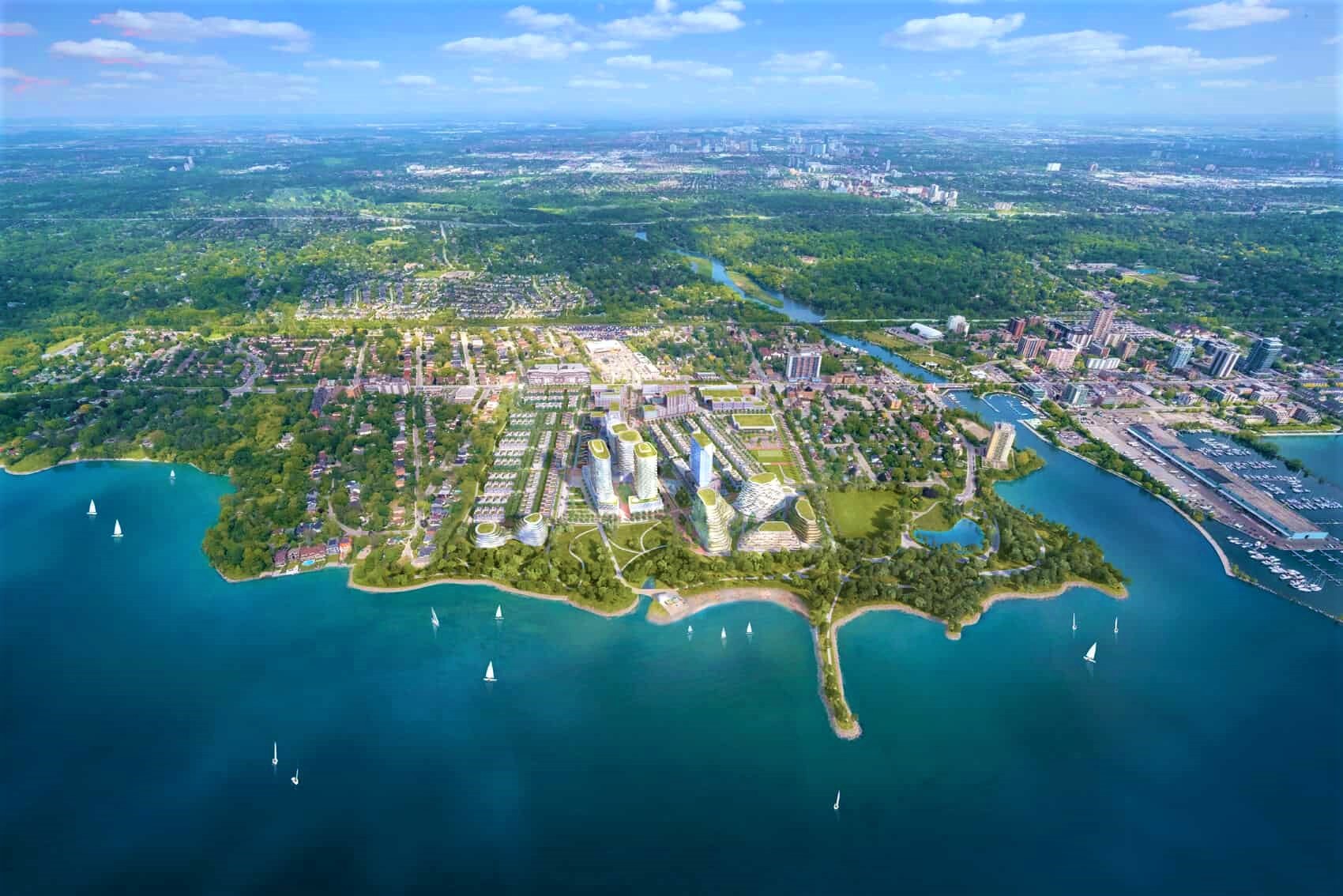 Brightwater will connect the east and west sides of the Credit River.
The old refinery lands, once an urban eyesore, means Brightwater will be a game-changer for Mississauga, says Dasko.
The Puritans said nature is a "hideous and desolate wilderness, full of wild beats and wild men." The founding voices of "Inspiration Lakeview" and "Inspiration Port Credit" would respond with a juicy expletive. They identified a strong public push to reconnect our land, water, people and wildlife to our more pristine past.
The Mississauga shoreline should have been a sacred trust, saved by stewards, and driven to get both private and public interests to work to protect our land, air and water. A gradual decimation was the result, and a push for renewal couldn't be more timely: The United Nations has declared 2021-2030 the decade of ecosystem restoration.
The Brightwater project is personal to Christina Giannone because her family moved to Mississauga in 1985 and settled only a few steps from the current Brightwater site. She still lives near the site. She remembers the fencing, the stressed-out land mass and how residents were cut off from the shoreline.
Thousands of residents also grew up in the shadows of the Four Sisters in Lakeview, and breathed the soot pouring out of the Four Sisters, which was sprinkled on the nearby neighbourhoods. The sight of effluents pouring into the lake, and tumor-tainted fish floating belly-up in the water around the plant, remains indelibly imprinted in the collective memory – a bleak, nightmarish, soul-destroying, 50-year era from our industrial past.
Nature rewards the adaptive and demands respect. When it comes to a battle between Mother Nature and mankind, we are overmatched. The mass flooding, forest fires, extreme elevation of temperatures, winter deep freezes in Texas and the ongoing pandemic, show how foolish it was to celebrate our past over-indulgences. How close we still are to the abyss.
Crisis on the Credit - and Environs
In 1963, the Globe and Mail sent its city editor and outdoor writer Robert Turnbull to the jurisdiction of Toronto Township (now Mississauga) to write a critique on this ever-expanding suburb, and the exploitation of its land and water. He called his piece, Crisis on the Credit, and it focused on our waterways. It was an early warning sign that industrial expansion had run amuck, and if we continued to pollute, future growth would be unsustainable. After visiting, he said the three resources for a good life – air, water, land – had been "squandered by mankind."
His story called for action now. "The cauldron of subdivision activity, and speculation, commerce and industry" was ruining the eco-sensitive lands in the Credit River watershed, including Lake Ontario, he wrote, each word blistering with contempt.
He noted how industrial wastes had turned the waters of south Mississauga into a syrup-coloured sewer. His conclusion was cryptic and prescient, a flashing red: "Turbid and tarnished, the Credit dies amid the urban hubbub along Lake Ontario."
This desecration continued for another half-century. The cost of industrial abuse was steep, but is now finally grinding to a halt.
The stinky Corn Starch stacks finally fell. The refinery flames were extinguished. The Four Sisters came tumbling down with a controlled explosion a decade-and-a-half-ago.
The Mississauga shoreline is quickly restoring itself to robust health.
A new settler class has embraced a different gospel, which doesn't slam nature as the enemy of the people. Connection is "one of the strongest themes in our design," says Christina Giannone when she talks wistfully about Brightwater.
She adds, "properties like this don't come along every day," and that's why she and her partners are stoked with pride in re-shaping a neighbourhood that will not only serve today's resident, but their children and their children's children. "Everyone wants to be close to the water," she concludes, and rightly so.
"It's in our nature."
---
---
COVID-19 is impacting all Canadians. At a time when vital public information is needed by everyone, The Pointer has taken down our paywall on all stories relating to the pandemic and those of public interest to ensure every resident of Brampton and Mississauga has access to the facts. For those who are able, we encourage you to consider a subscription. This will help us report on important public interest issues the community needs to know about now more than ever. You can register for a 30-day free trial HERE. Thereafter, The Pointer will charge $10 a month and you can cancel any time right on the website. Thank you.
Submit a correction about this story