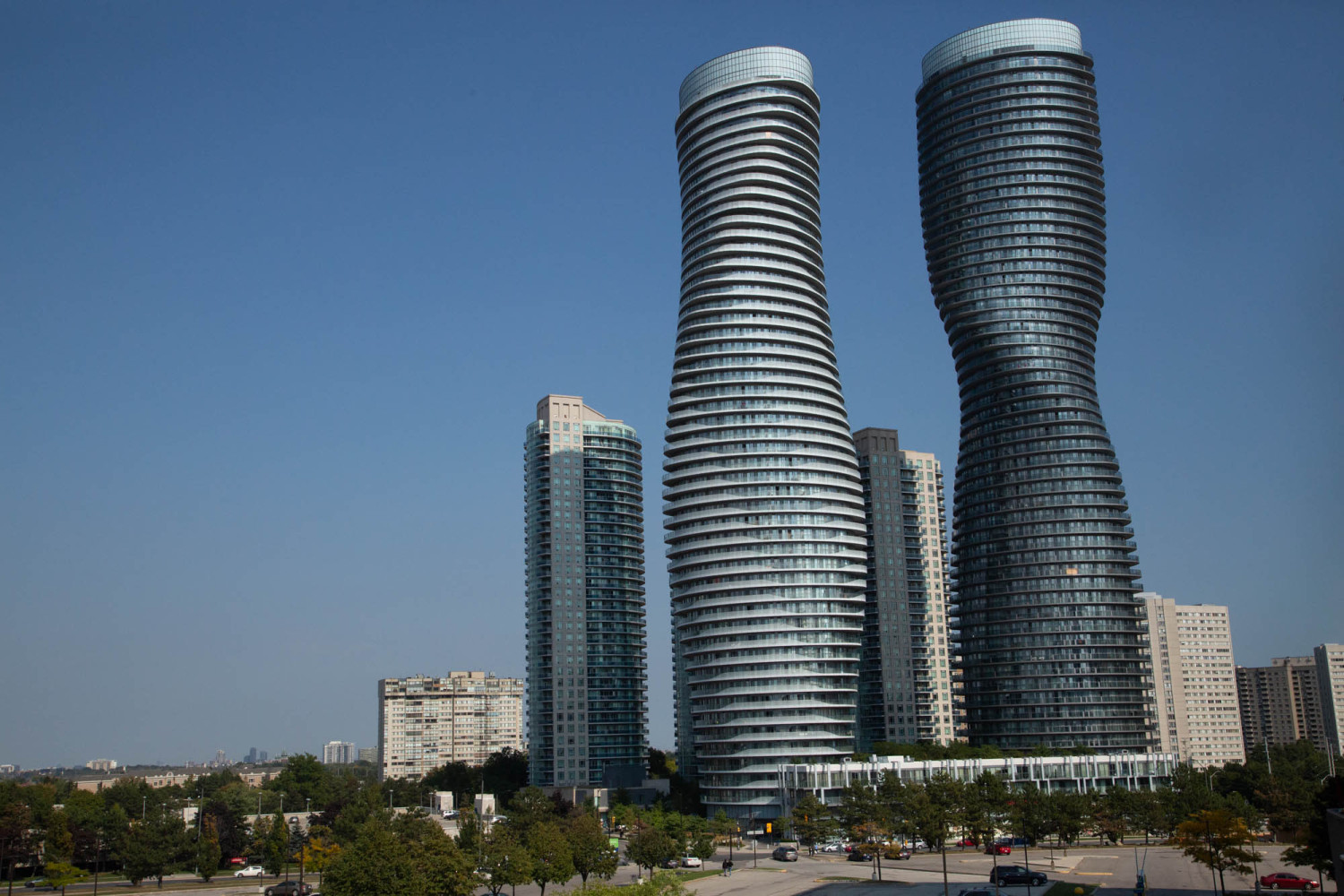 The Pointer files
Patrick Brown making wild financial claims as Mississauga gets its wish to become an independent city  
Mississauga is having none of Patrick Brown's unsubstantiated claims about how much money Brampton should get once the Region of Peel is dissolved and the two cities gain their independence.
The Brampton Mayor claims the city is owed between $1 billion and $3 billion dollars before any separation can occur, has threatened to take legal action against Mississauga and is using a discredited financial analysis that FOI documents showed was secretly predetermined by senior Region of Peel staff who tried to undermine Mississauaga's desired exit from the two-tiered system of municipal government.
He has repeatedly claimed a Deloitte report in 2019 is proof that Mississauga has benefited at the expense of Brampton in the regional government structure. That report was discredited after a freedom of information investigation exposed how senior Region of Peel staff, without council's knowledge, hired Deloitte to produce a report that would support their desire to maintain the status quo, undermining Mississauga's desire to gain its independence.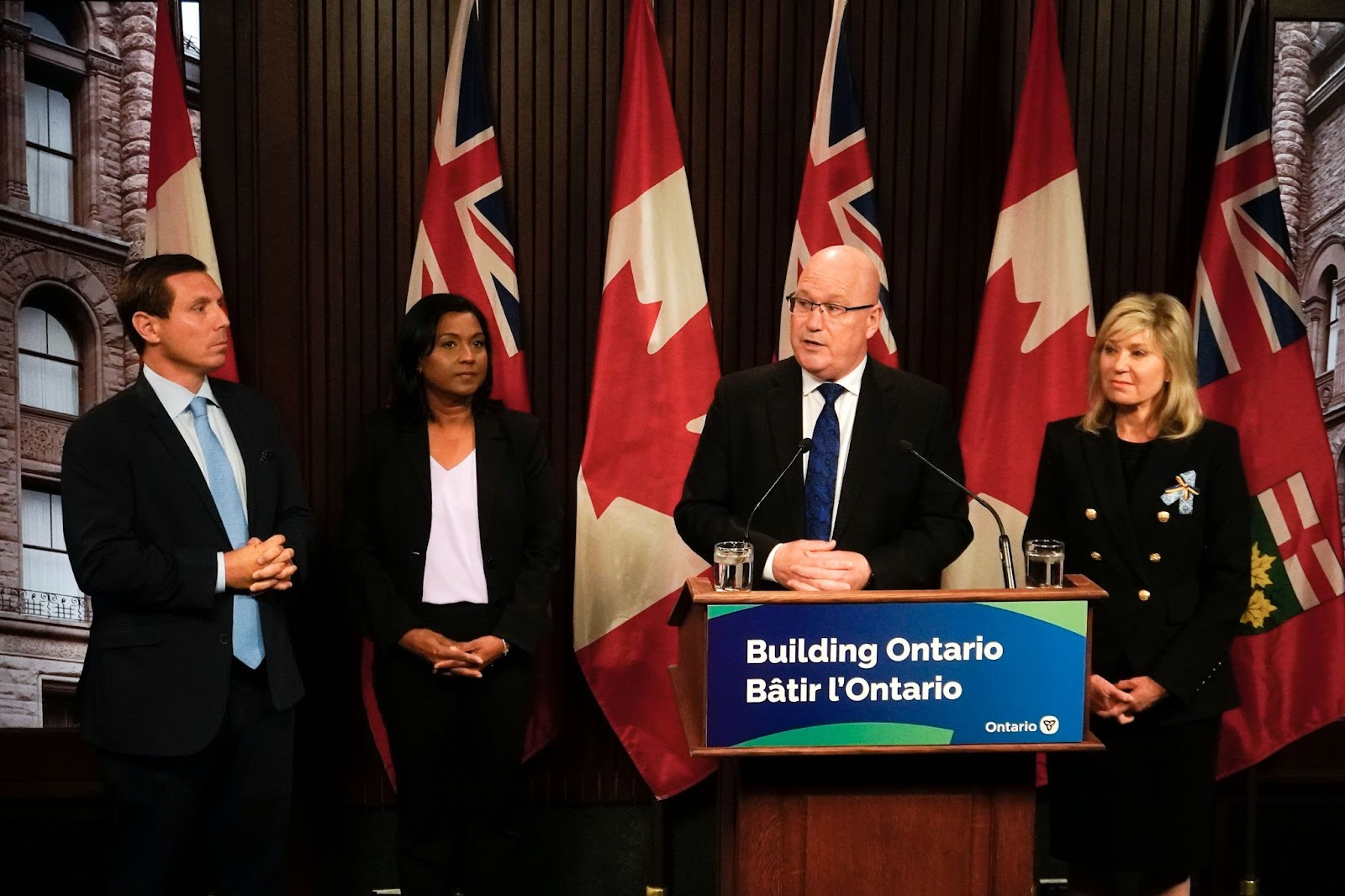 Minister of Municipal Affairs and Housing Steve Clark is joined by Mississauga Mayor Bonnie Crombie (right), Caledon Mayor Annette Groves (second from left) and Brampton Mayor Patrick Brown during a press conference Thursday.
(Alexis Wright/The Pointer)
After it was learned what happened, the senior staff behind the interference departed the Region shortly after, and council members agreed to hire Ernst & Young which did an analysis in cooperation with all three lower-tier municipalities and the Region that refuted what Brown has continued to claim. That has not stopped him from bringing up Deloitte's work this week when trying to justify his attacks against Mississauga's position that its taxpayers have paid for most of Peel's existing infrastructure.
Brown was challenged by Mississauga Councillor Alvin Tedjo who pointed out on the TVO show The Agenda, that the Deloitte report (secretly influenced by disgraced former staff who never informed Peel councillors that they had commissioned the work) was not accepted by the Region, and the Ernst & Young analysis found Mississauga could save almost $1 billion over ten years by exiting the two-tier system.
Tedjo, Mississauga Mayor Bonnie Crombie and other officials have expressed confusion over some of Brown's claims.
Ignoring what has been explained by the provincial government and municipal officials who have pointed out that Peel's dissolution could result in cost sharing between Mississauga and Brampton, with current utilities such as waste water, and services such as policing, delivered in a model common across the GTA, Brown has been demanding Brampton be compensated for infrastructure, even though his city would continue to see the same benefits from that infrastructure in a shared delivery model.
Under legislation tabled Thursday at Queen's Park by the PC government the Region of Peel will be dissolved within the next two years.
Peel's regional government will cease to exist before the 2026 provincial and municipal elections according to the Act brought forward by Steve Clark, Minister of the Municipal Affairs and Housing, which has been coined the Hazel McCallion Act. If passed, it will trigger the process to dissolve the two-tier system and make the municipalities of Mississauga, Brampton and Caledon independent by January 1, 2025.
"Our objective is to ensure these municipalities have the tools that they need to support future population and housing growth in the years to come to reduce duplication to lower the cost of government and speed up the delivery of high-quality services to the taxpayers of these three communities," Clark said in his address. "This solution respects the individual priorities and characteristics of these three unique municipalities and provides a process for stability that is fair, balanced and provides that stability for their residents."
The proposed legislation, the province explained, honours the legacy of Peel Region's longest-serving mayor. Separating from the Region of Peel has been a preoccupation in Mississauga ever since former long-time mayor Hazel McCallion first vowed to spring her city from the two-tiered regional system of local government decades ago. As a long-time advocate for greater autonomy for her city, McCallion was central to the region's rapid growth during her 36 years as Mississauga's mayor.
The historic legislation creates a series of complex questions about infrastructure and services currently provided by the Region of Peel, which must now be divided and assumed or shared by the soon-to-be independent municipalities in Mississauga, Brampton and Caledon, including policing services, wastewater infrastructure, waste management and roads to name just a few.
Clark noted the Province will be establishing a transition board of up to five people to facilitate this change in local government and, if needed, oversee the financial affairs of the Region and its lower-tier municipalities to help ensure financial stewardship until dissolution. If the legislation passes, the names of the members of the board will be released in the coming weeks.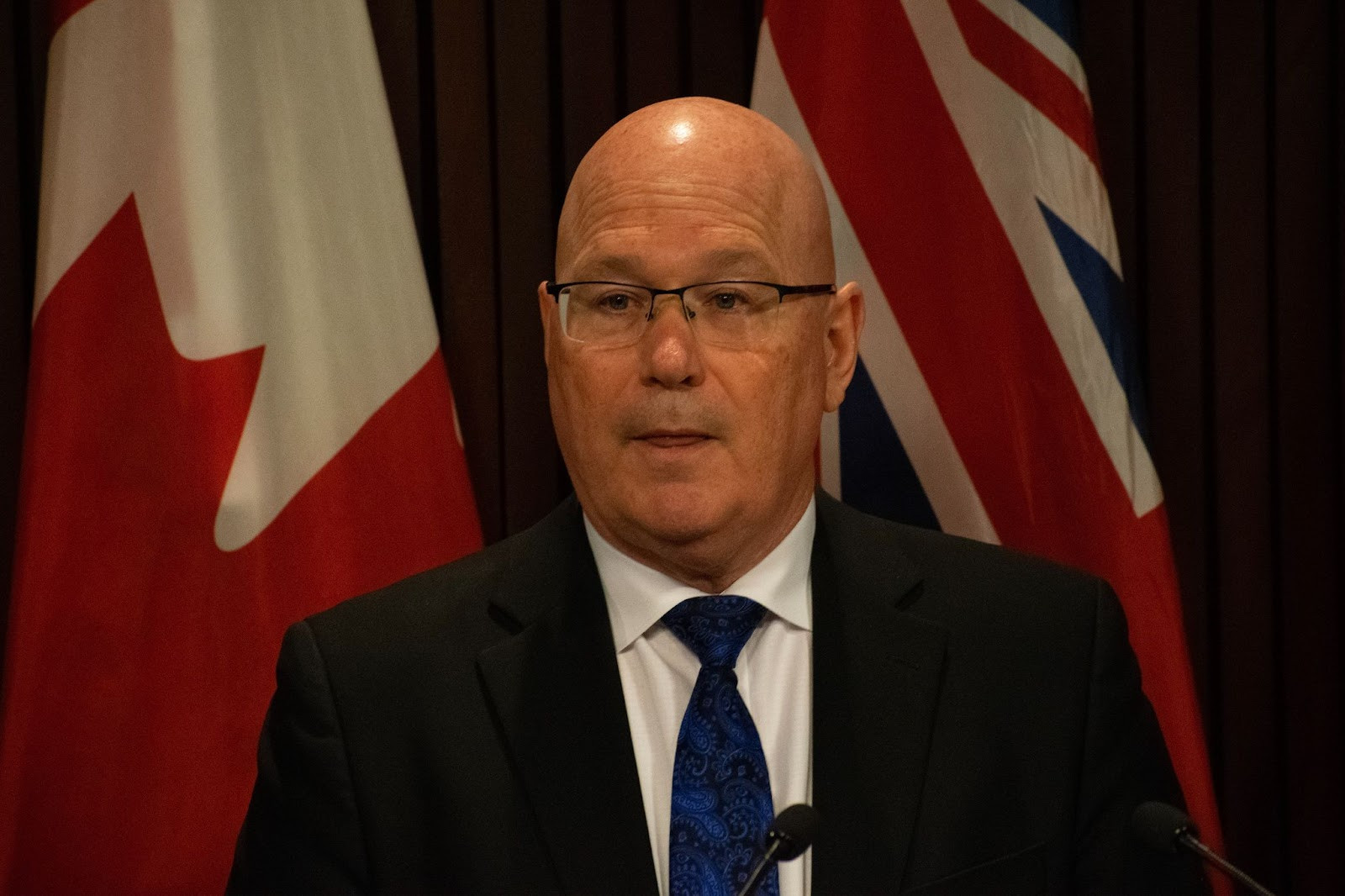 The Hazel McCallion Act will help advance the PC government's priorities of building 1.5 million homes by 2031 under Bill 23, the Province's fast-tracked More Homes Built Faster Act, says Minister of Municipal Affairs and Housing Steve Clark.
(Alexis Wright/The Pointer)
"When the proposed changes would come into effect, the board would make recommendations on actions our government can take to help the transition proceed smoothly. It would provide a wide range of advice on matters from financial sustainability, to how to allocate assets and liabilities. [It will also] look at contracts and employment matters, and determine future service delivery models," he explained. "It's expected negotiations will take the next two or three years to untangle the shared costs among the municipalities, such as policing, garbage collection and water treatment.
"This historic initiative by our government would help Mississauga, Brampton and Caledon prepare for the significant growth that we expect in their populations in the coming years, particularly when it comes to building homes," Clark stated. "We're keeping our commitment to Hazel by moving forward with a plan that will ensure fairness and stability for the residents of Peel while ensuring that they have the tools they need to succeed."
The PC government believes the Act will help support its goal of building 1.5 million homes by 2031, mandated by Bill 23, the Province's fast-tracked More Homes Built Faster Act. The Bill, which was passed in November of last year, mandates 120,000 units in Mississauga; 113,000 in Brampton; and 13,000 in Caledon as part of the government's plan to accelerate the construction of new homes over the next decade. The Province recently announced it will be working with select municipalities to ensure municipal finances can support the increased housing supply legislated by Bill 23 and help ensure the cities are ready to deliver its ambitious housing goal. Along with the City of Toronto and Newmarket, the Province will be partnering with Peel Region, Mississauga, Caledon and Brampton on the audits.
The move signals a significant moment in Mississauga's history, particularly for Crombie who has been championing its separation since inheriting the task from her predecessor, which was a key part of her campaign ahead of the 2022 municipal election. With a city of its size and the growth anticipated over the next few decades, Crombie has for years argued Mississauga should be allowed to shape its own future, maintaining that without having to subsidize its smaller neighbours to the north, through tax dollars and other revenue from the City to the Region, Mississauga would be able to realize its true potential — a battle she coined the "Mexit" strategy in past elections.
In the last half-century, Mississauga has grown from less than 200,000 residents in 1971 (before it became a municipality) to well over 800,000 residents, far bigger than single-tier cities like Hamilton, London and Kingston. Mississauga is anticipated to exceed 1 million residents by 2050. Yet it is still tied to decisions and funding commitments at the regional level to support future growth in Brampton and Caledon. Similar to the exacerbated growth experienced in Mississauga, Brampton's population has more than doubled in the past 20 years. At almost 700,000 people, Crombie has argued its neighbour should "be more than ready to stand on its own two feet."
In December, Premier Doug Ford and his PC government passed the Better Municipal Governance Act, announcing regions including Peel could be restructured, and the possibility of merging Mississauga and Brampton into one single-tier municipality. In February, council made it clear Ford's decision to look at the possibility of merging Mississauga and Brampton into the City of Peel, does not sit well with council and the residents it represents. Subsequently, Mississauga councillors unanimously vowed to support the departure from the Region of Peel and oppose amalgamation with Brampton as it would simply change the structure without addressing the underlying problems Crombie, and leaders before her, have been trying to solve, such as duplication and different, often competing priorities within the regional structure that do not align with those of each lower-tier municipality.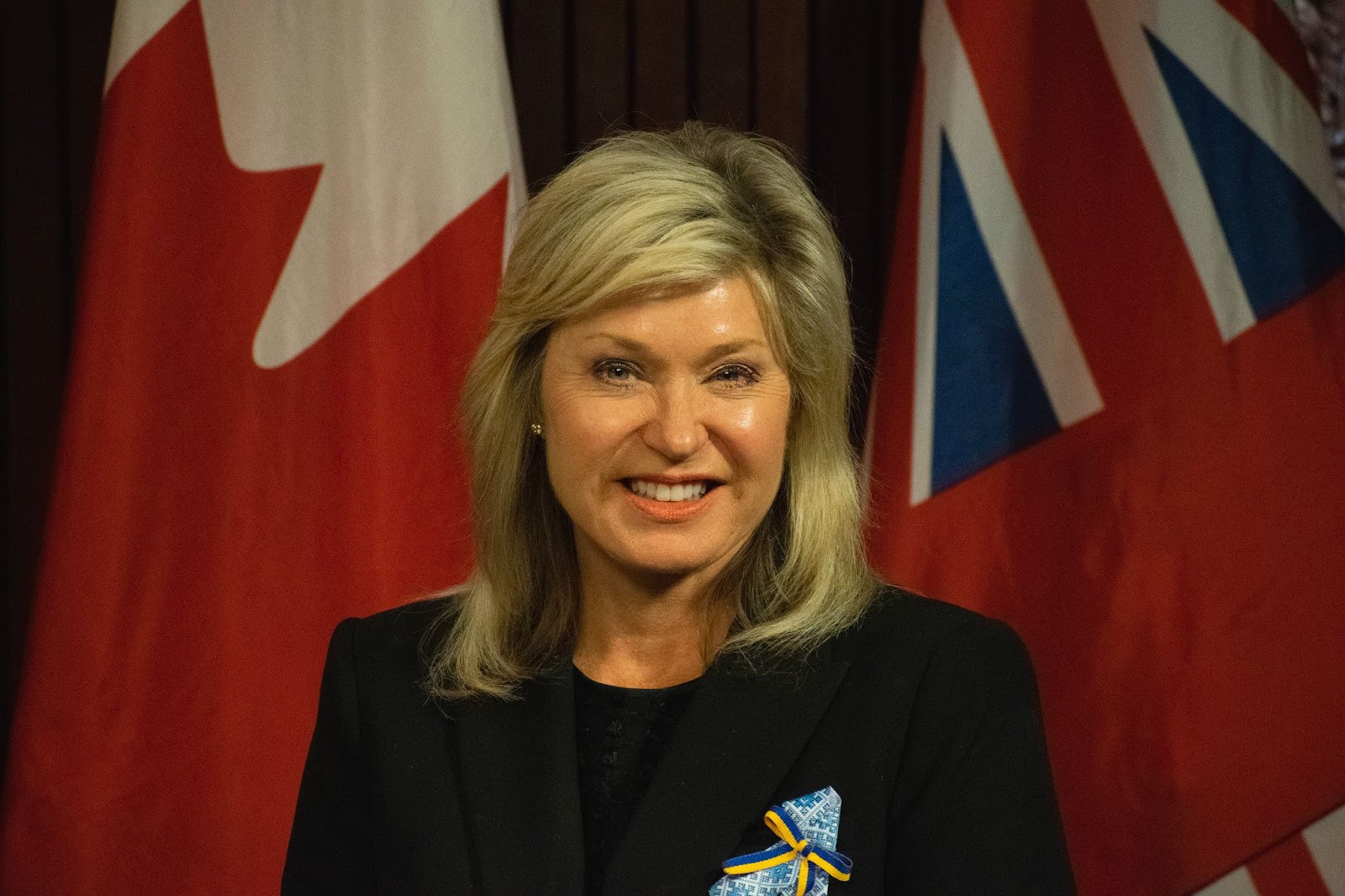 The announcement Thursday marked a historic moment for Mississauga and Mayor Bonnie Crombie, who has been championing the City's independence since taking over from Hazel McCallion.
(Alexis Wright/The Pointer)
While Crombie lauded the Minister's announcement Thursday following a decades-long crusade to garner independence, the news was not well received by Brown.
Although he recognized opportunities that come with the dissolution of Peel Region from a planning and building perspective, he stressed the need for the Province to ensure Mississauga's neighbours are being "made whole for the infrastructure," warning his city stands to lose between $1 billion and $3 billion worth of shared existing infrastructure with Mississauga's departure. He said he expects a "cost contribution from Mississauga."
Brown provided no background information or reference for where he got his financial figures, and who did the analysis.
"Just in the last month, we've had four housing projects stopped because of a lack of servicing. Economic development will grind to a halt, housing will grind to a halt, if we're not made whole," he claimed. "I'm grateful the Premier said very unequivocally that we'll be made whole and I appreciate his reassurance to us because it would be catastrophic for property taxes if that wasn't the case."
He plastered social media and traditional platforms without explaining where his information came from.
"I appreciate the tone the Premier has said on this that we'll be made whole and no one will be able to walk away from their bill, but let me be very clear: Brampton would never accept our residents being taken advantage of. Every single cent we put in to build that infrastructure in Mississauga my residents expect back because the infrastructure has been used up, the servicing capacity has been used up."
Caledon Mayor Annette Groves said while the dissolution from the Region is not a move the Town wanted, she is confident the decision from the province did not come lightly, and that the Town of Caledon will be taken care of throughout the process.
"I have every confidence that we will all be looked after. In the end, I don't think that this is a decision that [was taken] lightly… so I don't have any, any issues here in making sure that Caledon residents will be well served through this divorce," she said. "Caledon will be the next frontier of growth, we are expected to take a lot of greenfield development and so we will need services, we will need to be made whole. I'm not sure where that's going, but I am sure that this process will determine where we go, how we're served, and will ensure that the growth that we're going to be taking will be paying for itself."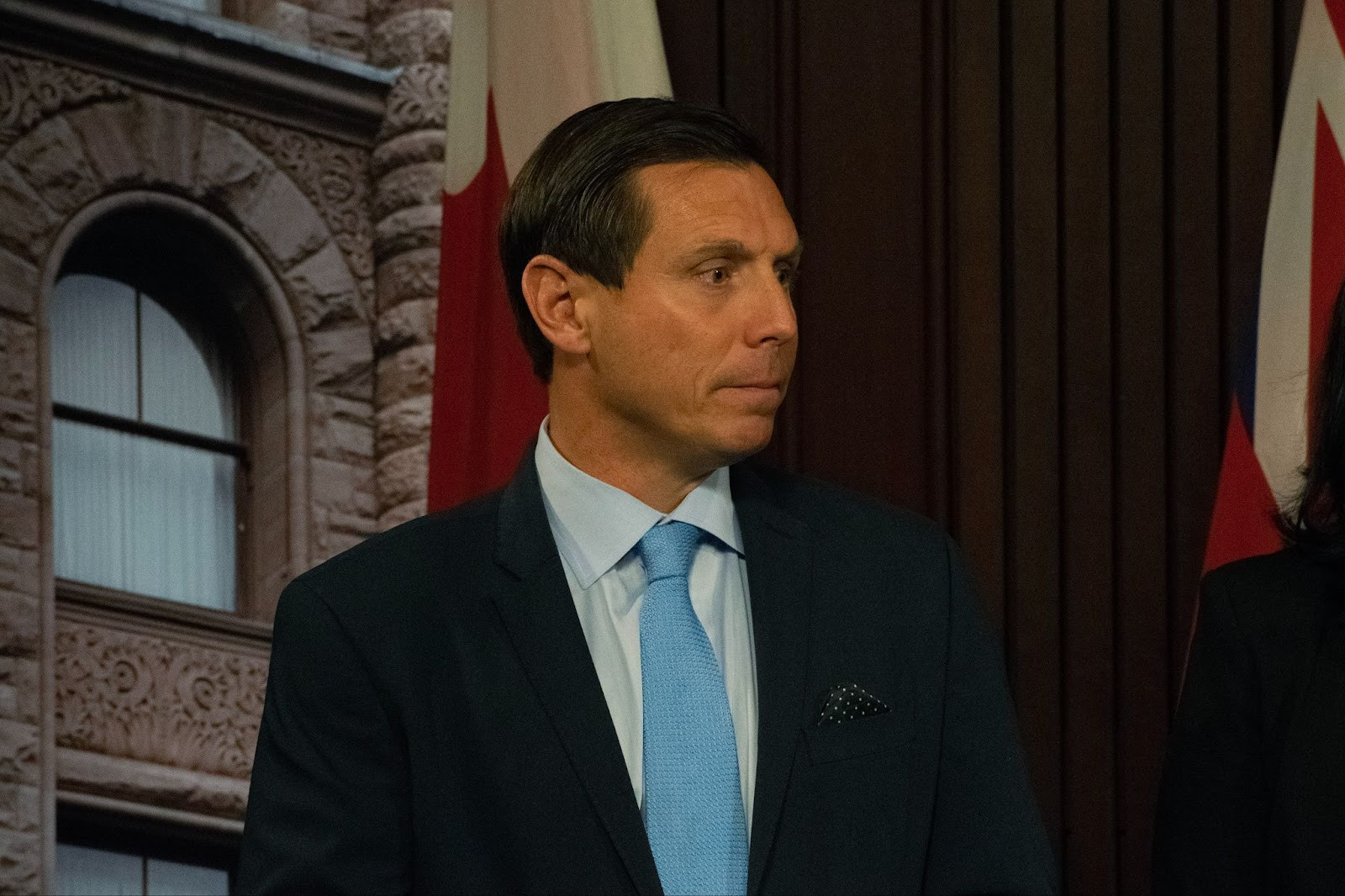 The decision to dissolve Peel's lower-tier municipalities has been met with wild claims from Brampton Mayor Patrick Brown.
(Alexis Wright/The Pointer)
In response to her neighbouring municipal leaders' concerns, Crombie assured the City of Mississauga has only asked for "fairness and equity in this process." The move to an independent Mississauga, she reiterated, is to ensure the city's tax dollars continue to be invested into its own resources for growth, infrastructure, programs and services, noting the "reality is the infrastructure was paid for by the City of Mississauga" when the City was in its growth phase.
She cited Region of Peel data and various reports that show Mississauga has contributed 60 percent of the funding for the Region of Peel's existing infrastructure.
"I look forward to working very closely with the government. But certainly, I'm delighted that the Minister will be making us all whole," she explained, adding "perhaps it's Mississauga that will be needed to be made whole for the contributions that we have made over the past 50 years during the growth phase of Brampton and Caledon.
"Of course, we have our differences [and] we have a difference of opinion as well and that will all be evident and unfolded as we go through the audit process. We've already approved the terms of reference for the audit, and I look forward to opening our books so everyone can see for themselves, the status of our finances and our reserves and what exactly Mississauga paid for the past 50 years towards the growth and the development of not only Mississauga [but] Brampton and Caledon."
In 2019, the Ford government first explored a review of the role of regional government after a motion endorsed by Crombie to leave Peel Region was brought forward. The unexpected move came after Ford's decision to slash Toronto's city council seats and wards almost in half and cancel planned elections for the regional chair position in Peel, Muskoka and York. But after creating false hope for cities like Mississauga, the 2019 regional review resulted in no changes, with the status quo maintained.
"Let me remind you that the Deloitte report was commissioned to justify the existence of the status quo and of the Region of Peel," Crombie said in a press conference following the PC government's announcement Thursday, referring to the discredited work that was influenced by former senior regional staff. "So the premises were quite different and we disagreed with that report vehemently."
In 2019, when Ernst & Young submitted its analysis to the Region, Crombie said, "EY confirms that if Mississauga were to separate from the Region, Mississauga taxpayers would see $84 million in savings (annually). This report proves Mississauga's long-held position that our city would be better off, both financially and from a governance perspective, should we become independent."
In a separate 2019 Regional Governance Review Study conducted by the City of Mississauga, staff noted the regional governance model was not ideal, was "unbalanced" and "there are many systemic inefficiencies that cannot be overcome." Staff said Mississauga had outgrown the regional government model and was being held back from realizing its full potential as a city.
In the report, a financial analysis showed Mississauga over-contributes $85 million to the Region of Peel each year — an estimate that had grown from $32 million in 2004 — and that taxpayers, at the time, subsidized neighbouring municipalities Brampton and Caledon to fund services and growth there. Staff concluded that if Mississauga were to become a standalone city, it would see almost $1 billion in savings over 10 years.
"As a standalone city, we will have more control over our financial resources, allowing us to allocate funds more efficiently and effectively to meet the growing demands of our city. By removing a second level of government, we will be able to right-size our governance structure, making us more nimble and responsive to the unique needs of the residents of Mississauga and the challenges our city faces, such as building more homes," Crombie said during the Mississauga press conference. "I'm confident that the transition board and the municipal audits that are underway will help us map these assets to ensure a fair and equitable process, while further validating our position as a well-managed municipality. This is about our future."
---
Email: [email protected]
Twitter: @mcpaigepeacock
---
At a time when vital public information is needed by everyone, The Pointer has taken down our paywall on all stories relating to the pandemic and those of public interest to ensure every resident of Brampton and Mississauga has access to the facts. For those who are able, we encourage you to consider a subscription. This will help us report on important public interest issues the community needs to know about now more than ever. You can register for a 30-day free trial HERE. Thereafter, The Pointer will charge $10 a month and you can cancel any time right on the website. Thank you
Submit a correction about this story