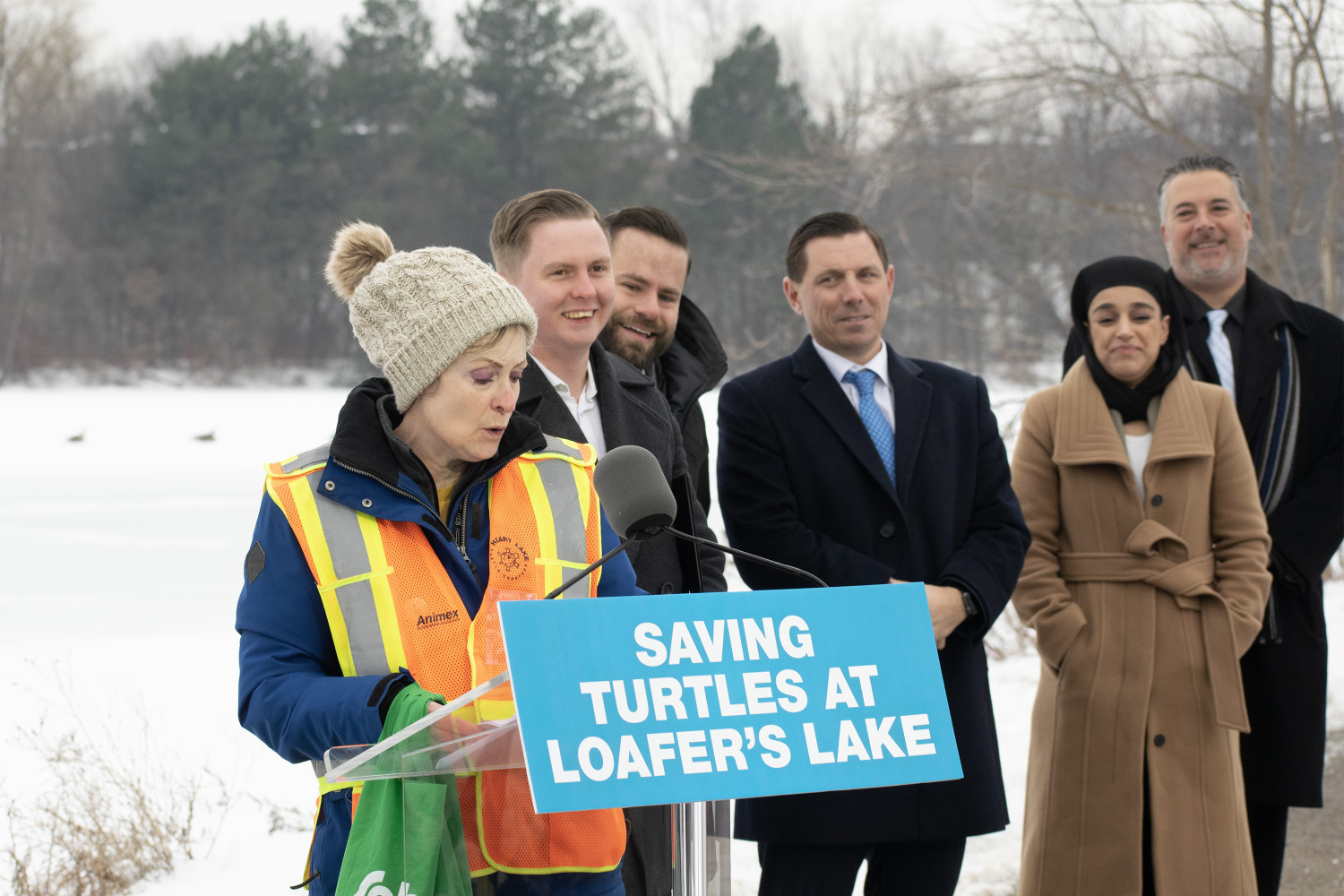 Alexis Wright/The Pointer
Heart Lake Turtle Troopers secure $75K to protect species at risk
March 1st marked a significant victory for Brampton's Heart Lake Turtle Troopers.
David Piccini, Minister of the Environment, Conservation and Parks (MECP), visited the city and awarded the work of the citizen environmentalists with a nearly $75,000 Species at Risk Stewardship Program grant for their ongoing efforts to protect the local turtle population—notably the Snapping Turtle which is a species of Special Concern in Ontario.

Minister of the Environment, Conservation and Parks David Piccini (back left) was in Brampton earlier this month to announce $75,000 for local conservation efforts.
(Alexis Wright/The Pointer)
"Loafers Lake is the crown jewel of Brampton North," MPP Graham MgGregor said at the announcement. "It's such a vibrant part of our natural ecosystem. Anyday, as a local MPP, that I get to come here and announce funding to protect it is a great day for me and a great day for Brampton."
In collaboration with the Toronto and Region Conservation Authority (TRCA), the Heart Lake Turtle Troopers will provide recommendations on best practices for protecting the future of the turtle species in the area, such as building designated nesting areas around the lake or safety precautions like fencing to keep both turtles and humans safe. The City of Brampton will have final say on how the funds are allocated. A review is ongoing to identify and prioritize the specific needs of Loafer's Lake.
"I was here a few months ago when Graham and the team were showing me the challenges faced by the community, and by the turtles," MPP Piccini said at the announcement. "Ultimately, it's in that sense of community and of coming together to support our environment that I'm here today."
The Heart Lake Turtle Troopers is a grassroots organization that coordinates protection efforts among citizens and environmental stakeholders in Brampton. The provincial funding will help support this ongoing work.
"It's good to see results. When the Minister comes back he sees nesting beaches, basking logs, gabion fencing fixed in, that motivates people to say 'let's continue with this momentum'. That's the point today," Lori Leckie, one of the founders of Turtle Troopers said.
Also in attendance to announce the funds were Mayor Patrick Brown, Councillor Navjit Kaur Brar, and Councillor Michael Palleschi.
"The revitalization of the Snapping Turtle habitat at Loafer's Lake is vital to maintaining the biodiversity in our city," Councillor Brar said. "The Turtle Troopers have been doing positive groundwork to protect our at-risk species and this funding through the stewardship program will bolster their cause and help them achieve their restoration goals."
MPP David Piccini, MPP Graham McGregor, Mayor Patrick Brown, and Regional Councillors for Wards 2 and 6, Navjit Kaur Brar and Michael Palleschi, all praised the local conservation efforts during the announcement on March 1.
(Alexis Wright/The Pointer)
Freshwater turtles are the filters of wetland ecosystems. Without these crucial animals, wetlands would become uninhabitable—overrun with dead vegetation or disease-spreading insects like mosquitoes. Without turtles, wetlands would lose the valuable ability to filter freshwater, creating a destructive chain reaction capable of collapsing the surrounding ecosystem.
MPP McGregor, after attending multiple events last year, witnessed the dedication of Heart Lake Turtle Troopers firsthand. The group of volunteers inspired him to reach out to local councillors along with Mayor Brown to bring the Minister of Environment to the city and consider funding for their ongoing protection efforts.
"We require support from our leadership, ongoing education, sector-wide collaboration and persistence. Collaborative efforts like these are an important way to make things happen," Councillor Palleschi said.
Until this announcement, the Turtle Troopers relied on money from their own pockets and donations from programs like Adopt a Pond through the Toronto Zoo to contribute to turtle conservation. The money goes toward things like building nesting boxes with materials costing an average of $25 per box.
Whether it's patrolling their respective areas—organized through their Facebook group which has grown to over 1,100 members—or hosting events to get more people engaged with nature and conservation, the volunteer-led Heart Lake Turtle Troopers have had a profound impact on conservation efforts in Brampton.
At a hatchling release east of Loafer's Lake in Brampton, the Heart Lake Turtle Troopers educate attendees about turtle nesting habits, how long a clutch—a group of turtle eggs—take to hatch, and more.
(Alexis Wright/The Pointer Files)
There are countless ways to revitalize habitats to enrich biodiversity. For freshwater turtles, nesting beaches and basking logs are an integral part of their natural habitat. They need the soft ground to lay their eggs—just far enough away from the shoreline to avoid water logging and to hide from predators, but not too far that the hatchlings won't be able to make the trek back to the wetland the day they emerge. Protected nesting sites provide adequate 'natural' space for them to reproduce safely.
Over its lifespan, a mother Snapping Turtle will lay an estimated 1,400 hatchlings. It may seem like a high number, but few of these will actually hatch—victims of predation or environmental factors—and even fewer of the tiny hatchlings that do emerge survive long enough to reproduce young of their own. This, combined with the continued loss of habitat, has pushed many species of turtle in Ontario onto the Species at Risk list.
"A lot of these little hatchlings don't get to make it, so anything we can do to make it a little easier for them is always a priority," McGregor said.
Freshwater turtles have lost significant amounts of habitat over the last decade. Despite predating a significant amount of life on Earth—some species, like Sea Turtles, are over 110 million years old—common development practices often don't consider the needs of the wild species that have existed long before humans came along to build homes, trails and tourist attractions on these lands. The constant pressure from urbanization is one of the most significant threats to all species of turtle in Southern Ontario.
Another threat they face is warming weather. The sex of the hatchling is linked to the incubation temperature of the clutch. Male turtles only grow if the nest stays within 23 to 28 degrees celsius. If the internal temperature is consistently over 28, the entire clutch has the potential to be born female—creating more competition and reducing the chances of effective reproduction.
MPP Graham McGregor, long time resident of Brampton, was elected to represent the Brampton North riding in the 2022 provincial election.
(Alexis Wright/The Pointer)
The population of Snapping Turtles in Ontario has been at risk for over a decade. Designated as a species of Special Concern in 2009, it means the species is at risk of becoming threatened or endangered if action is not taken.
"I'm really proud to be here today to announce that as a part of that $74,605 announcement, Ontario is investing over $4.5 million dollars annually to protect species at risk," MPP Piccini said. "That includes over 30 projects across the Province, because we know that protecting our environment cannot only be the business of government, it needs to be our shared, collective responsibility. That's on full display here. We're supporting community stewardship projects working in partnership with groups like HLTT (Heart Lake Turtle Troopers) to protect and recover species at risk."
The Species at Risk Stewardship program has supported over 200 projects since 2018. Those projects have contributed to protecting almost 14,000 acres—or a quarter of the size of Brampton—of habitat for species at risk. According to MECP, the program has engaged over 8,000 volunteers and created 1,000 employment opportunities.
Despite these efforts, Ontario has lost an estimated 85 percent of its wetlands. In the GTHA, according to Ontario Nature, an alarming 10 percent remains. Protecting these remaining wetlands is crucial as the survival of one fifth of the native species in the province are directly dependent on wetlands.
The provincial government has also faced questions about its ongoing monitoring and effectiveness of its Species at Risk program and the implementation of the Species at Risk Act. An auditor general's report released in November 2021 found much of the government's work on Species at Risk was actually harming the species it is designed to protect.
"The purpose of species at risk legislation is to serve as the last line of defence when other programs have been ineffective in conserving nature or have directly contributed to biodiversity loss. The Environment Ministry is not, however, acting in the best interests of species and their habitats," Auditor General Bonnie Lysyk's audit exposed. "The Environment Ministry's systems and processes for approvals facilitate and enable harm to species at risk and their habitats."
On January 9, Heart Lake Turtle Troopers noticed a Red Eared slider turtle—an invasive species to Ontario—out in the middle of a frozen pond. The group is unsure how the turtle emerged, though they assume he breached the pond when the weather was unusually warm, but the pond froze before it could get back under water to continue brumating for the winter season. With the help of Brampton Animal Services and Brampton Fire Services the turtle was saved from the lake and brought to live with other rescued turtles at Ontario Turtle Conservation Centre.
(The Weather Network/Twitter)
The City of Kingston, the Huron Stewardship Council, and Ontario Turtle Conservation Centre in Peterborough are also receiving funds for turtle conservation projects.
"When we think about the world and planet we're going to leave behind for the next generation, we must commit together to make sure it's a better one. And that means not just for the people that walk this earth, but for the four-legged, two-legged, etcetera creatures that we share this Earth with," Piccini said.
This premise is based on an ancient Indigenous ideology from the Haudenosaunee Confederacy of the Great Binding Law, the founding document of the oldest living democracy in the world. The 'Seventh Generation Principle' explains that every decision we make in the present must consider the seven generations that come after us, and the seven who came before.
"In Brampton, we always hear a lot of talkers, but what we need are doers. This team that we have beside me, this team in the audience, they are doers," McGregor said.
"Trust me when I say, this is just the beginning."
---
Email: [email protected]
Twitter: @lextoinfinity
---
COVID-19 is impacting all Canadians. At a time when vital public information is needed by everyone, The Pointer has taken down our paywall on all stories relating to the pandemic and those of public interest to ensure every resident of Brampton and Mississauga has access to the facts. For those who are able, we encourage you to consider a subscription. This will help us report on important public interest issues the community needs to know about now more than ever. You can register for a 30-day free trial HERE. Thereafter, The Pointer will charge $10 a month and you can cancel any time right on the website. Thank you
Submit a correction about this story