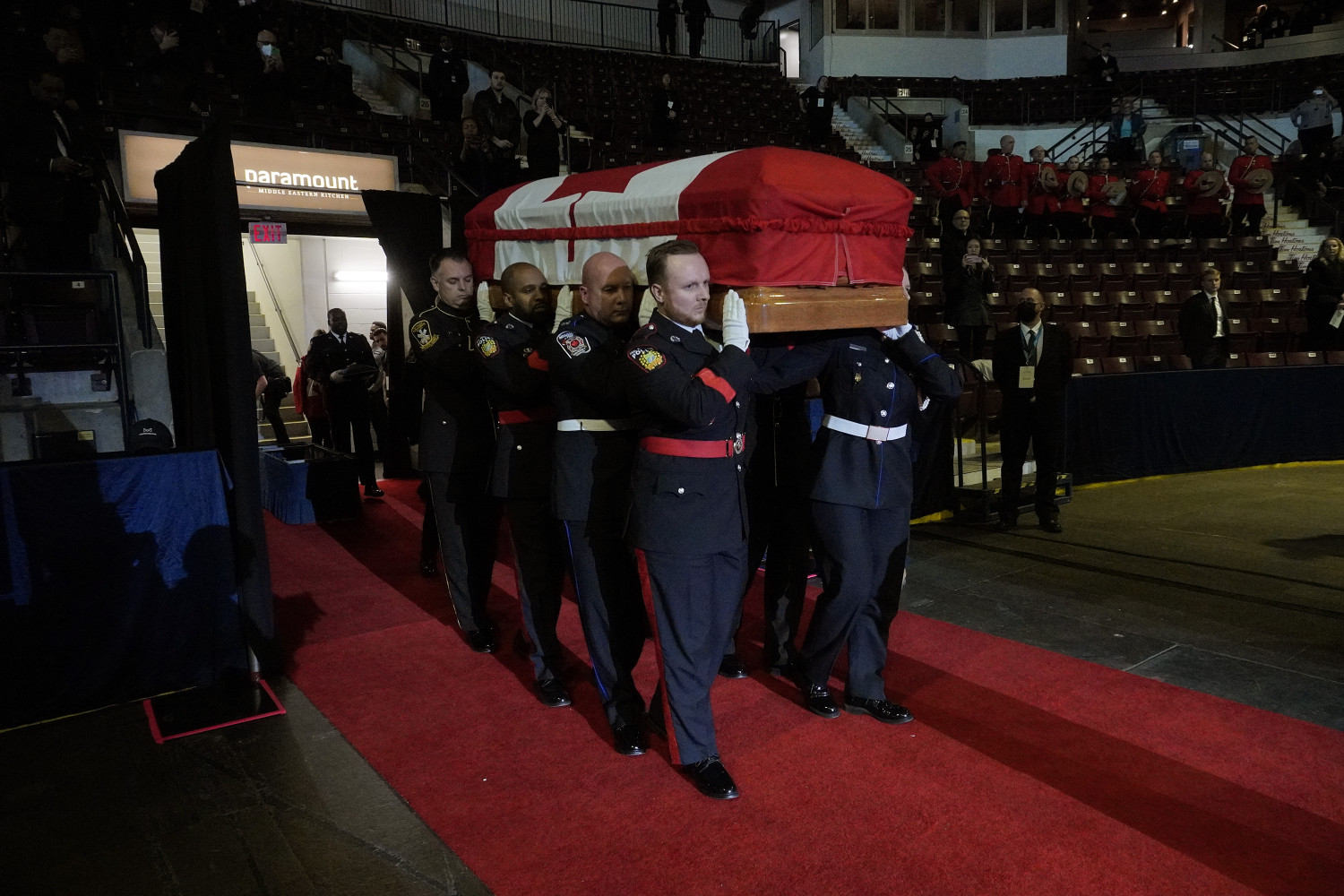 Alexis Wright/The Pointer
Hazel McCallion, a complex trailblazer & 'force of nature' laid to rest 
She made powerful men cower, clearing the way for many women in politics — former long-time Mississauga mayor Hazel McCallion was remembered as a "force of nature" and "trailblazer" at her state funeral Tuesday.
An outspoken political powerhouse, she was regarded as a woman with boundless energy who defied expectations while becoming Mississauga's longest-serving leader, and Canada's most beloved mayor.
She was deemed the 'Queen of Sprawl', transforming her city from a patchwork of hamlets and rural townships into Ontario's version of the suburban dream — big cars, bigger homes, big skies. The wide open boulevards and white picket fences were exactly what her residents, who fled Toronto or came from smaller locales, wanted. She gave them the perfect balance between the madness of the masses and the isolation of rural life.
She wore her nickname like a badge, something the newspaper critics in the province's capital could never understand.
When politicians across the country began to use changing demographics to score points, and many mayors scrambled to keep newcomers out, Hazel opened the doors to all.
Welcome to her dream.
She travelled the world, often on her own, wooing Fortune 500 companies to set up shop or honour a sister-city relationship in Kariya, Japan.
She turned Mississauga into a destination. The Marilyn Towers were just one of the beacons of its coming transformation into a major urban economic player. Neighbourhoods like Port Credit drew professionals and small businesses looking for a slice of paradise in this city atop the outstretched shoreline of Lake Ontario.
Her legacy as the great Canadian mayor was the highlight of a state funeral, held Tuesday.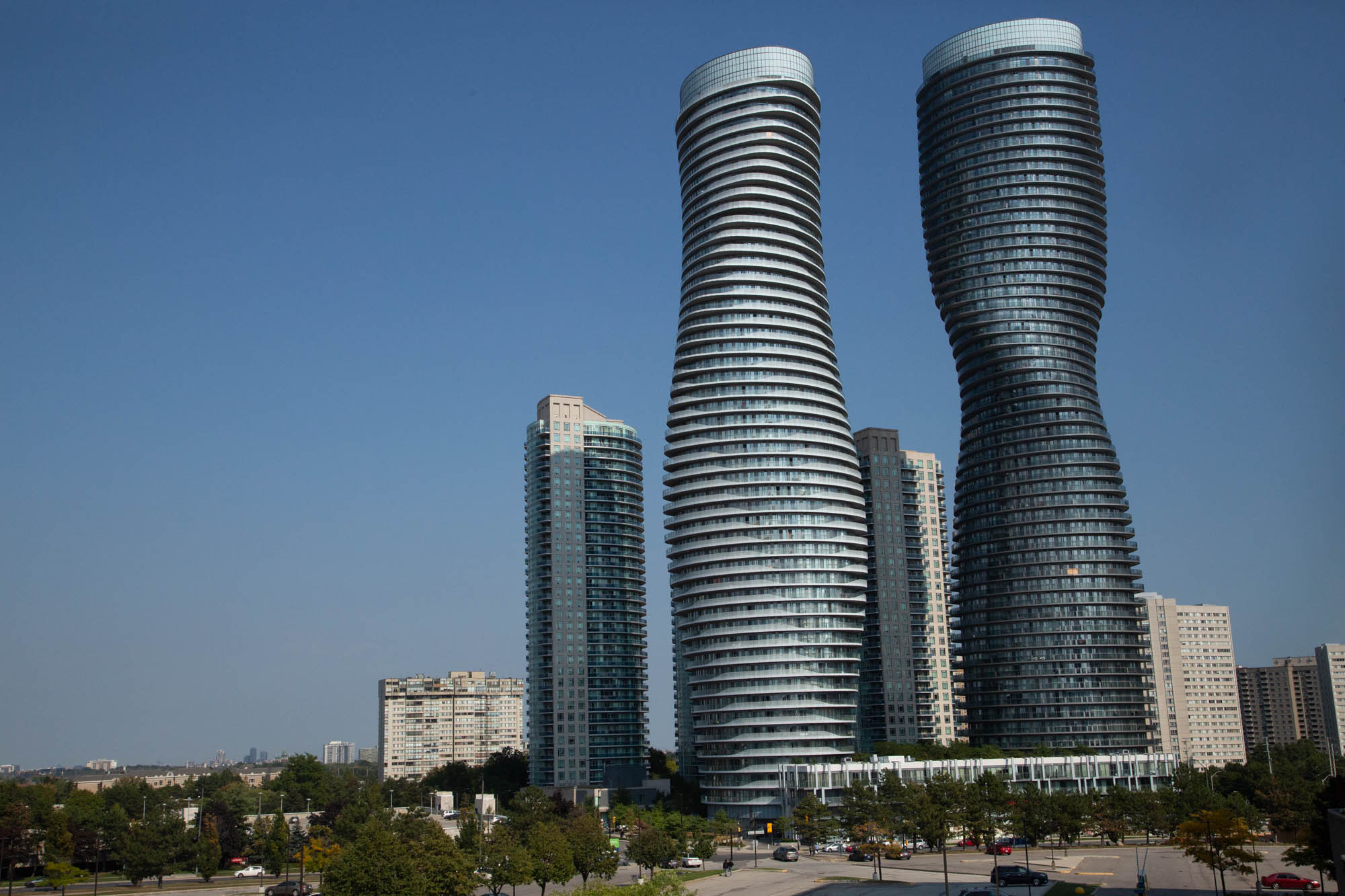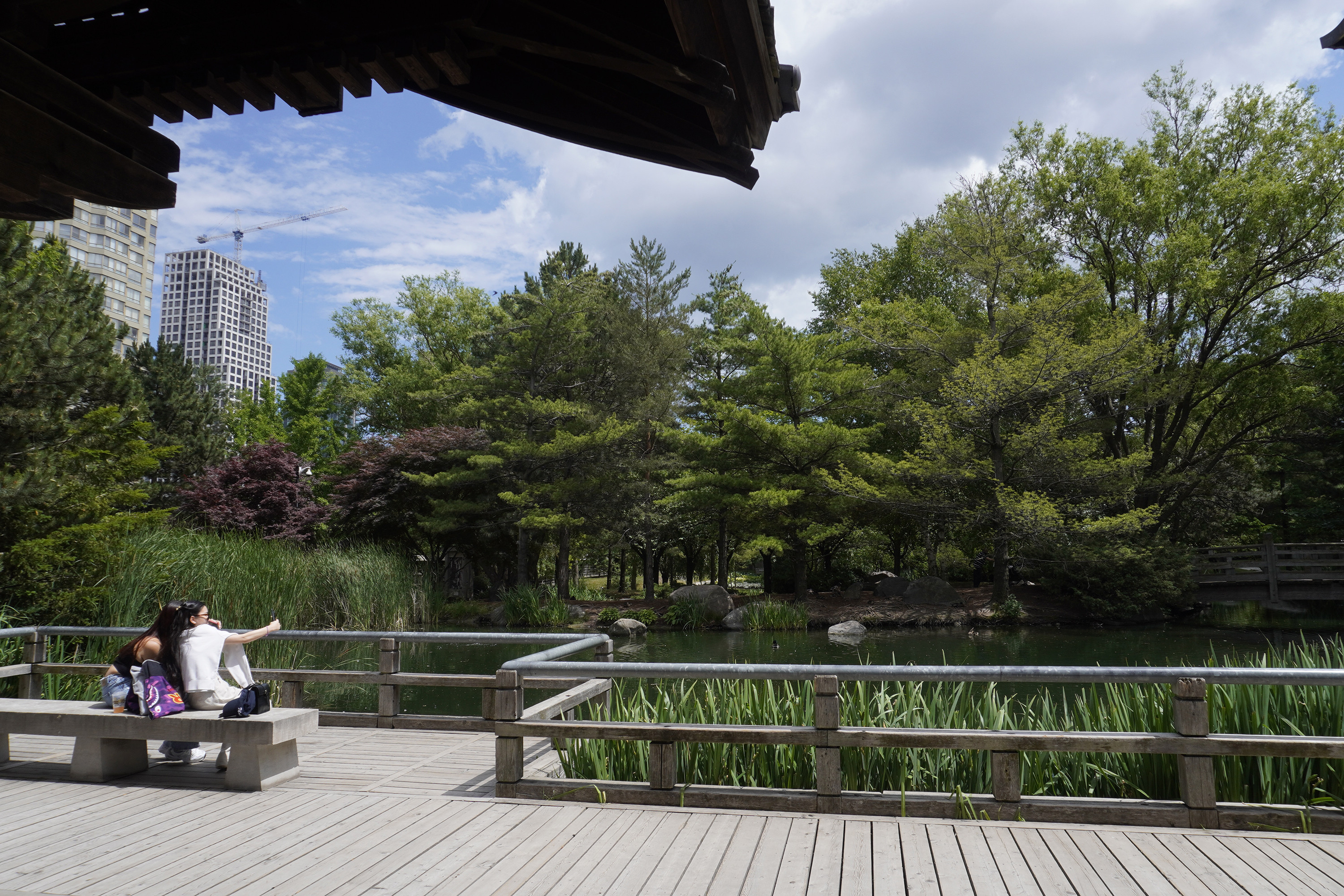 The Marilyn Towers (top) and Mississauga's Kariya Park are only two examples of the urban transformation in the city ignited by Hazel McCallion.
(The Pointer files)
The Hurricane died on January 29 at the age of 101. The winds of this force of nature will blow through her city for eternity.
The event drew a crowd of roughly 3,000 to the Paramount Fine Foods Centre as people gathered to honour the Quebec native who dedicated her life to politics and serving her community.
Thousands gathered on Tuesday to celebrate the former mayor, Hazel McCallion, who served the City of Mississauga for over three decades.
(Alexis Wright/The Pointer)
Emotions ran the gamut, from jovial to sorrowful, filling the room as speakers and dignitaries shared stories about the woman who now defines so much of the Canadian postwar landscape. The guest list — which included prime ministers past and present, mayors, the premier, the lieutenant governor, prominent business leaders and others — reflected the mark she made. Mississauga Mayor Bonnie Crombie aptly called it "indelible", it will live forever.
As the daughter of a Port Daniel, Quebec, fish canner, a workaholic businesswoman in a man's world with building and engineering firm Canadian Kellogg in Montreal, Quebec City, and Toronto, she became a celebrated politician entering an age when most get ready to settle down for retirement.
She was no neophyte like so many bright eyed political opportunists today, who bring nothing but blind ambition to the job—McCallion arrived with a lifetime of experience, hard lessons and a menacing dislike for anyone who tried to tell her what to do.
Elizabeth Dowdeswell, Lieutenant Governor of Ontario, described her as "a trailblazer, an innovator, a fighter [and] a pragmatist," who left people with a profound understanding of the impact one person can have.
Former Mayor Hazel McCallion was remembered as a "force of nature" for her spirited and strong-willed political style.
(The Pointer files)
The Hurricane, a name coined for her unique political style, was an outspoken political powerhouse who earned respect across the political spectrum for her steely force. When she picked up the phone her latest target was in for a rough ride. But they were usually too scared to ignore the call.
"She grew up at a time that told her she should temper her ambition and drive to serve," Premier Doug Ford, a man not known for choking up, or reading off script, said to the crowd, looking more human than he ever has, describing a woman whose strength left him in tears. "Hazel refused to accept that. She'd never fit the mold and she proved the naysayers wrong. She led the transformation of Mississauga into one of Canada's largest and most vibrant cities. A city brimming with potential."
McCallion's leadership came at a critical time. When she was first elected, the city's population was 280,000; it grew to more than 700,000 under her relentless energy.
"She was an inspiration for generations of women and girls," Prime Minister Justin Trudeau said. "Hazel loved to point out that when she first became mayor, there were cattle and horses grazing where Mississauga's core is today."
Prime Minister Justin Trudeau was among those to pay tribute to the former Mississauga mayor at the state funeral on February 14.
(Alexis Wright/The Pointer)
"She was our matriarch, the architect of our city. We're joined today to mark the end of an era. She built our city into her vision," Crombie said. "As a trailblazing woman in politics, and a no-nonsense city builder, she set the framework for our future and transformed Mississauga from farmland and fruit trees to the growing urban city that we are today, a powerhouse in the province of Ontario. We all know that she was truly a force of nature."
Under her leadership, McCallion used lower taxes in Mississauga to attract businesses from Toronto and around the world to help her city grow — a strategy that boded well for decades, but has now left City Hall's finances in a challenging place. The bill for past tax freezes came due as she approached her retirement from the mayor's office in 2014. Mississauga is now struggling to introduce substantial projects, while aging critical infrastructure needs to be either repaired or replaced as council tries to plan for the future while paying for the past.
Her pledge to keep tax increases low earned her popularity with Mississauga's residents, and elevated her to a rarified place in municipal politics, where only mayors like McCallion don't even run re-election campaigns. She still won with more than 90 percent of the vote.
Her towering status was finally brought down to Earth in 2011, when she was found to have broken "common law principles" even though she was cleared of conflict of interest allegations by a more than $7-million judicial inquiry into a scandal involving actions she took behind the scenes for a massive $1.6-billion downtown hotel-convention project being pushed by a company co-owned by her son, a fact that had flown quietly under the radar until media reports exposed everything.
By the time she left office in 2014, McCallion was 93 and had served as mayor for all but four years of Mississauga's existence. She was arguably most famous for her handling of the 1979 Mississauga chemical train derailment, coined the "Mississauga Miracle." The disaster, a year after she came to power, was the early defining moment for McCallion, who instantly took control as the international media captured the diminutive drill sergeant's no nonsense approach, pushing other officials to the side as the world looked on in wonder at this woman taking charge in a man's world. The massive wreck forced almost a quarter of a million people out of their homes and was, at the time, the largest peacetime evacuation in North American history. Not a single person was hurt, and McCallion received much of the credit.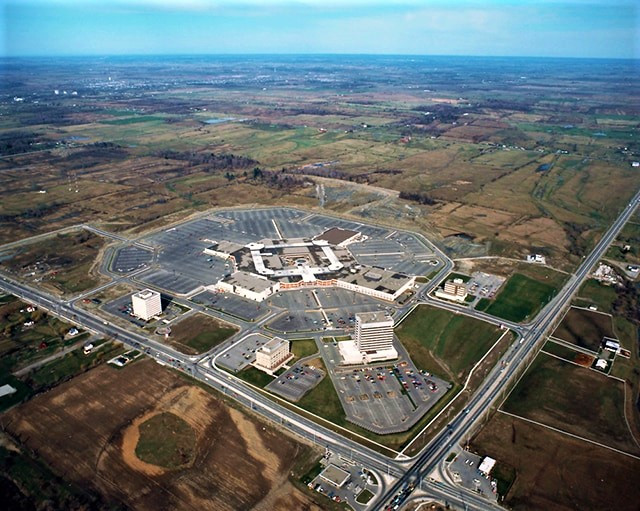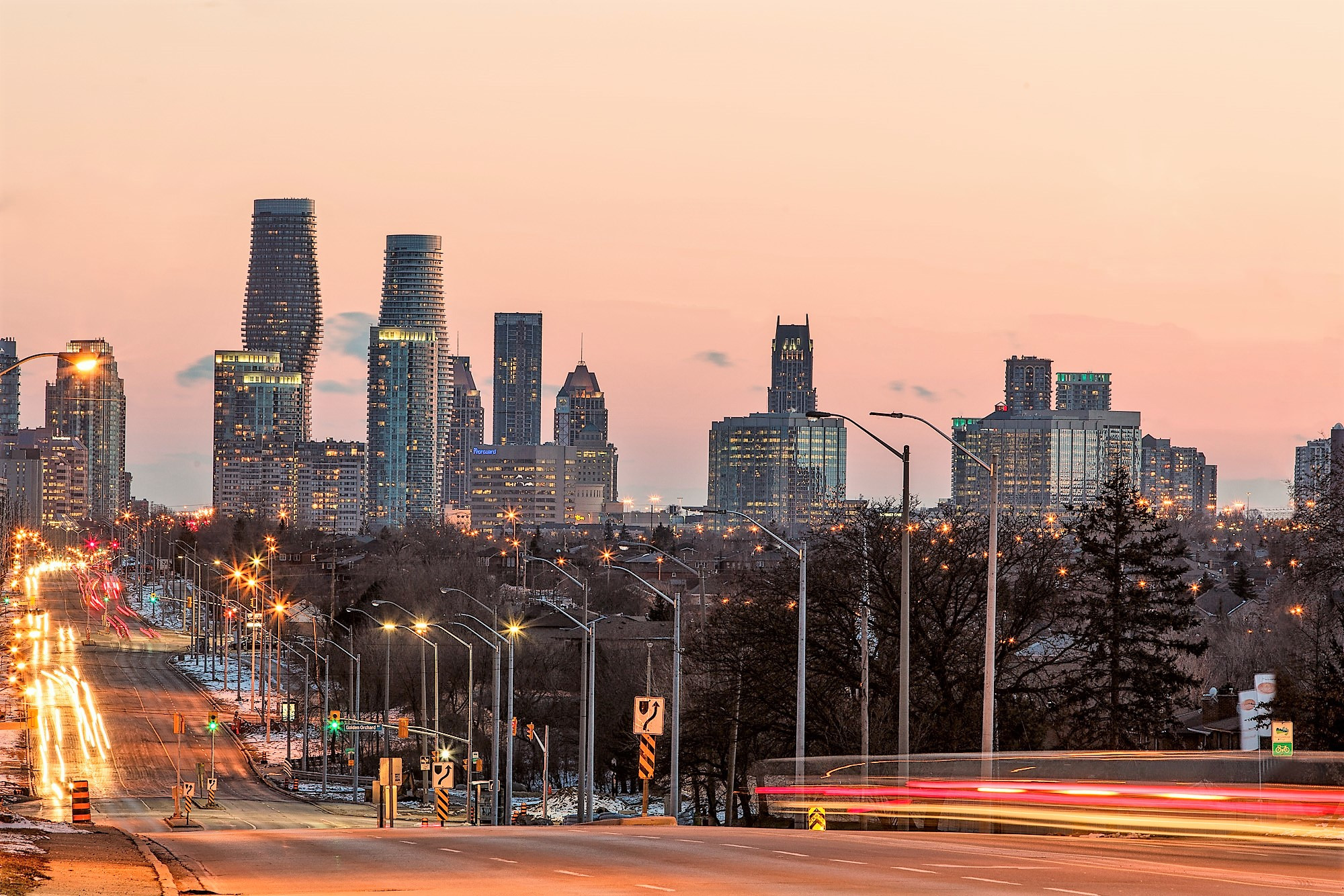 Mississauga before and after the mayoral tenure of Hazel McCallion.
(City of Mississauga/Flickr)
She thundered into microphones: not one cent of the cleanup would be paid by her taxpayers. She later did everything in her power to change weak legislation that had allowed dangerous cargo to be transported through cities.
It was a defining period for women in politics.
McCallion's example continues to gain resonance. She oversaw a council that would eventually feature more women than men. It was no surprise who helped that shift.
"She not only opened the door for women in politics and in business, but she smashed right through it, and she helped open it and helped us realize our full potential. During her tenure as mayor, Mississauga led the way with women in leadership positions, long before it was fashionable," Mayor Crombie said.
"She was in a class of her own. We were incredibly progressive when it came to female representation at the highest levels of leadership… and that is largely because of the example that Hazel set."
Current Mississauga Mayor Bonnie Crombie recognized Hazel McCallion on Tuesday for creating an opening for women in politics.
(Alexis Wright/The Pointer)
Mississauga continues to be led by a woman, a testament to how Hazel broke gender barriers that continue to be dismantled in politics.
"Hazel was Mississauga through and through and it was her efforts that built us into the city that we are today," Crombie said on Tuesday, adding that when she asked her mentor what would be next for the city, her response was independence for Mississauga — a request that boomed through the audience on Tuesday.
Departing the Region of Peel has been a preoccupation over the years since McCallion first vowed to spring her city from the two-tiered regional system of local government. Her almost four decades at the helm of city council featured regular battles with premiers as she pushed to get Mississauga out from the clutches of regional government. Elected officials have long argued that without having to subsidize its smaller neighbours through tax dollars funnelled from City coffers to the Region, Mississauga would be able to realize its true potential.
Mississauga grew from less than 200,000 residents in 1971 (before it became a municipality) to more than 500,000 about 20 years later. Fast forward to the present day, the city's population now sits well over 800,000 residents, far bigger than single-tier cities like Hamilton, London and Kingston. Yet it is still hindered by decisions and funding for Caledon's and Brampton's future growth.
Crombie has said granting Mississauga its independence would honour her good friend's legacy.
"Everything she did was for the betterment of our city to ensure that even long after her time that Mississauga would continue to thrive."
Somewhere, the Hurricane was probably looking down Tuesday, telling those below, they better get it done… or else!
---
Email: [email protected]
Twitter: @mcpaigepeacock
---
COVID-19 is impacting all Canadians. At a time when vital public information is needed by everyone, The Pointer has taken down our paywall on all stories relating to the pandemic and those of public interest to ensure every resident of Brampton and Mississauga has access to the facts. For those who are able, we encourage you to consider a subscription. This will help us report on important public interest issues the community needs to know about now more than ever. You can register for a 30-day free trial HERE. Thereafter, The Pointer will charge $10 a month and you can cancel any time right on the website. Thank you
Submit a correction about this story