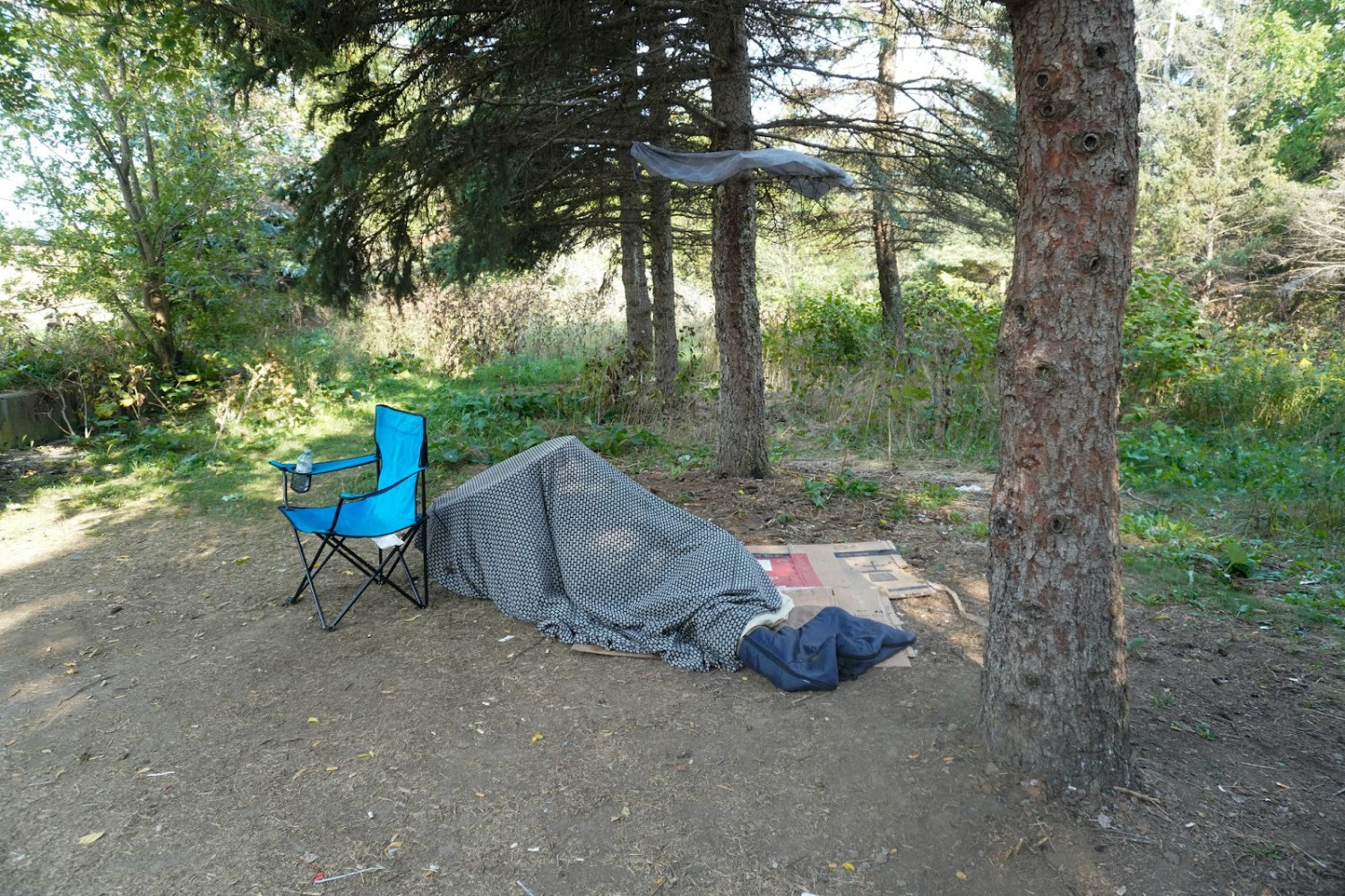 Alexis Wright/The Pointer files
Peel needs almost $1 billion to fill growing housing gap; Trudeau Liberals have provided 'minimal federal accountability'  
The federal government has no idea whether the billions of dollars it's investing to reduce chronic homelessness is actually making any difference.
This was the main takeaway from a probe conducted by auditor general Karen Hogan, whose report was tabled in the House of Commons in November.
Infrastructure Canada invested $1.36 billion into housing programs across the country between 2019 and 2021, but was unable to tell auditors whether the rates of chronic homelessness had gone up or down over that time.
The Canada Mortgage and Housing Corporation (CMHC) has spent $4.5 billion since 2018 as part of the National Housing Strategy, but "did not know who was benefiting from its initiatives," according to a press release.
Overall, the federal AG found that halfway through the 10-year horizon of Canada's ambitious national strategy, there was a lack of coordination within Prime Minister Justin Trudeau's Liberal government and a complete lack of leadership to determine who in Ottawa was ultimately responsible for reducing chronic homelessness.
"One of my biggest concerns is the lack of federal accountability for achieving Canada's target to reduce chronic homelessness by half by 2028," Hogan states in a press release.
The two key organizations responsible for ensuring action on the national strategy both refused to accept responsibility for the file, Hogan said.
"Despite being the lead for the National Housing Strategy and overseeing the majority of its funding, the Canada Mortgage and Housing Corporation took the position that it was not directly accountable for addressing chronic homelessness. Infrastructure Canada was also of the view that while it contributed to reducing chronic homelessness, it was not solely accountable for achieving the strategy's target of reducing chronic homelessness. This meant that despite being a federally established target, there was minimal federal accountability for its achievement," Hogan's report states.
Her audit was a damning indictment of Trudeau's Liberal government, which has repeatedly stressed that addressing homelessness across Canada—an issue exacerbated by the COVID-19 pandemic—is a top priority.
Hogan's audit came six years after Trudeau unveiled Canada's National Housing Strategy in 2017, which marked the federal government's return to the housing portfolio after much of the programming had been downloaded to provinces—many of which, including Ontario, then swiftly downloaded it onto municipalities—two decades earlier.
"With this Strategy, the federal government is not only back in housing, but we're here to stay for the long-term," Trudeau said at the time.
This long-term support never materialized.
The Region of Peel approved its multi-billion budget on Thursday, which includes some of the most ambitious investments and goals for addressing the affordability crisis in Peel seen in years, but it was clear a significant portion of the money required is simply not available.
Chris Goodman spoke to The Pointer this past fall about his experience with homelessness. He said he preferred to live outdoors than deal with the discomfort of the overburdened shelter or subsidized housing system.
(Alexis Wright/The Pointer)
Aileen Baird, the Region's director of housing services, did not mince words when she told councillors that chronic underfunding from the provincial and federal governments was directly to blame for the ongoing crisis unfolding in Peel.
It's estimated the Region of Peel is only helping 30 percent of residents that are in desperate need of housing assistance. It's a number that could shrink further following the changes made by Premier Doug Ford's Bill 23, which forces municipalities to fund certain affordable housing stock that used to be paid for by developers.
For 2023, the housing department is receiving a $12.5 million increase to its budget, bringing the total operational spending to $155.2 million along with a capital budget of $169.1 million. This capital investment, approximately $47.5 million more than 2022, will help expand much needed shelter space in Peel, and $66.9 million for housing projects as part of the housing master plan which looks to build 5,650 new affordable units by 2034. According to the Region, 392 units were added in 2022 with just under 1,000 more currently "in progress" through 10 different projects.
The completion of this master plan is contingent on support from the federal and provincial governments, which have so far failed to take make any commitments to sustained, long-term support to fill the growing shortage of affordable housing in Peel. Currently, only 32 percent of the 30 projects that make up these 5,600-plus units are funded. According to the 2023 business plan for Housing Services, only 24 percent of the operating budget is funded by the federal and provincial governments. There is currently no money from upper levels to support the 2023 capital plan.
"I haven't seen any tangible actions from our MPPs and our MPs," Caledon Mayor Annette Groves said. "This is a much bigger animal than just providing safe housing, it becomes a big cost on every other service."
Though regional staff and council members have long blamed Ottawa and Queen's Park, the Region of Peel has failed to commit funding to support its own approved housing policies, despite a crisis staring in the face of officials for decades, one that has rapidly deteriorated over the last five years.
The Region's initial housing strategy, the Home for All plan, was an abject failure. In total, the plan approved to provide housing from 2018 to 2028 established that Peel needed 7,500 new units annually, with at least 2,000 of them affordable, and another 5,500 at market rate. Across 10 years, the plan suggested public sector involvement to deliver 10,000 of the 75,000 units needed in Peel by 2028. Following reporting from The Pointer in 2021, which outlined how Peel was not meeting even a fraction of its targets, Peel staff described the council-approved goals as "aspirational" and said the plan would be updated.
The tragic reality is this lack of attention by all three levels of government has pushed more and more Peel residents out of their homes, with few places to turn.
The resulting increase in homelessness then creates additional pressures on the criminal justice and healthcare systems as people become more desperate to find money to escape their precarious living conditions, or are made unhealthy by living on the streets or in other bleak arrangements.
While housing development is booming across Brampton and Mississauga, the luxury condos and single-detached dwellings being built are often out of reach for more and more homebuyers.
(Alexis Wright/The Pointer)
According to Baird, the situation is only getting worse, with a "big and growing" gap between the need for service and what Peel can provide.
"It's startling, it's alarming," Groves said.
The data makes it clear Peel does not have the resources to address the crisis:
There are currently 90,000 households in Peel in core housing need, meaning they spend too much of their income on housing that is not meeting their needs
The Region's centralized waitlist has ballooned to 28,000 households, a staggering 115 percent increase from the 13,000 on the list in 2018
About 3,600 families, adults and youth are served annually at regional shelters, but shelter occupancy is currently averaging 117 percent of capacity every week
According to the business plan, in 2022, requests for service increased over 200 percent compared to 2021. As of January 2022, average response time for service is 10 to 12 weeks, which exceeds the expected service standard. This means someone in need of housing assistance is waiting up to three months just to hear back from a regional representative (actual wait times once registered are often more than a decade).
"This is a much larger issue, it's a much larger concern, if we're not able to house these vulnerable individuals and house them in a safe environment," Groves said, pointing to how this lack of investment then leads to increased need in the areas of mental health and addictions and policing (which then facilitates the cycle of money not being invested into the core problem of housing availability).
The Peel Regional Police received a significant budget increase for 2023, more than eight percent, propelled by a request from Chief Nishan Duraiappah who said the additional funds were desperately needed to address a growing workload.
Baird, the housing services director, told councillors that data supports an upstream approach to funding, which can have "profound" impacts on municipalities. The Canadian Centre for Economic Analysis estimates that for every dollar invested into housing in the GTA it reduces social assistance costs by 95 cents; cuts healthcare costs by 50 cents, increases federal and provincial tax revenues by 60 cents and increases GDP by $2.40.
Peel's housing system is further stressed by the need to not only add new units to meet the rising demand, but maintain the units it already manages.
Baird says there is currently a significant funding shortfall for projects meant to keep existing housing units in decent shape. In Peel's affordable housing system, there are approximately 5,600 affordable rental units and more than 10,000 subsidized units managed by different providers, including the Region of Peel (750 units); the Peel Housing Corporation—which is owned by the Region of Peel (6,882 units); 46 other non-profit and cooperative housing providers (5,000 units) and private landlords (3,800 units).
The Region estimates there is a funding gap of approximately $858 million over the next ten years that will need to be filled to keep its affordable housing units in livable condition.
It's a "significant funding shortfall," Baird told councillors.
"The feelings of despair and hopelessness among some of our clients is noticeably worse," she said.
To improve services for clients, councillors approved the addition of four staff members for its housing division to help manage the significant increase in demand for services. Three contract roles will also become full time to help address the increased demand in the region's shelters. The affordable rental incentives program, which provides benefits for developers to build affordable units, will increase to $7.6 million in 2023, from $2.5 million offered last year.
The housing budget also includes $23.7 million to overhaul the region's Wilkinson Road Shelter—a shelter for single male adults—which will expand from 85 beds to 150; and $70.8 million for Peel Housing Corporation for maintenance of existing units.
It's clear these investments are not enough.
The Region's business plan for housing lists advocacy efforts aimed at the federal government for increased funding as a top priority in 2023.
---
Email: [email protected]
Twitter: @JoeljWittnebel
---
COVID-19 is impacting all Canadians. At a time when vital public information is needed by everyone, The Pointer has taken down our paywall on all stories relating to the pandemic and those of public interest to ensure every resident of Brampton and Mississauga has access to the facts. For those who are able, we encourage you to consider a subscription. This will help us report on important public interest issues the community needs to know about now more than ever. You can register for a 30-day free trial HERE. Thereafter, The Pointer will charge $10 a month and you can cancel any time right on the website. Thank you
Submit a correction about this story