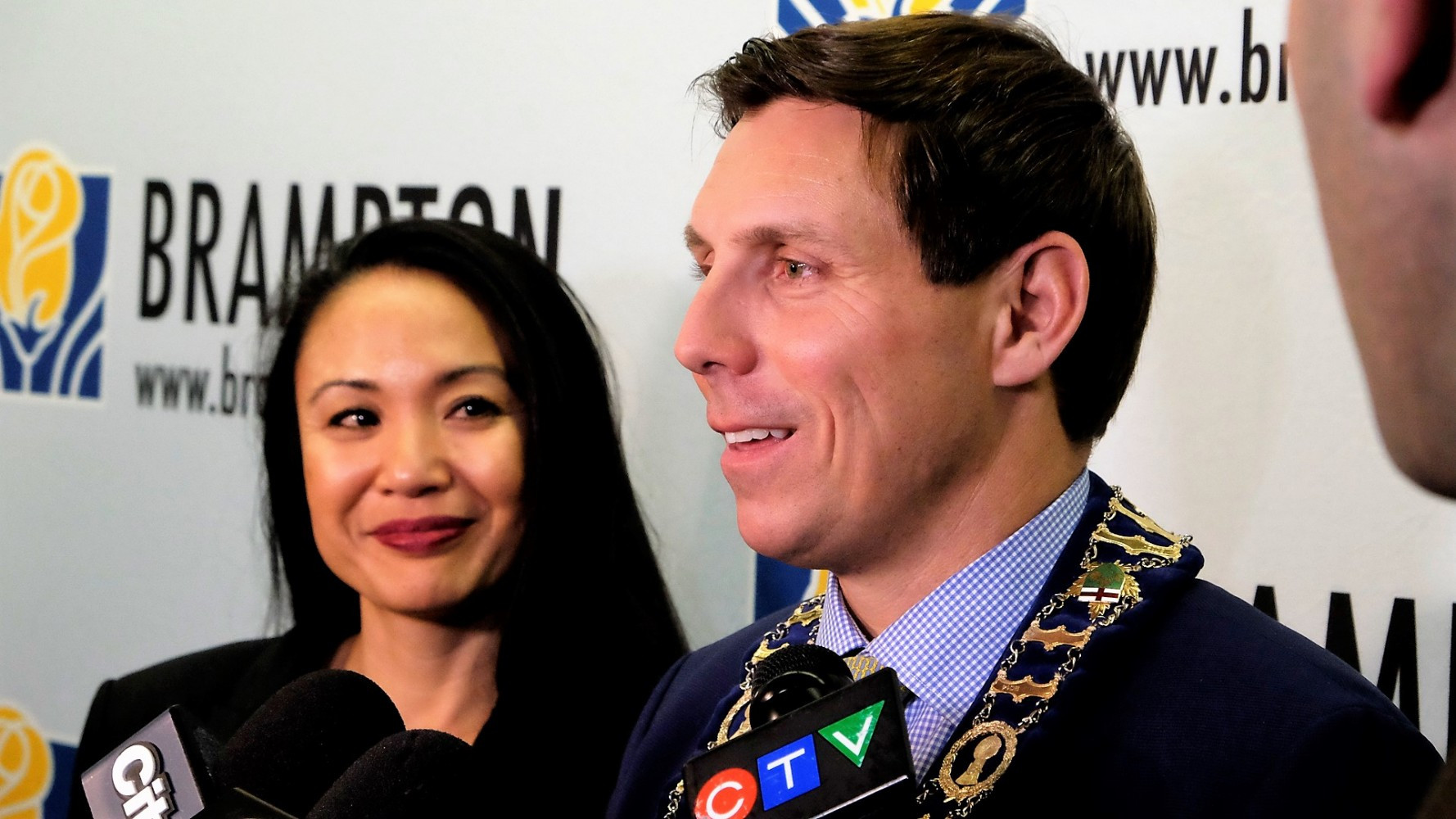 The Pointer files
Brampton election sign chaos continues: FOI docs reveal council members trying to ban them outside used 1,083 illegally placed signs themselves
The same Brampton Council members who passed a motion that bans outdoor election signs are responsible for 1,083 election sign violations during the recent municipal campaign – about a third had Mayor Patrick Brown's name on them.
When the motion was brought forward on November 23 by Rowena Santos, who had pushed to ban election signs shortly after she used them to win her seat on council in 2018, she and other members claimed that widespread violations of election sign rules was one of the main reasons elected members should ban the outdoor use of signs that are a staple of the democratic process across Canada.
When staff revealed almost 4,600 election sign violations by candidates who ran for council, eight of the eleven members attempted to brush the issue aside, voting to excuse the fines, while the names of those who broke the rules were kept from the public.
After public outcry, the vote was turned around, and all fines were reintroduced. However, names were not provided. The Pointer had to file a freedom of information request to obtain the names of violators, the number of violations by each candidate and the fine amounts.
Brampton's chaotic council maneuvering, led by Santos, has taken more twists on the sign front recently. After the motion for a ban on outdoor election signs, which she pushed during the November 23 committee meeting, sparked a fierce public backlash including a legal threat by the Canadian Constitution Foundation, Santos, Brown and the City appear to have walked their ill-conceived scheme back.
They are now claiming the move was just preliminary, even though the vote was clearly intended to enact the ban, through a motion that passed unanimously at the committee level before it was to be ratified, as a formality, during the next full council meeting.
The Pointer, however, could find no ratification of the vote, which should have happened at the next full Council meeting (it appears staff and members of council have somehow kept the motion off any subsequent full council meeting agenda, despite the usual practice of ratifying a committee vote at the next council meeting).
The move by Santos, Brown and others appears to have blown up in their face.
The Canadian Constitution Foundation issued notice that a constitutional challenge would be filed to stop Brampton's unprecedented effort to ban outdoor election signs. Christine Van Geyn, the organization's litigation director, called the ban a "gag by-law."
"In selfishly protecting their incumbent positions with this by-law by banning outdoor election signs outdoors on private property, Brampton politicians have trampled on the rights of residents to express their political opinions in the most crucial time – during an election," she said.
In Brampton, all signs, including election signs are regulated under the authority of the City's Sign By-law 399-2002.
The member of council with most election sign violations for their respective two wards was Gurpartap Singh Toor at 290, only beaten by Mayor Patrick Brown whose campaign racked up 333 violations across all of Brampton.
(Jessica Durling/The Pointer)
Illegal election signs include those that are placed on any public property or on private property without the consent of the owner; those that exceed the maximum size or number of signs permitted by the Sign By-law; and those that continue to be displayed 72 hours after an election.
According to staff, the volume of complaints requiring investigation into illegal election signs continued to grow this year. In the 2018 election there were 1,440 complaints, resulting in 1,167 violations. In the 2022 municipal election race there were 4,574 violations by mayoral and councillor candidates and 4,936 when school trustee candidates are included.
The mayoral race alone was responsible for 1,595 violations, about half of them belonging to the campaign of Bob Singh who ran unsuccessfully against Brown and whose name was on 875 signs cited for a violation. Singh is responsible for $21,875 in fines. Brown, whose own campaign was cited for 333 violations, has to pay $8,325. Nikki Kaur has to cover $7,375 for 295 violations.
The mayoral race was responsible for 34.9% of the 4,574 council-related election sign violations, about half coming from the campaign of Bob Singh. Ward 9 & 10 candidates are responsible for 33% of the total violations.
(Jessica Durling/The Pointer)
After staff highlighted the increasing number of violations on November 23 Council voted to ban outdoor election signs displayed on private property, limiting them to posters inside of homes and displays through windows.
Brought forward by Santos, the motion prohibits any outdoor sign during all elections for all three levels of government. Her name appeared on 18 illegal signs, the second most violations in the City Councillor Wards 1 & 5 race, out of seven candidates. She did not mention this when claiming violations were a key reason for bringing her motion forward.
After the public backlash and legal threat by the Canadian Constitution Foundation, Santos, Brown and the City suddenly changed course.
On December 14, Council voted to hold public consultations on the ban, following an in-camera discussion about potential litigation. Staff will be reporting back to Council with recommendations.
Members of the public demanded to know why Santos, Brown and others did not consult the public prior to bringing a motion forward, without making any effort to gauge how residents feel, including some who just voted to be properly represented by them.
In a release, Van Geyn said the CCF is pleased with Council's backtracking.
"Our sincere hope is that following this consultation period Council realizes that their plan to restrict election speech is legally flawed and changes course. This looks like the first step in a walk back of this by-law, and if that ultimately is the case, it is the right move for Brampton voters."
The motion, which passed November 23 in committee, remains unratified.
Brown, who had 333 violations, has since tried to justify the move to ban outdoor election signs without seeking the input of residents, claiming, after the vote was already taken sparking the backlash, that proper consultation will now be done.
During discussions in support of the ban on November 23, Councillor Harkirat Singh, who had 17 violations, addressed the issue.
"When one person starts doing it everybody has no choice but to follow, otherwise you lose the awareness that you're running. People think just because there's so many signs that a candidate is very strong, then another candidate feels the only way to compete is to also do illegal signs. Everybody wants to one up the other and it gets out of control really fast so I think a clear policy where we just have a clear ban on them will be helpful."
The three candidates responsible for the most violations ran in Wards 9 & 10, which was responsible for 33 percent of the 4,574 council-related election sign infractions, inclusive of the mayoral race. Singh ran as an incumbent.
Manpreet Othi, who ran unsuccessfully for the city councillor role in Wards 9 & 10, had 493 infractions. He won just 1,327 votes, receiving the least amount of ballots among the six candidates, and a bill for $12,325 for the fines.
Incumbent Gurpreet Singh Dhillon had 318 violations, and was fined $7,950. Gurpartap Singh Toor, who defeated Dhillon, had 290 violations, and $7,250 in fines.
Ahead of the election, each candidate's campaign was required to undergo a compulsory information session by the City Clerk's office with the aid of by-law officials. During the mandatory session, information on by-law restrictions were provided and candidates were able to ask questions (the presentation was also emailed to them).
Among elected councillors, Toor has the most violations, followed by Navjit Kaur Brar with 177, Dennis Keenan with 100, Martin Medeiros with 67, Michael Palleschi with 50, Rowena Santos with 18, Harkirat Singh with 17, Paul Vicente with 15, Pat Fortini with 10, and Rod Power with 6.
Keenan, Palleschi, Medeiros and Brar had the highest number of violations in their respective races.
In an interview, Power, responsible for the least number of violations among elected councillors, said that throughout the election he used a master spreadsheet with the name, address and phone number of every person that agreed to a sign on their lawn. He also used this as reference when it came time to collect the signs.
"There's nothing really that hard, it's simple and straightforward really, follow the rules which are clearly defined, and you shouldn't have too much issue," he said.
"Regional Councillor Pat Fortini and I were very diligent working together in regard to signs, we were very hands on putting them out and picking them back up. We knew we would have a few infractions, that's normal because there's somethings you can't control like wind, grass cutting, vandalism, etcetera."
A staff report from 2021, authored by Elizabeth Corazzola, manager of zoning and sign by-law services, noted that a large number of complaints came from signs that had been placed on public property including boulevards and parkland. Other complaints were for excessive signage on residential and non-residential properties, billboards exceeding 2m² in sign area, signs placed on City fences or noise walls and signs displayed for more than 72 hours after the close of the election.
During the municipal election in 2018 there were 440 complaints, resulting in 1,167 fines. In the 2022 municipal election, there were 4,936 fines.
(City of Brampton)
The motion to ban outdoor election signs on November 23 was passed alongside another, shorter-lived motion, clearing all candidates of fines and by-law violations incurred. Each violation carries a $25 fine the candidate responsible for the sign is required to pay. The eight members who initially tried to avoid paying their own fines, through a vote they took themselves, was likely a violation of provincial conflict of interest legislation which prohibits municipal council members from taking votes that benefit themselves financially. Santos, Brown, Palleschi, Vicente Singh, Brar, Keenan and Toor all voted to excuse the fines, while their names were not made public for their own violations (the FOI documents obtained by The Pointer show Brown has to pay $8,325 in fines and Toor has to pay $7,250). Medeiros, Fortini and Power refused to support the motion to excuse the fines, which Singh had brought forward.
After public backlash, those who tried to excuse the fines backtracked and their motion was rescinded.
---
A summary of the FOI documents obtained by The Pointer:
Mayoral race – 1,595 violations
Bob Singh: 875 violations, 7,166 votes
Patrick Brown (elected): 333 violations, 50,652 votes
Nikki Kaur: 295 violations, 21,693 votes
Vidya Sagar Gautam: 88 violations, 1,398 votes
Tony Moracci: 4 violations, 3,775 votes
Prabh Kaur Mand: 0 violations, 235 votes
Regional Councillor Wards 1 & 5 – 91 violations
Seema Passi: 58 violations, 2,587 votes
Idris Orughu: 18 violations, 3,643 votes
Paul Vicente (elected): 15 violations, 7,832 votes
Regional Councillor Wards 2 & 6 – 60
Michael Paul Palleschi (elected): 50 violations, 9,675 votes
Mansoor Ameersulthan: 6 violations, 871 votes
Keba Tamara Thomas: 4 violations, 1929 votes
Babita Gupta: 0 violations, 1,190 votes
Azhar Hussain: 0 violations, 1,337 votes
Gurpreet Singh Pabla: 0 violations, 2,095 votes
Regional Councillor Wards 3 & 4 – 122 violations
Martin Medeiros (elected): 67 violations, 7,693 votes
Ameek Singh: 27 violations, 1,951 votes
Andria Barrett: 13 violations, 2,927 votes
Raman Vasudev: 11 violations, 705 votes
Aquin George: 4 violations, 1,104 votes
Regional Councillor Wards 7 & 8 – 180 violations
Ripudaman Singh Dhillon: 129 violations, 2,707 votes
Gurinder Sehgal: 27 violations, 594 votes
Cynthia Sri Pragash: 14 violations, 917 votes
Pat Fortini (elected): 10 violations, 6,919 votes
Michael Dancy: 0 violations, 2,011 votes
Farooq Ishaq: 0 violations, 825 votes
Matthew Johnson: 0 violations, 1,576 votes
Regional Councillor Wards 9 & 10 – 969 violations
Gurpreet Singh Dhillon: 318 violations, 5,859 votes
Gurpartap Singh Toor (elected): 290 violations, 6,086 votes
Azad Singh Goyat: 220 violations, 1,008 votes
Gagan Lal: 108 violations, 2,498 votes
Mohammad Shaoaib: 22 violations, 1,603 votes
Aneep Dhade: 11 violations, 454 votes
Susan Joseph: 0 violations, 3,200 votes
City Councillor Wards 1 & 5 – 82 violations
Omprakash Kapil: 35 violations, 784 votes
Rowena Santos (elected): 18 violations, 5,143 votes
Tracy Pepe: 16 violations, 1,973 votes
Stacey Ann Brooks: 8 violations, 3,092 votes
MD. Rafiqul Islam: 5 violations, 1,109 votes
Harshmeet Dhillon: 0 violations, 1,241 votes
Steven Lee: 0 violations, 889 votes
City Councillor Wards 2 & 6 – 362 violations
Navjit Kaur Brar (elected): 177 violations, 4,983 votes
Raghav Patel: 57 violations, 1,311 votes
Vijay Mair: 42 violations, 714 votes
Jermaine Chambers: 32 violations, 3,886 votes
Hardip Singh: 24 violations, 608 votes
Carmen Wilson: 22 violations, 2,658 votes
Joe Oreskovic: 6 violations, 1,005 votes
Sirajul Islam: 1 violation, 853 votes
Cody Vatcher: 1 violation, 1,217 votes
City Councillor Wards 3 & 4 – 149 violations
Dennis Keenan (elected): 100 violations, 4,912 votes
Carla Green: 20 violations, 1,802 votes
Jasmohan Singh Mankoo: 11 violations, 1,442 votes
Cleopatra Gooden-Simms: 7 violations, 1,047 votes
Tejeshwar Soin: 6 violations, 588 votes
John Sanderson: 5 violations, 4,599 votes
City Councillor Wards 7 & 8 – 425 violations
Baljit Bawa: 234 violations, 689 votes
Jaskaran Sandhu: 128 violations, 2,849 votes
Donna Williams: 42 violations, 1,848
Damindar Ghumman: 10 violations, 161 votes
Rod Power (elected): 6 violations, 4,069 votes
Cindy-Ann Williams: 4 violations 2,237 votes
Fatima Faruq Ahmad: 1 violation, 1,021 votes
Nataleigh Ballantyne: 0 violations, 493 votes
Kuljit Singh Batra: 0 violations, 258 votes
Raymond Carle: 0 violations, 546 votes
Michael Farquharson: 0 violations, 586 votes
Cheryl Rodericks: 0 violations, 525 votes
Gagan Sandhu: 0 violations, 315 votes
City Councillor Wards 9 & 10 – 539 violations
Manpreet Othi: 493 violations, 1,327 votes
Harkirat Singh (elected): 17 violations, 9,076 votes
Arsalan Baig: 16 violations, 1,400 votes
Jagdish Singh Grewal: 12 violations, 2,316 votes
Janice Gordon-Daniels: 1 violation, 4,577 votes
Mahendra Gupta: 0 violations, 1,341 votes
Total: 4,574

Data for school board trustees show violations for Wards 9 & 10 continue to be high, similar to the data for council candidates.
(Jessica Durling/The Pointer)
EP Trustee, Peel District School Board Wards 1 & 5 – 35 violations
Sophia Jackson: 10 violations, 3,175 votes
Ali Qamar: 10 violations, 1,652 votes
Harparminderjit Singh Gadri: 8 violations, 1,024 votes
Vipul Shah: 5 violations, 1,137 votes
David Green (elected): 2 violations, 3,706 votes
Shajinder Padda: 0 violations, 327 votes
EP Trustee, Peel District School Board Wards 2 & 6 – 87 violations
Mansoor Mirza: 33 violations, 1,335 votes
Daniella Balasal: 20 violations, 1,372 votes
Abdul Raheem: 17 violations, 803 votes
David W. Bosveld: 12 violations, 1,233 votes
Prashanth Panda: 3 violations, 788 votes
Nirpal Sekhon: 2 violations, 2,111 votes
Arun Alex: 0 violations, 901 votes
Yvonne Azaglo: 0 violations, 578 votes
Will Davies (elected): 0 violations, 2,482 votes
Nicardo Francis: 0 violations, 409 votes
Blair Nitchke: 0 violations, 365 votes
Paula Schulzke: 0 violations, 669 votes
EP Trustee, Peel District School Board Wards 3 & 4 – 6 violations
Kathy McDonald (elected): 3 violations, 5,698 votes
Ranjit S. Dhaliwal: 3 violations, 3,356 votes
Claudio Lewis: 0 violations, 889 votes
Guillermo Dacosta Ferrer: 0 violations, 1,114 votes
EP Trustee, Peel District School Board Wards 7 & 8 – 77 violations
Pardeep Kaur Sanghera: 77 violations, 3,218 votes
Karla Bailey (elected): 0 violations, 4,047 votes
Pushproop Brar: 0 violations, 631 votes
Michael J. Gyovai: 0 violations, 1,210 votes
Jamie Peddle: 0 violations, 1,969 votes
Enver Singh Sumbal: 0 violations, 110 votes
Raheel Yousaf: 0 violations, 891 votes
EP Trustee, Peel District School Board Wards 9 & 10 – 143 violations
Taranvir Dhaliwal: 119 violations, 4,433 votes
Satpaul Singh Johal (elected): 11 violations, 6,461 votes
Andre S. Levy: 7 violations, 2,917 votes
Yadwinder Gossal: 4 violations, 716 votes
Therese Guidolin: 2 violations, 1,071 votes
Muhammad Idrees Khan: 0 violations, 979 votes
Robbie Bassi: 0 violations, 936 votes
Atif Ejaz: 0 violations, 485 votes
ES Trustee, Dufferin-Peel Catholic District School Board Wards 1, 3 & 4 – 5 violations
Anisha Thomas (elected): 5 violations, 1,429 votes
Dominique Darmanin-Sturgeon: 0 violations, 1,144 votes
Theresa Laverty: 0 violations, 1,409 votes
ES Trustee, Dufferin-Peel Catholic District School Board Wards 2, 5 & 6 – 0 violations
Nelson Carepa: 0 violations, 470 votes
Darryl Brian D'Souza (elected): 0 violations, 2,217 votes
Damien Joseph: 0 violations, 673 votes
Ana Solis Alfano: 0 violations, 1,212
ES Trustee, Dufferin-Peel Catholic District School Board Wards 7, 8, 9 & 10 – 9 violations
Kathyann Bruney: 4 violations, 400 votes
Roxanne Smith: 4 violations, 553
Shawn Xaviour (elected): 1 violation, 2,347 votes
Marichelle Wilkinson Carle: 0 violations, 423 votes
Christine Allen: 0 violations, 1,313 votes
Total: 362
---
Email: [email protected]
Twitter: @JessicaRDurling
---
COVID-19 is impacting all Canadians. At a time when vital public information is needed by everyone, The Pointer has taken down our paywall on all stories relating to the pandemic and those of public interest to ensure every resident of Brampton and Mississauga has access to the facts. For those who are able, we encourage you to consider a subscription. This will help us report on important public interest issues the community needs to know about now more than ever. You can register for a 30-day free trial HERE. Thereafter, The Pointer will charge $10 a month and you can cancel any time right on the website. Thank you
Submit a correction about this story