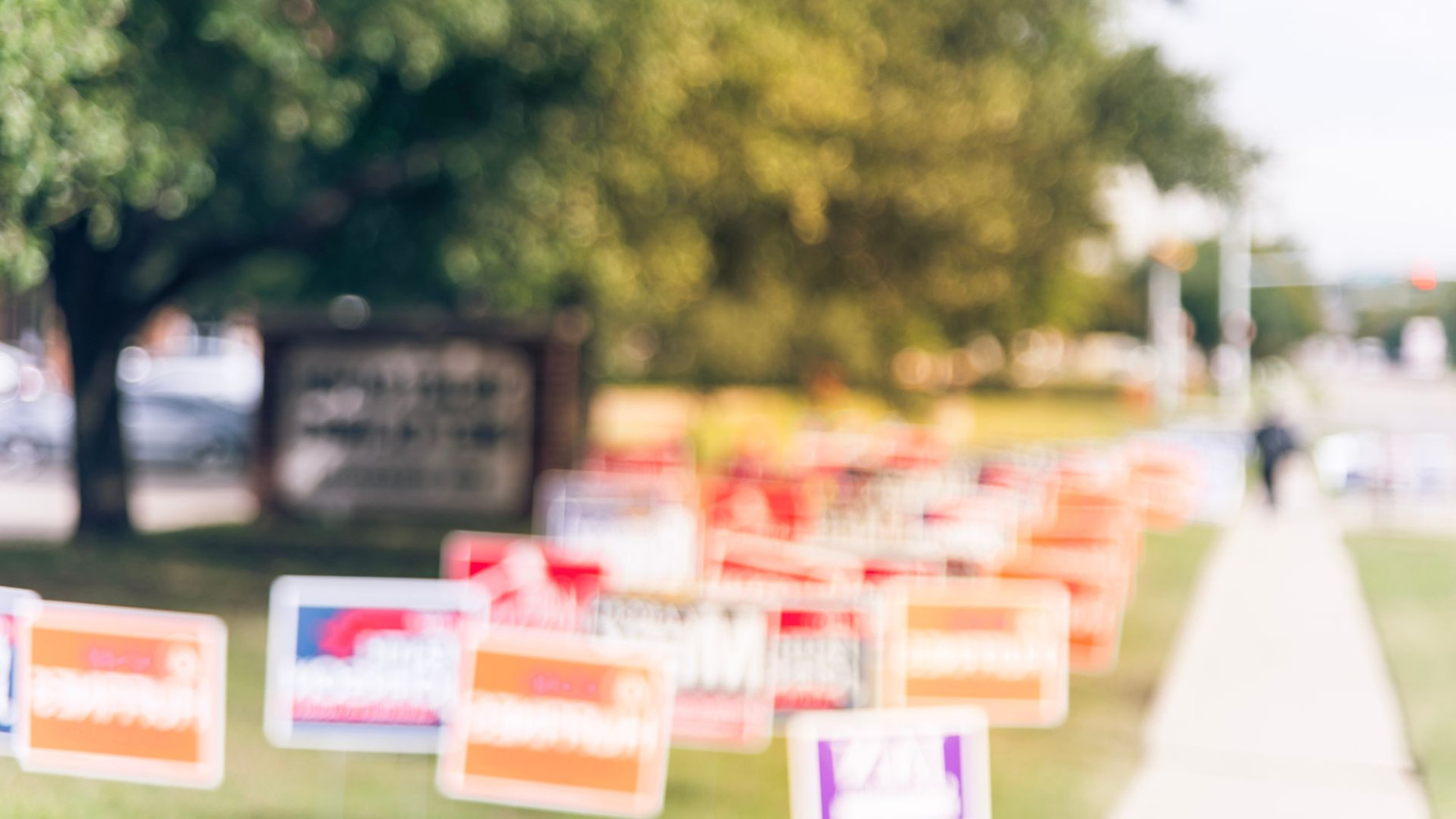 Canadian Constitution Foundation
'Gag by-law to selfishly protect incumbents': Rowena Santos's Brampton outdoor election sign ban challenged by Canadian Constitution Foundation 
"In selfishly protecting their incumbent positions with this by-law by banning outdoor election signs outdoors on private property, Brampton politicians have trampled on the rights of residents to express their political opinions in the most crucial time – during an election."
That was the stinging statement by Christine Van Geyn, the Canadian Constitution Foundation's litigation director, who called it a "gag by-law" when announcing a constitutional challenge to Brampton's new, unprecedented elections sign rule, pushed once again by Councillor Rowena Santos.
Had her six election challengers in October not split the vote, there's a good chance Santos would have lost Brampton's Wards 1 & 5 race.
She could only garner about nine percent of the eligible vote, or 36 percent of the ballots cast (only 24.6 percent of Brampton's electorate turned up at the polls).
In a repeat of what she did in 2019, after first getting onto council, Santos once again is claiming that her move to ban outdoor election signs has nothing to do with putting future opponents at a disadvantage, even though her dismal performance suggests few of her constituents want her representing them.
One of her first orders of business after being sworn in for the current term was to bring forward a motion to do what she wanted to do almost four years ago.
Councillor Rowena Santos first attempted to ban election signs at the beginning of her first term.
(The Pointer files)
But Brampton's new by-law banning the display of all election signs outside of homes and businesses hasn't been without controversy, attracting delegations from residents and the new legal challenge by the Canadian Constitution Foundation (CCF), which could, once again prevent Santos from getting her way. Last term, after City staff were supposed to report back following her push to curtail the use of election signs, it became clear there was little support, and The Pointer could not find any public report that was prepared by officials.
But now that Santos has most of council behind her, as the large majority bloc under Mayor Patrick Brown faces little opposition, following the retirement or defeat of all but two of the members who often voted against him last term, the path has been cleared, even if the outdoor sign ban makes little sense.
The new by-law applies to all elections, not just local ones and staff reported no other municipality in Ontario has made the same move.
In Brampton, all signs, including election signs are regulated under the authority of the City's Sign By-law 399-2002.
According to staff, the volume of complaints requiring investigation into illegal election signs continued to grow this year. Illegal election signs include those that are placed on any public property or on private property without the consent of the owner; those that exceed the maximum size or number of signs permitted by the Sign By-law; and, those that continue to be displayed after they are required to be removed following an election.
Council was told by Jean-Pierre Maurice, director of enforcement & by-law services, on November 16, that in the 2022 municipal election more than 4,000 signs violated the by-law – each carrying a $25 fine the candidate responsible for the sign was required to pay.
On November 23, Council voted to ban election signs displayed on private property, limiting them to inside of homes and through domicile windows.
The By-law:
---
Therefore Be It Resolved that as per City Staff Report issued on 2021-05-17,
Option 1 be adopted to amend the Sign By-law to only permit the display of election posters in windows or in windows in doors with this restriction applying to all private property, including residential and non-residential lands. Only exempting election posters displayed from the interior of the building and restricting the use of all exterior election signs for candidates and third parties; and
That the amended sign by-law apply to all future elections; and
That staff recommend an increase to fines associated with illegal election signs in order to deter and recuperate costs associated with illegal signs.
---
Brought forward by Santos, the reasons included the previous by-law being consistently contravened, visual clutter, resources spent on enforcement, and the alternative option of window posters. The City and Santos have also claimed environmental concerns, however, given their track record on climate change issues, this justification is not supported by the lack of meaningful action to reduce emissions.
When Santos attempted to ban election signs last term, former councillor – now MPP – Charmaine Williams expressed concern that Santos was trying to take away the rights of future candidates seeking to participate in the political process.
She wasn't alone, as Santos was criticized for taking advantage of election signs to help win her seat on council, then turning around and attempting to prevent future opponents from doing the same.
Her efforts fizzled and many forgot about the move, which was widely viewed as anti-democratic, with all other municipalities allowing the use of outdoor municipal election signs on residential and commercial property.
In response to the recent motion, the Canadian Constitution Foundation (CCF) sent a letter to Council, and launched a legal challenge against the new by-law language, stating that the move simply intends to protect incumbent advantages during elections.
In the letter to council, the CCF outlined that the sign law lacks a rational connection to any goals articulated by council, that the by-law is not minimally impairing, and is not proportionate. The letter cites multiple Supreme Court decisions that have struck down far less restrictive by-laws than the one enacted in Brampton.
The CCF litigation director, Christine Van Geyn, expanded on the organization's position that Santos and her supporters on council are simply trying to push a "gag by-law" to "selfishly" protect their incumbent positions.
"This is why we wrote a letter to the Brampton Council to ask they reconsider. Council proceeded to vote on an unconstitutional by-law, and we have retained [counsel and] we are prepared to litigate. We are jointly represented along with a group of impacted Brampton residents and voters," Van Geyn stated.
During the committee meeting on November 23, Councillor Martin Mederios questioned staff about the precedent for such a move; officials confirmed they weren't able to find any other municipality that has done something similar.
"There was certainly no indication in any of our benchmarking that any other municipality has been this restrictive," Elizabeth Corazolla, manager of zoning and sign by-law services, replied. "We are among the more restrictive municipalities by only allowing it on private property, but there is nobody right now only permitting it from the interior of the dwelling or business."
Corazolla said it is possible the move could face legal headwinds.
"I'm not sure if my colleague will have anything to add from a legal perspective, but certainly a challenge is potential."
The motion passed unanimously, alongside another motion clearing all candidates of fines and by-law violations incurred through the recent election period. The second motion was opposed by Medeiros, Pat Fortini and Rod Power. Santos voted to clear herself, if she faced any of the fines stemming from the 4,000 violations, and her colleagues, while simultaneously claiming that her outdoor ban was partly to avoid violations. The motion to excuse all the fines lasted less than a week – getting cancelled before it was to be ratified on November 28 (The Pointer has filed a freedom of information request to find out which members of council were responsible for the violations).
In attendance at that later meeting were two Brampton residents who shared objections with Council's previous by-law banning outdoor lawn signs.
Tracy Pepe, who ran against Santos in October, questioned Council on the lack of community consultation and accused members of violating the Charter of Rights and Freedoms.
"Me, as a property owner, have the right to choose if I want to or do not want to have a sign on my lawn because I am a taxpayer. Under the Charter of Rights my freedom of speech, if it is not hate speech, is protected by federal law."
Pepe offered Council a series of alternatives, including exclusively banning incumbent election signs.
"I would like to ban all election signs for the incumbents because they have and will have established themselves in a public forum. Because you are public officials who are voted in every four years I would suggest you allow new candidates to add signs to the properties as long as there is a written consent by the property owner."
Azad Goyat was the other Brampton resident who delegated against the by-law change, arguing it should be the resident's decision.
"The residents have a choice to put that election sign on their property," Goyat said. "The resident has a choice. Don't force them not to put the sign, rather regulate the sign by-laws and enforce. Only proper enforcement and proper education are the only key to safeguard the democratic process and democracy of the people."
---
Email: [email protected]
Twitter: @JessicaRDurling
---
COVID-19 is impacting all Canadians. At a time when vital public information is needed by everyone, The Pointer has taken down our paywall on all stories relating to the pandemic and those of public interest to ensure every resident of Brampton and Mississauga has access to the facts. For those who are able, we encourage you to consider a subscription. This will help us report on important public interest issues the community needs to know about now more than ever. You can register for a 30-day free trial HERE. Thereafter, The Pointer will charge $10 a month and you can cancel any time right on the website. Thank you
Submit a correction about this story