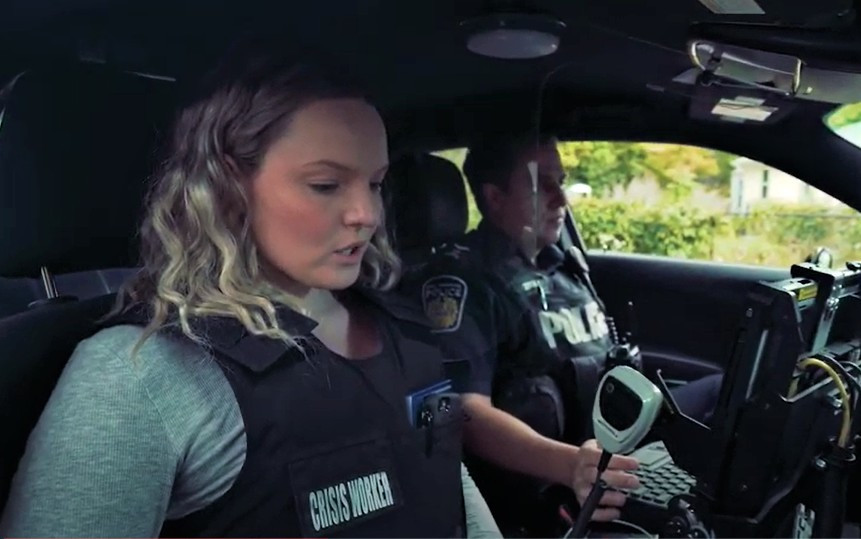 (Youtube-Peel Police) 
The CMHA wants to handle certain mental health calls, to avoid police interactions that often go wrong 
"We recognize that more has to be done to support those in crisis, and police should not be the primary responders called upon to manage mental health calls. While we are addressing the growing needs for mental health support, we know that gaps still exist," Peel Regional Police Chief Nishan Duraiappah stated in 2021, following a year of tragedies in the community at the hands of those entrusted to protect it.
After 2020 was marked by a troubling series of deaths resulting from police responses to mental health calls, officers were widely scrutinized about the way they handled these crises and whether they have the expertise to deal with individuals suffering a range of mental distress.
In response, the Canadian Mental Health Association (CMHA) Peel Dufferin developed a pilot program to provide an additional layer to crisis response for members of the community experiencing a mental health or addictions crisis who will now be able to receive an immediate response that does not involve law enforcement.
It has been nearly three months since the organization's pilot program was launched, allowing trained crisis workers to respond to mental health calls reported to Peel Regional Police but do not require a police response.
While officers still need to respond when there is any risk of danger or harm to an individual, including the person in crisis, for example if any weapon is involved (as mandated under the Mental Health Act) it is clear police do not beed to be sent to every mental health call. Often, trained mental health professionals are better equipped to deal with an issue. This is where CMHA Peel Dufferin's new pilot project has added a critical component to crisis response services in Peel.
"This initiative allows us to have a mental health response to a mental health call while reducing the stigma associated with getting help for mental health and addictions," David Smith, CEO of CMHA Peel Dufferin, said. "The team is able to offer clinical interventions and connection to resources in the community, which decreases visits to the emergency department, avoids criminalization of mental health and addictions, and gets folks the help they need when they need it."
In a September press release from the organization, Chief Duraiappah said Peel Regional Police would also be embedding a third crisis worker in its communications centre "to provide support, education and an immediate response to callers inquiring or requesting a mental health or addictions response."
The project launched at a critical time. Between 2021 and 2022 CMHA Peel Dufferin received 98,756 client visits, up from 84,153 visits reported in the previous year. According to the 2020-21 Annual Report, the organization served 5,149 clients in crisis, which included 3,916 mobile visits with police. Those numbers increased from 2021 to 2022 with the organization reporting 6,894 clients in crisis served and 4,070 mobile visits with police.
CMHA Peel Dufferin is reporting an increase in demand for services with 98,756 client visits in 2021, up from 84,153 client visits reported in 2020.
(Alexis Wright/ThePointer)
Individuals who call Peel Regional Police when experiencing a crisis can now receive support from trained crisis workers, rather than from police officers who often lack the type of familiarity with issues and knowledge of how best to deal with them that mental health experts have.
The community pilot is a mental health-led service dispatched from 911 police communications that diverts appropriate 911 calls away from a police response and puts them into the hands of trained mental health professionals. A team of two crisis workers who are then able to assess the individual in distress, de-escalate the situation, offer support and help put a safety plan into place will then be dispatched. The team will operate 12 hours per day, seven days a week.
"The team can facilitate connection to ongoing services to reduce the likelihood of further crises occurring," a CMHA Peel Dufferin spokesperson explained in an email. "It's about providing a health response to a health issue. The pilot also aims to avoid criminalization of mental illness and to reduce stigma."
The spokesperson said anyone calling 911 in a mental health crisis would be eligible for the type of response the new program offers, unless there is a threat to public safety or if a police investigation is needed.
"This pilot program is unique in its design, with few other examples from which to draw — making it more complex than [Mobile Crisis Rapid Response Teams]. We also had a much shorter time frame to implement the pilot as compared to MCRRT. As a result, there have been lots of learnings and ongoing collaboration."
There is limited data available so far, as the program just launched, to show how successful it has been since deployment.
"As expected with any new program, there has been a ramp up period where the model is being socialized, and processes continue to be refined," the spokesperson said. "As a result, we had a slow start but are now seeing an increase in our calls and community visits. We have seen very favourable outcomes and have been able to support individuals in their own environment without unnecessary mental health apprehensions."
The hope is to avoid harmful escalations like what unfolded in the case of D'Andre Campbell, an individual diagnosed with schizophrenia and bipolar disorder and battling mental health issues, who was shot and killed by two officers in April of 2020. When they entered the kitchen and found Campbell with a knife they immediately pulled their weapons, which only further agitated a person who was suffering a mental health crisis. Instead of de-escalating the situation the response went in the wrong direction, "quickly turning into an armed standoff," Special Investigations Unit (SIU) Director Joseph Martino declared following the SIU investigation into the conduct of the officers.
A couple of months later a similar incident took place in June of 2020 when police responded to a wellness check at an apartment building in Mississauga where 62-year-old Ejaz Choudry, who was experiencing a mental health crisis at the time, was shot dead by Peel police tactical unit officers. Instead of being greeted by a crisis team able to de-escalate the situation and get him the help he needed, he was confronted by a tactical team that stormed through the balcony door of Choudry's second-floor apartment, fearful that the presence of a knife could have led to violence, potentially against an officer, and then shot him moments later.
In both instances, a crisis team arguably could have de-escalated the situation before a life was lost. Police had to make quick decisions to protect themselves and possibly others, a situation that could have possibly been avoided using other approaches.
These types of interactions have become more common in recent years. According to Peel Regional Police data, the number of people apprehended under the Mental Health Act by Peel police increased 50 percent over a recent six-year period, from about 4,000 in 2014 to approximately 6,000 in 2019. In 2020, 5,950 mental health calls were attended, during the first year of the COVID-19 pandemic.
The rapid rise of such incidents has illustrated the need for reform and police oversight to address issues arising from the way mental health crises are handled. It also underlines a dire need for more funding to address the root causes of these problems. But financial help has been hard to find.
Chief Duraiappah has previously acknowledged the need for reforms to fill the gap in the Region's response to mental health crises. In his statement following the release of Campbell's SIU report, he pointed to PRP's MCRRT and the Crisis Outreach Assessment Support Teams (COAST) as key players in the transformation around mental health response. However, Peel currently does not have enough MCRRT resources to meet the growing demand. Duraiappah has noted current resources need to be tripled to meet that demand. In the meantime, he has lamented, frontline officers often spend the majority of their time on duty dealing with mental health calls, including attending hospitals where individuals have to be taken for care.
Peel Regional Police Chief Nishan Duraiappah acknowledges the need to fill the gap in the Region's response to mental health crises.
(Peel Regional Police)
With MCRRT, the program pairs a crisis support worker with a police officer to respond to calls for those in mental health crisis. It has been very successful in limiting police apprehensions in certain cases and reducing the time officers spend at hospitals with those in crisis.
"This team typically sees individuals who have serious mental health issues, may lack insight, may be disconnected from supports and where some element of risk may exist," the CMHA Peel Dufferin spokesperson explained. "The officer is able to provide a secure environment where the crisis worker is able to focus on the individual in crisis in order to de-escalate and assess the situation."
If the individual's safety cannot be assured, the team can accompany the person to the hospital and facilitate the help they need. The aim of MCRRT is to offer a health response to a health issue and divert unnecessary police trips to the emergency department.
"It's about receiving the right type of care, at the right time in the right place," the spokesperson said.
In 2020, mental health calls responded to by a frontline officer alone resulted in an apprehension 83 percent of the time, compared to only 21 percent of calls handled by an MCRRT. According to Peel Regional Police, in the first 10 months of 2021 (the most recent numbers publicly available) MCRRTs attended 2,257 calls for mental health crisis and COAST completed 1,053 mental health follow-ups.
But the resources for these programs are inadequate for a large urban region where mental health calls increased more than 50 percent in five years, rising from 4,000 in 2014 to over 6,000 in 2019. The Pointer previously reported that the night of Choudry's death, PRP were unable to get MCRRT assistance because they were busy on another call.
According to Chief Duraiappah, because of the limited MCRRT resources, frontline officers are still responding to approximately 62 percent of mental health calls. PRP had indicated plans to put additional MCRRT teams on the street in 2021, but it's been made clear a gap will still exist with PRP unable to send MCRRT to every mental health call that they should attend.
Peel is one of the lowest-funded jurisdictions when it comes to dollars for mental health and addictions.
The CMHA Peel Dufferin spokesperson confirmed funding has not yet been allocated for the continuation of the new pilot past the end of March but the organization says it will be applying to the province for new base funding starting 2023-24.
---
Email: [email protected]
Twitter: @mcpaigepeacock
---
COVID-19 is impacting all Canadians. At a time when vital public information is needed by everyone, The Pointer has taken down our paywall on all stories relating to the pandemic and those of public interest to ensure every resident of Brampton and Mississauga has access to the facts. For those who are able, we encourage you to consider a subscription. This will help us report on important public interest issues the community needs to know about now more than ever. You can register for a 30-day free trial HERE. Thereafter, The Pointer will charge $10 a month and you can cancel any time right on the website. Thank you
Submit a correction about this story