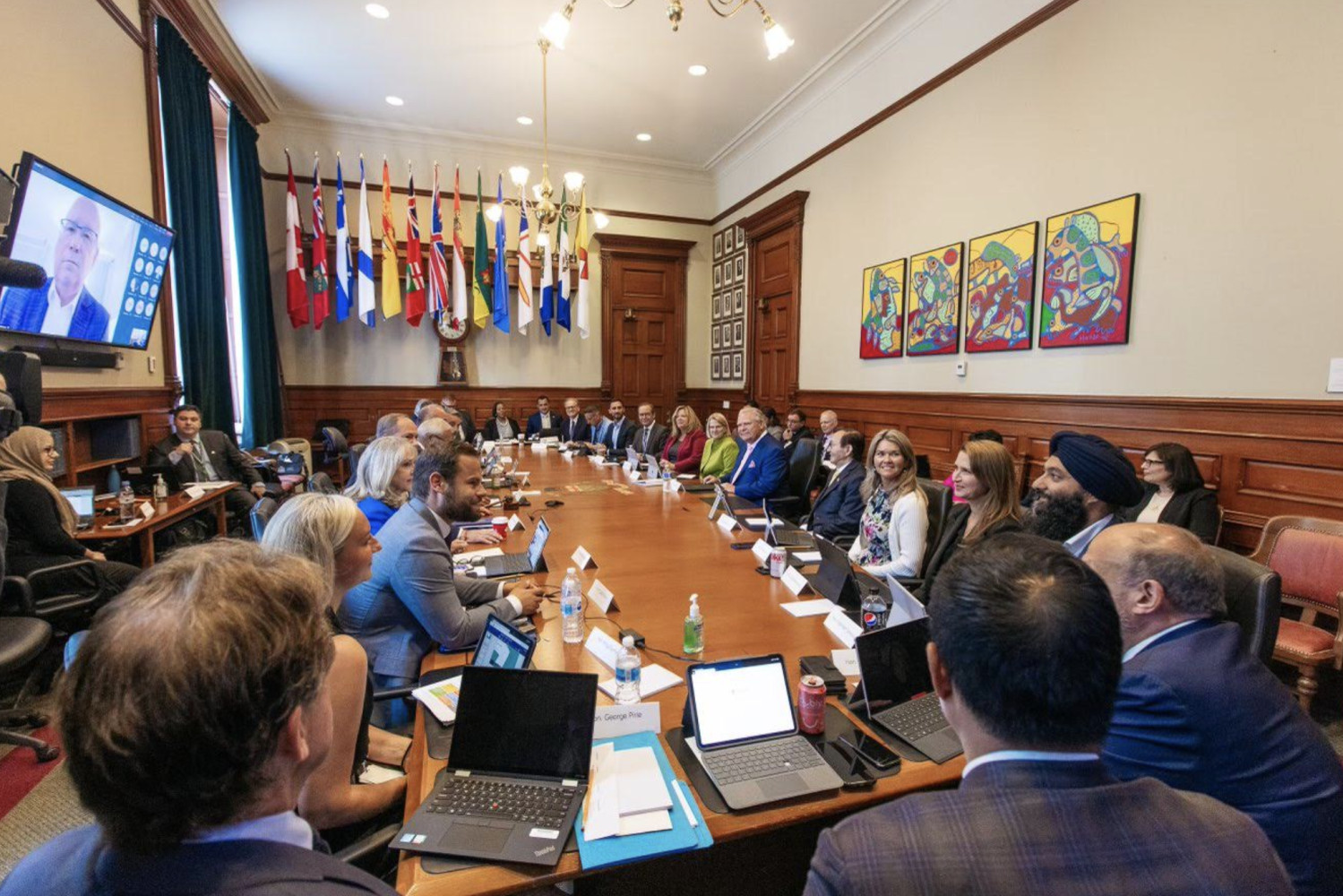 Government of Ontario
'It's very colonial for Ontario to abuse their power': Bill 23 latest example of Ford government trampling on constitutionally protected rights of First Nations 
The Doug Ford PC government's unprecedented housing legislation passed Monday at Queen's Park was rammed into law after once again ignoring legal requirements intended to ensure First Nations' rights and territorial claims are protected in Ontario.
Groups are now speaking out against the disturbing behaviour of the party in power.
"First Nations have been given no opportunity, nor the adequate capacity to be consulted regarding the tabling of Bill 23 and its significant changes to Ontario's legislative and policy landscapes. The Government of Ontario's tabling of Bill 23 is a blatant violation of First Nations' inherent, domestic, and international rights over their ancestral and traditional territories," Ontario Regional Chief Glen Hare said. "Bill 23 will inevitably harm Ontario's environmental heritage and weaken land and water environmental protection."
On November 23rd, Chiefs of Ontario released a statement describing Bill 23 as a clear violation of Indigenous constitutionally protected, inherent and Treaty rights that will cause 'inevitable adverse environmental impacts' on First Nations ancestral and traditional territories.
Chief Hare is responsible for speaking on behalf of the 133 First Nations across what we know as Ontario.
"It is deeply concerning to the Chiefs of Ontario that the mandate of the Indigenous Affairs Ontario (IAO) office, which is to ensure collaboration amongst ministries engaging and consulting with First Nations on policy and legislative changes, continues to be unfulfilled," Chief Hare said in the statement.
A citizen of M'Chigeeng First Nation on Manitoulin Island, Regional Chief Glen Hare (left) was elected in June 2021 at the Chiefs of Ontario All Chiefs Conference.
(Chiefs of Ontario/Twitter)
Section 35 of the Constitution Act, 1982, recognizes and affirms the existing rights of Indigenous peoples, communities and treaties.
The duty to consult is owed to First Nations, Inuit and Métis as rights may be affected by contemplated Crown conduct and the responsibility to protect these constitutionally protected covenants rests with the Crown and the executive branch of both provincial and federal governments.
As stated by the Supreme Court of Canada, "the general purpose of the duty to consult is to foster reconciliation. Thus, the duty to consult doctrine is of fundamental importance to Indigenous communities and Indigenous governments, as well as to federal, provincial and territorial governments, private industry stakeholders and Canadian society as a whole."
Chief Hare stated, "First Nations are not stakeholders; we are sovereign Nations and are entitled to proper consultation based on the United Nations Declaration on the Rights of Indigenous Peoples (UNDRIP) and mutual respect."
Endorsed by Canada in 2010, UNDRIP reaffirms the need for free, prior and informed consent to conduct effective consultations with affected Indigenous peoples and communities in order to ensure established treaty rights are upheld.
A provincial bill needs to pass three readings. Once the government passes the third reading it receives Royal Assent and becomes law. Before it even reaches the House, there is ample time to seek proper and informed consent from all advisory bodies that might be affected. First introduced in late October – despite rising opposition from various organizations and stakeholders across the province – Bill 23 passed its third reading just over 30 days later on November 28.
Before a Bill is introduced in the House, the Office of the Law Clerk and Parliamentary Counsel will certify that it is acceptable and in compliance with legislative and parliamentary conventions – giving many opportunities for proper and effective consultation. (Legislative Assembly of Ontario)
Moments after it received royal assent, Minister of Municipal Affairs and Housing Steve Clark said the government will now begin consultations with affected Indigenous peoples and communities—confirming that the PC government did not consult with First Nations prior to introducing, reading, or passing the Bill—a clear violation of the duty to consult doctrine.
The day the Bill passed, Chief Hare told Queen's Park, "First Nations are in the best position to identify the necessary measures to mitigate or prevent adverse environmental impacts. We are concerned with Clark's comments to 'deal' with First Nations by way of requesting after-the-fact commentary regarding the passing of Bill 23."
"As we have said time and time again, the Government of Ontario cannot avoid its duty to consult with First Nations by delegating responsibilities and obligations to municipalities."
Kiiwetinoong MPP Sol Mamakwa, who serves as the NDP's Indigenous Relations and Reconciliation Critic and the party's Deputy Leader, criticized the Bill at Queen's Park, comparing it to colonialism.
"First Nations across Ontario have stated their opposition to Bill 23 due to the clear violation of First Nation's constitutionally-protected inherent and Treaty rights. It's 2022. It's very colonial for Ontario to abuse their power by making these bills without consultation or engagement with First Nations," Mamakwa said.
Ontario's Minister of Indigenous Affairs and Minister of Northern Development, Kenora—Rainy River MPP Greg Rickford, explained that the government sees the Bill as an opportunity to build more homes for more families and address a growing housing crisis.
"We've heard it from municipalities and Indigenous communities. They see an opportunity to invest in real estate properties," Rickford said. "They see an opportunity to create more and better homes in their communities. This plan to build more homes is for all Ontarians."
Previous reporting states Rickford has claimed the government has been consulting with First Nation communities and the PCs have "no plans" to back down from their housing initiative.
Jeff Monague, an Ojibway elder and knowledge keeper, writing in in a column in Orillia Matters, states Bill 23 will 'accelerate the demise' of Ontario.
Two days after it became law, Chief Kelly LaRocca of the Mississaugas of the Scugog Island First Nation (MSIFN) released a statement sharing her community's 'disgust' with Minister Clark's disrespect for Indigenous rights and strongly condemned the Ford government's "blatant disdain for the democratic process".
"This is by no means the first time that the Ford government has refused to carry out its constitutional duty to consult with Indigenous Peoples," Chief LaRocca said. "It is appalling that the Minister so cavalierly referenced that his government did not uphold its duty to consult. Only now that the horse is out of the barn is the Minister trying to close the door and offer consultations after the Bill has passed."
Since Doug Ford became Premier in 2018, reports have highlighted multiple instances of the failure to consult with Indigenous peoples and First Nations, despite legal requirements to do so:
September 2018: The Ontario government introduced Bill 36: Cannabis Statute Law Amendment Act, 2018. This Act was brought forward with very little consultation with First Nations, and yet it is a clear threat to First Nations' jurisdiction on-reserve. (OKT Law)
July and August 2020: Both the Fort Albany and Attawapiskat First Nations denounced Bill 197: the COVID-19 Economic Recovery Act, another omnibus Bill presented by the Ford government. In an open letter dated August 7, the Grand Chief of the Mushkegowuk Council—which represents Fort Albany, Attawapiskat and five other nations near James Bay—called on Ford to honour Ontario's treaty obligations to consult Indigenous people on matters affecting their treaty rights and traditional territories. (National Observer)
October 2020: despite concerns raised by Neskantaga First Nation, the consultation period for part of the environmental assessment for a supply road in the Ring of Fire mineral development region in northern Ontario was set to close. They said they could not engage in the process in a meaningful way because of the pandemic. Advancing resource extraction projects during a pandemic is an example of governments and industry using a health crisis in First Nations to their advantage, according to Riley Yesno, a research fellow at the Yellowhead Institute. "This weaponization of the health crisis that is happening in these communities and the weaponization of this terrible thing that's going on is a way to get their desired projects put through," said Yesno, who is a member of Eabametoong First Nation, which is also impacted by the Ring of Fire development. (CBC)

March 2021: Batchewana First Nation reminds the Crown of BFN's Notice of Assertion served in 2011 to both the federal and provincial government leadership. That assertion was specific in outlining a process to seek our permission in regard to intrusions of our inherent sovereignty and unextinguished jurisdictions over the lands in Eastern Lake Superior and the lands in direct proximity. As early as 2018, BFN attempted to engage in discussions with Ontario. They went so far as to draft terms of reference and provide names of neutral arbiters to mediate the jurisdictional issue, and – unfortunately – Ontario was not interested in such discussions. (AIAI)

March 2021: "We also have concerns as it relates to Ontario's legislative changes; specifically those amendments to the Environmental Assessment Act and Conservation Authorities Act. Ontario is proposing that new projects could be subject to pre-approval under the new streamlined environmental assessment regime. The Mississaugas of the Credit First Nation (MCFN) is concerned that fast-tracking these projects will circumvent overarching consultation obligations and lead to projects starting in our Territory without the proponent or Ontario informing and consulting with the MCFN. One such example of this, is with respect to the Greater Toronto Area West Corridor (or Highway 413). No environmental assessment for the transmission corridor has been undertaken to date. Indigenous peoples, including the MCFN, have for decades, worked tirelessly to build up protections, including the right to meaningful engagement, in the environmental assessment sector. This is of great concern to us." (MCFN)
May 2021: Several First Nations challenged Ontario's changes to the Environmental Assessment Act adopted through Bill 197: the COVID-19 Economic Recovery Act, citing that Ford deliberately refused to consult with First Nations as law requires. "What makes this historic for First Nations is that we are saying the new laws are unconstitutional, not just because we were not consulted, but because the new law sets back reconciliation, harms First Nations, and violates the honour of the Crown," Association of Iroquois and Allied Indians Grand Chief Joel Abram said. "It is not just process, but the result that has to respect our rights and jurisdiction. Saying 'shame on you' is not enough. We ask the court to say 'No' to what this government did." (Anishinabek News)

June 2021: Shawanaga First Nation wrote to Ontario Attorney General Doug Downey and Minister of Finance Peter Bethenfalvy explicitly to ask detailed questions about and share our perspectives on the design, implementation, and involvement of First Nations in the developing iGaming regime. The Government of Ontario provided a limited, and inadequate response to Shawanaga's concerns in August and later legalized online gambling in December. (Newswire)

September 2021: In Innisfil, where the province issued a MZO to build an Orbit housing development near Lake Simcoe, the Williams Treaty First Nations (WTFN) filed a judicial review in September to stop the project. They allege Minister of Municipal Affairs Steve Clark "unreasonably and unlawfully ignored his constitutional obligations to consult and accommodate WTFN." (Toronto Star)

November 2021: The Ministry of Environment, Conservation and Parks and the Town of Erin claim they consulted the Six Nations of the Grand River (SNGR) prior to starting construction on the Erin Wastewater Resource Recovery Facility, though the lawyer for SNGR Aaron Detlor states otherwise. "I confirm that neither your Ministry nor the Town of Erin made the required application.I can also advise that the Class Environmental Assessment process is inadequate for the purposes of upholding the honour of the Crown where the EA preempts us from raising a number of rights and interests associated with this project. While I confirm your delegation of 'procedural aspects' of consultation to the Town of Erin this delegation would only be lawful if your Ministry had undertaken a prima facie assessment of rights and interests to determine the appropriate nature and scope of engagement." (SNGR)

December 2021: Neskantaga First Nation launched a lawsuit against the province for what it calls a failure to consult them on mineral mining on their land. "For too long, our community's laws and protocols have been disregarded by an Ontario government focused on economic development at the expense of Aboriginal, Treaty, and inherent rights," Chief Wayne Moonias said in an online statement. (APTN)

January 2022: 'The Bradford Bypass threatens ancient Indigenous sites 'more significant than 95 percent of all historic/archaelogical sites in Canada'. Premier Ford and Transportation Minister Caroline Mulroney ignored numerous First Nations who have said the highway could disturb sacred burial sites – many in and around The Lower Landing. The Chippewas of Georgina Island have stated since 1998, after the Bypass was introduced and the only Environmental Assessment was completed, "It is not our intention to impede progress, however we do not want to see a significant piece of history such as this lost forever. Not only is the camp a home of our forefathers, but given the Nomadic nature of the times, and the length of time this site was used, there will undoubtedly be burial grounds in this area." (The Pointer)
The letter above shows First Nations communities have for more than two decades demanded consultation regarding any development that could impact the Lower Landing, including the Bradford Bypass. Twenty years later the Doug Ford PC government ignored its obligation to consult and is steaming forward with a highway right over one of the most historically significant First Nations' sites in their nation. (Chippewas of Georgina Island)

The duty to consult began with the Constitution Act, yet the standard for consultation in what we now know as Canada was set in a Supreme Court trilogy of decisions in the legal cases of Haida Nation v. British Columbia (Minister of Forests), Taku River Tlingit First Nation v. British Columbia (Project Assessment Director), and Mikisew Cree First Nation v. Canada (Minister of Canadian Heritage).
These three cases established a framework for implementation and procedural protections for Indigenous and treaty rights; the most notable being the unanimous judgment in Haida Nation when the Supreme Court established that the Crown has a duty to consult Indigenous peoples when it intends to act in a manner that may adversely affect potential or established Indigenous and treaty rights.
The Parliament of Canada states that, "Court orders to remedy a failure to meet the duty to consult vary significantly according to the situation. Various forms of relief are available when the Crown fails to meet its duty to consult, ranging from injunctions (prohibiting an action from moving any further), to damages (monetary compensation), to an order to carry out the consultation (or to engage in deeper consultations)."
Historically, the federal, provincial, and territorial governments did not consistently consider the impacts of certain actions or decisions on Indigenous communities. As a result, the duty to consult can be viewed as a response to a history of the imbalance of power between governments and First Nations, Inuit and Métis peoples in what we now know as Canada.
Regardless of the severity of the potential infringement of those interests or rights by a government decision or action, consultations must always be carried out in good faith with the intention of effectively addressing the concerns of the Indigenous peoples whose lands or Treaty rights are at issue.
The rushed Bill 23 is more proof that many governments continue to disregard their obligations under law. The PCs might now face constitutional and other legal challenges that could force them to repeal the controversial housing legislation, until they respect the rights of Indigenous peoples and First Nations across the province.
---
Email: [email protected]
Twitter: @lextoinfinity
---
COVID-19 is impacting all Canadians. At a time when vital public information is needed by everyone, The Pointer has taken down our paywall on all stories relating to the pandemic and those of public interest to ensure every resident of Brampton and Mississauga has access to the facts. For those who are able, we encourage you to consider a subscription. This will help us report on important public interest issues the community needs to know about now more than ever. You can register for a 30-day free trial HERE. Thereafter, The Pointer will charge $10 a month and you can cancel any time right on the website. Thank you
Submit a correction about this story