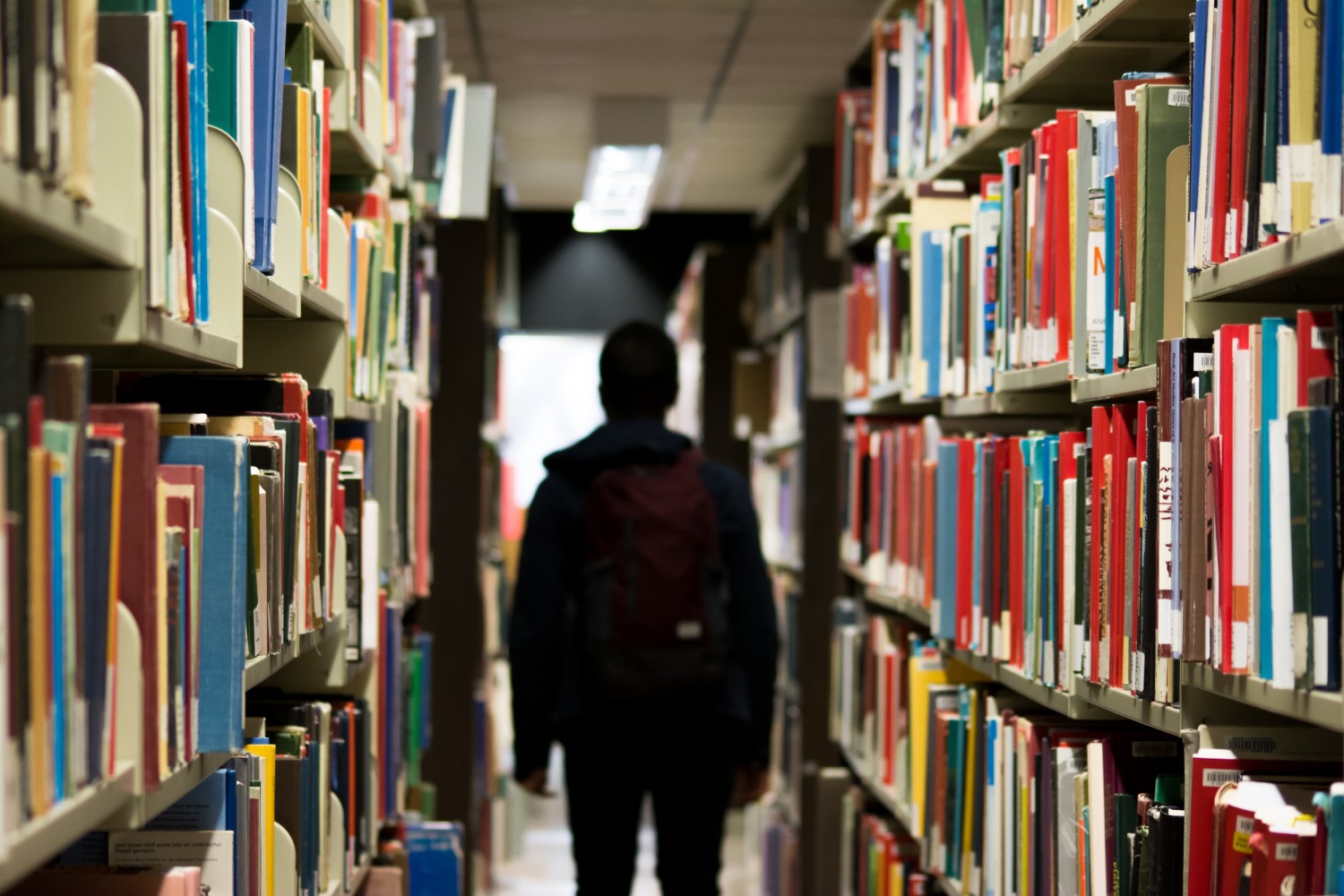 Redd/Unsplash
Ottawa gives international students more earning power to help prevent exploitation, but experts say system is still broken 
On October 7, the federal government announced it will temporarily lift the cap that restricts international students from working more than 20 hours a week. The rule, which experts say is outdated, has been blamed for putting added pressure on vulnerable students already dealing with the intense financial and social demands of relocating to a new country, and has created a dangerous market of under-the-table work rife with opportunities for exploitation.
"We were so happy, we've been advocating for this for a while," says Gurpreet Malhotra, CEO of Indus Community Services, a not-for-profit organization in Brampton that provides settlement services to newcomers and assistance to families, women and seniors.
"This is a definite win."
According to the press release from the federal government, the decision to lift the restriction from November 15 until the end of the year, was made in part to free up a larger workforce to help with the country's post-pandemic recovery.
"This temporary change reflects the important role international students can play in addressing our labour shortage while continuing to pursue their studies," the press release reads. It's unclear why this short time frame was chosen or if there is potential for the eased restriction to be extended into 2023.
With demand for skilled labour increasing and more Canadians approaching retirement, economists have long pointed to the gap in our domestic workforce. The country does not produce enough STEM students from within our borders to meet the rapidly growing needs of companies trying to compete in a range of fields.
International students also represent a potential solution to labour shortages in key employment areas such as trucking, logistics, advanced manufacturing, skilled trades and certain healthcare industry jobs.
The number of international students studying in Canada has steadily increased in recent years. According to a report from Indus released in 2021, enrolment of international students in Canada increased 68 percent between 2014 and 2018. The demand for such an education is only expected to increase over the next few years with a projected 7.2 million students across the globe forecasted to pursue an international education by 2025.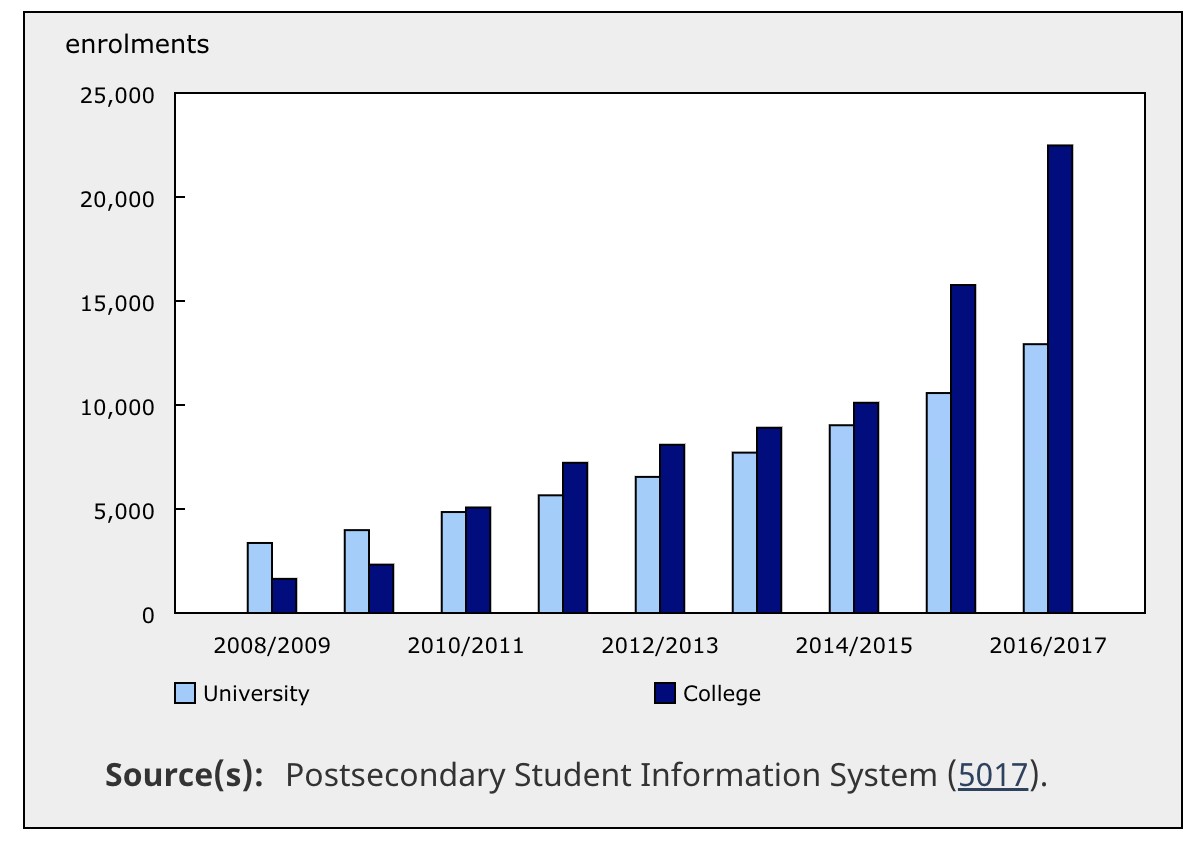 International students coming from India make up a large proportion of those coming to Canada for an education.
(Statistics Canada)
The potential revenue these students represent has become a focus of Canada's colleges and universities, with many targeting potential students living abroad through direct advertising campaigns and third-party recruiters overseas. For many colleges, in particular, their base budgets have become largely dependent on this income. Critics have pointed a finger at post-secondary institutions that see international students as little more than a revenue source.
The budget for Sheridan College, with campuses in Brampton, Mississauga and Oakville, states that 62 percent of its revenue comes from tuition, and 56 percent of this is paid by international students. It's a similar story for many large post-secondary institutions.
Between 2008 and 2018, the amount of spending in Canada by international students ballooned from $6.5 billion to $21.6 billion.
"Our publicly assisted colleges would collapse if your international students weren't being gouged by them and the private colleges would collapse even faster," Malhotra says.
The tuition paid by an international student, an average of $27,613, is often astronomically higher than their domestic counterparts, who pay an average of $6,822.
In order to pay these exorbitant fees, families often put themselves in precarious positions, spending whatever money they have in savings to send their child overseas for an education. Often, students come from middle class and lower-middle class backgrounds.
With a cap of 20-hours a week for work they can do to support themselves while in Canada, it forces some students to do jobs under the table.
"There is no way you can earn enough, never mind the fact that mom and dad may have mortgaged the farm and actually may need to pay down debt and need your help to do that, it was putting huge pressure on young people in a complete no-win situation," Malhotra says. "When you're forced to work 20 hours, what that does is 20 hours above the table. That means the rest of your time, to make ends meet, is under the table."
These under-the-table roles often pay below minimum wage, and sometimes unscrupulous employers don't even pay them. Students are often forced to work even longer hours to support themselves and many have to find ways to send money back home to their family. The financial insecurity makes some students vulnerable to human trafficking, either through sex trafficking or in different forms of labour trafficking.
This is particularly concerning in Ontario, which has Canada's largest number of human trafficking cases, and welcomes the most international students compared to other provinces. A significant number of international students also settle in Peel—approximately 8,700 study at Sheridan alone—and the region is a hub for traffickers in Ontario; 62 percent of cases originate in the GTA.
The elimination of the 20-hour cap could reduce the need for international students to put themselves in a vulnerable position, reducing the risk of being exploited by a trafficker.
"Now you're in a position where you are not under the thumb of one of these fake uncle and aunties who are milking you and paying you illegally under the table for this work, and because you're not beholden to them you're in a much better circumstance," Malhotra says. "By it becoming legal above the table now, the Amazons, Home Depots, the Bays, what have you, are able to pay them for 40 hours worth of work or more."
The broken system, which has seen more and more students slip through the cracks, starts overseas.
International students are often sold a false vision of life in Canada. According to the Indus report (done in collaboration with other community groups) called Invited and Forgotten: "College recruiters facilitating the admission process (especially in South Asia) often paint a rosy picture of life in Canada. Since these perspectives overly glamourize Canadian lifestyles, many people are convinced by the idea of immigrating to the country in hopes of a better education and quality of life."
While this pathway can be a very viable option for gaining permanent-resident status in Canada—53,700 international students did just that in 2018—these recruiters can often be wolves in sheep's clothing, glazing over the reality—that life in a new land can be incredibly difficult, even dangerous.
The Pointer reported on Lotus Funeral Home and Cremation Centre in October of last year, which in a single week had prepared and sent the bodies of five International students back to India in caskets. The funeral home's owner told The Pointer at the time that this was more or less a common monthly occurrence.
This tragic end result is one that will not be completely avoided with the single regulation change to the number allowable work hours, Malhotra says, as there are systemic issues across the board, from a lack of housing, lack of income or employment support, a lack of educational support and a lack of health services—particularly mental health services.
These negative forces amass together to create a perfect storm with international students directly in the centre.
"There is a significant consideration there that needs to be explored further, the culpability of the landlord, the employer, the province and their lack of funding, the federal government and their lack of foresight on what it means to do what they do, and then the entire culpability of the system where no one person has done something horribly wrong, but everybody is not doing things right has then resulted in many wrongs taking place as gaps are built for these kids to fall in."
Private career colleges that have sprung up across Peel, offering education in everything from dental office work to truck driving, have come under fire recently for their exploitation of international students, who often pay exorbitant education fees, only to find the certificates, diplomas and degrees they receive in return are useless.
Malhotra says the federal government needs to do more to address outdated regulations that are not working.
For example, while Indus currently provides a suite of services for international students, including settlement counselling, employment assistance, guidance on accessing healthcare and housing, as well as referrals to other community resources, federal regulations actually prevent organizations from providing certain types of assistance to international students, creating significant barriers for those groups trying to help.
"What is annoying is that regulation didn't change," Malhotra says, noting that local officials have repeatedly urged his organization to provide "the help the community needs."
Unfortunately, this work can not be recorded as part of the organization's mandate under certain funding envelopes, so support for the continuity of this work is limited.
Ottawa and the provinces have done little to create consequences for educational institutions that are providing inadequate schooling, student housing and other supports.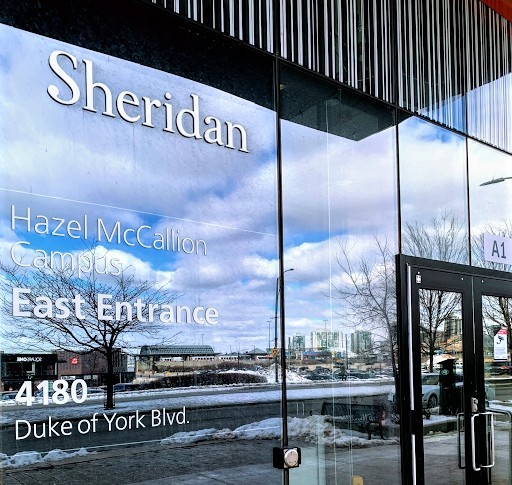 There are thousands of international students attending Sheridan College, which has campuses in Brampton, Mississauga and Oakville.
(The Pointer files)
According to a recent report by CBC, Alpha College, a private career college in partnership with St. Lawrence College, has 4,900 students enrolled at its two-storey building in Toronto which only has capacity for 420.
"They essentially have warehoused these kids here who pay huge amounts of money," Malhotra says, adding this money typically goes to supporting the bloated salaries of those who run these schools.
There is also a significant issue with private career colleges that attract international students with promises of high quality education, but deliver anything but.
In 2019, there were 7,398 students attending Brampton's 42 private career colleges (the number at the time). They represented five percent of Ontario's total private career college students, roughly in line with Brampton's share of the provincial population. While its total number of students is comparable to population, the Flower City is home to a larger portion of international students.
Across Ontario, the latest 2019 data show that almost seven percent of private career college students are international. In Brampton, just over 24 percent of students attending these private career colleges in 2019 were from outside the country.
The concentration of international students at Brampton colleges is part of an Ontario-wide trend. Between 2015 and 2019, the number of international students attending private career colleges increased by 420 percent.
These arrangements are less likely to result in success for these students, Malhotra says, which ultimately defeats the purpose of bringing them to Canada in the first place.
The Government of Canada looks to international students as a key source of badly needed skilled labour, to help our economy compete internationally.
With little oversight of career colleges and many students at other institutions set up for failure, Ottawa's goals are clearly not being met with policies and enforcement to ensure success. Fraudulent immigration agents, here and abroad, and others who benefit from the exploitation of students, have done so with impunity for years.
Malhotra has been advocating for updated regulations, tighter policies and more coordination between all three levels of government and the educational institutions at the root of the problem.
"When we teach English classes here to newcomers and you look in their eyes and see their dreams and their wishes and they tell you what they want to do and, sometimes, they come back and they've done it, and it feels amazing," this represents the potential he says.
"But that is not what is going to happen. We are less likely to get a good Canadian out of that system."
---
Email: [email protected]
Twitter: @JoeljWittnebel
---
COVID-19 is impacting all Canadians. At a time when vital public information is needed by everyone, The Pointer has taken down our paywall on all stories relating to the pandemic and those of public interest to ensure every resident of Brampton and Mississauga has access to the facts. For those who are able, we encourage you to consider a subscription. This will help us report on important public interest issues the community needs to know about now more than ever. You can register for a 30-day free trial HERE. Thereafter, The Pointer will charge $10 a month and you can cancel any time right on the website. Thank you


Submit a correction about this story