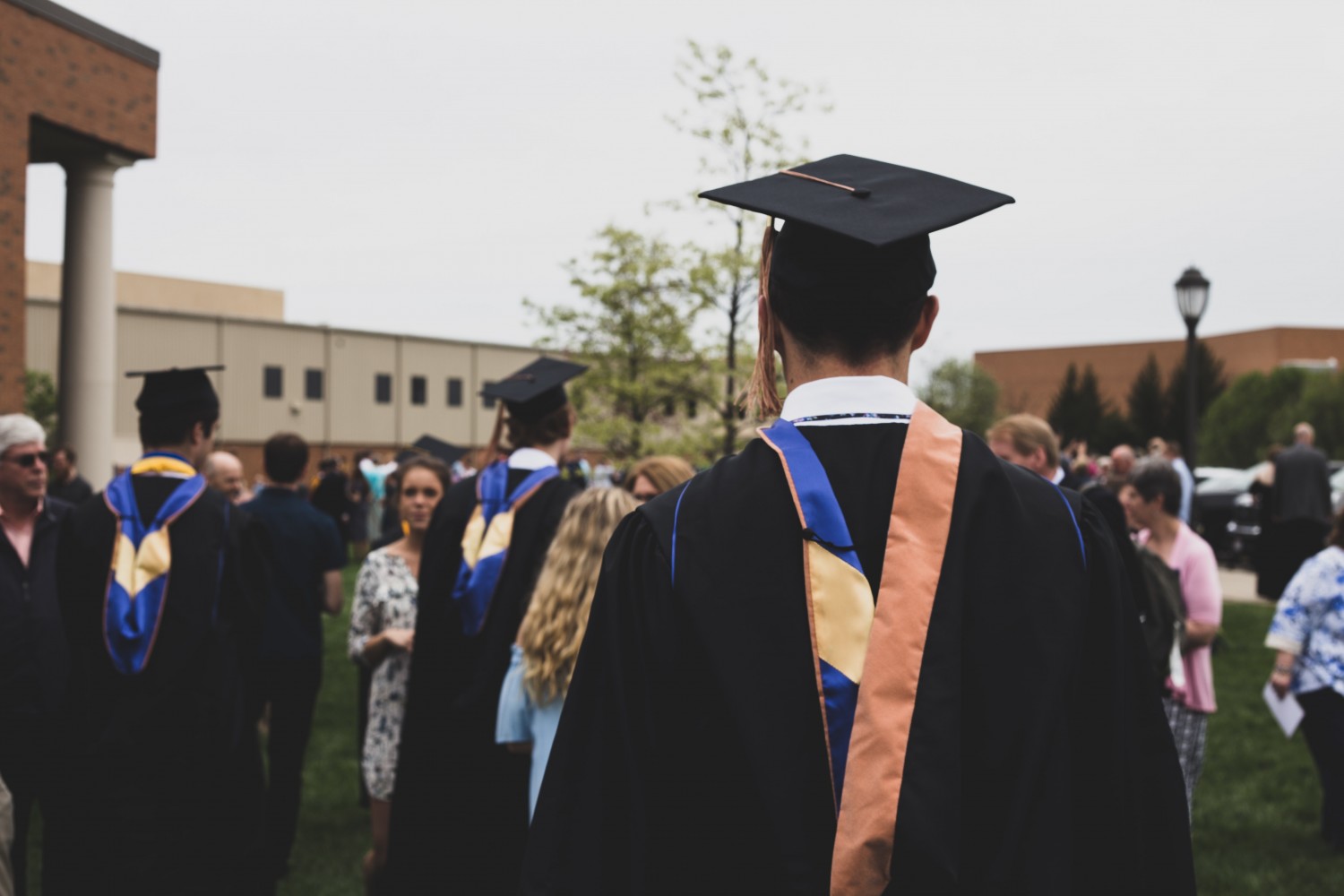 Feature images from Charle DeLoye via Unsplash
Want a guaranteed spot in a Caribbean medical school? Private career colleges in Brampton are proliferating: who is attending and why?
Despite an entire education sector rapidly popping up across Brampton, little is known about many of these businesses opening up in strip malls and residential homes throughout the city.
New "career colleges" are drawing students to plazas alongside sushi bars and nail salons, and other spaces that now feature an array of private businesses offering vocational education. Graduates attain skills to work in personal care services, trucking and transportation, the restaurant industry and many other jobs that do not require university or public college education. In some cases, they even promise pathways to careers that have traditionally required a university degree.
The number of private career colleges registered in Brampton rose from 42 in 2019 to 68 in 2021, according to data from the provincial government.
The schools have educational spaces that rarely extend beyond the boxy commercial buildings they share with other small businesses. Residents who drive past their exteriors are often unaware dozens of students are gathered inside, preparing for a variety of careers.
In a 2015 book chapter, academics Sharon X. Li and Glen A. Jones branded these institutions as Canada's "invisible sector".
It's a sentiment shared by Statistics Canada, which observed that private career colleges were something of an anomaly — offering publicly recognized qualifications through autonomous private businesses. "Private colleges, sometimes referred to as career or business colleges, help to fill a gap in the public system by providing an alternative to more traditional postsecondary education programs," a Statistics Canada article from 2009 explained.
Career colleges can grant a variety of different qualifications. Around 21 percent of programs offered by these schools in Ontario last year were in business (including real estate), with 18 percent in health services. Another 14 percent were for computer fields and 8 percent taught service trades like cooking or hairdressing.
The most popular programs in the GTA (excluding Toronto) were for truck driving, business administration and personal support workers.
The success of those enrolling at these institutions is varied. In 2018, for example, 71 percent of graduates from private career college business programs gained employment but only 52 percent landed jobs in their field of study. Those studying truck driving had more success with an 86 percent employment rate, and 67 percent of graduates finding relevant work. Just 53 percent of graduates in computer and information technology were employed in a relevant field.
Many careers require students to obtain some kind of education in order to enter the industry: hairstyling, for example, requires anyone who wants to work in a salon to get an education such as a one-year certificate program at a public Ontario college, gain hours of experience and then pass the hairstylist certification (written exam) before they can become officially licensed. Prospective hairdressers can attend public colleges like George Brown in Toronto or private career schools, including 10 that offer hairstylist courses in Brampton.
Hairdressers are often trained at private career colleges.
(Image from Adam Winger/Unsplash)
The Ministry of Colleges and Universities is responsible for regulating the postsecondary education industry. A damning report released by Ontario's Auditor General in December suggests it is failing in this role.
"The Ministry does not inspect program delivery to confirm that programs are delivered as approved," the AG's report says. "To have a vocational program reviewed and approved, a private career college must submit a detailed outline of its proposed program as well as a program evaluation from a qualified evaluator. However, we found that the Ministry's inspections of private career colleges do not include examining whether content delivered to students is the same program that was actually approved. As a result, the Ministry cannot verify whether students are receiving the education and training identified or needed for employment."
This means these businesses can deliver their programs almost free from oversight.
Because many careers require some kind of qualification to get started, students must complete courses without the guarantee of government oversight. Prospective students are expected to use the same due diligence anyone would when purchasing a product from a private company.
This does not always happen.
"Everybody has to be retrained and that's why a lot of salons don't want to take on new people out of school because, first of all, it costs a lot of money, paying someone an hourly rate and then you have to retrain them," Stephanie Crane, the founder of Mane Attraction Hair Studio in Brampton, told The Pointer. "You [would] think if you hire someone from hair school they could start on the floor and begin doing haircuts and growing a clientele but when you have to train them from scratch again, you're paying them to retrain them."
Crane started her career hairstyling almost 20 years ago before private career colleges became key players in training new recruits. She received her training through cosmetology at high school and the Ontario Youth Apprentice Program.
"I went to a reputable salon where I finished my hours and put them towards my apprenticeship as I was able to do my training in the salon, which I think is even better, that's what they should be doing," she said. "That's where you get all your experience, you're actually in the salon doing the work, the hands-on work with clients."
As The Pointer has previously reported, leaders in Ontario's trucking industry have also raised concerns about the role career colleges play in training. "We've heard horror stories in the Brampton area where an individual gets his licence at a training school one week and two weeks later, he's an instructor," Kim Richardson, president of the Truck Training Schools Association of Ontario, said.
Kim Richardson, president of the Truck Training Schools Association of Ontario, is one of several concerned stakeholders.
(Image from Joel Wittnebel/The Pointer Files)
The details of who is entering Brampton and Ontario's growing private career college sector are vague.
Research in 2017 for Career Colleges Ontario (a body representing private colleges) found that just over half of all students were first-generation immigrants. An additional 14 percent of students had parents who were born outside of Canada. Data with this level of detail is almost impossible to obtain for private career colleges unless it is volunteered.
"Private career colleges are private businesses," James Tinajero, a spokesperson for the Ministry of Universities and Colleges, told The Pointer. "Therefore institutional enrolment information is proprietary data of the business and not available for the ministry to share."
The Province publishes attendance data with a two-year lag, breaking it down by international and domestic students.
In 2019, there were 7,398 students attending Brampton's then-42 private career colleges. They represented five percent of Ontario's total private career college students, roughly in line with Brampton's share of the provincial population. While its total number of students is comparable to population, the Flower City is home to a larger portion of international students.
Across Ontario, the latest 2019 data show that almost seven percent of private career college students are international. In Brampton, just over 24 percent of students attending these private career colleges in 2019 were from outside the country.
The concentration of international students at Brampton colleges is part of an Ontario-wide trend. Between 2015 and 2019, the number of international students attending private career colleges increased by 420 percent.
"Such an increase is unusual given that students of private career colleges, unlike their counterparts in the public college system, cannot apply to stay in Canada on a federal post-graduation work permit," the auditor general's report says.
One of the few ways for a non-Canadian to work in Canada upon graduation is to find a company willing to complete a Labour Market Impact Assessment (LMIA) that would grant them the right to work. LMIAs generally cost $1,000 to submit plus a processing fee. With so many graduates from private career colleges unable to stay in Canada without an LMIA, employers are put in an advantageous position.
Jasvir Chahal, who owns a trucking school in Brampton, previously said international students seek these agreements out.
"Students aren't coming to us for their licenses, they are coming for LMIAs," Chahal said. "Even now, most of the students in the yard, say seven out of 12, want an LMIA so it can help them with their permanent residency."
A total of 150 LMIAs were issued to companies based in Brampton in the third quarter of 2021.
"The LMIA piece is a bit of a procedural game that benefits the lawyers that put them together and the people who do paperwork and is just one of the flaws of what we put international students through," Gurpreet Malhotra, CEO of Indus Community Services and an advocate for international students, told The Pointer.
International students enrolled at private career colleges faces a more complicated path to stay in Canada.
(Image from Jason Hafso/Unsplash)
Private career colleges are allowed to host international students once they receive Designated Learning Institution status. This tag, assessed by the provincial government and administered by its federal counterpart, means private colleges that do not offer guaranteed opportunities upon graduation, and often do little to prepare students for relevant work, can still offer places to international students.
It comes with a steep price. CIMT College, has four locations in Brampton and Mississauga and charges international students $500 just to apply. It offers health insurance to foreign students for as much as $695 a year. Assistance for services such as opening a bank account, getting a cell phone and even helping connect with religious institutions are all provided, for a fee.
It markets itself to international students, and its website says they can enroll in pre-Med, business administration, deep learning, paralegal law, artificial intelligence and more than a dozen other course areas.
The pre-Med offering by CIMT does not appear to meet requirements of Canadian medical schools, which demand applicants obtain a university bachelor's degree generally done over four years, with specific science courses.
The CIMT pre-Med program is only one year and does not appear to even be tailored to medical school in Canada.
"Other colleges are partnered with one medical school, so you have no choice of where your medical studies will take place," its website states. "CIMT College is affiliated with many Schools of Medicine located on various Caribbean islands. Because of our multiple articulation agreements, students have a choice of 10 or more destinations for medical school, all with guaranteed acceptance with our medical school partners for a 4 year MD program!"
A video on CIMT's pre-Med page includes some alarming claims. A "Pre-Med Instructor" tells prospective students: "Maybe you would be a wonderful doctor, but your GPA (grade point average) or MCAT (Medical College Admission Test) scores are just too low. Or maybe you've applied for medical school already but you can't get accepted. Well, don't give up. You can become a medical doctor. You do not need to spend a year studying to write an MCAT. You do not need a four-year bachelor of science or other university degree." She goes on to say, "With just your high school diploma you can fast-track to become a medical doctor."
Next to the pre-Med course description, CIMT says all high school graduates "are welcome" regardless of grades and describes the difficulty level of the work as "Beginner, Intermediate". It says that two years of clinical education while enrolled at a Caribbean medical school are done in Canada or the U.S. and then suggests graduates can practice as a doctor in Canada or the U.S. after writing a board exam.

(Image from CIMT College)
An illustration on the CIMT pre-Med page shows how high school graduates with any grade can become a doctor in five years.
It's unclear how it can market a pre-Med program in Canada that does not even qualify graduates to apply to medical schools in the country, or how CIMT can offer "guaranteed acceptance" in Caribbean medical schools, considering how extremely competitive it is to get accepted into a medical school. It's also unclear how these medical schools can accept students with only one year of pre-medicine postsecondary education, when most recognized and credentialed medical schools around the world require a bachelor's degree to be accepted. And it's unclear how clinical work could be done in Canada, without a bachelor's degree.
The Province says private career schools are required to prove they meet the expectations of program areas they offer courses in.
"Successful applicants are required to enter into a Designation Agreement with Ontario that further lays out the requirements of the program, including consequences for failure to meet these requirements," Tinajero said. "Designated Learning Institutions must apply for re-designation on an annual basis, and the ministry conducts a review of the institution's policies and procedures required to be maintained under the Designation Agreement."
Despite being unable to offer any guarantees of future employment in Canada upon graduation, many private career colleges in Brampton specifically cater to international students. The websites for several have specific pages promoting the opportunity of studying in Canada to international students.
Beta College, which has a Brampton campus, includes a page dedicated to international students but admits that graduates will not be eligible for a post-secondary work permit. The website for the Canadian College of Business, Science and Technology (based in Mississauga, Brampton, North York and Scarborough) is less forthcoming, telling prospective international students simply that, "Since the economy is booming there are many career opportunities to be had". CIMT College offers a settlement service for international students who come across to study — for a fee.
A federal spokesperson explained that Ottawa takes the list of designated learning institutions from Queen's Park.
"IRCC (Immigration, Refugees and Citizenship Canada) is informed by provinces and territories what institutions in their jurisdiction are designated to host international students," they said. "IRCC is responsible for maintaining a list of designated learning institutions on our website and applies the list when assessing study permit applications. Therefore, the labour supply calculation does not apply in this case."
The system is another example of how loose and uncoordinated oversight in the postsecondary education sector can be: private career colleges are allowed to host international students without an automatic right to domestic employment upon graduation or a clear labour need in the Canadian economy.
As the Ontario AG flagged, it's also unclear why international student enrollment has ballooned in recent years, considering private career school students are not even eligible to apply for a federal post-graduation work permit.
---
Email: [email protected]
Twitter: @isaaccallan
Tel: 647 561-4879
---
COVID-19 is impacting all Canadians. At a time when vital public information is needed by everyone, The Pointer has taken down our paywall on all stories relating to the pandemic and those of public interest to ensure every resident of Brampton and Mississauga has access to the facts. For those who are able, we encourage you to consider a subscription. This will help us report on important public interest issues the community needs to know about now more than ever. You can register for a 30-day free trial HERE. Thereafter, The Pointer will charge $10 a month and you can cancel any time right on the website. Thank you
Submit a correction about this story