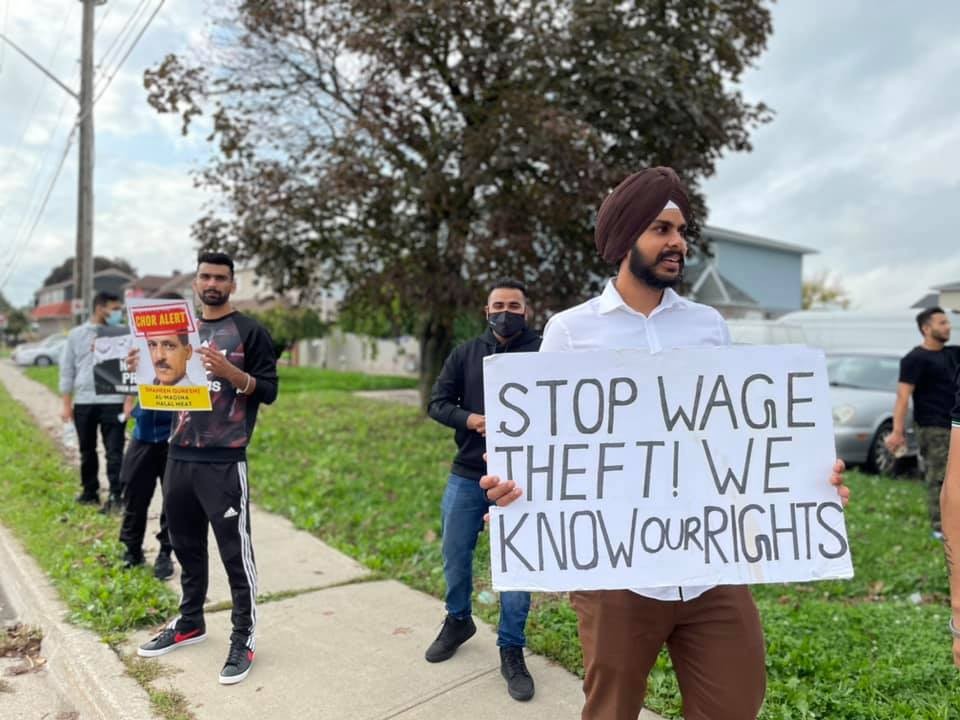 Feature image from Naujawan Support Network.
Trucking industry concerned over driving schools popping up across Brampton & poorly trained graduates
Anyone familiar with the GTA's teeming highways knows the frustration of dealing with menacing commercial trucks, as gravel and ice fly off the backs, giant rigs veer across lanes unexpectedly and exiting off ramps becomes a white-knuckle danger.
Most truck drivers are professionals and use years of experience to navigate smoothly along Ontario's busting thoroughfares.
But many are getting their certification from schools across parts of the province, especially Brampton, with questionable reputations, cashing in on international students shelling out large sums of money and others drawn to the promise of what can be a lucrative career.
There's plenty of demand for drivers, but more and more questions about how some are being trained.
"I don't think there's a shortage of drivers — there's a shortage of qualified drivers," says Kim Richardson, president of the Truck Training Schools Association of Ontario (TTSAO).
There are many getting their licences, he says, but a lot of them end up leaving the trucking industry after "one bad experience."
Richardson told The Pointer, that many drawn to the trucking industry end up getting flustered, cheated and end up quitting because they get the wrong education, and are steered to the wrong employer.
"They don't like it, and they go back to another career because they were not treated properly," he says.
Richardson blames some of the trucking schools, especially those that have popped up more recently, including ones he says are not properly regulated.
"Don't believe everything that you hear from some of these recruiters at these schools — it's called corruption," he warns.
"We've heard horror stories in the Brampton area where an individual gets his licence at a training school one week and two weeks later, he's an instructor."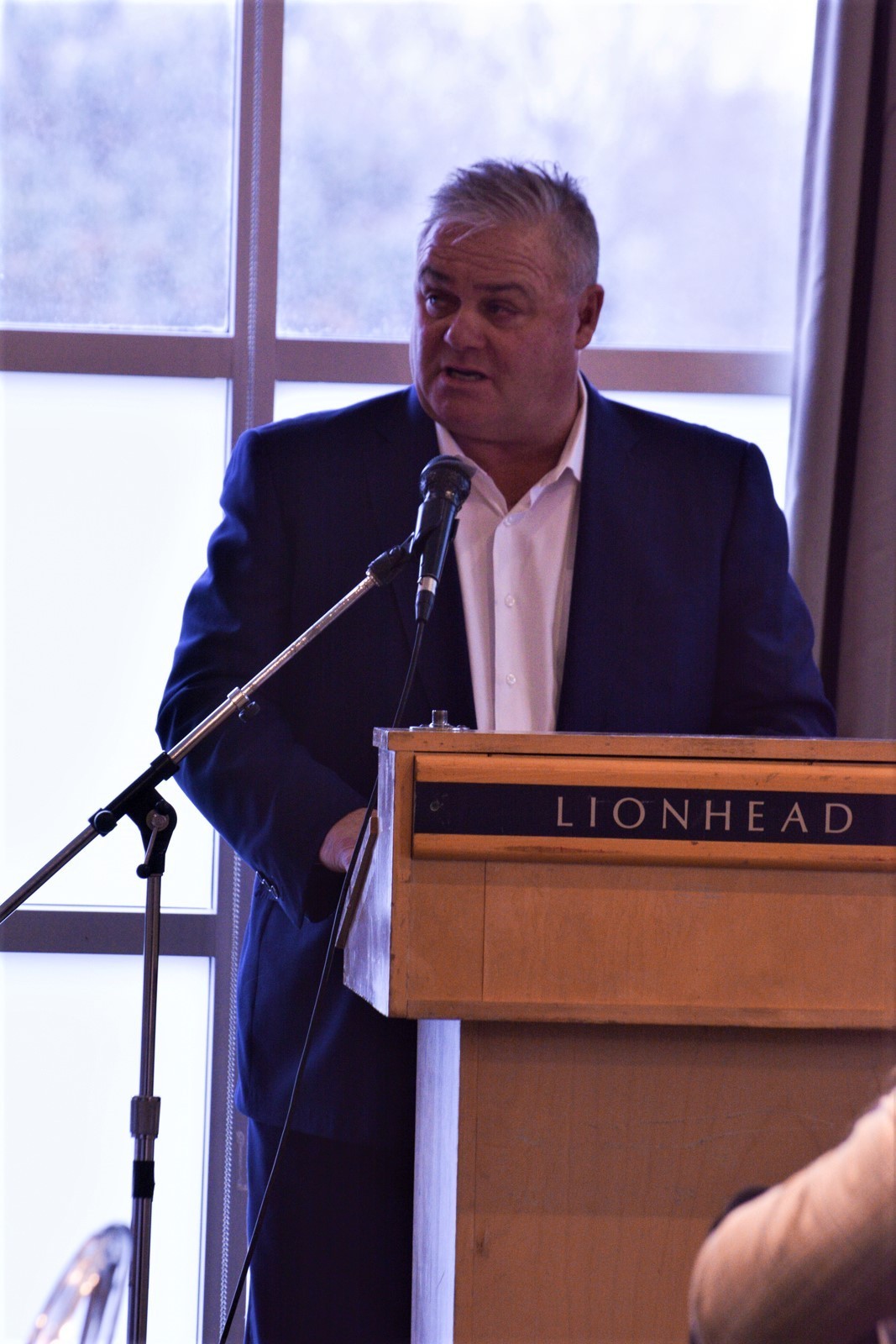 TTSAO President Kim Richardson
(Photo by Joel Wittnebel/The Pointer files)
His advice to seek help is what many young workers probably wish they had heard before they were sucked in by one of the private "career schools", many of which target international students from India, where truck driving is a common career in parts of the country.
The pandemic has created even more demand in Canada.
"Even before COVID hit, we had record vacancies in terms of our truck drivers," says Angela Splinter, CEO of Trucking HR Canada.
The organization works nationally, as a non-profit based in Ottawa that addresses workforce issues in the trucking and logistics sector.
Splinter says having a strong trucking industry is at the heart of Canada's economic response to the devastating pandemic.
"We support every key productive sector — agriculture, retail, manufacturing, forestry — so trucking is essential to Canada's economic recovery."
But this may not be where Canada is heading.
Canada saw 18,000 vacancies for truck drivers in the second quarter of 2021, and although it is projected to improve, the difference may be negligible when the third quarter numbers come out, Splinter says.
Trucking HR's latest report projects vacancies across the entire sector will average 28,000 jobs annually between 2021 and 2025.
Splinter says 17,230 of those are truck drivers, about 61 percent, and there might be more.
The effects may start showing as early as Black Friday.
Splinter says this labour shortage may even impact product supplies this holiday season.
"It's the trickle-down effect to other industries which is important for us because we need all of our industries rebounding and getting us back," Splinter said.
With the crush of demand, the training of new drivers and how they are treated, both by some of the private career schools and the trucking companies that partner to recruit employees from these companies, are becoming increasing concerns in the industry.
Bikram Singh doesn't drive a truck himself but works with Naujawan Support Network (NSN), a group fighting for the rights of international students and young workers.
Singh, who is 26, is a befitting representation of the term "naujawan" which translates to "youth" in Hindi, Punjabi and Urdu, languages prominent in the north of India.
Singh works a 12-hour shift at a Walmart warehouse for his day job through the week but still finds time to volunteer with NSN.
As per Trucking HR Canada's October 2021 report, the labour force shortage was primarily in the 15 to 24 age group (this includes non-drivers).
(Trucking HR Canada)
The HR Canada report shows the trucking industry saw a downward trend in the number of 15 to 24-year-old workers (drivers and those too young to drive but work in the warehousing side of the sector) as of July 2020, and the labour force went down 38 per cent by January 2021, as the pandemic crippled many industries.
But Splinter says the pandemic is not the only reason for losing younger drivers.
Statistics Canada data shows employees in the construction industry in Ontario made 25 percent more than trucking employees last year, a trend that was seen long before the pandemic.
Splinter says fleets are having to keep their experienced and tenured drivers over the younger ones, but it is also more common for younger workers to move onto greener pastures.
A comparison of the average weekly earnings by the Trucking industry and Construction.
Canada has the oldest industry workforce in North America, with the average age of a truck driver pushing 60 years of age, Splinter says.
"What we saw through COVID is an increase in those retirements, a lot of workers decided 'now it's time for me to hang my hat'."
This has only added to the need to fill the vacancies, especially as the economy looks to ramp up.
"Young people that would consider blue-collar jobs also see the cost of training as a barrier to enter trucking," Splinter says.
To combat this, Trucking HR Canada offers training subsidies for young drivers or anyone else considering the career.
A 2019 report by the organization called Millennials Have Drive, indicates money is the biggest incentive for Canadian millennials to take a job as a long-haul driver, with 39 per cent ranking this as their primary motivation.
Splinter says not having enough young truck drivers is a perennial problem.
Ongoing protests around conditions for many young drivers in Brampton are no secret to both Richardson and Splinter.
Those walking with placards to highlight their struggles in the industry are demanding wage protections and a crackdown on companies that violate labour laws.
"I'm aware of those protests, and the challenge we have is as one of the largest sectors in our industry, there are going to be bad apples," Splinter says.
Splinter encourages drivers to work with reputable employers that treat their staff well and pay them fairly.
"One bad experience doesn't mean you have to leave the industry," Richardson says.
He says TTSAO can help blow the whistle on these bad actors.
Like Splinter, Richardson says truckers should approach credible organizations like the TTSAO, the Private Motor Truck Council of Canada and the Ontario Trucking Association for help and guidance around employment.
Under its Top Fleets Employer program, Trucking HR Canada has 77 employers that meet its quality standards and have been thoroughly vetted, including employee surveys, Splinter says.
"It's not a competition a fleet can apply for — they either meet our standard, or they don't," she says.
"We want to see the situation improving because the image of our industry gets tarnished when these things [protests] happen."
But the protests continue.
Workers protesting in front of employers' homes in Brampton.
Naujawan Support Network (NSN)
Young Punjabi truckers have been taking to the streets and sidewalks on weekends, asking their employers to pay their wages.
Bikram Singh says many of these drivers have no other recourse, and are often in a dire financial situation.
"A lot of the youth that comes to NSN seeking help have tried the legal route but have not found success."
The transportation fact sheet by the Peel Data Centre shows 38 percent of Peel's labour force is involved in goods movement industries.
Goods movement industries account for 40 percent of Peel's overall GDP (largely because of the proximity to Pearson International Airport, major highways and rail lines), 4 percent of Ontario's and 1.56 percent of Canada's GDP, according to the 2011 report.
The 2019 Peel and Halton Regions' employer survey, showed approximately 25,000 residents were employed as transport truck drivers.
Singh says more and more abuse is taking place in the industry, especially the exploitation of international students, and NSN is often a last resort.
"We have cases where the employers have not paid the due wages despite a court-order and resort to making minimal monthly payments instead of a lump sum amount, citing bankruptcy."
Singh says these businesses know how to exploit "legal loopholes."
The Region of Peel's 2018 employment survey shows 74,264 people were employed in the Transportation and Warehousing industry.
"How can we expect cash-strapped students that haven't been paid their wages, that live hand-to-mouth on GIC payments, to churn out lawyer fees?"
Brampton-based paralegal Deepinder Loomba says he offers free legal advice, discounts to international students and helps them recover their unpaid wages quickly.
"I do a lot of cases pro bono and there are many other lawyers too," Loomba told The Pointer.
Singh says the ones that do manage to arrange money for legal fees have newfound problems.
"The youth often get counter-sued for defamation and the legal route prolongs the process instead of getting them immediate justice," Singh says.
"That's why the youth choose to protest to get their money faster," Singh says.
Loomba fears the protests might lead to counterclaims by the employers and further delay the justice for victimized truckers.
Singh told The Pointer that a majority of the cases include trucking companies not paying staff but truckers aren't the only ones.
"NSN has been able to recover around $25,000 to $30,000 held in wages by employers," Singh, a team member at Naujawan Support Network, says.
Singh says some trucking business owners take advantage of inexperienced youth on their study permit or work permit, trying to gain their permanent residency status after coming to Canada on a student visa.
"They (trucking companies that skirt the rules) feel they have the upper hand because they know that these drivers will need experience letters."
Singh says a majority of these employers are South Asian-Canadians.
"We can no longer call them our own, the only group they now belong to is profiteers," says Singh, when asked why these employers would do such a thing instead of helping out the people from their own communities.
"You talk of the community? We have a driver whose close relative is withholding their wages," Singh says.
Singh did not disclose the employer's name because NSN is hoping they will pay the wages owed without further action.
The protests in front of the homes of owners have been one form of action.
The Naujawan Support Network is organizing its next public awareness rally on December 4.
With the NSN reminding elected officials constantly, Singh hopes the provincial government can bring in laws to address ongoing issues.
"We are doing our bit by exposing these people in our community, so that others don't have to go through the same."
"Student and new immigrant workers being exploited is an old issue," says Navyug Gill, who now works as an academic in the U.S. and studies labour issues among immigrant populations.
Born and raised in Mississauga, Gill says these issues go back to the '60s and '70s and are not limited to the Punjabi-Canadian community.
"Parallel issues exist in every single immigrant community in Canada where new arrivals come to a country and due to familiarity with language and culture gravitate towards employers with similar backgrounds," he says.
Gill says withholding wages of workers is not only exploitation but also a form of disrespect.
He says a larger influx of a much younger workforce adds to this problem.
"Students are getting exploited by dubious colleges that take huge fees from them and necessitate the need to work off-campus."
"There are more and more people now needing to work and are willing to take any jobs in these kinds of industries, without any kind of formal contracts and with shady arrangements."
The trucking industry has its own unique problems with such issues.
Some truckers that are licenced may not have received adequate training.
The defence attorney for Brampton's Sukhvinder Rai, who crashed his dump truck into the Burlington Skyway bridge in 2014, argued that the training given to his client was "highly deficient."
Under the National Safety Code, the federal government added Mandatory Entry Level Training (MELT) for novice truckers in order for them to procure a Class 1 licence.
Ontario was first to adopt MELT standards back in 2017, a year before the tragic Humboldt Broncos crash that killed 16 people and injured another 13 near Armley Saskatchewan. The inexperienced driver, Jaskirat Sidhu, came from a farming family in India and completed a one-week training course that failed to prepare him for commercial driving in difficult winter conditions, like the ones on the day of the fatal accident.
Richardson says the MELT program, aimed at trucking schools responsible for proper training, has had major problems.
"Kudos to the government for trying to implement a system that was going to help weed out the bad apples but it backfired on the government and the industry."
Richardson says the problem isn't with MELT but with its implementation.
Many trucking companies do provide this training but what good is MELT when it's not compulsory or when there's no one to enforce it, he asks.
He says there are more trucking companies within a 30-minute drive of the Pearson airport than anywhere in Canada, and the government isn't sufficiently staffed to monitor what he calls "rogue schools."
"There are around 80 schools in the Brampton area that have popped up since MELT was introduced," he says.
"We don't need the government to tell us how to do our business. We know how to do business; it's the fly-by-nighters that are coming up with these rogue schools."
"They are not being dealt with, and that enforcement must come from the Ministry of Colleges and Universities in collaboration with the Ministry of Transportation."
Richardson says these "rogue schools" collude with bad insurance companies that circumvent the regulations so they can operate.
"How does one person manage and regulate 170 schools in the province?" he asks.
Richardson says there is business and trucks lined up, but no one to drive those trucks.
He cringes when he hears, 'if you got it, a truck brought it.'
"A person driving that truck, a driver who's trying to make a living for his family, brought the freight."
"A truck never brought you anything."
---
Email: [email protected]
Twitter: Anukul_AT
---
COVID-19 is impacting all Canadians. At a time when vital public information is needed by everyone, The Pointer has taken down our paywall on all stories relating to the pandemic and those of public interest to ensure every resident of Brampton and Mississauga has access to the facts. For those who are able, we encourage you to consider a subscription. This will help us report on important public interest issues the community needs to know about now more than ever. You can register for a 30-day free trial HERE. Thereafter, The Pointer will charge $10 a month and you can cancel any time right on the website. Thank you
Submit a correction about this story