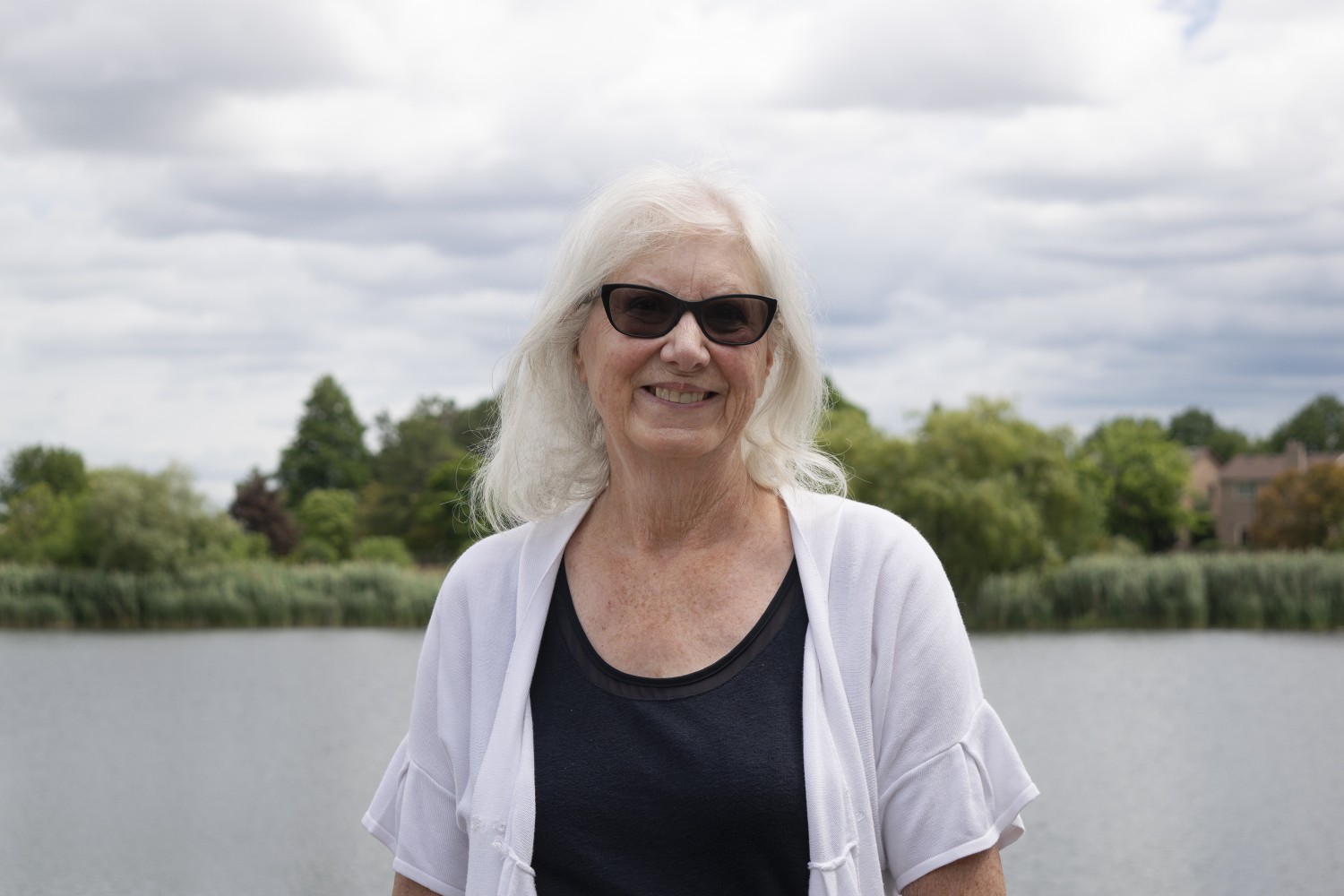 (Alexis Wright/The Pointer) 
Pat Saito helped shape Mississauga for more than three decades
When she was reelected in 2018, Pat Saito knew the sun would soon set on her long career as a Mississauga politician who helped shape her maturing city.
She left a profound mark.
Now, with the end of a more than three-decade career nearing its arrival, Saito reflects on her decision to step down. She is the longest-serving member of council. After 31 years, she thought, it was enough.
She has few regrets.
"I never, ever, in my wildest dreams… said, 'One day I want to be a politician.' I mean, never. That was just so far out of it. I figured one day, I would go back into teaching," she told The Pointer in a recent interview.
Instead, she was convinced by many in her inner circle to use her strong opinions and work ethic to fight for the emerging communities taking shape in the fledgling municipality. Focusing on road safety in a rapidly growing suburb, crime prevention and keeping the community's historic character intact were always priorities—at times, they created significant challenges.
"You can't hide behind a vote. You can't hide behind a fear of 'what's the media going to think,'" she said. "Quite frankly, that's the least of my concerns when I've made any decisions."
Saito worked closely with former mayor Hazel McCallion, even through turbulent times inside City Hall, when Saito was one of the Hurricane's loudest defenders.
Known for her blunt words and powerful presence, McCallion, Saito says, loved to get her way. Saito recalls even when she didn't vote with McCallion the larger-than-life mayor understood her decision.
"'You are voting the way you are, you're moving this motion… And you're making a decision based on the fact that you did your homework, and I really respect that'," Saito recalls McCallion saying to her after a council vote.
When it was discovered McCallion's son had a major stake in a massive $1.6-billion downtown hotel-convention project being secretly pushed behind the scenes by the mayor, while she quietly took votes to advance the development, Saito remained loyal to her close friend.
Throughout the more than $7-million judicial inquiry into the scandal, Saito refused to support the bloc of councillors who pushed for the public hearings. She remained steadfast, despite evidence of wrongdoing that mounted against McCallion.
The inquiry concluded McCallion's actions were a "real and apparent conflict of interest" as she lobbied to get the deal done and pressured staff to make it happen.
Council was divided, causing serious strain between friends including Saito. The majority of councillors sided against McCallion demanding an inquiry into the matter. After the clear public interest in the judicial review and the sweeping changes inside City Hall as a result, Saito admits what happened was wrong. The culture around local government in Mississauga after decades of heavy-handed rule by McCallion has changed.
"What she [McCallion] was doing in pushing for a hotel was a council priority. So she was furthering the will of council," Saito said. "It was not the way she should have done it. Now, having said that, I think it was a huge waste to spend $7 million of taxpayers' money on an inquiry."
The decision to launch the inquiry was not supported by Pat Mullin, Katie Mahoney, Maja Prentice and Saito. Not only did it cause friction between councillors but also between the mayor and her colleagues. Saito says the two votes against her that hurt McCallion the most were those cast by late councillor Carmen Corbasson and long-time councillor Frank Dale. Behind-the-scenes relationships around the inquiry, which drew national attention and deeply damaged McCallion's previously teflon reputation, created tension and Saito saw lines drawn.
"Carmen [Corbasson] and I had been friends …We used to spend New Year's Eve, my husband and I, with Carmen and Sam, and Frank [Dale] and Terry and we never got together with them ever again after that," Saito said. "It was a terrible time to be on council quite honestly."
Despite the friendships she lost Saito still believes she did what was right.
"I have absolutely no regrets about the stand I took. I'll be very frank on this one, I think some members of council at the time felt that they were being pushed to go for it [the inquiry]."
Pat Saito (left) stuffing cake in former mayor Hazel McCallion's mouth at Meadowvale Theatre's 25th anniversary in 2014.
(Contributed)
While campaigning in 2014 she heard from many residents.
"I had so many people say to me, 'What are you thinking about this inquiry thing against Hazel?' And I said, 'I didn't vote for it, and I'm supporting Hazel. [They would say] 'good for you, put up a lawn sign'," Saito recalled. "I was really amazed because the people of Mississauga stood behind her."
Her connection with residents was tested again in 2015.
The Meadowvale Islamic Centre approached council and proposed a 12,000-square-foot Mosque with prayer spaces, classrooms and a gymnasium at 6508 and 6494 Winston Churchill Boulevard. Mayor Bonnie Crombie supported it and said, at the time, the project met all the City's needs including parking and traffic requirements. Saito and many of her older residents were opposed to the plan.
"I knew what was best for my community and I would have done the same no matter what was proposed to have been built there," she told The Pointer. "The fact that it was a Mosque did not mean anything to me, it was a planning issue and it had to be dealt with as a planning issue."
During the public meeting for the project, which drew a crowd of more than 200 people, residents raised concerns specifically about the height of the building and traffic impacts on Winston Churchill Boulevard.
Now arrested notorious Islamaphobe and former Mississauga mayoral candidate, Kevin Johnston, stood up in front of council in 2015 saying he created a website and flyers saying the Mosque would increase vandalism, crime and was a destruction of Canadian values.
Literature that was spread throughout the city and online included blatantly Islamophobic references and images. It was clear that much of the opposition had nothing to do with accommodations for a place of worship, the same accommodations that had been made for churches for decades.
Staff said the same, that all concerns around traffic and parking had been addressed and there was nothing wrong with the Mosque application.
The Planning and Development Committee meeting in September 2015 led to a heated exchange between Mayor Crombie and Johnston. Afterward, residents who supported the vocal Islamophobe, who has for years pushed anti-immigration values, brought forward a petition asking the mayor to apologize. She refused, and voiced opposition to the position Saito had taken.
Council ultimately rezoned the land with Saito being the lone vote against it. The national media and majority of the public who expressed an opinion came down hard against Saito, who seemed tone deaf to the rapid demographic changes unfolding in her Ward, where a very large Islamic community continues to grow and prosper.
She was accused of aligning with the old guard she identified with, while failing to understand how many of her newest constituents felt.
It was a difficult time for Saito, as suddenly the media outside Mississauga piled on her. She faced accusations of discrimination and religious intorlerance. While she insisted then, as she does now, her position had nothing to do with the difference between a Church and Mosque, she failed to explain why she had never voiced the same concerns over Christian-related accommodations, including for parking.
She stubbornly refused to accept that City staff had carefully reviewed the parking and traffic concerns. Drive-through restaurants and Tim Hortons locations commonly cause far more traffic headaches in Mississauga with none of the opposition raised by Saito over the Mosque.
But she is sticking to her position, a sign that she is ready to walk away, as more and more of her constituents disagree with her.
"I don't envy the councillor coming in [who] is going to have to deal with all the parking and complaints and the traffic lights because I can tell you it's going to be ongoing," she said.
Her representation on the issue signalled to many that maybe the time had arrived for a new councillor to represent the emerging challenges in a rapidly changing community. Many in the area's diverse communities have been pushing for better representation around the council table, in a city where about six in ten residents identify as a visible minority, but whose council only has one non-white member out of twelve.
Despite the criticism, which she is clearly aware of, Saito's reputation was cemented long ago. She has been a tireless advocate for community safety and various policing initiatives, something other parents have deep admiration for. Her determination to keep municipal spending in check also earned high praise from those who enjoyed low property-tax increases for decades. But developer contributions that helped immensely have dried up and stiff tax increases over the past decade have not aligned with Saito's belt-tightening instincts—another signal that this might be a good time to step away.
Saito's service to the communities of Meadowvale and Churchill Meadows started when she moved to the neighbourhood in 1978.
At the time, she said, there was nothing but a few schools, churches and fields where horses grazed. The quiet community was the 'outskirts' of Mississauga and the lack of children's programs and recreational centres showed that. When Saito had her oldest child she became a stay-at-home mom.
She was an active member of the residents' association and participated in fundraising committees for the Valley's Community Centre. She worked on a newsletter called the Valley Echo where she took photos and wrote stories about what was happening in the community. As a child her favourite subject was English and she later pursued a Bachelor's of English Literature at Waterloo University, taking the step into community journalism later on.
Pat Saito by Lake Aquitaine in Meadowvale, a stormwater management pond and focal point of many trails in the community.
(Alexis Wright/ The Pointer)
The Meadowvale World was a 54-page newspaper where she rose from writer, to editor, then publisher. It connected the community and did what the group set out to do: let people know what was happening in the neighbourhood.
She recalls when Cadillac Fairview was building single-detached homes in the area and before obtaining permits from the City for the drainage system went ahead and buried the pipes. Mayor McCallion at the time ordered the developers to rip up each lot to be inspected, much to the dismay of the developer.
"That was our big news story of the day," Saito laughed. "I did the interviewing with the developer and with City staff and it was funny because [at the time] I was nursing my daughter while I was on the phone."
Her stint at the local community paper was coming to a close as her kids got older and she found balancing volunteering and their needs difficult. In her eyes, the community really found a voice during those first few years.
"Everything that we brought into the community benefited our families as well," she said. "But that's why people get involved."
It started off small, she found herself volunteering for a Mississauga councillor's campaign, Larry Taylor, and at one point ran for school trustee, which she says was fun. A good friend of hers, Ted Southorn, decided to run for councillor. Taking a bigger role in his campaign, Saito wrote all the brochures, speeches and posters.
Knocking on doors during the election gave her a good idea of the community's needs. Being involved in the residents' association she also advocated to council, pushing for a traffic light to help children crossing the street in her Ward.
When Southorn was elected he told Saito of an opportunity to work with the City as a tour guide. At the time, her youngest (of three kids) was four, making the contract job viable.
"I wanted to do marketing, so that was where my heart was," Saito said.
Opportunities in leadership roles were presented to Saito in her early years on the job. Soon she was a tour guide and assistant public affairs officer working with several city departments writing brochures and newsletters — helped by her previous community work.
"I did speeches for the mayor and council, did opening events for the councillors," she said. "One of my last events [before running for council] was actually the official opening of the Meadowvale Theatre."
Behind the scenes, Satio did research and reports with City staff on crime prevention and road safety, two topics she fought vigorously for during her 31 years.
Pat Saito (above) being sworn into City Hall in 1991.
(Contributed)
It was Southorn who came to Saito asking her to register in the 1991 municipal election. The Ward 9 councillor at the time said he was having heart issues from the stress of the job.
Beating out school trustee George Carlson, who would later become a long-time council colleague, Saito won 48 percent of the vote and never looked back.
"It was interesting because I loved it," she said. "I just loved it, because I actually had a vote on stuff."
Even with the love she had for the job, Saito faced difficulties her first year. The hardest part she said was inheriting a staff employee and teaching them to operate the way she wanted them to. To this day the Ward 9 councillor gets hundreds of calls and emails from residents and she tries to engage with all of them.
"I think my biggest accomplishments were probably starting the committees that are still going today, the Crime Prevention [Through Environmental Design Committee] and the Road Safety Committee," Saito said.
During the early years on council, Mississauga had 9 Wards and Saito took it upon herself to help shape Churchill Meadows (an up-and-coming subdivision) through smart and safe planning.
"The most exciting thing was taking this huge area — I didn't design the community — but I had a lot of control over what it was going to be," she said.
Taking a look at the winding, wide roads of Meadowvale, Saito knew Churchill Meadows could be safer and a great place for new residents in her Ward. Working with planning staff and the developers, she advocated for a grid system of homes with built-in traffic calming and parks that all houses could see.
"I looked at this as an opportunity to put everything that we wanted to do into play," Saito said of the community she helped create.
The goal was to test out public transportation in the community, look for innovative ways to build safe neighbourhoods and have enough schools to support all the families moving in.
As she closes the chapter on a job she never intended to do, Saito is happy she ran for office all those elections ago. The 31 years have brought her fond memories and many challenges more recently as she tried to navigate the dynamic evolution of her Ward.
While she is stepping out of the limelight, Saito will continue to be a community advocate. But she knows her mark has already been left.
"Churchill Meadows is probably [my] huge legacy."
---
COVID-19 is impacting all Canadians. At a time when vital public information is needed by everyone, The Pointer has taken down our paywall on all stories relating to the pandemic and those of public interest to ensure every resident of Brampton and Mississauga has access to the facts. For those who are able, we encourage you to consider a subscription. This will help us report on important public interest issues the community needs to know about now more than ever. You can register for a 30-day free trial HERE. Thereafter, The Pointer will charge $10 a month and you can cancel any time right on the website. Thank you
Submit a correction about this story