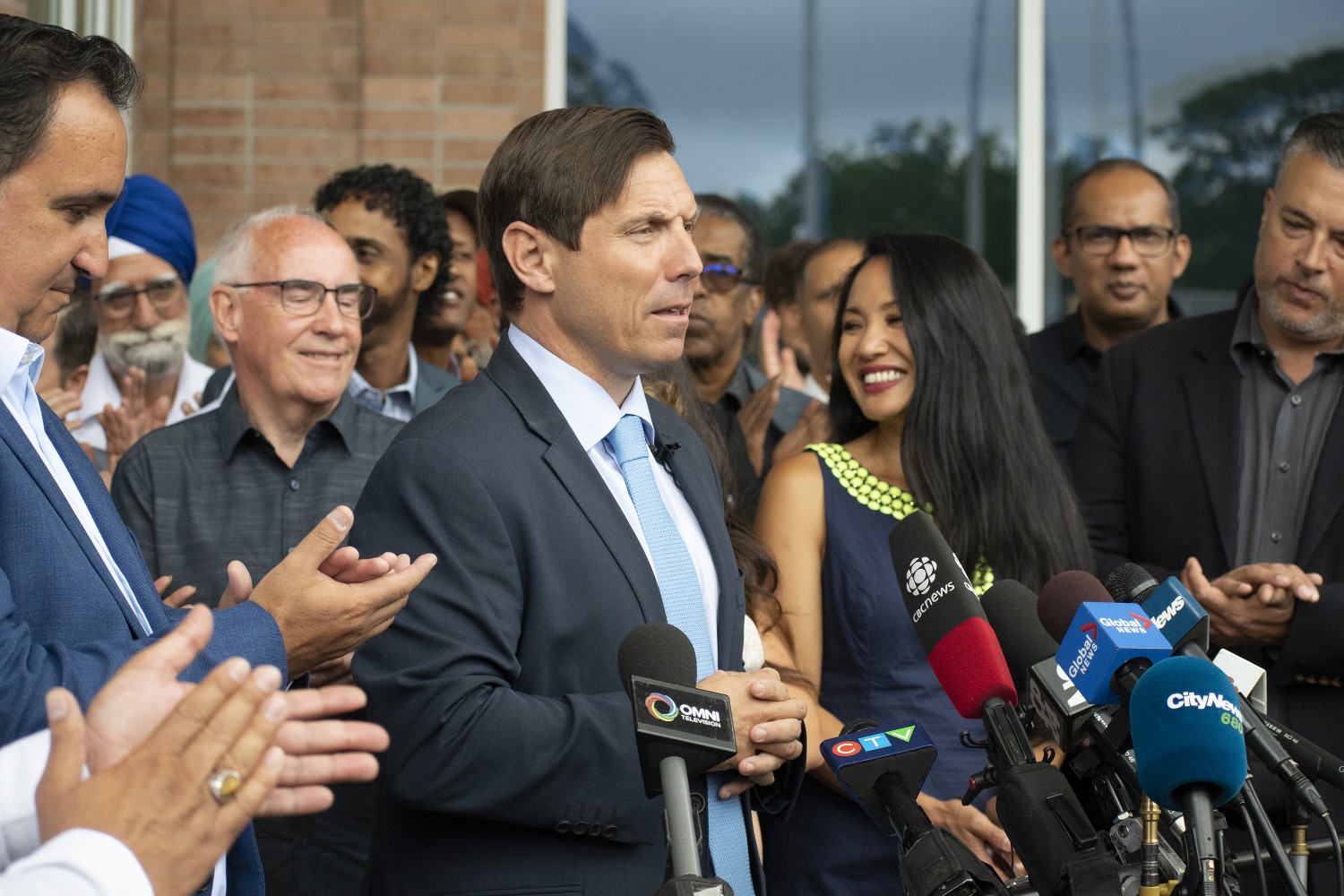 Alexis Wright/The Pointer
Brampton's City Solicitor told Patrick Brown no 'hush money' was paid in Gurpreet Dhillon matter but the mayor made the claim anyway 
The Pointer has viewed an email sent to Mayor Patrick Brown and all other members of Council Tuesday morning by the City's solicitor that refuted his claim of "hush" money being paid to settle a matter involving allegations of sexual misconduct against Councillor Gurpreet Dhillon.
"Dear Mayor Brown and Members of Council, CP24 is reporting that there is a press conference scheduled for today at 10am by Mayor Brown to discuss the payment of 'hush' money as part of a settlement of a claim against the City in relation to Councillor Dhillon. I can confirm that (the) City did not pay any 'hush' money," Diana Soos, Brampton's Commissioner of Legislative Services and the City's Solicitor, wrote in an email Tuesday morning before Brown held a City Hall press conference.
Despite the clear legal position of the City's top lawyer, Brown disregarded the email and shortly after went public with his claim that "hush money" was paid.
Soos told members of Council in the email, sent prior to Brown's press conference, that public comment on the matter could expose the City of Brampton to legal risk and advised them to refrain from discussing the issue publicly. She also explained that in such legal matters that involve the City, its insurance provider decides how to proceed. The email does not indicate if any agreements were reached in the matter and makes clear that if any legal decisions were made around the allegations against Dhillon, he would not have been involved—the third-party insurance company takes the lead and determines any agreements that are reached.
Brown is now facing legal action by Dhillon after the mayor publicly claimed hush money from the City was used to prevent public discussion of the allegations, which Dhillon has denied all along.
Brown, who is seeking reelection in October after being disqualified from the federal CPC leadership for allegedly committing federal crimes around election laws, made his claim about City money being used during a Tuesday morning private press conference inside his office that barred certain media from attending. The Pointer was told by Brown's staff to leave prior to the conference, stating only those media outlets that received an emailed invitation were allowed to attend.
At the conference, Brown claimed he had heard the allegation of hush money being used from an anonymous whistleblower and that the City's Chief Administrative Officer (CAO) could confirm this.
Since the conference, Brampton's acting CAO, Paul Morrison, has refused to confirm Brown's claims. On Thursday, The Pointer was told, "The City cannot provide comment on such matters."
Despite no proof of any "hush money" being paid, Brown's claims have received widespread attention since Tuesday morning. The City Solicitor's email sent that morning suggests Brown knew his claims were not supported by Brampton's top lawyer, who also serves as commissioner of legislative services. Throughout much of his political career Brown has been accused of fabricating information. In 2018, Ontario's integrity commissioner reported Brown deliberately misled him, when failing to disclose $375,000 used to purchase a $2.3 million lakefront home that came from a man Brown gave a PC nomination to when he was Party leader.
Councillor Gurpeet Dhillon has threatened legal action against Mayor Patrick Brown.
(The Pointer files)
"Patrick Brown is once again lying and distracting Brampton taxpayers from the truth," Dhillon wrote in an emailed statement to The Pointer Thursday. "It's the same behaviour that got him thrown out as leader of the Ontario Conservative Party and banned from the federal Conservative leadership race. This is classic Patrick Brown strategy: he deceives, manipulates, and deflects and is now desperate to cling to power in Brampton."
"This is just another politically motivated stunt by Patrick Brown in a desperate attempt to gain control of Council so that the multitude of investigations ordered by Council into his scandals, misappropriations, and questionable activities, will never see the light of day. He knows that if these investigations into his misconduct proceed, it will have dire consequences for him."
In May, Council began a forensic audit into the BramptonU project after staff revealed a firm that employed Brown's close friend Rob Godfrey was given more than three times what council approved for work to help bring a university to the city. Staff also revealed much of the work was never done, despite more than $500,000 that was given to Godfrey's firm.
David Wheeler, a close friend of Councillor Rowena Santos, Brown's closest ally on council, was also given a contract for just over $100,000 to do work on the now abandoned BramptonU project. He began billing taxpayers for travel expenses months before the job was awarded to him, and much of the work he was supposed to do cannot be found. The firm Wheeler claimed to work for when he was given the contract, and whose logo appeared on documentation introducing Wheeler to Council, later told City staff it had nothing to do with the BramptonU project.
A series of other investigations were also launched to find out how contracts were handed out under Brown's leadership, where millions of dollars went, how key senior positions went to friends and associates linked to the mayor and how procurements have been handled since Brown took office.
"It is unconscionable that Patrick Brown would resort to this extreme political deception in order to orchestrate his coup of democracy and I can tell you that he will not be getting away with it," Dhillon wrote after the mayor's claims about hush money.
The allegations involving Dhillon came after a 2019 trade mission in Turkey. The allegations suggest Dhillon sexually assaulted a Brampton business woman in a Ankara hotel room, allegedly pulling her skirt and underwear off, touching her chest and buttocks without her consent.
Dhillon has denied the allegations and has asked why no police charges were ever laid. His lawyer questioned why the now former integrity commissioner, Muneeza Sheikh, would not hand over an audio recording of the alleged incident produced by the alleged victim (which convinced the integrity commissioner of Dhillon's guilt) so it could be properly scrutinized.
Sheikh, whose hiring in Brampton has been questioned—she had never worked in the municipal sector, had no experience with municipal law and had never been an integrity commissioner—reported that Brown and some of his staff met privately with the alleged victim, but she did not explain why the mayor interfered, instead of telling the woman to immediately go to the authorities. It was also revealed in the public report that Brown told the alleged victim he would have Peel's Chief of Police, Nishan Duraiappah, call her personally.
Sheikh was criticized for taking the integrity commissioner job, after it was revealed that she had a friendship with Brown and that her husband at the time did work for the Ontario PCs when Brown was the Party leader. She publicly defended him when allegations of sexual misconduct were brought forward against Brown at the beginning of 2018.
Despite the appearance of a conflict of interest, she took the job anyway.
Sheikh eventually sided against Dhillon, believing the alleged victim and recommended the councillor be punished. An integrity commissioner decision is not a court matter and the allegations have never been dealt with by a judge. No criminal charges were brought forward.
In 2020, Council unanimously passed a motion asking Dhillon to resign, and voted for the harshest penalty available, suspension of pay for 90 days.
Every member of Council, other than Dhillon who did not vote, supported the motion.
Brown's claims Tuesday are the first made by any City official suggesting that hush money was exchanged in the matter.
Since Brown's disqualification from the CPC leadership race on July 5, he has been claiming that the divide on Council is actually over the 2019 allegations against Dhillon. Every Council member, other than Dhillon, voted to punish him in 2020.
In early 2022, six councillors, including Dhillon, vowed to restore good local government in the City after a series of scandals and allegations of widespread misconduct under Brown's leadership.
The six councillors voiced concern over the conduct of City Clerk Peter Fay and former City solicitor Sameer Akhtar who sided with Brown in numerous procedural debates. Akhtar had never worked in a municipality's law department and it remains unclear how he was given the top job under Brown. The advice of the lead solicitor and the clerk helped prevent motions calling for accountability and transparency from coming to the floor or pulled controversial issues in camera, behind closed doors where the public could not see what was going on.
Brown himself still has sexual misconduct allegations against him from two young women that led him to resign as the Ontario Progressive Conserative Leader in 2018.
Dhillon drew attention to the allegations of sexual misconduct against Brown.
"Sadly, I am not at all surprised by his desperate act to intimidate and deflect from his misconduct in Brampton. The latest allegations of committing federal crimes as a CPC leadership candidate come as no surprise to Canadians who have seen this pattern of behaviour before. He lied to the Ontario integrity commissioner in 2018. He broke at least four rules regarding his income. And we found out he abused Ontario taxpayers as PC leader by running up expenses."
"Brampton voters should ask him about the Globe and Mail article that highlighted concerns about his sexually inappropriate behaviour going back to his time as a Barrie area MP. That was years before it was reported that two more young women told their stories of the sexual abuse they suffered at the hands of Patrick Brown. CTV to this day stands by their reporting, in which they only changed the age of one woman. Brown lied to Canadians, suggesting the matter was settled. The allegations that led to Brown's disgraced fall from provincial politics still stand."
---
Email: [email protected]
Twitter: @JessicaRDurling
---
COVID-19 is impacting all Canadians. At a time when vital public information is needed by everyone, The Pointer has taken down our paywall on all stories relating to the pandemic and those of public interest to ensure every resident of Brampton and Mississauga has access to the facts. For those who are able, we encourage you to consider a subscription. This will help us report on important public interest issues the community needs to know about now more than ever. You can register for a 30-day free trial HERE. Thereafter, The Pointer will charge $10 a month and you can cancel any time right on the website. Thank you


Submit a correction about this story