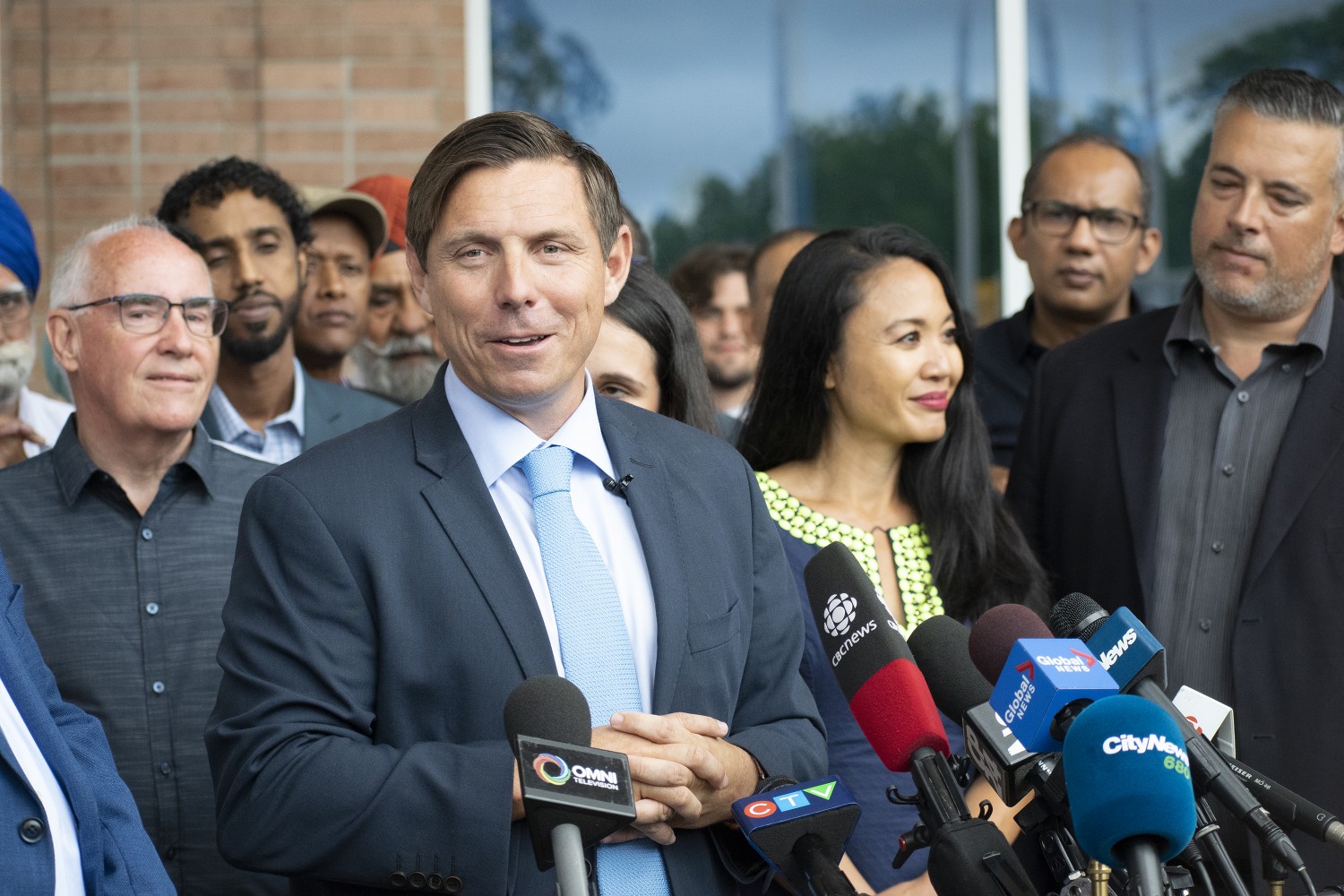 Alexis Wright/The Pointer
Patrick Brown keeps scheduling snap council meetings that can't take place, after cancelling them for a month; critical City business stalled
While missing meetings of Brampton Council was a regular occurrence for Mayor Patrick Brown on the CPC leadership trail, now that he has been disqualified his stance has shifted.
From July 19 to 25, Brown has been calling special Council meetings while his Council opposition is away on previously scheduled vacation—council is currently on summer recess—then complaining on social media when councillors don't show. Council members provided emails to The Pointer they sent to Brown and his office, notifying the mayor and his staff of their summer vacation schedules. He called the unscheduled special meetings, with less than 24-hours notice, knowing they could not attend.
"Would he even be in Brampton, had he not been disqualified from the CPC leadership race," Councillor Martin Medeiros said. "Now, suddenly, he's calling last minute council meetings knowing members are away. We have a scheduled meeting August 10, and I look forward to moving the investigations forward and other City business."
Each summer Council takes a recess period with no scheduled meetings for three weeks to allow Council members and staff to take time off. It's a practice that has been in place in many municipalities across Ontario, including Mississauga, which also moves to a lighter council schedule July and August.
A summer recess has been held throughout the last three years of this council term—without issue.
In June, when Brampton Council was expected to address a number of pressing issues on meeting agendas, Brown led the cancellation of four scheduled meetings that could not take place because he and his four allies refused to attend, preventing quorum from being met.
Only ten members have been on Council since Charmaine Williams vacated her seat following her victory in the June 2 provincial election.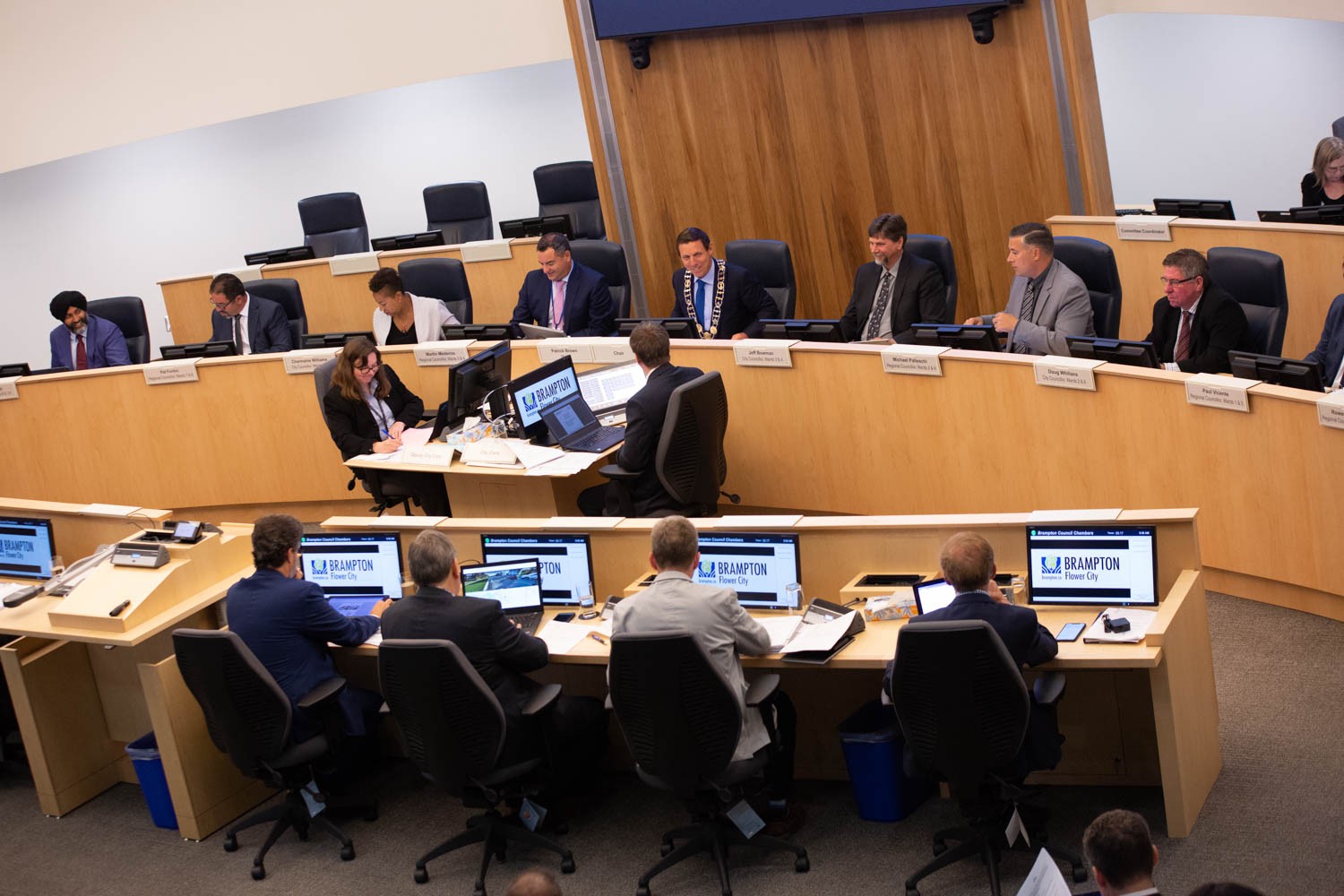 A bitter divide has kept all of Brampton council from getting together for regular meetings. Critical City business is at a standstill as a result.
(The Pointer files)
Five other members who have opposed Brown on accountability issues, hoped to deal with a series of ongoing investigations into allegations of widespread misconduct under Brown, including procurements, contracts, hiring and alleged financial misconduct.
Those pieces of City business and other matters such as development applications, other planning approvals and various motions to authorize a range of municipal work have all been stalled.
Brown said the reason he, Rowena Santos, Harkirat Singh, Michael Palleschi and Paul Vicente, the mayor's allies, did not attend meetings in June was because they disagreed with the method his rivals used to provisionally replace Williams (they passed a motion before the election naming former councillor Elaine Moore as her conditional replacement; Moore had made it clear she would support the ongoing investigations into allegations of widespread misconduct under Brown). An application to the courts successfully overturned the method used to select Moore, after an interpretation of a previously grey area of the Municipal Act was made by the judge.
Brown has claimed the legal action was taken because an improper process was followed, but The Pointer has viewed text messages from him showing he was fine with a provisional selection ahead of the provincial election, as long as it wasn't Moore, who has taken to social media for months to express her frustration with Brown, after he had made the former veteran councillor an advisor for his 2018 mayoral campaign.
Now, Council is stuck with no way forward, as each faction only has five members, one less than the majority needed to approve anything, including a replacement to fill the vacated seat.
Meanwhile, City business from as early as May is piling up, including an update on the BramptonU forensic investigation—Brown and Councillor Santos are both implicated in the questionable procurement that saw almost $630,000 go to two firms, one linked directly to the mayor, the other to Santos. They never disclosed their ties, much of the work was never done, and Brampton taxpayers ended up paying more than double what Council approved for the work.
In addition to the ongoing investigations, 30 bylaws which Council is set to review, many of them development approvals, are also in limbo.
"The investigations are still moving forward and we expect to have an update for the taxpayers in August," Councillor Jeff Bowman, one of three council members on the investigation steering committee, told The Pointer. He said the third-party firms hired to conduct the sweeping investigations into procurements, financial arrangements and hiring practices under Brown are not impacted by the ongoing impasse.
Public delegations have also been pushed back, including presentations on three different planning and development applications; as well as four delegations on the design and location of a monument to honour Tamils who lost their lives during Sri Lanka's civil war.
In addition to the City business currently listed on the growing agenda, Council has a number of ongoing items that make up its Referred Matters List, many of which have deadlines that are fast approaching.
The 75 referred reports include a number of items penned for a target deadline in September—many of these have already had several previous delays, indicative of the widespread mismanagement and dysfunction that has plagued City Hall throughout this council term under Mayor Brown.
After refusing to allow budgets that expanded the capital program and operating costs to run the City, staff have been left scrambling to deal with a range of issues:
Brown cancelled the previously approved Downtown Reimagined project to revitalize the withering city centre, leaving staff to coordinate the Region of Peel's subsurface infrastructure work on the project with a last-minute Band-Aid plan the City threw together to provide minimal surface upgrades.
Brown has slashed the Transit capital budget, forcing more delays to critical infrastructure needed to keep the system operating.
He has done the same to its operating budget, refusing to cover the rising cost of diesel in the 2022 budget, leaving questions about where the money will come form to keep buses moving.
He promised a world class cricket stadium would be built by now, but removed the money from the budget, forcing staff to search for other options.
His failed BramptonU plan has left a huge hole in plans for future post-secondary education in the city.
He has failed to secure local funds to mitigate the ongoing downtown flood problem.
His claims of finding as much as $1.7 billion for a tunneled downtown LRT have left senior employees without a solution to move the project forward.
Despite misleading the public as a CPC leadership candidate, repeatedly claiming Brampton is the first Canadian city with an electrified transit system, it still runs on diesel, while staff try to find funding solutions to create a green bus network as the mayor refuses to increase the City budget.
Brampton's emissions reduction targets are getting further out of reach, as Brown refuses to pay for needed investments.
Other matters being neglected include a proposal for a Brampton Autism Centre; the development of a centre for excellence aimed at youth sports; a report on a major roadway project needed in the east end; and Brampton Hockey's request for a home rink at South Fletcher's Recreational Centre.
This is in addition to items that will soon pass their original deadline including a proposed Citywide parking policy; the development framework for a multipurpose cricket facility; and decisions around future landscaping.
Dispositions of land, potential demolition of buildings and a critical report on the future of recycling are all waiting to be addressed.
Perhaps most critical, is the updated long-term financial plan—after four years of budget cuts under Brown tore apart the previous financial blueprint for the city's future. He ended the practice of producing a ten-year capital budget to guide responsible fiscal and planning decisions, something that all large cities use to steer decision making.
Some deferred matters that are targeted for completion by September have already passed previously set deadlines, such as the request to establish a new position and office to address Indigenous and Urban Migrant Affairs, which has had four revisions since its original deadline target in 2021; or the report on the potential cost savings through adopting new maintenance strategies which has seen eight revisions to its deadline since 2021.
Since his disqualification from the CPC leadership and admission that his candidacy had dominated his time since March, criss-crossing the country, missing key council votes and failing to attend council meetings in person while often absent even virtually, Brown is now claiming councillors opposed to his leadership are refusing to attend meetings.
In a statement on July 19, the five members of Council who voted for the ongoing forensic investigations accused Brown of playing "yet another game" and pointed out the four previous meetings Brown boycotted alongside his council allies, which had to be cancelled. This includes meetings on June 15, June 17, July 4, and July 6. As a result, Council has been unable to achieve quorum in an official meeting, outside of committee, since June 1.
"We welcome the Mayor and his supporters (Rowena Santos, Harkirat Singh, Michael Palleschi and Paul Vicente) to join us back at the Council table on August 10, 2022, during the next regularly scheduled Council meeting," the five wrote.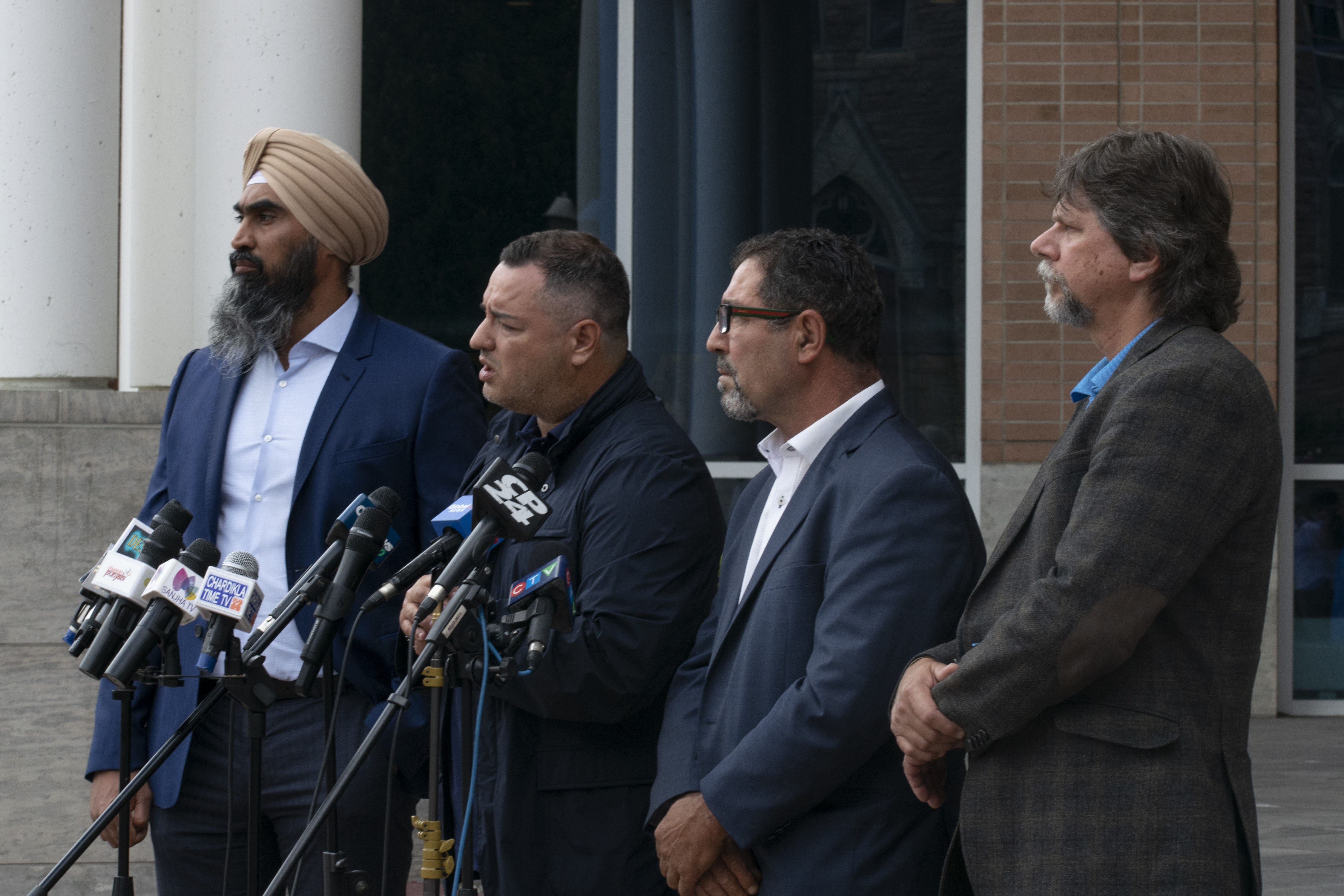 From left to right: Councillors Gurpreet Dhillon, Martin Medeiros, Pat Fortini and Jeff Bowman claim Mayor Patrick Brown's repeated attempts to call meetings during the summer recess is a political game.
(Alexis Wright/The Pointer)
Bowman, Whillans, Dhillon, Fortini and Medeiros have long been critical of Brown. The five previously vowed to restore good local government in the city following a series of scandals involving former CAO David Barrick and Brown. Barrick was recruited by the mayor, who he shared a number of close Conservative ties with, before he was fired in February when the six members had grown frustrated with how Barrick and Brown were running City Hall.
The last regular council meeting, scheduled for July 6, was cancelled at Brown's request, which he attributed to the Superior Court still making their decision on the legality of the appointment of Elaine Moore to council, which Brown opposed.
During this time, Brown and his four Council allies were on strike, after Council voted on May 31 to name Moore as a provisional replacement to fill Williams' seat should she get elected as MPP in the June 2 provincial election.
In one of his last votes, Brown and his allies refused to support a motion on May 31–to supply the forensic investigators access to all City Hall materials they need.
The next regular meeting of Council is scheduled for August 10.
On social media, Brown has been making a show of the lack of attendance at his snap meetings, even claiming to have written to city councillors recently that if they do not return to work then he will be moving a motion: any City Councillor who misses five consecutive meetings will be deducted pay.
Patrick Brown posts to social media on July 22 that he has written to Brampton City Councillors on vacation that he will be moving a motion to deduct pay from councillors who miss five consecutive meetings.
(Twitter)
In a message to The Pointer on July 25, Bowman denied that Brown ever reached out and wrote to him. Bowman said he is isolating up north after testing positive for COVID-19.
"It should be made very clear that Mayor Brown did ask for our availability two weeks ago. Myself and others replied to him that we were unavailable due to scheduled holidays," Bowman said.
"Knowing full well we were unavailable, and being informed by the clerk that there was no quorum, he proceeded to call a meeting Tuesday, then Wednesday, then Thursday, and Friday as well as this morning. He then claims he sent us all a message saying he intends to move a motion to have us docked pay after five missed meetings. I have yet to receive any message from the Mayor. In fact when I check my phone, the last message I received from him was funnily enough, April 1st."
On July 25 Brown posted a press release to his personal Twitter signed by himself and his four Council allies; he blamed the five members of Council for the extremely long agenda, which has been building even before he announced his strike in June.
Prior to that, since March, Brown was preoccupied trying to become the next leader of the Conservative Party of Canada.
---
Email: [email protected]
Twitter: @JessicaRDurling
---
COVID-19 is impacting all Canadians. At a time when vital public information is needed by everyone, The Pointer has taken down our paywall on all stories relating to the pandemic and those of public interest to ensure every resident of Brampton and Mississauga has access to the facts. For those who are able, we encourage you to consider a subscription. This will help us report on important public interest issues the community needs to know about now more than ever. You can register for a 30-day free trial HERE. Thereafter, The Pointer will charge $10 a month and you can cancel any time right on the website. Thank you

Submit a correction about this story