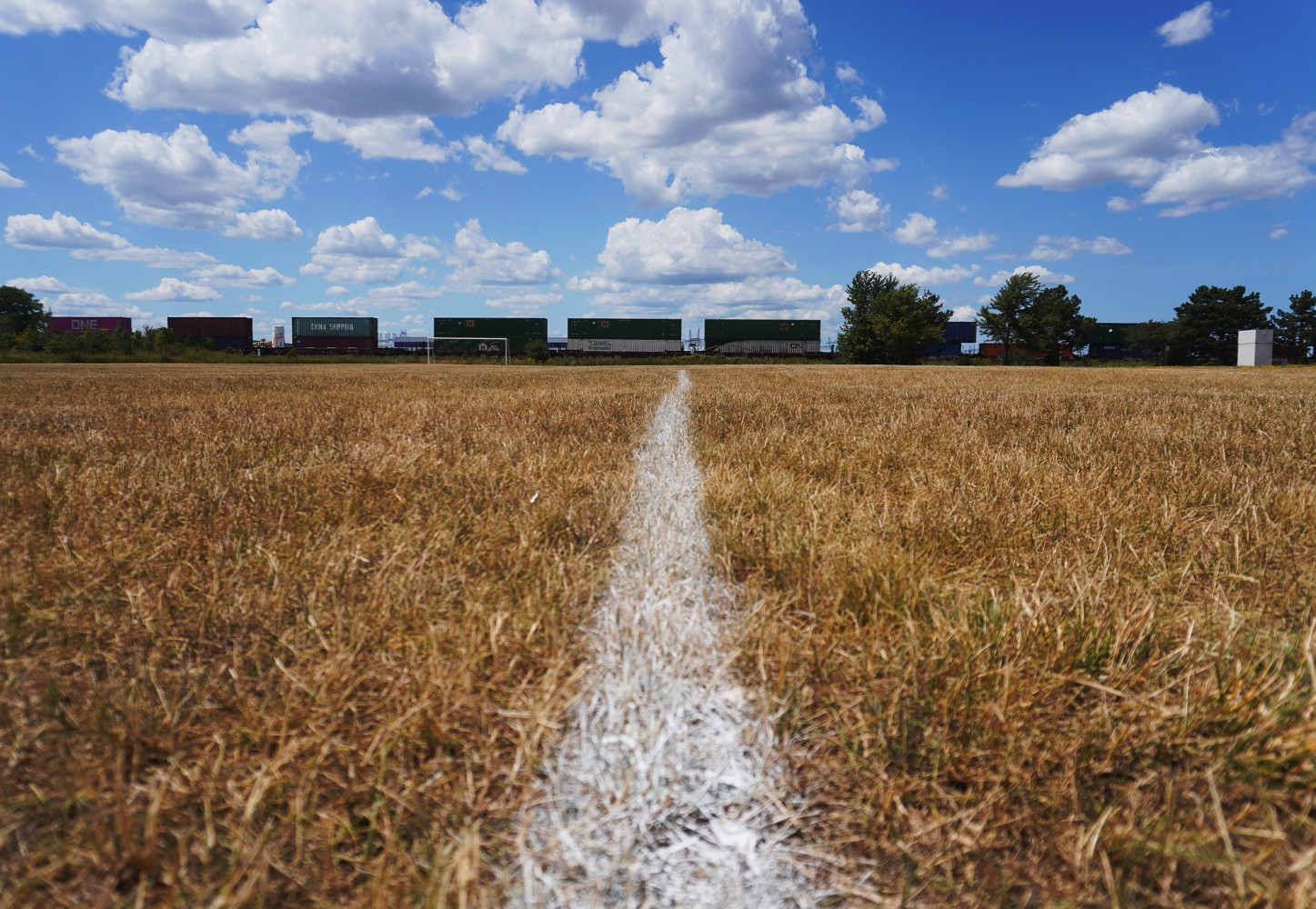 Alexis Wright/The Pointer
Catholic Board fails to provide equitable recreational funding to diverse Malton high school
Cristina Verdoliva is more than an avid soccer player—the game is in her blood.
For the 18-year-old, kicking a ball around, dribbling and running until her lungs burn is a favourite pastime, especially with her family. It started with her father, who has been a fanatic for as long as she can remember. The passion was then passed onto her and her older brother. Both of them spend countless hours perfecting their skills at their home in Malton.
In Grade 9, Cristina attended Ascension Of Our Lord Secondary School and was hoping to follow in her brother's footsteps after he played on the school's soccer team.
She made it on in her freshman year, but was surprised by the lack of support and poor facilities. Funding for outdoor recreation and competitive athletics could be seen at other Catholic schools. While students benefited socially, physically and psychologically, Ascension was falling further behind, much like other parts of Malton that have suffered for years due to neglect.
Ascension is the only Catholic high school in Mississauga without a proper sports facility nearby. Students who enjoy athletics at the school need to train for track and field competitions on pavement and inside the small gym. The school's sports teams do not have a home field nearby—as there is no joint-use agreement between the school and the City which owns the nearby field, which has been poorly maintained—students have to travel to compete. Practicing is difficult due to the lack of proper facilities.
In July the field was crunchy from heat and ignored by local kids walking through the area. In the distance CN Rail tracks carry rail cars hauling goods.
(Alexis Wright/The Pointer)
For years the community has been asking for equitable funding. Families have been calling on the Dufferin Peel Catholic District School Board (DPCDSB) and the City of Mississauga to replace the decaying, City-owned, soccer field in Anaka Park beside the school with a new facility that includes a proper track around it.
Critics say the Catholic Board is neglecting the school, largely because of the socio-economic profile of the area.
The Board says funding for the project has not flowed because stakeholders can't reach a decision. It also blamed the Province, but Queen's Park told The Pointer the Board is responsible for greenlighting the needed money.
Details of closed door meetings between stakeholders, including the DPCDSB, City of Mississauga and community members have trickled out as they try to hash out how to pay for a new soccer field and surrounding track. Agreeing on a design has been part of the problem. Meanwhile, students like Cristina, who just graduated, wonder why other schools in Peel provide so many more opportunities compared to their Malton school.
Mounting concern over the perceived treatment by the Catholic Board toward students in a school that is predominantly non-white, comes as the church continues to receive widespread condemnation for its abhorrent treatment of indigenous communities going back almost 200 years.
In the spring, the City and DPCDSB reached a consensus on a future facility, but details have not been made public and it's unclear whether any formal agreement has been signed between the City and the school board.
"[D]ue to the limited size of Anaka Park, a consensus involving the City, DPCDSB, and the Ascension of Our Lord school community on an agreeable design for the proposed track and field amenities did not occur until this spring," Bruce Campbell, a DPCDSB spokesperson, wrote in an email. "Until this occurred, any further consideration around funding could not be finalized."
Campbell did not share the details of what was agreed to, or what any future facility might look like.
Documents shared with The Pointer indicate there have been several options considered including an eight-lane track surrounding a tilted soccer field. Improvements also included new top soil, goal posts and a more expensive option with bleachers and benches.
The four iterations that were proposed range from about $300,000 to $5.3 million for a turf field with a dome overtop. It's unclear if any of these options were what the City and board settled on earlier this year.
"The redevelopment of Anaka Park to construct a new track and field facility for Ascension of Our Lord SS students has been a top priority of DPCDSB for several years," Campbell said. "That is why DPCDSB has collaborated with the City, the Ascension of Our Lord school community, members of the Malton community, and the local MPP to finalize the scope of the project and secure capital funding."
According to the Ward Councillor Carolyn Parrish, the City's portion of the funding has been sitting and waiting for some time, but the Board has refused to put up its share.
Parrish says the City is prepared to provide the land and fund the extensive design work, at a cost of about $1.65 million (the money still needs to be approved by Council). According to her, DPCDSB has never provided a commitment to fund its portion of the project, which she says is about $1 million.
"The School Board claims massive debt and an inability to put in $1 million for the only school in Mississauga without any outdoor recreation space of any kind," Parrish said. "I have ensured the $1.65 million is available when the Board is able to contribute their share—all to no avail thus far."
Campbell says the Province needs to commit funding for the Board's share.
"DPCDSB continues to work towards securing the funding as expeditiously as possible to construct this project. Once that occurs, the City of Mississauga, as owners of Anaka Park, would likely establish the timelines for the planning and construction of the field," he said. "It is ultimately up to the Ministry of Education as to the funding and resulting timeline for the project to proceed."
A spokesperson for the Ministry of Education told The Pointer the Province does not get involved in this type of funding and the school board and municipality are responsible for reaching an agreement including a timeline for the project. Trustees, not the Province, have to make decisions about a Board's use of its capital budget, the ministry said.
Parrish says the Board is using the Province as an excuse, because Trustees simply don't want to fund Ascension equitably.
"One wonders how many Ascension kids drop out of school because their Trustees and senior staff cannot or will not provide them with safe conditions under which they can achieve athletic success," Parrish said. "It is an outrage that these students, tucked away in an isolated part of the city, have to practice high jump on the pavement of the teachers' parking lot and running events in the terrazzo halls of the school—and yet they win ribbons at track meets."
Parrish says the way Ascension has been treated for decades by the board, which put a high school into the footprint of an old middle school, despite the lack of space, is a clear sign of neglect by the board, which prioritizes schools outside Malton and other diverse areas.
Councillor Carolyn Parrish has been working to find a way to create a new recreational facility for Ascension students for years.
(Alexis Wright/The Pointer)
Malton is often a forgotten part of Mississauga, she says.
Pearson International Airport creates a physical, and social, barrier between it and the rest of the city. The area is more connected to Rexdale in Toronto and southeastern Brampton culturally, economically and socially.
According to the 2016 Census almost 85 percent of Malton residents were visible minorities; the largest groups were South Asian-Canadians, Chinese-Canadians, Black-Canadians, Filipino-Canadians, Latino-Canadians and Arab-Canadians. Residents were, on average, more than two years younger than the city overall, and occupied some of the most demanding blue-collar jobs in manufacturing, transportation and logistics support and warehouse work.
Parrish and Mayor Bonnie Crombie before her, who represented Malton prior to becoming the head of Council, have highlighted the many inequities residents in the area struggle with.
Cristina considered switching schools due to the Catholic Board's failure to invest in sports facilities and clubs at Ascension.
"I kind of was turned off by the fact that we didn't have all these facilities and resources, and I was kind of considering not going to Ascension."
Cristina agrees with Parrish: her school community is being left behind.
"It's not only Ascension, it's Malton as a whole… we're neglected and it's totally unfair and inequitable."
Cristina Verdoliva (bottom right) was on the Ascension soccer team in Grade 9.
(Supplied)
The inequality is frustrating for Cristina and her fellow students. She says many felt the inferior treatment when they saw the Malton Youth Hub and the state-of-the-art turf field being built beside Lincoln M. Alexander Secondary School by the public board. It raises questions, she says.
"Not being able to have your school support a home game where all your friends come, they're cheering your team on, not being able to experience that really does have an effect on us," she said.
Parrish was a driving force behind the youth hub, and is now pushing the Catholic Board to also create equitable opportunities for Malton students.
Ascension Catholic High School was built as a middle school, so space constraints have been a problem over the years.
(Screenshot Google Maps)
There is nothing within close walking distance from Ascension that students can engage with to keep occupied, Cristina said. A small strip mall located across from the school recently closed leaving students with even fewer options.
"I see them walking around the community on their lunch, it's so sad," Grazia, Cristina's mother says. "They are walking around like zombies because they have nowhere to go. That time could be spent kicking a ball on the beautiful turf field or running around on the track."
Community advocates are concerned that students are turning away from the school. The DPCDSB as a whole has seen its enrolment decline 10.5 percent since the 2018/19 school year.
Parents have seen the lack of attention to sports and other activities at Ascension for more than a decade.
Flavienne Sagna-Layne has been on the Ascension Parents' Committee for years, and says long before she joined, there was a demand for a new soccer field and track.
She says the Ascension community has been asking for an upgraded facility for 14 years.
Sagna-Layne has two sons in Grades 10 and 11 at Ascension, both avid athletes who have been impacted by the lack of facilities at the school. After the frustration with the board, she took her sons and three of their friends to Saint Marcellinus, another Catholic high school, located in Mississauga's Meadowvale neighbourhood, to see the outdoor track hoping it would spark something in them.
"They were shocked," Sagna-Layne told The Pointer. The group of boys decided to create a petition and a video informing the student body of the unequal treatment by the Board.
"They went and presented it to student council, and all of them were like, 'what, how come we don't have (what Saint Marcellinus has) and Lincoln is getting a hub and the field? They were all pumped up, the students absolutely are behind it," Sagna-Layne said.

The Malton Youth Hub will have direct access to PDSB's Lincoln M. Alexander Secondary School.
(Alexis Wright/The Pointer)
Cristina hopes she was one of the last graduates to pass through Ascension without a new soccer field and track.
"I want to belong to a school that I know cares about their athletics…I personally didn't feel like I was part of a facility that kind of cared about athletics. I know our students did, but I can't say the same about the school board."
---
Email: [email protected]
Twitter: @taasha__15
---
COVID-19 is impacting all Canadians. At a time when vital public information is needed by everyone, The Pointer has taken down our paywall on all stories relating to the pandemic and those of public interest to ensure every resident of Brampton and Mississauga has access to the facts. For those who are able, we encourage you to consider a subscription. This will help us report on important public interest issues the community needs to know about now more than ever. You can register for a 30-day free trial HERE. Thereafter, The Pointer will charge $10 a month and you can cancel any time right on the website. Thank you
Submit a correction about this story