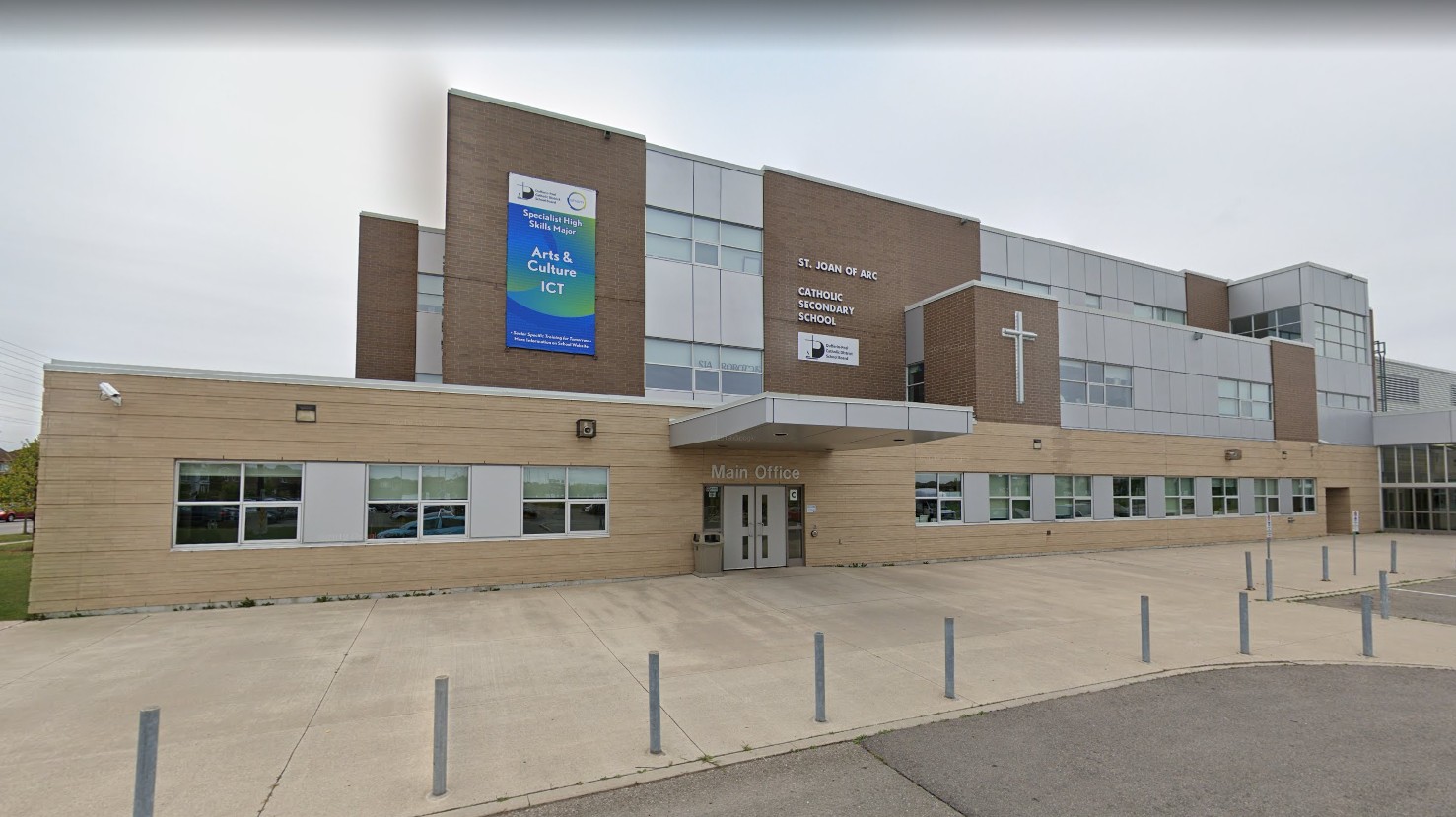 (Google Maps)
Declining enrolment could hurt Peel school boards already weakened by decades of underfunding 
Peel is one of the fastest growing regions in the country. So why is enrolment in its two largest school boards on the decline?
According to 2021 Census data, Peel grew by approximately 69,000 residents since 2016 and Brampton had the highest growth rate among Canada's largest municipalities. Yet, since the 2018/2019 school year, both the Peel District School Board (PDSB) and the Dufferin-Peel Catholic District School Board (DPCDSB) have seen a decline in the number of students walking through their doors.
Catholic boards across Ontario have seen declining student numbers for two decades, and the overall public system has seen a drop since the 2002-03 school year, when there were about 2.17 million students enrolled in the province's public system. There were 2,025,258 students in the public system in 2020-21.
Catholic boards have seen the sharpest decline.
The reasons are largely due to more education options. The private school sector has grown rapidly, religious schools have sprung up across parts of the province and homeschooling, particularly since the pandemic arrived, has grown in popularity.
Declining numbers in public education is a concerning trend that could hurt two of the largest school boards in Ontario, both of which have suffered due to per-pupil funding levels below the provincial average for decades. The upcoming 2022-2023 school year is no exception with both boards receiving provincial funding below the $13,058 per student Ontario average projected for the coming academic year.
Ontario school boards are funded almost exclusively by taxpayers through the provincial government, using a model that is supposed to ensure the Ministry of Education grants dollars based on the number of students enrolled. Other factors, such as how remote a board is and how much needs to be spent to help transport students to and from school everyday, also determine the per-student funding for each board.
Funding levels have not kept up with Peel's hyper-growth since the '70s, resulting in lower per-student funding levels compared to Toronto, for example, and a gap in capital infrastructure for public education. Even though subdivisions are approved across the region, there has been a chronic lack of classroom space to keep up with all the new residential development. The sight of portables is common, and even brand new schools are often opened with portable classrooms as the catchment population exceeds the capacity in the buildings themselves.
Now, the funding gaps are magnified with the increasingly complex needs of students and educators emerging from the realities of a global pandemic. Meeting the needs of diverse student populations, an increasingly stressed and anxious student body and new challenges to education models means school boards will need more funding in the coming years. A degrading collection of school buildings and other assets along with a population still on the rise across parts of Mississauga, throughout most of Brampton and much of Caledon put even more pressure on funding, especially if declining enrolment leads to continued cuts to the amount Peel's boards receive.
The impacts of this underfunding are currently being felt by the DPCDSB.
It is the smaller of Peel's two large boards, with a per student funding level of $12,398, about $660 below the provincial average. This below-average funding, combined with an alarming 10.5 percent decline in enrolment since the 2018/2019 school year, resulted in the board carrying an "unmanageable" $43.7 million deficit from the 2021-2022 school year. It's forced the board to make difficult staffing choices ahead of the coming school year.
To address the deficit, DPCDSB is cutting 34 full-time high school teaching positions, four vice-principals, a corporate support staff position and is reducing its professional development budget, which offers training opportunities and workshops for teachers.
The association that advocates for Peel's Catholic teachers is blaming the government funding system.
"The DPCDSB's proposed budget is symptomatic of government underfunding and highlights areas where education resources are poorly used, such as EQAO standardized testing," Brenda Golden, president of the Dufferin-Peel Secondary unit of the Ontario English Catholic Teachers Association, said. "After more than two years of pandemic disruptions, our students need more supports than ever to ensure a robust learning recovery."
School boards carrying deficits must notify the Ministry of Education and develop a plan to recover financially. The board is allowed to use one percent of its operating grants to balance the deficit. This small allocation was not enough to fully cover DPCDSB's funding gap.
Another factor impacting the Catholic board's finances is the provincial change to insurance coverage for board staff. Over a 12-year period, the ministry has been reducing the benefits funding benchmark and slowly phasing out the long-term disability (LTD) costs. The 2022-23 school year marks the 11th year of the phase out, meaning DPCDSB has to fully-fund the LTD plans for all employee groups under contract.
"Several school boards across the province have some costs associated with LTD plans, but the financial impact is less than that of DPCDSB given that most support LTD costs for one or a few employee groups, not all," the budget report details.
This on top of pandemic spending, reduced allocation and the need for additional learning support has created an unmanageable gap.
"[T]he impact of LTD has been overwhelming to the system and will take years to rebound without Ministry involvement or a legislated solution," the report continues.
According to Bruce Campbell, DPCDSB's communications liaison, LTD insurance has escalated due to the pandemic and other environmental factors.
"With newer and more prevalent diagnosis, higher utilization and increased interest rates, costs are likely to remain at this higher benchmark moving forward," he explained in an email. "The fully funded LTD plan is a benefit entitlement embedded in local collective agreements for all unionized and non-unionized employee groups."
"The deficit that DPCDSB is facing now, as a result of declining enrolment and significant increases in LTD costs, is a concern given the probability that costs remain high and may continue to increase and the plan is not within the DPCDSB's ability to change or negotiate," Marianne Mazzorato, the board's director of education, told The Pointer in an email.
Rural school boards need more funding for transportation than urban boards, adding to the difference in per student grant levels from the Province.
(Alexis Wright/The Pointer)
According to the report, there is a projected 2.5 percent decrease in enrolment for the next school year. Funding from the province is only decreasing by a fraction of a percentage, but the trend is still concerning to the board as funding drops from $886.9 million to $885.5 million.
"This ongoing and dramatic enrolment decline is a significant financial risk to DPCDSB," the report warns, adding the funding used by the provincial government to help boards experiencing declining enrolments—the Declining Enrolment Adjustment (DEA) Grant— "is time limited over two years and is substantially reduced in the second year." Simply put, it's not enough.
Another issue highlighted by the DPCDSB as contributing to its unstable financial position is the province's school closure moratorium.
Since 2018 the province has prevented boards from closing schools, despite some spending money on half-empty buildings. Instead of being allowed to close a school and move staff and students over to another building, DPCDSB has the equivalent of 28 elementary schools being underutilized. Keeping these schools open results in costs to maintain buildings, staff expenses and other utility costs for things like heating and cooling.
The DPCDSB is not the only board seeing a reduction in the number of students enrolled. The PDSB, TDSB, Halton District School Board and York Region School Board had fewer students over the 2021-2022 year.
Marc Xuereb, the National Representative for the Canadian Union of Public Employees (CUPE) told The Pointer that boards are also guilty of cutting custodial and administrative staff during hard budget years. Recently, DPCDSB was attempting to eliminate 36 full-time administrative staff from the 51 positions it hired in October 2020.
Xuereb said there are only two ways in which cuts are felt.
"The work doesn't get done, or it takes a lot longer for the work to get done," he said. "Or our members work themselves to the bone, working through their breaks and their lunches, working overtime without being paid for it."
Xuereb oversees both CUPE Local 1483 and Local 2026, the two unions representing support staff from the DPCDSB. Staff members have seen increased work hours over the pandemic because of enhanced cleaning and the transition from in-person to online school.
"The problem is just because there's two percent fewer students in your board, that doesn't mean there's two percent less work," Xuereb said.
Approximately 90 percent of the DPCDSB budget consists of salaries and benefits for teachers and board staff. There are about 55,000 CUPE members across Ontario, with an average pay of $40,000 a year, Xuereb says.
Campbell told The Pointer the positions being cut are the result of a provincial fund that expired. Instead a portion of the COVID-19 recovery grant is being used to fund 41 of the 51 positions initially planned to be eliminated.
Xuereb says the positions were saved after the outcry from unions and the members.
"They had the money for it, but I do recognize that they were put in an impossible situation by the Province, faced with less money and having to choose between different things to spend their money on," Xuereb says.
Both boards are struggling to maintain education standards for students in a post-pandemic world. Young learners who started school during the past two years are behind on critical social skills, reading, writing and math. In order to support the students, boards are trying to give as many extra learning opportunities for students to catch up. This could be in the form of summer school, tutoring or extra classroom support.
With fewer children attending schools, boards continue to lose funding from the government. This reduction in funding can hurt programs with typically lower student involvement, and relied upon by some of the school's most vulnerable populations. The Special Education Grants are for children with disabilities that need specific educators, equipment and programs within schools. The DPCDSB has seen its funding in this envelope reduced by five percent since the 2018/2019 school year.
"The decline in enrolment has been detrimental to the special education envelope revenues, resulting in the potential for significant expenditure reductions," the DPCDSB report points out.
The PDSB is also struggling to provide dedicated qualified professionals and learning opportunities for students with complex needs.
While the PDSB is projecting a 3.7 percent reduction in the number of students next year, it will see a 2.9 percent increase in funding. This means with less students, it pulls PDSB closer to the provincial average for per-pupil funding—increasing from $11,399 per student in 2018 to a projected $12,184 next year—but if enrolment declines continue, the same budget pressures currently being wrangled with at its Catholic counterpart, could confront the PDSB.
Since 2018 Peel District School Board has watched the gap for Special Education funding widen, with a looming $33.8 million shortfall expected by the 2022-2023 school year.
(Peel District School Board)
Jaspal Gill, associate director of operations & equity of access support services at PDSB, explained in a board meeting how the gap in funding for special education increased.
"Over the last five years, the funding has increased at a 0.8 [percent] annual growth rate, but at the same time, our expenditures have increased by 3.4 percent resulting in a projected gap of approximately $34 million by the 2022-2023 school year," Gill said at the June 22 PDSB board meeting.
Similar to the catholic board, PDSB's budget is tied up in salary and benefit contracts, making a large portion of the budget untouchable outside collective bargaining periods.
But the PDSB is not tied to LTD plans and therefore is not suffering a deficit like its Catholic counterpart. Despite the persistent lack of adequate funding, PDSB has kept afloat with government grants and low expenditures.
"It would be helpful for the province to review their special education formula, as many school boards' special education spending is in excess of their funding," Malon Edwards, a PDSB communications staffer, told The Pointer in an email.
To balance the budget, PDSB used $18 million from its reserves, which according to Edwards was one percent of its operating revenue (the maximum allowed) to mitigate deficit issues.
There are longstanding concerns that the province's funding formula has serious problems.
Since the province took over full responsibility for education funding in 1997 with the Education Quality Improvement Act, stakeholders have been pointing out flaws in the way money is distributed to Ontario school boards. This has led to major reductions in education spending.
According to a 2017 Auditor General report, the formula was designed to reduce operating spending previously tied to enrolment and adjusted for inflation. In 1997, the new funding model resulted in spending being reduced by $833 million. By 2002-03, that reduction amounted to $1.7 billion below the amount prior to the new formula.
The former PC government under Mike Harris created a panel to review the formula in 2001-02. The independent report recommended a $1.7-billion infusion of cash into the education system and pointed out that the formula had led to a $5.6-billion maintenance backlog; schools were deteriorating because boards chose to divert the reduced funding to classroom needs.
That report, completed by Mordechai Rozanski, former president of the University of Guelph, also pointed out that the formula was leading to poor investment in other priority areas.
"Rozanski went beyond his mandate to highlight the negative consequences of the formula's fixation with uniformity and its inadequate funding for special education, programming for students at risk and support for students whose first language is neither English nor French," an Elementary Teachers' Federation of Ontario (ETFO) report said.
When the Liberals were elected in 2003, they set about fixing some of these issues, reducing class sizes and addressing poor funding for special education. However, according to the ETFO, successive Liberal governments ignored many of the foundational problems with the funding formula. So issues persist to this day, especially in high growth regions like Peel, where the gaps amplified disparities caused by growth that was not properly funded from the beginning, with commensurate spending on education to support the rapidly increasing population mandated by the province.
Now, as fewer students attend public schools in Peel, boards are struggling to keep half-empty schools open, with funding tied to declining enrolment.
---
Email: [email protected]
Twitter: @taasha__15
---
COVID-19 is impacting all Canadians. At a time when vital public information is needed by everyone, The Pointer has taken down our paywall on all stories relating to the pandemic and those of public interest to ensure every resident of Brampton and Mississauga has access to the facts. For those who are able, we encourage you to consider a subscription. This will help us report on important public interest issues the community needs to know about now more than ever. You can register for a 30-day free trial HERE. Thereafter, The Pointer will charge $10 a month and you can cancel any time right on the website. Thank you
Submit a correction about this story