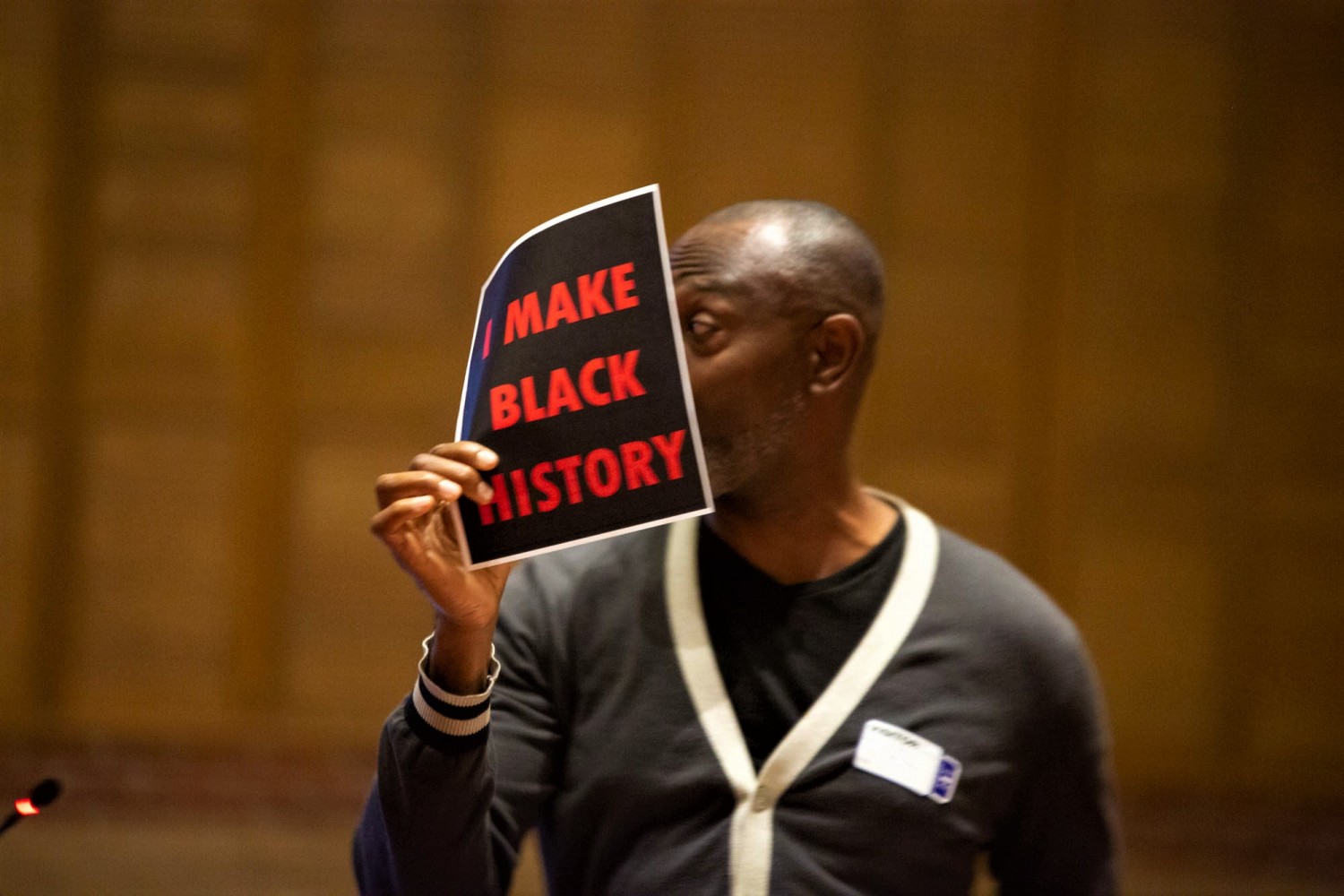 The Pointer file photo
The 'Oppression Olympics' continue as PDSB faces 'substantial resistance' to end the racist practice of streaming
Two years after PDSB was turned upside down when its history of racism finally caught up to the board, a report shows "substantial resistance" to change is still present inside the fractured organization.
On June 22, Peel District School Board (PDSB) staff presented a report outlining the difficulties in implementing provincial directives ordered under the authority of Education Minister Stephen Lecce. He had ordered two reviews of PDSB; the first confirmed what parents, some teachers and students had been reporting for decades, that a culture of systemic discrimination inside schools was perpetrated by the board and its trustees, causing profound harm to visible minorities, particularly Black students.
For the second review, Lecce appointed independent investigator Arleen Huggins to ascertain if the 27 Ministerial Directives were being followed by the board's elected trustees.
Huggins, a lawyer with experience in human rights work, stated in her findings, "One Associate Director described the situation (among trustees) as 'like a school yard-push and punch and now a fight going on'."
Much of the school yard fighting among trustees is still going on.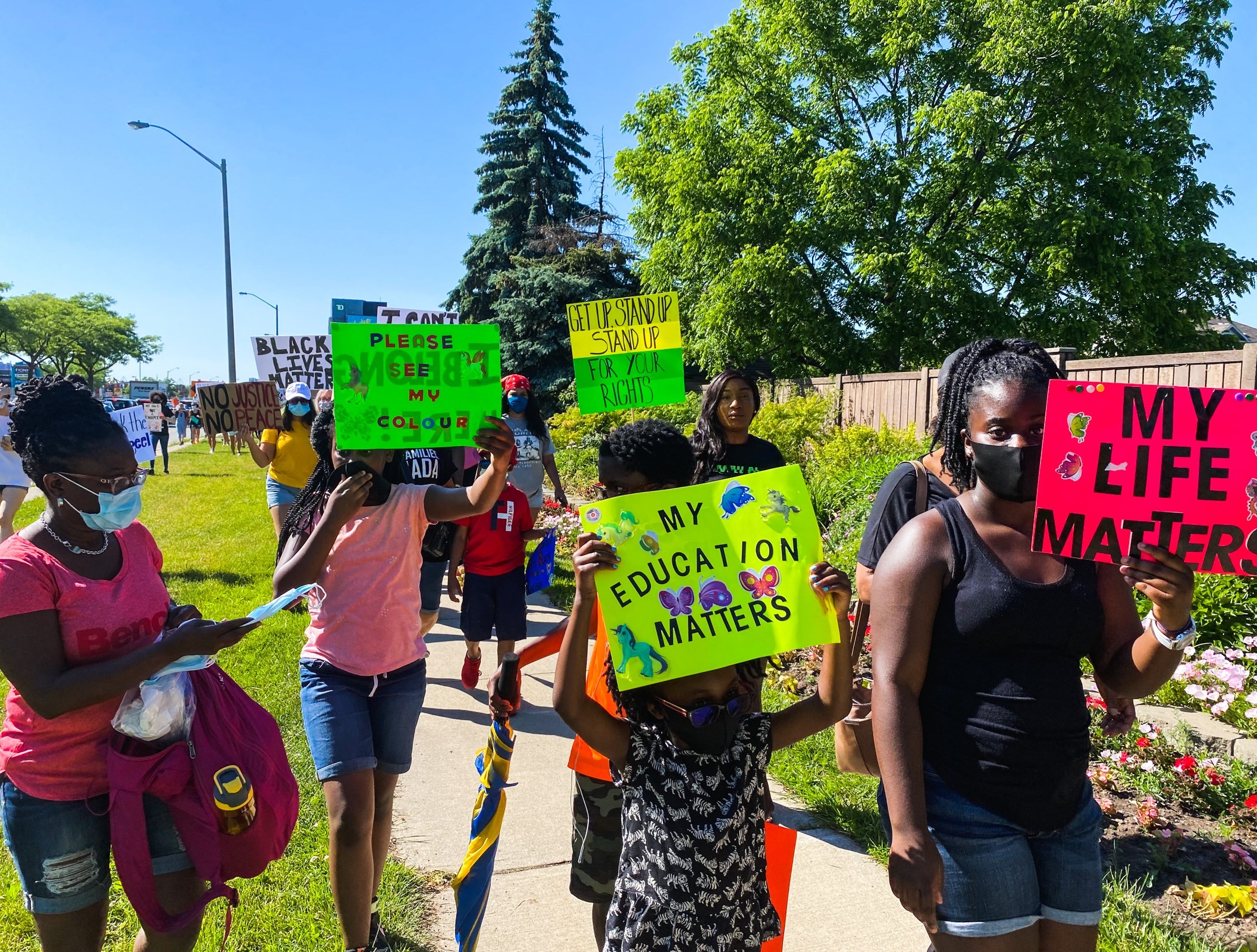 Students and parents marched in protest prior to the pandemic, after a provincial review provided evidence of widespread discrimination and anti-Black racism within the PDSB.
(The Pointer file photo)
The report presented Wednesday was on Directive 19 which asks PDSB to end streaming for classes in Grades 9 and 10.
"[S]ince the release of the Ministry Review, there has been substantial resistance to implementing all of the directives, including Directive 19," the June 22 board report reveals.
Streaming is a practice being phased out slowly across Ontario. It disproportionately affects racialized students with educators often putting them in the "applied" box, steering them away from "academic" streams, commonly without any proper justification.
The report includes detailed data on the performance of students in PDSB pilot programs under Directive 19 where classes were de-streamed. "There wasn't a significant decrease in the level of achievement for students enrolled in the destreamed grade 9 English and math during semester 1 of this 2021-2022 school year. This also holds true when measured by racial identity. Also, credit accumulation was not negatively impacted by the introduction of destreaming as indicated in the Peel District School Board Secondary Achievement - April 2022 Report."
Despite the early success of de-streaming, the board's ugly past is still showing up.
The report describes a variety of ways "resistance" to de-streaming has been felt within PDSB: instead of focusing on the experience of students, the report details how educators have claimed they are negatively impacted by the elimination of streaming; the impacts on students, meanwhile, are minimized and discredited; while other harmful narratives continue to be used to justify streaming.
"Additionally, resistance can be evident in educators creating what has been referred to as a 'hierarchy of oppression' or 'oppression Olympics' and creating narratives that attempt to decentre the work of anti-Black and anti-Indigenous racism rather than engaging in work to address the intersections and/or solidarity work," the update states.
These damning comments use many pieces of research that highlight how streaming has disproportionately affected Black, Indigenous and other racialized students in the PDSB for decades. It is the act of "streaming" a student into a less "academic class" that denies them of postsecondary opportunities.
The Pointer reached out to the PDSB to understand where the resistance is coming from and if any action has been taken against those who continue to perpetuate the discrimination finally being confronted widely.
"Like any Canadian institutions undergoing transformation focused on equity, the Peel District School Board has encountered resistance in the implementation of our Ministry Directive mandates," Malon Edwards, a spokesperson for the PDSB told The Pointer in an email. "This resistance is not surprising given that Ontario school boards are undergoing substantial shifts in their approaches to creating student centred pathways in education."
Edwards reiterated points made in the report on the "myriad of ways" in which racism persists.
"Organizations can always anticipate some level of uncertainty or change resistance when undergoing large-scale transformations," Rashmi Swarup, Director of Education (the head of the PDSB), told The Pointer in an email. "Our focus is on shifting the culture through staff training with an emphasis on ensuring that all students are given fair opportunities for success, particularly those who have been historically underserved."
An example of the ingrained attitudes and harmful biases at play, was the shocking position one PDSB principal, who is white, took on de-streaming. She was removed at the time (it's unclear what her status is currently) after telling staff at the school with a large Muslim student body that de-streaming would result in the making of bombs in science classes.
In late February 2021, trustees were given an extensive report highlighting the context of streaming within Ontario and the PDSB. The research brought historical and current examples to show how streaming negatively impacts many students with certain backgrounds, while benefiting white students (about 85 percent of the PDSB's students are not white).
According to the study, streaming first faced backlash in the early '90s after students were categorized for one of three types of classes: basic (workplace destination); general (college/apprenticeship); and advanced (university). Studies showed this approach favoured students from higher socioeconomic backgrounds while unfairly denying opportunities to others simply because of their family's socioeconomic position.
"Streaming is still a stubborn problem across Ontario, one that persists in all schools despite changes to the system in 1999 that were supposed to put an end to the decades-old practice," last year's report says.
Researchers found few perspectives to back up the idea of streaming and uncovered issues of "self-categorization" in students often created by external influencing factors. From a student's perspective to be "streamed" is a harmful label that can dictate their path. After being told they should be in an "applied class" students may believe they are "not bright enough" to be in an "academic class."
When students are forced into applied streams, often because of harmful biases, it affects their entry to postsecondary education and future career options. According to the 2017 data, graduation rates were far lower for applied students and they had a much harder time being accepted into postsecondary education.
The research is well documented and has been shown to board members repeatedly.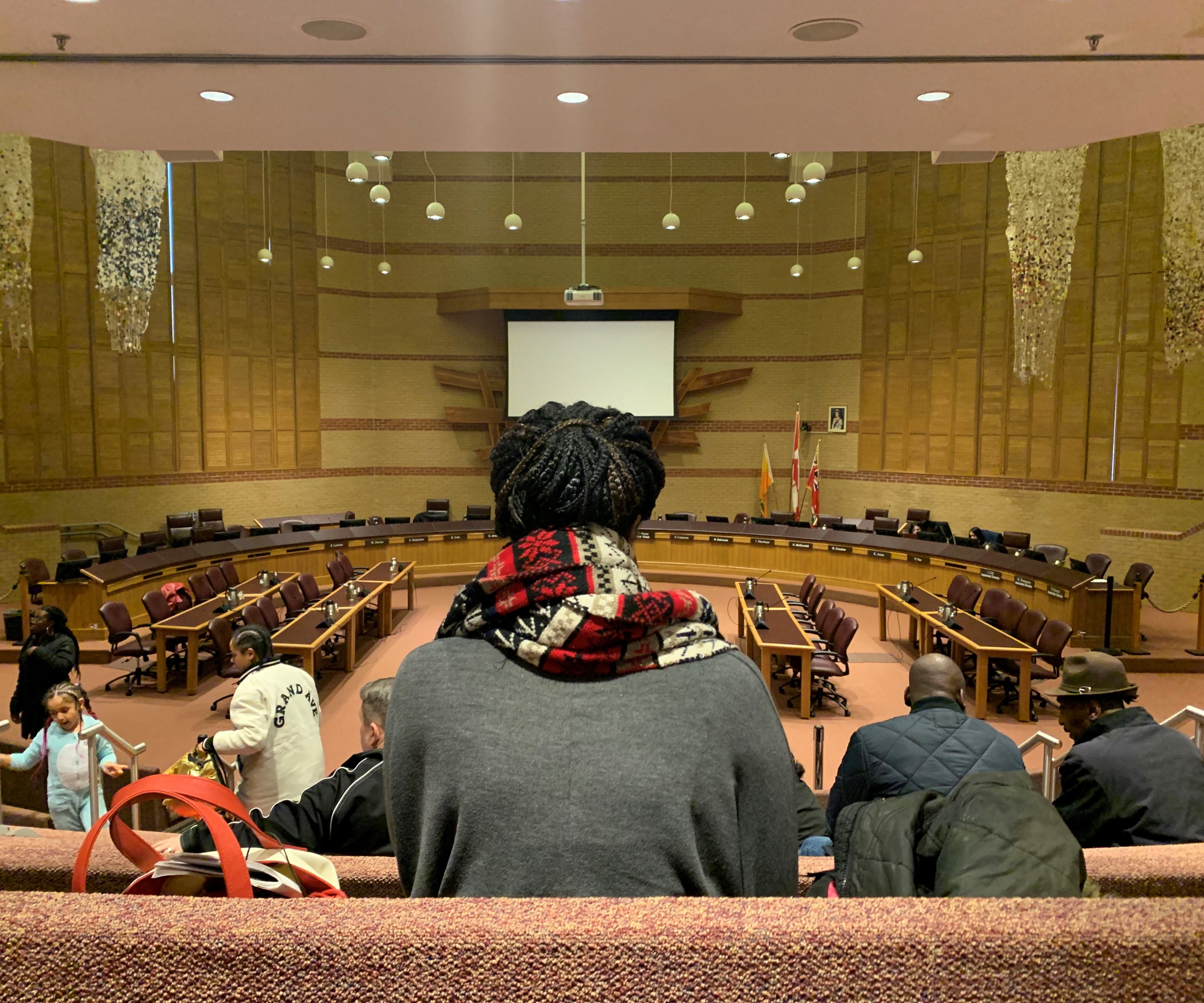 Above, a board meeting prior to the pandemic.June 22nd's virtual meeting was the last board meeting of the school year and was filled with updates on the Province's imposed directives to eradicate racism within the PDSB.
(The Pointer file photo)
Trustee Nokha Dakroub told The Pointer she is surprised at the amount of resistance to de-streaming, especially in a diverse board.
"We've done a lot of things on anti-racism and anti-oppression and all the things that we've advocated for I would have thought that streaming would have been the least controversial," she said. "There's been just a lot more resistance to de-streaming maybe because it's a tangible thing. It's a major change that actually changes day-to-day life."
In September 2021, PDSB started offering de-streamed classes for Grade 9 English and Math. According to the update, Directive 19 ordered the board to start with a pilot in two schools and the achievement to implement de-streaming in more schools has "surpassed" the recommendation. Staff also explained schools were given the option to de-stream other Grade 9 courses such as Geography, Science and French for the 2021-2022 year. Of 36 high schools, 21 have de-streamed one additional course, with 10 out of 36 having de-streamed all Grade 9 core classes.
The report says by September 2023 all Grade 9 and 10 core subjects (Math, English, Geography, History, Science and French) will be de-streamed in all PDSB schools.
But PDSB has been marred by toxic attitudes toward Directive 19, such as those displayed by the principal who was removed from her duties at the time and function in regards to Directive 19. Before the Ontario government started implementing its own process to end streaming across the province, several white PDSB trustees spoke up in favour of the longstanding approach when the directive was first being discussed, saying the system had been politicized.
"I acknowledge this project comes directly from the ministry and we're bound to follow it, but I don't support it," Trustee Robert Crocker said. "I warn my trustee colleagues the ideology driving this is political, not educational."
While the board's students body is about 85 percent non-white, roughly two-thirds of teachers and administrators are white. A decade ago, data used in a human rights case against the board showed more than 90 percent of its principals and vice principals were white, but The Pointer could not find any updated statistics.
Crocker did not address the inherent bias at play when there is such a wide demographic mismatch between students and staff, but he did elaborate on his fear, saying the bar will "be set lower" in subjects if streaming is eliminated.
Trustee Stan Cameron expressed concern over the additional support de-streaming would require, while Trustee Sue Lawton agreed with both Cameron and Crocker.
Trustee William Davies, who came under fire when he called McCrimmon Middle School in Brampton (which has a large Black student body) "McCriminal", also said he was concerned about de-streaming.
The Province had seen enough, and in 2020 it took over governance of the board from trustees, who displayed their unwillingness to change. The ministry appointed supervisor Bruce Rodrigues, who is still in his role with the PDSB.
Trustee Kathy McDonald who has been the most active champion for change said she was unsurprised to hear of the resistance to Directive 19. She specifically pointed out Trustee Crocker and his earlier remarks on streaming.
"I just think it goes to show the mentality of the hierarchy… and the lack of having high expectations for all kids," she said. "Because even if you look at the results, I thought based on the comments and the violent opposition, I thought that 'oh, my gosh 50 percent of the kids are going to be failing,' and it wasn't like that at all."
Dakroub said resistance is unfortunate but not unexpected, and can be overcome in the classroom, where the real change has to be implemented, even if certain trustees and administrators don't support it.
"It's more about what happens in a classroom in a school every day, and that involves thousands of people," Dakroub said. "In any organization there's going to be an element of resistance [to change], how it takes form and what it looks like is different."
Data released by PDSB shows Black students make up roughly 10 percent of the student population. For Grades 9 and 10 during the 2018-19 academic year, they made up just 7.7 percent of academic streams.
In 2018-19, Black students made up 21.7 percent of those in applied streams, more than twice their representation among the student body as a whole. They also accounted for 25.4 percent of locally developed credit courses (academically below applied classes and aimed at teaching life skills). These sorts of educational plans that have been shown to devalue the capabilities of students, are being phased out.
Streaming appears most often at the high school level, but McDonald knows from personal experience (and horror stories from parents) students are streamed from the moment they enter the education system.
"I have a son who graduated from an IB [International Baccalaureate] program, with a 97.5 average. He was told he shouldn't go to university, they tried to stream him," she said. "It's not people that are struggling [going into the classes], people with black skin are the people they're trying to stream into these courses."
The board is in the process of phasing out locally developed courses and certain vocational programming.
Vocational schools are intended to give students having difficulties in an academic focus a different approach to learning. In May last year, PDSB had 866 students enrolled in "vocational 2 programs", with six schools offering courses.
"It was recognized that current vocational 2 programs were also barriers to success and represented systemic inequities that contributed greatly to the significant disproportionalities and disparities of outcome experienced by Black, Indigenous and Latin American students," the updated June 22 report says.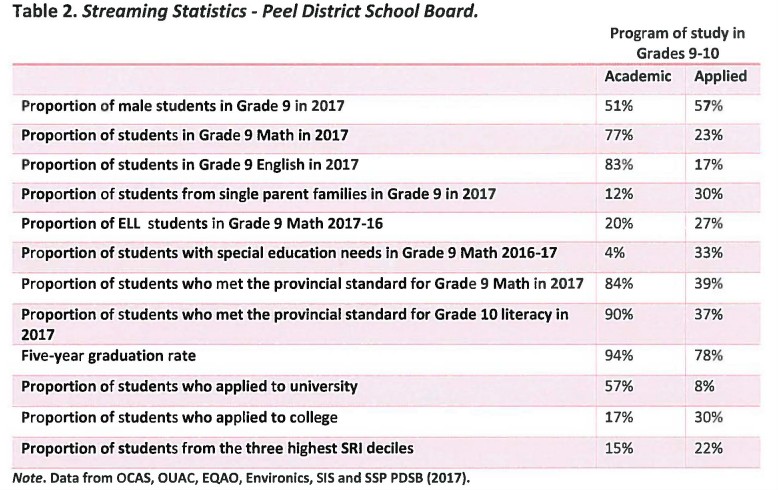 The 2017 research showed not only which students were being harmed by streaming but how.
(Peel District School Board)
McDonald believes decades ago students who were interested in pursuing the trades were well-equipped after taking part in the vocational program. As the knowledge-based economy has exploded, with almost all fields now requiring postsecondary education, the program lost purpose.
"It's sort of reimagining what the vocational program is, because a lot of these programs, there's a path to nowhere," McDonald said.
The diploma received from the vocational program was slowly dropped as a requirement by more and more employers who now want post-secondary education. McDonald said the failure of the program started when more racialized kids were sent to it almost as a default instead of being engaged properly.
"He's in grade eight, and he cannot read," McDonald said of a student she met from the program. "We had kids in Grade 8 that had no cognitive issues — zero cognitive issues — and they couldn't read."
In September 2022, Judith Nyman SS and West Credit SS (both former vocational schools) will offer academic pathways with a focus on Technological Education and Skilled Trades for students in Grade 9.
To prepare educators for teaching classes to all students with different learning types, staff underwent professional development. In February last year the opportunities were disrupted due to COVID-19 and were then resumed at a "much slower rate" due to staffing problems.
According to the update this week, teachers engaged with materials through self-directed modules and over 450 have started the training to help students, and themselves, transition to the de-streamed environment.
Despite the resistance de-streaming and other directives continue to face McDonald is optimistic the PDSB culture is finally changing. She credits the new director of education for her perseverance.
"She doesn't put up with nonsense, and we have to remember that she can only work with what she has," McDonald said of Swarup. "So she's building capacity and she's committed to eradicating all of the inequities."
"And that gives me hope."
---
Email: [email protected]
Twitter: @taasha__15
---
COVID-19 is impacting all Canadians. At a time when vital public information is needed by everyone, The Pointer has taken down our paywall on all stories relating to the pandemic and those of public interest to ensure every resident of Brampton and Mississauga has access to the facts. For those who are able, we encourage you to consider a subscription. This will help us report on important public interest issues the community needs to know about now more than ever. You can register for a 30-day free trial HERE. Thereafter, The Pointer will charge $10 a month and you can cancel any time right on the website. Thank you
Submit a correction about this story