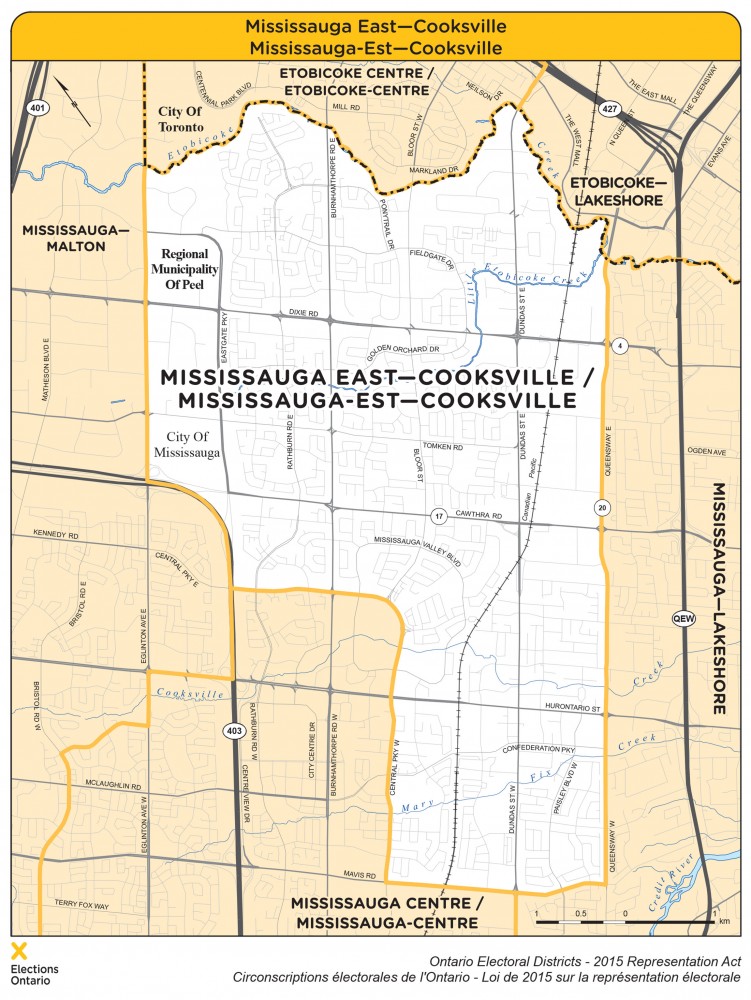 Feature image from Elections Ontario 
Mississauga East—Cooksville needs a leader to champion public transportation
There are few places across the province that have enjoyed the level of investment in public transportation seen recently in Mississauga East—Cooksville.
On the east side of Mississauga bordering Toronto and sandwiched between the ridings of Mississauga—Malton and Mississauga—Lakeshore, the riding is home to a number of quintessentially middle-class neighbourhoods. Areas like Dixie-Dundas, Markland Woods, Applewood, Rathburn and Cooksville are dominated by single-detached homes that surround schools, parks, playgrounds and the strip malls and plazas that dot much of the city.
Another common feature are mid-rise and high-rise apartments and condos, many that house large numbers of seniors. The average age of residents is 42, higher than the overall average age of Mississauga, which in 2016 was 39.6.
Close to major highways such as the 427, QEW and 401 much of the riding has the feel of a bedroom community.
Created in 2007 from parts of the Mississauga Centre and Mississauga East ridings, the area was previously represented by both PC and Liberal MPPs.
According to the 2016 Census just under half of the residents identified as a visible minority, mostly with South Asian heritage, while 19,115 residents identified a Slavic language as their mother tongue in an area with large pockets of Russian-Canadians, Polish-Canadians, Ukrainian-Canadians and Croatian-Canadians.
Transit is a major issue as parts of the area have struggled to supplant car use due to the lack of density required to bolster ridership on local bus routes. But that is quickly going to change.
Two massive projects intersect within Mississauga East—Cooksville, and the next provincial government will play a crucial role in determining how the area develops.
Just inside the western border along Hurontario Street, the Hurontario light rail transit will run north-south, perfectly aligning with the future Dundas Street bus rapid transit system. Residents in the riding will eventually have access to all directions of transportation, a luxury compared to the incomplete MiWay and Go Transit lines that currently service area residents.
The two higher-order transit projects are heavily funded by both the provincial and federal governments and future growth around transit hubs could dramatically benefit the riding.
Dundas Street is the oldest road in Mississauga and has acted throughout history as a connecting thoroughfare for much of the GTA. Dominated by cars, Mississauga developed the Dundas Connects master plan to transform the corridor into a vibrant set of connected communities with mixed-use housing, more density, a range of commercial offerings and frequent public transit to stitch it all together.
In recent decades the Province has stalled on funding public transit in the area. The riding, according to Statistics Canada in 2016, had almost 12,000 residents that used buses for their regular commute, the highest figure of all the ridings in Mississauga.
With so many people using public transportation the Dundas BRT and connectivity to Toronto represents a significant commitment by Queen's Park. The Ontario government has committed $225.9 million to the project with Ottawa providing $271.2 million for the design and construction of the first seven kilometres of the BRT. The City of Mississauga is planning to cover $81.5 million.
Residents hope investments continue from the next provincial government, to ensure the transit infrastructure is supported with a range of future services and features ideal for high-order transit corridors where density should be a focus.
Similar to Mississauga—Lakeshore, Cooksville has felt the pressures of developers hoping to construct high-rise units in their communities.
Many Cooksville residents have said the area MPP needs to advocate for infrastructure funding that meets the needs of both a denser community while maintaining the characteristics of the riding's established neighbourhoods. This careful balancing act will need to be done in consultation with community members, while affordable housing needs are considered alongside residents who have shown resistance to such projects and higher density forms of housing.
Seniors in the riding also want long-term care options so they can age in their own home or enjoy assisted living arrangements.
Liberal Dipika Damerla, the current Ward 7 Mississauga Councillor, wants to win back the MPP seat she held prior to 2018 when she lost to PC incumbent Kaleed Rasheed by 4,739 votes.
She has faced criticism for not stepping down from her council role while she was clearly preoccupied with her provincial run early in her council term. Damerla often seemed to make decisions that would help her chances of winning her old provincial seat back, rather than supporting municipal growth plans laid out by City Hall. She will leave her municipal constituents with no local representative if she wins the provincial race, a decision that left a bitter taste among some of her council colleagues.
Damerla upset many of them when she advocated against affordable housing units going up in her ward, despite the huge demand as newcomers and younger residents faced a bleak supply of housing, and despite knowing the decision would likely cost taxpayers hundreds of thousands of dollars as a result of likely losing a battle with the developer at the Province's planning tribunal.
Dipika Damerla has spent the last four years as a city councillor.
(The Pointer files)

Damerla has promoted the Liberal plan to introduce buck-a-ride for all transit fares and home care for older residents.
Rasheed, who was appointed in Doug Ford's cabinet as Associate Minister of Digital Government, spoke often about seniors' issues, bringing up how important it was to his riding to make fixed costs more affordable. He advocated for better support of long-term care workers well before COVID-19.
He's lived in the riding for over 15 years and has five children. Before winning in 2018 he worked as an enterprise account manager with BlackBerry and as an account executive for Ingram Micro in Mississauga.
Kaleed Rasheed spoke many times throughout his terms but rarely about his own riding.
(Twitter)
James Hea of the Ontario Greens is more interested in protecting the air, water and land within the riding, hoping to bring ideas and challenge the old car-centric way of thinking.
"We have solutions. Many of them are sitting on the shelf. My forte is working with others. Leveraging their strengths. Finding the sweet spot where everyone is contributing the most with their natural enthusiasm for what they are good at and feel good about," Hea told The Pointer in an email. "The truth is everyone wants a green agenda. Unfortunately, not everyone running is thinking globally. Voting for the Green Party, voting for me, is a vote for a green future: one of hope, excitement and dynamic change."
Before becoming a candidate, he worked as a software development project manager who assisted non-profits, educational institutions, governments and businesses of all sizes. He has a masters of business administration in global leadership from the University of Liverpool.
James Hea will be focusing on a wide range of Green Party initiatives hoping to help the riding.
(Ontario Green Party website)
According to his website, Hea has been involved with many community projects in the riding and has served as president of his condo board and a housing co-op in Ottawa along with various ecological restoration projects.
He believes in government assisting long-term care workers, explaining those in the sector that live in Mississauga East—Cooksville are dealing with low pay and mental health struggles.
"Our primary philosophy is caring about people. Even the climate action plan must address how it impacts us individually and collectively. Long term care is something that cannot be left to those who prioritize return on investment over proper care," he told The Pointer.
The top priorities for Hea and the Greens are "properly" paying long-term care workers, better management of the care centres/homes, improved preventative health measures, further funding to expand wellness and sick days.
The Green candidate is also supportive of further investments and improvements in rapid transit lines and zero emissions vehicles and wants to take a "multi-pronged approach" to bettering the Dundas BRT.
Khawar Hussain of the NDP envisions a bright future in partnership with City Hall.
"Municipalities play an essential role in delivering services and keeping communities safe and strong. Rather than treating them as partners, Liberal and Conservative governments have spent decades downloading costs onto local governments," a spokesperson for Hussain told The Pointer in an email. "An Ontario NDP government will act as a true partner to municipalities. We believe cities and towns are best positioned to understand their communities' distinct needs."
The spokesperson reiterated what's on Hussain's website, saying the candidate envisions an Ontario where "health care, housing, tuition and hydrop are made affordable and accessible for all."
The riding of Mississauga East—Cooksville saw high numbers of Covid infections throughout the last two years. Hussain, in line with his Party, is pledging to expand paid sick days, stockpile personal protective equipment, give more public institutions access to PCR tests and reduce class sizes to diminish widespread transmission within schools.
Voters can expect the New Democratic Party candidate to stick close to party lines.
(Ontario New Democratic Party website)
Public transportation is another priority.
"Restore provincial funding for municipal public transit and paratransit systems to 50 percent of their net operating costs—a funding boost that will immediately improve service in communities across the province," Hussain's spokesperson told The Pointer. "We'll work with municipalities to improve service, reduce wait times and make municipal transit systems more affordable."
The NDP candidate previously ran in the 2018 Mississauga Ward 3 municipal election and lives with his two sons and wife in the neighbourhood of Dixie-Bloor in Mississauga East—Cooksville. He works as a public health inspector.
---
Email: [email protected]
Twitter: @taasha__15
---
COVID-19 is impacting all Canadians. At a time when vital public information is needed by everyone, The Pointer has taken down our paywall on all stories relating to the pandemic and those of public interest to ensure every resident of Brampton and Mississauga has access to the facts. For those who are able, we encourage you to consider a subscription. This will help us report on important public interest issues the community needs to know about now more than ever. You can register for a 30-day free trial HERE. Thereafter, The Pointer will charge $10 a month and you can cancel any time right on the website. Thank you
Submit a correction about this story