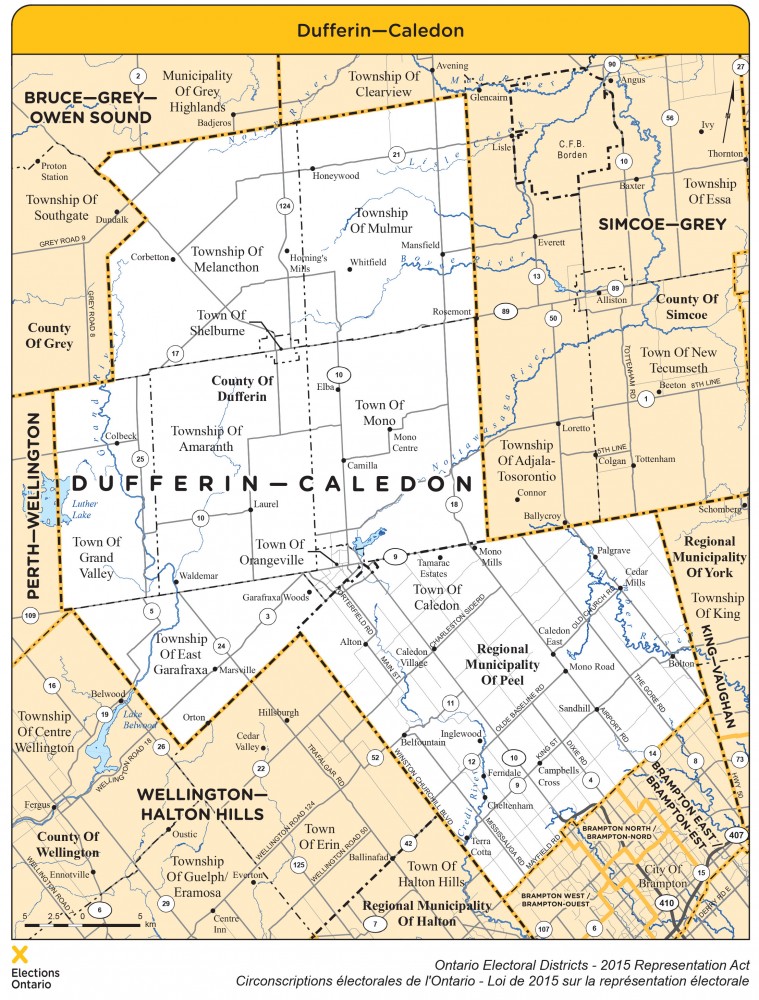 Feature image from Elections Ontario
Will environmental concerns threaten a PC stronghold?
In Ontario, the unsustainable forms of growth—urban sprawl, automobile-focused transportation planning—have been panned by international climate experts as remnants of the past that must be abandoned. If the world wishes to limit temperature increases that could cause large-scale catastrophe around the planet, we need smart growth policies.
In Ontario, the debate between development and the environment is being waged across the riding of Dufferin-Caledon.
The Region of Peel has recently approved an environmentally disastrous official plan that opens up nearly 11,000 acres for development, most of which sits in the town of Caledon, one of the largest municipalities by geographic area in the whole province, even bigger than Toronto.
But growth in this mostly rural area always comes with a caveat; the Greenbelt runs directly through a large portion of the riding.
Doug Ford has made Ontario's Greenbelt a key election issue, but for all the wrong reasons. His highway-centric transportation platform, combined with his close ties to the development industry which has been drooling over the Greenbelt lands for decades, have prodded many Ontarians into action. According to an EKOS poll from November 2021, 87 percent of residents surveyed in the 905 area code believe the provincial government needs to be doing more to protect the Greenbelt, the world's largest area of protected greenspace. Perhaps more telling, 74 percent of those surveyed said the Greenbelt is "no place" for a major 400-series highway. Ford and his PC government have planned three new highways that will run entirely though, or over portions of the Greenbelt.
Doug Ford's campaign pledge to "get it done", includes environmentally destructive projects, some of which have not been afforded proper consultation or environmental assessments.
(PC Party)
"If you ask people in the abstract, 'Do you want a new highway?' many will say, 'Why not?' But if you link it to destruction of nature, public opinion shifts dramatically. This is one of EKOS's key findings," writes Gideon Forman, a climate change and policy analyst for the David Suzuki Foundation in a post on the organization's website. "Suburbanites want to travel efficiently, but they recognize roads aren't appropriate everywhere. They know that some places — including rare ones like southern Ontario countryside and rivers that provide habitat for endangered fish — must be off limits to expressways. They understand that we spew carbon at our peril."
Will this desire to preserve the natural world skew voters in this largely rural riding? Will it be enough to change course in a PC stronghold where they have elected PC MPPs for decades?
Incumbent Sylvia Jones has held the seat since 2007. She has played a key role in Ford's cabinet, and as solicitor general was a prominent figure at the premier's side throughout the COVID-19 pandemic.
Jones has had dominant victories in past elections, capturing 53 percent of the vote in 2018—buffeted by strong anti-Liberal sentiment across Ontario—39 percent in 2014, above the closest challenger's 30 percent, and 46 percent in 2011.
While keeping her public statements to a minimum on the environmental concerns raised by Ford's agenda and Highway 413—which bisects her riding—Jones has not been shy about sharing PC talking points regarding these issues, indicating her strong support for them.
"The #OntarioBudget2022 is a plan for delivering better jobs and bigger paycheques, getting shovels in the ground for highways, transit and key infrastructure, and keeping costs down for Ontario families," she tweeted at the end of April following the provincial budget's release.
On May 12, Jones was in Bolton where she said she is receiving strong support for a long list of items, including: rebuilding Ontario's economy, working for workers, building highways and key infrastructure, keeping costs down, and a plan to stay open. All of these issues appeared in a PC press release issued the same day.
Name recognition alone can make it difficult to topple an incumbent, especially when voter turnout remains low across Ontario. In 2018, only 56 percent of voters came out to the polls in Dufferin-Caledon.
Candidates for the Liberals, NDP and Greens will have a difficult task ahead of them seeking out the needed support to win on June 2.
Liberal support plummeted in 2018, dropping from 31 percent of the vote in 2014 to just 12 percent, which suggests the Party's candidate, Bob Gordanier, who finished fourth in 2018 behind the NDP and Greens, has considerable ground to make up.
According to his bio on the Liberal website, Gordanier has been a farmer in Dufferin-Caledon for 40 years and "spent his life committed to public service" working as a police officer in Port Credit, and then as a Brampton firefighter for 32 years. He received the Queen's Diamond Jubilee award in 2012.
Bob Gordanier is running for the Liberals in Dufferin-Caledon for the second straight election.
(Bob Gordanier/Facebook)
"Serving my community has always been my calling," Gordanier says in a video on his Facebook page. "I've seen Dufferin-Caledon grow, develop and change into the beautiful community it is today."
He lists increasing education funding as a top priority, while also referring to Liberal plans to increase affordable child care funding and investments in healthcare.
In a speech to local constituents, Gordanier says he's seen a "big change" in response compared to 2018.
He makes no mention of the environmental concerns or Highway 413. Although the Ontario Liberals have vowed to quash the project.
Green candidate Laura Campbell and NDP candidate Tess Prendergast have made their stance on Highway 413 and the Greenbelt abundantly clear.
Both candidates appeared before the Region of Peel Planning and Growth Management Committee in late April, urging councillors to freeze the urban boundary and leave the region's valuable green space and farmland untouched.
"What we're seeing with this proposed boundary expansion is the possibility of a lot more sprawl with giant homes that a lot of workers can't afford," Campbell said during the meeting. "If we don't start to take action now, we're in trouble."
Campbell, a small business owner in Orangeville, captured over 7,000 votes in 2018, finishing third, and is now running heavily on the Green's commitment to preserve the Greenbelt and cancel Highway 413. She has also promoted the Green promises for a universal mental health care plan as well as their plans for affordable housing which include incentivizing municipalities to approve housing developments that fill the "missing middle" including townhouses and mixed-use developments.
Dufferin-Caledon Green candidate Laura Campbell alongside Party Leader Mike Schreiner during a visit to the area in April.
(Joel Wittnebel/The Pointer)
"We are reaching so many folks at the door every night while canvassing. The answer has been a resounding "NO" to the 413," she tweeted earlier this month. "For the undecided folks, the news about lanes on 407 for trucks is exciting." The Greens have proposed to invest in a trucks-only lane on the underused 407 toll highway.
Campbell has also appeared beside Green Party Leader Mike Schreiner who has made a number of campaign stops in the area promoting his candidates.
In 2018, the NDP finished second in Dufferin-Caledon capturing 20 percent of the vote. Candidate Tess Prendergast is not only promoting the NDP promise to cancel Highway 413, and transition to smart growth plan policies—her NDP bio describes her as a "steward for the environment"—but she's also prioritized the repeal of Bill 124 that has limited pay increases for nurses and other healthcare workers.
"We need to honour them and respect them with fair wages," she said on Twitter.
Prendergast, a teacher in Orangeville, has received the endorsement of the Ontario Secondary School Teachers Federation (OSSTF), the union representing over 60,000 education workers across Ontario.
Dufferin-Caledon NDP candidate Tess Prendergast has stressed the need to repeal Bill 124, which has limited pay increases for nurses.
(Twitter/Tess Prendergast).
"We are at a critical time in our fight to defend public education," said OSSTF president Karen Littlewood in a press conference. "We have had enough of Ford's cuts, false promises and mismanagement, especially during the COVID-19 global pandemic."
She says Queen's Park needs "a change not only in government, but in thinking."
The provincial election is June 2.
---
Email: [email protected]
Twitter: @JoeljWittnebel
---
COVID-19 is impacting all Canadians. At a time when vital public information is needed by everyone, The Pointer has taken down our paywall on all stories relating to the pandemic and those of public interest to ensure every resident of Brampton and Mississauga has access to the facts. For those who are able, we encourage you to consider a subscription. This will help us report on important public interest issues the community needs to know about now more than ever. You can register for a 30-day free trial HERE. Thereafter, The Pointer will charge $10 a month and you can cancel any time right on the website. Thank you
Submit a correction about this story