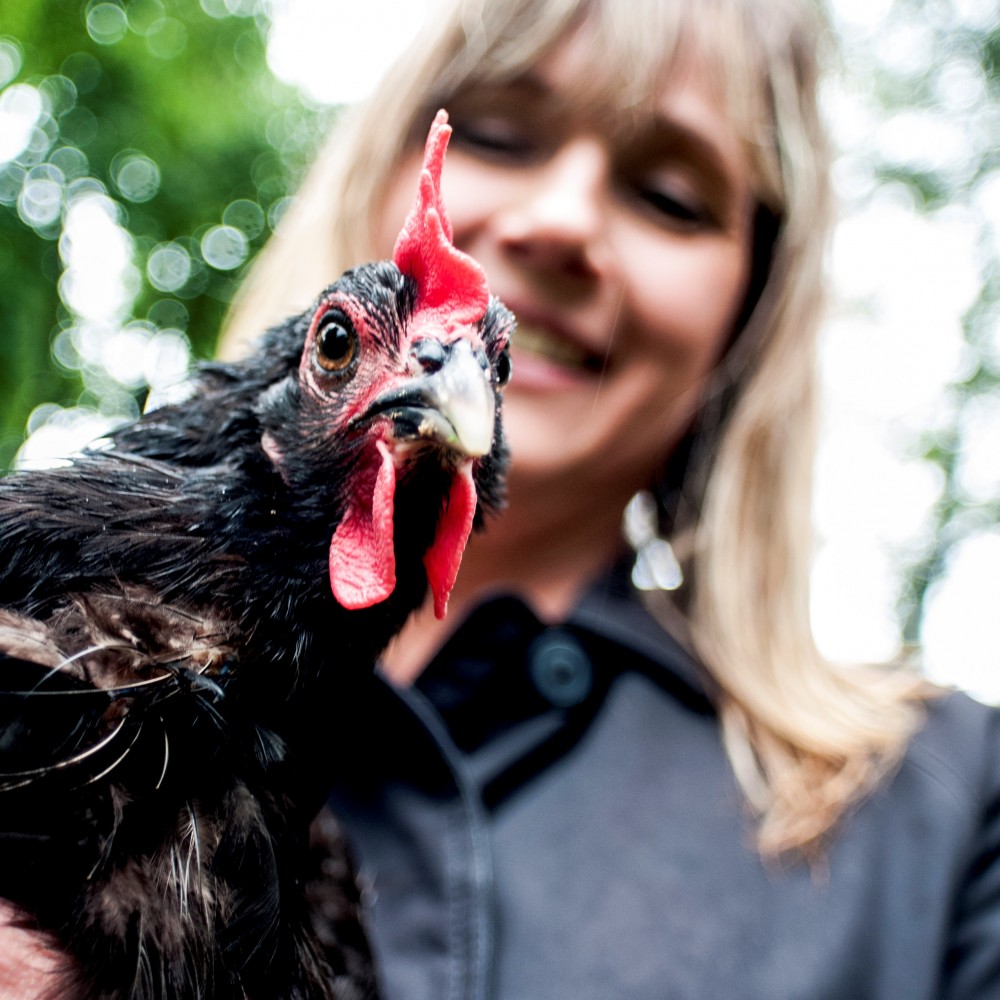 Jeff Chalmers/The Pointer
Mississauga gets cracking on urban agriculture strategy to address food insecurity & climate change
Growing up with Portuguese parents, being raised around chickens was perfectly normal for Sandro Grilo. Her love for their pleasant clucking, sassy attitudes and farm fresh eggs was what country life was all about.
But Grilo never lived in the country. The densely populated streets of Toronto were home, where she's raised hens since 2004.
Back then, she was not necessarily 'allowed' to have hens in her backyard, and knew if neighbours complained bylaw might knock on her door. That never happened.
She now lives in her own home farther north.
She's become a vocal advocate for the practice. Grilo enjoys seeing and sharing with others the intersection of urban and rural life in her own backyard.
She encourages others thinking about the idea to treat chickens as pets not only to enjoy the delicious fresh eggs but to deepen their understanding of animals and feel more connected to nature.
"Growing up, cartoons always portrayed chickens as being, you know, fuddy duddy, dumb little things, but actually they're really smart," she says. "They are divas, they've got their pecking order and you need to earn your right to sit at the top bar of the coop."
When she first wanted to get her own hens, Grilo made sure to ask her neighbours and ensure there would be no issues. In return, they get fresh eggs every week.
She owns a traditional suburban lot in North York that backs onto a park, an ideal setting to diffuse the noise and occasional smell. Grilo has 11 chickens in her coop, some lay eggs and others are just part of the family.

Sandra Grilo remembers growing up in Toronto and her parents having chickens. So when she bought her house in 2003 she soon got her own coop.
(Sandra Grilo/Contributed)
In the past her backyard sanctuary has also acted as a teaching ground for the nearby schools and daycares to educate children about the real life versions of the animals they often only ever see in cartoons. It can connect them to nature and enhance their understanding of how food ends up on their plate, in a world increasingly disconnected from the way we have lived for centuries, one of the reasons many never develop a relationship with a planet that's under unprecedented stress.
"Country to me means having the vegetable garden and the hens and if my heart was big enough, I'd throw a goat in there somewhere," Grilo tells The Pointer. "I'm allowed and privileged to enjoy the convenience of living in a city, but I can still escape to my little country oasis."
In 2018, the City of Toronto launched a backyard hen pilot program, officially allowing residents to keep hens (not roosters) for eggs. Although Grilo is located in a Ward that allows hens, she is not directly participating in the pilot analysis.
But she has acted as a consultant for the City of Mississauga since it launched its own pilot project in January 2021.
In July, Grilo was invited to participate in a public meeting, answering questions from residents about their concerns around allowing chickens in residential areas of the city.
Mississauga has only 10 sites in Wards 5 and 6 and 1 in Ward 3 that allow backyard hens, and as of this year there are only four households participating in the trial. The program is being closely monitored by staff who will have a full update in May 2023.
"There was [an] allegation one of the participating households was not following the overall guidelines of the pilot ( i.e.: selling eggs, abiding by property standards, quantity of hens permitted, etc.)," Jay Smith, manager of animal services, told The Pointer in an email. "This complaint was related to one of the participating households only."
Smith said overall the project has had minimal issues and there are more residents wanting to participate.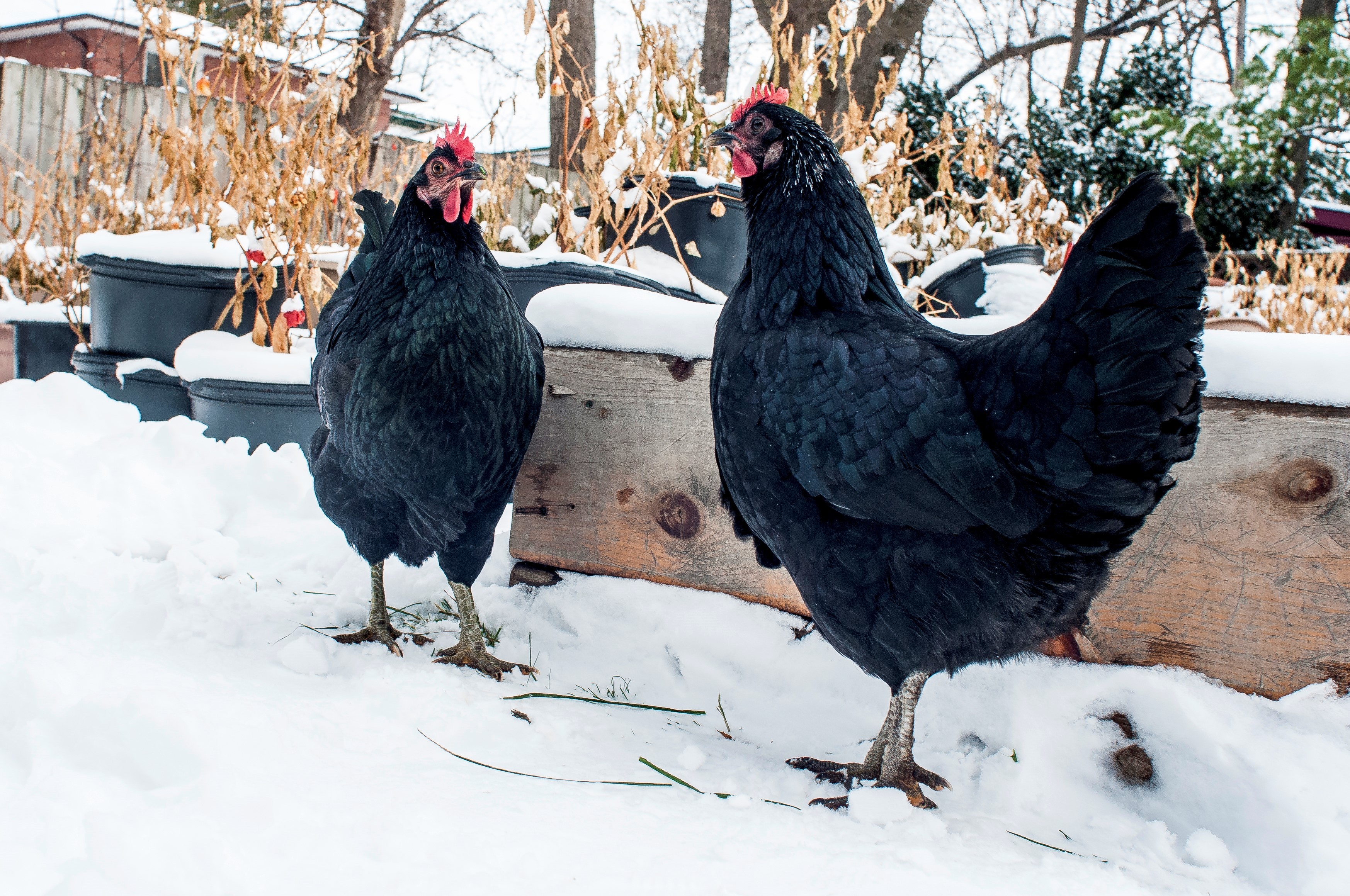 Jeff Chalmers, a resident in Brampton and a podcast producer with The Pointer, has his own backyard chickens which have become part of his family.
(Jeff Chalmers/The Pointer)
One of the motivations for Mississauga to opt into a pilot project was after staff in 2021 saw an increase in interest from residents who want to own backyard hens, as the practice has spread across many parts of the world where the practice has previously not been common in urban areas. The City of Brampton was the GTA pioneer with backyard chickens, allowing residents to raise hens since 2012.
When the pandemic hit in March 2020, Grilo watched her small community of urban farmers on Facebook grow exponentially overnight. The explosion, she says, was due to many people fearing food chains would be disrupted entirely and everyday items like eggs would become scarce as the world shut down.
"This is not a program to have meat in your backyard," Grilo said. "That is not the point of having urban hens, it is for the enjoyment of them. Yes, they lay eggs, yes, that's a beautiful thing. [But] They are your pets, you need to commit to taking care of them just like you would a dog or a cat."
Grilo explains hens only produce eggs for a few years meaning they are not a sustainable food source over a long period of time, but during a period such as the recent pandemic, many families around the GTA have enjoyed a steady supply of fresh eggs right from their backyard. A healthy chicken can lay one egg every day.
Residents concerned about food security and their carbon footprint should turn to urban agriculture and community gardens as a reliable and beneficial source of food.
Recently the City of Mississauga in partnership with multiple community groups has put together an urban agriculture plan called Homegrown Mississauga. The linked document explains the benefits agriculture within urban areas has for reaching greenhouse gas emissions reduction targets, to address food insecurity and help local community projects.
The plan focuses on expanding gardening communities and encouraging residents to grow food by implementing policies through local council initiatives and by providing financial assistance to grassroots groups.
Growing fruits and vegetables for a household or participating in the daily farming at community gardens are ways residents can be involved. The City also includes balcony gardens, creating pollinator habitats, bee-keeping, composting and education around the environment and food production as part of its urban agriculture mandate.
The COVID-19 pandemic forced many residents to experience firsthand supply chain disruptions and understand just how tenuous the system is. When more people were stuck at home, some took up new hobbies like growing a garden in their Mississauga backyard or within a community area.
"Urban agriculture can enhance health and well-being, stimulate the local economy, and help the city adapt to and mitigate climate-related impacts by strengthening community resilience and preparedness," the 83-page report reads.
The utilization of unpaved land allows gardens to mitigate the urban heat island effect and flooding, while also soaking up carbon emissions from the surrounding airshed.
Staff have acknowledged participating in gardening and growing food can be difficult for people facing systematic barriers like poverty, discrimination and lack of access to land. A goal for the City is to break down the barriers by supporting grassroots organizations, fostering relationships between residents and programs and encouraging widespread participation in local urban agriculture in an area that not long ago was completely covered in farm fields, before Mississauga's post-war suburban development began.
Rav Singh, a young Mississauga urban farmer, is attempting to break down the barriers between immigrants and farming. She says many crops in southern Ontario don't produce foods immigrants typically eat, and in a City like Mississauga where many people put down their own roots it's important to her to fill the gap.
"My goal is to one day have an urban farm within Mississauga," she says. "Exactly what I do in Caledon but I can replicate it and do it within Mississauga. I think that would be super great in terms of accessibility, and just supporting a hyper local food system and supporting some climate action."
Rav Singh wishes her farm could be located in Mississauga but for now she operates out of Caledon.
(Rav Singh/Contributed)
Singh grew up in Mississauga but her grandparents were farmers in India. Like many immigrant families they moved to Canada to provide better opportunities for their children. She did not grow up with a strong connection to farming, unlike her parents, but eventually found her way back to the family's roots.
Environmental justice and human rights are two of her passions. One summer during her post-secondary education, Singh wanted a job outside and stumbled across an opportunity at a farm.
From there, her love for growing food and being outside snowballed into a farm of her own, which she operates while also educating others on climate change and social justice.
"I had done environmental education in post secondary, so I wanted to focus more on farming within the education field," Singh says. "That's what I did for a few years at a nonprofit [Ecosource] and I really loved the work there, but I just got to a point where I realized that I wasn't going to be able to make the changes that I know we need within our food system where I was working. I needed to create that space for myself, which is why I decided to start my own farming and food and climate justice organization."
Singh noticed that few farming operations resembled her lived experiences and vowed to provide different crops. When her family first moved to Mississauga, traditional home cooked South Asian dishes required them to stop at two additional grocery stores to find the right ingredients.
Singh started planting bitter melon, okra and fenugreek, allowing residents to purchase local versions of their favourite traditional foods.
"Agriculture is very much a white space still," she says. "There are certain crops even outside of it that are not here, they're just not recognized."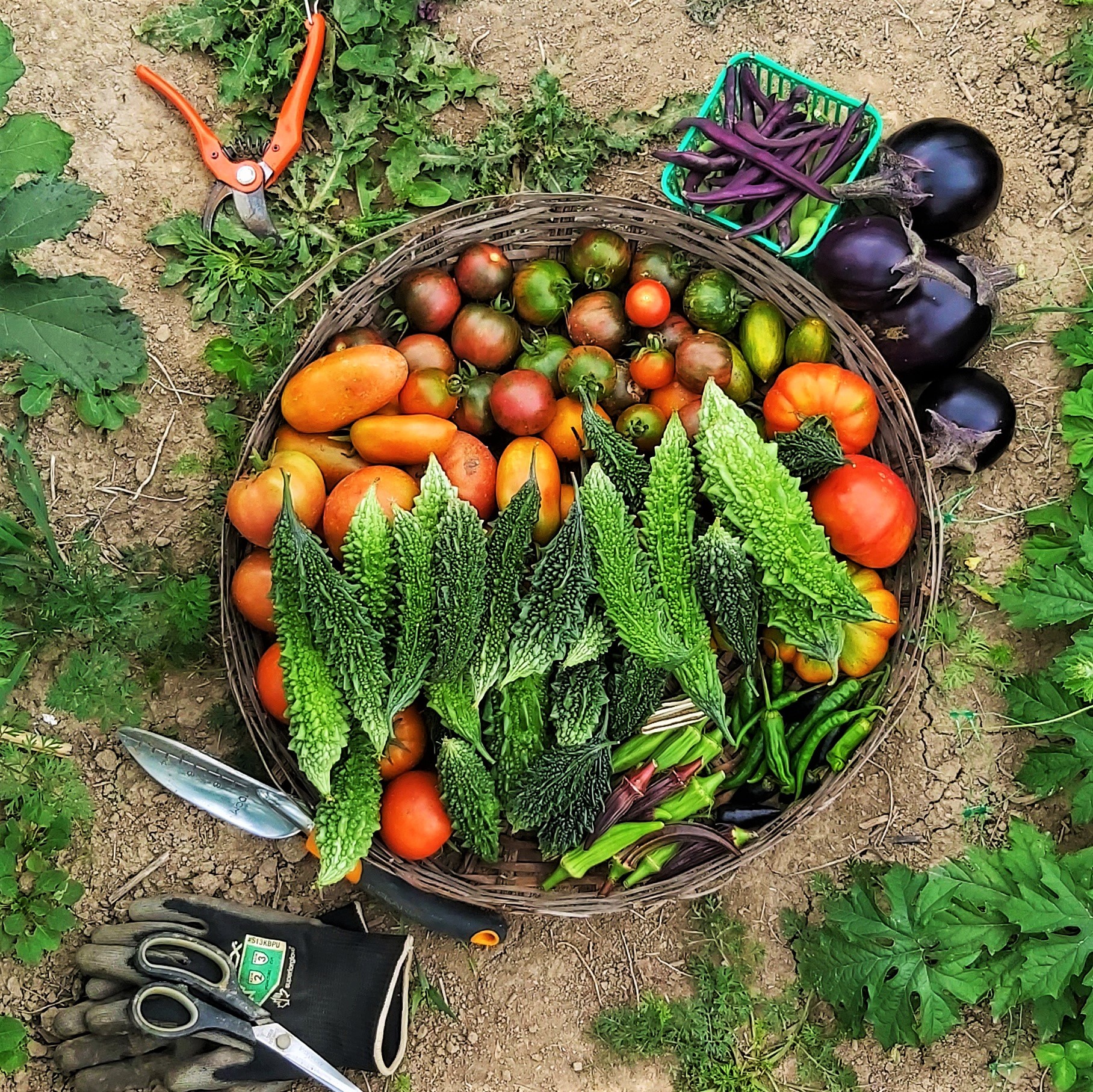 The crops Rav Singh plants are different from most southern Ontario farms.
(Rav Singh/Contributed)
Growing food within the city dramatically cuts down on GHG emissions. According to the staff report, approximately 21 to 37 percent of GHG emissions are a result of our current food supply systems that use commercial transportation to ship and truck food in from around the world.
Globalization of the food system and importing produce has created increasing time and distance between crop and table, contributing more and more emissions released into the atmosphere.
Singh lives in Mississauga but the lack of land within the city has forced her to grow crops in Caledon where rural land and farming plots are easier to find. She hopes her quarter-acre plot will turn into two acres one day, preferably, she says, in Mississauga.
As the city quickly built out (and now up), parks and greenspaces became hard to find. Unlike residential buildings, growing food in former brownfield areas and industrial sites needs to involve a much stricter revitalization process, and in some cases the land can never be properly remediated after decades of chemical contamination.
The City's plan also notes there are no requirements for developers to include urban agriculture in designs and they are not "actively encouraged to do so."
Instead, Mississauga staff have provided ideas to residents who can create their own gardens on private property including on balconies. Within public spaces like parks, Mississauga is attempting to create more community gardens and assist local charitable organization, Ecosource, in managing the plots of land used for urban agriculture.
Residents can apply to have a private section of a community garden to grow food and also assist in maintaining the community plots. When the crops are harvested the yield from the communal plots is donated to the Mississauga Food Bank. In 2020, Ecosource's 10 community gardens produced 3,360 pounds of food.
But the demand, especially as inflation cripples many vulnerable families, is unprecedented.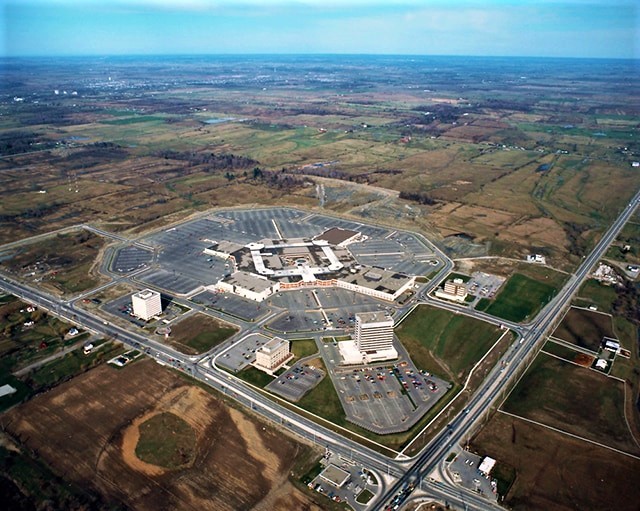 Before Mississauga began its urban transformation, starting with construction of Square One Mall in the 1970s, shown above, it was one of Ontario's richest agricultural areas. Can an urban farm movement connect residents to those agricultural roots?
(City of Mississauga)
The Mississauga Food Bank operates nine locations across the city, providing nearly 5 million meals each year through its network of food banks, food pantries and different meal and snack programs.
Late last year, the organization recorded a 14 percent increase in visits to its food banks compared to the previous year, which also saw a double-digit increase in demand during the pandemic (more than 25,000 individuals were assisted). As of December there was a 58 percent jump in the amount of food and meals distributed compared to the previous year—a staggering 4.2 million pounds of food and 4.6 million meals. The increase was even more stark for the city's emergency food banks, which recorded a 167 percent spike in usage, assisting 8,673 people who were in desperate need of help. Twenty percent of clients in 2021 reported coming to a food bank because they had lost their job in the past year.
Urban agriculture could offer a viable and sustained supply of produce to help those in need across the city.
The Homegrown Mississauga report does note that community garden plots are currently full and there are waitlists for private plots. Staff are aware of the growing demand and the challenges Mississauga faces to grow the program.
As an urban farmer Singh experiences the joy of watching her crops grow everyday until they are harvested. She only hopes that as the plan rolls out more young people like her will understand the importance of growing food and will contribute to the local food economy for generations to come.
"I think the strategy is a really great first step," Singh says of Homegrown Mississauga. "We need to celebrate this moment, because it's been a long time coming, and a lot of really amazing work has been put into it. But also remember that this is just the first step. I think the real actual hard work is going to start now."
---
Email: [email protected]
Twitter: @taasha__15
---
COVID-19 is impacting all Canadians. At a time when vital public information is needed by everyone, The Pointer has taken down our paywall on all stories relating to the pandemic and those of public interest to ensure every resident of Brampton and Mississauga has access to the facts. For those who are able, we encourage you to consider a subscription. This will help us report on important public interest issues the community needs to know about now more than ever. You can register for a 30-day free trial HERE. Thereafter, The Pointer will charge $10 a month and you can cancel any time right on the website. Thank you
Submit a correction about this story