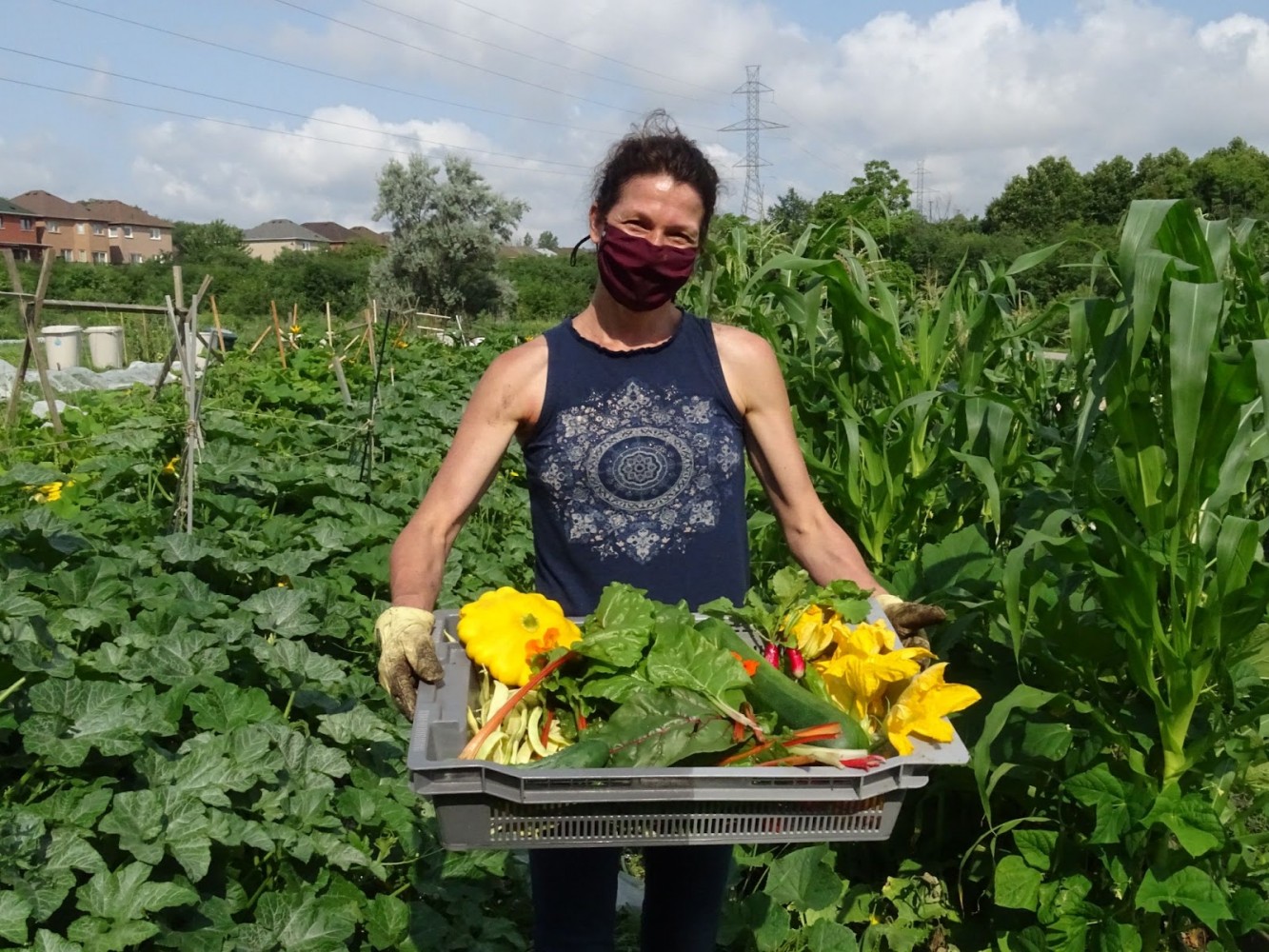 Feature image by Natasha O'Neill/The Pointer
Residents create 'intimate relationships' with food by growing their own in community gardens
Tucked behind the Iceland Arena, past the soccer fields and splash pad, through a densely covered forest path and over a bridge, lies a 15,000-square-foot community garden.
The roaring of the QEW through Mississauga can be heard in the distance, over the raking, digging and conversations in the Iceland Teaching Garden. It holds an array of vegetables, fruits and legumes bigger than those sold in any grocery store. It's all organic, grown the only way it was done in bygone times.
There are four quadrants of the garden, each one dedicated to a specific group of foods and carefully taken care of by numerous volunteers from the community. Ecosource, a Mississauga based non-profit, operates agricultural teaching sessions, planting and harvesting of the land.
Various foods are produced at the community garden including, garlic, apples, tomatoes, zucchinis, corn and more.
(Natasha O'Neill/The Pointer)
Bees buzz happily about, pollinating and visiting the rows of squash and edible flowers, and all sorts of critters squirm behind corn and zucchinis. Each row has an irrigation system attached to a rain barrel, closing the circuit of a sustainable water source.
Iceland Teaching Garden is one of many community areas facilitated by Ecosource in Peel. The organization traces its roots back to 1979 in the nascent city of Mississauga, when family farms still dominated the landscape, before developers unleashed their earth-moving machines. It offers a range of urban gardening tutorials and youth programs to bring nature back into the lives of city dwellers.
"It's such an amazing experience to harvest things that you've seeded into the ground and have taken care of from literally seed to its maturity," Justine Geroche, Ecosource's urban agriculture coordinator, says.
The garden is also practicing an ancient Indigenous agricultural technique, planting winter squash, corn and beans together. The three vegetables protect each other from outside threats.
(Natasha O'Neill/ The Pointer)
She tells The Pointer gardening helps her feel connected to the environment. Teaching others to see the beauty and relaxation in growing food sustainably in their own backyards is what some of the programs aim to do. Numerous studies have proven that outdoor activities, whether it be hiking, gardening or simply enjoying local greenspaces, have an array of positive mental health benefits.
In the past, Ecosource would sell at farmers markets or donate to their food-to-table program, but over the pandemic it has been focused on donating to local food banks. In 2020 they provided 3,366 pounds of produce to local organizations to help feed families who suffer from food insecurity.
Judy Oduro, urban agriculture assistant, says since 2020 she's seen more people come out and volunteer their time in the garden. Since restrictions were limited to outdoor activities last summer, more people found unique ways to release stress and connect with the world around them. Many in Peel are surrounded by cracked asphalt, loud cars and limited access to outdoor greenspace. Starting kids and youth off in programs tending to gardens can give them a sense of peace and pass down the love for nature early on.
"A lot of parents just want their kids to just get involved with gardening and making that connection themselves because they might have a green thumb," Geroche says.
Judy Oduro (left) and Justine Geroche both have a deep connection to nature and hope to pass their love onto the younger generations who come into the garden.
(Natasha O'Neill/ The Pointer)
A relationship with nature cannot necessarily be understood just from conversation. The feeling of connection and forming a symbiotic relationship from earth's production of food is an experience on its own. Oduro's mother was a farmer in Ghana and when she immigrated to Canada kept up her own garden.
"I would just watch her, but mainly like letting her do the work. And eventually, I wanted to do it for myself. And it was fun. I feel like I was learning with her and under her."
Growing produce locally has a number of benefits for not only communities but the environment and the economy as a whole. Urban agriculture can be growing any sort of food in small gardens, balconies or on rooftop patios.
According to a discussion paper on urban agriculture by the Region of Peel, community gardens have shown health benefits which can lower food insecurities and create more food options for residents. Like many large cities, fast-food chains dominate the streets, offering greasy, sugary foods, filled with chemical preservatives.
Unhealthy retail places outnumber healthy ones, at least five to one, making the offers even harder to ignore. Diet plays a huge factor in how the body's immune system can fight off diseases and plays a critical role in overall long-term health. In the Region, diabetes rates have more than doubled between 1996 and 2015.
Both Mississauga and Brampton are hard at work reshaping their vehicle powered downtown streets to encourage walking, cycling and busing. Travelling by car prompts a sedentary lifestyle lowering opportunities to exercise.
Adding community gardens to neighbourhoods may encourage better eating habits and increase chances for residents to help with producing their own food.
"It's a very intimate experience. In some cases, making that connection of where your food comes from and localizing your food system," Geroche says.
Having a local food system means produce doesn't need to travel long distances in large trucks or trains to communities. It's a walk down the path or out to the backyard to gather ingredients for dinner.
In 2015, Statistics Canada reported exports from the crop production industry accounted for 70 percent of carbon emissions. In comparison, 35 percent of emissions from the animal-food production industry was from exports.
Both cities and the Region have ambitious carbon emission targets to hit; by growing food locally, cutting out transportation emissions could drastically reduce the carbon footprint of the area as a whole, beyond specific municipal operations. Other solutions like electric vehicles in fleets and for public transit are slowly being considered to create a greener region. Adding gardens can be an even faster way of tackling the issue.
Having larger plots of greenspace also mitigates flooding risks from large amounts of rainfall and decreases urban heat island effects.
Gabriel Cami Smith (left) and Daniel Oliveira are high school students completing their community service hours at the garden. They just finished weeding one of the quadrants.
(Natasha O'Neill / The Pointer)
Volunteers at the Iceland Teaching Garden make sure the soil is fresh every year, practicing crop rotation to ensure the soil isn't overused. When plants grow year-after-year in the same soil, it can attract harmful pests and can decrease the amount of nutrients in the soil, Geroche explains.
The Region's discussion paper states urban gardens have the capacity to yield two times more produce per square metre compared to commercial vegetable farms.
"Industrial agriculture and monoculture plant the same thing for acres and acres," Geroche says, expanding on the research. "Tilling up that soil is doing that same thing. So it's actually not the best for the soil, it gets really degraded."
Most of Peel is already built out, meaning the cities have to plan smarter. Using spaces which once held a factory or building can be remediated and redeveloped into a greenspace for urban farming or even a community garden. Areas like these allow residents to have their own piece of land in gardens that provide a shared space for not just the growth of local agriculture but also for key community-building opportunities that help keep areas safe and residents healthy, physically and mentally. Allowing access to fresh produce can also lower health inequalities that impact many residents in lower socioeconomic situations.
If residents are able to sell their crops locally through pop-up stands or markets, it can contribute to economic diversification, growing a new sector of the economy and increasing job prospects along with opportunities for a range of entrepreneurship.
In response to the COVID-19 pandemic, Brampton initiated a Backyard Garden Program to teach and encourage residents to grow their own food. At the height of pandemic anxieties, food was flying off the shelves, creating mass uncertainty and worry. This program was an extension of Brampton's community gardens which were closed during lockdowns.
Spearheaded by community members last year and Brampton Councillor Doug Whillans (an avid gardener) the program was only hoping for about 1,000 sign-ups when it was launched early in the pandemic. Within a week, more than 5,000 Brampton residents were on board, and it was expanded this year.
In the past, community gardens run by the City would allow residents to "rent out" a plot of land to grow, harvest and manage. Dropping in for the occasional chit-chat and weeding session ceased within the gardens when restrictions prevented the gatherings.
Massive zucchinis grown at the Iceland Teaching Garden will go to families in need.
(Natasha O'Neill/ The Pointer)
Mississauga paired with Ecosource to help organize their gardens and expand programming. In May, City Council passed a pilot project to allow some residents to keep hens in their backyard. Only 10 areas in the City will participate. Each household can only have four hens on their property to raise for eggs, not meat. These sorts of programs show communities where their food comes from and can educate children about the importance of a relationship with the food we eat.
They shouldn't grow up thinking all food comes from a grocery store, filled with chemicals and packaged into cardboard and plastic containers, branded by marketing to make consumers think it's good for them.
Those at the community garden say this is the old way of relating to food, or at least, what was done for a few decades. A return to the more agrarian roots of civilization is something many younger residents find appealing.
Initiatives and promises to lower carbon emissions are all tied to the Region's Municipal Comprehensive Review. Planning for population growth and employment to achieve a "community for life" into 2051 is due July 2022. Both Brampton and Mississauga will have to start building inwards as their urban boundary is set, the focus for the Region is prime agricultural land in Caledon.
Environmentalists are calling for a hard urban boundary, an imaginary line drawn across to prevent developers from penetrating the lucious greenspace, forcing Peel to build smarter not wider.
The sprawling decades of the '70s, '80s and '90s are now being rethought.
As of right now, Peel has not set the boundary and is contemplating how to accommodate the expected 2.2 million people who will live here in another 25 years and where they will work. Plans to continue developing around the Town of Bolton and off the proposed 413 highway have been brought to Regional Council. Whether Peel will enact the boundary and save more of Ontario's agricultural lands is yet to be decided.
Meanwhile, thriving gardens continue to form relationships with communities bringing nature closer to the suburban cities than ever before. If residents understand how fragile and valuable food sources are, plans for more urbanization could be an idea of the past.
Meticulously manicured yards, with flowers and shrubs that are not native to the area, could give way to more urban farming, featuring fruits and vegetables grown and eaten by a new generation of homeowners less concerned about keeping up with the Joneses, and more interested in living closer to the land.
---
Email: [email protected]
Twitter: taasha__15
---
COVID-19 is impacting all Canadians. At a time when vital public information is needed by everyone, The Pointer has taken down our paywall on all stories relating to the pandemic and those of public interest to ensure every resident of Brampton and Mississauga has access to the facts. For those who are able, we encourage you to consider a subscription. This will help us report on important public interest issues the community needs to know about now more than ever. You can register for a 30-day free trial HERE. Thereafter, The Pointer will charge $10 a month and you can cancel any time right on the website. Thank you.
Submit a correction about this story