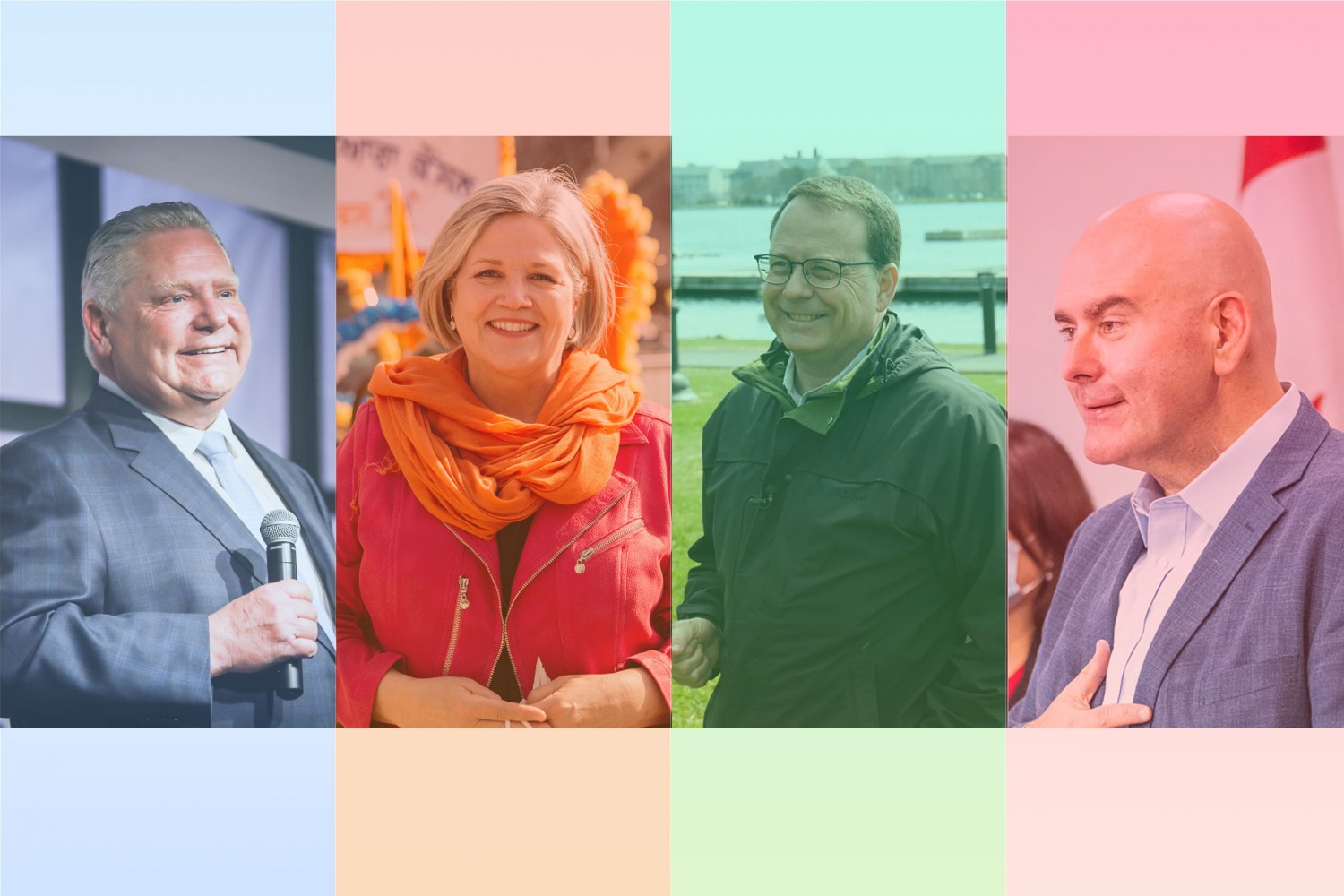 Feature images from Twitter
Peel is a key battleground heading into June 2 election 
There's one thing Peel residents know going into the June election—scheduled exactly one month from now—polls in Peel can not be trusted.
In the 2019 federal election, the numbers going into voting day suggested the results in a number of Mississauga ridings held by the Liberals could essentially be left to a coin toss with polls showing Conservative contenders running close to the margin of error. The result was a laugher for the Liberals across the board. It's not the first time polls failed to capture the political reality in the booming region, where, other than Caledon's loyal blue seat, the other eleven ridings (six in Mississauga and five in Brampton) could be up for grabs, if recent history serves as a barometer.
Peel has long been a battleground for the Liberals and Progressive Conservatives, with the NDP pushing their way into the region with three Brampton seats.
Several Mississauga ridings have long been Liberal strongholds, including Mississauga-Streetsville, previously held by Bob Delaney, but it was flipped blue in 2018 by Nina Tangri, along with the rest of the city's provincial seats. Mississauga-Lakeshore, previously held by former finance minister Charles Sousa, lost to Rudy Cuzzetto; and Mississauga Centre, now held by PC Natalia Kusendova, has previously flip-flopped between the Liberals and PCs.
The decimation of the Liberals in 2018 was illustrated by what happened in Peel, where all six seats in Mississauga were won by the PCs, after the city went entirely red in 2014; and the Party was shut out in Brampton, where the PCs picked up the only two seats not won by the NDP.
In Brampton Centre, currently held by NDP Deputy Leader Sara Singh, the riding changed colours between the PCs and Liberals in previous elections. Brampton West was previously held for three terms by the Liberals before PC Amarjot Sandhu, a first time candidate with zero experience in Canadian politics, won four years ago. Brampton North also alternated between the two parties before Kevin Yarde's NDP breakthrough, winning by less than 500 votes over the PC candidate in the last election.
Once again, a lot could change in Peel's provincial political landscape after June 2.
Early polls suggest the PCs remain the frontrunner, making it a race that's Premier Doug Ford's to lose. While at least one recent poll suggests momentum for the Liberals—an Abacus Data survey shows 32 percent of respondents intend to vote for Steven Del Duca and the Liberals compared to Ford's 36 percent—it's unclear whether that red resurgence will hold and if it will be enough to prevent another PC majority. Peeling votes from the NDP might not be enough, if both parties fail to move a significant number of voters out from the blue tent.
Such a close race could result in strategic voting, but historical data in Ontario show such tactics, while great fodder for those who like to talk politics, rarely play out among the electorate.
University of Toronto political science professor Chris Cochrane cautions against relying on strategic voting to predict possible outcomes.
"The fact is we don't have great poll district-level vote intention data in the course of an election campaign, so it can be very difficult for the parties, never mind the voters, to figure out what in their district is the most strategic vote in order to stop some outcome that they most want to avoid," he told The Pointer's Ballot Vox podcast. "It's certainly not a winning strategy."
For Cochrane, the best chance any party has of unseating the PCs will come down to a strong policy platform. The PCs have already signalled their clear intention of being the party that says "yes" to building new highways and family homes (especially in the 905 belt) while trying to connect with families increasingly concerned about affordability issues in the face of crippling housing, child care, gas and food costs.
"They are the party of the people who are concerned about affordability," Cochrane says. "Despite being in charge when the affordability crisis has gotten worse and worse over the last few years."
Some voters might question the PCs lack of detail around some inflationary nightmares, for example the failure to confront the scarcity of affordable units (which will not be helped by the Ford plan to build more expensive single-family homes) but others might appreciate moves such as the recent PC agreement with the federal Liberals to bring $10-a-day childcare to Ontario (the last province to sign such a deal with Ottawa). It was widely applauded across the province, particularly by young families desperate for relief from unmanageable childcare costs.
The Liberals have made early announcements around crime and safety—promising to allow municipalities to ban handguns—and equity and diversity with a promise to implement policies to fix the relationship between police and diverse communities and to end the practice of streaming students in high school. Both issues could have strong resonance across Peel.
Both the Liberals and NDP have committed to ending wage stagnation under Bill 124, pushed through by the majority PCs, which has made the cost of living even worse for those public sector employees, even nurses, who kept many parts of society from collapsing during the pandemic.
Both parties are also promising significant increases to the minimum wage in Ontario, the Liberal plan could see it go as high as $18 in places such as Toronto, where housing and other costs are excessively high.
"One of them has to pull away with the kind of agenda, maybe even an ambitious policy agenda, that is going to address the kinds of things people are worried about, thinking about, and so far, it seems to me that hasn't been as front and centre yet for both the Liberals and the New Democrats," Cochrane says.
The Liberals have made a series of platform announcements but have not yet released their official platform, with only one month left till voters make a decision.
NDP Leader Andrea Horwath officially kicked off the 2022 campaign on Saturday in her home riding of Hamilton Centre. The NDP platform, released earlier this month, carries the tagline "They broke it, we'll fix it".
"Let's rebuild what we've lost and fix what's been broken for far too long," Horwath penned in a letter attached to the policy document. "Let's have a government that puts everyday people first. That builds a new foundation for the next generation of Ontarians, instead of creating more problems for them to solve."
The Leader of the Opposition has already made public commitments to restore accountability mechanisms at Queen's Park, like the ban on partisan advertising using public money and changing campaign contribution rules to ensure individuals are donating on their own behalf and not that of a private interest. The NDP have also made announcements about ending exclusionary zoning to create the type of dense, affordable housing that aligns with transit investment and the creation of complete communities that dramatically reduce the overall carbon footprint. Both she and Del Duca have outlined plans to reform Ontario's devastated long-term care sector, but the Liberals have not yet provided all the details around their commitments.
The Liberals have pledged to focus on eliminating systemic discrimination in policing and Ontario's education system with pledges to end streaming in high school, which often sees racialized students steered away from more academic pathways in favour of applied or vocational ones. A government led by Del Duca would also implement policies to ensure police services hire and promote diverse officers who reflect the communities they serve. The Liberals have also signalled they would ban handguns across the province in their first year in office.
Green Party Leader Mike Schreiner has already made an appearance in Brampton, to reinforce his party's opposition to the Ford PCs' push to build Highway 413 and the Bradford Bypass and the urban sprawl that would be triggered following the arrival of these highways. He appeared alongside Dufferin-Caledon Green candidate Laura Campbell who will be challenging Sylvia Jones, Ontario's solicitor general, who has held the seat since 2007.
It remains unclear whether Ford's commitment to a commuter, 905-centric agenda that is aimed at drivers and those who want the suburban lifestyle to be maintained, with plenty of large family houses built to accommodate buyers looking for space, will pay off. He will scrap highway tolls in Durham, build the 413 across the Western GTA and construct the Bradford Bypass just south of Lake Simcoe. Drivers will also see a roughly 5-cent-per-litre reduction in the gas price for six months, while they will save about $120 a year, on average in the GTA, now that license sticker renewal fees have been scrapped.
It's a gamble for Ford, who is banking on suburban and rural voters who still prefer the car, wide highways and sprawling properties, rather than the types of complete, transit-oriented communities modern planners and environmental advocates are asking for, to help prevent further destruction caused by climate change.
Ford's calculation that the 905 belt and other parts of suburban Ontario will help him win another majority could depend on the turnout of younger voters, and demographics that show more and more people who support an urban agenda are moving to places such as Mississauga, Brampton, Milton and Vaughan.
On Earth Day, April 22, numerous rallies were held across the GTA attended by thousands of engaged citizens calling for Ford's defeat after four years that have left environmental legislation stripped to the bone, and climate change mitigation pushed to the background.
Here's what we know about the landscape in Peel ahead of the June 2 election.
---
Candidates
Across Peel, 9 of the 12 ridings in the three cities have full slates of candidates from the PCs, NDP, Liberals and Greens. The NDP have yet to nominate three candidates in Mississauga, including the ridings of Mississauga-Lakeshore, and Mississauga East-Cooksville. The Greens still need to nominate a candidate in Brampton South.
(I) - Incumbent
Brampton
Brampton Centre
PC - Charmaine Williams
NDP - Sara Singh (I)
LIB - Safdar Hussein
GREEN - Karitsa Tye
Notes: In 2018, Sara Singh won her seat by the incredibly slim margin of 89 votes. While she will hold the incumbent advantage this time around, along with the recognition she has gained from being Deputy Leader for the NDP, her main contender also comes with name recognition. Charmaine Williams, elected to Brampton city council in 2018, is looking to make the jump to provincial politics with the PCs.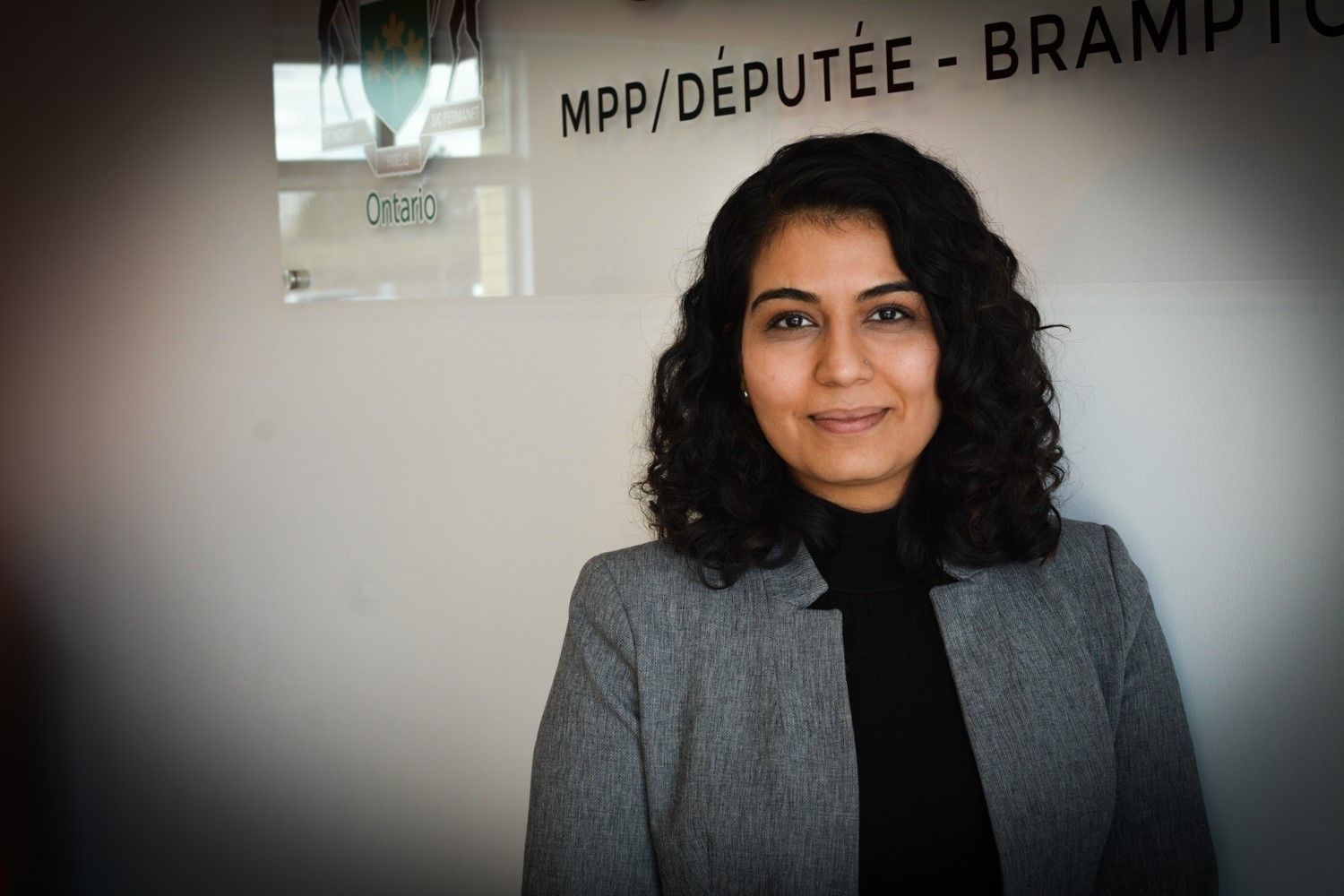 Brampton Centre MPP Sara Singh
(Joel Wittnebel/The Pointer files)
Brampton West
PC - Amarjot Sandhu (I)
NDP - Navjit Kaur
LIB - Rimmy Jhajj
GREEN - Pauline Thornham
Brampton East
PC - Hardeep Grewal
NDP - Gurratan Singh (I)
LIB - Jannat Garewal
GREEN - Jamaal Blackwood
Brampton North
PC - Graham McGregor
NDP - Sandeep Singh
LIB - Harinder Malhi
GREEN - Aneep Dhade
Notes: Sandeep Singh was nominated as the NDP candidate in Brampton North through a controversial process that ousted incumbent Kevin Yarde from the position. Yarde, who departed the NDP caucus over the nomination, has said he will remain at Queen's Park as an MPP, but it's unclear whether he will seek to hold the seat as an Independent in the upcoming election.
Brampton South
PC - Prabmeet Sarkaria (I)
NDP - Andria Barrett
LIB - Marilyn Raphael
GREEN - ?
Mississauga
Mississauga-Streetsville
PC - Nina Tangri (I)
NDP - Nicholas Rabba
LIB - Jill Promoli
GREEN - Reead Rahamut
Mississauga-Malton
PC - Deepak Annand (I)
NDP - Waseem Ahmed
LIB - Aman Gill
GREEN - Robert Chan
Mississauga-Lakeshore
PC - Rudy Cuzzetto (I)
NDP - ?
LIB - Elizabeth Mendes
GREEN - David Zeni
Mississauga Centre
PC - Natalia Kusendova (I)
NDP - Sara Walji
LIB - Sumira Malik
GREEN - Adriane Franklin
Notes: Incumbent Natalia Kusendova has gained a lot of positive attention throughout her first term in office, including her efforts on human trafficking and as parliamentary assistant to the Minister of Francophone Affairs. Kusendova also spent time during the COVID-19 pandemic returning to the frontlines as a nurse. A recent lawsuit from a former intimate partner alleging the MPP owes him over $30,000 in unpaid loans may be fodder for Kusendova's challengers, as questions have been raised about her judgment when accepting money she used to pay off student loans without reporting the income to the provincial integrity commissioner.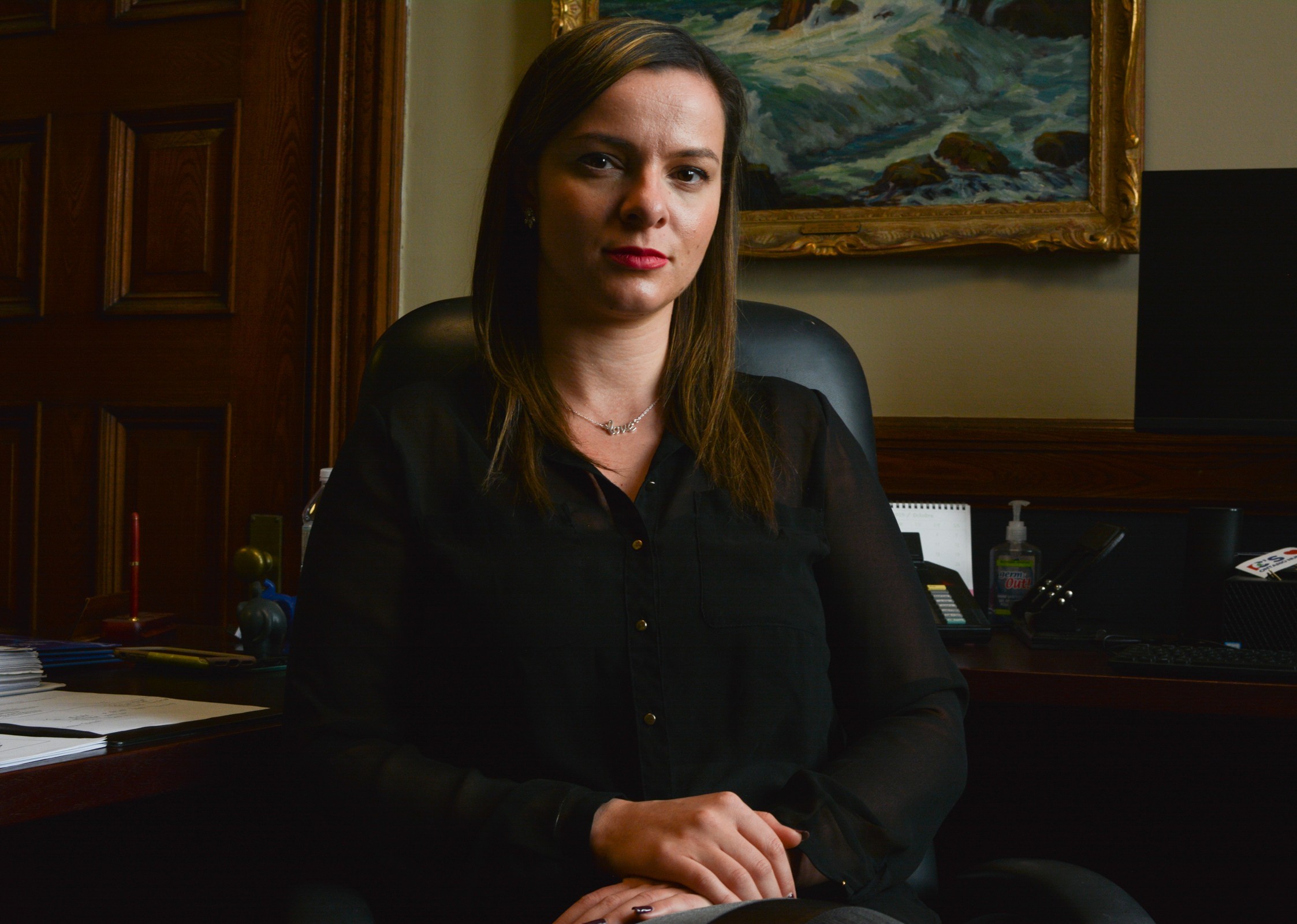 Mississauga Centre MPP Natalia Kusendova
(Joel Wittnebel/The Pointer files)

Mississauga East - Cooksville
PC - Kaleed Rasheed (I)
NDP - ?
LIB - Dipika Damerla
GREEN - James Hea
Notes: Mississauga councillor Dipika Damerla is looking to return to Queen's Park after being defeated by now-incumbent Kaleed Rasheed in 2018. Damerla held the riding of Mississauga East—Cooksville for two terms between 2011 and 2018; she has faced criticism for her lack of attendance and participation during council meetings, which she has sometimes missed or left early, as she campaigns to regain her provincial seat while her responsibilities as a city councillor are what Mississauga taxpayers in her ward are paying her for.
Mississauga - Erin Mills
PC - Sheref Sabawy (I)
NDP - Farina Hassan
LIB - Imran Mian
GREEN - Michelle Angkasa
Dufferin-Caledon
PC - Sylvia Jones (I)
NDP - Tess Predergast
LIB - Bob Gordanier
GREEN - Laura Campbell
---
Email: [email protected]
Twitter: @JoeljWittnebel
---
COVID-19 is impacting all Canadians. At a time when vital public information is needed by everyone, The Pointer has taken down our paywall on all stories relating to the pandemic and those of public interest to ensure every resident of Brampton and Mississauga has access to the facts. For those who are able, we encourage you to consider a subscription. This will help us report on important public interest issues the community needs to know about now more than ever. You can register for a 30-day free trial HERE. Thereafter, The Pointer will charge $10 a month and you can cancel any time right on the website. Thank you

Submit a correction about this story