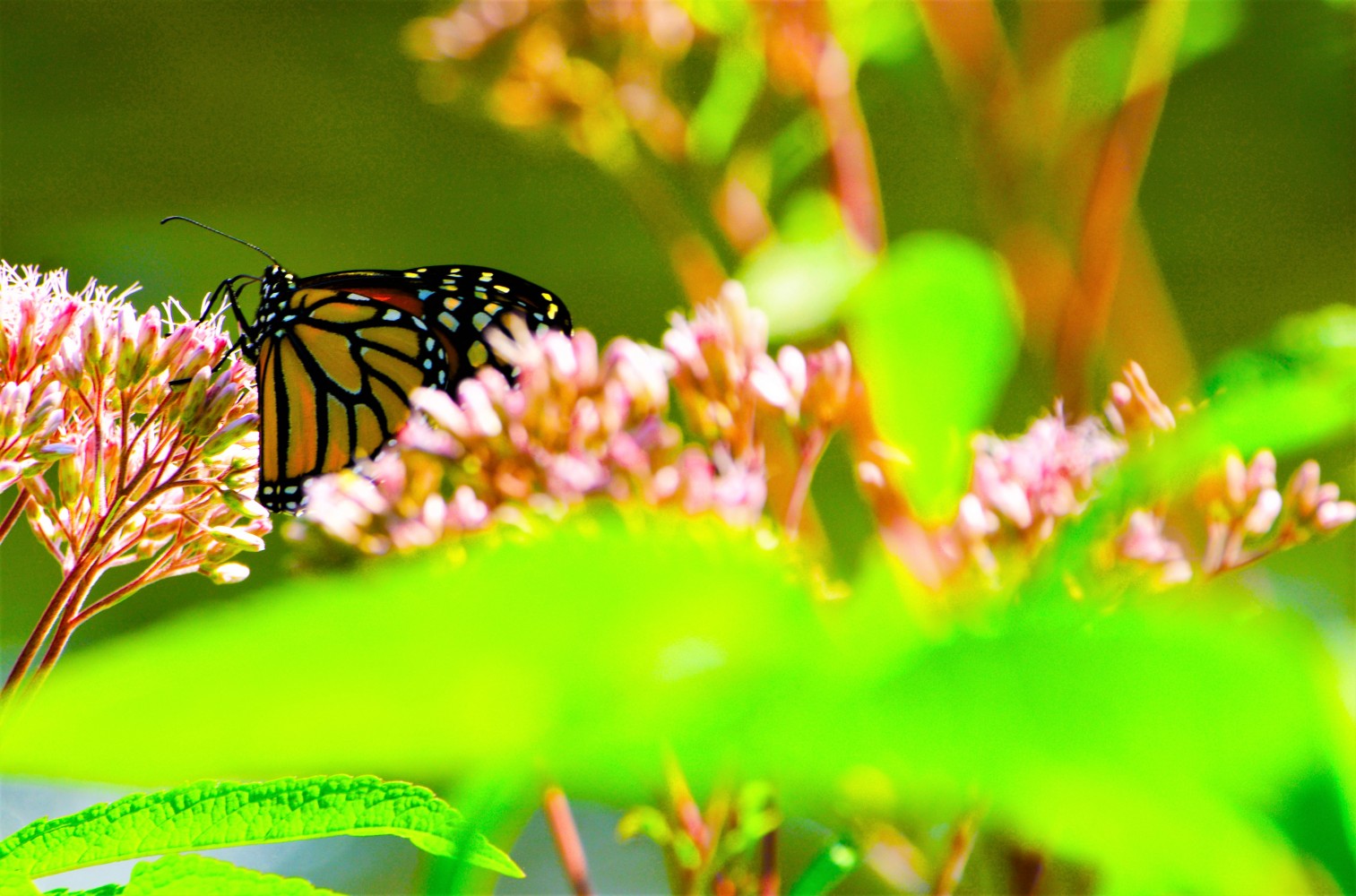 Image from Joel Wittnebel/The Pointer
Healing Ontario's fractured ecosystems: how grassroots efforts are stitching greenspace back together 
The world of a butterfly is a technicolour dreamscape.
Fluttering from wildflower to wildflower, the yellow glow of a black-eyed susan, or the purple sheen of a blazing star are rendered in a kaleidoscope of colour by the compound lenses that provide these delicate insects with the gift of sight.
Unfortunately, this multi-image view of the world also means as a butterfly flutters across a roadway, it has an incredibly varied view of the vehicle bearing down on it before its life is snuffed out.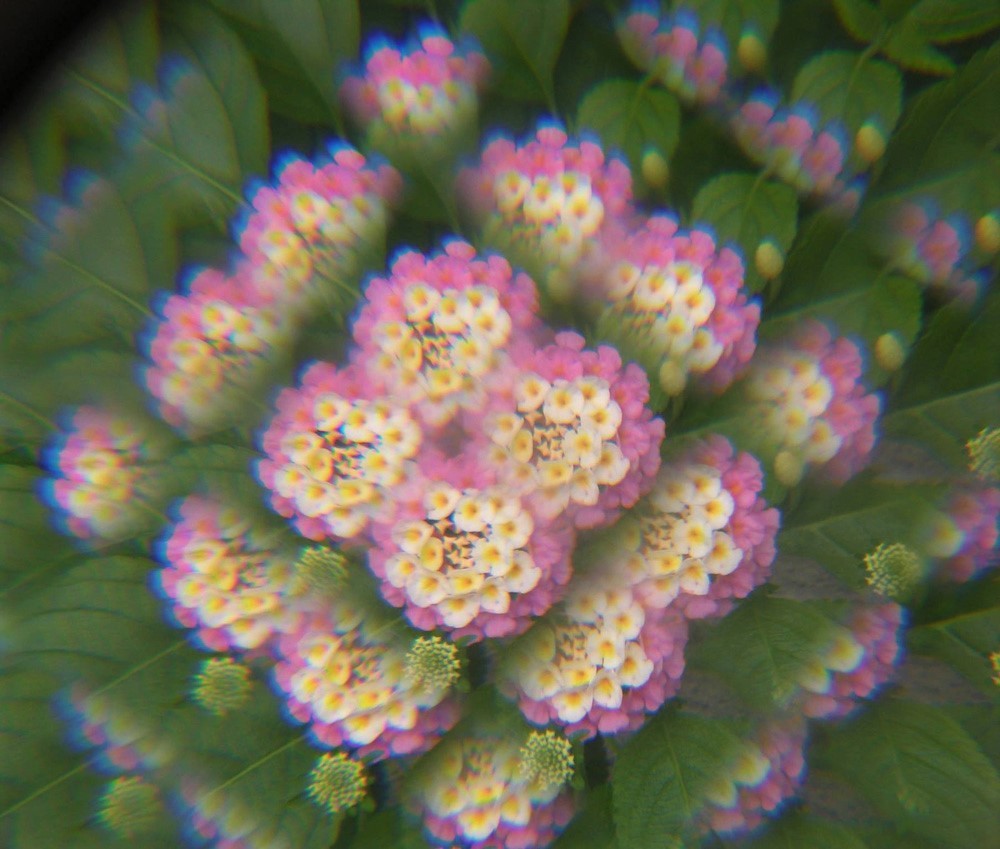 Compound lenses that make up the eyes of a butterfly allow it to see the world through multiple angles at once, with some butterflies able to see 314 degrees around itself.
(Image from Anna Estep, Lewis Ginter Botanical Garden)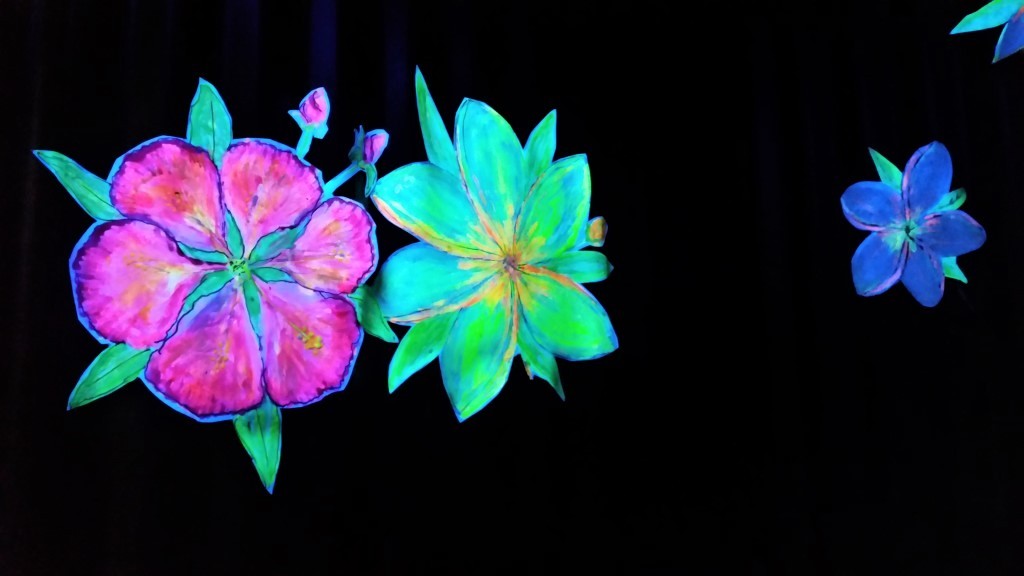 Butterflies can also make out ultraviolet and polarized light which the human eye can not detect.
(Photo from Australian Butterfly Sanctuary)
Being struck by a speeding vehicle is only one of many threats facing Ontario's insect populations as the province continues to urbanize at a rapid rate. The problem is easy to understand—more cities mean less natural space. But the long-term solutions to halt this trend are hard for policy makers and elected officials to take seriously.
Consistent urban expansion to accommodate a growing population — Ontario grew from 6.5 million people to 10.5 million between 1996 and 2021 and is expected to expand a further 45 percent to 14.8 million by 2051 — means more cityscape and less natural green space and farmland. While some species have shown an incredible level of adaptability to thrive in urban areas (think racoons, pigeons and squirrels) many are not suited to live, feed and breed in a habitat dominated by concrete, glass and human activity. But as the human race sprawls over more and more of the planet, we leave these animals with fewer places to flee.
Over the last century of industrialization and urban expansion, land-dwelling species have seen their ranges and populations contracted by one-third—some species have seen range declines as high as 80 percent. Across North America, the number of birds has dropped by 2.9 billion since 1970.
Insect species are not immune from these trends. A global study completed in 2019 estimated that 40 percent of the world's insects are threatened with extinction—loss of habitat, along with pesticide use, invasive species and climate change are all listed as main culprits.
The loss of insect life is of particular concern for humans as many of these small lifeforms play the vital role of pollinators in the ecosystems where they thrive, feeding on and supporting many of the plants we rely on for food. The renowned biologists and conservationist Edward Wilson described insects as the "little things that run the world."
It's clear as urban areas have expanded, the populations of many species have shrunk along with their habitats. Unless the world wants to watch many of its animal species disappear, and climate change to continue and herald in a myriad of dangerous weather catastrophes, there is a desperate need to change the way we plan our cities.
"Effective land-use planning ensures that lands, which are finite resources, are used and developed to meet the current and future needs of communities and the people who live in them, while safeguarding valuable resources such as agricultural lands, wetlands, forests and distinctive natural features and landscapes," wrote Bonnie Lysyk, Ontario's auditor general, in a scathing report released in December that described a planning regime in the province that has allowed urban sprawl to continue unchecked for years. "This rapid growth and resulting urbanization have led to the loss of agricultural land and natural spaces, degradation in air and water quality, increased demand for major infrastructure, increased traffic congestion, increased risk of chronic diseases, and unaffordable housing prices."
This land-use planning system—one the PCs have shown complete disregard for—is critical to safeguarding the health and wellbeing of both humans and wildlife alike.
Poorly planned cities lead to not only the modern woes many in the GTA are already facing—traffic congestion being a big one, caused by the fact that 69 percent of Ontario's population is crammed into 3 percent of the province's total land area in the Greater Golden Horseshoe—but also come with long-term health impacts. A 2014 report completed by medical officers of health in Hamilton, Peel, Simcoe Muskoka and Toronto found that traffic-related emissions in the GTHA are responsible for between 712 and 997 premature deaths and between 2,812 and 3,939 hospitalizations every year.
Loss of habitat is at the top of the list of threats for most species in Ontario, particularly for those listed as at-risk. But the danger posed by our shovels and bulldozers also comes from the land they do not cleave into. Habitat fragmentation is the constant disconnection of remaining greenspaces. It's a skyscraper built along a migratory bird pathway. It's a roadway next to a wetland separating turtles from their typical breeding grounds. It's the degradation of "edge" habitats that abut urban landscapes that slowly die from salt and chemical runoff from human activity and pushes wildlife out. Southern Ontario is the flagship of this destructive trend, ecologist Ryan Norris told The Pointer last fall. The PC government has shown a complete disregard for this animal habitat and fragmentation. The GTA West Highway along the southern edge of the Greenbelt and the Bradford Bypass through the provincially significant Holland Marsh wetland complex would be two of the most egregious examples of habitat fragmentation this province has ever seen. The GTA West and the Bypass are home to close to 40 species at risk according to previous investigations by The Pointer. A report from Lysyk released late last year detailed how the PC government has completely failed to enforce species at risk legislation, and their actions are actively harming Ontario's most vulnerable species.
An ongoing effort from the David Suzuki Foundation is trying to reverse this trend. The Butterflyway Project, launched in 2017, has expanded in a big way throughout the COVID-19 pandemic. Using a network of dedicated volunteers and community members, the project looks to encourage the planting of native wildflowers in cities across the country, creating pathways for pollinators to move safety through the urban landscape. There are now more than 1,000 volunteers across Canada registered as Butterflyway "Rangers", and the grassroots effort is responsible for the planting of over 85,000 wildflowers, 6,000 pollinator patches, and "Butterflyways"—a string of 12 or more wildflower plantings—exist in more than 75 communities across the country.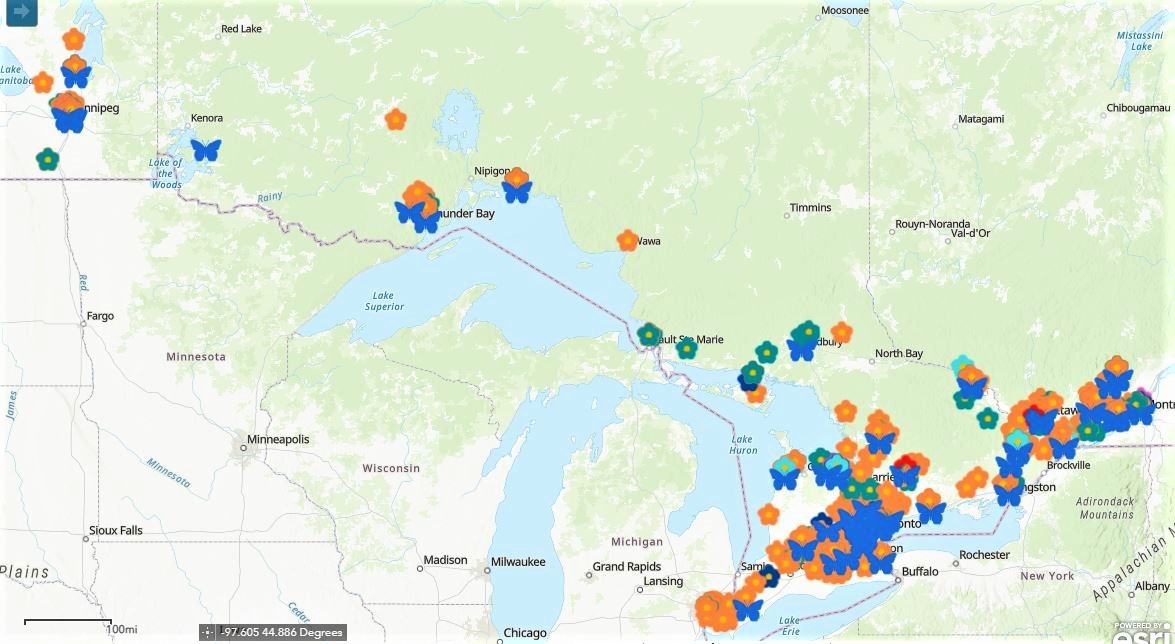 A collection of Butterflyways (blue), residential wildflower plantings (orange) and community gardens (green) now exist across Southern Ontario.
(Screengrab from David Suzuki Foundation)
"The original inspiration was to stitch back together the tapestry that are our communities," says Jode Roberts, the lead of the David Suzuki Foundation's Nature in Cities program. "The easiest thing to do is transform the landscape you have agency over."
From full-fledged community garden projects, to adding a bit more colour to the backyard flowerbed, or for apartment and condo-dwellers, getting their hands a bit dirty with wildflowers and herbs on their balcony.
Standing over these plants, the task may seem small, but zooming out to a birds-eye view, the blossoming of plants on balconies and backyards across the neighbourhood one can imagine the pathway that is created, allowing these crucial species to move from safe-haven to safe-haven with reduced risk.
"They connect the dots and these individuals, these residents feel like they've transformed their neighbourhood and have an active role," Roberts says.
In a variety of ways, the existential threat of climate change can imbue feelings of helplessness and despair. With debates around carbon emissions happening in political boardrooms involving international players, and many of the worst impacts of climate change yet to be felt, global warming can feel like an overwhelming, but far-away topic—and can therefore lead many to believe that individual effort is futile. Roberts doesn't see it that way, with efforts like the Butterflyway project having power to not only unite individual efforts under a single umbrella, which can show individuals that they are making a difference, but the impacts can ripple through generations.
"Generations have grown up with an increasing distance between us and nature," Roberts says.
In 2018, it was estimated that 55 percent of the world's population lived in urban environments, a number that is predicted to increase to nearly 70 percent by 2050. With more people not growing up close to nature, it creates what author Richard Louv, in his book "The Last Child in the Woods" described as nature deficit disorder.
If generations grow up disconnected from the natural world, it has the potential for a large number of people to not prioritize the environment and its connections to us.
The pandemic has made many realize how important the greenspaces outside their home really are for their mental health. The Credit Valley Conservation Authority, for two straight years, has seen a record number of visitors to its parks, reaching nearly 1.5 million in 2021.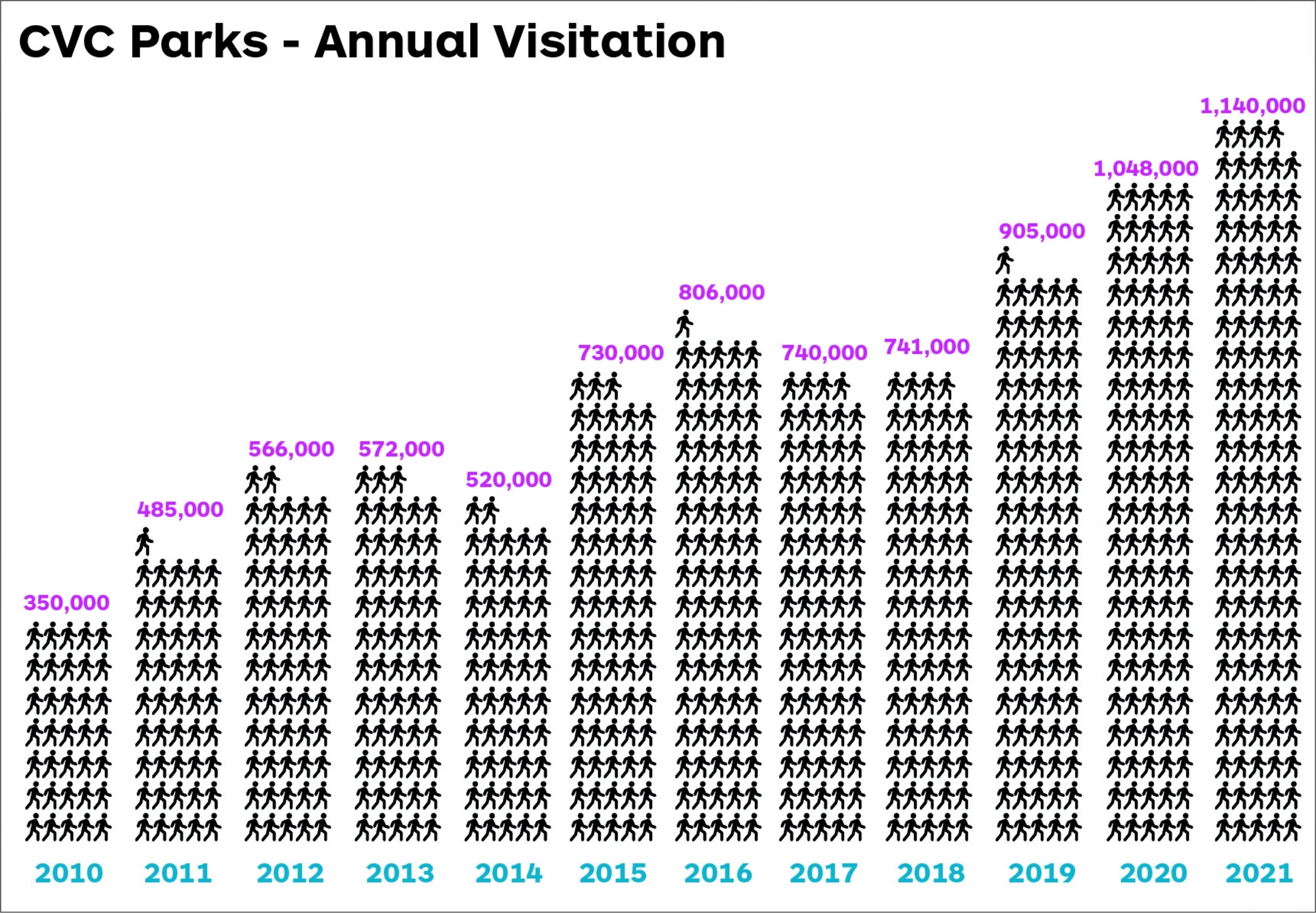 (Graphic from Credit Valley Conservation Authority)
But fostering that passion does not mean growing up away from the city. It can be sparked by something small, like the appearance of a butterfly.
"If a butterfly shows up in your yard, especially a Monarch, it's just one of those magical moments," Roberts says, noting his phone is constantly inundated by photos and texts from exited volunteers who have finally succeeded in attracting a monarch or other pollinator to their small patch of wildflowers. "My hope is if you inspire enough of these folks and connect them together, that's the foundation for positive change."
---
Email; [email protected]
Twitter: @JoeljWittnebel
---
COVID-19 is impacting all Canadians. At a time when vital public information is needed by everyone, The Pointer has taken down our paywall on all stories relating to the pandemic and those of public interest to ensure every resident of Brampton and Mississauga has access to the facts. For those who are able, we encourage you to consider a subscription. This will help us report on important public interest issues the community needs to know about now more than ever. You can register for a 30-day free trial HERE. Thereafter, The Pointer will charge $10 a month and you can cancel any time right on the website. Thank you
Submit a correction about this story