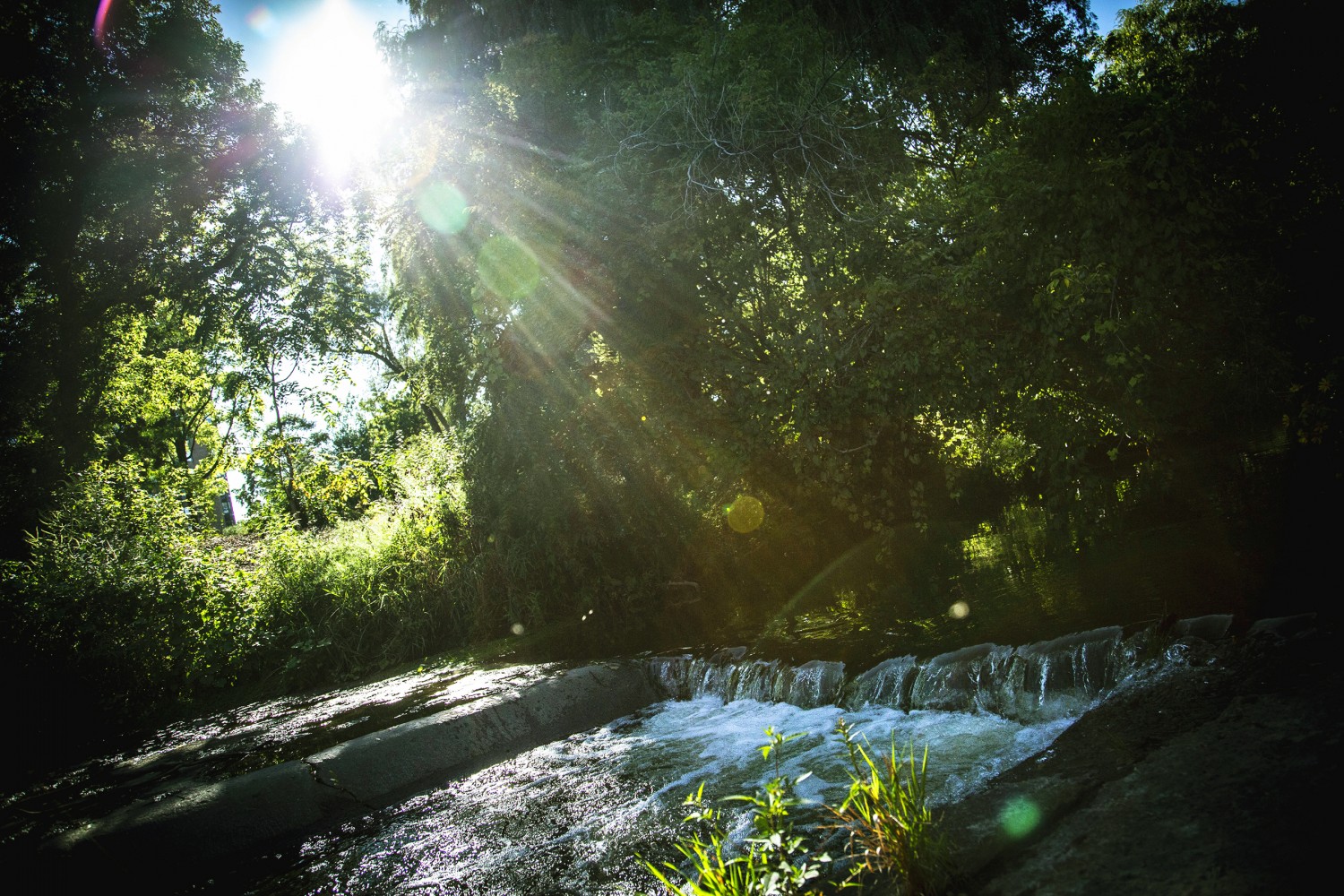 Feature image from The Pointer files
Brampton has ignored climate change for years, will a new environmental organization do what council has failed to? 
Doug Whillans knows that sometimes the best things take time.
A passionate gardener, the councillor for Wards 2 and 6 nurtures an impressive assortment of produce. Carrots, potatoes and zucchinis in the Whillans household go from seeds planted in the backyard to soups cooked in the kitchen.
Whillans has applied the lessons learned in his garden to politics. For four years, just like tending to his vegetable garden, he has nurtured a project dear to his heart.
On Wednesday, Brampton council members took the final steps to help Whillans see his vision through, one that dovetails with his love of nature. They committed $300,000 to help create an arms-length organization tasked with putting energy conservation and emissions reductions on the right track in Brampton.
The new organization, the Centre for Community Energy Transformation (CCET), was first floated in Brampton's 2040 Vision. The document, which was released in 2018 after feedback from more than 13,000 residents, is meant to guide the city to a prosperous and sustainable future. The plan has heaved itself from Vision's pages, sat through hours of committee meetings and is finally ready to become a reality.
CCET promises to be a point where the public, private and education sectors can come together to help reduce Brampton's carbon emissions.
"We're in an all hands on deck moment in relation to this climate emergency and it requires municipalities in all sectors of the community to work together and facilitate this energy transformation and achieve our climate goals," Michael Hoy, supervisor of environmental planning for the City of Brampton, said Wednesday. "CCET can be the hub to bring the community together."
It will target four areas: retrofits of residential homes; an eco-friendly system of shared heating and cooling called district energy; energy efficiency among businesses in Brampton; and community outreach.
"Establishing the CCET will make it easier for all sectors in Brampton, and across the region, to work together to rapidly advance meaningful climate action to address our climate emergency," a Brampton staff report explains.
The organization will be separate from Brampton City Council with its own leadership and mandate—a feature Whillans hopes will allow the non-profit to criticize and pressure council when necessary.
The city's municipal elected officials have continued decades of terrible decision making, driven by the private sector, as council members have repeatedly supported developers pushing the GTA West Highway and old-school subdivision housing. The resulting sprawl that people like Mayor Patrick Brown refuse to confront, does irreparable harm to the environment.
Whillans hopes members of the new group will help put pressure on local politicians who often say the right things to garner public support, especially around elections, then quietly endorse environmentally destructive planning and growth.
"I think this is just the tip of the iceberg of what's going to happen down the road because there is going to be some significant money that the City's going to have to [spend]," he says. "I think one of the biggest things is [CCET] are going to come in and say, 'Hey, take a look at your own facilities, take a look at your own buildings'."
Councillor Doug Whillans has pushed to create the CCET.
(Image from The Pointer files)
Details of exactly what programs CCET will provide have yet to be finalized and the organization still needs to hire a complement of staff. It plans to recruit an executive director, two program leads and two program coordinators. The organization will be governed by a volunteer board.
The advisory task force that created CCET has established a nominating committee to build a transitional board that will be responsible for establishing the organization and creating its permanent board of directors.
With a proposed annual operating budget of $1 million, CCET will attempt to deliver programming for Peel that focuses on reducing the carbon footprint of buildings and rolling out education campaigns. It will be funded with $300,000 per year from the City of Brampton and further contributions that are yet to be confirmed from Peel's other municipalities.
A letter of support was sent to the City, signed by the Region of Peel's chief financial officer, Gary Kent, Mississauga commissioner of community services, Jodi Robillos, and the Town of Caledon's director of corporate strategy and innovation, Erin Britnell. The letter does not specifically mention financial figures and local elected officials would have final say over the process.
A date has not been decided for establishing CCET in full, with a presentation listing securing funding and beginning operations under "next steps".
Its status as non-profit with an independent board will allow the CCET to straddle a role between government and charity.
It will have the power to make vital recommendations to the City of Brampton, while also organizing programs and education for residential retrofits. It could be eligible to draw funding earmarked for government bodies as well as the non-profit sector to maximize the changes it can make in Brampton.
Some programs, like its retrofit plan, should function without extra help from the City. Other recommendations, like municipal building efficiencies, will require council to loosen the purse strings.
CCET was set up under the guidance of an advisory taskforce established at the beginning of 2021. The taskforce includes Whillans and representatives of various organizations such as Enbrdige, the Peel District School Board and Ontario Clean Water Agency.
Its launch sparked a passionate response from the community.
"Canada and the US have hundreds upon hundreds of community energy plans that read like a wishlist: new net zero communities, beefed up standards for new builds, electrify all the vehicles, put renewables everywhere," Herbert Sinnock, sustainability director at Sheridan College, a partner on the project, told councillors. "It's wonderful stuff, all of it. But lacking real specifics, these plans don't make anyone accountable for that change, they don't define targets that have to be met. And, as a result, they eventually end up gathering dust on the shelf."
If it follows the path it has set out, the CCET hopes to develop a slate of energy services for homeowners, residents and businesses.
It could coordinate complete retrofits for buildings across Peel Region, accessing government funding and charging user fees to cover its own costs. The organization has only received funding from the City of Brampton so far, over the next year it plans to request support from the Town of Caledon, City of Mississauga and Region of Peel.
Peel's three municipalities have a lot of questions to answer when it comes to climate change. Decades of poor planning has left the region scattered with single-detached family homes that demonstrate the kind of inefficient heating, cooling and commuting patterns experts have said could destroy our planet.
The Intergovernmental Panel on Climate Change (IPCC) , a UN affiliated agency of more than 6,000 global scientists, released a report in 2018 that detailed the need for municipal and other sub-national governments to make sustainable land-use decisions, as sprawl and congested highways are a major contributor to temperature increase.
Caledon has been consistent in its support for the construction of a new highway (the GTA West) through Peel, while Brampton's most recent budget committed more to a single road than its entire environmental program, a fact referenced by two councillors on Wednesday.

Brampton will need to retrofit older suburban homes to reach its carbon reduction targets.
(Image from Isaac Callan/The Pointer)
A lot of the CCET's work will involve bringing existing projects together under one umbrella.
Brampton, Caledon and Mississauga are already working on a home energy retrofit program, while Brampton is planning to create district energy hubs in Uptown and Heritage Heights. Mississauga is exploring the same in its downtown and as part of Lakeview Village, where wastewater from the Region of Peel could help power the system.
A line-up of local residents, stakeholders and businesses crammed into Brampton's latest Committee of Council meeting to endorse the project. Twelve delegates expressed an interest in taking part, praising the plan and the opportunity it represents.
"I think it's a win-win all round, that's why I think you should support it," David MacGillivray, a Brampton resident, told council members.
A vocal member of Brampton's environment advisory committee, David Laing, has championed the project since the beginning and argued the task of tackling climate change is too great for one city to manage alone.
"CCET is important because it will serve as a resource to help companies make better educated decisions [and] take the burden from individual businesses," Joan Berger, director of new business development at A Berger Precision, said.
Sam DeCaria, the vice president of i-Squared Developments, demonstrated the potential benefits coordinating between private and public bodies on energy efficiency could bring. His company is in the process of building a 21-storey tower in Brampton and, he said, has already bored holes under the development to take advantage of environmental thermal energy.
The CCET will be in charge of pushing for cleaner energy and heating in Brampton.
(Image from Unplash/Zbynek Burival)
The approach that CCET embodies is one that the research firm McKinsey Global Institute recently highlighted in a study for how the world can achieve net zero. "Government and business would need to act together with singular unity, resolve, and ingenuity, and extend their planning and investment horizons even as they take immediate actions to manage risks and capture opportunities," a report released by the firm in January says.
This small step forward follows a number of years in Brampton that have seen elected officials turn a blind eye to the worsening climate crisis.
"Going forward, I hope once we endorse this wholeheartedly that in future budgets we can start upping the ante a little bit and really putting money where our mouths are for this type of initiative," Councillor Jeff Bowman urged his colleagues Wednesday.
The City dodged one of those potentially fraught decisions by reallocating funds to pay for CCET, instead of earmarking new money.
The $300,000 councillors approved to invest in CCET is funding that has been taken from another environmental file. The funds have been pillaged from $600,000 that was earmarked in the 2022 budget document to implement Brampton's 57-step Grow Green Environmental Master Plan. CCET is just one of the plan's 57 recommendations and is even referred to as "in addition" to the master plan in one section.
Councillor Jeff Bowman urged his colleagues to commit to environmental spending.
(Image from The Pointer files)
Brampton's recent record on climate change has had few bright spots. Public relations stunts like a promise to buy a single electric fire truck have been organized without real progress. Last week, a motion put forward by Whillans to oppose the controversial GTA West Highway failed to gain enough traction to even trigger a discussion, despite the potential for the highway that will run through north Brampton to sprew millions of tonnes of carbon into the atmosphere, working against the environmental initiatives the city is trying to pursue.
The creation of the CCET has the potential to help the City reduce emissions from its buildings and enable residents to do the same. Research from 2016 included in the Brampton environmental master plan shows this is an important step, but 69 percent of total emissions in the City of Brampton come from transportation.
The fact transportation is not an initial focus of CCET, Whillans says, is deliberate. Rather than create an ineffective catch-all body claiming to solve all of Brampton's climate woes, he has pushed to keep the CCET focused
"We didn't want the CCET to get convoluted with different things," he said. "So we concentrated on the home retrofits, we said that's what we have got to target first.
---
Email: [email protected]
Twitter: @isaaccallan
Tel: 647 561-4879
---
COVID-19 is impacting all Canadians. At a time when vital public information is needed by everyone, The Pointer has taken down our paywall on all stories relating to the pandemic and those of public interest to ensure every resident of Brampton and Mississauga has access to the facts. For those who are able, we encourage you to consider a subscription. This will help us report on important public interest issues the community needs to know about now more than ever. You can register for a 30-day free trial HERE. Thereafter, The Pointer will charge $10 a month and you can cancel any time right on the website. Thank you
Submit a correction about this story