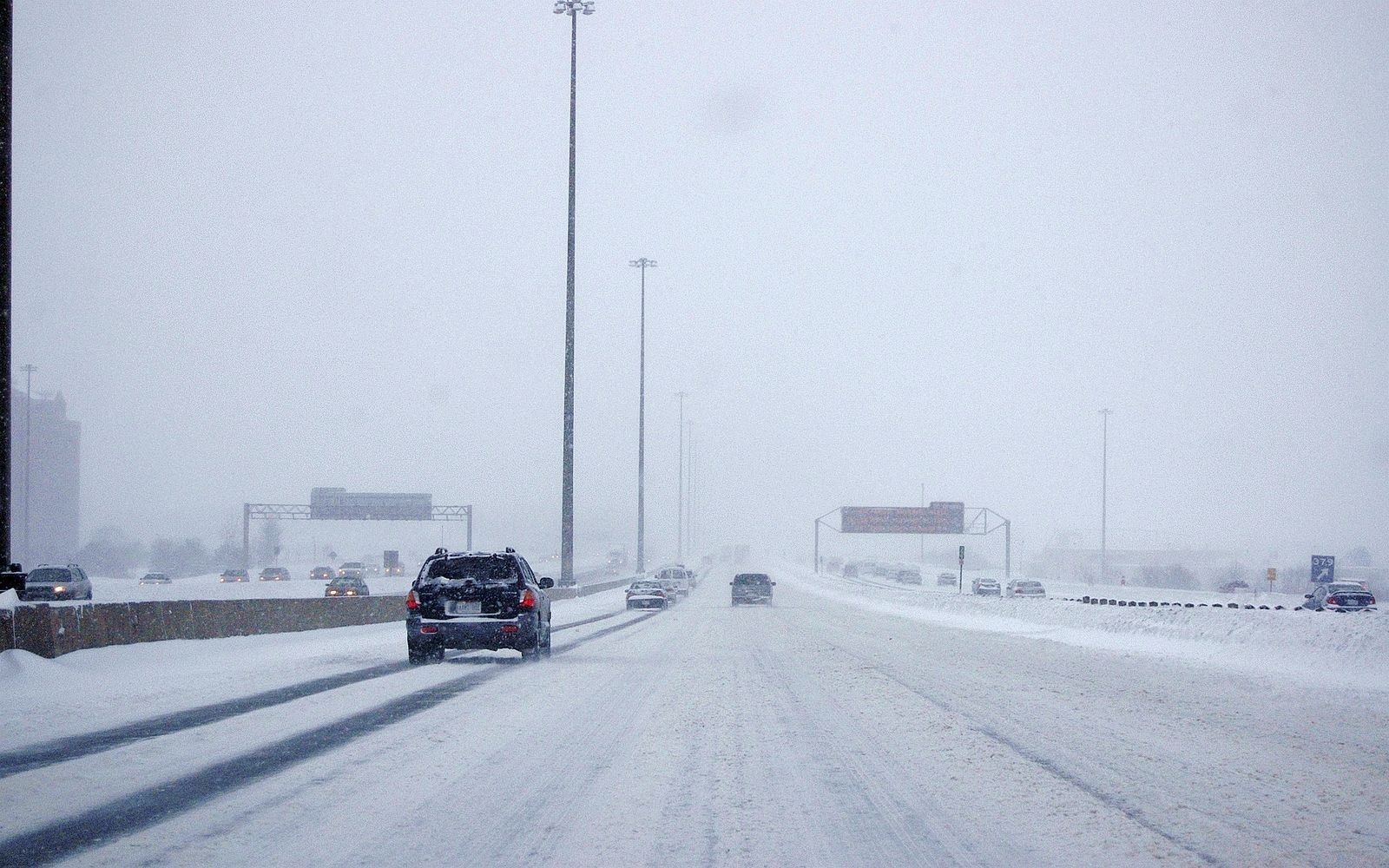 Feature image from Haljackey/Wikimedia Commons
Climate change is making winter more unpredictable; it's time for better planning and rules like Quebec's mandatory winter tires law
Cities like Mississauga built in the latter half of the 20th century have infrastructure dating back to when the threat of climate change had not yet entered our lives.
"This means that our existing infrastructure was built to perform well in a climate that no longer exists and may not provide the levels of service needed in the future," a report from the Federation of Canadian Municipalities (FCM) says.
In other words, municipalities are woefully unprepared for the climate reality of the future.
Last Monday's snow storm was the latest example.
Trudging through the snow it looked as if Mississauga had turned into a white wonderland… one that caused serious hardship to residents and the systems meant to keep things running smoothly, even in the worst conditions.
During the morning commute few brave souls shoveled snow from their driveways and started what would be a long, and possibly dangerous, morning drive.
Wind gusts created snow squalls, quickly burying tire tracks and footprints. Snowplows had not been to side streets and some local thoroughfares, focusing on the major highways and arterial connectors, leaving many vehicles to make their own path through the rising drifts.
There were reports of people waiting hours, stranded in the middle of their workday, waiting for help from tow trucks or other motorists willing to lend a hand.
Toronto police closed two main highways through the city, the Gardiner Expressway and Don Valley Parkway, hoping to deter determined commuters.
Peel Regional Police told The Pointer officers responded to 32 collisions that day, not including those motorists who attended Collision Reporting Centres on their own for minor fender benders.
When the snow finally tapered off mid afternoon, Pearson International Airport in Mississauga reported a new record for snowfall on January 17, with 32 centimetres. Parts of Mississauga saw around 40 centimetres, with snow banks rising even higher as the day went on.
Blizzards are a common part of Canadian winters and are as much a part of the national fabric as the rest of our unique natural character. But as weather patterns and climate continue to shift due to the amount of GHG emissions sent into our atmosphere because of human activity, how we prepare for extreme rainfalls in the spring, summer and fall, and unpredictable snowfall in the winter, is a crucial issue in our new weather reality.
Peel Region has seen its annual average temperature since 1940 increase 1.8 degrees, double the rate of warming globally. The increase in temperature has made weather more unpredictable and severe, causing flash floods, fatalities, massive property damage and unprecedented insurance losses.
Warmer climate has meant less snow over the long term, but it also brings more severe winter weather events due to the increase of moisture in the atmosphere. In colder climates when countries are faced away from the sun moisture turns into snowfall, as explained in a 2020 National Geographic article.
Even days after last Monday's storm, Mississauga was still plowing sidewalks and salting streets.
(Natasha O'Neill / The Pointer)
This means as atmospheric temperature continues to rise, blizzards will become more common, leaving cities and citizens to deal with the aftermath of these winter weather events.
The City of Mississauga is attempting to predict severe weather before it occurs with state of the art monitoring technology and plans to respond to what the science tells staff.
"We have invested in over 500 pieces of equipment to combat weather events," a City spokesperson told The Pointer in an email. "This year, we procured modern and efficient equipment, including additional trucks that can both salt and plow streets."
A growing concern is the cost of severe weather.
The Insurance Board of Canada (IBC) released a report explaining how much insured damage severe events cost in 2021. The most expensive event was the British Columbia flooding with damage totalling $515 million, followed by a Calgary hailstorm in July that cost $500 million in insured damages.
Ontario has also seen some gruelling storms in the past decade, an foreshadowing of what to keep expecting. Widespread flooding across the GTA in the summer of 2013, which hit Mississauga particularly hard, and Alberta floods, totalled $3.5 billion in damages that year. In 2018, multiple rain and wind storms hit Ontario and Quebec costing $2.1 billion by the end of the year. However, 2016, the year of the Fort McMurray fires in Alberta was the most severe year for losses in history, with $5.4 billion in insured damages. The horrific disaster, which left much of the municipality burned to the ground, was the most expensive in Canadian history.
When expensive weather hits, municipalities often have to use reserve funds to deal with damages. Infrastructure and services need to be in place to provide a quick response to mitigate headaches for residents.
Snow removal in Mississauga is broken down on average cost per lane kilometre.
In 2021 the City budgeted for an average of $3,566 per lane kilometre, in 2022 this grew to $4,121 per lane kilometre.
To help bolster the efficiency of snow removal and safe walking and driving, Mississauga approved an eight-year winter maintenance contract in the summer of 2020. According to the 2022 budget, the City will spend $25.3 million on winter maintenance, approximately $300,000 less than 2021.
A note in the budget explains rather than expecting "higher-than-average winter maintenance costs" the City will fund the unexpected fluctuations through the specific reserve fund designated for each unforeseen situation. According to the City the reserve for snow removal has approximately $9.5 million remaining.
"This winter season, the City lowered plowing criteria from 8 centimetres to 5 centimetres and intensified the use of salt brine before certain winter events and weather conditions, which is anticipated to reduce salt material usage by up to 30 percent," a City spokesperson told The Pointer.
"With the volume of snow that we've had [it] is just obviously taking our machines, whether it be a plow truck or loader, a lot longer to get through all the areas," Scott Holmes, senior manager of works administration, operations and maintenance said.
What can residents do to mitigate problems caused by severe winter weather?
Owning proper snow removal equipment is a start, and having a plan to clear driveways, sidewalks and windrows (the icy bank pushed along the ends of driveways by City plows) should be considered by all households. The City also wants all parked vehicles on the street removed so plowing is not disrupted.
Owning winter tires placed on personal vehicles ahead of each winter is one move some would like to see become a rule.
"The CAA endorses the use of winter tires and the City encourages vehicle owners to install them ahead of the winter season," a City spokesperson told The Pointer.
Government policies can drastically change the attitude toward winter tires. Quebec's provincial mandate (the strictest in the country) states all vehicles must have winter tires from December 1 to March 15, failure to do so results in a $200 to $300 fine. The legislation came into effect in 2008 and led to a sharp decrease in collisions causing fatalities and bodily harm.
According to a 2011 study by Le Ministère des Transports du Québec which looked at winters from 2003 to 2010, collisions causing death decreased 36 percent after the legislation. This number is particularly significant because even prior to the legislation about 90 percent of the province's drivers used winter tires, meaning the 36 percent reduction in fatal accidents was achieved by forcing the remaining ten percent of drivers to use the proper wheels.
To compare more accurately the province then looked at collision data from non winter months, seeing an overall improvement with the legislation being implemented versus when it was not.
The report said 574 people avoided being an accident victim each year.
According to the Tire and Rubber Association of Canada's 2021 online survey, 73 percent of people in Ontario use winter tires, an increase of seven percent from 2020. The survey also showed that 78 percent of respondents believed winter tires had saved them from being in an accident.
Ontario residents commonly mistake all season tires for winter ones, with some citing the cost of switching as a major deterrent. Approximately 56 percent of Ontarians believe all-season tires are "good enough" for the frigid conditions rather than winter tires, according to the survey.
The Traffic Injury Research Foundation in 2021 published a literature review on the effectiveness and use of winter tires comparing data from across Canada and around the world. It described all-season tires as products "designed to perform optimally in wet and dry conditions, and satisfactorily in other conditions."
Winter tires (not snow tires) are softer, and perform optimally over slippery surfaces below 7 degrees. They provide, "improved traction on wet, slushy, snowy, icy and dry cold surfaces."
Some Ontarians (24 percent) say their lack of winter driving dissuade them from purchasing winter tires, whereas 29 percent say the prices are the main deterrent.
People without storage space for tires during off season (11 percent in Ontario) say this is the reason why they don't purchase the extra set.
Kaitlynn Furse, director of corporate communications for the Canadian Automobile Association (CAA) south central Ontario tells The Pointer the price of an accident exceeds the total cost of tires.
"Our cars are really computers on wheels these days," Furse said. "So there's a lot of expensive equipment in them [and] even that minor fender bender can cost a lot of money."
According to Furse, average costs to repair a vehicle is around $2,700 to $3,000. A brand new set of winter tires is around $1,000 to $1,800.
In January 2016, the Ontario government implemented legislation for insurance companies to allow rates to decrease by about five percent if the vehicle has snow tires, creating an incentive for drivers. Furse says the decision is based on the risk of the driver getting into an accident, adding there is a significant increase of safety for vehicles using winter tires.
A car completely covered, with only non-winter tires peeking out.
(Natasha O'Neill / The Pointer)
While there are limited studies on the increased safety of winter tires, the research does show they assist vehicles in stopping, turning and accelerating in snowy, cold and icy conditions, compared to other tires. According to a study by Tire Rack in 2007, a vehicle with winter tires took 18 metres to stop whereas the all season tires took 27.1 metres from a speed of 50 kilometers per hour, which is approximately two car lengths longer.
Vehicles were put to the test, driving 40-kilometres-per-hour and making a 90-degree turn: only the snow tires passed the test.
"Even on dry pavement, the overall performance of an all-season tire declines as the temperature becomes colder," the study concluded.
Without infrastructure to avoid insurance losses, municipalities could be battered from nature going forward.
But winters could be less unpredictable and more manageable if cities and residents accept the reality of our changing climate.
---
Email: [email protected]
Twitter: @taasha__15
---
COVID-19 is impacting all Canadians. At a time when vital public information is needed by everyone, The Pointer has taken down our paywall on all stories relating to the pandemic and those of public interest to ensure every resident of Brampton and Mississauga has access to the facts. For those who are able, we encourage you to consider a subscription. This will help us report on important public interest issues the community needs to know about now more than ever. You can register for a 30-day free trial HERE. Thereafter, The Pointer will charge $10 a month and you can cancel any time right on the website. Thank you
Submit a correction about this story