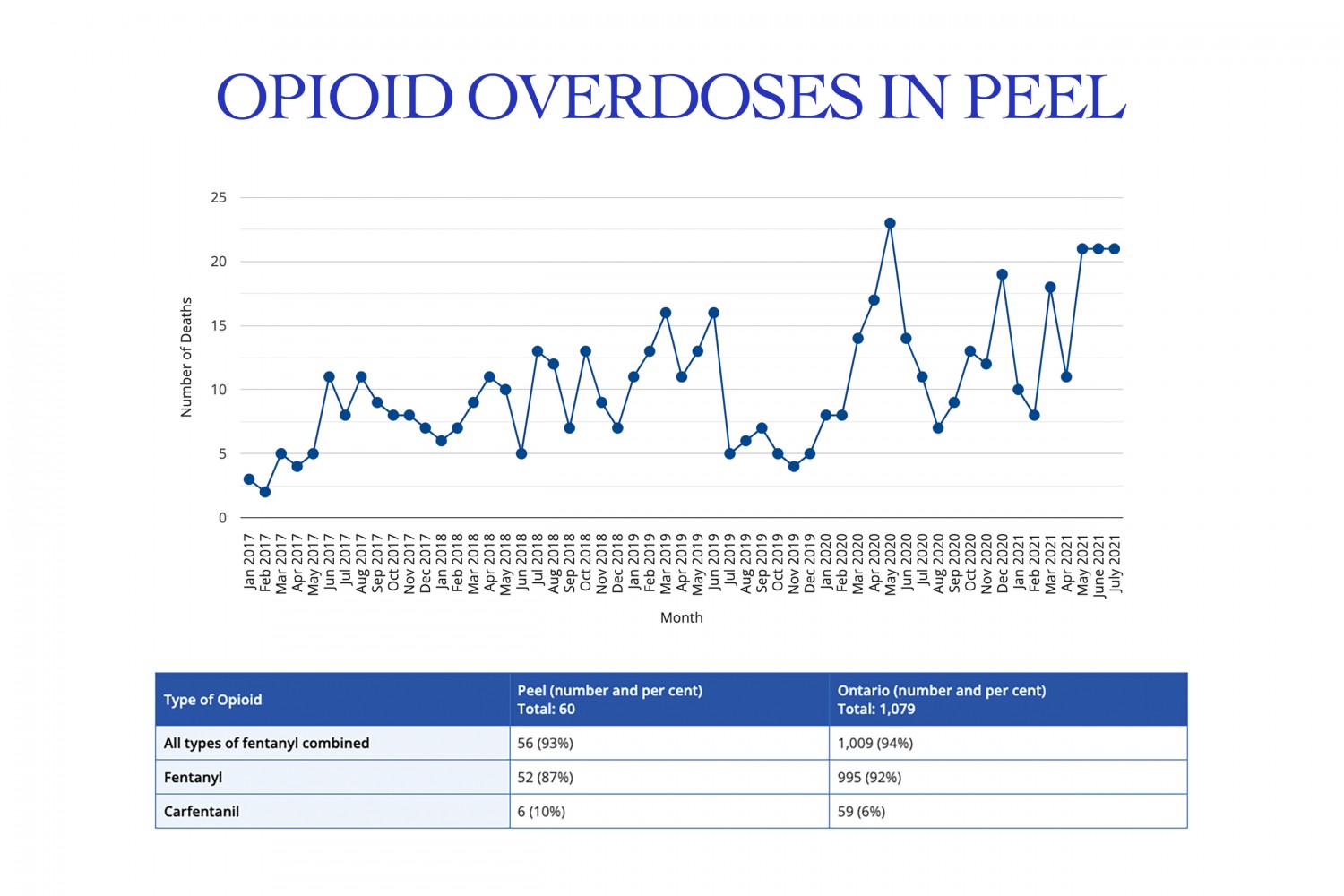 Graphs from the Region of Peel
After two deadly years of overdoses, Peel's opioid strategy set to resume 
As another wave of COVID-19 begins to wane, the Region of Peel is making effort to step-up its battle against another pandemic.
It was mere months before the first cases of COVID-19 were detected in Peel that the Region launched its Integrated Opioid Strategy. The document laid out four "pillars"—or strategic directions—to battle a crisis that was killing a growing number of people in Brampton, Caledon and Mississauga every year. The document was meant to be a turning point in a grim battle public health was losing.
The strategy, for the first time under Peel Public Health, brought a disparate group of government bodies, nonprofits and advocates together. It broke the plan down into four separate pillars: prevention, harm reduction, treatment and enforcement.
Peel Public Health leads much of the prevention pillar, while the Peel Regional Police is responsible for enforcement. Hospitals and non-profits work on treatment, while harm reduction requires buy-in from politicians and local residents.
Bringing these groups together under one unified strategy was no small undertaking and it signalled a new attempt to tackle opioid deaths in the region. Then COVID-19 struck — Peel Public Health was forced to abandon its leadership role.
Jessica Hopkins, the medical officer of health who had masterminded the coordination, departed to take a job at Queen's Park. Public health staff were reassigned to deal with the pandemic response. For two years, those same staff have bounced from one issue to another — contact tracing, local pandemic measures and a historic vaccine campaign.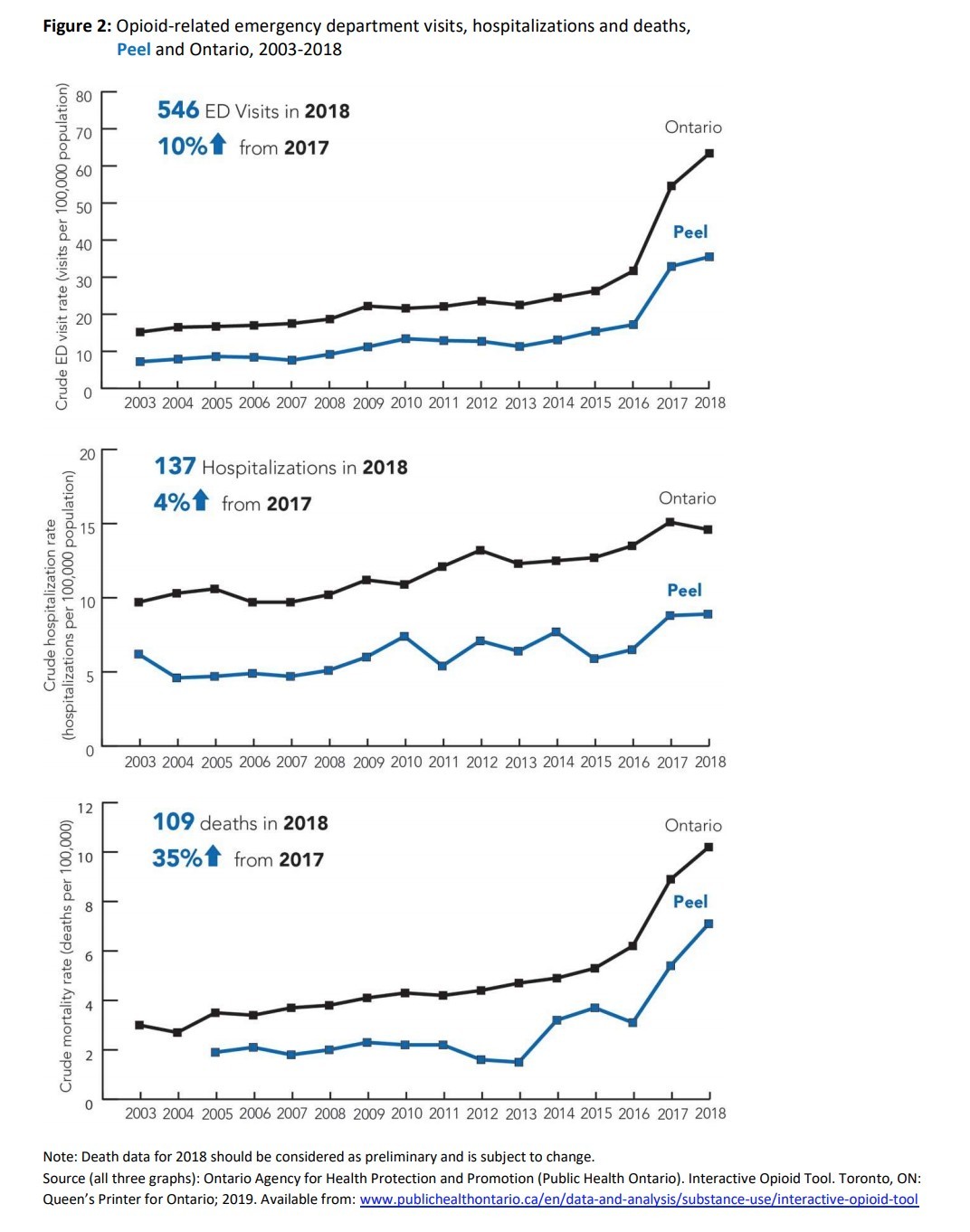 Hospitalizations, ER visits and deaths related to opioids have all been increasing across Ontario for close to two decades. The pandemic has only made things worse.
(Graphs from Public Health Ontario)
"The COVID-19 pandemic and resulting resource constraints impacted the advancement of the Peel Opioid Strategy; where the majority of strategic work needed to be paused," a Peel Public Health spokesperson tells The Pointer.
The past two years have seen a tragic rise in the number of opioid-related deaths in Peel, and across Ontario. Deaths jumped 36 percent between 2019 and 2020, with 156 overdose deaths in 2020, marking Peel's deadliest year of the opioid crisis to date. Data for 2021 is not yet complete, but Peel Public Health figures show 110 opioid-related deaths up to July last year; the same data for 2020 totals 78 deaths.
"We've seen a lot of deaths amongst the folks that we serve," says Adam Chalcraft, harm reduction program manager at Moyo Health and Community Services. "We have lost peers, we have lost colleagues in the harm reduction field and it has just been really hard."
A study sponsored by Public Health Ontario and published in January 2022 showed unintentional opioid-related deaths spiked during the pandemic. Between February and December 2020, opioid-related deaths increased 79 percent across the province.
The reasons for the spike have been complicated. Policies like Peel's Opioid Strategy have been sidelined while governments respond to the pandemic. Social distancing measures making service delivery harder and stress or isolation have created a perfect storm for the drug-using population and those battling addictions. The supply chain itself is even less reliable than pre-pandemic.
"Any interruption to the normal flow of things affects the supply of drugs coming in," says Karen Parsons, executive director of the Peel Addiction Assessment and Referral Centre (PAARC). "A lot of people in the general public will say, 'Isn't it wonderful there's been a great big drugs bust?' Or, 'Isn't it wonderful that they can't get it?' But they don't think about what happens when somebody can't get what they're used to having. And, you know, they go into withdrawal and then they get desperate and they look for things or they take things that they wouldn't normally take. Even in the opioid family, they'll move to another drug."
This can be a dangerous decision to make as the street drug supply across Canada shows signs of increased contamination from deadly substances like fentanyl and carfentanil—an opioid 10,000 times more powerful than morphine typically used to treat elephants and other large animals. Between January and June of last year, fentanyl was detected in 93 percent of the region's opioid-related deaths. Across the province during the same time period, 1,009 people lost their lives to opioids; fentanyl was present in 94 percent of those cases.
While the pandemic sidelined many of Peel Public Health's big-picture ambitions for its opioid strategy, it continued to provide vital harm reduction supplies. It offers safer drug use equipment and overdose education and training. It has also referred clients to other organizations like PAARC and Moyo. Many other elements of the coordinated strategy laid out in November 2019, have yet to proceed.
The document may now be outdated. The dynamics of society that have been drastically altered by COVID-19 may necessitate changes to Peel's long-term goals for battling opioid overdoses and assisting those attempting to escape addiction.
"We have to take a look at the connection — the interrelationship — between the COVID-19 pandemic [and] the instability that it is creating for a lot of people," Michelle Lewis, the director of clinical services for the Canadian Mental Health Association (CMHA) Peel Dufferin, told The Pointer.
Michelle Lewis, the director of clinical services for the Canadian Mental Health Association (CMHA) Peel Dufferin.
(Image contributed)
A 2020 survey of individuals living or working in Peel who self-identified as drug users supports this stance. The survey, which included alcohol and cannabis as substances in its research, found the pandemic had created serious barriers for people seeking help with addiction in Peel.
"In the absence of supervised consumption sites and safe supply, Peel is experiencing a drug crisis," explains the Peel Integrated Drugs Strategy, which included the survey. "The crisis has worsened with COVID-19, as the pandemic measures have inadvertently increased access-related barriers and aggravated health vulnerabilities for people who use substances."
A key issue identified by survey respondents was access to housing. A total of 21 percent of those surveyed did not have access to a house or were currently homeless. The January Public Health Ontario study also highlighted homelessness as a key concern.
"The pandemic has had a disproportionate impact on opioid-related death among people experiencing homelessness, with 1 in 6 opioid-related deaths occurring within this population during the first eight months of the pandemic," it stated.
Housing is just one of the factors that illustrates the importance of having an overarching strategy that aims to make drug consumption safer, disrupt criminal supply and tackle the root causes of addiction. The lack of affordable housing is a particular problem in Peel, where 80 percent of residents can not afford the current costs of housing.
"Stable housing could decrease the risk of substance use, whereas housing instability could increase the risk of substance use and the associated harms, or feeling a lack of sense of community could influence someone's substance use," Peel's Opioid Strategy states.
"With the COVID-19 response beginning to stabilize in late 2021, Peel Public Health shifted some limited capacity to restart priority work related to Peel's opioid response," the Peel Public Health spokesperson said.
The first priority will be to enhance work on the harm reduction pillar.
The goal of harm reduction is not to get people off drugs or stop them from using drugs altogether, these are outcomes addressed by the other pillars in the strategy. Harm reduction efforts try to reduce the negative consequences of using drugs. Peel Public Health will now begin addressing access impacts that the pandemic created, building on some innovations that occurred over the past two years and "re-engaging stakeholders" to see how priorities have changed.
Life-saving naloxone kits are increasingly being put into the hands of the region's substance-using population to be employed in the event of an overdose. Between 2017 and the beginning of 2020, Peel police administered naloxone 64 times, with 56 lives saved. In 2021, data from Mississauga Fire show police responding to incidents with firefighters administered doses to five individuals. Naloxone, a nasal spray, works to temporarily reverse the effects of an overdose by blocking opioid receptors in the brain, allowing an unconscious person to be revived and taken to hospital. These kits can be obtained free of charge at participating pharmacies through the Ontario government's naloxone program.
Naloxone can be a life-saving tool in the event of an overdose.
(Photo by Joel Wittnebel/The Pointer files)
"Right now it is almost as if we are really forced to only implement harm reduction," Lewis of CMHA said. "However, even when we look at these strategies, we have to understand that the resulting impacts from the COVID-19 pandemic make it very difficult to implement those harm reduction strategies because, from a holistic perspective, people's needs are not being met."
The introduction of a supervised consumption site was a key part of Peel's long-term strategy to reduce harm. The facility would be a space where people could administer drugs under supervision from community and health workers with access to clean equipment and medical help in the event of an overdose.
Vancouver opened Canada's first supervised consumption facility, called Insite, with positive results. As of 2019, the site had seen more than 3.6 million visits to inject drugs under nurse supervision and nurses had intervened in 6,440 overdoses. There had not been a single death inside the facility. These types of interventions can be the difference between life and death for the drug-using population due to the unpredictable nature of the nation-wide drug supply.
A safe consumption site is one of the many parts of Peel's opioid strategy that has failed to advance during the pandemic. It is another idea Peel Public Health is now gingerly preparing to revisit.
In the absence of a safe consumption site, something CMHA, PAARC and Moyo all agree is a key step forward, other solutions are being sought. Some organizations are parachuting safer equipment directly to clients through peer mentors in an attempt to bridge the gap.
"Without safe supply and safe consumption services in the region, really what we have been doing is trying to teach people how to monitor each other, to basically provide that service to themselves more effectively," Chalcraft said. "Not using alone and making sure that the person you're using with is willing and able to respond should something happen."
---
Email: [email protected]
Twitter: @isaaccallan
Tel: 647 561-4879
---
COVID-19 is impacting all Canadians. At a time when vital public information is needed by everyone, The Pointer has taken down our paywall on all stories relating to the pandemic and those of public interest to ensure every resident of Brampton and Mississauga has access to the facts. For those who are able, we encourage you to consider a subscription. This will help us report on important public interest issues the community needs to know about now more than ever. You can register for a 30-day free trial HERE. Thereafter, The Pointer will charge $10 a month and you can cancel any time right on the website. Thank you
Submit a correction about this story