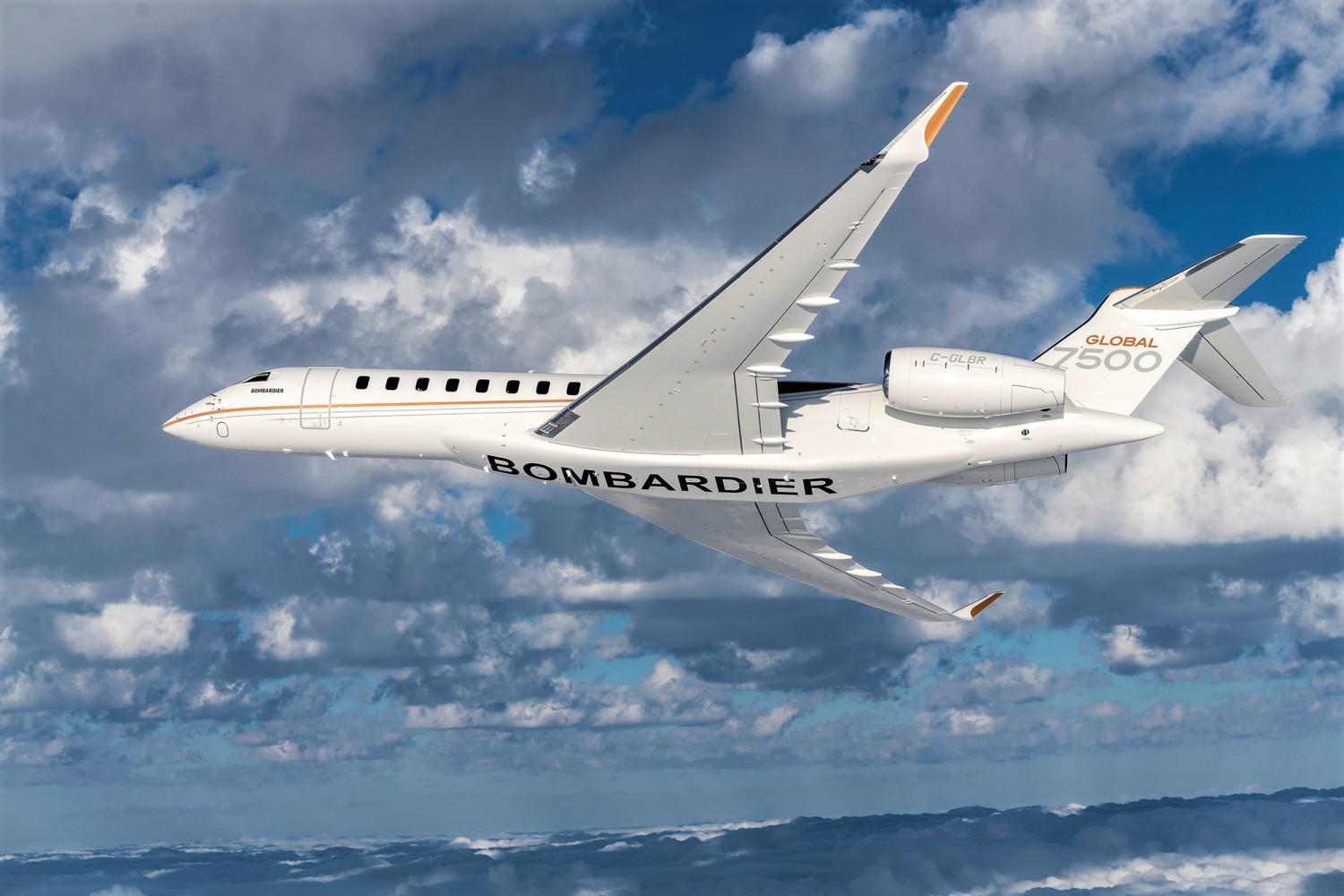 Feature image from Bombardier
Mississauga and Bombardier want to be stewards of green aviation with new $500M Pearson facility
Natural light creeps gently around the steel columns, landing on workers gathered this chilly November morning as the breathtaking sunrise illuminates the 770,000-square-foot facility's skeletal frame.
The future economic driver for Mississauga and Pearson International Airport is painted brilliantly by the bright sun's palette of dawn colours.
The vast property, filled with potential for job creation and innovation in the devastated aerospace sector, will play a huge role in shaping the city's future economy. The new advanced manufacturing facility, where Bombardier will build its newest planes, is one of the largest investments the city has seen, with a cost of approximately $500 million to construct, and sustaining 2,000 jobs when completed in 2023.
The Montreal headquartered company creates jet planes for businesses in the increasingly lucrative non-commercial market, and the new facility will fit perfectly with its plans. Bombardier will continue production of its Global 7500 aircraft, among others, moving operations from the old Downsview plant in Toronto's north end built in the 1960s.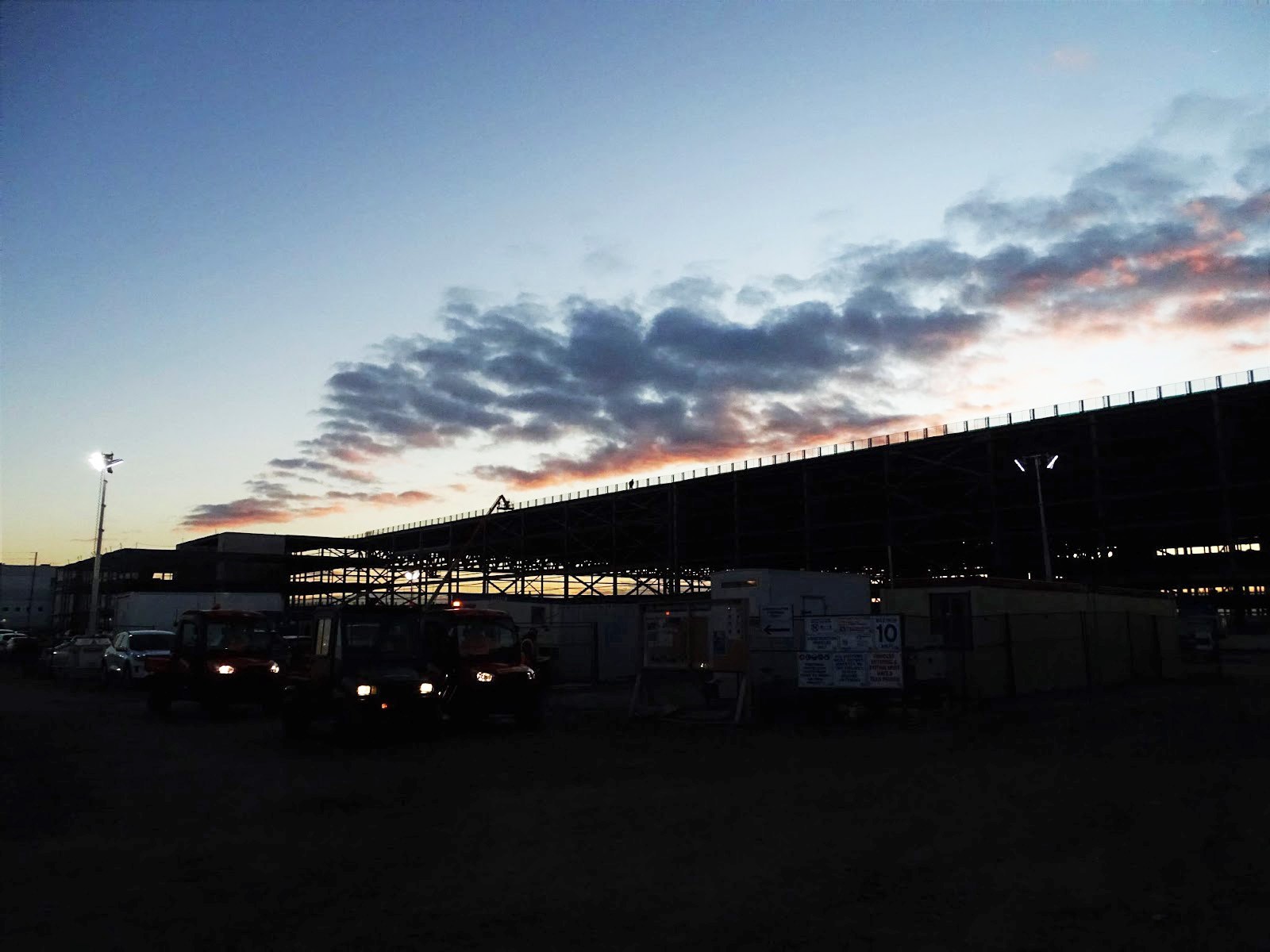 Sunrise over Bombardier's Mississauga facility, currently under construction.
(Photo from Natasha O'Neill/The Pointer)
"The demand for business jets is on the rise, especially for large cabins like we're going to be building here in Toronto," Éric Martel CEO and President of Bombardier said. "I was very impressed by the system that we have here, to train young kids that may decide to do a career in aerospace. And we're going to be welcoming them at Bombardier over the next 10, 15 and 20 years."
The new investment, one of the largest Mississauga has ever seen from an employer, is a big part of Bombardier's commitment to green an industry that contributes an outsized amount of carbon into the atmosphere.
Prior to the pandemic the aviation sector contributed about two percent of global carbon emissions annually and that figure was projected to double or triple, depending on future innovation, by 2050, according to University of Manchester research.
Bombardier has launched an ambitious commitment to shift the industry away from its carbon past. Its ESG (Environmental, Social, Governance) plan includes a 25 percent reduction in GHG emissions by 2025, compared to 2019 levels.
More than 50 percent of its research and development investments will be pumped into designing greener aircraft, and the company is committing to pursue the use of electric vehicles.
It remains unclear if Bombardier will invest in electric research for its own planes, something other companies, including Vancouver's MagniX and Harbour Air have been collaborating on. At the end of 2019 they flew an old retrofitted commercial plane on a 15-minute test flight using all-electric motors, becoming the first in the world to do so. As battery technology rapidly innovates, allowing smaller units that generate more power (we are at the nascent stage of such technology) electrified commercial air travel will become a viable option, but the technology is likely years away.
The new Bombardier plant will attract STEM (science, technology, engineering and math) employees hoping to create future careers in Canada's sixth largest city. This investment assists Bombardier in constructing and assembling its jets and adds possibilities for Mississauga to retain sought after talent to fuel its up-and-coming tech industries.
This represents a huge opportunity to shape Mississauga's future as a leading innovation city with high paying tech jobs and state of the art employers. After crippling years in the pandemic and border closures, the aerospace sector is poised to capitalize on the huge demand that was seen prior to 2020.
Following the September 11, 2001 attacks on the U.S. which resulted in a contraction across the industry, air travel grew rapidly, from just under 2 billion passengers in 2004 to more than 4.5 billion in 2019.
But then the pandemic arrived.
And Mississauga was hit hard by the dramatic drop in air travel.
In 2020, the city estimated a $21 million loss due to payments in lieu of taxes (PILTs) because of travel restrictions. This system allowed the Greater Toronto Airport Authority (the largest landowner in Mississauga and the operator of Pearson Airport) to pay the City on a per passenger rate instead of through property taxes for services provided to Canada's busiest transportation hub, and was capped at five percent growth per year, until the Ontario government removed it temporarily in its 2021 Fall Economic Statement.
The new facility sits almost directly on one of the runways of the Pearson International Airport.
(Photo from Natasha O'Neill / The Pointer)
Now, instead of worrying about lost revenues, the City is celebrating the new opportunity Bombardier's $500 million investment represents.
"Having an Original Equipment Manufacturer (OEM) in Mississauga will provide further visibility to the strength of Mississauga's aerospace sector as well as to the skilled talent in engineering and manufacturing in our City," Donna Heslin, Acting Director of Economic Development told The Pointer in an email.
Many inside City Hall use the term "investment" when referring to the municipality's commitment to the state-of-the-art facility, but in actuality, as Councillor Carolyn Parrish explained to The Pointer, the City cannot directly entice companies with financial contributions. Bombardier choosing Mississauga, the area ward councillor says, was the result of a "very active and talented" economic development team.
"Mississauga's strength is its diversity — welcoming and fostering a variety of innovative industries as well as a massive pool of skilled workers," she told The Pointer in an email.
While the facility itself will produce new jobs, it will also create further job demand for Bombardier's manufacturing suppliers, many of which call Mississauga home. According to Bombardier, the city hosts approximately 90 companies it uses for the manufacturing of its products.
In the heart of the largest innovation cluster in Canada, Mississauga benefits from the GTA's many tech companies and close proximity to other cites active in the innovation economy. Known as the Toronto-Waterloo Technology Corridor, investments into the aerospace and automotive industries have driven employment growth, changing the path from vast land consuming industrial and warehousing plants to companies investing in STEM graduates, advanced manufacturing and a range of computer-based technologies.
According to the City, the aerospace manufacturing sector has grown faster than any other cluster in Canada in the past five years. Its effects on the City boost job creation and economic development through large companies like Bombardier that create spillover investments.
These companies that have headquarters in Mississauga can benefit from a large aerospace manufacturing footprint by adding to existing supply chains with Bombardier or creating new ones. The subsections making up the industry include 81 airlines, 42 manufacturing plants, 100 airport services and 140 services that specifically benefit aerospace manufacturing, all within the city limits.
"They had choices to build this beautiful state of the art facility elsewhere, both in Canada and in the U.S, and they chose Mississauga," Mayor Bonnie Crombie said. "That makes me very, very proud, and it will establish us as the largest aerospace city by employment as a result."
Pearson is the second busiest airport in North America, a huge benefit to industries supporting aerospace. The facility itself will host 2,000 jobs for workers from the Downsview plant. As they retire or move to other jobs, this will open up an opportunity for young, STEM workers to enter into the field in their hometown.
Bombardier's investment allows students at Sheridan College and University of Toronto/ Mississauga (UTM) to see employment opportunities in their own backyard. Approximately 70 percent of the City's workforce (based on 2016 census data) have post-secondary education, including 28 percent who have training specifically in STEM fields.
In 2011, the Sheridan Institute of Technology & Advanced Learning Hazel McCallion Campus opened, hosting studios, labs, production areas and classrooms. UTM's various STEM-related programs also prepare and provide students with hands-on learning experiences. In 2020, despite pandemic restrictions, Bombardier partnered with 33 colleges and universities across Canada, offering 1,200 internships.
Councillor Ron Starr, who has a background in engineering, was ecstatic to find out Bombardier was moving its facility to Mississauga. As a member of council for over a decade, Starr believes the tech industry will largely benefit the students from local post-secondary institutions.
"We want to keep those people if possible," he told The Pointer. "By having somebody like Bombardier coming in with their huge investment it is no doubt in my mind going to attract other companies and smaller companies that are in the same field."
The handprints of the executives will be hung in the front hall of the new building once complete.
(Photo from Natasha O'Neill/The Pointer)
As The Pointer previously reported, a large number of immigrants arrive in Peel each year, but end up leaving in a few years time. Between July 1, 2018 and July 1, 2019, Brampton, Mississauga and (to a lesser extent) Caledon welcomed a range of newcomers. Across all ages, 35,791 immigrants arrived alongside a net increase of 17,795 non-permanent residents. But, as thousands were arriving, a net of 19,672 people left Peel to find employment and homes in other parts of Ontario.
A more recent Statistics Canada report paints a hopeful picture for the Region, showing more people are now leaving census metropolitan areas (CMAs), the largest cities in Canada. Toronto, Montreal and Vancouver saw record losses of residents from July 2019 to July 2020, but other high-growth CMAs including Brampton grew by 3.4 percent overall.
Further investment into highly skilled jobs in Peel will benefit companies such as Bombardier while possibly attracting and retaining residents who might otherwise seek opportunities elsewhere.
New forward thinking in industries such as aerospace will also attract younger talent who want to create a future with economic and environmental concerns in mind.
Peel's vast network of highways has made it a haven for warehousing and logistics companies, even those such as Amazon which are often described as being innovators.
In reality, this highway-centric thinking around job creation yields far fewer opportunities per hectare in warehouses or trucking operations, compared to offices served by transit, where multiple jobs from different industries can collaboratively work.
Blue-collar employment opportunities such as warehouses like Amazon's, offer low-paid work (Amazon's Canadian warehouse workers make about $16.50 on average or about $34,000 annually) compared to other types of skilled employment attracted by a completely different type of land use model.
Bombardier's investment brings opportunities from both sides of the coin, providing some entry level manufacturing jobs but many more highly skilled, well paid positions. This fits well with the highly skilled immigrant population both Mississauga and Brampton have.
Browsing current openings at the company, engineers, global sourcing professionals, managers, employees with information technology expertise, accounting and plant workers are all in demand. The vast majority of positions are for full time openings.
Mayor Bonnie Crombie spoke of how the project will bring prosperity to both the company and the City of Mississauga.
(Photo from Natasha O'Neill/The Pointer)
"We're thankful for companies like Bombardier, who understand the importance of environmental science and who also share our goal of becoming a low carbon and resilient city," Mayor Crombie said in November.
Bombardier's environmental plan also includes a target of reducing overall energy consumption by 25 percent by 2025 compared to 2019 levels, hazardous waste reduction by 20 percent and total waste by five percent. The jets that will be built at the new Mississauga facility incorporate environmentally friendly materials and fuel reducing technologies available to the industry.
One key component to reducing carbon is the use of sustainable aviation fuel (SAF) which Bombardier has been a leader in.
"We can put sustainable fuel in any of our jets today and this will reduce, automatically by about 30 to 40 percent of the emission produced by our jet," Martel told The Pointer.
SAF uses byproducts from non-palm waste oils found in animals and plants.
According to the company, the facility is on track to open next year.
---
Email: [email protected]
Twitter: @taasha__15
---
COVID-19 is impacting all Canadians. At a time when vital public information is needed by everyone, The Pointer has taken down our paywall on all stories relating to the pandemic and those of public interest to ensure every resident of Brampton and Mississauga has access to the facts. For those who are able, we encourage you to consider a subscription. This will help us report on important public interest issues the community needs to know about now more than ever. You can register for a 30-day free trial HERE. Thereafter, The Pointer will charge $10 a month and you can cancel any time right on the website. Thank you
Submit a correction about this story