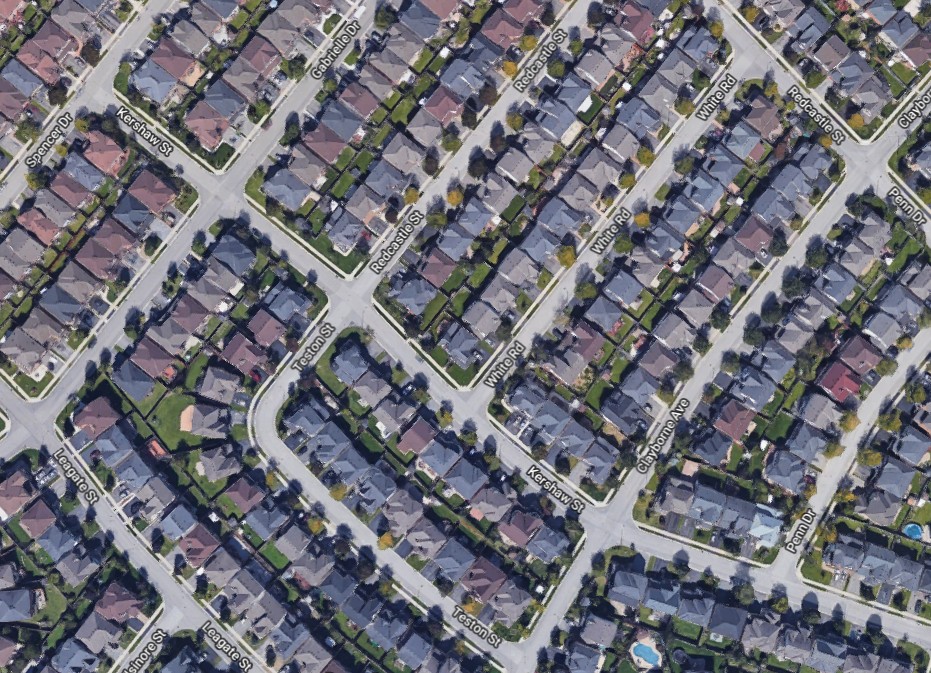 The Pointer file photos/Google Satellite/Charts Region of Peel/Government of Canada/Rendering Ivanhoe Cambridge
Peel attracts new residents from around the world, but data shows more and more want to leave
Packing for a new life is difficult. No suitcase is designed to cram the memories of the past, practicalities of the present and dreams of the future into one space.
Every day at Toronto Pearson Airport, people whose lives are crammed into a few pieces of luggage emerge one at a time. Hundreds of suitcases file out of the belly of the building and snake along baggage carousels. Each contains a handful of old photographs, necessities for the everyday and a bright hope for what is to come.
Faced with the oddly existential feeling of dragging an entire life behind them, either fleeing a foreign home or just looking for a better place to start again, they pass through immigration and emerge in the airport's arrivals area.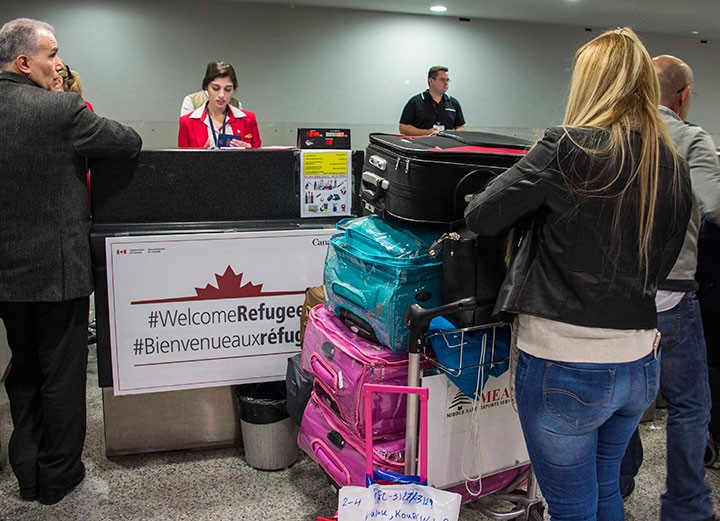 Refugees arrive at Pearson Airport
From there, they grab a taxi, a bus or a train and make their way to wherever they have chosen as their new home. For many, Mississauga or Brampton are the destination.
Numerous studies over the years have shown new arrivals tend to settle close to their point of entry, making the Region of Peel a convenient choice. The number of immigrants already living in Brampton and Mississauga alongside a strong culture of diasporas only adds to its appeal. Traditionally cheaper housing, which is no longer the case, was another draw, along with all the linguistic and familial supports built up over decades of migration into Peel since the '60s.
In September 2019, a report from the Conference Board of Canada found that the Greater Toronto Area is home to 45 percent of Ontario's population and welcomes 77 percent of immigrants coming to the province.
The number of new arrivals in Peel has spurred massive population growth for years. In 1971, Mississauga's population was 175,000 and now, according to the City, sits at more than 777,000. In Brampton, the 1971 population was 72,000, before exploding to 433,806 in 2006 and continues to balloon with about 670,000 residents now, according to the Region's estimate. Over the span of 20 some years, prior to 2016, more than 177,000 people moved to Mississauga and in excess of 325,000 started to call Brampton home.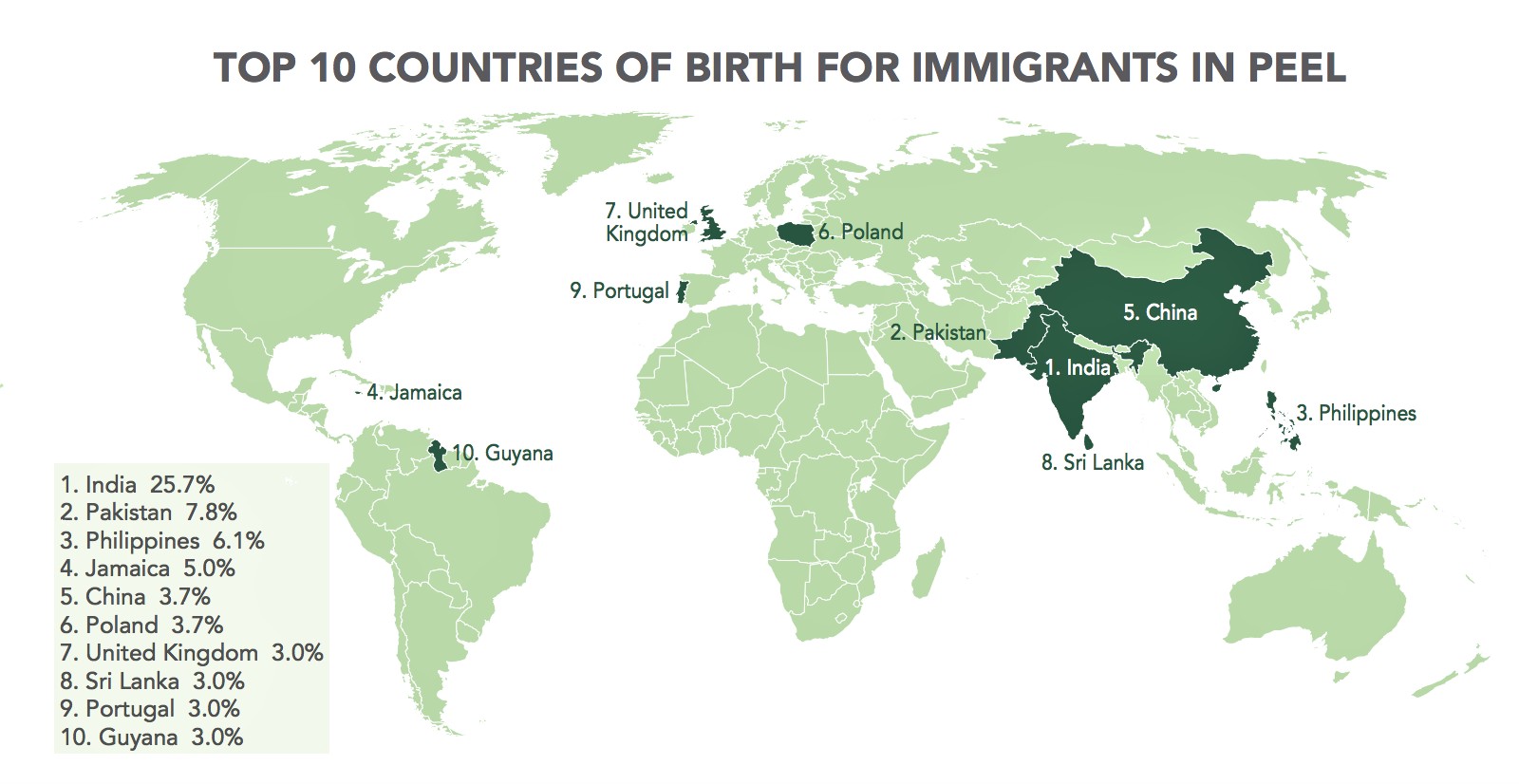 Local leaders in Peel take this galloping growth as a compliment to their city and justification for further funding from other levels of government. As a politician, the temptation to spin the arrival of more than half a million people over two decades as a nod to how well the municipalities are managed, is too good to turn down.
Of course Mississauga and Brampton are planned and run by their leaders in two very different ways, with the former now fully embracing modernity and progressive urban design, while the latter is stuck in the old suburban models of the past.
There are also growing questions about just how attractive the area really is to newcomers over the long term.
Recent data from Statistics Canada, the government body responsible for compiling a variety of metrics including immigration data, shows why Peel's growth may be misleading. Rather than illustrating an internationally renowned and appealing destination, an analysis of population change depicts a region that is used as a stepping stone many flee as soon as they find the means.
Between 1 July 2018 and 1 July 2019, Brampton, Mississauga and (to a lesser extent) Caledon welcomed a range of people. Across all ages, 35,791 immigrants arrived alongside a net increase of 17,795 non-permanent residents. There were also 3,164 returning emigrants and 16,684 births.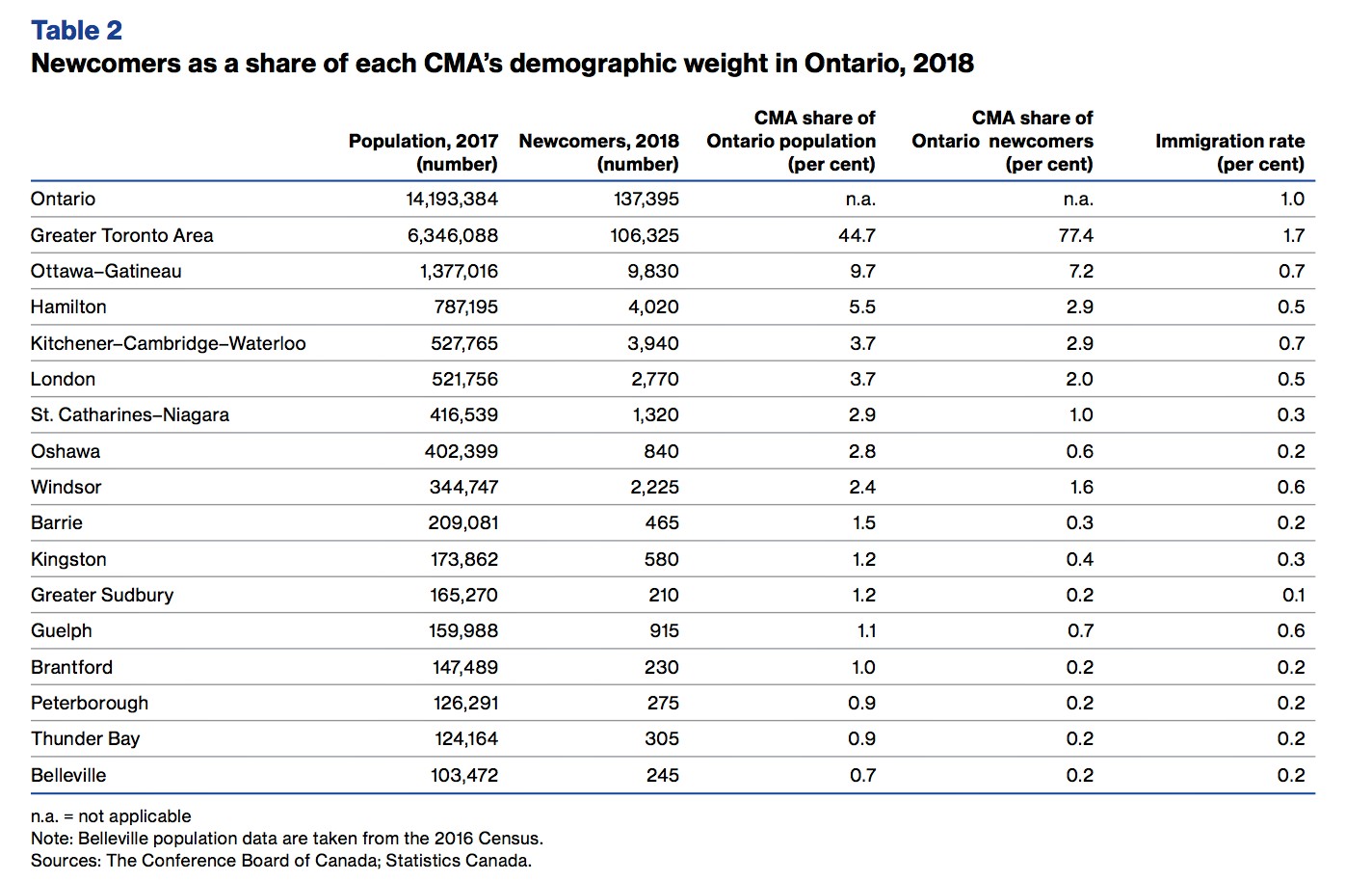 But, as thousands were arriving from abroad, a net of 19,672 people left Peel to move to other parts of Ontario. Few around the province — or even the country — were relocating to Mississauga and Brampton, while thousands of its established residents moved on. The statistics can't help determine how many of those leaving are immigrants or even recent newcomers, but it's reasonable to assume, given the region's demographics and details within the data, that the trend involves a large number of residents who do not have deep roots in Peel.
Another shortcoming is the lack of detail from municipality to municipality, with Peel simply treated as a single entity, so numbers, for example, in Brampton could skew those that apply to the whole region.
The figures paint a picture of Peel as a transient stop on a journey, rather than somewhere people move to stay. Many may unpack their suitcase just for a few years, before making their way to municipalities such as Oakville, Milton, Kitchener-Waterloo, Hamilton or even Ottawa.
Breaking the data down by age group only drives this point home.
Over the one-year period, those aged 15 to 24 accounted for a net of 11,939 non-permanent residents into Peel. Large numbers of students on study visas from other parts of the world at Sheridan College, University of Toronto and other educational institutions around the GTA likely account for this large number of transient arrivals. Similarly, young people make up a significant portion of permanent migrants to the region as well. Those aged 25 to 34, for example, accounted for 15,358 new arrivals.
These numbers show Peel as a magnet for young professionals and students from around the world, keen to make their mark on Canada. Those who arrive at Pearson Airport, presented with a world of opportunity, choose to find a home in Peel.
But, very quickly, its rosy first impressions fade. A region dominated by the car, with high housing costs and little in the way of unique local cultural draws could contribute to trends that indicate many newcomers quickly grow tired of life in the region.
Of the net 19,672 who left Peel for other parts of Ontario, a significant portion are under the age of 15. A net of 3,257 children left Brampton and Mississauga between July 2018 and 2019, moving elsewhere in Ontario.
Since children under the age of 15 don't move on their own, this data suggests young families are the ones leaving Peel. Instead of choosing to raise children in Mississauga or Brampton, some move as soon as they find success and relative stability elsewhere.
With a net of 1,308 children under four-years-old leaving Peel between 2018 and 2019, suggests more and more young families are finding a better quality of life elsewhere.
Another significant cohort representing those leaving Brampton or Mississauga for other parts of the province is those aged 25 to 29, with a net of 3,590 young people leaving Peel between the middle of 2018 and the following year.
A troubling fact underlying these figures is the high rate of education these newcomers possess, with Stats Canada data showing much higher levels than the national average, which aligns with immigration criteria that greatly advantages those overseas applicants with impressive education credentials and a range of skills badly needed in modern labour markets.
The federal government has repeatedly stated that without immigration and all the engineers, scientists, computer-industry experts, information technology workers and healthcare professionals, the Canadian economy will not be able to compete globally in the modern age.
Brampton, in particular, has failed to attract jobs to keep these highly skilled, young immigrants in the city. Mississauga, on the other hand, continues to attract global employers in a range of fields, but has fallen behind other municipalities such as Kitchener-Waterloo, Markham and Ottawa, which are drawing more employment with many of the biggest global companies in the world that have operations in those cities.
In 2018, news of Microsoft moving its Canadian headquarters, and hundreds of employees, from Mississauga to Toronto, came as a symbolic and economic blow to the city's ambitions of becoming an international attraction for professionals in the sector that now dominates global growth.
The company's statement at the time was a huge gut punch for Canada's sixth largest city.
"Increasingly, Canada is being recognized as a global leader in technology and the investments we are making today and into the future will help ensure Canada continues to be a hotbed of innovation," Microsoft Canada president Kevin Peesker said at the time.
"By relocating our headquarters to CIBC Square in downtown Toronto, we will be able to better serve our customers and attract top talent to continue to drive innovation and growth for our Canadian customers and our large partner ecosystem."
Microsoft positioned the move as allowing the company to be closer to innovation clusters and projected the generation of 60,000 new jobs in its overall ecosystem across the country by the time the shift from Mississauga begins this year, through moves being made to locate where the digital economy of the future will be designed from.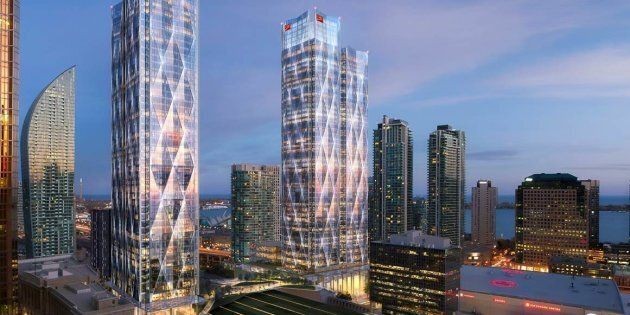 The two downtown Toronto towers that will house the Microsoft Canada headquarters currently located in Mississauga
The move from Mississauga to downtown Toronto will continue while Microsoft's new headquarters are built in two office towers currently under construction. The first phase was expected to happen this year.
If Mississauaga and Brampton don't offer more to newcomers, they could face the double whammy of not only losing jobs, but residents too, especially when cities like Toronto do a much better job of adapting for the new economy.
While Brampton's ageing manufacturing sector continues to flounder, its giant neighbour to the southeast is thriving.
A report two years ago by U.S.-based commercial real estate company CBRE Group, showed Toronto added 82,100 technology-related jobs between 2012 and 2017, about 4,270 more than Silicon Valley added over the same period. Ottawa and Kitchener-Waterloo have also dramatically increased employment opportunities in the sector, which attracts huge numbers of skilled immigrants to the province each year from countries like India, China and other IT-education powerhouses.
The reality captured in the population change data for Peel is even more troubling, considering the ages of those who are moving away tend to reflect people who have been out of education for several years and are increasingly well established in their careers, often at or entering the best earning phase of their life.
Many in this category have finished sharing rooms or renting on their own and are likely seeking a first or second home. This new independence and success appears to correlate with moving out of the Region of Peel.
It paints a worrisome picture for a region that continues to grow and has ambitions of becoming a major draw for cosmopolitan professionals from around the world.
Mississauga, in particular, has massive urban residential development planned for the coming decades, but will need to guarantee it can keep residents in the city, long after they first settle there.
Why would so many choose to move to get out of Mississauga or Brampton just as the going gets good?
There are certainly issues with both cities. For those that don't drive, a reality more common among younger people, both cities are hard to navigate and access efficiently using public transit alone. Equally, packed, busy roads are not conducive to family life.
Another reality, particularly in Brampton, is the lack of cultural life. Its downtown is a withering expanse stuck in the past, and the outer rings of the city's sprawling subdivisions are a sea of big box stores, parking lots and strip malls.
Another key problem in both cities, that perhaps cuts above the rest, is housing.
The words "affordable" and "appealing" are rarely used together to describe housing in Peel. In recent years, the price of rent and down payments in both cities have skyrocketed, along with homelessness and the waiting list for affordable or subsidized units.
In Mississauga a variety of stunning developments are in the pipeline and councillors hope they will help alleviate the city's problems. Lakeview Village will create a whole community on the city's waterfront, while the Square One District will see 18,000 units built in towers around the downtown mall. Across Peel, a vacancy rate of just 1.2 percent is putting massive strain on rental prices and driving many away or into substandard units.
The number of new housing starts in the region shows the supply of housing simply can't keep up with demand. As Brampton and Mississauga continue to fall behind the number of new buildings they need, families and those who achieve relative wealth may well continue to move away, after taking advantage of comforting dynamics such as having family and an ethno-cultural community nearby, initially, before establishing where best to put down more permanent roots for quality of life and their family's long-term success.
Mississauga Mayor Bonnie Crombie has pointed out that plenty of demand still exists for housing in her city. "In Mississauga, we have north of 20,000 units approved today, but the land owners have not applied for building permits," she previously told The Pointer. "We have another 35,000 units in the development pipeline right now. All told, in the next year to 18 months, we could have 55,000 units ready to be built in Mississauga."
It gives rise to another potential future problem. If housing prices continue to climb, while little is done to keep home owners here more permanently, the region could see a real estate downturn if immigration levels to draw the initial demand start to decrease or if immigration patterns change.
In turn, the lack of current housing options might turn off those highly-skilled professionals unwilling to put down roots in a place where prices are rapidly increasing, the available stock does not suit their preferences, transportation is stuck in the past, employment is limited and cultural draws have to be found elsewhere.
In 2018, a total of 4,978 houses were started in Peel, roughly half of which were apartments, while 2017 saw 6,793 starts and 2016 witnessed shovels entering the ground on 5,362 units. Compared to the number of people moving into the Region of Peel, these numbers are simply inadequate.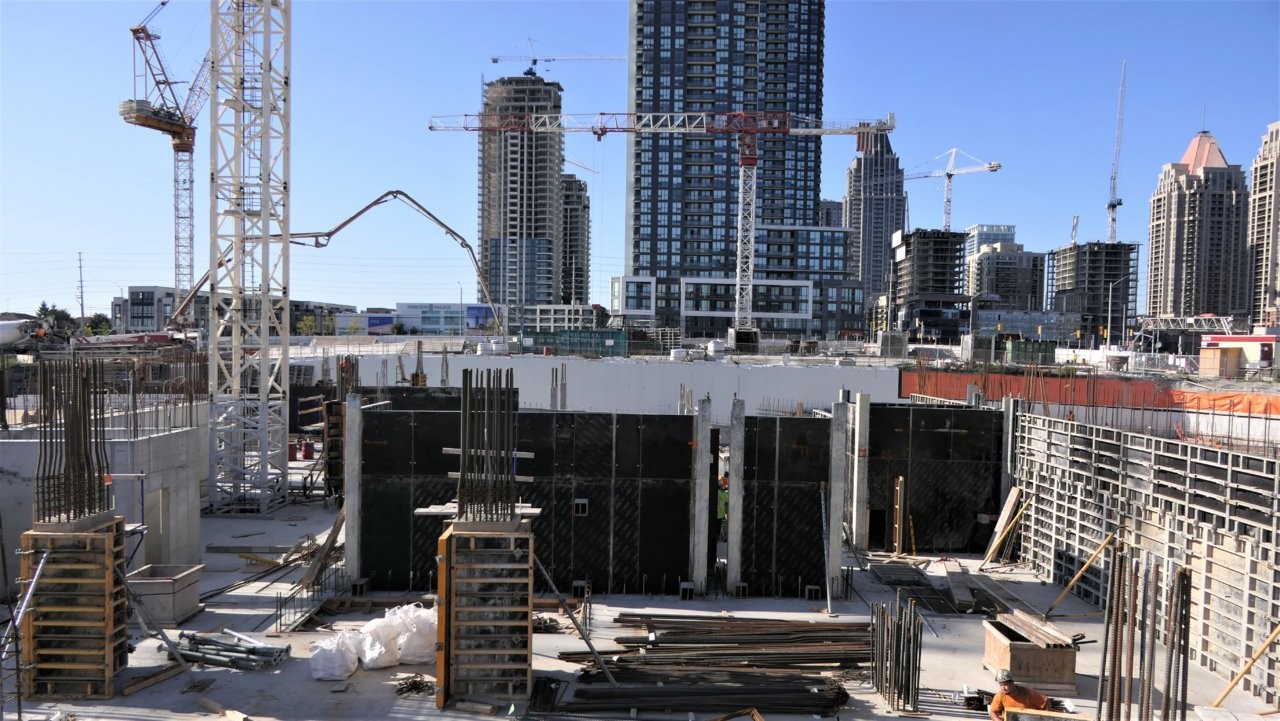 Mississauga's rapid, dense residential construction continues, but keeping new homeowners in the city will require better job opportunities and transportation
Between 1 July 2018 and 2019, Peel grew by a net of 43,193 people The previous year it jumped up by 36,355. With population growth in the tens of thousands (even when you factor the families choosing to leave) and only a few thousands new units started each year, the strain on housing is laid bare.
Speaking to The Pointer last year on the topic of immigration, Mississauga Ward 9 Councillor Pat Saito noted the degree to which finding high-quality and secure accommodations within Peel is an issue.
"Good, safe housing — I don't think there is, for those who come without a lot of money. If they come with money, there's no problem at all," she said. "But housing is expensive. We have a huge waiting list for assisted housing in Peel. And that list keeps getting added to. And we're not getting support from the other levels of government to try and get through that list."
Many in both groups seem to be choosing to leave, even if they do find an initial foothold here. Those with few means have the education to quickly change that, and those who arrive with advantages are quickly looking elsewhere for even better opportunities.
---
Email: [email protected]
Twitter: @isaaccallan
Tel: 647 561-4879
Submit a correction about this story