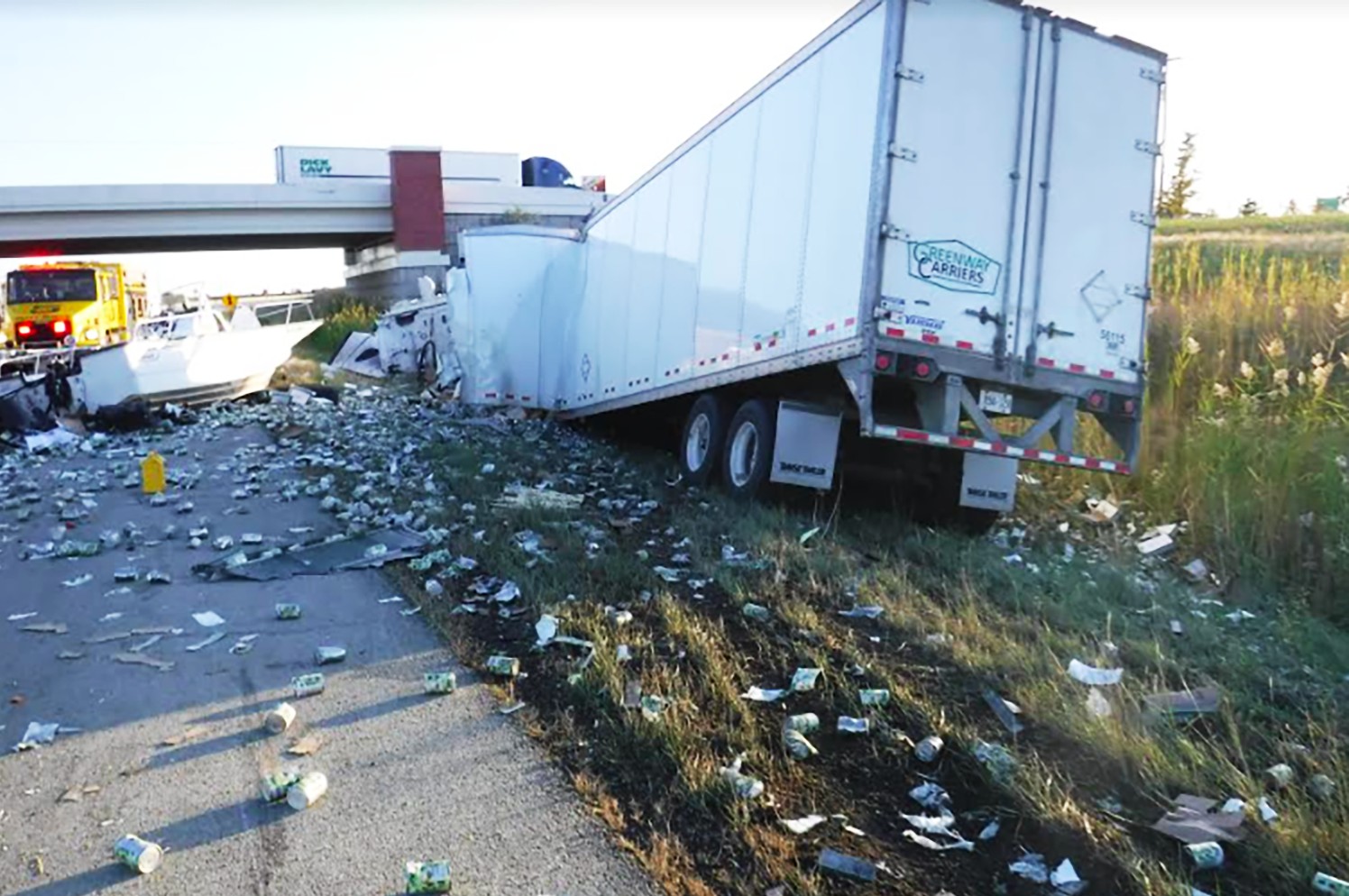 Feature image from Ohio State Patrol
Wage theft, 'rogue' trucking schools hurting industry; Ontario needs a fix, AG says
While various industries are banking on Canadian truckers to steer us out of the economic devastation brought on by the pandemic, drivers across Peel, and other parts of the country, continue to lose their jobs and risk their livelihoods in a sector that is woefully unregulated.
"Having a strong trucking industry is at the heart of Canada's economic response to the devastating pandemic," says Angela Splinter, CEO of Trucking HR Canada.
The non-profit based in Ottawa addresses workforce issues in the trucking and logistics sector across the country.
"We support every key productive sector — agriculture, retail, manufacturing, forestry — so trucking is essential to Canada's economic recovery," she said.
Despite this vital role, the industry is facing issues that are being ignored by the Ontario government and many of the companies making conditions worse. Truckers are forced to take to the streets in protest due to unpaid wages from fly-by-night trucking operations, and stakeholders are speaking out against inadequate training provided to more and more of the drivers behind the wheel of these giant commercial vehicles, raising concerns about safety on Canada's roads and highways.
Ontario's Auditor General released a recent report highlighting a number of issues in the trucking industry, pointing to lax oversight by the ministry responsible for holding training schools accountable.
The explosion of international students now enrolling in schools proliferating across the GTA was a red flag raised by the AG.
The Auditor General found that the number of international students enrolled in private career colleges has increased by 420 percent in just five years, from 1,994 in 2015 to 10,368 in 2019.
In a span of five years, the number of international students enrolled in private career colleges has increased 420 percent.
(Auditor General of Ontario - Private Career Colleges Oversight Report)
"Such an increase is unusual given that students of private career colleges, unlike their counterparts in the public college system, cannot apply to stay in Canada on a federal post-graduation work permit," the report reads.
Many of these students have fallen through the cracks, in an industry that has exploited workers to meet huge demand.
GoFundMe is filled with tragic stories of families who have lost a loved one on the road.
Truck drivers Sangam Gill, Elayaraja Balasundaram, Rajinder Singh Sidhu, Sukhjinder Singh are only a few tragic examples of those who were looking for a future behind the wheel of a commercial transport truck, only to find their end on Canada's roads.
Lovedeep Singh of Brampton is currently running a GoFundMe page for the family of Vidit Bhardwaj, a 24-years-old who lost his life in 2019 in a collision in Allen County, Ohio.
Bhardwaj was driving a Freightliner tractor-trailer when he collided with a vehicle in front of him. He was pronounced dead on the scene, according to details from the Allen County Sheriff's office.
Like many immigrants, Bhardwaj came to Canada as an international student, later obtaining permanent residency.
On top of the poor training and lack of experience putting many young drivers at risk, wage exploitation is another issue pushing people out of the crucial industry.
Trucking HR Canada's December 2021 report highlighted that almost 36,000 workers would retire between 2019 and 2023 and an additional 136,600 would leave their jobs for non-retirement reasons.
The study found that while most employers reported lower revenues in 2020, compared to 2019, trucking companies that carry essential goods reported increased revenues in 2020.
The demand for trucking services has been impacted most by downturns in manufacturing, mining, oil & gas extraction, and retail/wholesale trade, the report says.
By the second quarter of 2021, the driver vacancies were as high as 18,310, an increase of 4,330 vacant positions compared to the last quarter of 2019, before the pandemic hit.
Trucking HR's 'The Road to Recovery' report shows over 75 percent of employers expect labour shortages for truck drivers will be one of their top challenges in the next few years.
Attracting newcomers to the industry can be difficult for many reasons. The long hours, issues surrounding wages, and the potential safety concerns when driving in routinely dangerous situations without proper training, are all contributing to problems around employment in the sector, according to the president of the Truck Training Schools Association of Ontario (TTSAO), Kim Richardson.
He has been an outspoken advocate against poor regulation in the driver training industry and has even inspected trucking schools that have clearly failed to provide basic experience to students who sometimes hand over thousands of dollars, expecting to be comprehensively prepared for a career as a short or long-haul operator.
He told The Pointer there is not a shortage of drivers, "There is a shortage of qualified drivers." He said many of the dozens of trucking schools that have popped up across parts of Brampton and other areas of the GTA are engaged in "corruption", taking money from people (often recent immigrants and foreign students) who expect a professional education, but are instead thrown behind the wheel on busy highways while posing a danger to themselves and the public.


A picture of the truck Vidit Bhardwaj was driving on October 9, 2019.
(Ohio State Patrol)

The crash report that detailed Bhardwaj's fatal accident, obtained from the Ohio State Patrol, says there were no adverse driving conditions. The weather was about 20 degrees Celsius, skies were clear and visibility was reported at 16 kilometres.
The report says he was driving at a speed of 70 mph (approximately 112 km/h) and was following too close behind another vehicle.
It's unclear what, specifically, led to the collision that caused the crash.
Karanveer Sandhu, a 25-year-old long-haul truck driver, told The Pointer that often truck training schools only provide the bare minimum of training needed to pass a required exam. Truckers, he said, often have to drive vehicles in need of immediate repairs.
"They focus more on the exam and less on the practice."
He started working for a small Brampton-based trucking company in April last year as a long-haul truck driver, but only continued for seven months because he wasn't paid his wages.
Both Bhardwaj and Sandhu came to Canada from India on a student visa.
Sandhu arrived from Mohali, a city in the northwestern state of Punjab, where the biggest segment of Brampton's large South Asian community trace their roots.
After settling in Canada in 2015, Sandhu became a permanent resident in July of 2021.


Karanveer Sandhu at the December 4th, NSN protest against wage theft.
(The Pointer files)
He says one truck he was driving broke down on the way to California, but his employer didn't get it fixed because it "would have been expensive."
"The tire blew out, the bumper popped open, and the headlights stopped working," he says.
But Sandhu's employer told him, 'we can't do anything,' and that he was still expected to make his delivery without any help.
Sandhu had to patch the truck up on his own. He was stopped by a police officer, but let go with a warning when he explained his plight.
Sandhu made make-shift repairs to the truck so he could make his delivery.
(Karanveer Sandhu)
"I had to drive that broken truck to California, risking my life, and had I not done that they would have not paid my wages," Sandhu says. "I did a lot of hard work, I was earning almost $10,000 per month."
But Sandhu's employers didn't pay him his full wages, which led Sandhu to walk out on them, he says. They are listed as directors of two different trucking companies, according to public records, but The Pointer is not naming them because they could not be reached.
Sandhu said whenever he tried to get the money he was owed there was always an excuse used by one of the owners.
"'Right now there are a lot of expenses, this customer didn't pay me, I have to fix a truck that broke down'—he had convincing power and I believed him," Sandhu says.
His employer promised to pay the wages owed, but kept stalling until Sandhu eventually refused to work.
Eventually his employers started to avoid his calls and then blocked his calls altogether.
"When I call them from a different number, they hang up on me the second they hear my voice, they are not cooperating with me in any way," he says.
Sandhu has not been paid $23,876 in wages earned, he says.
"You know our community bosses in the trucking industry, they abuse a lot," Sandhu says referring to the Punjabi-Canadian community members who own many of the companies that are exploiting young drivers who are often drawn to people who have come to Canada from the same part of the world, assuming there's a certain unspoken trust and respect that exists.
"They don't care about our families if we want to take a day off, they just want us to be on the road. Once I thought I'd not work in the trucking industry because most employers don't pay their workers fair wages."
Sandhu joined the December 4th protest to talk with Naujawan Support Network (NSN), which has taken on a leading role in advocating for the rights of young truckers from Punjab. He has since filed a complaint under Canada's Labour Code against the company.
Gurmukhjeet Singh, a 29-year-old trucker, is another victim of wage theft.
He started work with a Mississauga-based company in 2017, and had no issues with his wages until the pandemic struck in 2020.
"I haven't been paid in full for May, June 2020 and I'm owed about $4,200," Singh said.
It's been more than a year since he first demanded the outstanding wages, Singh told The Pointer.
"Despite a payment order issued by the labour court, they haven't paid any money."
The employer is appealing the order and an investigation into the matter has been moved to the Canadian Industrial Relations Board, Singh says.
The Pointer reached out to Peel Truck Driving School to understand some of the problems in the industry.
Jasvir Chahal, the owner, highlights his accreditation by The Truck Training Schools Association of Ontario (TTSAO).
Former engineer Jasvir Chahal runs Peel Truck Driving School.
(The Pointer files)
"Our Desi [South Asian] people have this problem—if they see someone running a successful business, they feel that's a money-making venture, and jump right into it without any research."
Chahal says a lot of schools that are popping up in and around Peel are struggling at the moment.
"These new schools begin with a debt ranging between $70,000 to $100,000 because they have to purchase a truck, get insurance for a minimum of six months, pay rent and only then do they get approved by Ontario's Private Career Colleges."
Aside from Toronto and the West district, truck training schools rank in the top four programs with the most enrollments in Ontario.
(The Office of the Auditor General of Ontario/ Private Colleges Oversight report)
But many are not recognized by the Government of Ontario, which has very specific criteria under the Private Career Colleges Act. Only colleges that are approved and registered under the Act offer protection to students through the Province.
Chahal says most of these schools are started by truck drivers who don't necessarily have the experience running an educational organization.
"They are not properly trained, anyone can become a truck training instructor after having a license for five years," Chahal says.
Not all instructors attain even this bare-minimum requirement.
Richardson previously told The Pointer that he's heard of stories where an individual gets a license from a training school in one week, and two weeks later, he's an instructor.
The Office of the Auditor General of Ontario in its Private Colleges Oversight report confirmed this.
The report says the Ministry cannot effectively guarantee instructor qualifications in private career colleges providing commercial truck driver training programs.
Chahal says he's seen first hand the consequences of not being able to confirm the qualifications of so-called trucking instructors.
"There are many schools though who have instructors without appropriate experience, many with licenses less than the ministry mandated five years, training fresh students," he says.
The report also says that Ministry inspectors do not verify whether the number of instructors reported by trucking schools is complete and current.
Ministry inspectors do not routinely follow up with trucking schools to verify the institution has undertaken corrective actions, but instead relies on the college's written attestations.
"There can be a good instructor or a bad instructor, but there's no training, no exam that a truck driver has to take to become an instructor," Chahal says. "Anyone can become an instructor."
He says some schools even hold road-test exam dates and then later sell them off to other students or trucking schools in what he describes as a "black-market" operation.
For anyone who wants to find a proper truck training school, Chahal advises making sure the institution has a proper training yard, trucks, equipment and instructors.
"When a student goes to a TTSAO approved school, they also get their names listed with insurance providers along with their MELT (Mandatory Entry Level Training) certificate," Chahal says.
Falling victim to a bad school is easy, as the Ministry of Colleges and Universities poorly reports enforcement actions, hindering the public's ability to make informed decisions, the AG report says.
Chahal says some schools don't provide the mandatory 103.5 hours of training.
A breakdown of the mandatory hours of training laid out by the Ministry of Transportation, Ontario.
"It costs at least $4,000 to cover those many hours; then how can schools charging $3,500 cover these costs?"
"That school is definitely cutting hours," Chahal says.
He says under MELT standards, a school should provide at least 57 hours of driving practice, including 12 hours learning how to properly use air brakes, 37 hours of in-class training, 10 hours of driving demonstration and 57 hours practicing yard maneuvers, and driving.
Chahal says while there is a huge demand for truck drivers, there's been a shortfall of students recently.
"This is because of decreasing wages for truck drivers. The students tell me I can easily make $4,000 to $5,000 driving Uber, why would I drive a truck?"
An advertisement for a driving school charging $799 for a truck driving license, plastered on a pillar 100 metres away from Peel Truck Driving School's office.
(The Pointer files)
The students Chahal's school mostly sees are on a foreign visa working toward their permanent residency and are looking for a Labour Market Impact Assessment (LMIA). A positive LMIA document shows unavailability of a Canadian worker or a permanent resident for the particular job and the need for a foreign worker to fill it. Once issued, it helps the foreign worker in securing a work permit.
Chahal says anyone in Ontario can get a trucking license, even if they are on a visitor permit.
---
Email: [email protected]
Twitter: Anukul_AT
---
COVID-19 is impacting all Canadians. At a time when vital public information is needed by everyone, The Pointer has taken down our paywall on all stories relating to the pandemic and those of public interest to ensure every resident of Brampton and Mississauga has access to the facts. For those who are able, we encourage you to consider a subscription. This will help us report on important public interest issues the community needs to know about now more than ever. You can register for a 30-day free trial HERE. Thereafter, The Pointer will charge $10 a month and you can cancel any time right on the website. Thank you
Submit a correction about this story