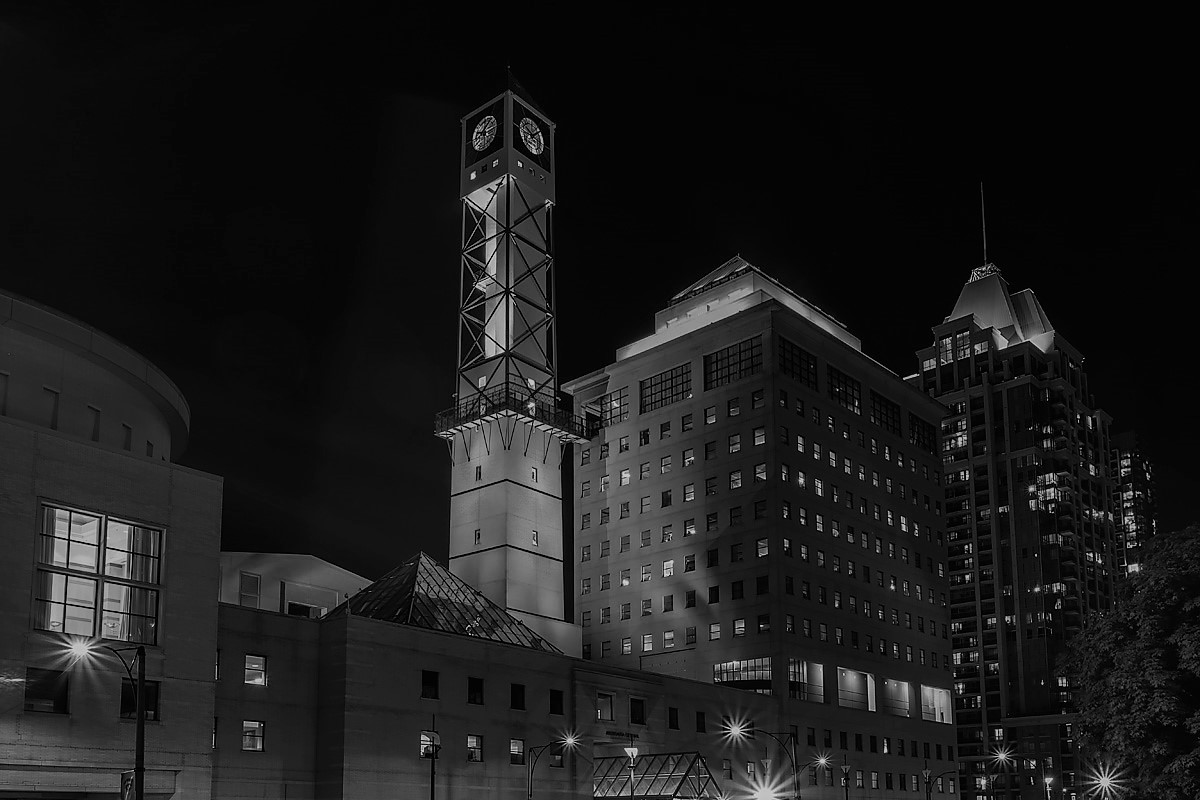 Feature image from City of Mississauga
Revolving door: Mississauga department tasked with upkeep of critical city buildings sees growing staff exodus
The City of Mississauga's facilities and property management (FPM) team is among its most important departments. The 220 full-time staff are responsible for maintaining and caring for a wide range of City assets, ensuring their smooth operation.
They look after 30,500 systems and respond to 11,000 annual maintenance and operation requests.
The portfolio the department manages is vast and aging. Its domain includes City Hall, the Living Arts Centre and community centres. The department also manages libraries, theatres and arenas.
The total responsibility amounts to 5.6 million square feet across 366 buildings. Staff also offer site services for 320 parks and 320 parking lots.
Data obtained by The Pointer through a freedom of information request show this critical department has been in a near-constant state of change over the past nine years. Figures from 2012 to 2020 show an average of 16 percent of the department's workforce moved on every year, a number that has grown, on average, over time.
Several individuals familiar with FPM raised concerns about high staff turnover to The Pointer.
Based on the total number of full-time staff listed in every budget from 2012 to 2020, the department has lost a growing percentage of its workforce. Roughly 13.5 percent of staff moved on from the FPM department in 2016 and 2017, the years with the highest staff retention, while 20 percent of employees left in 2019.
The latter figure means one in five staffers left the department in a single year.
"Approximately 20 percent of the permanent, full time employees in FPM have more than 10 years of service with some having more than 20 and 30 years of service," Catherine Monast, senior advisor, media and public information at the City of Mississauga, told The Pointer.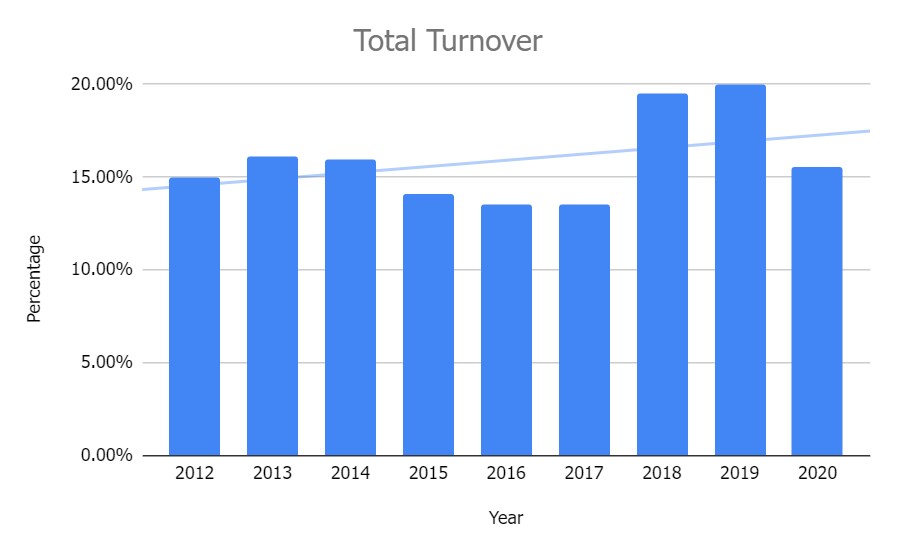 The number of staff leaving the FPM department every year as a percentage of the total workforce.
(Image from Isaac Callan/The Pointer)
"The City is aware of the turnover in FPM Division, related to several factors common to all business units including promotions, transfers, resignations, terminations, retirements and the end of term contracts," Monast said. "FPM is also a Division that supports internships and co-op students who start and end their work assignments during a single school semester, which are also included in the turnover statistics."
Mississauga says it treats interns and co-op students as full-time equivalents because "they work full time hours" during their time with the City.
Figures provided by the City show that 124 of the 273 departures since 2012 are for co-op students or interns. Over the last nine years, the exit rate among the department's full-time permanent staffers sits at an average of 10 percent per year, when students are excluded.
It has increased, on average, over time. Around 13 percent of permanent staff departed in 2018, followed by a further 15 percent in 2019, calculations that remove the average number of co-op students show.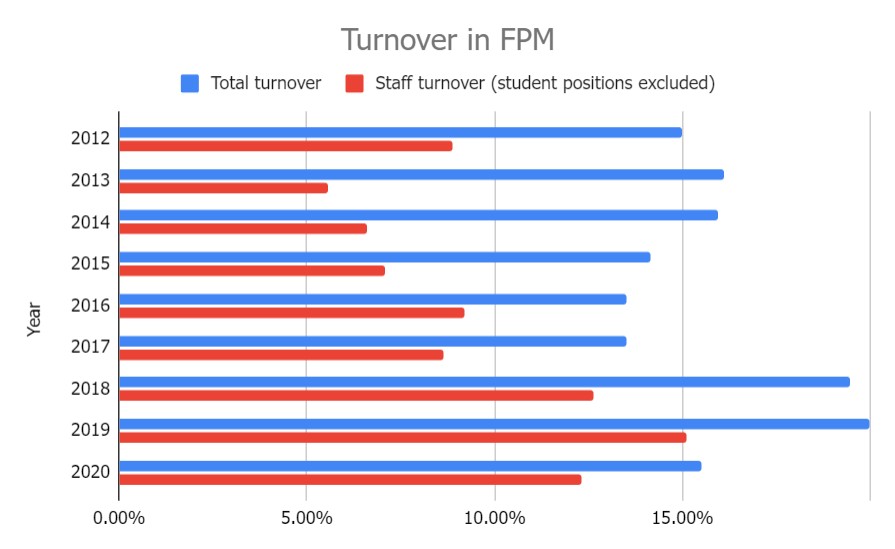 Staff turnover in the FPM department is not only down to co-op students and interns.
(Image from Isaac Callan/The Pointer)
Research from before the pandemic by the Conference Board of Canada suggests this is high turnover for a government department. The organization received results from 326 medium to large employers. On average, its research says, the voluntary staff turnover rate in government in Canada is four percent, while the involuntary turnover rate is one percent.
Mississauga says other divisions "with similar work and positions" have equally high turnover. It did not specify which divisions were included.
The FPM department, where staff have exited at a substantial rate, is responsible for a key capital budget and its work is only going to get harder in the years to come. More than half of the City's buildings are 30 years or older and many are reaching a point in their lifecycle where they require significant and constant maintenance. Possessing long-term staff with a deep understanding of the portfolio, over new hires who need to be trained and brought up to speed (and a cycle of inexperienced co-op students), could offer Mississauga an advantage as it tackles its aging buildings.
"Aging infrastructure and complex new projects have a project lead who is supported by a supervisory staff member and/or other project manager, such that they are completed on time and on budget regardless of turn over," Raj Sheth, the director of facilities and property management, told The Pointer through a City spokesperson.
The City declined an interview request with Sheth.
Port Credit Library, subject to a major renovation a decade ago and now closed due to unstable foundations, is one of the buildings FPM oversees.
(Image from Natasha O'Neill/The Pointer)
The department has seen a year-over-year increase of around 10 percent for service requests, its 2021 budget notes. Many buildings are reaching a critical point in their lifecycle and will require major rebuilds or renovations in the next few years.
According to the document, a building requires higher investments at around 20 years of age, something that is "typically due to services and building equipment that start undergoing failures and reach [the end of] their lifecycle at that age". At 40 years of age, buildings require "major redevelopment".
The City's fire stations provide a clear example. An audit of 14 of Mississauga's oldest fire stations found they were in a state of disrepair and three would need to be demolished to bring them up to standards. In a public report that followed, the City estimated the necessary cost of repair would be more than $66 million, an ask that will be included in the upcoming budget process.
The situation is not unique to fire stations, which were only documented after the City commissioned an audit in 2019 which The Pointer obtained through a separate freedom of information request. Another series of condition assessments showed more than $100 million in work that Mississauga needs to complete over the next five years.
"The Facilities & Property Management capital budget has had a significant increase from $18.2 million in 2016 to $36.9 million in 2020," the budget explains. "Over the next 10 years, we expect the F&PM capital budget to average $43 million per year, with the exceptions of 2021 and 2022 where capital spending is projected to be lower due to COVID-19."
The department is in charge of a growing capital budget as its hundreds of buildings approach the end of their useful life.
(Image from City of Mississauga)
An aging workforce and numerous retirements is a struggle being grappled with by municipalities across Ontario. Municipal workforces, like the infrastructure they oversee, are rapidly aging towards retirement. Cities are putting an increased emphasis on succession planning to add new recruits to the pipeline as many leaders and experienced staff retire.
"One of the things too I don't think we can undersell is retirement," David Arbuckle, executive director of the Association of Municipal Managers, Clerks and Treasurers of Ontario, told The Pointer. "It would probably be a little bit of an overestimation to say crisis, but certainly the sector as a whole is facing a significant pressure on retirement."
Mississauga's FPM department is no different. According to the 2021 budget document, the average age of a full-time staffer is 45-years-old and, across the next five years, 42 staff members will be eligible for retirement, an average of just over eight retirements per year.
"Attracting and retaining talent are fundamental to providing high quality services and achieving the Service Area's goals," the budget states. "Through succession planning F&PM continuously evaluates staff's capabilities, needs and aspirations in order to identify, motivate and prepare talent to support current and future strategic priorities."
Not all departures have been voluntary.
Since 2012, taxpayers have funded severances for departing employees to the tune of more than $1.2 million. The figure, which the City could not break down by annual amount in its response to The Pointer's request, comes to an annual average of approximately $135,291 in severance payments for the past nine years.
"The City has a comprehensive performance management program and over the last almost ten years, the City has ended the employment of individuals in FPM where performance or behaviour is unacceptable," Monast said. "In some cases, ending employment is the right decision and requires the City to pay severance consistent with legislation and/or case law resulting in costs to the City."
Severance agreements are generally paid to employees who are being let go without cause. If staff break the terms of their employment contract, most organizations can remove them from their position without hefty compensation packages.
"There are types of conduct and behaviour that don't meet the threshold for sufficient cause but are unacceptable to the City resulting in termination without cause and severance," Monast said, after a request for clarification. "The City feels paying these costs are preferable to continuing to pay employees who are not performing as required."
It is not clear what types of behaviour Monast is referring to.
Asked if the City had identified any trends for the department's turnover, Monast listed many typical reasons anyone may leave any type of job. The City says it has not found any specific issues or trends that could cause between 14 and 20 percent of a single department to move on each year.
"The City has reviewed the data and there are many reasons for this trend — over almost ten years, employees have exited FPM for a variety of reasons including promotions, transfers, resignations, terminations, retirements and the end of term contracts," she said.
Mississauga Central Library, part of FPM's portfolio, is currently undergoing a major renovation.
(Image from Isaac Callan/The Pointer)
The City's 2021 budget document shows employee satisfaction relating to job training is below targets in FPM.
In 2018, the last year that data is available for (a year when 19.5 percent of the department's total staff departed) employees reported a 63 percent satisfaction rating for "job-related technical training and development". The City is targeting a rating of 70 percent in 2021 and 75 percent by 2024.
"It is not uncommon in any workplace for employees to raise complaints or concerns over the span of roughly a decade, including FPM," Monast said in response to questions about staff complaints. "Any concerns or complaints are addressed through the Employee Complaints Review Protocol, the grievance procedure or the Whistleblower Policy, as they are in all other Divisions of the City."
Arbuckle, who spoke about municipal staffing generally and did not draw conclusions from the freedom of information data alone, explained departures to other municipalities can also be a concern for cities like Mississauga.
Located in the heart of the GTA, staff working at the City could be tempted by roles in Brampton, the Region of Peel, Toronto or Markham, for example.
"The nature of employment within the municipal sector is a bit transient, even at that higher level of government," he said. "As an example, there are enough municipalities within a certain commutable drive to and from Mississauga, where they [staff] may look for advancement within other municipalities."
---
Email: [email protected]
Twitter: @isaaccallan
Tel: 647 561-4879
---
COVID-19 is impacting all Canadians. At a time when vital public information is needed by everyone, The Pointer has taken down our paywall on all stories relating to the pandemic and those of public interest to ensure every resident of Brampton and Mississauga has access to the facts. For those who are able, we encourage you to consider a subscription. This will help us report on important public interest issues the community needs to know about now more than ever. You can register for a 30-day free trial HERE. Thereafter, The Pointer will charge $10 a month and you can cancel any time right on the website. Thank you
Submit a correction about this story