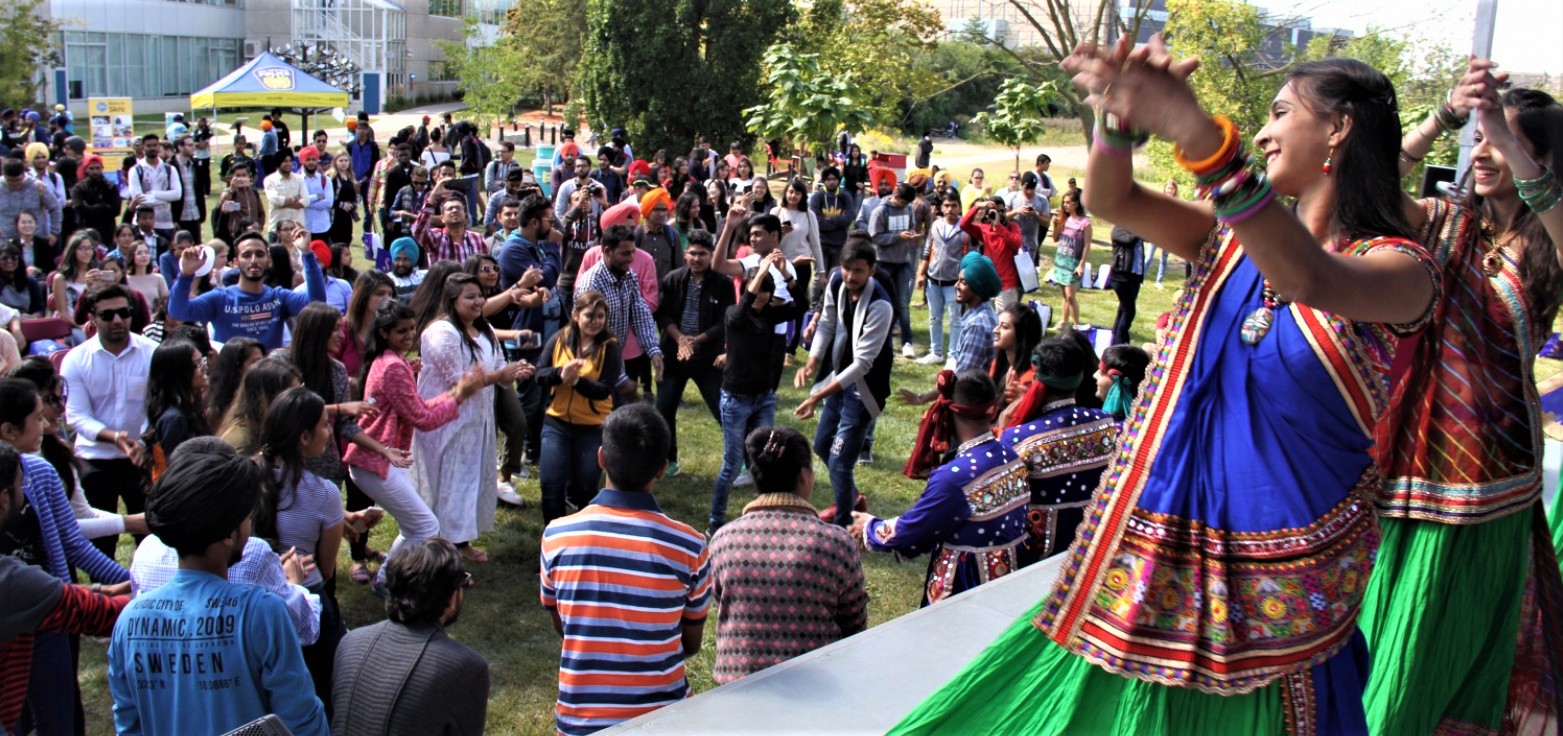 Feature image Sheridan College
Charity hopes to prepare international students for the pitfalls of studying in Canada
Kamal Bhardwaj used to work as a grief counsellor, Anupma Cvejic has a background as a social worker and settlement agent. Irwin Rego lost two friends to suicide.
The trio has watched in horror over the past decade as the international student crisis has erupted across parts of the GTA. They deal directly with youth struggling as a sea of seemingly insurmountable barriers often pulls them under, into the depths. They even have to send the bodies of those who drown in the system back home to India, the victims of a predatory cottage industry that has inexplicably emerged in one of the world's wealthiest countries, held up as a beacon of inclusivity around the globe.
Unable to sit back and do nothing, the trio founded a charity that aims to educate international students from India about the reality of learning in Canada, while also working to support those that have already arrived.
They're straining to plug the chasms that exist in an uncoordinated system. All levels of government, and those that run the country's universities, colleges and rapidly proliferating 'career schools', have repeatedly failed to protect the young people who put their faith, and family fortune, into the Canadian Dream.
Every year, tens of thousands of Indian men and women in their teens and early 20s land in Canada. They are following a plan sold to them in the offices of so-called education agents in India. Academia is touted as a route to financial success and a new life in Canada for ambitious youth and their families.

From left to right: Anupma Cvejic, Kamal Bhardwaj and Irwin Rego
(Image from Sunoh)
The number of international students arriving from India to attend university, public colleges and private career schools has exploded in the past 10 years.
In the 2008/2009 academic year, there were barely 5,000 students from India in Canadian post-secondary education institutions and the vast majority were enrolled at universities, according to data from Stats Canada. Fast forward to 2016/2017 and the landscape of international education had completely changed. Between colleges and universities, Canada was hosting more than 35,000 new students annually from India, with the biggest increase in college enrolment.
Over just eight years, enrolment among Indian nationals at colleges in Canada shot up. It exploded to the tune of 1,270 percent. University enrolment among the same demographics grew by 285 percent.
The pattern has only continued since the 2016/2017 academic year. In 2017, there were a total of 123,190 study permit holders in Canada from India. That number grew to 171,730 in 2018 and again at the end of 2019 to 219,855.
Bhardwaj, Cvejic and Rego have seen first hand that these numbers are more than statistics. Each potentially represents a vulnerable young student, often leaving their home country for the first time, arriving in Canada almost entirely unprepared for the unexpected challenges awaiting them.
Peel Region, due at least in part to its existing South Asian diaspora (32 percent of the population) and an unregulated housing market, is a magnet for these new arrivals. Many find the dream they were sold is nothing more than a mirage, and the youngsters band together to survive in a country where landlords, employers and criminals seek to take advantage.
"What I've noticed is a lot of these students don't use Facebook," Cvejic told The Pointer. "They have WhatsApp groups, they have Instagram groups. There are a few Instagram groups of 15,000 students. Their social networking skills are unlike anything I've ever seen — they are connected to each other, they don't trust anybody except each other."
Amanpreet Kaur arrived in Canada in December 2019. Her brother already lived in Brampton and she shared his home as she got settled, initially making her way more than 150 kilometres to her college in Peterborough.
"There was not a lot of struggles, but still I had to deal with some issues, mostly it was about the mental health," she told The Pointer.
For a year during the pandemic, she struggled to find work. The push for employment was difficult to deal with as some of her peers found jobs. "I was like, 'Am I doing something wrong?'" she said.
Kaur is now finding her feet in a fledgling Canadian career, after studying mental health and addiction. She hopes to see other international students enjoy the more positive experience she eventually found, thanks to the help of family in the country.
Others, she realizes, are not as lucky.
"International students are going through a lot just now," she said. "It is quite disturbing to see."
Trust is a key issue that has been flagged by local groups.
"You have situations where we have young people who are terrified of going to the authorities," Gurpreet Malhotra, the CEO of Indus - Community Services, previously told The Pointer. "You can't go to the authorities if you're working for your employer under the table; you can't go to the authorities about your schooling if it's inferior or if there's a problem because the whole thing falls apart and now you've paid for something you can't even use and you're out of luck; and you can't go to a landlord … because you now become homeless."
He and his organization have worked with international students for years, but many in the social services sector can barely even begin to address the growing crisis faced by many of these young people because their funding is not intended to provide support to those who are not citizens or landed immigrants. International students enjoy no such status.
Cvejic and her two colleagues launched an innovative charity hoping to paper over these gaps.
As well as providing support for international students in Canada through a peer-mentoring initiative, they are trying to reach students before they arrive. They want to bust the myths about studying abroad in Canada so students come prepared for the risks, wiser to the reality on the ground.
The charity is called Sunoh, the Hindi word for 'to listen'. Rego, a brand designer and marketer by trade, says it has a dual meaning: representing the charity's mission to listen and to bring sunlight, or hope, into the lives of international students. He wants to destigmatize mental health struggles and shepherd students toward success in Canada.
"There is a complete disconnect," he said. "There are kids in rural India, in Punjab, for example, where the parents are selling off their farms to get them a better life. And they come here and I was witness to one kid's suicide … and my heart broke."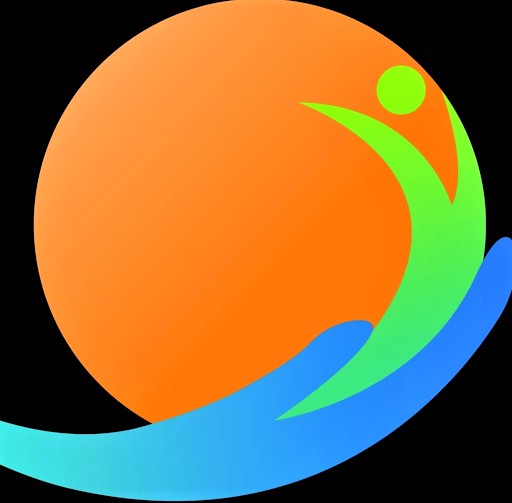 Sunoh's logo
The charity has been holding webinars for students in India, including one called Dreams Vs. Reality. They offer a certificate to students who attend in order to increase the appeal, before trying to brief them on what to actually expect.
"If you attend three webinars, we're going to give you a certificate, so it looks good on their resume when they're applying to come here," Cvejic said. "We had between 500 and 1,000 students that have attended those sessions."
Bhardwaj sees on a monthly basis just how different dreams of education in Canada and the reality can be.
He runs several funeral homes and cremation facilities, including the Lotus Funeral and Cremation Centre in Etobicoke. Through an arrangement with the Indian consulate he arranges for the bodies of international students, victimized by an unrelenting system, to be sent home to India. Some, he says, show the physical signs of death by suicide.
"A parent doesn't bury a child, it is the other way around," he said, describing the impossible task of breaking the news to the family of international students who left their warmth and unconditional support for all the opportunities supposedly waiting on the other side of the world. For the parents he has to call, the dream is shattered in the most painful way possible. "When they're in such a shock, they won't eat, they won't sleep."
He pays the expenses for someone on the ground who is helps coordinate Sunoh's operations in India. "Nobody else is doing it," he says.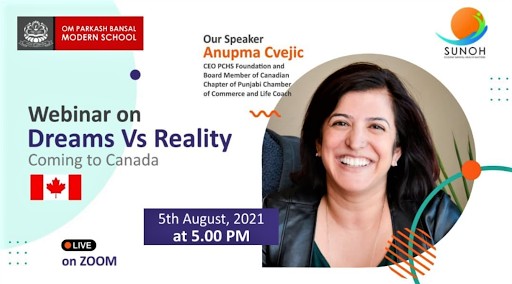 A poster featuring Anupma Cvejic advertising one of Sunoh's webinars.
(Image from Sunoh/Instagram)
The challenge Sunoh and its founders face is two-fold. Students are slow to trust, after repeated experiences of exploitation or being let down, while the local South Asian-Canadian community can be equally reluctant to admit a problem exists.
Students often project images of success back home through social media as proud parents carefully maintain the dream about how their distant children are faring. The local community in Peel doesn't always want to face the crisis head-on including emerging stereotypes of students drinking or fighting, which are often accepted as part of life in transition. Meanwhile, the brutal reality of depression, isolation and economic ruin, often leading to suicide, is brushed aside.
"We are our own worst enemy when it comes to international students," Cvejic said, describing a local attitude of apathy, even defiance.
She hopes Sunoh will help more community members finally start to listen.
---
Email: [email protected]
Twitter: @isaaccallan
Tel: 647 561-4879
---
COVID-19 is impacting all Canadians. At a time when vital public information is needed by everyone, The Pointer has taken down our paywall on all stories relating to the pandemic and those of public interest to ensure every resident of Brampton and Mississauga has access to the facts. For those who are able, we encourage you to consider a subscription. This will help us report on important public interest issues the community needs to know about now more than ever. You can register for a 30-day free trial HERE. Thereafter, The Pointer will charge $10 a month and you can cancel any time right on the website. Thank you
Submit a correction about this story