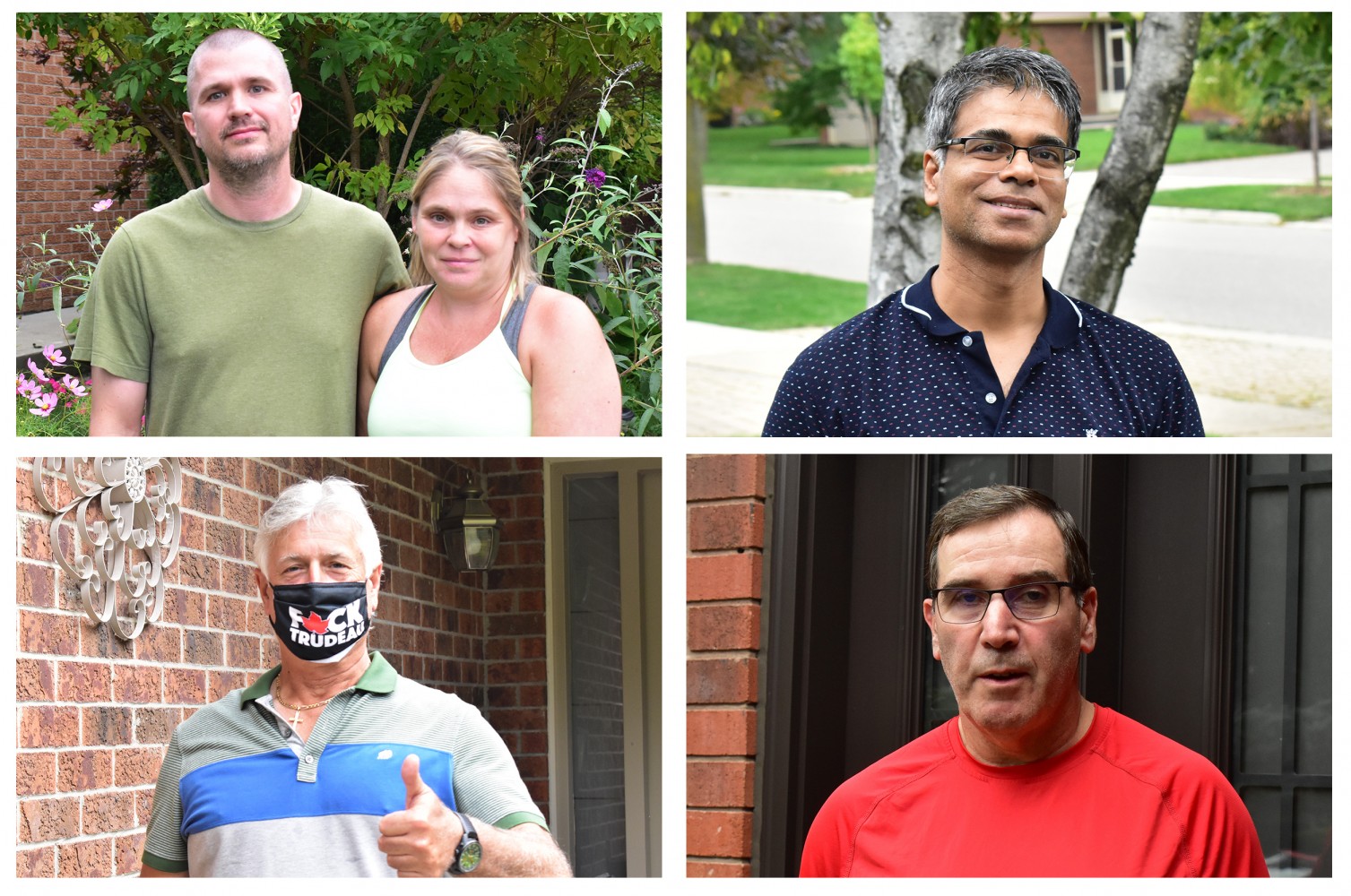 Feature images from Isaac Callan/The Pointer files
Residents visited in one Mississauga neighbourhood say little is known about local candidates who are MIA
Walking the sleepy streets of Vista Heights, you could forget there is an election taking place.
Meticulously manicured gardens frame suburban forever homes, chairs sit on front verandas where a good book helps the afternoon slip away. Open garages reveal the types of lifestyles lived in this quintessential suburban setting—bright coloured bikes and equipment for all sorts of family activities fill the walls.
Election lawn signs that litter more urban settings are mostly absent along the rows of carefully kept yards. This quiet enclave seems untouched by the constant noise of a federal election whose main combatants now appear before us by the minute, flooding all available platforms to woo our X into the right circle on September 20.
On paper, this tranquil neighbourhood is in one of the most hotly contested federal ridings in Peel Region.
Former Liberal MP Gagan Sikand is not seeking reelection after disappearing in 2020 on an undisclosed medical leave and Leader Justin Trudeau has already visited the riding to prop up his new candidate, Rechie Valdez. The Conservative Party has nominated Dr. Jasveen Rattan and the NDP is being represented by Farina Hassan, its Milton candidate in 2019.
Gurdeep Wolosz is running for the People's Party of Canada, Chris Hill for the Greens and Natalie Spizzirri is the Animal Protection Party of Canada's candidate.
Neighbourhoods like Vista Heights are key for all those vying to become a parliamentarian. Behind the 'wine mom' doormats and carefully hung wreaths, multiple voters live inside, often part of a demographic in such places whose residents turn out to vote in disproportionately high numbers. The party strategists and spin doctors in Ottawa pay special attention to earn their trust.
Hundreds of tactically placed advertisements appeal to the emotional and practical needs of voters—can an opponent be trusted, who will look after your retirement savings, is your child's future safe, what will happen to the planet?
Carefully coordinated social media campaigns tend to use a decidedly negative tone, trying to frame other parties and their would-be prime minister as dishonest and dangerous, with little to suggest any actual vision for the country. At this stage, phone calls and email blasts are mostly relied on to push voters to the polls.
In many races, the age-old tradition of door knocking can determine the final outcome. Parties have relied on face-to-face communication for decades. There's no filtering of messages, no slick advertisements to hide behind and the one-way blast of information and disinformation is replaced by tough questions voters get to pose from the comfort of their own home, as their visitor sweats on the doorstep, grilled about the lack of childcare spaces in the neighbourhood, why immigration portals can't handle the demand, a lack of support for small businesses and taxes that don't come back into the communities they're supposed to support.
Candidates get a chance to directly pitch themselves, showcase their personality and communication skills. Residents outline their most pressing needs so whoever wins can shape priorities in Ottawa to represent those that sent them there. And if these needs are ignored in favour of mouthing the party line, many residents have a long memory for the next time a candidate comes knocking.
Residents in the quiet Mississauga neighbourhood of Vista Heights are deciding who will represent them in Ottawa.
(Image from Isaac Callan/The Pointer)
The Pointer went to Vista Heights Sunday afternoon to see how the election ground-war is playing out during the final stretch of the campaign.
Residents who opened their doors to reporters said they had seen few party representatives and many admitted they had no idea who their local candidates are.
"Yesterday a bunch of teenagers, Conservatives, [came past]," Mike Pena said, standing in front of his garage as he finished a chocolate-covered ice cream. "But no Liberals yet."
Early in the week Peel-based news outlet Parvasi Media, asked Conservative Leader Erin O'Toole during a press conference about the absence of candidates in their own ridings.
"I have been running around in many of the ridings in the last couple of weeks to find your candidates' campaign offices, to find their telephone numbers," the reporter said, expressing concern that other sources around the GTA have also said it has been difficult to track down information on some candidates who have not been visible during the campaign.
"We have incredible candidates that I can guarantee you have likely knocked on more doors than all of the other parties, in some ridings more than all of the other parties combined," O'Toole replied.
Several residents in Vista Heights said they had received Conservative pamphlets without speaking to the candidate, while no one had spoken to the NDP or Liberal candidates. For some, the lack of political gumshoeing has been a welcome relief, others expressed frustration over the lack of direct communication to help make their decision.
"At least it gives a personal touch, at least I know who is representing me and [that] they care enough to knock on the door and to talk to me," resident Pankaj Kushwaha said, admitting it was unlikely to sway his vote. "I didn't watch the leaders' debate, I just followed it a little on the news, so I know exactly what they are trying to say."
Kushwaha has rarely been visited by candidates, even during much longer election campaigns. "I don't think I have spoken to any candidate, other than for mayor," he said. "Someone would come around or I'll meet them at the train station… but for [the] federal election, I haven't really seen anyone coming around."
Pankaj Kushwaha says candidates door knocking can show that they care.
(Image from Isaac Callan/The Pointer)
One resident, Bill Corrigan, said he had been forced to search for information on local candidates himself and was disappointed in what he found. Candidate websites didn't rank especially well in his search results and when they were eventually tracked down, he found their biographies to be tacky exercises in PR. He pointed to Rattan, who used the prefix for doctor, and whose website says she has a Ph.D. from the University of Waterloo without indicating what she studied.
"I had to Google myself and it was hard to find the information, it didn't come up," Corrigan said. "Facebook posts came up first and if you don't have access to Facebook, you can't see it. You want their website right away."
Vista Heights is home to a range of Mississaugans. Around 43 percent of its residents are immigrants, while 35 percent belong to a visible minority group, according to the 2016 Census. The area's 2015 median household income was $84,531 and the vast majority of residents (81 percent) commute to work by car.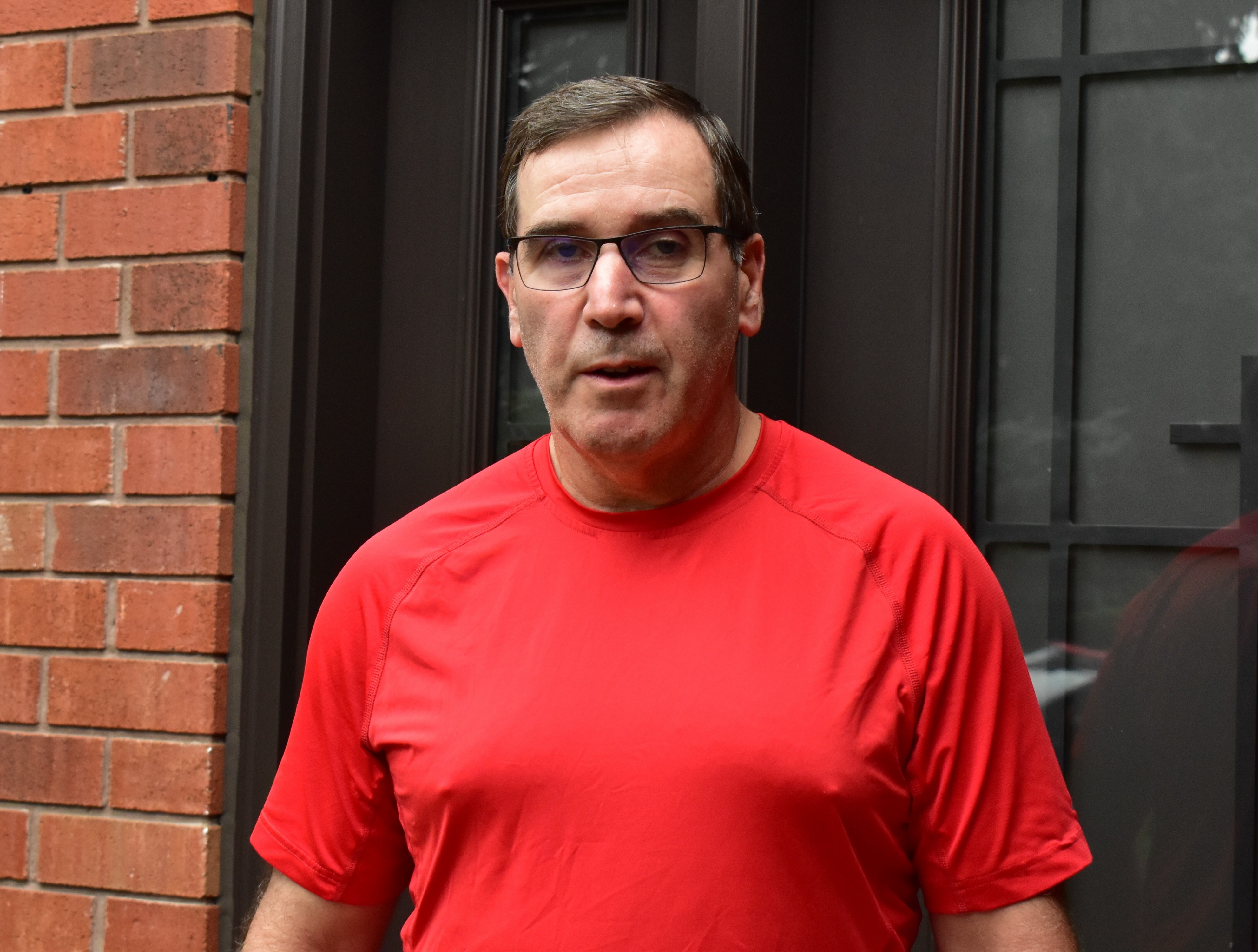 Vista Heights resident Bill Corrigan.
(Image from Isaac Callan/The Pointer)
For Jenny and Jason Davis, the car was responsible for plenty of election confusion. The couple, who recently moved to the neighbourhood, have seen rising gas prices and both are considering switching to electric vehicles to save on the rising cost of fuel.
"We were just talking about buying a new car because the gas prices are so high and [with] two vehicles that need gas, we are looking at going electric," Jenny Davis said. "We've been reading up just this past weekend about the rebates that are being offered, but it's not all electric cars that are being offered the rebates."
Her husband, Jason, has found this election one of the toughest in his life to navigate. "Honestly, I find my stance hasn't changed," he shrugged. "The parties' stance has moved so far, I'm still standing in the same spot and I'm looking over going, 'Am I Conservative now?' I honestly don't like any of the leaders."
Jason and Jenny Davis have found it hard to decide between candidates this election.
(Image from Isaac Callan/The Pointer)
The importance of local candidates varies from one voter to another. Some concentrate on the national platforms and the leaders, analyzing the party policies, while others are interested in how a local candidate will advocate for their area.
John Carreiro, who is concerned about wasted tax dollars, said he voted for whichever party offered the best deal for him and his family. That means jumping from one to another at election time, analyzing which platform is best for him.
"I've never been a one-party person," Pena said. "When [Stephen] Harper was around, I didn't like the way he was selling the Canadian resources to foreign nations… so I voted for the Liberals, thinking there would be change, but none of their promises ever came to fruition. And that's what really upset me, because, you know, that in turn affects the four, five years that they're in power. You see it now."
This time around, he's most concerned about the impact of the pandemic and COVID-19 vaccine rules. He believes Canada is in danger of losing its status as a safe refuge for people fleeing communism and other oppressive regimes.
For Doreen Middleton, a senior in her 70s who used to work with visually impaired and deaf students, care is top of mind.
"I am concerned about child care because I have grandchildren and I used to work with special needs children, and I wasn't really agreeing with what the Conservatives are saying," she said. "The Liberals had already started this child care thing and the other thing that upset me with the Ontario government was what happened in the long-term care homes because it could have been me… And the environment, I am very concerned about the environment."
Social media shows Conservative, Liberal and NDP candidates have been knocking on doors, but the Vista Heights neighbourhood has been quiet according to residents The Pointer spoke with.
(Images from Twitter)
To glean what their prospective constituents expect representation on, candidates must do the hard work. Every home they call on has a resident experiencing something that concerns them, and the job description means their MP has to give voice to these top-of-mind issues on Parliament Hill.
This year's shortened election campaign has left very little time for candidates to make their pitch or learn about their electors. The riding of Mississauga—Streetsville has some 118,000 residents and just over 85,000 registered voters.
With so little time to campaign in 2021, it seems not every voter is being afforded the same chance to share their views with candidates as they seek the responsibility of becoming a member of parliament.
"In the past… when the time came to vote, you knew who you were voting for," Jenny Davis said. "You just knew who the candidate was. I think times have changed."
— With files from Natasha O'Neill
---
Email: [email protected]
Twitter: @isaaccallan
Tel: 647 561-4879
---
COVID-19 is impacting all Canadians. At a time when vital public information is needed by everyone, The Pointer has taken down our paywall on all stories relating to the pandemic and those of public interest to ensure every resident of Brampton and Mississauga has access to the facts. For those who are able, we encourage you to consider a subscription. This will help us report on important public interest issues the community needs to know about now more than ever. You can register for a 30-day free trial HERE. Thereafter, The Pointer will charge $10 a month and you can cancel any time right on the website. Thank you
Submit a correction about this story